These girls certainly go the distance





Three of the 2007-08 national distance scene talk about their transition to this fall



By Kristen Holzherr

Kristen, an Upper Dublin PA high school student, periodically writes about women's and girls' track and XC. Brasovan and Thompson photos by Kristen Holzherr; Morgan photo by Pat Davey. Interviews from October 2008



With the cross-country season up and running, there have been numerous key returnees that have proved they are able to stay at or near the top. Among these talented females are Ashley Brasovan, Madeline Morgan, and Melanie "Lanie" Thompson. Exposure from rankings, lists, interviews and national meets has not only placed these girls in one of the most competitive atmospheres in the high school racing world, but it has also allowed viewers come to know these girls as what they are: superstars.

Due to the success that these three have attained so far, there is no doubt that they are highly driven and motivated. Already starting out with a bang, it is clear to see that there is nothing but success in the future for these girls. Ashley, Madeline and Lanie are all seniors this year, which means three things: this is the time to make a mark on high school racing forever, this is the time to stand out, and this is the time to search for the ideal college to suit their dreams.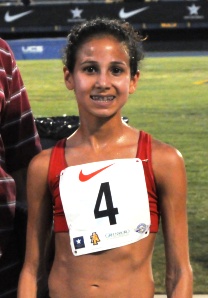 Ashley Brasovan

(Wellington HS, Florida) 2007 Foot Locker Champion, 2007 NIN 2M champion, 2008 NON 5K champion

Q) From outdoor track to cross country, what do you think the hardest transition was (was it hard or easy to switch)?

A) Probably adding more mileage carefully and not too quickly.

Q) How did you feel about competing in the Great American Cross Country Festival this year and how did you prepare for it? (Note: Ashley won the 2008 Great American race against the deepest individual girls field of the year; 17:17)

A) I felt a lot more pressure going into Great American than last year, but it's still very early in the season so I was just using it as a gauge as to where I am at.

Q) While looking at colleges, what was the kind of track program that you were looking for?

A) I am looking more at the cross-country aspect of the schools because I like cross-country better than track. Obviously, I would like to enter a competitive program where I would have other girls to run with.

Q) Do you think men or women have the most successful running careers in college?

A) I think it depends on the person and the coach. College is whatever the runner decides to make out of the experience.

Q) Do you think that guys or girls are more determined during cross-country, and why?

A) I think girls work harder during practices and are more determined in that area. Guys race harder and more competitively. They are in the race to win and second place means nothing to them.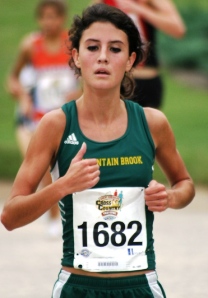 Madeline Morgan (Mountain Brook HS, Alabama) 2007 NTN Champion, member of two 2008 NIN relay champions

Q) What do you think makes a good female runner?

A) I think that a good female runner has to be highly driven, but also be able to balance competitiveness with a love for the sport and still have fun. A good female runner has to be able to focus and block out emotions and nerves when racing, and just enjoy what they do.

Q) A lot of people say that during sports it's sometimes hard as a girl to control your emotions. What do you use as a stress reliever?

A) Just being around my friends and teammates is a huge source of stress relief for me. I think that the way you approach a race mentally has a very big impact on how you perform, and going into a meet with a team mentality rather than putting pressure on yourself individually definitely eliminates a lot of stress.

Q) How many times outside of cross-country practice do you run? Do you think it helps or has an impact?

A) If we don't have a meet on the weekend, I like to get in a long run on my own, but other than that I stick to the regular cross country practices. We are generally given options of how far to run on distance days based on the amount of mileage we each like to get, so everyone can do as much as they need. I've always felt like what we run in practice is sufficient.

Q) How did you feel about hearing that a couple of HS girls were competing in the Olympic Trials?

A) I was very impressed when I heard; being able to compete at that level in high school is an amazing accomplishment and is very inspiring.

Q) With runners like Jordan Hasay out there, do you feel like high school distance runners have a better chance competing in the Trials?

A) I definitely think high school runners have a better chance competing in the Trials with runners like Jordan Hasay to bring high school running to a whole new level of competition and to inspire and pave the way for others.

Q) What do you think your biggest meet will be this season and how do you plan on preparing for it?

A) It's hard to tell at this point, but if our team ends up returning to Nike Nationals for cross-country I think that will be the biggest meet. To prepare for it, I'll keep training and racing throughout the season, working and having fun with the team, and just doing what I always do.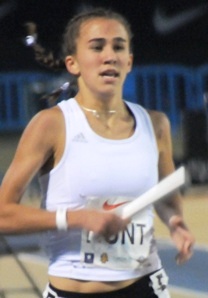 Melanie "Lanie" Thompson

(Voorhees HS, New Jersey) 2008 Eastern States Champion, 2008 NJ MOC 3200 champion, 2007 NJ MOC XC Champion

Q) You were recently featured in the Modell's catalog for "Hometown Heroes." What did if feel like to receive such an honor?

A) Being featured in the Modell's catalog for "Hometown Heroes" is definitely something that was an accomplishment for me. I come from a pretty small town that I've lived in my whole life and where everyone pretty much knows everyone. I don't know if my town would consider me a "hero," but to even think they are proud of me is extremely satisfying. I actually go to this Deli a couple times a week, and after big races, and if I do well they will usually give me a breakfast and have the paper I'm in ready for me. It's just really nice to know I'm being supported by the people I've been around my entire life.

Q) How do you think you've improved as a runner since you first started cross-country?

A) I first started seriously running my freshman year. Since then, everything that could change most likely did. I think that just about every race I grow as a runner because I learn from the things I do wrong. I'm really just more serious about my running than I was when I started. All in all, I think I've grown most in regards to the fact that now, running is my passion.

Ever more importantly, I've learned that I'm not running for me, I'm running for God. My faith is extremely important to me and out of all things, I think that by growing as a runner, I'm growing as a Christian. I've learned that being a Christian is the most important thing in my life but next to that is running. I love to run and as I continue to run I just keep falling more in love with the sport and becoming even more focused on the things I want out of running.

Q) What is the biggest challenge you face while running this season, climate or competition?

A) I would definitely have to say competition. The climate is something that everyone has to face and for me, I never use it as an excuse. Regardless of the weather, what matters is the people you are racing so my competition is most definitely the biggest challenge.

Q) Who on the girl's side of the competition do you think will have a lot of success this season and why?

A) Honestly, I think there are so many talented runners in the country right now its just ridiculous. Of course there are the high school standouts like Jordan Hasay and Ashley Brasovan that I think will continue to have success wherever they race. Locally, I think there are just too many talented runners to single out a couple runners. All of the returning top girls in the state I think will definitely be improving and making room for some good competition.

Q) Did you go to a cross-country camp this summer? If so, what was the experience like?

A) I went to the cross-country university running camp by the Colts Neck coach. We stayed there for 6 days and stayed in cabins. This is my third year going and each year has been awesome! I love meeting new people and getting new people to train with. I actually met a couple girls who I've hung out with since camp because we just clicked! It was also just really fun being there with my team and bonding. I loved it.