Meets end. Competing doesn't.
The next step for today's prep track and XC stars is collegiate competition, which starts with the recruiting process. Five of the top seniors of 2008-09 talk about what it's like
By Kristen Holzherr
Kristen, an Upper Dublin PA high school student, periodically writes about women's and girls' track and XC.
The college recruiting process can be either stressful or simple, but to many student-athletes, it is a little of both. You spend hours weighing out the pros and cons of each university – wondering which would be a better fit. Imagine a teenager making one of the most important decisions of their lives; now imagine an athlete making this decision, but also having one more factor to worry about – where to compete.

Shade Weygandt, the number one returning pole vaulter, and a senior at Mansfield High School, TX, committed to Texas Tech in November.
Emily Jones, who earned 2nd place in the 2-mile at NON, a senior at Bromfield High School, MA, has committed to Georgetown University.
Chalonda Goodman, the two-time Nike Outdoor champion in the 100 and 200 meter dashes, a senior at Newnan High School, GA, has narrowed down her choices down and has yet to pick where she would like to go.
Stephanie Morgan, the mile champion at the Penn Relays, and a senior at Barnesville High School, OH, has committed to Baylor University.
Shelby Greany, the national steeplechase champion, and a senior at Suffern Senior High School, NY, has chosen to attend Providence College.
These five athletes spent hours, days, weeks, and months visiting colleges, talking to coaches and potential future teammates, and weighing their options – and finally have to make the decision where they would like to attend. If you think picking your "ideal" college is stressful, try to imagine what it is like for a very talented student-athlete. These five girls share their stories with you: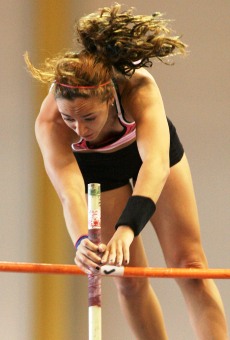 Shade Weygandt



Q) How did you come to the decision that you wanted to pole vault in college?

A) Well, pole vault is just such a huge part of my life that it was never a question of if I would pole vault in college. I just love the sport sooo much and I could not imagine my life without it!

Q) Would you prefer to stay in-state or out-of-state and why?

A) It was not really a deciding factor for me (even though I have committed to Texas Tech); I just wanted to go somewhere I felt like I was at home. And then it was pretty easy for me to decide on Tech.

Q) When visiting a college campus, what things do you look for to help you decide if you want to apply there?

A) Well, before I took my visits I first looked at their track program, because that was very important to me, then at the academics. When on my visit, I first look at the town and surrounding areas, and then the dorms (because if you're not happy where you live then you might as well forget it), and then the people. I knew that I would have to get along with the culture of the people and the town to be truly happy.

Q) When a recruiter comes to watch you vault, do you tense up or try to relax? How do you handle the pressure?

A) Recruiters have been in the stands way before I even knew what they were. I don't really feel pressure because I am confident in my abilities and I am not vaulting for him/her, I am vaulting for me and because it makes me happy! In a way, sometimes I vault better because I want to put on a show and let him/her know that this is my real passion.

Q) Is there any one college that you want to be accepted to more than the others and why?

A) Well, on November 15 I verbally committed to Texas Tech, so that answers that question. I just felt like I was home when I went out there. Tech just felt right for me in a way that no university has ever felt. I love the university and the track program, plus the awesome Texas country MUSIC!!! haha. But really, I just knew that Texas Tech was the place that I needed to be. There is usually a moment on the path in the recruiting process where something hits you and you just go, this is where I belong. And that is TEXAS Tech for me.

Q) What was the process of applying to colleges like for you? Explain.

A) I have not applied to any colleges yet, I will apply to Texas Tech soon though. I am a good student as well as athlete, so getting accepted was never really a concern for me.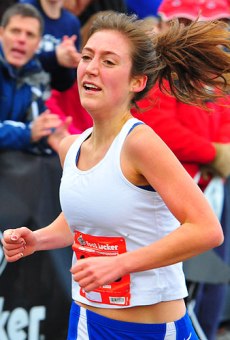 Emily Jones



Q) When applying to colleges, which part do you think is the hardest and why?

A) The hardest part is finding the college that fits the many different criteria each person is looking for. For me, it meant finding the school that best balanced academics and athletics, within a location I was comfortable with. It is really important to sort out all the different variables...academics, athletics, location, size, extracurricular opportunities, culture, politics, and so much more...

Q) Describe your ideal college.

A) I think the 'ideal' college is very subjective. What is ideal for one person is certainly not for another. When I found what I thought was the ideal place for me, I found myself wondering, "Why doesn't everyone want to go there? It's so perfect!" I have realized that everyone has such different opinions and preferences, and what is a perfect fit for one person, may not be for the next.

Q) Do you think you'll focus more on the cross country or track and field aspect of your college running career?

A) I'm not sure. I don't think that there is one I will focus more on. It will probably depend on what my coach wants me to do.

Q) Have you narrowed down your list yet, if so, what are the top contenders?

A) I actually narrowed down my list this past summer. I visited several of my top choices in the spring and summer. I also had the chance to meet with many coaches in July and August, so coming into the fall, I knew where I wanted to make my "official visits." I was interested in Duke, Harvard, Princeton, Providence College, Boston College, Wake Forest, and Georgetown, all because they were great schools with strong running programs on the East Coast. I knew there were great choices on the West Coast as well, but I didn't want to be that far from home.

Q) Why did you choose to apply to these colleges?

A) I made three early "official visits" in September. These were very helpful because I got the chance to spend the weekend with each team and coach, and also got a sense of the school culture, the area, and the academics. The only problem was that I met so many great people, who were so wonderful to me, that I became a little overwhelmed with the whole decision-making process. There was not one place that I visited that I wouldn't have been very happy at.

I ended up making a verbal commitment to Georgetown University in early October. I felt that Georgetown offered a protected small -chool environment within a large urban setting. I loved how diverse the campus felt and was excited by what it offered academically. There just seemed to be so much happening there! Finally, I also really connected with the coach and team at Georgetown. Coach Chris Miltenberg (at Georgetown) is so excited by what he is doing with his running program. I wanted to be part of that.

Q) What are some big things that you have to factor into your decision?

A) I think that after the specific criteria (covered above) are met, you can only rely on intuition. For me, as recruited athlete, it was important to ask myself the question, "If for some reason I couldn't run, would I still choose this school?"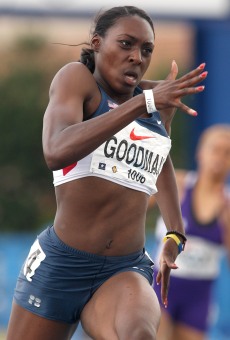 Chalonda Goodman

Q) When searching for the right college to pursue your track and field career, what are some things that you look for?

A) First of all, I look at the school overall – meaning I don't just look at the track program it has to offer. I also look at the school from an academic standpoint, as well, because my education is extremely important to me. Therefore, I mainly look for a school that has a great balance between academics and athletics. I also look for a school that has a good environment, team atmosphere, amazing coaching staff, and one that has a track program that can take me to the next level that I want to reach in my career.

Q) If you could make one goal that you would like to achieve before you enter college, what would it be?

A) That is a really tough question! I set a long term goal my freshmen year in high school, which is that I would like to finish out my high school career by being the high school state champion in both the 200-meters and 100-meters dash all four years. I have done it the last three consecutive years. This is my last year, and I definitely want to reach that goal.

Q) How do you feel that you high school years have prepared you to move onto the collegiate level competition?

A) I believe that my high school career has prepared me well for the collegiate level. Throughout the years, I have raced and competed against tough and talented competition. I also think it has allowed me to mature both mentally and physically so that I will be able to compete at the collegiate level.

Q) Which colleges are at the top of your list and why?

A) Right now the schools I am looking at are The University of Texas at Austin, Auburn University, LSU, University of Southern California, and the University of South Carolina. Each one has something in particular that I like about it.

Q) Do you have any idea of what you would like to major in?

A) I would like to major in finance or accounting and minor in English. Then, I would like to go to law school. I would like to pursue a career in business/corporate law.

Q) What do you think it takes to compete in a college sport?

A) I think it takes hard work, commitment, and a positive, humble attitude.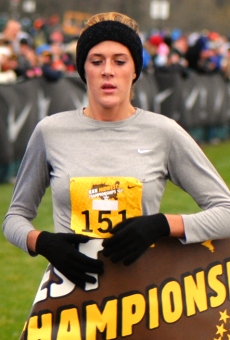 Stephanie Morgan

Q) Before you started to apply to colleges, what is one thing that you wish you knew about the recruiting process?

A) The one thing I wished to know about the whole recruiting process would probably be how much time you have to set aside to travel and talk with each college and their coaches.

Q) What is the worst thing about the process?

A) The whole recruiting process was great, but the one thing that sometimes was a hassle was the fact that I had to talk with each coach from every college once a week for a couple of months. It was great to hear from each coach, and to hear how their team was doing, but also all the colleges I talked to took up quite a bit of time during weeknights.

Q) What is the best thing?

A) The best part would definitely be traveling. I got to meet a lot of new people including girls on the team, athletes from other sports, athletic academic advisors, and many other people. I tried to take all my visits in the fall, so it definitely made my weekends pretty busy, but I would never regret any of my visits.

Q) Are you looking at colleges more for a good running program or for your intended major? Are you trying to look for a college with the best of both worlds?

A) Honestly, I tried to find a college that fit me as a person, and one that would also help me improve my running career. I definitely, looked for a college with the best of both worlds.

Q) Out of your top picks, which college really made an impact on you and why?

A) When it came down to my final decision, I wanted to find a school that I could see myself going to class to and other normal day-to-day things. I was choosing between Arizona State and Baylor University, and it was hard because for me I found two schools that I could see myself going to. Baylor made a huge impact on my decision. Since I was a kid, I grew up going to an Assemblies of God Church. I wanted to find a college that always had a home for me with godly people, but also a college with a big university feel to it.

Q) Do you have a planned major yet? If not, what might you be interested in?

A) I don't have a planned major yet. I'm really not sure what I'm truly interested in so I'm gonna go in as an undecided major.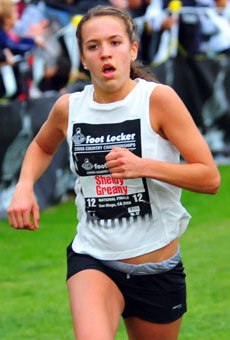 Shelby Greany

Q) Is there one event that you know you would like to focus on in college, and why?

A) In college, I want to focus on distance events and steeple. I love the steeple and think it's an unpredictable race and very exciting to run. You never know what is going to happen or who is going to fall.

Q) When talking to a college track and field coach about their program, what are some top things on your list that you want to know?

A) When I was talking to the coaches, I asked a bunch of questions. I wanted to know how many miles a week I would start off running, f they did doubles throughout the season, and what events they thought I was going to focus on. I also asked the girls on the team a lot of questions to see what they thought of the coach and their way of training.

Q) Are you planning on staying close to home or out-of-state and why?

A) I knew I wanted to stay close to home. I didn't want to have a long flight so any school on the West Coast or in the Midwest I didn't even want to look at. It was easy for me to narrow my choice down to Georgetown, Boston College, Villanova and Providence. All are within a 4-hour drive of my house.

Q) What things about college are you looking forward to the most?

A) I am so excited for college! I am excited to move on with my running and my life, to make new friends and just have a change of scenery. I am going to miss my family and my friends, but change is good.

Q) What schools are at the top of your list and why did you chose to apply to them?

A) Georgetown, Boston College, Villanova and Providence were my top 4 and I verbally committed to Providence College. I took official visits to each school and Providence College was perfect for me. The school was a perfect size and I loved the coaches and running program.

Georgetown, Boston College and Villanova were great schools also and I liked them all. They all were within the size range I wanted and all the coaches and running programs were great. But something about Providence was different. It just felt right when I took my visit. It had been my dream school since 9th grade and my visit just made it seem even more perfect for me.

Q) How do you feel that your 4 years running in high school have prepared you to compete at the college level?

A) I have run on varsity for 6 years and I have learned so much. I think it has prepared me to run at the college level because I have learned how to perform under pressure when my teammates need me. I have learned how to be part of a team and how to work towards a goal. I have also learned how to manage my time to balance running, friends and schoolwork. Everything I have learned the past 6 years will help me be prepared to handle college level running.



Photos by John Dye (Jones, Greany), Vic Sailer/photorun.net (Goodman,Weygandt), and LGCXC Photo Pool (Morgan)