USATF Cross Country Junior Nationals

Agricultural History Farm Park - Derwood, Maryland

Saturday, February 7, 2009

DyeStat onsite with John Roemer, David Austin
Fernandez and Spence leave no doubt: They're #1
German defends, fully recovered from Achilles injury; Neely claims first jr. national title
Three high-schoolers in girls' top four; none in top 10 on boys' side
Course information: Loop course in Agricultural History Park, Montgomery County, Maryland. Rolling hills; some steep enough to break rhythm, sap energy. Firm ground, with shoe-sucking mud along some stretches. Side-hill track in some areas. Solid course, runners seemed satisfied. Temperatures mid 50s, sunny skies, light breezes.
By David Austin and Brad Whisler, DyeStat correspondents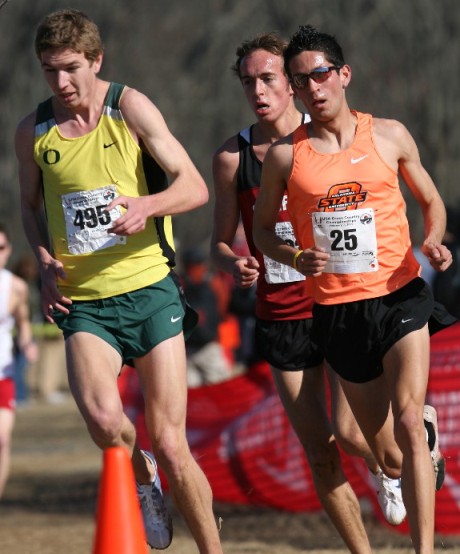 The big three of (from left) Puskedra, Derrick and Fernandez battle together before German's breakaway. Photos John Roemer


The top American distance runners, in both the open and junior (age 19 or under) divisions, competed today at the USATF Cross Country Championships in Gaithersburg, Maryland. Although the open competition as usual featured some big names, for many spectators the junior races were the main event this year. The men's side featured a battle between three standout runners that last year were at the very top of easily the best American high-school class since 2001 (the class that included Ritzenhein, Hall, and Webb). And on the women's side, a collegiate yearling with a strong reputation was vying for her first national title—but she would have to face down a Foot Locker champ and a couple of other girls who were knocking on the door in that race.

They were all after one of the six positions on the US teams for the World Championships in Amman, Jordan next month. Always an eye-opener in terms of the intense competition—especially from the Africans—the international race will this year offer other attractions as well: it will be held in a temperate climate, on an American-style course (a golf course), and will be hosted by a friendly ally in a historic part of the world – the Middle East. What's not to like?! The runners who made the team seemed to agree, many of them indicating after the race that they intended to make the trip.



Men's Race



Few doubted that the top three finishers today were going to be German Fernandez (Oklahoma State), Chris Derrick (Stanford), and Luke Puskedra (Oregon). Only the order of finish and the margin of victory were in much doubt. This race seemed likely to shape up as a pure match race, as there were not expected to be many other runners to contend with up front.

As such, today's race would settle a question left open from the NCAA XC meet in November. There, it wasn't a secret that they were each shooting for top frosh honors. Being the top freshman would likely require a top-five finish; they were that good. Even with the large field at the NCAA championships, the three freshmen found themselves running together with 2K to go in Indiana, in the front chase pack, with Fernandez having come up after a conservative start. All three looked terrific. Then Fernandez went down suddenly with an Achilles injury—directly in front of your DyeStat reporters. Puskedra and Derrick went on to claim 5th and 7th, places, respectively, in the race, and if Fernandez had not been injured it seems likely that all three would have snared top-10 finishes. That would have been quite an achievement – the stellar class of 2001 finished 4th, 11th, and 76th in their inaugural collegiate championship, although as a group their successes since then have few parallels in American distance running history.

Fernandez was in a wheelchair after the race, and on crutches back on campus with a partially torn Achilles tendon. But he recovered quickly. He recently displayed his fitness in impressive style by running a 3:56.50 indoor world junior record. Derrick had also been busy undercover, running 13:44 for 5K last month in Seattle. Only Puskedra's recent fitness was untested: today's cross country race was his first action since Terre Haute.

The Big 3 established themselves immediately in the junior men's 8K, jumping out to a slender but firm lead over a closely assembled pack. Coming through the first kilometer, there was a one-second gap between them and the field. After the first pass (out of four) on the 2K loop course, the three were stride for stride, with now a 3-second gap on the field.


Out of the money, but top preps: Bobby Nicolls CO (10th) and Thomas Porter VA (15th). Photos John Roemer

On the second lap of the rolling course—featuring some sharp downhills, a few 90-degree turns, a bit of side-hill running, and a stretch of fairly slick and turfed-up mud from recently-melted snow—at the 3K mark, Derrick took a head-over-heels tumble as he attempted to moved around Fernandez on the downhill. That allowed Puskedra and Fernandez to open a slight gap but Derrick closed it up quickly. Fernandez appeared to be holding back just a touch on the early downhills, with the ankle he'd injured in Indiana taped securely.

The gap to the field steadily widened with the three runners coming through the 5K mark in 14:45 and now holding a twenty-second lead over the others. For awhile, Arkansas' Eric Fernandez and Oklahoma's Kevin Williams attempted to keep pace, but they would end up 9th and 24th, respectively. Over the next kilometer, the lead trio doubled their lead to 40+ seconds as they rounded the turn to begin the final lap. At this point Fernandez put the hammer down, catching Puskedra and Derrick by surprise with a blistering 7th kilometer. His time on that stretch was nearly 15 seconds faster than he'd covered the same ground on laps 2 and 3, and 6 seconds faster than in the opening lap. The runners had been all together at 6K, but Fernandez opened up a 12-second lead on Derrick by the 7K, with Puskedra just behind.

Fernandez kept it up all the way to the finish, breaking the tape at 23:20, with Derrick second in 23:39 and a tiring Puskedra another 14 seconds back in 23:53. The 4-5-6 runners (Ryan Hill from NC State, and then a pair from Syracuse University – Patrick Dupont and Tito Medrano) came through more than 40 seconds later, punching their tickets to Jordan with a comfortable margin back to seventh place.

No preps finished in the top 10, with comebacking Bobby Nicolls, a Regis Jesuit CO senior, leading high schoolers in 11th (25:02). Foot Locker 3rd-place finisher Thomas Porter was the next prep in 15th (25:24).

Fernandez' unofficial splits. 2K loop course. Odd kilometers cover the first half of the loop, even kilometers the last half.
1K - 2:58 (2:58); 2K - 5:49 (2:51); 3K – 8:54 (3:05); 4K – 11:40 (2:46);
5K – 14:45 (3:05); 6K – 17:38 (2:53); 7K – 20:30 (2:52); 8K – 23:20 (2:50)

After the race, Fernandez indicated that he would "probably" be going to Worlds. As for the tendon, which took him out of NCAAs with no warning, he said, "I just didn't really think about it. I mean, it probably slowed me down, but it was not a factor."

He did note that he had turned an ankle slightly on the third lap where, in places, half-frozen footprints made in soft mud posed some footing challenges. Asked how he had managed his recovery from what looked to be a potentially serious injury, Fernandez said, "I was just really patient with the injury. I started out on the treadmill and bike, doing a lot of drills to get back in it. I really wasn't in a hurry to get back. I wanted to be 100 percent healthy, like I always say."

Derrick and Puskedra also said they intended to accept the Worlds bid. Of his fall on the second lap, Derrick said that "it wasn't too bad. I got up right away and I wasn't hurt or anything." He had set the pace in the opening stages of the race, and he "wasn't feeling too pressed with the pace," thinking that if he just "went out with a solid, comfortable pace, guys would fade off."

Both he and Puskedra said they were surprised that Fernandez had made his move so soon, with 2000m left in the race, given his recent demonstrated fitness in the mile. Over the last two laps of the race, Derrick noted, "I started to yo-yo; I'd fall behind on the uphills, catch up on the downhills. So I waited around [ready to cover a move]. Luke and German broke away from me [on the last loop], but Luke was not putting as much ground on me, and I caught him on a downhill [with 1000m to go]."

For his part, Puskedra indicated that he had felt good out there but, "I just haven't raced in awhile. [German] made a big move [at the 6k mark entering the final lap]. That kind of startled me a little bit. With him coming in with a 3:56 [mile], I thought he was going to make a move a little later. He ran a good race. He ran away from the field."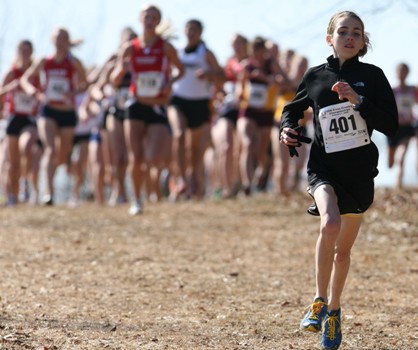 No suprise: McLaughlin leads big early. Photos John Roemer

Women's Race



On the women's side, Air Academy CO senior Allie McLaughlin showed the same determined pace-setting that nearly allowed her to run away with the Foot Locker race in December, gapping the field there early and not coming back until the last, desperate stages of that race. Here, McLaughlin bolted out immediately and established a substantial, five-second lead in just the first 600m of the race. She maintained it over the first lap, coming through the 2K with a 7-second lead on eventual race-winner Neely Spence (Shippensburg St., PA) and runner-up Ashley Brasovan (Wellington FL senior).

Spence moved up on the second lap (of three, in a 6K race) and shared front-runner duties with McLaughlin for awhile. Midway through the second lap, Spence had slipped back by a few seconds, as the 3K mark found her 3 seconds in arrears with Brasovan another 3 seconds back. At this point, the leaders were beginning to be shadowed by several other runners, led by San Clemente CA sr Alex Dunne and by UCLA's Katja Goldring. They were five seconds back of Brasovan, and eleven behind McLaughlin at 3K.

By the 4K turn rounding onto the final lap, Spence had regained a share of the lead and pressed the pace on the uphill leading past the starting area. Running confidently, she continued to assert herself and, with a kilometer left in the race, had forged a five-second lead over McLaughlin. But the gap to 2nd place was narrower than that – only four seconds – because Brasovan had just taken over the pursuit of Spence.

For about 400m, it looked as if she was going to make a close race of it. But in the closing stages of the race it was all Spence as she left Brasovan and the others well behind, winning by 14 seconds in 20:43. Brasovan held second, with a charging Dunne overtaking McLaughlin within sight of the finish, about 80m out. Tulsa's Sara Vaughn came up in the late stages as well, grabbing 5th place 22 seconds back of McLaughlin and five seconds up on Goldring. All of them qualified for the Worlds team.

Splits
Spence: 1K - 3:26 (3:26); 2K - 6:48 (3:22); 3K – 10:23 (3:35); 4K – 13:43 (3:20);
(leader) 1K - 3:20 (3:20); 2K - 6:41 (3:21); 3K – 10:20 (3:39); 4K – 13:43 (3:23);

Spence: 5K - 17:22 (3:39); 6K - 20:43 (3:21)

For Spence, the race "pretty much" unfolded the way she expected, although she was a little surprised to feel as comfortable as she did ("very relaxed") on the first lap. She was not surprised when McLaughlin bolted to the front from the gun because, "I watched Foot Locker and she said in her interview that 'that's just how I run.' So I knew that that's what she was going to do [today]."


Brasovan and Dunne: 2nd and 3rd. Photos John Roemer

The comfort that Spence felt at the start of the race "really set me up for the end…at the 4K mark I started to pull away from Allie. I knew that Ashley Brasovan was coming on in the last kilometer because I could hear people yelling 'she's coming!' Then I heard my dad at the corner [where the course veers off into a 400m finish stretch] and he was like, 'when you see the finish, go to your arms!'

"I felt really good," she continued. "My kick isn't that great right now. I feel like I definitely have more endurance and strength right now." Spence said that she had recently run a 4:48 mile leg in a DMR, "so I know that I do have [finishing speed]." When told she definitely seemed to have the fastest finish in the stretch, she laughed. "Maybe I'm not 100% comfortable with it right now. But I felt very good today. I'm very happy."

In running down McLaughlin and narrowing the gap with Spence, Brasovan showed the same patience and late-stage drive that served her so well at the Foot Locker race in December. There, she was the first to close a sizeable gap that McLaughlin had opened—and maintained—over the field in that race, making her move midway through the last mile. Today she appeared to be pushing it to a higher gear near the end of the race, over the flats and up into the hills. "I did make up some ground late in the race, but Neely's a very good runner," she said. The Floridian also noted that she "found the course kind of tough because of the hills. I felt them even in the first mile."

Not so with third-placer Alex Dunne, who caught a tiring McLaughlin in the final hundred meters. Said the Southern Californian, "I liked the course a lot. There were some little rolling hills, but nothing like Mt. SAC, so we're used to it.

"I started out conservatively," she added. "I was feeling really good, but for me, it works out so much better when I start out slower." Going through the 4k (in 13:55), Alex saw that the race pace was a bit slower than some of her recent workouts have been and gained confidence. "I though, 'Oh, I can do this.' It felt good. Since I started out a little bit slower, it felt good to be catching up [by the 5K point she had McGlaughlin in her sights] rather than dropping back. I like that strategy. I'm just really glad that I chose to do that. I've had some races where I've gone out way in the front and then…"

She was nine seconds behind Brasovan at the end of the race and said, "I almost wish I had started picking it up a little sooner because I felt like I had some left in the tank. But I'm so happy. Third place, I'm very pleased."

Bold front-runner McLaughlin suggested that she may eventually start to experiment with other race tactics once she's out of high school but that, "for now I'm not going to change it up because I don't know (how it would work for her). I kind of respond to how I start out. If I get going really fast, I can hold it longer. When I try to stay back with the pack, I can't pick it up."

On the other hand, she acknowledged that the tactic has its risks: "Sometimes when I get ahead, I'm not sure where [the other runners] are and they come out of nowhere." But in a field like this one, with a championships-caliber field that included college freshmen, McLaughlin knew that the other runners would come up to her: "I knew Neely was coming up on me, and when she was with me, we were together for awhile, which I really liked. Then I lost her on the downhill [with 1K to go], which was kind of frustrating. I tried to hold on as long as I could. But it was nice to have someone to pace me for awhile."

Like the guys, the top three girls all expressed interest in going to Jordan. Spence, Brasovan, and Dunne are planning to make the trip. Less certain is McLaughlin who has a potential lacrosse conflict. She indicated that she would love to go if she could work it out.


Meet Index page