11/15/09 at Lavern Gibson Course, Terre Haute IN
Indiana - Illinois - Ohio - Michigan - Missouri

Perfect Weather: Cloudy, 60 degrees, no rain.

WINNERS TABLE
Finals Qualifiers



PIX





JD action albums


Girls


Boys


Pre-Race Scene-Bob Geiger

Entries
MW Regional Rankings
MW Regional History
Directions - Schedule
Course

Meet's own site

York IL boys win 6th straight trip to finals.
Magnificat OH girls live up to MW#1 ranking.
Hannah Neczypor OH 17:34.3 CR
Zach Wills OH 15:07.1

Boys - Zach Wills OH runs away from the start to win in 15:07.1. Andrew Smith and Jack Driggs finished 5th and 6th to lead York's win. Third at the Illinois state meet, York 113 turned the tables on Illinois rivals MW#1 Neuqua Valley 137 and MW#2 Loyola 139. York is the only team to make the NXN national finals all 6 years that the meet has been held. Tony Jones story: Despite being ranked 3rd, York still thought they had the momentum. Futsum watches Zach and awaits a rematch.

Girls - 217 Hannah Neczypor and Madeline Chambers duelled the entire last mile and finished 1-2 for Ohio, with Neczypor winning in 17:34.3, a course record for HS runners by 26 seconds. Chambers led MW#1 Magnificat OH to the team title over MW#2 Palatine IL, 58-93. MW#4 Lee's Summit West MO was third with 108 points. Bob Geiger story: They could have played this one on paper.



| | |
| --- | --- |
| Donna Dye's camera brings you all the sideline scenes from Terre Haute. Right, his name really is Chip, and he's from Ohio. | |

Prior Years on DyeStat


2008 | 2007 | 2006 | 2005 | 2004 |

| | | |
| --- | --- | --- |
| Zach Wills | York's Andrew Smith & Jack Driggs | Hannah Neczypor & Madeline Chambers |
| | | photos by John Dye |
NXN Finals Qualifiers

- 1st and 2nd place teams are automatic qualifiers; 3rd and 4th place teams


are eligible for selection as a national at-large team. Individual qualifiers are the top 5 not on a qualifying team.

Bold faced individuals and teams qualify for national finals.


Boys Teams


1. Kroy IL (York) 113
2. Naperville S. (Neuqua Valley IL) 137
3. Loyola IL 139
4. Columbus Thorn IN (Col. North) 180


Girls Teams


1. Blue Streaks OH (Magnificat) 58
2. Palatine IL 93
3. Titan (Lee's Summit West MO) 108
4. Caramel Ladies (Carmel IN) 131


Boys Individuals


1. Zach Wills OH 15:07.1
2. Tyler Byrne IN 15:14.4
3. David Osborn IN 15:21.7
4. Martin Grady IL 15:22.5
5. Andrew Smith IL 15:24.0
6. Jack Driggs IL 15:24.4
7. Michael Brajdic OH 15:30.7
8. Aaron Beattie IL 15:31.8
9. Alejandro Arroyo Yamin IN 15:32.2
10. Danny Thater MO 15:32.6


Girls Individuals


1. Hannah Neczypor OH 17:34.3
2. Madeline Chambers OH 17:35.5
3. Michelle Thomas OH 17:59.9
4. Michelle Moriset MI 18:10.4
5. Chelsey Phoebus MO 18:17.4
6. Waverly Neer IN 18:17.5
7. Christina Blair OH 18:19.5
8. Lavinia Jurkewicz IL 18:22.6
9. Tapring Goatee IN 18:24.7
10. Sarah McIntosh IL 18:29.7



Winners Table
Click on event for detailed results and photos.


Boys Preview -

Illinois Strangehold Part Deux?


Girls Preview -

State Champs Abound





Saturday night festivities

- photos by Bob Geiger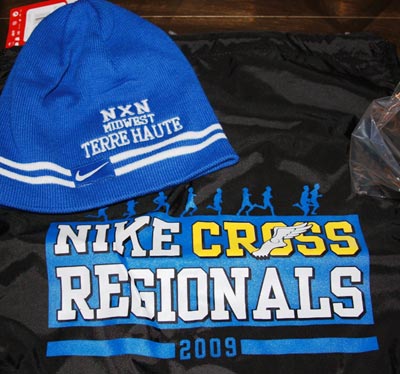 Midwest Regional History

Year

Boys




Girls

2008
2nd, Elmhurst IL (York)


3rd, Ellivrepan (Naperville North IL)

16th, Blue Streaks (Magnificat OH)
17th, Geneva IL

2007
1st, Naperville (Neuqua Valley IL)
9th, Elmhurst IL (York)
12th, Medina OH

15th, Westfield IN
21st, Lake Central IN

2006
10th, Elmhurst IL (York)
15th, Cincinnati (LaSalle OH)

7th, Westfield IN
17th, Hinsdale Central IL

2005
2nd, Elmhurst IL (York)
15th, Warren Central IN

4th, Naperville North IL
13th, Westfield IN

2004
1st, Kroy (York Elmhurst IL)
16th, Middlebury (Northridge IN)
19th, Yahara Hills (Madison WI)


Bowling Green OH



Schedule



Saturday, November 14


2:00-4:00pm Course Inspection
6:00 pm Pasta Dinner, Holiday Inn, Sycamore Grove
6:00 - 8:00 pm Packet Pickup, Holidome
6:00 pm Coaches Social, Holidome-Green
8:00 pm Coaches Panel, Holiday Inn, Chestnut Room West.



Sunday, November 15


8:00am Gates to course open to all competitors and spectators
9:00am -11:30am Packet-pickup
11:52am National Anthem
12:00noon Girls Open
12:30pm Boys Open
1:15pm Girls Championships Race
2:00pm Boys Championship Race
2:45pm Awards

the Course

It is a very beautiful and scenic course well marked in metric distances (miles too) every kilometer. The opening ½ mile is a beeline south then turns right going west then north. Just after the first mile the course runs like a snake with a series of rolling hills peppered in. The final ¼ mile flattens out from north to south into the finish line. (Tony Jones)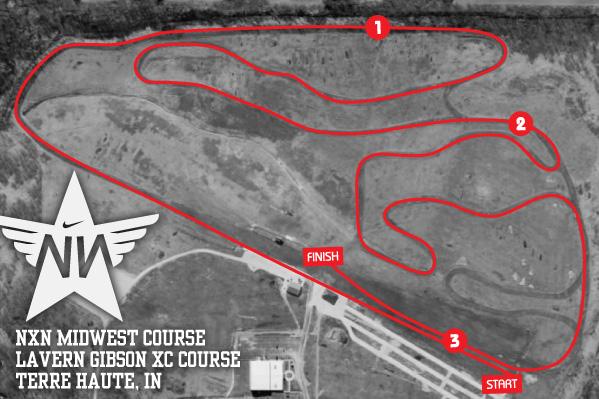 Directions

From U.S. 41:
Take I-70 east 5.0 miles to the S.R. 46 exit. At the S.R 46 exit from I-70, proceed north on S.R. 46 to S.R. 42. Proceed east on S.R. 42 past Hulman International Airport to Swalls Road and proceed east on Swalls Road to the entrance. Travel time from U.S. 41 to the course is approximately 15-17 minutes.

Alternate entrance:
Proceed east on S.R. 42 past Hulman International Airport and follow S.R. 42 beyond Swalls Road to Tabertown Road. At Tabertown Road, proceed north to the entrance.

Last Year -

Kroy boys, Geneva girls sweep for Illinois



Steve Sulkin

, Kroy (York Elmhurst IL), wins boys race


Stephanie Morgan

OH wins girls race.

,



Ask your question


Meet Director Geoff Wayton: "The NXN Midwest is proud of the rich cross country tradition found right here in the Midwest, and we're passionate about each of you reaching your running and coaching potential in the sport we love! Here's your chance to ask the best-of-the-best any question you might have as you look back on the 2009 season! Please email

[email protected]

by midnight Friday November 13, then show up in Terre Haute Saturday night, or tune in to www.nikecrossnationals.com to hear your question answered!"

All Star Coaches Panel
Saturday night events at the Holiday Inn include an all star coaches panel with the following prep coaches from the Midwest region: Amy Yoder-Begley (Nike- former Indiana prep Champ); Joe Newton (York IL);

Paul Vandersteen

(Neuqua Valley IL); Tom Rapp (Mason OH); Eric Prowse (Troy MI); Zach Raber (Fort Wayne Carroll IN); Jim Linhares (Saint Louis University MO); Anjanette Arabian-Whitman (Magnificat OH