Flood-Decker: The NXN HL's 3-year star-power connection




Final go-round for dominant runners as their Dowling Catholic tries to get back to Portland; three key teams in the hunt for boys title including 2-time defender Wayzata; boys individual crown up for grabs



By SteveU, DyeStat Senior Editor

The whole Nike Cross Nationals concept began with getting teams, running with clubs as their high school teammates, to battle for a championship that would settle national debates that were previously only measured by rankings. In 2008, individual qualifiers were added to move the meet toward being a comprehensive event for the post-season, but team aspect of the event is still the overwhelming force.

But ask someone after this coming Saturday what epitomizes the first three years of the NXN Heartland Regional in Sioux Falls, and their memory banks will likely produce images of individuals – two very special individuals, in fact. Yes, they've competed for their club each year, qualifying for the Finals as such in 2007 and as individuals last fall, but their star power has been the constant in this affair each year.

In the first edition of NXN Heartland, sure there was excitement and anticipation for who which teams would make it to Portland. But the big drawing card was the post-season debut of Dowling Catholic soph Katie Flood, whose only foray outside of Iowa was the Griak meet, and who was definitely a contender to win out in Portland. She won that inaugural race at Yankton Trails in 17:35 and would go on to finish 2nd in Portland.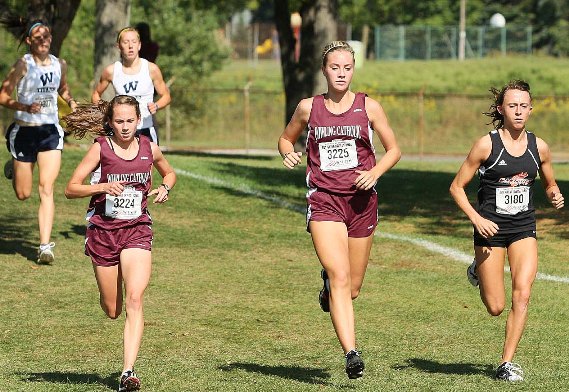 Last fall, as Flood struggled with nagging injuries, it was improved junior teammate Ashlie Decker who followed a dominant state 4A title (breaking Flood's 2-year run) with a 17:53 win here. Decker had been 3rd in 2007, but this time, she relegated her teammate to 2nd. The team didn't qualify this time, and Flood sat out the rest of the season while Decker doubled NXN and the Foot Locker races (which both also did in 2007).

Now Flood and Decker (at right, photo by Jim Kirby, with Decker, Flood and Shelby Houlihan) are both seniors and while neither seems quite as fast as her best year, they seem to have settled at the same level as never before. Flood has most of the wins this year – including her 3rd Griak and 3rd Iowa 4A crown – but they have finished within a couple seconds of each other each time. The odds for anything but a 1-2 finish by the duo Saturday are extremely long – but you might get close to even money on who will actually cross the finish line first.

Flood-Decker? Decker-Flood? Either way, they have left their mark on Yankton Trail like no other and they will be missed after Saturday.

Which one of the Dowling Catholic duo will be the girls individual champion is just one of the many questions looking for an answer Saturday. The others:



Does Dowling Catholic have the depth for a title?


With its tight victory in the Iowa 4A state meet over Iowa City High, 59-67, DC moved up to HL#1 in the NXN Heartland rankings and has to be considered the favorite. DC's 1-2 in that meet gave them an 8-point edge in the first two spots. Then it was up to the winners' Diane Hubbell, Heather Tobias and Vanessa Miller to hold that lead, and they did exactly that.

There's no question that's the winning formula for DC and it's very likely they will gain an even bigger lead in the first two slots Saturday as a deeper, tougher field makes it harder for Iowa City's 1-2 (Rebecca Rethswisch and Erin Danielson) to stay within 10 points. If HL#2 Iowa City's going to win, their 3-4-5 will have to beat Dowling Catholic's and make up ground.

DC, of course, won this meet in 2007, then was 3rd last year, just two points behind Sioux Falls Roosevelt. Iowa City was 6th here last year and made it to Portland back in 2006.

The other leading candidate for one of the two berths to Portland would almost certainly come from Minnesota – but who that best candidate from the Gopher State would be is wide open after last weekend as HL#3 and defending champ Eden Prairie was beaten to third in the state AA meet. That battle went to HL#8 Elk Prairie, as they scored 120 to Prior Lake's 123 and EP's 127. All three teams will be in attendance Saturday.

For Eden Prairie to get back to Portland, it looks like their 4th and 5th will have to close the gap. They had a solid lead last week through three runners – junior Megan Planter, sr Claire Johnson, and jr Laura Lawton – but their last two scorers added more than 100 to the total. They won with room to spare last year, becoming the second Minnesota girls team to make it the Finals.

Elk River also has a strong 1-2, led by senior Emma Bates and jr Abbi Aspengren, then a gap before a solid 3-4-5. Prior Lake, meanwhile, had not outstanding front-runners, but by far the tightest compression with their top five.

It seems most likely the top two finishers will either come from the top two Iowa teams, or one of them and the best Minnesota team, but there are three other contenders to keep a serious eye on.

HL#7 Sioux Falls Roosevelt has made NXN Finals three times – including last year when they were 2nd to Eden Prairie – one behind HL#4 Yankton for the most from the Heartland in NXN's five years. They were just eight points behind Yankton in the SD AA state meet and with Yankton opting out again this fall, they are clearly the top contender from their state. Senior Seanna Kautz, 7th here last year and 3rd in the SD AA race last month, will pace the effort.

HL#6 Bismarck ND is looking for its first NXN girls bid to Portland after their guys made it last year. They were 4th last year, but just three points out of 2nd. Taylor Pintar and Shanice Lambert lead the team, which dominated the ND Class A meet by 47 points. Like Prior Lake MN, they have a tight and strong pack.

HL#5 Iowa City West IA started out strong this year and has had its ups and downs, with illness and injury. At Iowa 4A state, they were in 3rd, 42 points behind Iowa City High. They were fifth in Sioux Falls last November and qualified for the Finals in 2005.



Can anyone challenge the Flood and Decker?


If either or both of the favorites falter, several Heartland state champs and others could be there to take advantage of the opportunity. Certainly, they're all candidates for one of the five individual qualifying spots.

Fargo South ND soph Tarin Lachowitzer – Became the top girl in North Dakota three weeks ago with her winning 14:53.55 4k in the Class A state meet, completing a season-long drive to state prominence. Not far behind, though, were Bismarck's aforementioned 1-2 of Pintar and Lambert, and the mega-talented Laura Roesler – Lachowitzer's senior teammate and 2:03 800 talent – can not be discounted. Lachowitzer was 11th here last year and 8th in 2007.
Sturgis SD jr Madeline Takahashi – Kicked in to win three weeks ago in South Dakota AA race, adding to her 2007 crown. She was 17th here last year, but 10th in 2007. As mentioned earlier, Yankton – which also had two of the top 4 in the SD AA race – is not competing. Seanna Kautz, the senior who led Sioux Falls Roosevelt's qualifying effort last year and was 3rd in the SD AA meet, is another to watch.
Shakopee MN fr Maria Hauger – In a season without a clear distance queen in Minnesota, Hauger nipped Elk River sr Emma Bates for the AA title, 14:40.8-14:41.7. Both will be in Saturday's race, as will MN AA 3rd-place finisher and Alexandria soph Jamie Piepenburg – who more importantly, perhaps, was an impressive 3rd here last year, just seven seconds behind Flood. Impressively, all seven of the girls who broke 15:00 in the two MN state meet races will toe the line here.
Sioux City East IA jr Shelby Houlihan – Yes, she was just 3rd in her 4A state meet, but make no mistake about it, Houlihan is a serious contender. Her bronze, of course, came behind Flood and Decker, as she ripped a 14:14 4k. And, like Roesler, she will be one of the country's top 800 runners next spring. Again, most of Iowa's sub-15 talent at 4k will be here.
Winnebago Luthern WI sr Marya Haegler – Wisconsin's D2 champ tied for best time of the day two weeks ago in the state meet, running 14:33.9 for 4k, and will run here unattached. Arrowhead sr Gabby Levac, who won the WI D1 race at 14:36.7 will also compete unattached, giving the NXN Heartland two of the Badger State's top four overall.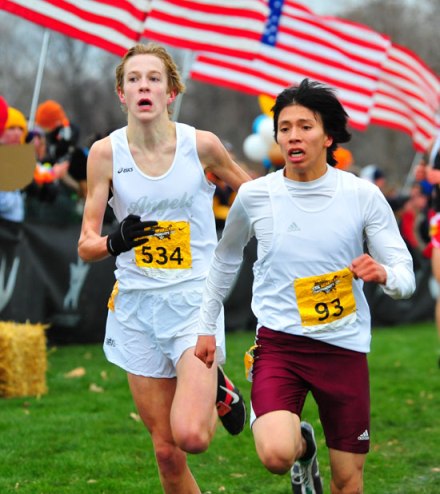 Who will be the new boys individual champion?
Last year, the boys individual affair featured a major showdown between two of the nation's best harriers, with Jakub Zivec taking down 2007 NXN Heartland champ Joash Osoro ND in his first major race of the year after being relegated to JV races all fall due to not having varsity eligibility as a visiting international, but non-exchange student. This year's field doesn't have those kind of heavy hitters, but will feature a number of Heartland state champs and contenders:

Sioux Falls Washington SD sr Josh Heitkamp – When in doubt, go with the home team, or in this case, the area runner with the most talent. Heitkamp just became a 2-time SD Class AA champ last month while almost setting the Elks Golf Course meet record. He didn't run here last year after winning his title. Another good bet from the home state is Rapid City Central soph Tony Smorgiewicz, who was just five seconds behind Heitkamp and 2nd fastest overall in SD that day.
Bismarck ND sr Christian Brownotter (photo at right, #93, from last year's NXN HL by John Dye) – If Bismarck makes it back to Portland, this senior will likely have a lot to do with it. He has led another super season for the Demons all the way, and took the Class A title to continue the string of Bismarck champs. If you're looking for a non-state champ as an NXN Heartland champ, however, consider Century sr Brett Kelly, who battled Brownotter closely several times this year and was 13th here last year – which makes him the #2 returnee. Brownotter was 19th.
Eden Prairie MN jr Aaron Bartnik – Bartnik was just 32nd here last year, but has improved enough that he was the AA champ last week in Minnesota with the best time of the day. MN Class A champ and super soph Mubarik Musa from Worthington HS was just five seconds slower than Bartnik and could break out here. And don't forget Moorhead jr Lukas Gemar, who has struggled most of the fall – finishing 31st in the MN Class AA race last weekend, but was 3rd at NXN Heartland last fall behind Zivec and Osoro.
Norfolk Catholic NE sr Jarren Heng – It's not too often a runner in a smaller state classification is the best in a state meet, but Heng fit the bill with a dominant run to win Class C. This will be his first NXN Heartland. Nebraska Class A champ North Platte jr Brady McGuire is also in the field.
Hamilton WI sr Marcus Paulson – As the Wisconsin D1 champ, in a close 3-way battle, Paulson is an obvious choice to be one of the top individual contenders. Marquette sr Jake Erschen, 3rd in that race and the Griak champ earlier in the season, should also be a serious contender.



Will Wayzata make it three boys titles in a row?


The boys team battle is shaping up to be a 3-way fight between the 1-2 teams from last week's Minnesota Class AA meet – HL#1 Eden Prairie and #2 Wayzata – and the completely dominant North Dakota state champ, HL#3 Bismarck.

Wayzata is 2-time defending champs, but has been edged by rival Eden Prairie all fall – in invitationals and finally at the AA state meet last week, 47-57. It's the same actual score that separated the two schools in an earlier invite. The aforementioned Bartnik was part of a tough junior 1-2 punch for Eden Prairie, with Mohamed Mohamed being the other. The winners put four in the top ten. Wayzata was led by senior Oliver Haughland (photo above, #534, from last year's NXN HL by John Dye) and soph Josh Thorson, also in the top ten, and had seven in before Eden Prairie's fifth, but they could not overcome that top four. EP is hoping for their first-ever NXN Finals bid after taking 4th last year.

Bismarck ND is the other top contender for one of the two qualifying spots. They earned their first bid last fall by finishing just three points back of Wayzata. While they lack the national-class talent of Joash Osoro up front, current #1 Brownotter is close to what #2 Devin Huizenga did last year and Bismarck is at least as deep as last year. At Griak, Wayzata had a very good day and Bismarck did not; the Minnesotans won by 60.

Those three teams seem a cut above anyone else, but there's also top Iowa teams HL#6 Burlington, HL bubble team Cedar Rapids Prairie and HL#8 Pleasant Valley. They went 1-2-3 at the 4A Iowa meet, with 106, 109 and 136 points. Iowa 3A champ Pella is in the field, too.

South Dakota's HL#5 Brandon Valley and #7 Sioux Falls Roosevelt were 2nd and 3rd in the AA state meet behind Yankton and should contend. Wisconsin D1 runner-up Marquette U. HS will likely be in the top group.