The annual DyeStat Elite XC Individual Top 25 series (formerly Foot Locker Favorites and renamed given additional options available now) are national and regional rankings of cross-country runners based on distance-running accomplishments to date, with an emphasis on XC and 3200/2M track results, rather than a projection of how the Foot Locker Finals or NXN Finals will turn out (predictions run later in the season).





Look out for Lutz





Nov 6, 2009 Boys Rankings

(through Oct. 31 meets)

The Top 25

Texan moves all the way up to US#5 with devastating run at district meet; Futsum looking very fit again;
great weekend ahead should impact rankings with some great matchups and questions to be answered

Story and rankings by SteveU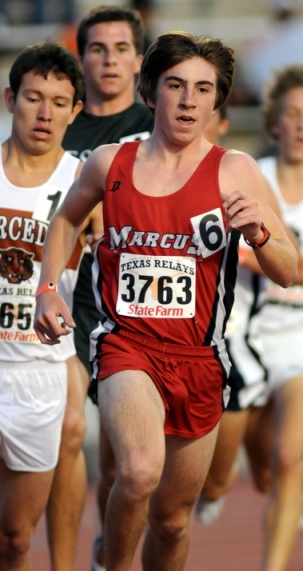 Craig Lutz from TX Relays. File photo by Bert Richardson


Last fall and early last spring, any comprehensive analysis of the growing force of the country's amazing Class of 2011 distance runners had to include Marcus TX soph

Craig Lutz

. After a fine freshman year, he dominated the Texas 2008 XC season through Nike South and, even after Reed Connor took over, was strong the rest of the way, finish 5th at NXN Finals. In track, he made a mid-season statement with a winning 9:03 3200 at Texas Relays. Injuries slowed him the rest of the way, however, and he was still in less than optimal form at the early-season Southlake Carroll TX Invite, where he was beaten by 15 seconds by new Longhorn State star Connor Adams.

What a difference a month makes. Lutz just kept getting better every race and repeated at Nike South, beating standouts like Ryan Dohner and Parker Stinson. But it was at the small District 6-5A meet last weekend that the junior made national fans realize that he perhaps should be mentioned in the same breath as the Rosa twins, Lukas Verzbicas and Zach Wills as championship contenders. His 14:50.29 took place on the same course where he'd run 15:20 in the loss to Adams – and the muddy layout was in considerably worse shape than before. Adams ran 15:32, a 42-second gap, and Carroll's #1 Neal Smith – a very solid runner – was a full minute behind Lutz.

While getting to the next stage is clearly the name of the game in a small district meet, perhaps partially explaining the margin of victory, there's no question Lutz is at least as fit as he's ever been – maybe better. He was only a few seconds behind Joe Rosa in Portland last year and it's now reasonable to think he'll be there again this year. His district run takes him from #10 to #5.



Futsum looking fitter and fitter

– Those who thought earlier in the season that North Central IN soph Futsum Zeinasellassie might not be the same runner as last year – after some slower mid-season races – are having to rethink their position. With a mid-race burst, Futsum powered away to an Indiana State Meet victory – not quite as decisive as his Carmel Semi-State win, but pretty strong nonetheless. He would later say that fast times, for the most part, were not a priority most of the season until the last few meets. Now that he's showing pretty similar form to last fall, it's fair to guess he'll be ready to make it back to San Diego and race like he's the man to beat there, as the top returnee. Of course, which of the top runners will race Foot Locker, NXN, or both remains to be seen.



Newcomer



Verona NJ senior Dave Oster – With a super, course-record 14:56 at the Essex County Champs, Oster not only beat fellow Jersey standouts Curtis Richburg and Tyler Udland, but he beat Udland's CR from last year – when Udland was en route to a Meet of Champs title a few weeks down the road.
This week's storylines

– This weekend's huge 22-meet state championship schedule will have plenty of impact up and down the rankings, and answer a lot of burning questions

Hoover or Korolev?

Missouri standouts Caleb Hoover (#24) and Maksim Korolev (HM) will be in different races on state meet Saturday, but at least there will be basis for a time comparison to settle debate over who's the best in the Show Me State.
Schafer or Fauble?

Similarly, US#25 Walter Schafer and HM Scott Fauble will be in different races in Colorado, but the fastest will have a leg up as the best there. Fauble owns a win over Schafer head-to-head, from early season, but Schafer was fastest in different races at Liberty Bell.
McKelvey or Rainey?

HMs 2008 Foot Locker Finalist Clint McKelvey and standout Jacob Rainey are generally regarded as Tennessee's best. Rainey beat McKelvey early in the year, but McKelvey looked much better placing 2nd at Great American. They will face off in the AAA race.
Miles and Mosko

– US#22 Brad Miles PA and #14 Shane Moskowitz WA have been the highest ranked (and only ranked) runners from their states this year, but there are plenty of honorable mentions and others to contest them in their races and other classes. Moscowitz has faced some of the top 4A talent, but has been considered Washington's best primarily by past record. Miles has beaten some of the other top PA contenders in emerging this fall, but is hardly a consensus choice.
Athlete
1. (1) Joe Rosa, 2011, West Windsor-Plainsboro North HS, NJ
2. (2) Zach Wills, 2011, Mason HS, OH
3. (3) Lukas Verzbicas, 2012, Sandburg HS, IL
4. (4) Jim Rosa, 2011, West Windsor-Plainsboro North HS, NJ
5. (10) Craig Lutz, 2011, Marcus HS, TX
6. (5) Brian Shrader, 2010, Sinagua HS, AZ
7. (6) Elias Gedyon, 2011, Loyola HS, CA
8. (7) Ammar Moussa, 2011, Arcadia HS, CA
9. (9) Matt McElroy, 2010, Edison HS, CA
10. (12) Futsum Zeinasellassie, 2012, North Central HS, IN
11. (11) Jon Vitez, 2010, Haddonfield Memorial HS, NJ
12. (13) Wade Meddles, 2010, Sierra Lutheran HS, NV
13. (8) Connor Adams, 2010, Flower Mound HS, TX
14. (14) Shane Moskowitz, 2010, Central Kitsap HS, WA
15. (15) Pablo Rosales, 2010, San Pedro HS, CA
16. (16) Erik Olson, 2010, Novato HS, CA
17. (17) Donovan Torres, 2011, Coronado HS, TX
18. (18) Heyden Wooff, 2011, Camarillo HS, CA
19. (NR) David Oster, 2010, Verona HS, NJ
20. (19) Ryan Dohner, 2010, Klein Oak, TX
21. (20) Samuel Pons, 2011, South Pasadena HS, CA
22. (22) Brad Miles, 2010, North Penn HS, PA
23. (23) Matt Mizereck, 2010, Leon HS, FL
24. (24) Caleb Hoover, 2011, College Heights Christian HS, MO
25. (25) Walter Schafer, 2010, Cherry Creek HS, CO
Honorable mention

Mohamed Abushouk NC
Blake Ahrold CA
Dylan Anthony AK
Jeff Arnier TX
Michael Atchoo MI
Brian Atkinson FL
Reece Ayers PA
Luke Baker GA
Colin Barker FL
Aaron Bartnik MN
Aaron Beattie IL
Chris Bendtsen CT
Jacob Benn TX
Marco Bertolotti NY
Sam Bernitt PA
Kellen Blumberg CA
Sean Bone MI
Michael Brajdic OH
Christian Brown Otter ND
Tyler Byrne IN
Jimmy Clark FL
Nick Composto IL
Domenic D'Aquisto CA
Ben Demaree OR
Armando Del Valle FL
Alex Dier NY
Kevin Dowd VA
Hugh Dowdy CA
Jack Driggs IL
Ryan Eaton KY
Travis Edwards CA
Jeremy Elkaim NJ
Kirubel Erassa GA
Phil Fairleigh IL
Brendan Farrell NY
Scott Fauble CO
Dustin Fay CA
Erik Fitzpatrick ID
Brandon Freyer NY
Lukas Gemar MN
Martin Grady IL

Thomas Graham NC
Johnny Gregorek MA
Luis Gutierrez CA
Curtis Hanle OH
Sherod Hardt AZ
Dan Harris NY
Cody Helbling ID
Francis Hernandez NH
Max Holman MS
Nick Hughes NY
Jake Hurysz NC
Eric Jenkins NH
Tyler Jermann IL
Ben Johnston WA
Omar Kaddurah MI
Reed Kamyszek MI
Brett Kelly ND
Maksim Korolev MO
Pat Lesiewicz IL
Philip MacQuitty CA
Jose Madera CA
Andrew McCullen VA
James McIllece TX
Clint McKelvey TN
Anthony Manfrin IL
James Martin IN
Mike Mazzaccaro NJ
Colin Mearns VA
Chris Montoya NM
Erick Montoya FL
Vince Montoya NM
Mitch Moriarity CA
Jose Luis Munoz AZ
Danny Nicolls CO
Drew O'Donahue-McDonald WA
Hale O'Herren IN
Billy Orman AZ
David Osborn IN
Jantzen Oshier CA
Andrew Palmer MD

Conner Peloquin WA
Vince Perozzi PA
Kyle Pittman NM
Grant Pollock VA
Jacob Rainey TN
John Raneri CT
Heath Reedy CA
Curtis Richburg NJ
Daniel Rosales CA
Nick Ross RI
Garrett Rowe CA
Kurt Ruegg CA
Alex Saavedra NY
Will Sanford FL
Colin Savage NY
Pat Schellberg NJ
Alan Schroeder WA
Michael Scolarici IL
Jake Sienko RI
Andrew Smith IL
Neal Smith TX
Bryan Spreitzer NC
Jonathan Squeri NJ
Parker Stinson TX
Max Straneva NY
Blake Theroux VA
Adam Thorne WA
Otis Ubriaco NY
Tyler Udland NJ
Justin Vilhauer CA
Scott Vincenzi IN
Chris Walden IN
Michael Wallace FL
Aaron Watanabe NH
Roy Wedge KS
Lane Werley CA
Jake Wildenmann KY
Blake Williams NC
Nathan Williams CA
Mack Young WA
Pat Zacharias NM
Top 25 Index