Great American
Cross-Country Festival



Friday-Saturday, October 2-3, 2009





WakeMed Soccer Park - Cary NC




A DyeStat Featured Meet




Prior Years

- Coverage on DyeStat since 1999

2008 - Ashley Brasovan (left) stays on Top; other ROC titles to Bill Matthews, Collins Hill GA girls, Montgomery Bell Acad. TN boys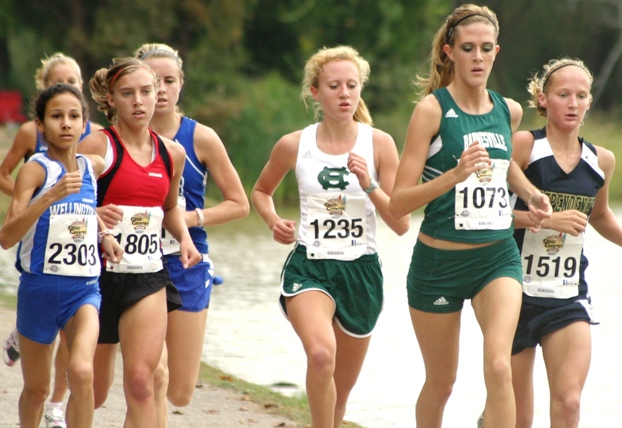 Photo by Pat Davey

2007 - Ashley Brasovan FL (17:06) & Sean Keveren TN (15:37) set course records; Team titles to Mountain Brook AL girls and Oak Ridge TN boys
Photos by Davey, runmichigan.com

2006 - Ben Hubers GA and Kathy Kroeger TN win impressively. Episcopal Jacksonville FL girls, Collegiate NY boys make a case for higher ranking.

| | |
| --- | --- |
| photos by John Dye | |
2005 - Saratoga Springs NY sweeps, Aislinn Ryan NY repeats, Sandy Roberts NC wins one for the local fans.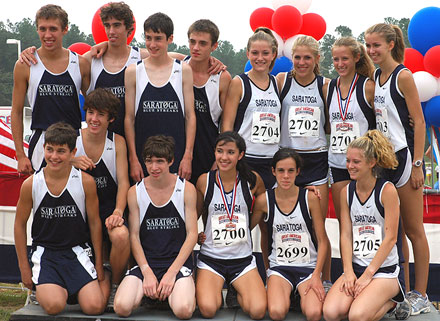 Saratoga Springs NY boys and girls rule the team competition - Photo by Donna Dye

2004 - Saratoga NY girls, Cedar Cliff PA boys, Aislinn Ryan, Robert Bedsole win Race of Champions.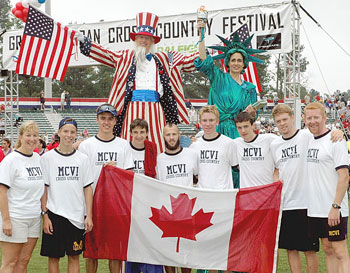 photo by Donna Dye


2003 - Three of the four major races at the Great American were won by Denver runners. Denver West soph Mohamed Ige won the Boys Nike Race of Champions in frontrunning 15:48. Smoky Hill CO teammates Ryan Deak and Katelyn Kaltenbach won the seeded invitational races in the fastest times of the day -- Deak 15:26 and Kaltenbach 18:05.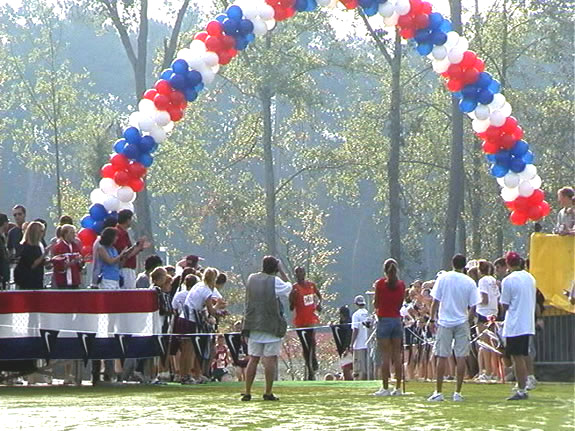 2002
- Apparent winners
Bobby Curtis
and The Woodlands are DQ'd as first five runners cut the course in the last 800 meters. Mountain View UT 125 moves up to win over Davidson Hilliard OH 134 as The Woodlands loses top 2 runners in DQ fiasco.
Nicole Blood
19:02.6 wins side by side duel with
Amber Harper
19:03.1 over last half of race and leads Saratoga NY to second straight team title with 100 points.

2001 - Saratoga NY girls, Kingwood TX boys win team titles. Alison Tubbs WA hammers top girls field. Bobby Curtis has fastest boys time. Races were run at Winthrop Farm Meadows at Rock Hill SC, just across the state line from Charlotte.

2000 - The year of the great flood. At the starting time Saturday morning, the start and finish areas were under water. Races were amazingly run after a 6 hour delay to let the swollen creek at McAlpine Park recede. The winners were Alan Webb, Alicia Craig, Saratoga NY girls, and Mountain View UT boys.

1999 - Inaugural event saw the Bingham UT girls dominate the Race of Champions, with Dyestat Cal's Doug Speck saying it was "the greatest girls cross country team performance in US history," surpassing the previous standard University Irvine CA team. An average time of 18:13 for 5000 meters - a 35-point trouncing of the nation's No. 1 team Saratoga NY. A 2-3-10-11-19 finish - all five scorers under 19 minutes - the 6th and 7th runners finishing 28 and 33. Felicia Guliford NM won the girls ROC, followed by Bingham's Zeigle twins. Alan Webb VA and The Woodlands TX were the boys ROC winners.