Great American
Cross-Country Festival



Friday-Saturday, October 2-3, 2009





WakeMed Soccer Park - Cary NC




A DyeStat Featured Meet




Familiarity breeds success




Baskir, Atkinson, Saratoga girls all find WakeMed to their liking - again





by SteveU, DyeStat ESPN RISE senior editor


Photos by Walter Pinion



They say familiarity breeds contempt. But it also breeds success. And familiarity with the Great American XC Festival's new home certainly was a recipe for success on a warm, clear Saturday as three of the four Race of Champions individual and team winners used their previous experiences at the WakeMed Soccer Complex in Cary NC for positive gain.

Carolyn Baskir, from nearby East Chapel Hill NC and ranked 12th nationally in the DyeStat Elite Top 25, has raced here at least four times in her career. When it came down to gauging her final kick on the endless uphill finish, she had the right move and won in 17:14 for 5k, just four seconds off the course record. Brian Atkinson isn't exactly from a nearby school, but the Melbourne FL sr triumphed on this layout last fall in the NXN SE Region race, so he knew sitting back the first half of the race then turning on the jets would work for him. It did, as he came within two ticks of his own course mark in 15:13.

The Saratoga NY girls have to go back a ways to their last visit to WakeMed – it was 2005, the year before Great American moved to Hoover. Brianne Bellon was 5th girl in Toga's winning effort that day, while Cassie Guotos won the JV race. Both were 8th-graders. Saturday, they both played significant roles as seniors as their return to Cary – and the winners' circle – mirrored that of the meet itself. The US#3 team won with 53 points, easily topping SE#1 Blacksburg VA's 122.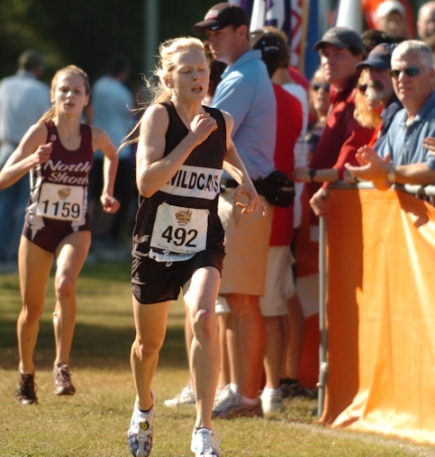 Carolyn Baskir holding off Samantha Nadel after passing her back in the final meters.


Familiarity probably didn't play a part in Brookwood GA's team title in the ROC – they weren't in the NXN SE race last year – but it didn't help their closest followers, either. 2nd- and 3rd-place finishers Bishop Guertin NH and Bishop Hendricken RI were competing far, far from home, and were more familiar with each other than anything else. Last weekend, Hendricken edged Guertin for the team title in the Manchester Invite by three points; this time Guertin reversed it to win by a single point, 149-150. But both Northeast powers trailed the SE#1 squad, which tallied 118.



Girls Individual: Baskir over Nadel



It's one thing to know a course you're running on; it's another to know yourself. East Chapel Hill sr Carolyn Baskir certainly knows WakeMed, but she's just beginning to really understand and tap into her capabilities.

"I love this course," said Baskir. "I've had two races here last year and now two this year. I'm really getting familiar with how to run it."

Two weeks earlier at WakeMed, Baskir's coach had commanded her to stay off the sizzling pace set by Ravenscroft frosh phenom Wesley Frazier. But Saturday, she took the lead before the mile (5:18) and stretched out the field, establishing most of the top positions by halfway. Samantha Nadel didn't let her go, however. When everyone else dropped out of contention, Nadel shadowed Baskir through 3k (10:20), 2M (11:07) and 4K (13:42).

Neither girl had a lot left on the final, exhausting hill to the finish – not that anyone else nearby did either. But Nadel had to make one effort, and she pushed past Baskir with about 200 left.

"When she passed me, I was really tired," said Baskir. "But after that, it seemed like she wasn't really picking it up, so I figured I would try to kick it in." She did and Nadel couldn't respond, giving the home course girl the 4-second victory.

Despite getting re-passed and outkicked, Nadel didn't seem too disappointed. "I'm pretty happy with the race and really happy with the time," she said. Nadel had DNF'd in the Warwick Wave meet in NY last weekend, due to – she thinks – dehydration. But she had a strong midweek effort and showed Saturday that she is ready to build on her super track seasons last fall and winter, and contend for top honors in New York and beyond. Though the competition is brutal in the Empire State, Nadel hopes to lead her team to an NXN Finals bid.

Meanwhile, the big-picture story with Baskir is her meteoric rise among the elite. Although she is a senior, she did not compete as a soph and still feels like a relative newcomer to the sport. She was 2nd in the 4A state meet last fall and has goals of winning this year. A lot of hill work and weight training has made her stronger, but she was clearly wasn't expecting to leap into the national spotlight. Three weeks ago, she had run a strong 17:58 at the Seahawk Invite in Wilmington, but was soundly beaten by Frazier. A week later, though, while Frazier set the WakeMed course record, Baskir ran differently.

"Seahawk was a bad day," she said, explaining that she fell behind, made a huge move to take the lead, then died badly. "I had never run against Wesley and didn't know she was that fast. The next time, my coach said to just stay back, let her set the pace, and run your own race."

Baskir did, and the result was a scintillating 17:24 PR, only 14 seconds behind Frazier this time. Then East Chapel Hill went up to Maymont and Baskir had her biggest victory (before Saturday), edging Blacksburg's Kathleen Stevens. "It was my first out of state meet," she said. "I didn't really expect to win like that … The last few meets have been pretty good for my confidence."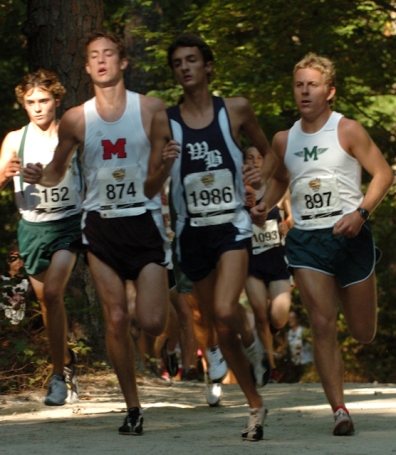 Brian Atkinson (897) and Clint McKelvey (874) in the pack early before making their mid-race moves.


After Nadel's 17:17, it was 20 seconds back to Parkway Central MO sr Diane Robison, who moved up from 7th last year and ran 17:37. Blacksburg's Stevens twins were next, with Joanna edging Kathleen this time, 17:44 to 17:46.



Boys Individual: Atkinson holds off McKelvey



In the boys ROC, about 10-12 contenders shuttled the lead between themselves in the first half of the race, passing a mile in 4:45, and then 2k in 6:01. Luke Baker of Eagles Landing Christian GA had taken a small lead before the mile and held it till about halfway. But the first move that really mattered came when the runners had crested the endless slope, wound around the back and into the woods again. Suddenly Brian Atkinson moved to the front, looking as fresh as can be, and quickly pulled away from Baker (who would finish 10th). Only Maryville TN sr Clint McKelvey could go with him, turning it into a 2-man race.

"It was almost the same exact plan as last year (NXN SE)," said Atkinson, who noted it was his first big meet of the year and it is working his way into form for a late-season peak. "I knew it would go out super fast, so I just stayed off the lead pack and waited until after the first big hill. Then I started pushing it past halfway."

That said, it was no easy task for Atkinson to shake McKelvey, who covered Atkinson's break well and shadowed him through the woods on the second big loop. They passed 3k in 9:09, 2M in 9:52, and 4k in 12:05. "I tried to surge on him," said Atkinson, "but he was right there and stayed right there."

In the last 500 or so, it looked like McKelvey was gaining a bit on Atkinson. But the winner has plenty of upper body strength and used it to drive up the incline in the last 300 to hold off his pursuer.

"We both stayed pretty patient early," said McKelvey. "I really pushed at the bottom of the final hill. I gained on him for a little bit, but then he pulled away." Nonetheless, the Tennessee standout and 2008 Foot Locker Finalist was pleased with the time (15:18) and the race. He was nursing a right foot injury that didn't really bother him during the race, but that he had treated afterward. His 3rd-place performance in the Tennessee Classic two weeks earlier had indicated that maybe he was off form this year, but Saturday's race – just 8 seconds off his PR from Foot Locker South last fall – made it clear he's ready to match or improve on last year. "I've had some good workouts the last few weeks and today's race was much better," he said.



Boys team: Brookwood surprises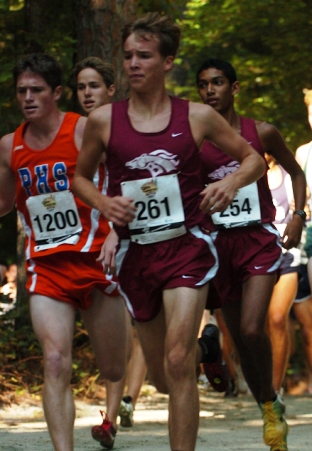 Zach Robinson (261) and Tommy George (254) in the pack early for team champion Brookwood


Bishop Guertin NH and Bishop Hendricken RI couldn't have been blamed if they'd thought the team race would be all about them – and it almost was. The previous week, they had established themselves as two of the teams to beat in New England at the Manchester Invite, as Hendricken nipped Guertin, 57-60, with Guertin's Francis Hernandez beating Hendricken's Jacob Sienko for individual honors.

This time, Sienko turned the tables, taking 3rd behind Atkinson and McKelvey in 15:20, with Hernandez in 4th, 3 seconds back. Guertin then put two more in the top ten (scoring-wise, after individuals removed) and built a big lead on Hendricken and the rest of the field. The two schools' fourth men finished almost together, but then Guertin lost a ton of points on the final scoring spot, as their normal fifth man was not able to make the trip. They scored 83 in that spot, while Hendricken's 5th was just back of their 4th in 46th, making up just enough points to take their rivals by one … or so they thought. Some scoring revisions Sunday changed a few spots in the middle and it was just enough to give Geurtin a 1-point margin over Hendricken.

Of course, what also was revealed Saturday is that these teams were battling for second, not first. Spreading their scorers evenly throughout the top 45 and surprising themselves, given that they were running without their normal 3rd and 6th, was SE#1 Brookwood GA. They topped Hendricken at every spot but the first one, while also gaining more than 30 points back on Geurtin with the 5th. They added up to 118 for a comfortable margin on both New England teams.

"When we met last night, there really wasn't a lot to say because we really didn't know what we were up against," said Brookwood coach Ben Dehnke. "We were without our 3rd and 6th man, who have swine flu symptoms, and we just wanted to see what we could do. We definitely did not feel any pressure. From top to bottom, everyone set a PR."

Said Tommy George, who was Brookwood's #1 man, scoring 7th (12th overall) in 15:42, "I just wanted to go out conservatively and then see what I could do after the first big hill." Tyler Anyan was the winners' next scorer with 16th overall and scoring 11th in 15:51. Sean Brennan, Jackson Wearn, and Zack Robinson finished off the job. "Our team motto is "long ball or no ball," said one unidentified Brookwood runner.

As for Hernandez and Sienko, both were rather matter-of-fact about how things turned out, both individually and team-wise, knowing there was still some residual fatigue from the previous week and it had been a long trip.

"It was just 'OK,'" said Hernandez. "We really ran pretty hard last week on an even tougher course. We (the top individuals) were in a big pack early and I think everyone in that pack thought they could win. It was anybody's race, but I didn't really have it when they took off."

"It was a faster course than last week, but I was happy to get a PR," said Sienko. "The entire team probably could have done a little better, but it was solid." Sienko, who was 7th in the All-State meet last year as Hendricken won, says he and his teammates have definitely realized this is a watershed year, with six of seven having returned from last year's group. Winning Rhode Island again is definitely a big goal, but getting to Portland is the biggest.



Girls Team: Saratoga's 7th title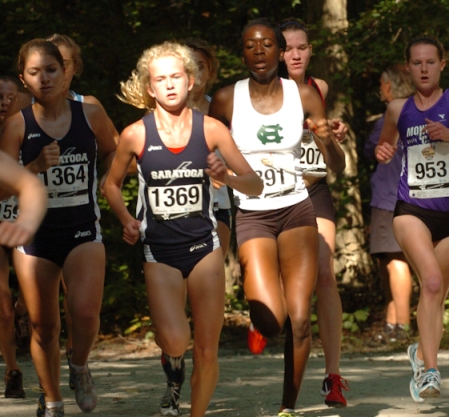 Cassie Guotos (1364) and Keelin Hollowood (1369) up with the lead pack early.


As for Saratoga, you can say they are "back" at Great American, but don't say they're "back" on the national scene. They never went away, Coach Linda Kranick will contend. And she's right: Though they had not been ranked as high as US#3 – particularly on a steady basis as they have been so far this fall – since 2005, they have continued to show up big time in Portland, finishing 3rd and 4th the past two years and have ran in all but one NXN, never finishing lower than 4th in their four appearances.

This time there is, however, a nice combination of rising, maturing talent with some solid senior leadership mixed in. Soph Keelin Hollowood has been leading the way, finishing 7th overall Saturday in 18:06, just ahead of Monroe-Woodbury's Megan Patrignelli. Four of the seven are upperclassmen, though, including seniors Cassie Guotos and Brianne Bellon, who played big roles Saturday. The others are juniors Sydney King and Amanda Burroughs, freshman Madison Carr, and soph Margaret McDonald.

Toga got out fast Saturday, with at least five up in the top group at the half-mile. The charge seemed to quickly end anyone else's hopes of the team title.

"It was really fun. I love racing here," said Guotos.

"We're more mature and more experienced," said Coach Kranick. "I'm very proud of them. They did what they had to do today. They're a close-knit team. We're all having a good time this year and they're a neat group of kids."

Saratoga's depth is also something to be considered … and may be a sign of the potential to challenge the big two of the past few years, Fayetteville-Manlius NY and Saugus CA. Toga's girls won the JV, JV II, and Freshman races Saturday, with both JV teams scoring a perfect 15. hen the day was done, they had put 12 girls under 20 minutes and 18 at 21:00 or better.

Despite finishing 69 points back of Saratoga in 2nd, Joanna Stevens and her Blacksburg VA teammates seemed pretty happy with the strong runner-up finish. "I'm really pleased," she said. "I had a 20-second PR and we had other girls break 20 minutes and 19 minutes for the first time."

She acknowledged that she and sister Kathleen had been mainly seen as middle distance track runners the past few years, but that they've aspired to excel like this over hill and dale, too. "It's something we've been striving for the past couple of years. We've been healthy and training well for awhile now." Thanks to that, they could be the top two runners in Virginia and have a great chance to lead their team to Portland and place high.



.