Cuffe's 'whirlwind' tour continues with monster CR




New York gets 3 qualifiers; 2 each for Jersey, Connecticut, Maine





Girls Meet Story by DyeStat Metro Staff | Photos by Lisa Coniglio, Photorun.net



It's been a whirlwind ride for cross-country runner extraordinaire Aisling Cuffe.

Just two years ago, this whipsmart yet shy junior from Cornwall Central HS NY was a racewalker during her freshman year of indoor track. Still unknown in running circles, she qualified for the freshman mile at the Nike Outdoor Nationals and ran a modest 5:21.

Cuffe began to turn heads last fall as she began to rack up big victories, challenged the best in New York, then capped her first cross-country campaign by placing third in the Foot Locker Northeast Regional and 12th at the national meet.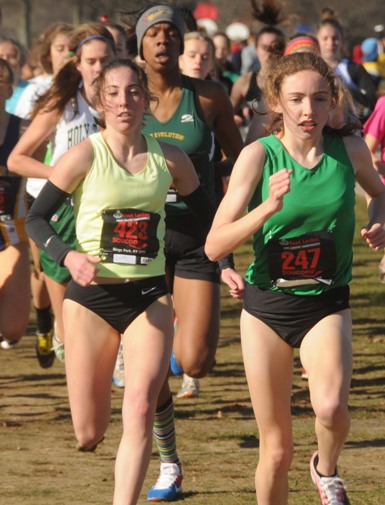 There's no catching anyone by surprise any more for Cuffe. She is a nationally known entity who goes into races looking for not only the victory, but for meet and course records as well.

Case in point: The 31st Foot Locker Northeast Regional at Sunken Meadow State Park in Smithtown, Long Island, NY. Cuffe, after missing out on a couple of course records during the season, cranked out a 17:45.9 to smash 1982 Foot Locker Final champ Christine Curtin's 1981 mark by 21 seconds and claim the individual title by a whopping 45 seconds.

Cuffe (#247, photo at right with Abbey Leonardi #423) and the rest of the top 10, including third-place finisher and three-time qualifier Chelsea Ley of Kingsway High in Gloucester County NJ, advance to the Foot Locker National Championship Dec. 12 at Balboa Park in San Diego CA.

``I wanted to break the course records at Bowdoin Park (Wappinger Falls NY) and Bear Mountain (Orange and Rockland counties, NY) but came up short, so this is nice to finally get one,'' Cuffe said after battling the 40 mile-per-hour winds which whipped off Long Island Sound. ``My goal coming in was to win and to break the record. I was finally able to get a course record, but I actually came in just trying to win, and I let the time take care of itself.''

The meet record is 16:48.1, set by Cathy Schiro of Dover (HS) NH in 1984, but that mark was established at Van Cortlandt Park in the Bronx NY. The meet was moved to Sunken Meadow this year because Van Cortlandt is under construction.

The rest of the Northeast contingent will be rounded out by a bevy of first-year qualifiers. In fact, Cuffe and Ley are the only repeat national finalists.

Kennebunk ME soph Abbey Leonardi of finished second in 18:31.9. Third was Ley, the Virginia-bound senior who finished in 18:33.1 and clinched her third straight trip to San Diego after finishing eighth at nationals last fall and 18th as a sophomore. Holy Trinity NY junior Colleen Schmidt finished fourth in 18:35.9, and Haddonfield NJ senior Marielle Hall placed fifth in 18:36.4.

Rounding out the top 10 were senior Bunnell CT senior Lauren Sara (18:37.4), Cheverus ME sophomore Emily Durgin (18:38.7), Pennsbury PA freshman Sara Sargent of (18:42.2), Johnson City NY sophomore Lauren Mullins (18:54.4) and Fairfield Warden senior Meg Ryan (18:54.8). It was the first time Maine has ever had two qualifiers.

Emily Lipari of Roslyn NY, a two-time national finalist, missed out on a third trip out west after finishing 51st. Lipari had pulled out of the NY state public Class A and NY Feds meets this month with an ankle injury, but hoped to make a go of it Saturday.

"This is the most frustrating thing I've ever had to deal with," said Lipari through tears afterward. "I was so ready for this season … I was so upset about how I did at Foot Locker last year." Lipari was 11th in San Diego in 2008 after taking 6th as a soph.

The 2009 NIN mile champ said she had sprained her ankle in her conference meet, which was eventually confirmed with an MRI. She had tried to run through it at first, then taken time off while trying to maintain her cardio fitness. "I just started running on Monday this week," she said. "I knew right from the start today it wasn't going to happen. My legs just had no pop."

Besides Cuffe, Ley and Lipari, the only other returning national finalist from last season's Northeast meet was Mendham NJ senior Laura Vigilante, who placed 19th overall in 19:16.3. Last season Vigilante earned the 10th and final qualifying spot for San Diego.

Cuffe went about smashing the Sunken Meadow course record by running away from the field early. She hit the mile mark in 5:23 and just after the midway point of the race, as she scaled Cardiac Hill, she owned a whopping 20-second lead on Leonardi and Ley. Cuffe checked in at the second mile in 11:36.

``My coach said if she's there, go after it, but I saw she went out fast and you could tell early on she wasn't going to be caught,'' Ley said. ``She'll definitely be one of the top contenders in California. There's no doubt in my mind that she can win it.''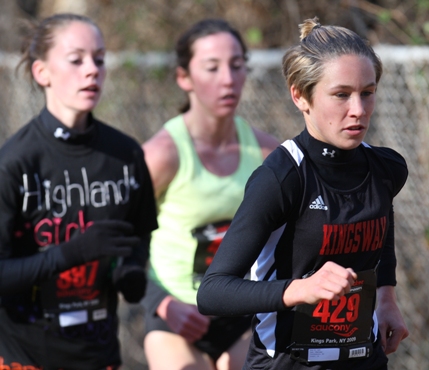 Cuffe said she balanced her need to break the course record with her desire to win the race by keeping a consistent stride and not worrying about meeting pre-race mile split goals.

``I felt pretty good out there today,'' Cuffe said. ``Last year, I wasn't into it in terms of planning ahead and I guess I took the race for granted (when she placed third). I guess I was naïve. I'm not underestimating anyone, anymore.''

As far as surprising herself and how far she has come in such a short time, Cuffe was her normally humble self.

``I'm not really surprised at anything,'' Cuffe said. ``I just go out and try as hard as I can. I don't think about where I used to be. Maybe I'll think about it when I'm 30 years old, but not now.''

For Ley, the Northeast's three-time qualifier (#429, photo at left), the trip to San Diego represents a chance to take one last shot at the famed Balboa Park course.

``The first year I made it I was so shocked at everything,'' Ley said. ``Making it to nationals, how nicely they treat you out there, how they give you a bunch of stuff, how the course is lined the whole way with Foot Locker banners. It was unbelievable.

``Last year was cool because I expected to make it and I did, and I had a good race out there. This year, I think, is the best, because it's my senior year and I don't want to miss out after going the last two years. If I didn't make it, I would be sad, thinking about all the stuff I would be missing out on.''

The other Jersey girl in the national finalist group is Haddonfield's Hall. Hall placed third at the NJ Meet of Champions last week behind Ley and Highland Regional junior Megan Venables (16th in 19:13.3 at the Northeast meet.)

``There was definitely a lot more competition than I thought,'' Hall said. ``This is really exciting. My goal was to get here and qualify and I made it happen. This is definitely something I thought I could do.''