31st Simplot Games


Holt Arena, Idaho State University, Pocatello ID
February 19-21, 2009



Fast Times Continue Amid Hard Times



In positive sign for the sport, nation's economic woes seem to have little effect on athlete
turnout at Simplot Games; Meet made popular by Obea Moore in the 1990s could benefit from dejavu-like
experience this weekend as New Bern HS relays seek to eclipse Moore-anchored records
By Rich Gonzalez
DyeStat/ESPN RISE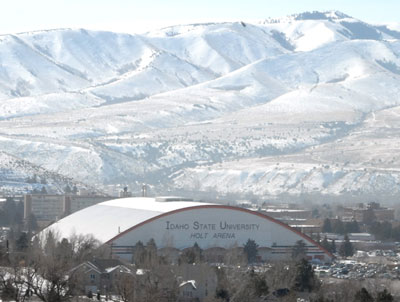 POCATELLO, ID 2/20/09 -- If this weekend's 31st Annual Simplot Games are any indication, the financial meltdown gripping this nation's economy is imposing merely a lukewarm traveling effect on the "avalanche" of talent that traditionally rumbles down to Pocatello each February.

With two days of action now in the books and the big championship day awaiting, meet management boasts a surprising five percent increase in entries over last year's barnburner event, with athletes again streaming in from as far away as Georgia, North Carolina and New York.

Equally impressive, one nation-leading mark on a regulation-sized track was achieved during Friday's qualifying action, while setting the table for what projects to be at least a pair of national record assaults coming into crosshairs view during Saturday's finals.

The highly popular meet, which lays claim to four national indoor records over the last five years, has come to be regarded as the premier in-season indoor invitational, with only the postseason Nike Indoor Nationals and National Scholastic Indoor Championships meets boasting stronger overall credentials.

Californian Turquoise Thompson, a national-class UCLA-signed hurdling and sprint star from Serra High School and competing for Gardena Core Track Club, is making her fourth and final trip to the Simplot Games this weekend, and was quick to give the meet very high marks once again.

"This is one of my favorites," quipped Thompson as she began to ice down after blazing to the second-fastest qualifying time in the girls' 400-meter dash prelims. "Every year, (meet management) does an excellent job bringing in top competition."

But such a reputation of the meet's national appeal was not always the case -- nor the philosophical goal, according to some involved with the event -- yet it eventually become unavoidable.

"It started out as a little snowball, then picked up momentum more and more until it became an avalanche," said Keith Robinson of track and field apparel and equipment supplier VS Athletics, one of the meet sponsors. Robinson has attended as a vendor during each of the last 22 editions of the Simplot Games. He recalled when the meet was almost entirely made up of Idaho athletes, with a limited sprinkling of participants from directly adjacent states as well.

When the meet began in 1979, with the affair then known as the Bennion Relays and named for longtime Idaho State University athletic booster Sam Bennion, it served its purpose of creating a local showcase for top track and field talent.

The meet gained even greater regional awareness when agri-business magnate J.R. Simplot took over title sponsorship of the event. A self-made millionaire by the age of 30 (who later went on to become the world's oldest billionaire before passing away at age 99 last May), Simplot built his early riches by being the "potato king" in being the leading supplier of potatoes to the McDonalds chain in order to produce its french fries. But while Simplot rallied the community and his resources behind the meet, it was clinging to its local appeal.

Soon enough, however, the small-fry way of thinking disappeared when the 'big fry' of track and field arrived on the scene... and the meet's obscurity was all "ober."



THE OBEA MOORE EFFECT



While participation numbers modestly mushroomed during the early years of the event, it was not until the mid-1990s, and the arrival of the dazzling Obea Moore-anchored sprint relay quartets from John Muir High School in Pasadena, California, that the meet's momentum shifted into turbo-drive.

Moore, a precocious age-group phenom who enjoyed the support of a national fan base of rabid track aficionados -- the stories of him bringing capacity indoor crowds to their feet in chanting "O-bea! O-bea! O-bea!" were legendary -- was part of a 'perfect storm' of sprint talent at the Southern California school, with other national-class sprint names such as Sultan McCullough, Makio Haywood, Jucorie Tryon and Desean Holmes, unleashing national record assaults every time the they laced up the spikes.

Then-Muir coach Clyde Turner (who nicknamed Obea Moore as "Ober" because 'if we were anywhere near the lead when we gave the baton to him, the race was 'ober') knew he had a uniquely special crew on his hands and wanted his charges to take down national records. Based in Southern California, where indoor meets were nearly non-existent, Turner was eager to find additional "undercover" chances to compete before the season-ending indoor nationals meet in Boston.

That's where the Simplot Games came into the picture.

Turner was contacted by meet management and the arrangement evolved into a perfect marriage: Idaho was close enough to where the travel was not an energy-sapping cross-country flight, his athletes could further sharpen for nationals, and the meet would be bolstered by the biggest athlete name in the sport. Coming to the Simplot Games for the first time as a young reporter in 1996, I witnessed first hand the amazing impact Moore brought to the affair, with meet management giddy with excitement as the electric atmosphere sent the meet spiraling to a new stratosphere of attention by their estimation as the Muir High crew thrashed the national 4x400 and sprint medley national records in the process. Both winning marks still stand as meet records.

"That meet put Simplot Games on the map," snapped Robinson. "Its had national appeal ever since."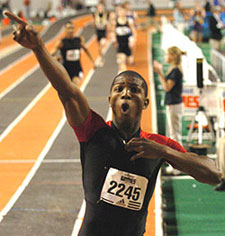 ELZIE, KNIGHT & CREW



If it was the Elvis-like popularity of Obea Moore which rocked Holt Arena in the 1990s, it was the Elzie-like electricity which brought the excitement screaming back to life a decade later.

Elzie Coleman, a New York teen whose smile could light up a dungeon and whose charisma could thaw an icebox, elicited roars of deafening approval from the stadium rafters while twice blurring around the banked 200-meter oval to bring the 400-meter national indoor record to Newburgh Free Academy in an unfathomable 45.92! (right, photo by John Dye) Coleman returned later in that 2004 meet to help his teammates torch Muir's meet record in the 4x200-meter relay with a still-standing 1:27.96 clocking. Not to be outdone that same year, Colorado's Ashley Owens absolutely blasted out of the starting blocks and motored down the straightaway to trip the timing beam in a national record 7.19 seconds for the girls' 60-meter dash, capping another explosive affair amid the snow-capped hillsides of cozy Pocatello.

In 2007, the mega-magic continued as Bianca Knight powered through the turns with total aggression before catapulting down the straightaways to blaze to the national record (22.97) across 200 meters. The meet didn't miss a beat in 2008 either, with Tennessee's Jackie Coward blasting over the hurdles in 8.16 to set the national record in the 60-meter highs in bringing the boisterous crowd much excitement in rounding out a great day of action.



A STIMULUS PLAN TO BAIL OUT 2009 MEET?



With the nation now reeling from plummeting property values, escalating employment rates, dwindling consumer confidence and a guarded spending psychology, the near-term future of a sport whose popularity growth in the last 15 years has been a direct result of the emergence on national-class travel meets would surely be challenged.

While several regional indoor meets have already been contested throughout the land during the winter of 2008-09 and seemingly come off without a hitch, the Simplot Games would serve as a far better bellwether indicator as to the immediate direction of the sport as it relates to the success of its premier events. Unless previous events on this season's calendar, Simplot is the first to rely heavily on the traveling groups often funding their own way. So far, so good.

"We've somehow managed to escape (the peril)," said Simplot Games meet director Greg Burch, emitting an aura of relief. Burch said the meet was flooded with 11th-hour on-line registrations, bringing the final tally of competitors to 1,789 -- safely above the 1,705 he said the meet attracted last year.

But Burch isn't necessarily dancing down the runways just yet, noting the economic impact of the recession is still being felt. As example, he notes that the Simplot Company is reportedly coming off its best fiscal year ever in 2008, but rumors are that the company -- like many across the nation -- could be heading for its worst margins in 2009. Additionally, secondary sponsorships have been harder to come by with those companies struggling to match previous commitments. And with the "Pay To Play" initiatives currently in force in many school districts, schools are cash-strapped and passing the bills on to teams and parents while trying to continue offering interscholastic opportunities.

Somehow and someway, however, coaches and teams are finding ways to make it work.

Jim Spier, one of the Simplot Games announcers this weekend and the meet director for both the Nike Indoor Nationals meet in Boston, MA (March 13-15) and the Nike Outdoor Nationals in Greensboro, NC (June 18-20), happily reports that early registration numbers are up for his meets.

"Last year, both indoors and outdoors we were down slightly," said Spier, citing various reasons for the temporary dip, most notably going head-on against the USATF Junior Nationals during the outdoor meet last June. "But the numbers we're tracking right now, we're definitely ahead of last year."

Spier added that the one minor shortcoming of the indoor meet being held in Maryland in recent years -- a flat oval rather than a banked one more conducive to better track times -- has been eliminated with this year's relocation to the Reggie Lewis Center in Boston.

"Somewhat surprising, we're getting a lot of entries from Maryland and Virginia right now, so they're deciding to travel to us and we're very appreciative of that," Spier added.

At this stage, the Southern California-based Arcadia Invitational outdoor meet in mid-April is also experiencing unprecedented interest levels and a source affiliated with the Penn Relays also indicates early vibes that participation turnout projections for the high school portion of its meet also appears healthy.

A couple of onlookers opined during Friday's qualifying action that the Simplot Games depth of talent didn't seem quite as strong as in recent years. But a closer look reveals that many speed-oriented club teams are themselves just not quite as deep as they traditionally have been, giving a misleading appearance that the meet itself has not attracted the same crews. In reality, such a situation would gave the same misleading appearance to any meet this indoor season.

As longtime track and field historian Mike Kennedy pointed out while perched at his elevated trackside seat during the middle of Friday's action, "A lot of meets would feel an effect. ... It's because of a lot of things all lined up at one time... The economy, a strong meet closer to home for some, the national talent pool not being as deep in a particular event area. And in all fairness, you really have to (avoid jumping to conclusion) and really have to reserve judgement a little bit until (Saturday's finals)."



WILL HISTORY REPEAT ITSELF?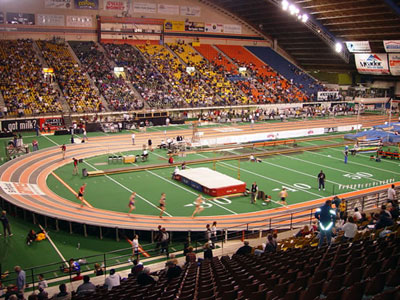 Much like when Obea Moore and his talented teammates paraded like cheetahs around the track in the mid-1990s to set national records, the North Carolina-based New Bern High School crew will seek to fire up the superjets on Saturday to smash meet records in the 4x200 and the sprint medley relay. New Bern already stripped away Muir's national 4x400 record two weeks away and seeks the all-time sprint medley standard on Saturday. Trying to erase Newburgh's Elzie Coleman-led meet record in the 4x200 wouldn't be too shabby either.

Add in meet record-attempt bids by Shade Weygandt (girls pole vault) and Ashton Purvis (girls 60m dash) and electrifying girls relay crews by Turquoise Thompson-led Gardena Core and there's plenty of reason to feel good about out the sport's direction and health, even during tough economic times.

In an ironically fitting way, the final day of the 2009 Simplot Games could turn out to be a true "must-see affair" for track and field fans. Fitting because it was billionaire J.R. Simplot who reportedly moved out of his house as an 8th-grade dropout at the age of 14 when his father refused to let him attend a basketball game -- the eventual tipping point in a relationship riddled with differences of opinion. To his credit, the ambitious teen was oozing with entrepreneurial zeal and it eventually fueled his massive business successes.
Still, it was probably over-reaction on the younger one's part to leave home at such an early age after a seemingly trivial argument.

After all, it was just a basketball game he wasn't allowed to attend. Not an indoor track meet.



Holt Arena photos by Donna Dye