BY JIM LAMBERT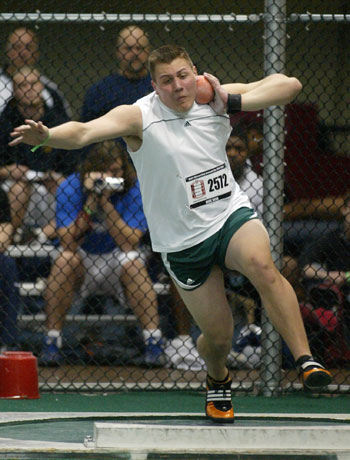 NEW YORK NY 3/14/09 – It's one of the biggest numbers in the sport and something every thrower dreams about. But Nick Vena doesn't have to dream about it anymore.
Vena, the sophomore sensation from Morristown NJ, made that vision become a reality on Saturday with an epic performance at the 26th National Scholastic Championships. And he wasted no time doing it.
Combining his lightning quick spin and graceful foot work inside the circle, the 15-year-old Vena topped the magical number 70 with a herculean effort on his first attempt in Saturday's shot put trials at the New Balance Track & Field Center in the Armory. When the 6-4, 270-pound left-handed throwing Vena sent the 12-pound ball soaring through the air, it just kept carrying deeper and deeper. It was obvious it was going to be a big one.
How big?
When it finally landed, the meet official had to stretch the tape all the way out to a US # 1 and US #4 All-Time 70-5! That's right, Vena joined the 70-foot club, becoming just the fourth member of the prestigious group to do it indoors as he shattered his own National Sophomore, NJ State and Armory Facility records of 68-11, which he threw to win at the
Eastern States title on Feb. 24.
Vena didn't know it was a 70 footer right away, however, because the meet uses the metric system to do its measurements. But when he saw the 21.46 on the board, he had a feeling it was out there. When he heard it was over 70, Vena raised both his arms in the air in a very brief celebration with his father, Vic.
``I never had a 21 up there (on the sign) before so I knew it had to be my best throw,'' said Vena, who won he won last year with a National Freshman Record 66-7 ¼. ``When I found out it was 70, it was an unbelievable feeling. ``It's something I've been hoping to do all season and it's great to finally get it. I did it (throw 70) warming up at Drew University) at the beginning of the season, so I knew I had it in me.''
Vena is the first US thrower to surpass 70 feet since Brent Noon unloaded his national record of 74-11 in 1990, and he just missed the meet record of 70-11 ½ that Arnold Campbell of Bossier City LA threw at the first NSIC meet in 1984 at Jadwin Gym in Princeton.
Vena was hoping to end his season with a bang.``I take every meet seriously, but I was even more serious about this one because I just wanted to do something really big,'' said Vena, who also had a 69-2 on his second attempt in the trials. ``I didn't throw yesterday (Friday) just so I'd be feeling fresh and I knew when it left my hand that it was a real good throw.''
So where does Vena go from here?
Since it's not in Vena's nature to make predictions, he kind of shrugged his shoulders and smiled when Noon's national indoor record of 74-11 was brought up as a possible goal for next year.
``I have some time to go for that,'' he said. ```For now, I just want to keep on improving and keep getting personal bests. That and winning are the most important things to me.''
ALL-TIME INDOOR SHOT PUT LIST
(Only the top throw from each is listed)
74-11 - Brent Noon, Fallbrook, CA, 1990
71-11 - Jesse Stuart, Glasgow KY, 1970
70-11 ½ - Arnold Campbell, Bossier City LA, 1984
70-5 – Nick Vena, Morristown, 2009