National Scholastic Indoor Championships

March 13-15, 2009 - New York Armory



Washington Twp NJ boys, Hempstead NY girls



John Nepolitan's Sprint Medley Relay photo gallery



Washington Twp comes from behind to edge Fordham Prep

- photo by John Nepolitan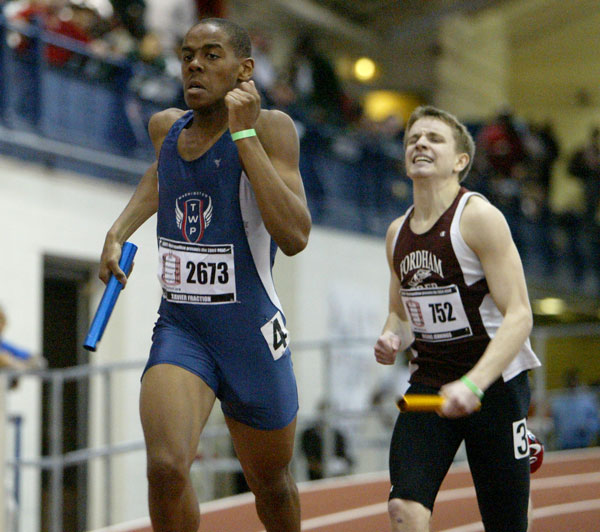 BOYS




Xavier Fraction was unfazed and ready to roll.

He had a 25 meter deficit when he grabbed the baton from Tim Carey in fourth place to run the 800-meter anchor, but the senior at Washington Township NJ knew was ready for the challenge.

``Did I feel I had a realistic chance of catching him,'' Fraction said of the leader, Mike Jennings of Fordham Prep. ``Yes, as long as I played it smart and executed my race the way I know how.''

Fraction did just that, moving from fourth to second after the first 400 before he used a punishing kick to reel in Jennings with about 100 meters left to bring Washington across first in a US #2 3:29.07, the second fastest time in NJ history. Fordham Prep crossed second in a US #3 3:29.87.

``After the first lap I knew I had a lot in me,'' said Fraction. ``So I went out nice and relaxed and then began to really pick it up. ``He's (Jennings) a tough kid, so I knew I had find one gear on that last backstretch to get up to him and to than another gear down the final stretch to hold him off. On the last lap, I just unleashed everything.''

Washington, which came into the race with a US leading 3:30.84, received splits of 23.3 for 200 by senior Brian Keane, 22.2 for 200 by junior Devon Carter and 48.8 for 400 by senior Tim Carey.

Fraction had a feeling the race was going to be under 3:30.

``When I saw Iona Prep win the heat before ours (3:32.74), I knew we'd have to run fast to beat than and I just a feeling we were ready to go under (3:30),'' said Fraction.

Fordham Prep took the lead right away after a 21.4 200 opening leg from Wayne Seaton, who earlier anchored Fordham Prep's national record breaking shuttle hurdle team to 29.15 victory. Zach Keefer ran a 49.1 for Fordham Prep to maintain the lead, but it wasn't enough of a cushion for Jennings to hold of Fraction.

Sean Halpin of Iona Prep, the Eastern States Champion in the 800, had the top 800 split of the meet, ripping off a 1:52.9 anchor to bring his team across first in its heat and third overall in 3:32.74.

GIRLS

LSU-bound senior Charlene Lipsey rallied from third place to first and Hempstead NY with a 2:09 split and anchored the sprint medley relay to a first-place finish in 4:00.36.



Results (Elite performances highlighed in blue)

Girls results

BOYS

B-SMR 3:29.07 Boys Relay, , Washington Township
B-SMR 3:29.87 Boys Relay, , Fordham Prep
B-SMR 3:32.74 Boys Relay, , Iona Preparatory School
B-SMR 3:32.94 Boys Relay, , West Charlotte
B-SMR 3:33.73 Boys Relay, , East New York-Transit Tech
B-SMR 3:35.39 Boys Relay, , James Robinson
B-SMR 3:35.79 Boys Relay, , Rahway
B-SMR 3:36.11 Boys Relay, , Amity
B-SMR 3:36.35 Boys Relay, , Clarkstown South
B-SMR 3:36.57 Boys Relay, , Pine Bush
B-SMR 3:36.61 Boys Relay, , Wakefield
B-SMR 3:36.79 Boys Relay, , Motor City Tc
B-SMR 3:37.6 Boys Relay, , Pope John Xxiii
B-SMR 3:38.97 Boys Relay, , East Fishkill
B-SMR 3:38.99 Boys Relay, , Nazareth (Nyc)
B-SMR 3:39.32 Boys Relay, , Bowie
Number of Elite performances: 16
 
Armory HS Sports Foundation - Site License 
            2009 National Scholastic Indoor Championships            
            New Balance Track & Field Center,  The Armory            
                New York City -3/13/2009 To 3/15/2009                
 
Event 30  Boys 1600 Sprint Medley High School
===================================================================  
 National HS: ! 3:24.69  1997        John D. Muir HS, Pasadena, CA   
                         D. Myrick, S. McCullough, J. Tryon, O. Moore
        Meet: # 3:24.69  1997        John Muir, CA                   
    School                                               Finals  H#  
===================================================================  
Finals                                                               
  1 Washington Township  'A'                            3:29.07   6  
     1) Xavier Fraction 12              2) Tim Carey 12              
     3) Devon Carter 10                 4) Brian Keane 11            
  2 Fordham Prep  'A'                                   3:29.87   6  
     1) Zach Keefer 12                  2) Wayne Seaton 12           
     3) Carlos Petrovich 12             4) Bruce Grant 11            
  3 Iona Preparatory School  'A'                        3:32.74   5  
     1) Sean Halpin 12                  2) Sean Fuster 12            
     3) Ayo Bajulaiye 11                4) Anthony O'Malley 10       
  4 West Charlotte  'A'                                 3:32.94   5  
     1) Tadarrin Phronebarger 12        2) Stanley Wright 12         
     3) Santonio Johnston 11            4) Ammar Phillips 11         
  5 East New York-Transit Tech  'A'                     3:33.73   6  
     1) Julian Wood 11                  2) Fard Rollock --           
     3) Elijah Rollock 12               4) Kameron George 12         
  6 James Robinson  'A'                                 3:35.39   1  
     1) Jared Berman 12                 2) John Ro 11                
     3) Bradley Burgess 11              4) JW Seo 11                 
  7 Rahway  'A'                                         3:35.79   4  
  8 Amity High School  'A'                              3:36.11   3  
     1) Yitao Zhang 9                   2) Jay Binkowski 12          
     3) Brian Kernan 11                 4) Andrew Snyder-spak 12     
  9 Clarkstown South  'A'                               3:36.35   3  
     1) John Taylor 12                  2) Brendan Sullivan 12       
     3) Kyle Cranston 12                4) Michael Bongiorno 12      
 10 Pine Bush  'A'                                      3:36.57   4  
     1) Zavior Brown 12                 2) Mike Dempsey 12           
     3) Tom Papesca 12                  4) Tim Stack 12              
 11 Wakefield  'A'                                      3:36.61   3  
     1) Trip Foreman 11                 2) Tray Branch 12            
     3) Moyo Olusesi 12                 4) Shawn Murray 12           
 12 Motor City TC  'A'                                  3:36.79   6  
     1) Marcell Jones 11                2) Melvin Green 12           
     3) Willie Hatcher 12               4) Marcell Houston 11        
 13 Pope John Xxiii  'A'                                3:37.60   3  
     1) Dylan Hurley 10                 2) Kyle Johnson 12           
     3) Dan McIntyre 11                 4) Greg Moore 11             
 14 East Fishkill  'A'                                  3:38.97   4  
     1) Alex Blackman                   2) Nick Lingardo             
     3) Kevin Joyce                     4) Ryan Gomba 12             
 15 Nazareth (Nyc)  'A'                                 3:38.99   2  
     1) Marcus Samerson 12              2) Sean Atkinson 12          
     3) Abayomi Baptiste 11             4) Tyriek Codrington 12      
 16 Bowie  'A'                                          3:39.32   5  
     1) Paul Edwards, JR 11             2) Gerodo Amaya 9            
     3) Bisal Rahim --                  4) Daniel Ballah 12          
 17 Archbishop Carroll  'A'                             3:40.72   5  
     1) Malcolm Sykes 9                 2) Kevin Peoples 11          
     3) Walter Bailey 10                4) Petros Welday 11          
 18 LaSalle Track Club (Troy)  'A'                      3:41.54   1  
     1) Tom Smail 11                    2) Anthony Marois 12         
     3) Dylan Sorensen 12               4) Eamonn Coughlin 10        
 19 Kingsway Reg.  'A'                                  3:41.76   1  
     1) Ryan Culbreath 12               2) Tivo Rivera 10            
     3) Demurri Gaines                  4) Zach Dennison             
 20 Regis  'A'                                          3:42.36   2  
     1) Chris Schaller 12               2) Dan Lauber 12             
     3) Demetrios Elias 12              4) Paul Gorynski 12          
 21 Rye  'A'                                            3:43.62   2  
     1) Matt Kao --                     2) Mac Gager --              
     3) Jonathan Slack --               4) Jeff Bouton --            
 22 Speed City  'A'                                     3:43.85   4  
 23 Westbury Long Island  'A'                           3:45.45   5  
     1) Eric Banks 12                   2) Jabari Redd 12            
     3) Rani Nimblette 11               4) Lutalo Boyce 12           
 24 Cardinal Spellman  'A'                              3:45.85   2  
     1) Brandon Sligh 12                2) Camari Francis 12         
     3) Darnell Gatling I 12            4) Robert Dziedzic 11        
 25 Castle TC  'A'                                      3:46.49   2  
     1) Jaime Lopez 11                  2) Aaron Horne 12            
     3) Robert Krebs 12                 4) Darryl James 11           
 26 St. Peter's  'A'                                    3:52.39   1  
     1) Lou Scara 12                    2) Greg Cala 12              
     3) Chris Rivera --                 4) Matt Pizzolo --           
 27 Bishop McNamara  'A'                                3:56.29   3  
     1) Darrian Carmichael 12           2) Kenneth Hunt 12           
     3) Nigel Crawley 10                4) Jeffrey Mcdonald 12       
 -- Colonie  'A'                                            DNF   6  
     1) Tyler Stewart 12                2) Ryan Nolan 12             
     3) Nyasha Dangwa 12                4) Nick Colello 11           
 -- Core Speed  'A'                                          DQ   1  
     1) Devin Spann 11                  2) Nick Hill 12              
     3) Marcus Johnson 11               4) Robert Woods 11           
 -- Atlee  'A'                                               DQ   2  
     1) Jaired Epps 12                  2) Devon Richardson 12       
     3) Trevor Elie 10                  4) Marques Atkinson 10       
 -- Half Hollow Hills West  'B'                              DQ   4  
     1) Jonathan Yu 12                  2) Domenick DeMatteo 12      
     3) Justin Ma 10                    4) Abdias Myrtil 10          
 -- Half Hollow Hills West  'A'                              DQ   6  
     1) Jared Squires 12                2) Harold Jamison 12         
     3) Demarr Aultmann 11              4) Dan McCord 10             
GIRLS



G-SMR 4:00.36 Girls Relay, , Hempstead
G-SMR 4:04.33 Girls Relay, , Bishop Ford
G-SMR 4:04.47 Girls Relay, , Neptune
G-SMR 4:06.97 Girls Relay, , St. John Villa Academy
G-SMR 4:11.25 Girls Relay, , O'Hara T&F Club
G-SMR 4:11.58 Girls Relay, , Brentwood
G-SMR 4:11.62 Girls Relay, , Archbishop Carroll
G-SMR 4:11.72 Girls Relay, , Pine Bush
G-SMR 4:13.56 Girls Relay, , Motor City Tc
G-SMR 4:14.07 Girls Relay, , Suffern
G-SMR 4:15.84 Girls Relay, , Windsor Striders
G-SMR 4:17.71 Girls Relay, , Bishop Mcnamara
G-SMR 4:17.74 Girls Relay, , Ursuline School
Number of Elite performances: 13

Armory HS Sports Foundation - Site License 
           2009 National Scholastic Indoor Championships           
           New Balance Track & Field Center,  The Armory           
               New York City -3/13/2009 To 3/15/2009               
 
Event 29  Girls 1600 Sprint Medley High School
===================================================================
 National HS: ! 3:53.17  2001        Wilson HS, Long Beach, CA     
                         A. Tate, D. Gooden, L. Demus, A. Freeman  
        Meet: # 3:53.17  2001        Long Beach Willson, CA        
    School                                               Finals  H#
===================================================================
Finals                                                             
  1 Hempstead  'A'                                      4:00.36   5
     1) Charlene Lipsey 12              2) Donna-Lee Hylton 12     
     3) Velma Morant 12                 4) Asheka Gibson 12        
  2 Bishop Ford  'A'                                    4:04.33   5
     1) Shanyce Goulding 12             2) Shanique DaSilva 10     
     3) Malekah Holland 11              4) Corrine Williams 11     
  3 Neptune  'A'                                        4:04.47   4
     1) Jade Wilson 12                  2) Ajee Wilson 9           
     3) Yazmin Hall 9                   4) Ashley Porterfield 12   
  4 St. John Villa Academy  'A'                         4:06.97   5
     1) Kristi Taddoni 9                2) Alexandria Simon 9      
     3) Dominique Claudio 9             4) Mariah Claudio 9        
  5 O'Hara T&F Club  'A'                                4:11.25   4
     1) Robyn Oakley 12                 2) Diane Garrison 11       
     3) Amanda Mccullough 11            4) Brittany Robinson 11    
  6 Brentwood  'A'                                      4:11.58   3
     1) Donna Jeanty 11                 2) Essence Felder 12       
     3) Stefanny Laureano 11            4) Andrea Abberbeen 11     
  7 Archbishop Carroll  'A'                             4:11.62   4
     1) Ashley Seymour 12               2) Breanna Adams 11        
     3) Jasmin Peterson Hassan 12       4) Kiah Seymour 9          
  8 Pine Bush  'A'                                      4:11.72   2
     1) Jessica Hennig 12               2) Amber Passalaqua 11     
     3) Opeyemi Ifafore 12              4) Alexis Grable 12        
  9 Motor City TC  'A'                                  4:13.56   5
     1) Aisha Osborne 12                2) Vorri Zanders 9         
     3) Nacole Black 12                 4) Shariece Pinkston 12    
 10 Suffern  'A'                                        4:14.07   4
     1)                                 2) Jen Clayton 11          
     3) Janelle Clayton 12              4) Faith Consiglio 12      
 11 Windsor Striders  'A'                               4:15.84   2
 12 Bishop McNamara  'A'                                4:17.71   2
     1) Nsia Frenche 12                 2) Chanae Davis 11         
     3) Yayoi Vanzego 12                4) Maya Lewis 11           
 13 Ursuline School  'A'                                4:17.74   3
     1) Kaitlin Mallinson 10            2) Fiona Nugent 12         
     3) Shanel Golding 10               4) Aeisha McDavid 10       
 14 Marian  'A'                                         4:18.51   2
     1) Kelly Egan 12                   2) Mary Hazen 12           
     3) Hillary McAllister 11           4) Serene King 12          
 15 Weston  'A'                                         4:18.61   3
     1) Emily Ando 11                   2) Callie Arlo 11          
     3) Rebecca Fine 12                 4) Erica Litvak 10         
 16 Bowie  'A'                                          4:19.27   1
     1) Courtney Cox 11                 2) Jazmyn Thomas 12        
     3) Rashanda Dickens 11             4) Kimmy Dumfani --        
 17 Bruin TC  'A'                                       4:19.72   3
     1) Taylor Moore 12                 2) Rebecca Shoemaker 12    
     3) Taylor McCord 10                4) Cristina Cabrera 11     
 18 Cardinal Spellman  'A'                              4:19.88   2
     1) Patrice Johnson 12              2) Karimah Figueroa 12     
     3) Janiene Mcmaster 12             4) Alexis Beverly 11       
 19 Rahway  'A'                                         4:20.21   3
     1) Sattirah Johnson 12             2) Nichelle Harris 11      
     3) Denice Martin 11                4) Ernestine Rodgers 10    
 20 Gardena Core Speed  'A'                             4:22.54   4
     1) Deena Pierce 10                 2) Bryana Smith 12         
     3) Rhyon Brown 11                  4) Dawnielle Baucham 10    
 21 De Paul Catholic  'A'                               4:23.79   1
     1) Alyssa LaGuardia 10             2) Christie Gage 12        
     3) Ashley Suermann 12              4) Michelle Trifare 11     
 22 Hilton  'A'                                         4:26.40   1
     1) Sarah Ritchie 12                2) Marikka Joseph 12       
     3) Asante Brown 9                  4) Amanda Cocchiara 10     
 23 MT Vernon  'A'                                      4:26.57   5
     1) Julia Miller 12                 2) Kenina Bonner 10        
     3) Myla Allen 11                   4) Jessica Avila 11        
 24 Benjamin Banneker Academy  'A'                      4:28.16   1
     1) Taisha Parkins 12               2) Seleah Sheares 10       
     3) Arielle Desdunes 12             4) Bryanna Chestnut 9      
 25 Elizabeth Seton  'A'                                4:38.78   2
     1) Dionna Hayes 12                 2) Chantel Lipkins 12      
     3) Asha Roper 11                   4) Tiana Teague 10         
 -- Kingsway Reg.  'A'                                       DQ   1
     1) Jasmine Waddell                 2) Jewel Smith             
     3) Liz Locke 11                    4) Ulili Emore             
 -- Dunbar  'A'                                              DQ   3
     1) Paris Scott 12                  2) Jasmine Jones 12        
     3) Ashley Bacote 11                4) Shelby Lambert 10