National Scholastic Indoor Championships

March 13-15, 2009 - New York Armory


Robby Andrews is first sub-1:50 800m runner in US indoor history, blasting a national record 1:49.21




BY JIM LAMBERT



NEW YORK NY 3/15/09 – Robby Andrews' eyes got real wide and his stride increasingly more powerful.



The senior distance running star from Manalapan NJ had just taken a glance at the clock and knew that history was just 27 seconds and 200 meters away when he hit the bell lap in the 800-meter run. So Andrews began a final furious push around the New Balance Track & Field Center, sending the Armory crowd at the 26th National Scholastic Championships into a frenzy.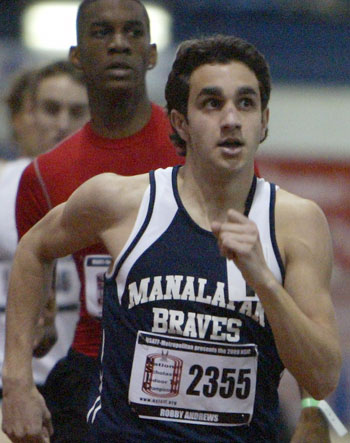 ``When I saw the clock at (1:22.8), left, I started thinking about 1:50,'' said Andrews. ``I knew I'd have to run the fastest 200 of my life to do it, so I just went for it with everything I had.''

With the crowd roaring in anticipation, Andrews kept pouring it on down the backstretch, digging down one final time for an extra gear as he blasted around the final turn and headed for the finish line. With about 15 meters left, Andrews stared down the clock, watching it turn to 1:46, then 1:47, 1:48 and then bang, he stopped the digits at a mind-bending 1:49.21 as he finished off a sizzling 26.4 last 200.

That's right, 1:49.21.

Numbers under 1:50 have never been flashed up on a high school clock anytime, anywhere indoors for a four lap race as Andrews turned in the greatest 800 performance in U.S. High School history, crushing the national indoor record of 1:50.55 set by Michael Granville of Bell Gardens CA, which had stood since March 12, 1995 when Granville won the NSIC title as a junior at the Carrier Dome in Syracuse NY.

Andrews' time also shattered the Armory facility record of 1:50.62, set at this meet in 2007 by Andrew Heaney of Welland in Ontario CAN.

It's the second national record of the season for Andrews, who ripped a 2:22.28 for a US 1,000 record at the New Balance Collegiate Invitational on this track on Feb. 7. That broke the mark of 2:23.68 set in 2001 by the great Alan Webb.

``This is even bigger because it came at nationals and lasted a real long time,'' said the Virginia-bound Andrews. But Andrews, unlike the 1,000 record race, didn't come into Sunday's 800 with the record on his mind.

``My No. 1 priority was to win the race,'' said Andrews, who finished the season undefeated, including wins in the mile at Millrose and at the Eastern States (4:12.31). ``Sadiki (White of Allentown NJ) said he was going to take it out fast, so that was fine with me. I just decided to stay on him for the first three laps.''

While Andrews did ride White, who set the pace like he said he would, the race certainly didn't start out on record pace with a 27.9 first 200 and a 55.9 opening 400 as Andrews stalked in White's shadow. But White began to pound it over the next 150 meters and then Andrews began to unleash what is likely the most ferocious kick in the nation, rocketing past White with about 230 meters left.

After that, it was Andrews vs. the clock. The clock didn't stand a chance against the nation's premier closer..
``It's pretty unbelievable,'' said Andrews, who will attend Virginia in the fall. ``To break 1:50 and win this is something I never really thought was possible when the season started. It's been an amazing season.''

Andrews said he used the high banked track to catapult himself to his record breaking finish.``I used the turn coming into the straightway to slingshot around him (White) and then I just let it all go,'' said Andrews.

White wound up third in 1:52.70 with Tyler Stewart of Colony NY getting second in 1:52.15 and Saturday's pentathlon champion, Curtis Beach of New Mexico, was fourth in a personal best 1:52.72, which came in the second of the six sections.

After Andrews emptied his tank over the final 400, which he covered in 53.0, he needed about 20 minutes recovery time after he finished before he could talk to the press. Andrews laid on the floor alongide the track for a good 10 minutes to regain all the energy he had just spilled onto the track.

``The only time I felt worse than this after a race is at the Penn Relays last year (he was second by less than a second in the mile)'' he said. ``But it's all worth it.''

And to think that Andrews was actually considering skipping this meet. ``My legs were feeling tired after Easterns (Feb. 24), and I felt like I pretty much reached all my goals, winning Millrose and breaking a national record,'' said Andrews.

So what changed his mind?

``I came here last Sunday to run a 400 (USATF open meet) and won it 49.31,' said Andrews. ``After that, I realized I had some pop left.''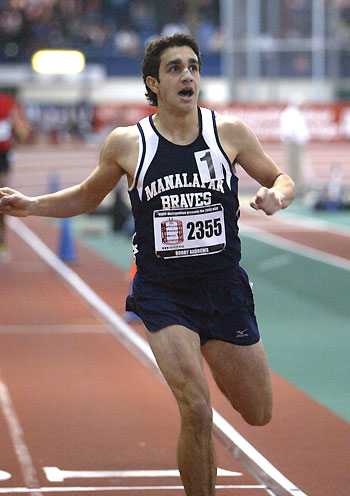 He sure did.

ANATOMY OF A RECORD
(Andrews lap by lap)
28.1
28.1 (56.2)
26.6 (1:22.8)
26.4 (1:49.21)

US ALL TIME TOP 5 800 INDOORS
1:49.21 - Robby Andrews, Manalapan NJ, 2009
1:50.55 - Michael Granville, Bell Gardens CA, 1995
1:50.62 - George Kersh, Pearl MS, 1987
1:50.7 - John Marshall, Plainfield NJ, 1981
1:50.74 - Karjuan Williams, New Bern NC, 2006





photos by John Nepolitan