Highlights

:

Fordham Prep NY blasts a US National Record 29.15 to edge rival Sheepshead Bay NY (US #2 all-time 29.18) in the shuttle hurdles.
Justin Crawford NC (US #5 7.95) and Josh Evans Irvington NJ (US #8 7.96) lead qualifers in 60 HH trials
Rynell Parson San Antonio TX (6.86) and Jeremy Rankin Aurora CO (6.87) are the fastest in the 60 dash trials.
Burnt Hills NY takes DM in 10:17.76 thanks to 4:16.1 anchor from soph. Otis Ubriaco

Bryce Lamb AZ soars US # 3 24.5 to grab gold in the long jump

Xavier Fraction comes from 25 meters down on the anchor and splits 1:53.5 to give Washington Twp. NJ the SM victory in a US #2 3:29.07.

Tomarris Bell NY soars 6-11 1/2 to win the high jump in his first meet of the season after playing basketball.

Newburgh NY (3:19.20) is fastest in the 4x400 trials.
NEW YORK NY 3/13/09 – With the bright lights of Broadway just a couple miles away, Solomon Haile dominated the track and field stage with one of the greatest distance running shows in US history on Friday.

Haile, the indefatigable 19-year-old Ethiopian from Sherwood High in Maryland, electrified the crowd at the New Balance Track & Field Center at the Armory by ripping apart the US National Record in the 5-K with a jaw dropping time of 14:22.88.

That broke the mark of 14:29.28 that Brad Hudson of South Eugene OR set 25 years ago in 1984, the year after he transferred from North Hunterdon High NJ.

That's the good news.

The bad news for Haile is that he only got to wear the national record crown for six hours because about 190 miles away in Boston, Lukas Verzbicas, a 16-year-old freshman from Lincoln Way Central High School in Illinois, snatched the record away from Haile with a mind-boggling 14:18.42 to win the 5-K at the Nike Nationals at the Reggie Lewis Center.

Haile left the Armory in New York well before Verzbicas unleashed his fury.

After hitting the first 1,600 in 4:39.5, halfway in 7:18.2 and 3,200 in 9:17.9, Haile poured it on over the final 1-K, covering that distance in 2:47.1. Haile's last 1,600 was 4:31, last 800 2:12.2, final 400 64.3, and he covered the last 200 in 31.2.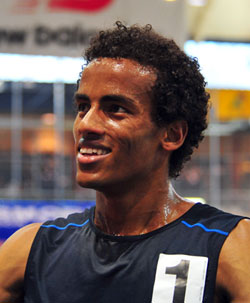 Haile threw both index fingers in the air as he came down the final straigthaway and flashed a huge ear-to-ear grin as he broke the finish line and looked up at his three sisters in the stands. (right, photo by John Dye)

``My number one plan was to come and break this record,'' said Haile, who is undecided about college. ``I ran just the way I imagined it. I wanted to 4:40 and 9:20 for the first two miles and then start pushing it. I was talking with the other runner (Zach Ornelas of Texas) and he said that's what he wanted to do as well.''

Ornelas, the 2000 meter steeplechase winner at the Nike Nationals last spring, stayed near Haile for the first 16 laps of the 25 lapper, as did eventual fifth-place finisher Neal Berman of Ardmore Pa, but they started to drop off as Haile started reeling off 68 point quarters. Ornelas wound up second for the second straight year in 14:53.21.

``I was feeling a lot of energy early in the race and I knew in the second mile that I could have a chance at the record because of how fresh and relaxed I was feeling,'' said Haile, who plans to come back and try to win the 2-mile on Sunday. ``

Haile has now captured his fourth 5-K national title in the last 12 months. He won the 5K last winter at the Nike Indoor Nationals in
Maryland (14:53.93), the 5K at the Nike Outdoor Nationals in North Carolina last June (14:38.23), and the Foot Locker Cross Country Championships at 5000 meters in San Diego in December.

``I am not used to losing in the 5-K and it's always nice to keep it that way,'' said Haile, who has taken visits to Texas, Northern Arizona, Oklahoma State, and Auburn.

Haile also likes coming to New York City. The last two times he came to the Big Apple, Haile tore up the cross country course at Van Cortlandt Park in the Bronx. In October, he ran a course record 12:06.7 over 2.5 miles at the Manhattan Invitational, and in November he won the Foot
Locker Northeast regional with ease.

``I love New York,'' said Haile. ``It's been a good place for
me.''



Haile wasn't the only national record breaker.



Fordham Prep of New York got things rolling in the first event with a US
record 29.15 in the shuttle hurdles. The NSIC meet has now produced a at least one national record since 2001.

Fordham Prep was waiting all season for a shot at revenge and
redemption. And it got both and a whole more in spectacular fashion.
Trailing nemesis Sheepshead Bay NY by a hurdle when he took off to run the anchor leg, senior Wayne Seaton ran 7.0 and caught the Sheepshead anchor Lavaughn Harris right at the line to not only give Fordham Prep the dramatic victory, but a new national record, stopping the clock at 29.15. Sheepshead Bay was also under the old record,
running 29.18. Trenton NJ set the national record when it won here last year in 29.38.

``They beat us in the hurdles twice this year and it was our time
to finally do it,'' said Seaton. ``This was our last shot at an indoor
national title and everyone put it all together,'' said Seaton. ``Usually you have a guy get a bad start or someone hits a hurdle or something else goes wrong, but today we ran a perfect race. And that's what we had to do win this.''

One of the biggest keys to Fordham Prep's historic victory was
leadoff man, senior Andrew Hemmings. Last year, Hemmings, using blocks for the first time ever, had a rough start and Fordham Prep finished 11th in 31.97. But this time, Hemmings got out clean and handled his leg in 7.7 to get things started. Senior Ed Allison followed with a 7.2 and junior Bruce Grant had a 7.0 before Seaton's anchor.

``Last year at this meet was the first time I ever ran with blocks,'' said Hemmings. ``This year, we've been practicing with them and we were ready. We wanted to make up for what happened last year.''

Sheepshead Bay got out to quick lead by leading off its top
man, state champion Darryl Bradshaw, which kind of surprised
Fordham Prep.

``I just expected that he'd anchor,'' said Seaton. ``When he led
off and blew out to a big lead, I was getting a little nervous. But
I had faith in my teammates and they made it closer and closer
for me.''

Seaton said he was confident he could pull it out.

``I have beaten him (Harris), so I felt I could close the gap, but
at the line I couldn't tell if I got him or not. But I guess we had
a little luck on our side with the lean.''



SPRINT MEDLEY RELAY



Xavier Fraction was unfazed and ready to roll. He had a 25 meter deficit when he grabbed the baton from Tim Carey in fourth place to run the 800-meter anchor, but the senior at Washington Township NJ knew he was ready for the challenge.

``Did I feel I had a realistic chance of catching him,'' Fraction
said of the leader, Mike Jennings of Fordham Prep. ``Yes, as
long as I played it smart and executed my race the way I know
how.''

Fraction did just that, moving from fourth to second after the first 400 before he used a punishing kick to reel in Jennings with about 100 meters left to bring Washington across first in a US #2 3:29.07, the second fastest time in NJ history. Fordham Prep crossed second in a US #3 3:29.87.

``After the first lap I knew I had a lot in me,'' said Fraction. ``So I went out nice and relaxed and then began to really pick it up. ``He's (Jennings) a tough kid, so I knew I had find one gear on that last backstretch to get up to him and to than another gear down the final stretch to hold him off. On the last lap, I just unleashed everything.''

Washington, which came into the race with a season best of
3:30.84, received splits of 23.3 for 200 by senior Brian Keane,
22.2 for 200 by junior Devon Carter and 48.8 for 400 by senior
Tim Carey.

Fraction had a feeling the race was going to be under 3:30.
``When I saw Iona Prep win the heat before ours (3:32.74), I
knew we'd have to run fast to beat than and I just a feeling we
were ready to go under (3:30),'' said Fraction.

Fordham Prep took the lead right away after a 21.4 200 opening
leg from Wayne Seaton, who earlier anchored Fordham Prep's
national record breaking shuttle hurdle team to 29.15 victory.
Zach Keefer ran a 49.1 for Fordham Prep to maintain the lead,
but it wasn't enough of a cushion for Jennings to hold of
Fraction.

Sean Halpin of Iona Prep, the Eastern States 800 winner, had
the top 800 split of the meet, ripping off a 1:52.9 anchor to help
his team win its heat and place third overall.

DISTANCE MEDLEY RELAY

It looked like Burnt Hills NY was out of it. But that's before Otis Ubriaco came up with the race of his life. Grabbing the baton some 60 meters behind the leader, Warwick Valley, Urbiaco methodically moved from fourth place to third and sat there for two laps before exploding to the front at the start of the bell lap.

Urbiaco kept pouring it on all the way to the line, giving Burnt Hills the win in the DM in 10:17.76. Urbiaco, a sophomore, split a career best 4:16.1. It's the first time he's run under 4:20.

``With 600 to go, I felt real good so I figured I may as well go for the win,'' said Urbiaco. ``I didn't want to try to get to the front too soon because I didn't want them coming back and catching me, so I just waited until that last lap and just gave it all I had.''

The first three legs for Burnt Hills were handled by Scott Maughan (1,200), Chris Fernandez (400) and Kent Harlow (800).

HIGH JUMP

Tomarris Bell hadn't seen a high jump bar since last spring. But it sure didn't look like it with the way he kept soaring over it. Making his indoor debut, Bell, a senior at McQuaid in Rochester NY, shocked himself when he cleared a personal best 6-11 ½ to take the title.

Bell was busy playing basketball all winter, so he didn't have any time to work on his high jumping.

``I was just hoping to just make All-America (top six),'' said Bell. ``I never thought I'd come and win my first and only meet of the season.''

Bell competed indoors last year after suffering a knee injury in
basketball. ``I wanted to play basketball my senior year, and when I found out I could still high jump at this meet I had the best of both
worlds,''

LONG JUMP

Senior Bryce Lamb of Chandler, AZ soared a US # 3 24-5 to
take the title over runner-up Syteek Farrington of Camden NJ
(US #9 23-9)

60-METER HURDLES TRIALS

Justin Crawford of Ashbrook NC and Josh Evans of Irvington NJ
wasted no time showing everyone who the class of this field is.
Being matched up in the same trials heat, Crawford and Evans
ran it like a final as Crawford blazed a US #5 7.95 and Evans a
US #8 7.96. No one else broke 8.00 heading into Saturday's
semifinals.

Evans said he enjoyed being in the same heat as Crawford, who
has run a US #2 7.23 for the 55 hurdles this season.

``I didn't know he was in my race until they announced it right
before the start,'' said Evans, headed to national football champion
Florida on a football scholarship. ``It was good to run against
him and show him that it's going to be a good competition and
that it's not going to be a cakewalk for him. I just want to
compete my best, stay humble and see what happens. I do think
I'll have to run faster if I want to win, but first I have to get
through the semifinals.''

60-METER DASH TRIALS

At this time last year, Jeremy Rankin was nursing a torn
hamstring. Now, he's tearing up the track.

The University of Florida-bound senior from Aurora Colorado missed this meet last year with a pulled hamstring, which cost him almost his entire outdoor season as well.

``It took me a long time to get over it,'' Rankin said of the injury. I tried to come in the spring and hurt it again and then in August I started to train and injured it again. Finally, in December it felt good and I started focusing on having a big indoor season and hopefully win a national title.''

Rankin is making up for lost time.

He's run a US #2 6.69 in the 60 this season, and took a step closer to his goal of a national title by winning his heat with ease, coasting over the last 10 meters of his 6.87 heat win.

That was the second fastest time of the trials, behind the 6.86 run by Rynell Parson of San Antonio TX, who came into the meet with a US #3 6.75.

Jermaine Brown of Medgar Evers NY is the next fastest going into the semifinals (6.94).

Rankin knows a showdown with Parsons is looming. ``He's running great and I'm feeling good, so if we both get through the semis it should be a good one in the final,'' said Rankin. ``I'm not really worried about time. I just want to try to win.''

4x400 TRIALS

Newburgh NY was the only team under 3:20 in the trials, winning its heat 3:19.20. The baton was shared by Robert Graham (50.4), Fred Locklary (51.0), Randy Robertson (48.7) and Randy Patterson (49.0).
The next fastest teams were Ghost PA (3:20.03), Rahway NJ (3:21.54), Penncrest Pa (3:21.61), and West Charlotte NC (3:21.91).








Highlights

:

Tynita Butts VA sweeps jumps with two US #1 marks of 5-10 1/2 and 20-1 1/4.
Charlene Lipsey blazes 2:09.2 800 to bring Hempstead NY across first in the sprint medley US # 1 4:00.36.
Julie Labonte CAN unloads monster throw of 51-10 1/2 to grab gold in the shot.
Sam Roecker burns 4:58.4 1 anchor to key 11:52.61 DM win for Burnt Hills NY
Jr. Chelsea Ley of Kingsway NJ wins second straight 5-K in 17:17.03.
G-60 pre - US#1 Takeia Pinckney CA 7.52 and US#4 Ashton Purvis CA 7.47 lead qualifiers for Saturday semis.
Swenson Arts and Technology PA takes shuttles hurdles in 33.40.
Janice Jackson NY burns an 8.58, and Lateisha Philson NY (8.77) and freshman Trinity Wilson Ca (8.84) lead 60 HH qualifiers into the semifinals.
Cardozo NY leads 4x400 qualifying with a 3:52.07.
NEW YORK NY 3/13/09 – There was a very strong chance that Tynita Butts would have been a mere footnote in her final national indoor track meet. A case of shin splints that has been troubling her all season remained with her as she made her journey north to New York City for the National Scholastic Indoor Championships. But the senior from T.C. Williams in Alexandria VA shrugged off the pain and snagged a pair of gold medals in the best one-day performance of her career.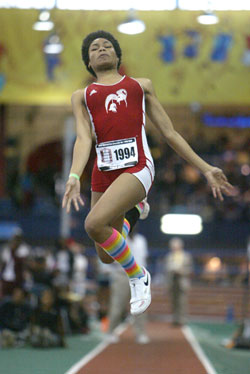 Butts, no stranger to drama, first won the long jump on her sixth and final attempt with a US #1 mark of 20-1 ¼, then used her final high jump attempt to leap a US #1 mark of 5-10 ½ on the first day of competition at the National Scholastic Indoor Championships at the New Balance Track and Field Center at the Armory. Butts photo by John Nepolitan at right.

``I'm extremely surprised. I'm shocked right now,'' Butts said. ``I never expected to do what I did today. And I think I gave my coach a heart attack by waiting till my last chance to win my events.''

Butts, headed for East Carolina next fall, came into the long jump competition as the co-leader in the US with Karimah Shepherd of Grassfield VA at 20-0 ½. Butts trailed Brittany Porter of Decatur GA going into the finals but cranked out the winning jump on her last try.
Same with her high jump. Tired and wanting to give her sore shins a rest, she soared 5-10 ½ to take over the national lead. She came in with a season best of 5-9.

``This means a lot to me,'' Butts said. ``It's my senior year and I'm not coming back here, although maybe for a college meet. I wanted to go out with a bang.''

Porter finished second with a 19-10 ¾ and Jen Clayton of Suffern NY was third with a 19-4 ¼. Shepherd ended up finishing eighth at 18-1 ¾.

Butts, whose career best is the 20-4 she logged last spring, said she wasn't even sure she would compete this weekend. ``I wanted to go 21 feet, but to win considering what I've been through is good enough for me,'' she said. ``I've had shin splits most of the season. On a scale of 1-10, it's about a 7½, but that's not enough pain for me to stay away. It would have to be about a 9 when I'm crying before I don't jump.''

SPRINT MEDLEY RELAY

For the Hempstead girls, it didn't look as though they would be able to back up their US #1 ranking (4:05.59) this season in the sprint medley after they fall into a distant third place after a pair of 200-meter laps handled by Velma Morant and Asheka Gibson, and a 400 leg by Donna-Lee Hylton.

But it was LSU-bound Charlene Lipsey who salvaged what would have been a disappointing visit to New York City. Trailing by 50 meters when she grabbed the stick for her 800-meter anchor leg, Lipsey cranked out a 2:09 half-mile split to carry Hempstead to a winning time of 4:00.36.
``The closer I got to second (place) the further No. 1 got,'' Lipsey said. ``It was hard not to think about not catching her, but I just had to take my time and pace myself.''

While Lipsey is headed for LSU, her three teammates will attend Southwestern Christian College in Terrell TX.

5,000 METERS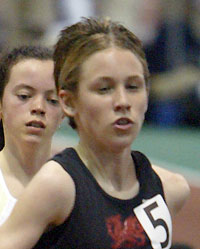 Chelsea Ley (right, photo by John Nepolitan) flirted with the idea of breaking the national record in one of her favorite events, the indoor 5,000, but knew it would be a tall task with or without the competition to push her. Ley , a junior at Kingsway in Woolwich NJ, received some help in pushing the pace from Elizabeth Briasco of Jamaica NY, then pulled away with 800 meters left and settled for a second straight title in 17:17.03. Briasco finished second in 17:24.08.

The national record is 16:43.02, set five years ago at this meet by then-seventh grader Briana Jackucewicz, who is now a senior at Colts Neck NJ. Jackucewicz entered the seeded race but did not finish.

``I wasn't expecting anything but trying to win,'' said Ley, a Foot Locker national finalist last fall. ``My plan was to run 16:39, 16:40, but that plan fell apart in the first mile.''

Ley, who has been rehabilitating a sore right knee, was part of the lead pack which covered the first mile in a pedestrian 5:20.

As she and Briasco, just a stride behind the defending champion, separated from the strung-out pack, the pace quickened to evenly-run laps of 42-44 seconds. With eight laps remaining, Ley pulled away dramatically from Briasco and covered the final half mile in 2:42.
``If I knew she was that close behind me for so long I would have been scared to death,'' Ley said of Briasco, who entered the meet with the US #9 time in the 3000 (10:02.95). ``I was glad to have someone there to help me push the pace. I wasn't expecting to break any records. Winning again is what I really wanted.''

SHUTTLE HURDLES

Perhaps the shuttle hurdle foursome from Swenson Arts and Technology in Northeast Philadelphia PA was just in a hurry to grab a few more gold medals. Shortly after claiming the national title in the shuttle hurdles with a time of 33.40, the girls threw on their warm-ups, did a handful of obligatory interviews and pictures, and got on the bus to head for Boston and the Nike Indoor Nationals.

Sophomore Shanae Bailey (8.01), senior Khristy Neou (9.1) and juniors Vanessa Mack (8.2) and Anthonia ``Mouse'' Ballard (8.03) first made headlines here earlier this season when they won in 33.40 at the New Balance Games Feb. 6-7.

That time vaulted them to No. 1 in the US. ``We felt real good about what we did at New Balance but we knew we couldn't just sit and enjoy it,'' Mack said. ``Just because we were in the lead doesn't mean our season's over. We had to keep working.''

The same foursome – two of which never ran before high school (Ballard and Neou) – placed fifth in the Nike Indoor Nationals in Landover MD last season. Ballard was the state runner-up in the 60-meter hurdles earlier this season. ``It took a while to convince them that they were hurdlers,'' Swenson coach Dean Lent said. ``It took even longer to convince everyone else that they could hurdle.''

DISTANCE MEDLEY

The girls from Burnt Hills-Ballston Lake already had a national championship to brag about from the last indoor season, when they won the NSIC 4-mile relay. But finishing second in the distance medley the last two years was quite enough for the group, of which three of the four are seniors.

``The distance medley is just different from the 4-mile,'' said the only sophomore of the group, Molly Pezzulo. ``This is one we wanted for the seniors.''

Mission accomplished. Seniors Meghan Gregory (3:37.2 for 1,200) and Kendra Adams (59.6 for 400), Pezzulo (2:17.4 for 800) and senior Sam Roecker (4:58.4 for 1,600) pulled off the victory in their third outing, closing in a US #3 time of 11:52.61. Burnt Hills stands behind only Southern Regional of Manahawkin NJ (11:48.61) and Shenendehowa NY (11:51.28) on the national list. The first two times were performed at the Eastern States meet here on Feb. 24.

Pezzulo came back from a 10-second deficit to reclaim the lead from Haddonfield NJ and Roecker stretched the lead to where Burnt Hills would not be caught without an opponent's spectacular anchor leg.

``I knew there were some good teams behind me so I pretty much worked to solidify our win,'' Roecker said. ``Leaving here last year we didn't feel satisfied even though we won the four-mile. This time we finally got it. It's a lot more satisfying to win something we've been trying so hard to get.''

SHOT PUT

Julie Labonte of Canada won her first NSIC title in the shot put with a monster heave of 51-10 ½.

Anna Jelmini of Shafter CA leads US throwers with a 51-5.

Next fall Labonte is headed for either North Carolina-Charlotte or Arizona.

On the national level, a pair of New Yorkers switched places in the standings. Melissa Kurzdorfer of Lancaster defeated Vanessa Stewart of North Babylon for the NY state title March 7, but yesterday at the Armory, Stewart placed second behind Labonte with a 47-5 ¼ and Kurzdorfer was third with a 46-8 ¼. Kurzdorfer owns the US #2 mark with a 48-2 ½, while Stewart remains at US #5 with her latest season best.

60-METER DASH TRIALS

Ashton Purvis of Oakland CA turned in the fastest first-round 60-meter dash time of 7.41, but it was Takeia Pinckney of Columbia GA who made the boldest prediction. Pinckney, who ran the second-fastest preliminary time with a 7.52, predicted she will be taking down the national record of 7.19 set by Ashley Owens of Colorado Springs CO in 2004.

``I will get 7.18,'' Pinckney said. ``I was in the blocks when I had to run back and put on my bib number. The starter said I had 10 seconds to do it, so I wasn't exactly in the best frame of mind to run fast.''

The third fastest prelim time of 7.64 was clocked by Stormy Kendrick of Gastonia NC.

Purvis, whose personal best is 7.38, said she feels a time in the low 7.30s will be needed to win on Sunday ``I believe I can run that fast and maybe faster,'' Purvis said. ``It's a feeling in my bones. They are telling me, `Come get me, Ashton.' ''

60-METER HURDLE TRIALS

A pair of New Yorkers head the list of semifinalists for the 60-meter hurdles, with Janice Jackson of Brooklyn NY going 8.58 in her preliminary and Lateisha Philson of New York NY turning in an 8.77.

Trinity Wilson of Berkeley CA, who owns the US #1 in the 55 hurdles with a 7.94, is the third seed going into the semis with an 8.84. Wilson is already the freshman national record-holder for the 60 meter hurdles with an 8.44 from the Simplot Games Feb. 21.

4X400 RELAY TRIALS

A pair of New York teams headed the list of 12 qualifiers for the meet-closing, 4x400-meter relay finals, slated for Sunday at 4:25 p.m.

Cardozo leads the parade with a 3:52.87 and Mount Vernon is next with a 3:54.40. Elizabeth Seton of Baltimore MD is third with 3:55.69.

Cardozo entered the meet with the US #2 time of 3:45.36. Mount Vernon shaved its season best down by 1.24 seconds and is now #10 in the country.

Eleanor Roosevelt MD leads the country at 3:41.75.


NSIC Friday Results
Licensed to Armory HS Sports Foundation - Site License
                                       HY-TEK's Meet Manager 3/13/2009 10:12 PM
                 2009 National Scholastic Indoor Championships                 
                 New Balance Track & Field Center,  The Armory                 
                     New York City -3/13/2009 To 3/15/2009                     
                                    Results                                    
 
Girls 60 Meter Dash High School
============================================================================
    Name                    Year School                  Seed    Prelims  H#
============================================================================
Preliminaries
  1 Ashton Purvis             11 Oakland, CA                        7.47q  2 
  2 Takeia Pinckney           12 GA, GA                  7.33       7.52q  5 
  3 Stormy Kendrick           12 Gastonia, NC            7.64       7.64q  7 
  4 Shahira Ehiemua           10 Missouri City,, TX      7.64       7.69q  3 
  5 TaNay Chandler            12 Suffolk, VA             7.16       7.71q  1 
  6 Janelle Redhead           12 North York, ON          7.53       7.73q  9 
  7 Jordan Clark              10 Southfield, MI          7.50       7.77q  1 
  8 Varonica Johnson          10 Charlotte, NC           7.89       7.79q  1 
  9 Shilesha Johnson          11 Spring Valley, NY       7.89       7.80q  1 
 10 Chesna Sykes              11 Columbus, OH            7.76       7.81q  9 
 11 Cindy Robinson            12 Norwalk, CA             7.91       7.81q  2 
 12 Alexis Faulknor            9 Gardena, CA             7.75       7.85q  2 
 13 Joann Blakney             11 Charlotte, NC           7.82       7.85q  5 
 14 Alycia Prior              11 Jonesboro, GA           7.65       7.86q  8 
 15 Dionna Hayes              12 Bladensburg, MD         7.74       7.86q  4 
 16 Lydia Ali                 10 Radnor, PA              7.86       7.89q  4 
 17 Jamillah Middlebrooks     10 Alanta, GA              7.60       7.93q  4 
 18 Teyanna Green             11 Danbury, CT             7.24       7.93q  3 
 19 Alexis Stroman            10 Forestville, MD         7.80       7.93q  2 
 20 Lauren Ford               11 indianapolis, IN                   7.95q  3 
 21 Christine Council         12 Winston-Salem, NC       7.20       7.95q  4 
 22 Carisma Lyday             10 Long Beach, CA          7.67       7.95q  6 
 23 Janay Mitchell            12 Teaneck, NJ             7.17       7.95q  9 
 24 Mytoia Gathings           11 Winston-Salem, NC       7.26       7.97q  8 
 25 Traci Hicks                9 Long Beach, CA          7.79       7.97   9 
 26 Destiny Gammage           12 Long Beach, CA          7.60       7.98   2 
 27 Anita Crumlin             12 CA, CA                  7.90       7.99   9 
 28 Sherreka Jackson          12 Springdale, MD          7.70       7.99   7 
 29 erica campbell            12 indianapolis, in        7.91       8.00   4 
 30 Sahnique Castella         12 Hartford, CT            7.25       8.03   7 
 31 Lauren Drayton            11 Troy, MI                7.76       8.03   1 
 32 Ayanna Fields             11 Villanova, PA           7.84       8.05   7 
 33 Charisma Green            11 Danbury, CT             7.38       8.06   2 
 34 Aiyanna James             10 Little Silver, NJ       7.40       8.07   9 
 35 Ebony Wright                 Speed Unlimi            7.40       8.08   1 
 36 MacKenzie Chambers        12 Matawan, NJ             7.26       8.09   6 
 37 Mikayla Pearce             9 NY, NY                  7.85       8.14   3 
 38 Audrey Jean-Baptiste      11 Montréal, QC           7.84       8.16   6 
 39 Desirhea Odom             10 Durham, NC              7.30       8.17   3 
 40 Ruth Alexandre            12 Ramapo, NY              7.34       8.18   4 
 41 Brionna Harrison          10 Indianapolis, IN                   8.20   4 
 42 Lisa Luchsinger           11 NY, NY                             8.24   7 
 43 Ayele Townsend             8 Brooklyn, NY            7.98       8.26   5 
 44 Felicia Jefferson         12 Detroit, MI             7.81       8.26   4 
 45 Alicia Jefferson          12 Detroit, MI             7.83       8.28   8 
 46 Shemia Barnes             12 Largo, MD                          8.29   5 
 47 Erika Wilkes              12 Washington, DC          7.84       8.33   8 
 48 Diana Sainvil             11 NY, NY                  7.72       8.33   5 
 49 Carolyn Newswanger        11 CA, CA                  8.08       8.34   7 
 50 Amanda Luccarelli         11 Farmingdale, NJ         7.20       8.34   5 
 51 Shaakira Johnson          10 Peekskill, NY           7.60       8.72   5 
 52 Tricia Francois            9 Brooklyn, NY            9.00       9.59   6 
 
Girls 5000 Meter Run High School
=========================================================================
    Name                    Year School                  Seed     Finals 
=========================================================================
Finals
  1 Chelsea Ley               11 Woolwich Township,  17:03.79   17:17.03  
  2 Elizabeth Briasco         11 Jamaica, NY         17:57.11   17:24.08  
  3 Caroline McDonough        12 Darien, CT          18:30.00   17:37.84  
  4 Laura Vigilante           11 Mendham, NJ         18:14.00   17:43.27  
  5 Jillian Prentice          11 Skillman, NJ        17:54.00   17:53.77  
  6 Moira Kenny               12 Danbury, CT         17:57.61   17:54.75  
  7 Katie Sullivan            12 New Rochelle, NY    14:57.50   17:58.33  
  8 Liz Schinski              11 NY, NY              18:37.16   18:04.79  
  9 Libby Lazare              11 NY, NY              18:52.00   18:22.81  
 10 Emily Singer              11 Harrison, NY        18:52.98   18:24.82  
 11 Kristen Traub              9 North Haledon, NJ   18:43.00   18:30.12  
 12 Stephanie Bray            12 Fairfax, VA         18:45.00   18:33.13  
 13 Lauren Sara               11 Strafford, CT       18:11.00   18:35.71  
 14 Jessica Tobin             11 NY, NY              18:10.97   18:37.17  
 15 Angela Jarvela            11 NY, NY              18:36.30   18:45.26  
 16 Brittany Day               8 Haworth, NJ         18:39.00   18:54.97  
 17 Elizabeth O'Donnell       11 Central Valley, NY  10:46.00   19:01.60  
 18 Rachel Morris             12 Colts Neck, NJ      18:45.00   19:01.89  
 19 Jackie Sikkema            12 Haddonfield, NJ     18:55.00   19:20.49  
 20 Sarah Bryan               12 Alexandria, VA      19:44.00   19:25.53  
 21 Tara Landy                10 Burke, VA                      19:43.97  
 22 Caitlin Jelinek           11 NY, NY              18:30.00   19:56.59  
 23 Gina Siclari              12 Staten Island, NY   19:00.00   20:01.52  
 24 Chinyelu Asher            10 Washington, DC      18:28.00   20:07.18  
 25 Anna Markowitz            10 Burke, VA                      20:17.45  
 26 Brittney Rooks             8 Baltimore, MD       19:00.00   20:17.46  
 -- Briana Jackucewicz        12 Colts Neck, NJ      17:05.00        DNF  
 
Girls 60 Meter Hurdles High School
============================================================================
    Name                    Year School                  Seed    Prelims  H#
============================================================================
Preliminaries
  1 Janice Jackson            12 Brooklyn, NY                       8.58q  6 
  2 Lateisha Philson           9 New York, NY            8.72       8.77q  5 
  3 Trinity Wilson             9 Berkeley, CA                       8.84q  6 
  4 Larissa Matthews          12 Chandler, AZ                       8.84q  1 
  5 Erin Morris               11 Ft Worth, TX            9.00       8.91q  1 
  6 Jenna Poggi               12 Providence County,      9.20       8.92q  1 
  7 Chalese Davis             10 Hercules, CA            8.79       8.93q  5 
  8 Briana Kennedy-Feldhaus   12 Randolph, NJ            8.12       8.94q  5 
  9 Azudei Dubois             11 Irvington, NJ           8.96       8.95q  6 
 10 Jasmine Wanamaker         12 Philadelphia, PA        9.03       8.96q  4 
 11 Ryesa Whigham             11 Houston, TX                        8.96q  3 
 12 Ashley Porterfield        12 Neptune, NJ             8.25       8.98q  4 
 13 Brittany Carroll          12 Charlotte, NC           8.80       8.99q  4 
 14 Shona Dunkley             12 Pickerin, ON            8.93       9.00q  6 
 15 Casaundra Bouldin         12 Bowie, MD               9.10       9.05q  4 
 16 Laurence Beaudet          12 Montréal, QC           9.16       9.08q  2 
 17 Jade Wilson               12 Neptune, NJ             8.34       9.14q  3 
 18 Alexis Stroman            10 Forestville, MD         9.27       9.15q  3 
 19 Melia Cox                 10 Long Beach, CA          8.45       9.17q  3 
 20 Allison Reaser            11 El Segundo, CA          9.33       9.17q  1 
 21 Nicole Cummings           11 Peekskill, NY           9.44       9.18q  4 
 22 Chantal Scott             11 Raleigh, NC             8.54       9.22q  4 
 23 Amber Scott               12 Robbinsville, NJ        8.39       9.25q  6 
 24 Symone Evans              11 San Jose, CA            9.09       9.26q  5 
 25 Elizabeth Kline           12 Unattached                         9.26   5 
 26 Ta'Janeece Robertson      12 Gardena, CA             9.01       9.28   2 
 27 Miray Seward              11 Atlanta, GA                        9.31   1 
 27 Andrienne Tolson          12 Bowie, MD               9.28       9.31   6 
 29 Qaniah Douglas            12 Indianapolis, IN                   9.41   3 
 30 Natalie McAlister          9 Bloomfield, NJ                     9.46   2 
 31 Asha Roper                11 Bladensburg, MD         9.38       9.47   2 
 32 Ashley Hunter             12 Northampton, PA         9.32       9.50   3 
 33 Tamara Lynch              12 Danbury, CT             8.53       9.57   2 
 34 Kellie Littlejohn         10 Detroit, MI             9.28       9.74   6 
 35 Caroline Bonsaint         11 Hampton, NH             9.41       9.76   5 
 36 Athena Carpenter           7 GA, GA                  9.45       9.91   2 
 37 Lauren Rose               10 Hercules, CA            8.93      10.48   3 
 38 Tiffany Crosby            12 Augusta, VA             9.41      13.27   4 
 -- Chantal Luedeke           12 Chesapeake, VA          8.85        DNF   2 
 -- Paige Coleman             12 Columbus, OH            9.41        DNF   5 
 
Girls 4x400 Meter Relay High School
============================================================================
    School                                               Seed    Prelims  H#
============================================================================
  1 Benjamin Cardozo  'A'                             3:45.36    3:52.87q  1 
     1) Alexis Mapson --                2) Tessa West 12                  
     3) Chamique Francis --             4) Ahtyana Johnson --             
  2 MT Vernon  'A'                                    3:53.37    3:54.40q  4 
     1) Julia Miller 12                 2) Shamika Mindingall 11          
     3) Breanda Crump 12                4) Tanaya Yarde 9                 
  3 Elizabeth Seton  'A'                              4:00.50    3:55.69q  3 
     1) Ashley Ajayi 12                 2) Ambrosia Iwugo 11              
     3) Briana Young 10                 4) Jameice DeCoster 12            
  4 Newburgh Free Academy  'A'                        3:54.24    3:56.09q  4 
     1) Chante Coppedge 10              2) Danielle McHolder 12           
     3) Doris Little 10                 4) Dasia Jones 12                 
  5 Gardena Core Speed  'A'                           3:53.10    3:56.32q  2 
     1) Turquoise Thompson 12           2) Breyonna Hunter 11             
     3) Alexis Faulknor 9               4) Urina Harrell 9                
  6 PennWood  'A'                                                3:56.58q  4 
  7 Bowie  'A'                                        3:56.50    3:58.57q  2 
     1) Cassandra Bolden 12             2) Asha Ruth 12                   
     3) Jessica Navas --                4)                                
  8 Motor City TC  'A'                                3:55.00    3:58.99q  3 
     1) Aisha Osborne 12                2) Vorri Zanders 9                
     3) Nacole Black 12                 4) Shariece Pinkston 12           
  9 Hope  'A'                                         4:00.58    3:59.21q  2 
     1) Royal Cheathem 9                2) Lakisha DaCruz 10              
     3) Jasmine Marrow 12               4) Angie Quiah 11                 
 10 Maryland Jaguars  'A'                             4:04.00    3:59.36q  5 
     1) Lorraine Graham 11              2)                                
     3) Tishana Dorn 11                 4) Jasmine Butler 12              
 11 Bishop McNamara  'A'                              3:57.00    4:00.45q  1 
     1) Saniel Atkinson 12              2) Monica Mason 12                
     3) Nsia Frenche 12                 4) Yayoi Vanzego 12               
 12 James Robinson  'A'                               3:59.00    4:00.52q  3 
     1) Kelly Kavanaugh 12              2) Molly Kulbaski 9               
     3) Genamarie McCant 9              4) Elizabeth Roberson 9           
 13 Archbishop Carroll  'A'                           3:53.63    4:00.53   3 
     1) Ashley Seymour 12               2) Breanna Adams 11               
     3) Jasmin Peterson Hassan 12       4) Kiah Seymour 9                 
 14 Taft Campus (Nyc)  'A'                            4:00.69    4:04.79   4 
     1) Raykia Koroma --                2) Kadian Smalling 11             
     3) Ashley Hodges --                4) Tonia Adams --                 
 15 Campus Magnet  'A'                                4:02.19    4:04.92   5 
     1) Natasha Carr 11                 2) Yolanda Rumph 12               
     3) Dominique Thomas 11             4) Monique Green 9                
 16 Neptune  'A'                                      4:01.14    4:04.96   2 
     1) Jade Wilson 12                  2) Ishakeema Swain 10             
     3) Ashley Porterfield 12           4) Ajee Wilson 9                  
 17 Elizabeth Seton  'B'                              4:08.00    4:05.35   6 
     1) Teika Robinson 12               2) Tiana Teague 10                
     3) Joi Johnson 11                  4) Maya Harrod 9                  
 18 Weaver  'A'                                       4:07.17    4:05.44   6 
     1) Cassandra Bennett 11            2) Angela Dunnham 12              
     3) Meadeshia Mitchell 10           4) Phelecia Powell 11             
 19 Dunbar  'A'                                       4:03.00    4:05.44   6 
     1) Paris Scott 12                  2) Ashley Bacote 11               
     3) Angela Bonham 11                4) Shelby Lambert 10              
 20 Speed Unlimited Track Club  'A'                   3:57.00    4:05.46   1 
     1) Brianna Aikens 10               2) Latisha Martin 10              
     3) Andreanna Rowe 11               4) Jamisha Abney                  
 21 Pope John Xxiii  'A'                              4:07.91    4:06.12   6 
     1) Sarah Bieganousky 12            2) Amanda Banas 10                
     3) Kelsey Steele 10                4) Devin Smith 9                  
 22 Suffern  'A'                                      4:02.00    4:06.23   3 
     1) Jen Clayton 11                  2) Faith Consiglio 12             
     3) Christy Goldmann 12             4) Brittany Cocchieri 11          
 23 Lee-Davis  'A'                                    4:06.20    4:06.26   5 
     1) Jessica Ravensbergen 12         2) Montasia Golden 10             
     3) Tiel Westbrook 10               4) Jessie Spence 11               
 24 Lexington  'A'                                    4:06.89    4:07.50   5 
     1) Ana Kouri 12                    2) Martha Zimmermann 12           
     3) Erika Chan 12                   4) Sarah Heingartner 12           
 25 D.Clinton  'A'                                               4:07.84   4 
 26 Boys & Girls  'A'                                 3:57.32    4:07.95   2 
     1) Ma' Shanta Pitts --             2) Kerri Thompson --              
     3) Shemeka Morgan --               4) Kenesha Abrams 12              
 27 St. Peter's  'A'                                  4:07.52    4:10.35   6 
     1) Khadeza Alford --               2) Brittany Giles 12              
     3) Tayanna Mccombs --              4) Tamira Flash 12                
 28 Amityville Memorial  'A'                          4:07.97    4:15.21   5 
     1) Kanisha Mc  Call 11             2) Emilie Bloutiau 12             
     3) Corrine Jackman 12              4) Ariel Gordon 11                
 29 Maryland Jaguars  'B'                             4:08.00    4:20.54   6 
     1) Sherreka Jackson 12             2) Noelle Smith 11                
     3) Aiesha Marshall 11              4) Ebony Fentry 10                
 30 Benjamin Cardozo  'B'                             4:00.00    4:21.41   1 
     1) Kelly Mae Smith --              2) Kristine Lewis --              
     3) Freddi Ire Taylor --            4) Shanice Moten --               
 -- Bishop Hartley  'A'                               4:02.54         DQ   5 
     1) Ashlee Hoffman 12               2) Chesna Sykes 11                
     3) Maya Pedersen 10                4) Kelsi Bobbitt 10               
 
Girls 1600 Sprint Medley High School
============================================================================
    School                                               Seed     Finals  H#
============================================================================
Finals
  1 Hempstead  'A'                                    4:05.59    4:00.36   5 
     1) Charlene Lipsey 12              2) Donna-Lee Hylton 12            
     3) Velma Morant 12                 4) Asheka Gibson 12               
  2 Bishop Ford  'A'                                  4:07.56    4:04.33   5 
     1) Shanyce Goulding 12             2) Shanique DaSilva 10            
     3) Malekah Holland 11              4) Corrine Williams 11            
  3 Neptune  'A'                                      4:13.00    4:04.47   4 
     1) Jade Wilson 12                  2) Ajee Wilson 9                  
     3) Yazmin Hall 9                   4) Ashley Porterfield 12          
  4 St. John Villa Academy  'A'                       4:04.00    4:06.97   5 
     1) Kristi Taddoni 9                2) Alexandria Simon 9             
     3) Dominique Claudio 9             4) Mariah Claudio 9               
  5 O'Hara T&F Club  'A'                              4:07.36    4:11.25   4 
     1) Robyn Oakley 12                 2) Diane Garrison 11              
     3) Amanda Mccullough 11            4) Brittany Robinson 11           
  6 Brentwood  'A'                                    4:13.38    4:11.58   3 
     1) Donna Jeanty 11                 2) Essence Felder 12              
     3) Stefanny Laureano 11            4) Andrea Abberbeen 11            
  7 Archbishop Carroll  'A'                           4:05.96    4:11.62   4 
     1) Ashley Seymour 12               2) Breanna Adams 11               
     3) Jasmin Peterson Hassan 12       4) Kiah Seymour 9                 
  8 Pine Bush  'A'                                    4:18.00    4:11.72   2 
     1) Jessica Hennig 12               2) Amber Passalaqua 11            
     3) Opeyemi Ifafore 12              4) Alexis Grable 12               
  9 Motor City TC  'A'                                4:04.90    4:13.56   5 
     1) Aisha Osborne 12                2) Vorri Zanders 9                
     3) Nacole Black 12                 4) Shariece Pinkston 12           
 10 Suffern  'A'                                      4:07.00    4:14.07   4 
     1)                                 2) Jen Clayton 11                 
     3) Janelle Clayton 12              4) Faith Consiglio 12             
 11 Windsor Striders  'A'                             4:18.12    4:15.84   2 
 12 Bishop McNamara  'A'                              4:19.00    4:17.71   2 
     1) Nsia Frenche 12                 2) Chanae Davis 11                
     3) Yayoi Vanzego 12                4) Maya Lewis 11                  
 13 Ursuline School  'A'                              4:07.50    4:17.74   3 
     1) Kaitlin Mallinson 10            2) Fiona Nugent 12                
     3) Shanel Golding 10               4) Aeisha McDavid 10              
 14 Marian  'A'                                       4:19.05    4:18.51   2 
     1) Kelly Egan 12                   2) Mary Hazen 12                  
     3) Hillary McAllister 11           4) Serene King 12                 
 15 Weston  'A'                                       4:15.00    4:18.61   3 
     1) Emily Ando 11                   2) Callie Arlo 11                 
     3) Rebecca Fine 12                 4) Erica Litvak 10                
 16 Bowie  'A'                                        4:25.50    4:19.27   1 
     1) Courtney Cox 11                 2) Jazmyn Thomas 12               
     3) Rashanda Dickens 11             4) Kimmy Dumfani --               
 17 Bruin TC  'A'                                     4:15.00    4:19.72   3 
     1) Taylor Moore 12                 2) Rebecca Shoemaker 12           
     3) Taylor McCord 10                4) Cristina Cabrera 11            
 18 Cardinal Spellman  'A'                            4:19.51    4:19.88   2 
     1) Patrice Johnson 12              2) Karimah Figueroa 12            
     3) Janiene Mcmaster 12             4) Alexis Beverly 11              
 19 Rahway  'A'                                       4:15.00    4:20.21   3 
     1) Sattirah Johnson 12             2) Nichelle Harris 11             
     3) Denice Martin 11                4) Ernestine Rodgers 10           
 20 Gardena Core Speed  'A'                           4:13.22    4:22.54   4 
     1) Deena Pierce 10                 2) Bryana Smith 12                
     3) Rhyon Brown 11                  4) Dawnielle Baucham 10           
 21 De Paul Catholic  'A'                             4:20.00    4:23.79   1 
     1) Alyssa LaGuardia 10             2) Christie Gage 12               
     3) Ashley Suermann 12              4) Michelle Trifare 11            
 22 Hilton  'A'                                       4:20.00    4:26.40   1 
     1) Sarah Ritchie 12                2) Marikka Joseph 12              
     3) Asante Brown 9                  4) Amanda Cocchiara 10            
 23 MT Vernon  'A'                                    4:08.19    4:26.57   5 
     1) Julia Miller 12                 2) Kenina Bonner 10               
     3) Myla Allen 11                   4) Jessica Avila 11               
 24 Benjamin Banneker Academy  'A'                    4:20.00    4:28.16   1 
     1) Taisha Parkins 12               2) Seleah Sheares 10              
     3) Arielle Desdunes 12             4) Bryanna Chestnut 9             
 25 Elizabeth Seton  'A'                              4:18.00    4:38.78   2 
     1) Dionna Hayes 12                 2) Chantel Lipkins 12             
     3) Asha Roper 11                   4) Tiana Teague 10                
 -- Kingsway Reg.  'A'                                4:24.56         DQ   1 
     1) Jasmine Waddell                 2) Jewel Smith                    
     3) Liz Locke 11                    4) Ulili Emore                    
 -- Dunbar  'A'                                       4:17.00         DQ   3 
     1) Paris Scott 12                  2) Jasmine Jones 12               
     3) Ashley Bacote 11                4) Shelby Lambert 10              
 
Girls Distance Medley High School
=========================================================================
    School                                               Seed     Finals 
=========================================================================
  1 Burnt Hills-Ballston Lake  'A'                   11:51.08   11:52.61  
     1) Sam Roecker 12                  2) Molly Pezzulo 10               
     3) Meaghan Gregory 12              4) Rachael Cyrus 10               
  2 Bruin TC  'A'                                    11:50.00   12:01.86  
     1) Kelly Hagan 11                  2) Casey Lardner 10               
     3) Liana Epstein 11                4) Becca Sinichko 10              
  3 Haddonfield  'A'                                 12:24.63   12:04.45  
     1) Marielle Hall 11                2) Elizabeth Sikkema 12           
     3) Greta Feldman 12                4) Lisa Bailey 10                 
  4 Bronxville  'A'                                  12:05.97   12:07.25  
     1) Tori Flannery 12                2) Henrietta Miers 11             
     3) Caitlin Hudson 12               4) Olivia Bruton 12               
  5 Wilson Memorial TC  'A'                          12:21.84   12:12.92  
     1) Megan Patrignelli 11            2) Carly Kiess 11                 
     3) Meaghan Venterola 9             4) Courtney Mallon 10             
  6 North Rockland  'A'                              12:15.20   12:18.59  
     1) Jackie Gamboli 12               2) Katherine Hekker 12            
     3) Sara Hylas 12                   4) Ellie Hekker 9                 
  7 Academy of the Holy Names  'A'                   12:10.00   12:20.59  
     1) Johanna Ohm 12                  2) Lauren Recchia 11              
     3) Laura Isabelle 11               4) Sherez Mohamed 12              
  8 Speed City  'A'                                  12:15.00   12:23.42  
     1) Dynasty Gammage 10              2) Tia Leake 11                   
     3) Ashlee Taylor 12                4) Autumn Fowler 10               
  9 Thomas Edison  'B'                                          12:26.41  
 10 Ridge  'A'                                       12:23.30   12:26.60  
     1) Kaitlin McWhorter 11            2) Dana Guglielmo 12              
     3) Amanda Gracia 12                4) Simran Bains 10                
 11 Breen Track Club  'A'                            12:20.00   12:27.78  
     1) Michelle Moriset 11             2) Grace Green 12                 
     3) Julia Dinverno 10               4) Franki Adamski 11              
 12 Northstars TC  'A'                               12:20.00   12:28.94  
     1) Taylor Wendler 11               2) Lindsay Raulli 12              
     3) Nicole Campagna 10              4) Jamie Ryan 10                  
 13 Northport  'A'                                   12:37.39   12:29.63  
     1) Caitlin Mclaughlin 12           2) Lianne Farber 11               
     3) Elizabeth Fierro 10             4) Anna Corrigan 9                
 14 Glastonbury  'A'                                 12:15.11   12:34.91  
     1) Lindsay Crevoiserat 10          2) Laura Vehlies 12               
     3) Emily Macewen 9                 4) Natalie Bonham 12              
 15 Naugatuck  'A'                                   12:38.52   12:37.95  
     1) Tori Pisco 11                   2) Rosa Moriello 11               
     3) Natalia Carvalho 10             4) Shannon Hale 12                
 16 St. John Villa Academy  'A'                      12:22.49   12:38.95  
     1) Alexis Bivona 11                2) Jillian Biagini 10             
     3) Mallory Baio 11                 4) Samantha Lauro 11              
 17 Albuquerque Academy  'A'                         12:05.90   12:41.41  
 18 Hunterdon Central  'A'                           12:35.27   12:43.24  
     1) Brigitte Mania 12               2) Katherine Vodopia              
     3) Juliana Lindner 11              4) Allison Payenski 10            
 19 Washingtonville  'A'                             12:35.11   12:48.64  
     1) Lauren Hehir 9                  2) Kerry Connors 9                
     3) Kaitlynn Hammerton 12           4) Brianna Butler 9               
 20 Kingston  'A'                                    12:40.59   12:50.18  
     1) Tori Destefano 11               2) Diane Valentine 10             
     3) Jillian Brooks 10               4) Chelsea Gillette 10            
 21 Sachem East  'A'                                 13:14.80   12:55.18  
     1)                                 2) Caitlin Ryan 11                
     3) Megan Walsh 10                  4) Rachel Paul 9                  
 22 Germantown Friends School  'A'                   12:45.00   12:55.78  
     1) Jasia Kaulbach 11               2) Sarah Bergman 10               
     3) Madeleine Hawes 12              4) Brooke Palus 10                
 23 Speed Unlimited Track Club  'A'                             13:03.33  
 24 Norwich Free  'A'                                           13:08.54  
     1) Jaclyn Sullivan 12              2) Amy Sinko 12                   
     3) Kaylan Pickford 11              4) Kathleen O'Brien 11            
 25 Ursuline School  'A'                             12:24.38   13:17.70  
     1) Jackie McCarthy 11              2) Madie Federle 11               
     3) Carlie Brittan 10               4) Fiona Nugent 12                
 26 St. Thomas Aquinas  'A'                          12:35.00   13:43.92  
     1) Emily Mcafee 12                 2) Malia Cali 11                  
     3) Michelle Mobley 11              4) Elizabeth Gambel 10            
 
Girls 4x55 Meter Shuttle Hurdle 4x55 High School
============================================================================
    School                                               Seed     Finals  H#
============================================================================
  1 Lions Track Club  'A'                               33.63      33.40   2 
     1) Anthonia Ballard 12             2) Shanae Bailey 11               
     3) Vanessa Mack 11                 4) Khristy Neou 12                
  2 Bay Area TC  'A'                                    35.70      33.75   3 
     1) Leslie Reed 12                  2) Chalese Davis 10               
     3) Lauren Rose 10                  4) Maya Goudeau 10                
  3 Irvington  'A'                                      32.57      34.40   1 
     1) Azudei Dubois 11                2) Christ Clermont 12             
     3) Eleano Ojinnaka 11              4) Brianna Lovell 10              
  4 New Rochelle  'A'                                   35.80      34.52   3 
     1) Tameekia Cooper 12              2) Amira Yeiser 10                
     3) Amanda Egbuta 11                4) Jessica Goldberg 11            
  5 Montgomery  'A'                                     32.45      34.72   1 
     1) Renee Brzyski 12                2) Fiona Paladino 10              
     3) Danielle Sciotto 11             4) Ama Quansain --                
  6 Rahway  'A'                                         35.30      35.02   3 
     1) Sattirah Johnson 12             2) Michelle Ibanibo 11            
     3) Denice Martin 11                4) Ernestine Rodgers 10           
  7 Hilton  'A'                                         35.40      35.30   3 
     1) Marikka Joseph 12               2) Tori Schmidt 11                
     3) Stephanie Miles 10              4) Hayley Christiano 10           
  8 Randolph  'A'                                       32.75      36.39   1 
     1) Briana Kennedy-Feldhaus 12      2) Kara Scheideler 10             
     3) Anna Conway 11                  4) Rachael Verrone 11             
  9 Ridgewood  'A'                                      36.50      36.42   4 
     1) Sara DeVita 10                  2) Robin Lee 12                   
     3) Jennifer Narvaez 12             4) Victoria Oliva 11              
 10 Hillsbourough  'A'                                  33.94      36.43   2 
     1) Ebony Young 12                  2) Erica Reiss 11                 
     3) Kelly Bloom 11                  4) Allison Moran 12               
 11 Watchung Hills Reg.  'A'                            34.90      36.56   2 
     1) Davielle Brown 12               2) Amanda Rissmeyer 12            
     3) Stephanie Hanson 12             4) Erin Caffrey 10                
 12 Harrison  'A'                                       36.00      36.61   4 
     1) Alyson Donino 12                2) Lucie Dufour 12                
     3) Christi Marraccini 12           4) Nina Sarmiento 9               
 13 Lee-Davis  'A'                                      37.37      36.93   5 
     1) Jessica Ravensbergen 12         2) Montasia Golden 10             
     3) Brie Jackson 10                 4) Melanie Hazelwood 12           
 14 Miller Place  'A'                                   38.14      36.95   6 
     1) Devin Harrison 12               2) Casey Browne 10                
     3) Emma Davis 10                   4) Alexa Lynam 12                 
 15 North Babylon  'A'                                  38.10      37.12   6 
     1) Vicky Mandat 12                 2) kim duffy 11                   
     3) Danielle taddeo 12              4) emily abma 10                  
 16 Msgr. Donovan  'A'                                  34.53      37.22   2 
     1) Murphy Kate Delaney 12          2)                                
     3) Brian Hallenbeck 11             4) Tara Smith 12                  
 17 Sayville Running Club  'A'                          37.80      37.50   6 
     1) Gina Farinacci 11               2) Rebecca Neugebauer 10          
     3) Helen Tristano 9                4) Megan Whitehurst 11            
 18 Ridge  'A'                                          36.82      38.01   4 
     1) Joanne Jan 12                   2) Caroline Bozzi 12              
     3) Avni Talsania 11                4) Brittany Linton 10             
 19 North Rockland  'A'                                 36.80      38.02   4 
     1) Amber Stephens 12               2) Melissa Mangual 10             
     3) D'Janet Ahyoung 10              4) Lauren Ryan 9                  
 20 Suffern  'A'                                        39.80      38.33   7 
     1) Kaitlyn Cross 12                2) Taylor Hall 12                 
     3) Marissa Mazart 11               4) Jen Keorasmey 11               
 21 Pine Bush  'A'                                      36.90      38.51   5 
     1) Alexandra Parise 10             2) Nicole Kulaga 10               
     3) Kara Trivolis 12                4) Toni Werner 10                 
 22 Connetquot  'A'                                     36.90      38.78   5 
     1) Camille Ferrandino 12           2) Nicole Stanko 11               
     3) Courtney Ehrhart 12             4) Stephanie Guercio 12           
 23 St. Francis Prep  'A'                               38.50      40.11   7 
     1) Alexis Murray 11                2) Jaclyn Chen 12                 
     3) Sheila Ahmady 12                4) Roselyn Vassilatos 12          
 -- Sachem East  'A'                                    36.94         DQ   5 
     1) Breanna Eng 12                  2) Brittany Dippel 11             
     3) Athena Marneris 12              4) Nicole Driscoll 12             
 
Girls High Jump High School
===================================================================================
    Name                    Year School                  Seed     Finals           
===================================================================================
  1 Tynita Butts              12 Alexandria, VA       5-09.00      1.79m    5-10.50 
  2 Saniel Atkinson           12 Forestville, MD      5-09.00      1.76m    5-09.25 
  3 Tara Richmond             11 Long Beach, CA       5-11.00     J1.76m    5-09.25 
  4 Sarah Palmer              10 NY, NY               5-08.50      1.73m    5-08.00 
  5 Chamique Francis          -- New York, NY         5-05.00      1.70m    5-07.00 
  6 Bright Rower              -- Ewing, NJ            5-04.00      1.65m    5-05.00 
  7 Alexis Broz                9 NY, NY               5-07.75     J1.65m    5-05.00 
  8 Janelle Clayton           12 Suffern, NY          5-07.75     J1.65m    5-05.00 
  9 Emily Hren                12 NY, NY               5-07.00     J1.65m    5-05.00 
 10 Ashley Grant              11 Central Valley, NY   5-04.00     J1.65m    5-05.00 
 11 Urina Harrell              9 Gardena, CA          5-03.00      1.60m    5-03.00 
 11 Fiona Paladino            10 Skillman, NJ         5-04.00      1.60m    5-03.00 
 11 Amber Passalaqua          11 NY, NY               5-03.00      1.60m    5-03.00 
 11 Lucile Cancre             12 Lexington, MA        5-05.00      1.60m    5-03.00 
 11 Tayona Brown              11 Ewing, NJ            5-04.00      1.60m    5-03.00 
 16 Miray Seward              11 Atlanta, GA                       1.55m    5-01.00 
 16 Margaret Lestrange        11 Warren, NJ           5-02.00      1.55m    5-01.00 
 16 Theresa Kennedy           11 NY, NY               5-04.00      1.55m    5-01.00 
 16 Amanda Rissmeyer          12 Warren, NJ           5-02.00      1.55m    5-01.00 
 16 Rachel Frost              11 NY, NY               5-05.00      1.55m    5-01.00 
 21 Taryn Hare                10 Midlothian, VA                    1.50m    4-11.00 
 21 Keona Bruen               12 Indianapolis, IN                  1.50m    4-11.00 
 21 Shereen Salem             11 Lexington, MA        5-03.00      1.50m    4-11.00 
 21 Christen Roberts          10 Chesapeake, VA       5-02.00      1.50m    4-11.00 
 -- Destiny Roseman           11 Cedar Hill, TX       5-07.00         NH            
 -- Seanniec Bamiro           12 Bowie, MD            5-01.00         NH            
 -- Stephanie Ukpere          12 NY, NY               5-01.50         NH            
 -- Leigh Dannhauser          11 Bronxville, NY       5-01.00         NH            
 -- Lauren Taylor             12 Marlton, NJ          5-02.00         NH            
 -- Jade Sanders              11 Powder Springs, GA                   NH            
 -- Jasmine Cribb             12 Naugatuck, CT        5-04.00         NH            
 
Girls Long Jump High School
===================================================================================
    Name                    Year School                  Seed     Finals           
===================================================================================
  1 Tynita Butts              12 Alexandria, VA      20-04.50      6.13m   20-01.50 
  2 Brittany Porter           12 Decatur, GA         19-05.00      6.06m   19-10.75 
  3 Jen Clayton               11 Suffern, NY         20-09.75      5.90m   19-04.25 
  3 Adenike Pedro             11 Bladensburg, MD     19-01.00      5.90m   19-04.25 
  5 Asha Ruth                 12 Bowie, MD           18-09.75      5.63m   18-05.75 
  6 Essence Felder            12 Brentwood, NY       18-08.00      5.62m   18-05.25 
  7 Elaine Derricott          12 Richmond, VA        18-10.00      5.61m   18-05.00 
  8 Karimah Shepherd          12 Chesapeake, VA      20-00.00      5.53m   18-01.75 
  9 Lauren Tusar              11 Media, PA           17-08.00      5.49m   18-00.25 
 10 Nicole Cummings           11 Peekskill, NY       17-11.00      5.46m   17-11.00 
 11 Allison Reaser            11 El Segundo, CA      19-05.25      5.44m   17-10.25 
 12 Caroline Ehrhardt         11 Espanola, ON        18-09.25      5.43m   17-09.75 
 13 Genevieve Ruppel          12 NY, NY              17-07.25      5.40m   17-08.75 
 14 Joann Blakney             11 Charlotte, NC       19-06.00      5.38m   17-08.00 
 14 taylor neely              11 toronto, on         17-05.00      5.38m   17-08.00 
 16 Jocelyn Briggs            12 Hampton, NH         18-06.00      5.37m   17-07.50 
 17 Ebony Young               12 Hillsborough, NJ    17-07.00      5.36m   17-07.00 
 18 Olivia Massey             12 Westport, CT        18-00.00      5.32m   17-05.50 
 19 Kristen Brown             12 Englewood, NJ       18-05.00      5.30m   17-04.75 
 20 Chantel Lipkins           12 Bladensburg, MD     17-06.00      5.26m   17-03.25 
 21 Keona Bruen               12 Indianapolis, IN    17-05.00      5.19m   17-00.50 
 22 Traci Hicks                9 Long Beach, CA      16-06.00      5.18m   17-00.00 
 23 Hannah A Robbertz         10 Ridgefield, CT      17-02.50      5.17m   16-11.50 
 24 Brittany Bostwick         11 Christiansburg, VA  17-10.00      5.15m   16-10.75 
 24 Desiree Reese             12 Freehold, NJ        17-11.00      5.15m   16-10.75 
 26 TaNay Chandler            12 Suffolk, VA         18-06.00      5.14m   16-10.50 
 27 Alexis Easterling         12 NY, NY              18-00.50      5.12m   16-09.75 
 28 Kayla Graves              11 Media, PA           17-04.25      5.11m   16-09.25 
 28 Symone Evans              11 San Jose, CA        17-05.00      5.11m   16-09.25 
 30 Allyson Crooke            11 Lexington, MA       16-09.00      5.08m   16-08.00 
 31 Nicole Stanko             11 NY, NY              17-06.50      5.06m   16-07.25 
 32 Jhorden Hunter            11 Missouri City,, TX  18-00.00      5.05m   16-07.00 
 33 Joselyn Henry             11 Westport, CT        16-11.00      5.02m   16-05.75 
 34 Montasia Golden           10 Mechanicsville, VA  18-03.50      4.99m   16-04.50 
 35 Teika Robinson            12 Bladensburg, MD     16-08.50      4.97m   16-03.75 
 36 Laura Krotowski           12 Warminster, PA      16-09.50      4.95m   16-03.00 
 37 Katherine Grzejka         12 Atkinson, NH        16-10.00      4.94m   16-02.50 
 37 Kala Guy                  12 Augusta, VA         16-07.50      4.94m   16-02.50 
 39 Jenna Niedermayer         12 Cinnaminson, NJ     17-10.25      4.92m   16-01.75 
 40 Destiny Roseman           11 Cedar Hill, TX      17-00.00      4.90m   16-01.00 
 41 Qaniah Douglas            12 Indianapolis, IN    17-00.00      4.89m   16-00.50 
 41 Rachel Frost              11 NY, NY              16-06.75      4.89m   16-00.50 
 41 Mikayla Pearce             9 NY, NY              17-08.75      4.89m   16-00.50 
 41 Kia Allen                 12 NY, NY              18-09.50      4.89m   16-00.50 
 45 Micah Leonard             12 York, PA            16-11.50      4.88m   16-00.25 
 46 Christine Delgado         12 New York, NY        16-06.00      4.87m   15-11.75 
 47 Kaitlin Taylor             9 GA, GA              18-05.00      4.86m   15-11.50 
 48 Caitlin Vanek             12 Riegelsville, PA    17-04.00      4.83m   15-10.25 
 49 Nicole Esposito           12 East Haven, CT      16-10.50      4.73m   15-06.25 
 50 Alvonna Blakney            9 Charlotte, NC       16-06.00      4.71m   15-05.50 
 51 Sarah Palmer              10 NY, NY              16-08.00      4.66m   15-03.50 
 52 Tori Schmidt              11 Hilton, NY          16-06.50      4.64m   15-02.75 
 52 Sierra Rogers             11 Pomfret, MD         16-08.00      4.64m   15-02.75 
 54 Alexis Murray             11 NY, NY              16-06.00      4.50m   14-09.25 
 54 Veronica Henry            11 Queens, NY          17-01.50      4.50m   14-09.25 
 -- Soroya Hudson             11 Cornwall, NY        16-08.00       FOUL            
 
Girls Shot Put High School
===================================================================================
    Name                    Year School                  Seed     Finals           
===================================================================================
  1 julie labonte             -- Sainte-Justine, QC  52-06.00     15.81m   51-10.50 
  2 Vanessa Stewart           11 NY, NY              46-11.75     14.46m   47-05.25 
  3 Melissa Kurzdorfer        11 NY, NY              48-02.50     14.23m   46-08.25 
  4 Erin Miller               12 Lockport, NY        44-01.00     13.77m   45-02.25 
  5 Breanna Radford           12 Alpharetta, GA      45-06.50     13.60m   44-07.50 
  6 J'Quyra Moncur-Blue       12 Covington, GA       44-00.00     13.16m   43-02.25 
  7 Jaleesa Williams          12 Virginia Beach, VA  43-03.00     13.00m   42-08.00 
  8 Adrienne Alexander         9 NY, NY              42-06.75     12.66m   41-06.50 
  9 Rachel Aliotta            11 Cheshire, CT        41-06.50     12.51m   41-00.50 
 10 Nicole Wasco              12 NY, NY              39-01.25     12.12m   39-09.25 
 11 Sandra Jean-Romaie        12 Old Bridge, NJ      38-10.25     12.02m   39-05.25 
 12 Najah Allen               12 Rahway, NJ          36-07.25     11.47m   37-07.75 
 12 Brelyn Finley             11 Springdale, MD      38-06.00     11.47m   37-07.75 
 14 Kathryn Wahls             12 Brockport, NY       39-06.00     11.38m   37-04.00 
 15 Jennifer Cornwell         12 Moravia, NY         36-06.00     11.19m   36-08.50 
 15 Lexia Robinson            12 NY, NY              37-05.00     11.19m   36-08.50 
 17 Nikkia Jones              12 Hartford, CT        37-10.00     11.18m   36-08.25 
 18 Dwanya Freeland           12 New York, NY        39-02.75     11.17m   36-07.75 
 19 Brittany Broomfie         -- NY, NY              38-06.00     11.12m   36-05.75 
 20 Hannah Werneth            11 North Yarmouth, ME  36-03.00     11.05m   36-03.00 
 21 Monica Phillips            9 Marietta, GA        37-01.75     10.91m   35-09.50 
 22 Sally Marie Futch         10 Statesboro, GA      37-05.50     10.78m   35-04.50 
 23 Daina Levy                10 Kennesaw, GA        36-00.25     10.73m   35-02.50 
 24 Kelly Allen               12 Norton, MA          36-04.00     10.56m   34-07.75 
 25 Elise King                12 Midlothian, VA      36-00.00     10.45m   34-03.50 
 26 Kolbi Smith               11 NY, NY              37-11.50     10.44m   34-03.00 
 27 Samantha Yager            12 NY, NY              37-06.00     10.34m   33-11.25 
 28 Ashai Mc Lean             11 New Rochelle, NY    36-00.50     10.18m   33-04.75 
 29 Meg Smith                 12 New Rochelle, NY    35-05.50     10.16m   33-04.00 
 30 Margaret Ngami            12 Forestville, MD     35-10.00     10.15m   33-03.75 
 31 Kayla Tucker              12 Bladensburg, MD     35-06.00      9.97m   32-08.50 
 32 Caitlin McAfee            12 Warminster, PA      35-07.75      9.62m   31-06.75 
 
Boys 60 Meter Dash High School
============================================================================
    Name                    Year School                  Seed    Prelims  H#
============================================================================
Preliminaries
  1 Rynell Parson             -- San Antonio, TX         6.75       6.86q  1 
  2 Jeremy Rankin             12 Aurora, CO              6.68       6.87q  5 
  3 Jermaine Brown            11 brooklyn, NY            6.36       6.94q  4 
  4 Hunter Furr               12 Winston-Salem, NC       6.97       6.96q  9 
  5 Antonial Marshall         12 Charlotte, NC           6.89       6.98q  2 
  6 Cornell Hill              -- Baton Rouge, LA         6.40       6.98q  1 
  7 Cory Wilkerson            12 Siler City, NC         10.67       7.00q 10 
  8 Berfrantz Charles         11 NY, NY                  6.47       7.01q  8 
  9 Michael Peavy                NJ, NJ                  6.45       7.01q  1 
 10 Anthony DeJean            11 NY, NY                  6.45       7.02q  9 
 10 Kenneth Gilstrap          12 GA, GA                  6.84       7.02q  7 
 12 Aaron Brown               -- Toronto, ON             6.90       7.04q 10 
 13 Brady Wilson              12 Frederick, MD           6.48       7.04q 10 
 14 Ken Egu                   11 Concord, CA             6.99       7.05q 10 
 15 Tyquan Brown              12 Neptune, NJ             6.43       7.07q  6 
 16 Melvin Green              12 Detroit, MI             6.90       7.07q  8 
 17 Donte Shaw                12 Charlotte, NC           6.93       7.09q  1 
 18 Kadeem Hunter             12 Indianapolis, IN        6.99       7.09q  2 
 19 Justin Chambers           12 GA, GA                  6.90       7.10q 10 
 20 Rashon Evans              11 Irvington, NJ           7.17       7.11q  9 
 21 Kevin Fogg                12 Apex, NC                7.01       7.13q  2 
 22 Ronald Duncan             12 Charlotte, NC           6.94       7.14q  4 
 23 DaSilva Awosika           12 Washington, DC       6:49.00       7.14q  3 
 24 Tristan Akong             12 NY, NY                  6.52       7.14q  9 
 25 Chase Wheeler             12 Concord, CA             6.96       7.15   5 
 26 Travey Sinclair           12 Loganville, GA          7.01       7.15   7 
 27 Deon Long                 12 Washington, DC          6.97       7.16   4 
 28 Kiree Jabril              11 Long Beach, CA          6.99       7.17   3 
 29 Raldaine McDonald         12 Englewood, NJ           6.90       7.17   3 
 30 Ronnie Ratliff            12 Franklin, NJ            6.27       7.18   5 
 31 Marlon Laidlaw Allen      -- Toronto, ON             6.94       7.20   5 
 32 Austin Von Ohlsen         12 Ridgefield, CT          6.97       7.20   6 
 33 Kareem Morris             11 NY, NY                  6.81       7.21   9 
 34 Donte Washington          12 Hyattsville, MD         7.02       7.21   1 
 35 Trevor Elie               10 Mechanicsville, VA      6.52       7.22   6 
 36 Kameron White             10 Long Beach, CA          7.01       7.23   9 
 37 Donald Williams, Jr       11 Brooklyn, NY            6.49       7.23   3 
 38 Quincy Davison            12 Conroe, TX              7.03       7.24   5 
 39 Michael Meriwether        11 Upper Marlboro, MD      7.04       7.24   4 
 40 Eric Robinson             10 Indianapolis, IN        6.97       7.25   1 
 41 Kyle Byrdsong             11 Long Beach, CA          7.00       7.26   3 
 42 Kendall Spencer           12 San Mateo, CA           7.28       7.27   8 
 43 Terron Ward               11 Concord, CA             7.05       7.30   6 
 44 Robert Moore              12 Largo, MD               6.90       7.34   8 
 45 Drake Davis               11 Long Beach, CA          7.00       7.37   8 
 46 Cyrus Britt               10 Washington, DC       6:50.00       7.39  10 
 47 Kaelin Clay               11 Long Beach, CA          6.98       7.39   7 
 48 Eric Williams             11 Indianapolis, IN        6.91       7.40   2 
 49 Anthony Washington        12 Houston, TX             6.91       7.40   7 
 50 Bisal Rahim               -- Bowie, MD               6.90       7.41   3 
 51 Jordan Butler             12 Long Beach, CA          7.03       7.43   5 
 52 Marcell Thompson          10 Severn, MD              6.50       7.48   2 
 53 Roderick Simmons          11 Houston, TX             7.20       7.48   7 
 54 Eric Williams             11 Brooklyn, NY            6.51       7.52   7 
 55 Brandon Yellock           12 South Plainfield, N     7.04       7.54   1 
 56 Kyle Baker                11 Bowie, MD               6.45       7.65   7 
 57 Javon Riddick             11 Washington, DC       6:50.00       7.67   3 
 58 Siafa Massaley            10 Indianapolis, IN        6.92       7.98   9 
 
Boys 5000 Meter Run High School
=========================================================================
    Name                    Year School                  Seed     Finals 
=========================================================================
Finals
  1 Solomon Haile             12 Sandy Spring, MD    14:45.00   14:22.88   !
  2 Zachary Ornelas           12 Cedar Park, TX      14:55.00   14:53.21  
  3 Julian Meyer              12 Richfield, OH       15:23.00   15:01.50  
  4 John Raneri               11 New Fairfield, CT   15:15.00   15:10.61  
  5 Neal Berman               12 Ardmore, PA         15:25.00   15:18.76  
  6 Chris York                12 Berryville, VA      15:36.00   15:31.54  
  7 Jason Santos              12 Smithtown, NY       15:43.10   15:32.07  
  8 Jake Graham               12 Toronto, CA         15:45.57   15:32.29  
  9 Joseph Nassirian          11 Manhasset, NY       16:07.00   15:40.81  
 10 Joe Beveridge             12 Harrisburg, PA      15:28.67   15:45.02  
 11 Jared Hanko               12 Montville, NJ       15:55.00   15:45.46  
 12 Jordan Dawson             12 Doylestown, PA      15:53.00   15:47.91  
 13 Brian Yates               12 Newton, NC          15:50.00   15:49.26  
 14 Alex Clark                11 Burke, VA           16:18.00   15:52.49  
 15 Billy Posch               12 NY, NY              16:10.00   15:54.28  
 16 Andrew McGillowey         12 Marshfield, MA      16:20.00   15:55.87  
 17 Sam Kohn                  12 Scarsdale, NY       16:09.00   15:56.16  
 18 Christopher Repecki       10 Harrison, NY        16:20.00   16:02.98  
 19 Ilkyu Lee                 12 Scarsdale, NY       16:16.00   16:07.65  
 20 Carlos David Roa          11 Fresh Meadows, NY   15:49.00   16:09.09  
 21 John Lawrence             12 Peabody, MA         15:25.00   16:13.90  
 22 Klaus Schmidt             12 Red Hook, NY        15:54.00   16:14.98  
 23 Jeff McKee                12 Princeton Junction, 16:43.00   16:17.68  
 24 David Goldfarb            12 Brooklyn, NY        16:40.00   16:22.81  
 25 Andrew Catanese           10 Mechanicsville, VA  16:07.00   16:26.37  
 26 Keith Comly               11 Doylestown, PA      16:18.00   16:26.40  
 27 Evan Thompson             12 NY, NY              16:47.00   16:35.37  
 28 Jake Mccauley             11 Darien, CT          16:28.00   16:37.20  
 29 Fenn Hoffman              12 Philadelphia, PA    16:33.00   16:59.42  
 30 Alex Levine               10 Danbury, CT         16:40.01   17:00.08  
 31 Matt Merritt              10 Danbury, CT         16:59.00   17:01.03  
 32 Sam Ebert                 11 Philadelphia, PA    16:50.00   17:18.30  
 33 Justin Harris             11 Scarsdale, NY       16:30.00   17:25.59  
 34 Steven Spittler           12 Norwich, NY         16:43.00   17:29.47  
 35 Mike Clausen              11 NY, NY              16:31.70   17:37.17  
 36 Dan Ronan                 10 Danbury, CT         16:58.00   18:07.48  
 
Boys 60 Meter Hurdles High School
============================================================================
    Name                    Year School                  Seed    Prelims  H#
============================================================================
Preliminaries
  1 Justin Crawford           12 Gastonia, NC            0.55       7.95q  1 
  2 Joshua Evans              12 Irvington, NJ           8.10       7.96q  1 
  3 Simon Lã©veillã©          12 Montréal, QC           8.12       8.05q  1 
  4 Wallace Spencer           11 Malvern, PA             8.08       8.16q  3 
  4 Tarique Hill              12 Centennial, CO          7.90       8.16q  4 
  6 Reynaldo Radlin           12 Stafford, VA            7.69       8.17q  2 
  7 Gregory MacNeill          11 London, ON              8.10       8.17q  2 
  8 Pierre Darisme            12 Rahway, NJ              7.40       8.18q  3 
  9 Trayvion Jones            12 Missouri City, TX       8.13       8.19q  2 
 10 Evan Baytops              12 Irvington, NJ           8.30       8.22q  5 
 11 Chris Whyte               -- Rahway, NJ              7.60       8.28q  1 
 12 David Hightower           12 Easton, PA              8.37       8.29q  2 
 12 Kevon Brown               12 Westville, NJ           7.49       8.29q  4 
 14 Devallee Pedrogo          11 Mission Viejo, CA       8.14       8.31q  3 
 15 Dante Davis               11 Mineral, VA             7.63       8.31q  1 
 16 Amadou Gueye              12 Albany, NY                         8.31q  5 
 17 Tyree Bennett             12 Bradford, PA            8.21       8.33q  4 
 18 Nathaniel Mercer          12 NY, NY                  7.46       8.34q  4 
 19 Matt Bundy                11 Media, PA               8.34       8.34q  3 
 20 Shane Wagner              12 NY, NY                  7.30       8.40q  2 
 21 Cornelius Savage          10 GA, GA                  8.45       8.41q  5 
 22 Ryan Whitley              12 Ramapo, NY              7.50       8.41q  5 
 23 Brandon Hambric           12 Teaneck, NJ             7.60       8.42q  3 
 24 Claudio Dellicarpini      12 Harrison, NY            7.42       8.46q  5 
 25 Cortrey Mazyck            12 District Heights, M     8.38       8.49   1 
 26 Joe Mussler               12 Hilton, NY              7.77       8.49   3 
 27 Ryan Lacossade            12 Theils, NY              7.79       8.54   5 
 28 Robert Moore              12 Largo, MD                          8.59   2 
 29 Jeff Hill                 12 Detroit, MI             8.20       8.63   5 
 30 Javon May                 12 Long Beach, CA          8.00       8.67   5 
 31 Marquis Collins           11 Indianapolis, IN        8.40       8.72   2 
 32 Travis Griffin            11 Charlotte, NC           8.70       8.79   4 
 33 Chidi Azuakolam           12 Lexington, MA           8.39       8.93   1 
 34 Anthony Simpson           12 Bowie, MD               8.20       9.11   4 
 35 Jabari Redd               12 NY, NY                  8.44       9.23   3 
 
Boys 4x400 Meter Relay High School
============================================================================
    School                                               Seed    Prelims  H#
============================================================================
  1 Newburgh Elite  'A'                               3:18.65    3:19.20q  2 
     1)                                 2) Randy Patterson 11             
     3) Fred Locklary 11                4) Robert Graham 12               
  2 Ghost Track Club  'A'                             3:20.20    3:20.03q  3 
     1) Macey Watson --                 2) Anthony Parker 12              
     3) Chris Morrales 12               4) Charles Ross 11                
  3 Rahway  'A'                                       3:21.76    3:21.54q  1 
     1) Christen Whyte 12               2) Ricky Draughn 12               
     3) Christian Brown 12              4) Curtis Johnson 11              
  4 Penncreast  'A'                                              3:21.61q  3 
  5 West Charlotte  'A'                               3:18.25    3:21.91q  1 
     1) Tadarrin Phronebarger 12        2) Stanley Wright 12              
     3) Santonio Johnston 11            4) Ammar Phillips 11              
  6 Boys & Girls  'A'                                 3:22.08    3:22.18q  2 
     1) Leon Gelzer 12                  2) Khamani Davis Parker 11        
     3) Randall Hannaway --             4) Daniel Simon --                
  7 East New York-Transit Tech  'A'                   3:21.51    3:22.21q  2 
     1)                                 2) Julian Wood 11                 
     3) Fard Rollock --                 4) Dexter Bollers 12              
  8 Amityville Memorial  'A'                          3:24.31    3:22.72q  3 
     1) Hugh Bernard 9                  2) Rashim Gaines 12               
     3) Lyle Gaddy 9                    4) Emmanuel Johnson 12            
  9 Pope John Xxiii  'A'                              3:23.97    3:22.91q  1 
     1) Dylan Hurley 10                 2) Kyle Johnson 12                
     3) Dan McIntyre 11                 4) Greg Moore 11                  
 10 Snyder  'A'                                       3:22.00    3:22.95q  1 
     1) Daryl Keese 12                  2) Jamonte Cooley 11              
     3) Zamir Thomas 10                 4) Mauricio Mitchell 12           
 11 East Ramapo  'A'                                  3:23.00    3:23.22q  2 
     1) Mike Abelard 12                 2) Chidi Ezemma 12                
     3) Dozie Ezemma 12                 4) Ryan Whitley 12                
 12 Archbishop Carroll  'A'                           3:30.00    3:23.85q  7 
 13 Monsignor Farrell  'A'                            3:22.34    3:23.88   4 
     1) James Farley 12                 2) Pete Falcone --                
     3) Mark Bernardo 12                4) Matt Pfaff --                  
 14 Pariots TC  'A'                                   3:23.78    3:23.97   1 
     1) Ryan Spadola 12                 2) Robert Searby 12               
     3) Abe Hamami 12                   4) Matt Intile 10                 
 15 Fordham Prep  'A'                                 3:20.24    3:24.55   4 
     1) Wayne Seaton 12                 2) Carlos Petrovich 12            
     3) Bruce Grant 11                  4) Ramzy Salem 12                 
 16 Rate of Motion Elite Track Clu  'A'               3:29.12    3:24.83   8 
     1) Kevin Gary 10                   2) Travey Sinclair 12             
     3) Jameel Greenidge 12             4) Ahmed Higgins 12               
 17 Colonie  'A'                                      3:25.41    3:25.08   6 
 18 Dunbar  'A'                                       3:27.00    3:25.13   7 
     1) Theron Ham 12                   2) Terrance Glenn 12              
     3) Brent Vineyard 11               4) Antonio Blanks 10              
 19 Wakefield  'A'                                    3:27.74    3:25.42   5 
     1) Alex Loose 11                   2) Trip Foreman 11                
     3) Tray Branch 12                  4) Shawn Murray 12                
 20 DeMatha Catholic  'A'                             3:20.55    3:25.58   3 
     1) Jamal Joseph 11                 2) Jordan Lomax 10                
     3) Christopher Walker 10           4) William Kellogg 11             
 21 Shaker  'A'                                       3:30.10    3:25.69   6 
     1) Abube Abara 12                  2) Jaquell Chandler 11            
     3) Matt Conti 11                   4) Matt Dustin 11                 
 22 Weaver  'A'                                       3:25.27    3:25.79   7 
     1) Daundre Barnaby 12              2) Shane Earlington 12            
     3) Dwayne Thomas 12                4) Yruy Clarke 12                 
 23 Core Speed  'A'                                   3:28.50    3:27.38   8 
     1) Devin Spann 11                  2) Nick Hill 12                   
     3) Marcus Johnson 11               4) Robert Woods 11                
 24 Old Bridge  'A'                                   3:27.12    3:27.62   6 
     1)                                 2) Evan Petrovich 11              
     3) Dan Cuevas 12                   4) Tom Perry 11                   
 25 Bishop Hartley  'A'                               3:22.33    3:27.71   4 
     1) Dominic Colvin 12               2) Rufus Walls 12                 
     3) Luke Evans 12                   4) A.J. Gillespie 11              
 26 Westbury Long Island  'A'                         3:20.34    3:27.85   4 
     1) Eric Banks 12                   2) Jabari Redd 12                 
     3) Rani Nimblette 11               4) Lutalo Boyce 12                
 27 A. I. Prince Tech  'A'                            3:28.79    3:28.29   5 
     1) Josh Walton 12                  2) Rudy Cowan 12                  
     3) Chris Rodriguez 12              4) Vincent Harrison 12            
 28 Newburgh Elite  'B'                               3:24.25    3:28.36   2 
     1)                                 2) Isaiha Valentine 12            
     3) Darious Reynolds --             4) Robert Robinson --             
 29 T-Ro Striders  'A'                                3:29.37    3:28.50   8 
     1) Chase Holmes 12                 2) Dominic Clarke 12              
     3) Fabian Gonzalez 11              4) Kevin Johnson 12               
 30 Super Toast  'A'                                  3:29.40    3:28.97   5 
     1) Joe DiBianca 11                 2) Derrick Adams 12               
     3) Akmed Muhummed 9                4) Aaron Johnson 12               
 31 Motor City TC  'A'                                3:25.00    3:29.09   4 
     1) Marcell Jones 11                2) Jelani Swift 12                
     3) Melvin Green 12                 4) Marcus Stewart 11              
 32 Staples High School  'A'                          3:28.34    3:29.55   8 
 33 Suffern  'A'                                      3:26.68    3:29.56   8 
     1) Kevin McKenna 11                2) Mike Pereira 12                
     3) Andrew Greenberg 12             4) Frankie Colon 11               
 34 Philadelphia Panthers  'A'                        3:32.20    3:30.77   5 
     1) Jeffery Best 12                 2) Brandon Thompson 11            
     3) Joshua Williford 11             4) Bryan Pointer 11               
 35 Dunbar Ohio  'A'                                             3:31.55   6 
 36 Nazareth (Nyc)  'A'                               3:25.84    3:32.55   5 
 37 Ewing  'A'                                        3:29.64    3:32.56   7 
     1) Dave Brown 12                   2) Andrew Brown 12                
     3) Keenan Ward 11                  4) Davay Lyman --                 
 38 Randolph  'A'                                     3:30.04    3:32.70   6 
     1) David Smith 12                  2) Chris Deloatch 12              
     3) Ousmane Toure --                4) Oyetoritsem Eyeguokan 10       
 39 Hendrick Hudson  'A'                              3:31.50    3:36.70   6 
     1) Rinchin King 11                 2) Zach Weisbrot 12               
     3) David Chang 12                  4) Seungdo Reiner 11              
 -- Bowie  'A'                                        3:22.10         DQ   3 
     1) Emmanuel Noumossie 12           2) Paul Edwards, JR 11            
     3) Malcolm Hosten 12               4) Daniel Ballah 12               
 
Boys 1600 Sprint Medley High School
============================================================================
    School                                               Seed     Finals  H#
============================================================================
Finals
  1 Washington Township  'A'                          3:30.00    3:29.07   6 
     1) Xavier Fraction 12              2) Tim Carey 12                   
     3) Devon Carter 10                 4) Brian Keane 11                 
  2 Fordham Prep  'A'                                 3:26.80    3:29.87   6 
     1) Zach Keefer 12                  2) Wayne Seaton 12                
     3) Carlos Petrovich 12             4) Bruce Grant 11                 
  3 Iona Preparatory School  'A'                      3:30.80    3:32.74   5 
     1) Sean Halpin 12                  2) Sean Fuster 12                 
     3) Ayo Bajulaiye 11                4) Anthony O'Malley 10            
  4 West Charlotte  'A'                               3:30.23    3:32.94   5 
     1) Tadarrin Phronebarger 12        2) Stanley Wright 12              
     3) Santonio Johnston 11            4) Ammar Phillips 11              
  5 East New York-Transit Tech  'A'                   3:33.28    3:33.73   6 
     1) Julian Wood 11                  2) Fard Rollock --                
     3) Elijah Rollock 12               4) Kameron George 12              
  6 James Robinson  'A'                                          3:35.39   1 
     1) Jared Berman 12                 2) John Ro 11                     
     3) Bradley Burgess 11              4) JW Seo 11                      
  7 Rahway  'A'                                       3:33.00    3:35.79   4 
  8 Amity High School  'A'                            3:38.00    3:36.11   3 
     1) Yitao Zhang 9                   2) Jay Binkowski 12               
     3) Brian Kernan 11                 4) Andrew Snyder-spak 12          
  9 Clarkstown South  'A'                             3:35.74    3:36.35   3 
     1) John Taylor 12                  2) Brendan Sullivan 12            
     3) Kyle Cranston 12                4) Michael Bongiorno 12           
 10 Pine Bush  'A'                                    3:35.00    3:36.57   4 
     1) Zavior Brown 12                 2) Mike Dempsey 12                
     3) Tom Papesca 12                  4) Tim Stack 12                   
 11 Wakefield  'A'                                    3:36.90    3:36.61   3 
     1) Trip Foreman 11                 2) Tray Branch 12                 
     3) Moyo Olusesi 12                 4) Shawn Murray 12                
 12 Motor City TC  'A'                                3:30.00    3:36.79   6 
     1) Marcell Jones 11                2) Melvin Green 12                
     3) Willie Hatcher 12               4) Marcell Houston 11             
 13 Pope John Xxiii  'A'                              3:36.00    3:37.60   3 
     1) Dylan Hurley 10                 2) Kyle Johnson 12                
     3) Dan McIntyre 11                 4) Greg Moore 11                  
 14 East Fishkill  'A'                                3:35.49    3:38.97   4 
     1) Alex Blackman                   2) Nick Lingardo                  
     3) Kevin Joyce                     4) Ryan Gomba 12                  
 15 Nazareth (Nyc)  'A'                               3:38.83    3:38.99   2 
     1) Marcus Samerson 12              2) Sean Atkinson 12               
     3) Abayomi Baptiste 11             4) Tyriek Codrington 12           
 16 Bowie  'A'                                        3:33.00    3:39.32   5 
     1) Paul Edwards, JR 11             2) Gerodo Amaya 9                 
     3) Bisal Rahim --                  4) Daniel Ballah 12               
 17 Archbishop Carroll  'A'                           3:32.79    3:40.72   5 
     1) Malcolm Sykes 9                 2) Kevin Peoples 11               
     3) Walter Bailey 10                4) Petros Welday 11               
 18 LaSalle Track Club (Troy)  'A'                    3:39.80    3:41.54   1 
     1) Tom Smail 11                    2) Anthony Marois 12              
     3) Dylan Sorensen 12               4) Eamonn Coughlin 10             
 19 Kingsway Reg.  'A'                                3:42.05    3:41.76   1 
     1) Ryan Culbreath 12               2) Tivo Rivera 10                 
     3) Demurri Gaines                  4) Zach Dennison                  
 20 Regis  'A'                                        3:39.50    3:42.36   2 
     1) Chris Schaller 12               2) Dan Lauber 12                  
     3) Demetrios Elias 12              4) Paul Gorynski 12               
 21 Rye  'A'                                          3:38.50    3:43.62   2 
     1) Matt Kao --                     2) Mac Gager --                   
     3) Jonathan Slack --               4) Jeff Bouton --                 
 22 Speed City  'A'                                   3:35.00    3:43.85   4 
 23 Westbury Long Island  'A'                         3:32.00    3:45.45   5 
     1) Eric Banks 12                   2) Jabari Redd 12                 
     3) Rani Nimblette 11               4) Lutalo Boyce 12                
 24 Cardinal Spellman  'A'                            3:38.12    3:45.85   2 
     1) Brandon Sligh 12                2) Camari Francis 12              
     3) Darnell Gatling I 12            4) Robert Dziedzic 11             
 25 Castle TC  'A'                                    3:39.30    3:46.49   2 
     1) Jaime Lopez 11                  2) Aaron Horne 12                 
     3) Robert Krebs 12                 4) Darryl James 11                
 26 St. Peter's  'A'                                  3:40.00    3:52.39   1 
     1) Lou Scara 12                    2) Greg Cala 12                   
     3) Chris Rivera --                 4) Matt Pizzolo --                
 27 Bishop McNamara  'A'                              3:38.00    3:56.29   3 
     1) Darrian Carmichael 12           2) Kenneth Hunt 12                
     3) Nigel Crawley 10                4) Jeffrey Mcdonald 12            
 -- Colonie  'A'                                      3:26.79        DNF   6 
     1) Tyler Stewart 12                2) Ryan Nolan 12                  
     3) Nyasha Dangwa 12                4) Nick Colello 11                
 -- Core Speed  'A'                                                   DQ   1 
     1) Devin Spann 11                  2) Nick Hill 12                   
     3) Marcus Johnson 11               4) Robert Woods 11                
 -- Atlee  'A'                                        3:38.94         DQ   2 
     1) Jaired Epps 12                  2) Devon Richardson 12            
     3) Trevor Elie 10                  4) Marques Atkinson 10            
 -- Half Hollow Hills West  'B'                       3:35.50         DQ   4 
     1) Jonathan Yu 12                  2) Domenick DeMatteo 12           
     3) Justin Ma 10                    4) Abdias Myrtil 10               
 -- Half Hollow Hills West  'A'                       3:29.13         DQ   6 
     1) Jared Squires 12                2) Harold Jamison 12              
     3) Demarr Aultmann 11              4) Dan McCord 10                  
 
Boys Distance Medley High School
=========================================================================
    School                                               Seed     Finals 
=========================================================================
  1 Burnt Hills-Ballston Lake  'A'                   10:24.23   10:17.76  
     1) Chris Fernandez 11              2) Kent Harlow 12                 
     3) Scott Maughan 11                4) Otis Ubriaco 10                
  2 Warwick Valley  'A'                              10:26.92   10:19.45  
     1) Tim Luthin 10                   2) Dave Dewan 11                  
     3) Dan Ramirez 11                  4) Charlie Armand 10              
  3 Bishop Ford  'A'                                 10:33.83   10:21.71  
     1) Frankelly Fernandez 12          2) Paul Gilhuley Jr. 12           
     3) Joseph Gilhuley 12              4) Mark Almieda 11                
  4 Breen Track Club  'A'                            10:35.00   10:22.67  
     1) James Yau 11                    2) Tom Judy 12                    
     3) Michael Atchoo 12               4) Brian Murphy 11                
  5 Ridgewood  'A'                                   10:29.30   10:22.95  
     1) Taro Shigenobu 12               2) Andrew Fine 12                 
     3) InSoo Hwang 10                  4) Brain Cleary --                
  6 Colts Neck  'A'                                  10:25.20   10:23.57  
     1) Mark Leininger 12               2) Kevin O'Dowd 12                
     3) Mike O'Dowd 10                  4) Vilius Komskis 12              
  7 O'Hara T&F Club  'A'                             10:20.00   10:24.35  
     1) Mike DeStefano 12               2) Bill Morgan 12                 
     3) Ricky Sheller 11                4) Joe Sacchetti 12               
  8 Northport  'A'                                   10:21.99   10:27.79  
     1) Evan Bloomberg 12               2) Colin Anderson 12              
     3) Dj Ronde 12                     4) Michael Lopizzo 12             
  9 Ghost Track Club  'A'                            10:37.03   10:33.60  
 10 Union Catholic Chargers  'A'                     10:37.87   10:34.56  
     1) DJ Thornton 11                  2) Shariff Stubbs 12              
     3) Danny daCosta 12                4) Evan Gingrich 10               
 11 Cba-Nj  'A'                                      10:25.00   10:38.09  
     1) Mark Lee 11                     2) Mike Mazzaccaro 10             
     3) John McLaughlin 11              4) Colin Johnson --               
 12 McKee/Staten Island Tech  'A'                    10:38.09   10:39.51  
     1) Michael Caputo 12               2) Scott Rizzo 11                 
     3) Joe Carlin 11                   4) Joseph Brancale 12             
 13 Shaker  'A'                                      10:33.42   10:40.15  
     1) Craig Weiss 12                  2) Abube Abara 12                 
     3) Jaquell Chandler 11             4) Matt Conti 11                  
 14 Lexington  'A'                                   10:33.20   10:45.08  
     1) Ricardo Sanon 12                2) Stephen McKenna 12             
     3) Andrew Herring 11               4) Steve Leung 12                 
 15 Iona Preparatory School  'A'                     10:38.50   10:46.37  
     1) Kyle Shepard 12                 2) Sean Fuster 12                 
     3) Shane Tierney 10                4) Nick Athanasidy 11             
 16 Archbishop Spalding  'A'                         10:37.71   10:46.94  
     1) Zach Sullivan 12                2) J.R. Spencer 12                
     3) Ryan Topita 12                  4) Marcell Thompson 10            
 17 Bucks County Running Club  'A'                   10:36.80   10:50.52  
     1) Jarrett Carr 12                 2) Matt Rhodes 12                 
     3) Matt Bee 10                     4) Nick Scarpello 11              
 18 Speed City  'A'                                  10:35.00   10:55.30  
 19 LaSalle Track Club (Troy)  'A'                   10:54.00   10:55.59  
     1) Anthony Marois 12               2) Dylan Sorensen 12              
     3) James Doran 11                  4) Denis Hurley 11                
 20 St. Peter's  'A'                                 10:38.00   11:04.06  
     1) James Cannon 12                 2) Andrew Pate 12                 
     3) Lou Scara 12                    4) Greg Cala 12                   
 
Boys 4x55 Meter Shuttle Hurdle 4x55 High School
============================================================================
    School                                               Seed     Finals  H#
============================================================================
  1 Fordham Prep  'A'                                   28.90      29.15   1 
     1) Wayne Seaton 12                 2) Andrew Hemmings 12             
     3) Ed Allison 12                   4) Bruce Grant 11                 
  2 Sheepshead's Finest  'A'                            29.88      29.18   1 
     1) Darryl Bradshaw 12              2) Naquan Alexander 11            
     3) Richmond Ahadzi 10              4) Lavaughn Harris 12             
  3 Camden City Express  'A'                            31.80      30.22   3 
     1) Wayne Walls 12                  2) William Hillman 12             
     3) Syteek Farrington 11            4) Clive Harriott --              
  4 Malvern Prep  'A'                                   31.24      30.50   3 
     1) Pat Kennedy 11                  2) Richard D'Ambrosio 10          
     3) Joe Price 12                    4) Wallace Spencer 11             
  5 Kellenberg Memorial  'A'                            31.53      30.60   3 
     1) Ryan Adams 12                   2) George Mason 12                
     3) Kevin Ammirati 12               4) John Wood 12                   
  6 New Rochelle  'A'                                   31.08      30.77   2 
     1) Chris Rones 12                  2) Deon James 11                  
     3) John Henry 11                   4) Joseph Shinn 11                
  7 Amityville Memorial  'A'                            32.46      31.16   4 
     1) Brian Johnson 9                 2) Rashim Gaines 12               
     3) Sancho Barrett 10               4) Emmanuel Johnson 12            
  8 Trenton Central  'A'                                30.90      31.24   2 
     1) Rolston Braithwaite 12          2) Daiquan Ponton 12              
     3) William Dudley-benson 12        4) Herbert Bennet 11              
  9 Dunbar  'A'                                         58.07      31.43   6 
     1) Richard Hunt 12                 2) Terrance Glenn 12              
     3) Tyrone Burnley 12               4) Antonio Blanks 10              
 10 North Rockland  'A'                                 32.21      31.56   4 
     1) Anthony Congress 11             2) Ryan Lacossade 12              
     3) Dasheen Ellis 12                4) Colton Lubaszka 10             
 11 Motor City TC  'A'                                  30.50      31.59   2 
     1) Marcell Jones 11                2) Jeff Hill 12                   
     3) Laurence Dunn 12                4) Devin Smith 11                 
 12 Uniondale  'A'                                      30.14      31.64   1 
     1) Nathaniel Mercer 12             2) Blaize Parker 12               
     3) Dwight Allison 11               4) Jameel Watson 12               
 13 Shaker  'A'                                         32.00      31.83   3 
     1) Abube Abara 12                  2) Jaquell Chandler 11            
     3) Brian Gallagher 10              4) Brendan Dolan 11               
 14 Red Lightning  'A'                                  32.86      32.29   4 
     1) Kris Alvarez --                 2) O'Shane Rennie 12              
     3) Sean Green 11                   4) Thomas Cordone 12              
 15 Corning  'A'                                        33.52      32.34   5 
     1) Ryan Daugherty 12               2) Cedric Forbes 11               
     3) Jordan Frysinger --             4) Craig Allen 12                 
 16 Teaneck  'A'                                        33.37      32.50   5 
     1) Brandon Hambric 12              2) Christopher Goins 12           
     3) Terrence Culver 12              4) Kwabena Bonsu 12               
 17 South Portland  'A'                                 33.65      32.63   5 
     1) Tony Haeuser 12                 2) Jc Esquibel 11                 
     3) David Hardison 12               4) Brandon Emerson 12             
 18 Hillsbourough  'A'                                  32.10      32.68   4 
     1) Daniel Millemann --             2) George Cheng 12                
     3) Anthony D'Oridio 11             4) Michael Lynch 12               
 19 Hilton  'A'                                         34.62      32.81   6 
     1) Joe Mussler 12                  2) Jake Gross 12                  
     3) Kevin Rose 11                   4) Kyle Contestabile 12           
 20 East New York-Transit Tech  'A'                     29.00      33.74   1 
     1) Mic Gerald 12                   2) Dexter Bollers 12              
     3) Kenard Ashton --                4) Andre Hewitt --                
 21 Nanuet  'A'                                         34.03      34.55   5 
     1) Michael Carroll 12              2) Jason Gomez 12                 
     3) Nick Steel 12                   4) Andrew Ko 10                   
 22 Watchung Hills Reg.  'A'                            34.50      34.57   6 
     1) Tim Barnum 12                   2) Peter Flint 10                 
     3) Robert Hovanec 9                4) Chris Battapaglia 11           
 23 Hendrick Hudson  'A'                                34.64      35.75   6 
     1) Brian Monk 12                   2) Zach Weisbrot 12               
     3) David Chang 12                  4) Matthew Henriques 12           
 -- Irvington  'A'                                      30.90         DQ   2 
     1) Joshua Evans 12                 2) Rashon Evans 11                
     3) Evan Baytops 12                 4) Ibn Morton 12                  
 
Boys High Jump High School
===================================================================================
    Name                    Year School                  Seed     Finals           
===================================================================================
  1 Tomarris Bell             12 Rochester, NY                     2.12m    6-11.50 
  2 Derrick Spight            12 Indianapolis, IN     6-11.00      2.09m    6-10.25 
  2 Glenn Scheideler          12 Randolph, NJ         6-08.00      2.09m    6-10.25 
  4 Tejorn Davis              12 Beacon, NY           6-06.00      2.01m    6-07.00 
  4 Eric Fontanez             12 Hilton, NY           6-08.00      2.01m    6-07.00 
  4 Christian Jimmerson       12 okemos, MI                        2.01m    6-07.00 
  7 Joey Muzzio               10 Fairfax, VA          6-05.00      1.96m    6-05.00 
  8 Jeremiah Hendy            10 Bowie, MD            6-04.00      1.91m    6-03.25 
  8 Tyree Bennett             12 Bradford, PA         6-05.00      1.91m    6-03.25 
  8 Alex Smith                12 Rumson, NJ           6-08.00      1.91m    6-03.25 
  8 Rich Roethel              12 Herndon, VA          6-07.00      1.91m    6-03.25 
  8 Oneil Sandiford           -- NY, NY               6-00.00      1.91m    6-03.25 
  8 Mark Jones                10 Summit, NJ           6-06.00      1.91m    6-03.25 
  8 Sean Reilly               12 LaGrangeville, NY    6-09.00      1.91m    6-03.25 
  8 Matthew Guarente          12 Saugus, MA           6-05.00      1.91m    6-03.25 
 16 A. J. Grube               12 Peabody, MA          6-03.50      1.86m    6-01.25 
 16 Barry Bowman              12 York, PA             6-05.00      1.86m    6-01.25 
 16 Jacob Drozd               11 Seymour, CT          6-04.00      1.86m    6-01.25 
 16 Jake Bartlett             12 Lincroft, NJ         6-04.00      1.86m    6-01.25 
 16 Max Yanker                12 Rye, NY              6-04.00      1.86m    6-01.25 
 16 Davieron Kinard           11 Long Beach, CA       6-06.00      1.86m    6-01.25 
 16 Ronald Thomas             12 Fall River, MA       6-07.00      1.86m    6-01.25 
 16 Ben Hopewell              12 Augusta, VA          6-02.00      1.86m    6-01.25 
 16 Bradley Roth              12 Middletown, CT       6-04.00      1.86m    6-01.25 
 16 Mi'chael White            10 Hopewell Junction,   6-00.00      1.86m    6-01.25 
 16 Jason Guarente            12 Saugus, MA           6-04.00      1.86m    6-01.25 
 27 Michael Santano           12 Burke, VA                         1.81m    5-11.25 
 27 John Henry                11 New Rochelle, NY     6-02.00      1.81m    5-11.25 
 27 Devon Harris              11 Midlothian, VA       6-02.00      1.81m    5-11.25 
 -- Cory Callis               11 Midlothian, VA                       NH            
 -- Jerome Hinds              12 NY, NY               6-00.00         NH            
 
Boys Long Jump High School
===================================================================================
    Name                    Year School                  Seed     Finals           
===================================================================================
  1 Bryce Lamb                12 Chandler, AZ        25-00.00      7.44m   24-05.00 
  2 Syteek Farrington         11 Camden, NJ          22-09.00      7.24m   23-09.00 
  3 Lincoln Carr              12 Fayetteville, NC    23-03.00      7.10m   23-03.50 
  3 Andre Hunter              12 Mineral, VA         21-10.00      7.10m   23-03.50 
  5 Chase Wheeler             12 Concord, CA         23-04.00      7.04m   23-01.25 
  6 Claudio Dellicarpini      12 Harrison, NY        23-03.50      6.99m   22-11.25 
  7 Joseph Samuels            -- Charlotte, NC       22-04.00      6.98m   22-11.00 
  8 William Robinson          12 Chadds Ford, PA     23-00.25      6.93m   22-09.00 
  9 David Sandiford           12 NY, NY              22-03.25      6.82m   22-04.50 
 10 Berfrantz Charles         11 NY, NY              22-02.00      6.79m   22-03.50 
 11 Jarrett Samuels           10 Charlotte, NC       22-08.00      6.71m   22-00.25 
 12 Kiree Jabril              11 Long Beach, CA      21-05.00      6.69m   21-11.50 
 13 Joe Price                 12 Malvern, PA         22-07.75      6.68m   21-11.00 
 14 Matt Sunga                12 Montclair, NJ       21-07.50      6.64m   21-09.50 
 14 Kendall Spencer           12 San Mateo, CA       23-04.75      6.64m   21-09.50 
 16 Ackeme Brown              12 Englewood, NJ       22-09.00      6.63m   21-09.00 
 17 Lutalo Boyce              12 Old Westbury, NY    22-00.50      6.62m   21-08.75 
 18 Michael Brooks-Richardso  11 Richmond, VA        21-11.25      6.58m   21-07.25 
 19 Kareem Morris             11 NY, NY              22-05.00      6.47m   21-02.75 
 20 Robert Robinson           -- Newburgh, NY        22-00.00      6.39m   20-11.75 
 21 Andrew Hemmings           12 Bronx, NY           21-04.50      6.37m   20-10.75 
 22 Kyle Dickinson            12 Harrisburg, PA      21-02.75      6.34m   20-09.75 
 23 Brian Yingling            12 Ballston Spa, NY    21-04.00      6.33m   20-09.25 
 24 Andrew Federowicz         11 NY, NY              21-00.00      6.29m   20-07.75 
 25 Tafari Bucknor            -- Long Island City, N 21-02.25      6.28m   20-07.25 
 26 Dwayne Thomas             12 Hartford, CT        21-06.00      6.25m   20-06.25 
 27 Anton Bowman              12 Springfield, VA     21-02.00      6.20m   20-04.25 
 28 Jason Johnson             12 Springfield, PA     22-11.25      6.18m   20-03.50 
 28 Terron Ward               11 Concord, CA         21-04.00      6.18m   20-03.50 
 30 Jordan Wilson             11 Windsor, CT         21-09.00      6.16m   20-02.50 
 31 Newton Miller             12 York, PA            21-01.50      6.14m   20-01.75 
 32 Dahn Pratt                12 Teaneck, NJ         21-01.00      6.10m   20-00.25 
 33 Kenith Roseman            12 Grand Prairie, TX   23-00.00      6.02m   19-09.00 
 34 Daniel Battaglia          11 Flemington, NJ      20-11.00      5.99m   19-08.00 
 35 Montell Fullerton         11 York, PA            21-05.00      5.97m   19-07.00 
 36 Chad Buckner              12 Washington, DC      22-11.25      5.91m   19-04.75 
 37 Eric Robinson             10 Indianapolis, IN    21-02.00      5.90m   19-04.25 
 37 Tyler Farrington          -- Newburgh, NY        21-09.00      5.90m   19-04.25 
 39 Olu Izegwire               9 Washington, DC      21-07.00      5.55m   18-02.50 
 40 Donald Lui                -- New York, NY        19-03.50      5.44m   17-10.25 
 -- Bradley Roth              12 Middletown, CT      21-01.00       FOUL            
 -- Jumanai Cox               11 NY, NY              21-10.75       FOUL            
 -- Dimere Lindsey            12 Newark, DE          22-06.50       FOUL            
 -- Jeremy Thibodeau          11 Montréal, QC       22-06.50       FOUL            
 -- Blake Gray                 9 Long Beach, CA      21-00.00       FOUL