National Scholastic Indoor Championships

March 13-15, 2009 - New York Armory
| | |
| --- | --- |
| photo by John Nepolitan | photo by John Dye |




Results





Finals


B-60H 7.85 Crawford, Justin , 12, Gastonia Nc
B-60H 7.99 MacNeill, Gregory , 11, London On
B-60H 8.0 Hill, Tarique , 12, Centennial Co
B-60H 8.04 Evans, Joshua , 12, Irvington Nj
B-60H 8.05 Dellicarpini, Claudio , 12, Harrison Ny
B-60H 8.15 Radlin, Reynaldo , 12, Stafford Va
B-60H 8.22 Darisme, Pierre , 12, Rahway Nj
B-60H 8.18 Bennett, Tyree , 12, Bradford Pa
B-60H 8.19 Brown, Kevon , 12, Westville Nj
B-60H 8.19 Pedrogo, Devallee , 11, Mission Viejo Ca
B-60H 8.2 Gueye, Amadou , 12, Albany Ny
B-60H 8.22 Jones, Trayvion , 12, Missouri City Tx
B-60H 8.23 Spencer, Wallace , 11, Malvern Pa
B-60H 8.26 Davis, Dante , 11, Mineral Va
B-60H 8.28 Hightower, David , 12, Easton Pa
B-60H 8.3 Whyte, Chris , , -- Rahway Nj
Number of Elite performances: 16

Armory HS Sports Foundation - Site License 
         20Armory HS Sports Foundation - Site License 
                2009 National Scholastic Indoor Championships                 
                New Balance Track & Field Center,  The Armory                 
                    New York City -3/13/2009 To 3/15/2009                     
 
Event 22  Boys 60 Meter Hurdles High School
=========================================================================     
 National HS: !  7.62  1995        Deworski Odom, Overbrook, Phila., PA       
        Meet: #  7.62  1995        Deworski Odom, PA                          
           9: %  8.03  2002        Lataero Mitchell, OH                       
          10: @  7.83  2007        Wayne Davis, NC                            
          11: ^  7.63  2008        Wayne Davis, NC                            
          12: $  7.62              D. Odom,T. Trammell,R. Harris, PA,GA,V     
    Name                    Year School                 Semis     Finals      
=========================================================================     
Finals                                                                        
  1 Justin Crawford           12 Gastonia, NC            7.84       7.85% 7.27
  2 Gregory MacNeill          11 London, ON              8.10       7.99% 7.46
  3 Tarique Hill              12 Centennial, CO          8.05       8.00% 7.43
  4 Simon Lã©veillã©          12 Montréal, QC           8.05       8.02% 7.43
  5 Joshua Evans              12 Irvington, NJ           8.07       8.04  7.46
  6 Claudio Dellicarpini      12 Harrison, NY            8.03       8.05  7.43
  7 Reynaldo Radlin           12 Stafford, VA            8.15       8.15  7.56
  8 Pierre Darisme            12 Rahway, NJ              8.16       8.22  7.58
Semi-Finals                                                                   
  9 Tyree Bennett             12 Bradford, PA            8.18                 
 10 Kevon Brown               12 Westville, NJ           8.19                 
 11 Devallee Pedrogo          11 Mission Viejo, CA       8.19                 
 12 Amadou Gueye              12 Albany, NY              8.20                 
 13 Trayvion Jones            12 Missouri City, TX       8.22                 
 14 Wallace Spencer           11 Malvern, PA             8.23                 
 15 Dante Davis               11 Mineral, VA             8.26                 
 16 David Hightower           12 Easton, PA              8.28                 
 17 Chris Whyte               -- Rahway, NJ              8.30                 
 18 Ryan Whitley              12 Ramapo, NY              8.31                 
 19 Brandon Hambric           12 Teaneck, NJ             8.40                 
 20 Matt Bundy                11 Media, PA               8.43                 
 21 Shane Wagner              12 Schuylerville, NY       8.45                 
 22 Evan Baytops              12 Irvington, NJ           8.51                 
 23 Cornelius Savage          10 GA, GA                  8.55 





Girls

 

G-60H 8.61 Wilson, Trinity , 9, Berkeley Ca
G-60H 8.62 Philson, Lateisha , 9, New York Ny
G-60H 8.71 Jackson, Janice , 12, Brooklyn Ny
G-60H 8.76 Whigham, Ryesa , 11, Houston Tx
G-60H 8.8 Matthews, Larissa , 12, Chandler Az
G-60H 8.85 Davis, Chalese , 10, Hercules Ca
G-60H 8.91 Carroll, Brittany , 12, Charlotte Nc
G-60H 8.94 Morris, Erin , 11, Ft Worth Tx
G-60H 8.96 Kennedy-Feldhaus, Briana , 12, Randolph Nj
G-60H 8.97 Porterfield, Ashley , 12, Neptune Nj
G-60H 8.99 Wanamaker, Jasmine , 12, Philadelphia Pa
G-60H 9.03 Dubois, Azudei , 11, Irvington Nj
Number of Elite performances: 12

Coming off last hurdle, Trinity Wilson (lane4) trailed fellow freshman Lateisha Philson (lane 5)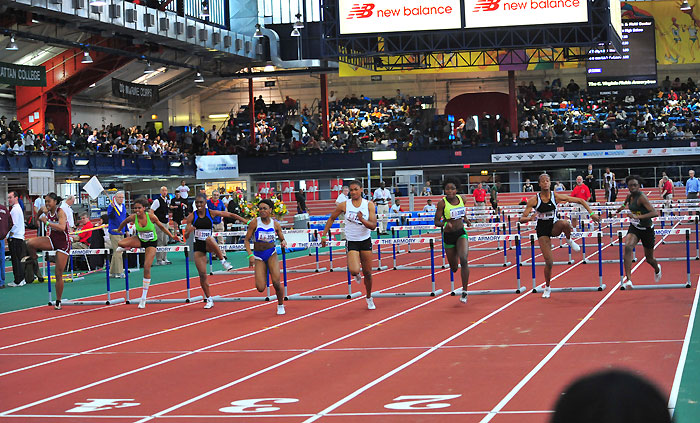 photo by John Dye
 Armory HS Sports Foundation - Site License 
                2009 National Scholastic Indoor Championships                 
                New Balance Track & Field Center,  The Armory                 
                    New York City -3/13/2009 To 3/15/2009                     
 
Event 21  Girls 60 Meter Hurdles High School
=========================================================================     
 National HS: !  8.16  2008        Jacquelyn Coward, TN                       
        Meet: #  8.25  2007        Lindsey Rowe, NY                           
           9: %  8.44  2009        Trinity Wilson, CA                         
          10: @  8.38  2008        Jasmine Stowers, SC                        
          11: ^  8.17  2007        Jacquelyn Coward, TN                       
          12: $  8.16  2008        Jacquelyn Coward, TN                       
    Name                    Year School                 Semis     Finals      
=========================================================================     
Finals                                                                        
  1 Trinity Wilson             9 Berkeley, CA            8.65       8.61  8.04
  2 Lateisha Philson           9 New York, NY            8.66       8.62  8.01
  3 Janice Jackson            12 Brooklyn, NY            8.67       8.71  8.10
  4 Ryesa Whigham             11 Houston, TX             8.93       8.76  8.25
  5 Larissa Matthews          12 Chandler, AZ            8.72       8.80  8.21
  6 Chalese Davis             10 Hercules, CA            8.88       8.85  8.14
  7 Brittany Carroll          12 Charlotte, NC           8.95       8.91  8.30
  8 Erin Morris               11 Ft Worth, TX            8.93       8.94  8.33
Semi-Finals                                                                   
  9 Briana Kennedy-Feldhaus   12 Randolph, NJ            8.96                 
 10 Ashley Porterfield        12 Neptune, NJ             8.97                 
 11 Jasmine Wanamaker         12 Philadelphia, PA        8.99                 
 12 Azudei Dubois             11 Irvington, NJ           9.03                 
 13 Laurence Beaudet          12 Montréal, QC           9.13                 
 14 Symone Evans              11 San Jose, CA            9.16                 
 15 Chantal Scott             11 Raleigh, NC             9.17                 
 16 Nicole Cummings           11 Peekskill, NY           9.17                 
 17 Allison Reaser            11 El Segundo, CA          9.20                 
 18 Jenna Poggi               12 Providence County,      9.21                 
 19 Amber Scott               12 Robbinsville, NJ        9.23                 
 20 Elizabeth Kline           12 Unattached              9.26                 
 21 Jade Wilson               12 Neptune, NJ             9.38                 
 22 Melia Cox                 10 Long Beach, CA          9.41                 
 23 Casaundra Bouldin         12 Bowie, MD               9.43                 
 24 Alexis Stroman            10 Forestville, MD        10.69                 
 25 Shona Dunkley             12 Pickerin, ON           11.06
BOYS

Justin Crawford of Ashbrook NC and Josh Evans of Irvington NJ wasted no time showing everyone who the class of this field is.

Being matched up in the opening heat, Crawford and Evans ran it like was a final as Crawford blazed a US #5 7.95 and Evans a US #8 and personal best 7.96. No one else broke 8.00 heading into Saturday's semifinals. The final is Sunday.


Evans said he was glad he was in the same heat as Crawford, who has run a US #2 7.23 for the 55 hurdles this season. Evans came into the race with a personal best of 7.40 in the 55 HH.

``I didn't know he was in my race until they announced it right before the start,'' said Evans, headed to National Champion Florida on a football scholarship. ``It was good to run against him and show him that it's going to be a good competition and that it's not going to be a cakewalk for him. I just want to compete my best, stay humble and see what happens. I do think I'll have to run faster if I want to win, but first I have to get through the semifinals.''

GIRLS



A pair of New Yorkers top the list of semifinalists for the 60-meter hurdles, with Janice Jackson of Brooklyn NY going 8.58 in her preliminary and Lateisha Philson of New York NY turning in an 8.77. Trinity Wilson of Berkeley CA, who owns the US #1 in the 55 hurdles with a 7.94, is the third seed going into the semis with an 8.84.

Boys Heat 1 - Evans, Laveilla and Crawford (L to R)





photos by John Dye


Girls Heat 6 - Trinity Wilson (L) and Janice Jackson (R)






Results

(Elite performances highlighted in blue)



Girls Results



BOYS

B-60H 7.84p Crawford, Justin , 12, Gastonia Nc
B-60H 8.03p Dellicarpini, Claudio , 12, Harrison Ny
B-60H 8.05p Laveilla, Simon , 12, Montral Qc
B-60H 8.05p Hill, Tarique , 12, Centennial Co
B-60H 8.07p Evans, Joshua , 12, Irvington Nj
B-60H 8.1p MacNeill, Gregory , 11, London On
B-60H 8.15p Radlin, Reynaldo , 12, Stafford Va
B-60H 8.16p Darisme, Pierre , 12, Rahway Nj
B-60H 8.18p Bennett, Tyree , 12, Bradford Pa
B-60H 8.19p Brown, Kevon , 12, Westville Nj
B-60H 8.19p Pedrogo, Devallee , 11, Mission Viejo Ca
B-60H 8.2p Gueye, Amadou , 12, Albany Ny
B-60H 8.22p Jones, Trayvion , 12, Missouri City Tx
B-60H 8.23p Spencer, Wallace , 11, Malvern Pa
B-60H 8.26p Davis, Dante , 11, Mineral Va
B-60H 8.28p Hightower, David , 12, Easton Pa
B-60H 8.3p Whyte, Chris , , -- Rahway Nj
Number of Elite performances: 17
 Armory HS Sports Foundation - Site License 
              2009 National Scholastic Indoor Championships              
              New Balance Track & Field Center,  The Armory              
                  New York City -3/13/2009 To 3/15/2009                  
 
Event 22  Boys 60 Meter Hurdles High School
=========================================================================
 National HS: !  7.62  1995        Deworski Odom, Overbrook, Phila., PA  
        Meet: #  7.62  1995        Deworski Odom, PA                     
           9: %  8.03  2002        Lataero Mitchell, OH                  
          10: @  7.83  2007        Wayne Davis, NC                       
          11: ^  7.63  2008        Wayne Davis, NC                       
          12: $  7.62              D. Odom,T. Trammell,R. Harris, PA,GA,V
    Name                    Year School               Prelims      Semis 
=========================================================================
Heat  1 Semi-Finals                                                      
  1 Simon Laveilla          12 Montral, QC           8.05       8.05q
  2 Tarique Hill              12 Centennial, CO          8.16       8.05q
  3 Amadou Gueye              12 Albany, NY              8.31       8.20 
  4 Trayvion Jones            12 Missouri City, TX       8.19       8.22 
  5 Dante Davis               11 Mineral, VA             8.31       8.26 
  6 Ryan Whitley              12 Ramapo, NY              8.41       8.31 
  7 Evan Baytops              12 Irvington, NJ           8.22       8.51 
  8 Cornelius Savage          10 GA, GA                  8.41       8.55 
Heat  2 Semi-Finals                                                      
  1 Justin Crawford           12 Gastonia, NC            7.95     % 7.84q
  2 Claudio Dellicarpini      12 Harrison, NY            8.46     % 8.03q
  3 Gregory MacNeill          11 London, ON              8.17       8.10q
  4 Reynaldo Radlin           12 Stafford, VA            8.17       8.15q
  5 Kevon Brown               12 Westville, NJ           8.29       8.19 
  6 David Hightower           12 Easton, PA              8.29       8.28 
  7 Matt Bundy                11 Media, PA               8.34       8.43 
Heat  3 Semi-Finals                                                      
  1 Joshua Evans              12 Irvington, NJ           7.96       8.07q
  2 Pierre Darisme            12 Rahway, NJ              8.18       8.16q
  3 Tyree Bennett             12 Bradford, PA            8.33       8.18 
  4 Devallee Pedrogo          11 Mission Viejo, CA       8.31       8.19 
  5 Wallace Spencer           11 Malvern, PA             8.16       8.23 
  6 Chris Whyte               -- Rahway, NJ              8.28       8.30 
  7 Brandon Hambric           12 Teaneck, NJ             8.42       8.40 
  8 Shane Wagner              12 Schuylerville, NY       8.40       8.45 
Preliminaries                                                            
 18 Nathaniel Mercer          12 NY, NY                  8.34            
 25 Cortrey Mazyck            12 District Heights, M     8.49            
 26 Joe Mussler               12 Hilton, NY              8.49            
 27 Ryan Lacossade            12 Theils, NY              8.54            
 28 Robert Moore              12 Largo, MD               8.59            
 29 Jeff Hill                 12 Detroit, MI             8.63            
 30 Javon May                 12 Long Beach, CA          8.67            
 31 Marquis Collins           11 Indianapolis, IN        8.72            
 32 Travis Griffin            11 Charlotte, NC           8.79            
 33 Chidi Azuakolam           12 Lexington, MA           8.93            
 34 Anthony Simpson           12 Bowie, MD               9.11            
 35 Jabari Redd               12 NY, NY                  9.23            
=========================================================================
 National HS: !  7.62  1995        Deworski Odom, Overbrook, Phila., PA  
        Meet: #  7.62  1995        Deworski Odom, PA                     
           9: %  8.03  2002        Lataero Mitchell, OH                  
          10: @  7.83  2007        Wayne Davis, NC                       
          11: ^  7.63  2008        Wayne Davis, NC                       
          12: $  7.62              D. Odom,T. Trammell,R. Harris, PA,GA,V
    Name                    Year School               Prelims      Semis 
=========================================================================
Semi-Finals                                                              
  1 Justin Crawford           12 Gastonia, NC            7.95     % 7.84q
  2 Claudio Dellicarpini      12 Harrison, NY            8.46     % 8.03q
  3 Simon Laveilla            12 Montral, QC           8.05       8.05q
  4 Tarique Hill              12 Centennial, CO          8.16       8.05q
  5 Joshua Evans              12 Irvington, NJ           7.96       8.07q
  6 Gregory MacNeill          11 London, ON              8.17       8.10q
  7 Reynaldo Radlin           12 Stafford, VA            8.17       8.15q
  8 Pierre Darisme            12 Rahway, NJ              8.18       8.16q
  9 Tyree Bennett             12 Bradford, PA            8.33       8.18 
 10 Kevon Brown               12 Westville, NJ           8.29       8.19 
 11 Devallee Pedrogo          11 Mission Viejo, CA       8.31       8.19 
 12 Amadou Gueye              12 Albany, NY              8.31       8.20 
 13 Trayvion Jones            12 Missouri City, TX       8.19       8.22 
 14 Wallace Spencer           11 Malvern, PA             8.16       8.23 
 15 Dante Davis               11 Mineral, VA             8.31       8.26 
 16 David Hightower           12 Easton, PA              8.29       8.28 
 17 Chris Whyte               -- Rahway, NJ              8.28       8.30 
 18 Ryan Whitley              12 Ramapo, NY              8.41       8.31 
 19 Brandon Hambric           12 Teaneck, NJ             8.42       8.40 
 20 Matt Bundy                11 Media, PA               8.34       8.43 
 21 Shane Wagner              12 Schuylerville, NY       8.40       8.45 
 22 Evan Baytops              12 Irvington, NJ           8.22       8.51 
 23 Cornelius Savage          10 GA, GA                  8.41       8.55 
Preliminaries                                                            
 18 Nathaniel Mercer          12 NY, NY                  8.34            
 25 Cortrey Mazyck            12 District Heights, M     8.49            
 26 Joe Mussler               12 Hilton, NY              8.49            
 27 Ryan Lacossade            12 Theils, NY              8.54            
 28 Robert Moore              12 Largo, MD               8.59            
 29 Jeff Hill                 12 Detroit, MI             8.63            
 30 Javon May                 12 Long Beach, CA          8.67            
 31 Marquis Collins           11 Indianapolis, IN        8.72            
 32 Travis Griffin            11 Charlotte, NC           8.79            
 33 Chidi Azuakolam           12 Lexington, MA           8.93            
 34 Anthony Simpson           12 Bowie, MD               9.11            
 35 Jabari Redd               12 NY, NY                  9.23   


GIRLS

G-60H 8.65p Wilson, Trinity , 9, Berkeley Ca
G-60H 8.66p Philson, Lateisha , 9, New York Ny
G-60H 8.67p Jackson, Janice , 12, Brooklyn Ny
G-60H 8.72p Matthews, Larissa , 12, Chandler Az
G-60H 8.88p Davis, Chalese , 10, Hercules Ca
G-60H 8.93p Morris, Erin , 11, Ft Worth Tx
G-60H 8.93p Whigham, Ryesa , 11, Houston Tx
G-60H 8.95p Carroll, Brittany , 12, Charlotte Nc
G-60H 8.96p Kennedy-Feldhaus, Briana , 12, Randolph Nj
G-60H 8.97p Porterfield, Ashley , 12, Neptune Nj
G-60H 8.99p Wanamaker, Jasmine , 12, Philadelphia Pa
G-60H 9.03p Dubois, Azudei , 11, Irvington Nj
Number of Elite performances: 12


Armory HS Sports Foundation - Site License 
             2009 National Scholastic Indoor Championships              
             New Balance Track & Field Center,  The Armory              
                 New York City -3/13/2009 To 3/15/2009                  
 
Event 21  Girls 60 Meter Hurdles High School
===================================================================     
 National HS: !  8.16  2008        Jacquelyn Coward, TN                 
        Meet: #  8.25  2007        Lindsey Rowe, NY                     
           9: %  8.44  2009        Trinity Wilson, CA                   
          10: @  8.38  2008        Jasmine Stowers, SC                  
          11: ^  8.17  2007        Jacquelyn Coward, TN                 
          12: $  8.16  2008        Jacquelyn Coward, TN                 
    Name                    Year School                   Semis  H#     
===================================================================     
Semi-Finals                                                             
  1 Trinity Wilson             9 Berkeley, CA              8.65q  1 8.05
  2 Lateisha Philson           9 New York, NY              8.66q  2     
  3 Janice Jackson            12 Brooklyn, NY              8.67q  3     
  4 Larissa Matthews          12 Chandler, AZ              8.72q  1 8.14
  5 Chalese Davis             10 Hercules, CA              8.88q  3     
  6 Erin Morris               11 Ft Worth, TX              8.93q  2     
  7 Ryesa Whigham             11 Houston, TX               8.93q  2     
  8 Brittany Carroll          12 Charlotte, NC             8.95q  3     
  9 Briana Kennedy-Feldhaus   12 Randolph, NJ              8.96   2     
 10 Ashley Porterfield        12 Neptune, NJ               8.97   3     
 11 Jasmine Wanamaker         12 Philadelphia, PA          8.99   1 8.37
 12 Azudei Dubois             11 Irvington, NJ             9.03   1 8.41
 13 Laurence Beaudet          12 Montréal, QC             9.13   1 8.51
 14 Symone Evans              11 San Jose, CA              9.16   3     
 15 Chantal Scott             11 Raleigh, NC               9.17   1 8.52
 16 Nicole Cummings           11 Peekskill, NY             9.17   1 8.53
 17 Allison Reaser            11 El Segundo, CA            9.20   2     
 18 Jenna Poggi               12 Providence County,        9.21   3     
 19 Amber Scott               12 Robbinsville, NJ          9.23   2     
 20 Elizabeth Kline           12 Unattached                9.26   1 9.60
 21 Jade Wilson               12 Neptune, NJ               9.38   2     
 22 Melia Cox                 10 Long Beach, CA            9.41   3     
 23 Casaundra Bouldin         12 Bowie, MD                 9.43   1 8.78
 24 Alexis Stroman            10 Forestville, MD          10.69   3     
 25 Shona Dunkley             12 Pickerin, ON             11.06   2     
Preliminaries                                                           
 26 Ta'Janeece Robertson      12 Gardena, CA                            
 27 Miray Seward              11 Atlanta, GA                            
 27 Andrienne Tolson          12 Bowie, MD                              
 29 Qaniah Douglas            12 Indianapolis, IN                       
 30 Natalie McAlister          9 Bloomfield, NJ                         
 31 Asha Roper                11 Bladensburg, MD                        
 32 Ashley Hunter             12 Northampton, PA                        
 33 Tamara Lynch              12 Danbury, CT                            
 34 Kellie Littlejohn         10 Detroit, MI                            
 35 Caroline Bonsaint         11 Hampton, NH                            
 36 Athena Carpenter           7 GA, GA                                 
 37 Lauren Rose               10 Hercules, CA                           
 38 Tiffany Crosby            12 Augusta, VA                            
 -- Chantal Luedeke           12 Chesapeake, VA                         
 -- Paige Coleman             12 Columbus, OH