From crutch to clutch: Davis hurdles into history
By Rich Gonzalez
DyeStat/ESPN RISE
All photos by Vic Sailer, photorun.net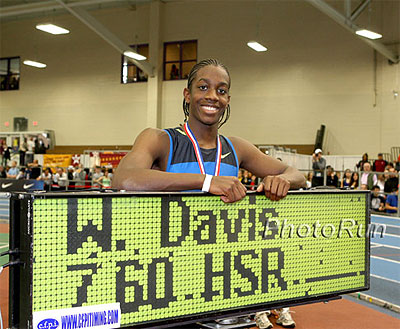 (BOSTON, Ma.) – Risky acrobatic undertakings, dozing off in class, and endless fiddling with images on a computer screen.

This is how Wayne Davis prepares to break national records.

Based on the results.… dunk, snooze and click away!

Davis, the precocious hurdling talent from North Carolina, rode an against-all-odds backdrop to muster a Rocky Balboa-like performance in knocking out the competition in historic fashion at this weekend's Nike Indoor Nationals meet in Boston. A senior at Southeast High in Raleigh, Davis burst out of the blocks and careened away from all challengers to smash the national record in the 60-meter high hurdles, tripping the beam in 7.60 seconds to break by two-hundredths of a second the four-way tie he shared with three others atop the event's all-time list.

The fact that his season seemingly came to an ominous halt nine days earlier, with a pair of crutches being his new best friends, made the achievement all the more unbelievable. In a fitting microcosmic conclusion to the championship final of the three-round journey, Davis stumbled and fell awkwardly to the surface of the Reggie Lewis Track and Athletic Center infield just beyond the finish line, as all the insiders to his saga held their breath, but he then propped himself back to his feet and flashed a reassuring smile.

The duration of the race was ultra-fast, but the ensuing wait was sheer eternity.

"I turned around and watched the scoreboard for the official time, thinking, 'Come on, come on,' " he said minutes afterward, a glazed look of good fortune still blanketing his face. "Then when the board showed seven-six-zero, I was like, 'Hey, that's the record. That's the record!' "

Davis knew it was going to be close, especially after incremental and surprisingly quick 7.83 and 7.74 clockings in the first round and the semifinals, respectively.

"Those times surprised me because of the injury," Davis conceded, "but as I got a little quicker each time, I began to think, "Maybe, just maybe (the national record) was still within reach."



Rewind to nine days earlier



Davis, an all-around exceptional athlete with strength and "hops," couldn't resist taking part in a pick-up basketball activity during a P.E. class, as the playful gathering with friends soon evolved into a dunking contest. Springing into one of his favorite passions – stuffing a round ball through a netted cylinder – Davis was in his element.

That is, until he came down awkwardly on a friend's leg and forcefully rolled his right ankle.

Although the pain was instant, Davis chalked it up as a mild sprain – the first undeniable sign of full denial.

"The next day, the pain got worse and it swelled up like an ankle," he recalled. "I thought for sure, my season was over. That was it."


The next day, however, Davis paid a visit to Dr. Rob Jones, a nationally renowned orthopedic specialist who has often served as team physician to various high schools, colleges, amateur, collegiate and pro teams from across the region. Among those entrusted in his care are athletes at Southeast HS.

"He's always been a blessing and this time he really saved me," Davis shared.

Jones, whose practice is less than 10 miles from the high school, encouraged Davis to meet him that Friday, exactly one week before the start of the NIN meet. At first, Davis nearly declined, his frustration escalating and his optimism waning.

"I said, 'Wayne, this is not just any meet, it's the national championship,'" recalled Jones, himself a one-time track and field standout who sustained a serious vault injury that preempted his competitive career and subsequently steered him toward a path in medicine. Dr. Jones heads the complex medical team assembled for NIN.

'Let's just wait one week before you make that call. For now, let's do everything we can to take care of it," Jones implored to the teen. "He's a great kid I've known for a while and I didn't want him to give up on his goals without first giving himself a chance."

Seven days of non-weight bearing activities, anti-inflammatory aids, the use of crutches and careful motions led to 168 precious hours of wait-(and no weight)-and-see.

"I even propped these chairs up in the back of class and laid down (to elevate the limb and to promote blood circulation) but fell asleep once, and don't know how I didn't get in trouble," he admitted. "It was killing me that I couldn't practice. I was really having doubts."

But that's when Davis' trusty desktop computer became his greatest new ally. Spending much of his free time viewing videos of high-level hurdle races, Davis then closed his eyes and relied on mental imagery in re-entering 'the zone' of a competitive athlete, rising those visualization techniques to simulate actually performing in races, snapping through workout drills and focusing his energies.

"Visualization was huge," he shared. "That kept me going. If I'd just been hobbling around on crutches feeling sorry for myself, I'd have no chance.

"Doc Jones, Stephen (Segatore, an additional key member of the meet's medical staff)… they all helped me get through this and get me to the start line. They are the best doctors in the world."

From then, it was just a case of Davis being Davis.



From crutch to clutch



Acknowledging some discomfort while exiting the blocks and powering down the straightaway, his times continued to drop nevertheless.

His confidence back, his focus in place and guardian angels all around him, the ankle swelling which had mushroomed from orange to grapefruit size in the early stages, was now just a fading blip in the big picture.

"First, I just didn't think anything was possible, then I thought maybe I could at least race, then I felt I could win, then I thought, 'You know, I think I can still get the record,' " recalled Davis of his evolving thought patterns over the 72 hours before the final.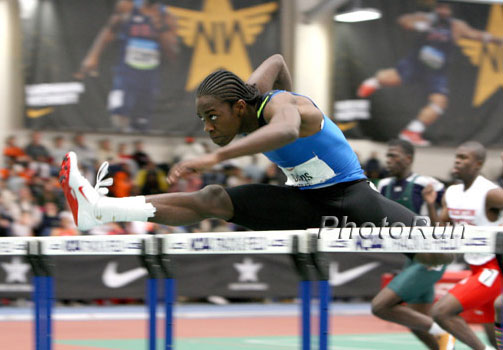 Everything came full circle as Davis settled into the blocks, only 60 meters of barriered real estate strewn between him and history.

"Right as I begin getting into my blocks, I thought to myself, 'This is my last chance (to get the national record) – but now I have my chance back.'"

From Mr. Crutch to Mr. Clutch, Davis smoked a beeline into the record books, burrowing across the infield as a sea of well wishers, avid fans and sport aficionados looked on.

7.60.

To anyone who cared, it resembled a perfect 10. And a youth's dream worth sharing by all.

It was only a year prior that Wayne Davis Sr., his dad, tracked down now world-class hurdler Terrance Trammell at a track meet and proudly noted that his son had tied Trammell's record (along with Deworski Odom and Rickey Harris).

"Uh-huh, that's nice," Trammell reportedly shot back.

"And he did it as a junior," his dad added.

"Huh? What's his name?" Trammell queried.

Wayne Davis II, is his name. And he has a very bright future ahead of him.

As Sunday showed, with the right support group around him, he can overcome all barriers.