March 13-15, 2009 - Reggie Lewis Center, Boston MA

Sunday

Results - Jeannette Seckinger Photos Sunday Winners | Sunday Boys Gallery | Sunday Girls Gallery



It was Redemption Sunday for many at Nike Indoor


Emily Lipari and Andrew Springer set the tone Sunday as an array of motivations inspired record-setters Albemarle, Wayne Davis II, as well as many others



By SteveU, DyeStat/ESPN RISE Senior Editor
All photos by Jeannette Seckinger

You now know all about the monster highlights from Sunday's final day of the Nike Indoor Nationals: The Albemarle VA boys US record 4x800, the national freshman record 2M by Lukas Verzbicas, the near-US 4x800 record by the Southern Regional NJ's girls – all completing titanic doubles – and the US record 60H race by Wayne Davis II, coming off crutches.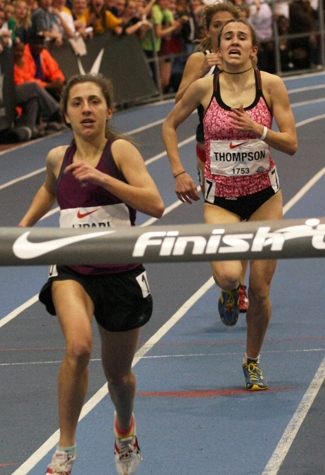 Lipari pulls away at the very end to win the mile


But behind the biggest headlines are some other stories, stories of athletes who may not have been part of the most glamorous events in the end, but who came in Sunday on a mission and found a way to get it done. The winner of the first running final of the afternoon, scrappy Roslyn NY junior Emily Lipari, called it "redemption." So we'll call it Redemption Sunday.

Rhode Island miler Andrew Springer was aching for another shot at Mac Fleet, who had beaten him by a tenth of a second in the Reebok Boston Indoor Games
South Carolina hurdler Jasmin Stowers wanted to show she could go from being a young prodigy, but frequent runner-up, and lead her event
Maryland sprinter Devon Smith yearned to prove that he was the man in the short sprints and that his off-form showing at the MD State Meet wasn't an indication of anything more than an injury
North Carolina sprinter Fuquawn Greene was motivated to make up for the previous day's mental error in his 200 heat that left him out of the fastest of the two finals
Texas putter Stephen Saenz simply wanted his US leader back



Lipari and Springer set the tone



But you have to really start with Lipari, who set the tone for the afternoon. Having stated her intention to go out hard and make the field chase her, she churned through 220 and 440 in 34/68, with Cory McGee MS, Camille Murphy MA, and Emma Brink KY in a line behind her. Murphy took over half a lap later, but no one was picking it up after that, and the pace settled to 2:22.0 at halfway. Voorhees NJ sr Melanie Thompson was moving up and joined the pack, making it five contenders.



Highlights



4x400

- Track Eastern Carolina NC 3:15.02 MR, Blazin' Raiders MD 3:43.52 MR

4x800

- Albemarle VA 7:36.99 USR (#13 all-time indoors or out), Hammer TC (S. Regional NJ) 8:54.11 #2 all-time

200

- Fuqauwn Greene NC 21.53, from the "slower" of 2 final heats, Chalonda Goodman GA 23.96


Boys High Jump

- Erik Kynard OH 7-03.00


Girls Pole Vault

- Arian Beaumont-Corteau CAN 13-08.25 (Shade Weygandt TX top American 13-02.25 2nd)


Boys 2 Mile

- Lukas Verzbicas IL US#1 8:57.44 freshman class record


Girls 2 Mile

- Jordan Hasay, alone for nearly the entire race, eventually falls off record pace for #8 all-time 10:10.89 MR


800

- Bill Ledder VA 1:52.75, Laura Roesler ND 2:08.80 over Stephanie Brown IL 2:08.97


60H

- Wayne Davis II NC 7.60 USR, Jasmin Stowers SC US#1 8.30


400

- Tavaris Tate MS (47.84) beats a diving Clayton Parros NJ (47.85); Briana Nelson SC US#1 54.15


60m dash

- Devon Smith MD US#1 6.63 (=#3 all-time), Chalonda Goodman GA 7.42


Boys Mile

- In a virtual rewind of the Reebok BIG Mile, Andrew Springer RI ran US#1 4:08.47 to hold off Pat McGregor AL (4:08.61) and Mac Fleet NY (4:08.65)

Girls Mile

- Emily Lipari NY charges up in last 50 meters to steal the win from Melanie Thompson NJ in a US#1 4:47.44 (Thompson 4:48.42)


Long Jump

- Zach Smith WA 23-11.00, Brittany Porter GA 20-07.25


Shot Put

- Stephen Saenz TX US#1 71-00.50 (#3 all-time), Julie Labonte CAN 51-09.75
Midway through the 5th circuit, McGee took over and maybe it was going to be her time, finally, to win another title. She was in 8th grade when she took the mile at NSIC and three years later is searching for her second national crown. Thompson moved up with her, while Brink and Murphy dropped back. But Lipari hung on 3rd. They went through three quarters in 3:36 and with a 220 to go it was 4:13 and the same trio.

Thompson, really more of a 2M/5K runner, was running the mile of her life and wanted it just as bad as anyone. McGee had controlled much of the race, but has frequently suffered in this position for lack of a kick. Lipari definitely had the best kick but could she summon it?

Thompson pulled ahead in the last 100 and into the final straight it looked like she could do it, but there was Lipari, legs and arms pumping furiously and there was nothing the New Jersey star could do to hold her off. The pride of Long Island had her biggest title yet with a big PR 4:47.44. Thompson was heartbroken, but still had a great PR 4:48.42, while McGee was under 4:50 but left with the bronze.

Lipari was thrilled and had plenty to say. Since finishing 6th at Foot Locker Finals in 2007, she has not ended a season the way she wanted, especially with last winter's 8th in the NIN 2M, which had to feel humiliating after her earlier successes. She spoke of wanting to go out hard, even though she knew it was too hard; of suffering through uneven middle laps, but finally realizing she was still in the race in the last laps and could win if she used her best weapon. "I didn't drive five hours up here to just come close," she said. "This has been my redemption season."

Andrew Springer had his own version of redemption in mind as the boys mile began. When he had last raced Mac Fleet and Patrick McGregor at the Reebok Boston mile, Fleet had nipped him at the tape. Here they all were again, on the same track, and amazingly, the race unfolded with great similarity. There was no Collin Jarvis for the Californian Fleet to follow, so he took the pace himself through furlongs of 30.4, 61.1, 1:32.1, and 2:03.9. Springer made his same mid-race move to the front, and took it through 2:36.1 and 3:08.2.

Then, again just like the Reebok race, here came Hoover AL sr McGregor, full of run and launching a last lap kick. Again, Springer hung right there and again, Fleet let them each make a move before making his final move. This time, however, Springer had just a little more and did not pull up ever so slightly at the line as he did before … and Fleet didn't have quite enough. It was the Westerly RI senior in 4:08.47, McGregor 4:08.61, and Fleet 4:08.65.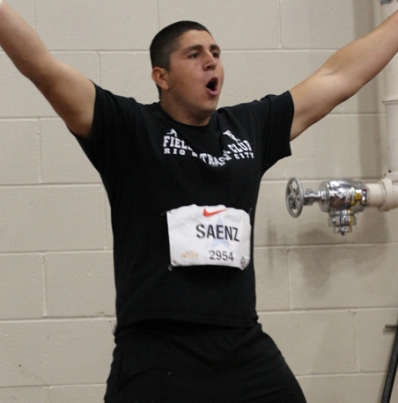 Stephen Saenz celebrates another big throw


"I made sure I worked all the way through the line this time," said Springer. "He beat me fair and square last time, but I didn't want to get beat again."




Stowers and Smith establish dominance at the top



Hurdler Jasmin Stowers, leading the girls 60H field, was also bent on proving herself. The Liberty SC junior had been one of the best in the country since middle school, but quite often in the long shadow of Jackie Coward, the now-graduated champion from Tennessee. When you're at as high a level as Stowers has been as a young runner, it's always hard to keep improving the last few years of high school. She was leading the country at 8.43 coming in, but barely ahead of Texan Donique' Flemings and still looking to beat her sophomore PR of 8.38.

Stowers was up for the challenge. Never has she looked as tall, strong, and dominant as she did in Sunday's final. Would the time represent a breakthrough? It did: A magnificent 8.30 that moved her up to #4 all-time. "It feels great!" said the normally reserved winner. "I was nervous at first, but I got out of the blocks okay and had the lead at the first hurdle. Donique' was pushing me and I got over everything pretty clean. When I hit the mat (beyond the finish line), I was, like, 'Man, that was pretty fast!'"

Devon Smith felt he had a point to prove after his state meet. The Westlake MD sr had led both the 55 and 60 dashes most of the winter, but his most recent competition – the Maryland 4A state meet – had been somewhat disappointing as a hyped-up US record assault on the 55 had been curtailed by the flu. He won, but not the way he wanted. Now healthy, he wanted to get that first individual national title and give Casey Combest's USR 6.57 a serious test.

Torrence Hunt NC had the best time of the trials at 6.70, but Smith led all qualifiers into the final at 6.67. In the final, he got out really well and it was clear by the last 20 meters that he would not just win, but do so decisively, giving him a few moments to savor it before he crossed the line. Having had a serious game face going all weekend, Smith did not break form as he strutted away from the finish, leaving his foes to ponder what they possibly could have done to win.

"All I was thinking all weekend was 6.5, 6.5," he said. "I had the flu at the state meet and I wasn't 100 percent. I really wanted a good one this time." The clock didn't give him quite the answer he wanted, but the 6.63 made him #3 all-time.




Saturday motivation for Greene and Saenz



Fuquawn Greene and Stephen Saenz only had to go back a single day to find redemptive motivation. The former, part of the Track EC/New Bern NC relay kings, made a serious mistake in qualifying Saturday when he pulled up at the tape, finishing as if he just had to win to qualify instead of get one of the fastest times. He did make the 2-section final, but just barely and out of the fastest one and a matchup with Starkville MS star Tavaris Tate. Hardly the way to go for a defending champ.

Sunday, Greene made sure to give himself the best chance to win, screaming a 21.53 in the first section. Tate, who had led qualifiers in 21.49 and won the 400 earlier Sunday by a narrow .01 in 47.84, could not quite match it. The clock gave him 21.55 and Greene had repeated in unlikely circumstances. "I had to show people what I could do," he said, noting that his misjudgment Saturday had more to do with trying to save something for the sprint medley. "I just had to drive the first part, relax, and push it home. I had my head on right."

Saenz had led the nation in the shot put since his mid-January 69-07.75 bomb in Houston, but Saturday at NSIC, Nick Vena had beaten him in the race to 70 feet with yet another revision of his soph national record at 70-05. That was all the motivation the Rio Grande City TX senior needed. After opening with a 66-footer, Saenz unleashed a 71-00.50 bomb that made the small crowd in the sequestered shot put corner of the arena erupt and sent numerous other fans flocking over to see what the fuss was all about. Those additional fans would be rewarded on Saenz's 6th throw when he went nearly as far: 70-11.50.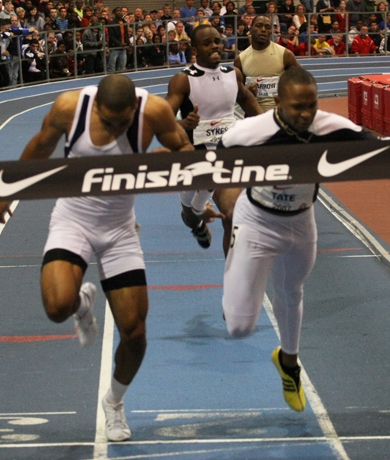 Tavaris Tate outleans Clayton Parros in the 400


And as soon as the Texan had heard about Vena's 70-05, he was fired up. "I said, 'I've got to hit at least 70-06 and get my (US#1) spot back!'" But technical work in the past week had paid off. "I've been trying to get my left arm further ahead and get more torque. I knew even if I didn't get a big one, I'd at least get a long foul. If it got a good release from my hand, it would go far."




Davis overcomes injury



Of course when it came to Sunday's very best events, there wasn't really a lot of that redemption vibe needed – just a desire to win and be the very best – though there were some obstacles to overcome. When you look at the boys and girls sides of the event together, the 4x800 was far and away the best of the weekend. The boys 60 hurdles was not far behind.

In the 60H, it was Wayne Davis II's last chance to lay sole claim to the second indoor record. Last year, he had tied the mark of 7.62 held by three others, though he had gone through the 55H mark in a record 7.06. Earlier this season, of course, the Southeast Raleigh NC senior had ripped a 7.05 HSR in the shorter race, disposing of that en route mark.

But now he had an injury to deal with, an ankle sprained 10 days earlier that had left him on crutches. Davis knew he had almost healed, and was using the crutches more as precaution by the time he got to Boston. He also knew he was very fit and that he wouldn't have trained very hard the last week anyway. Still, what would happen when he went out and ran hard?

In Sunday morning's trials and semis, Davis was able to erase most doubts. He hit solid times of 7.83 and 7.74, leading both rounds. It didn't look pretty when he pulled up after finishing, but it was clear victory was possible … but was a record possible, too?

In the final, Davis blasted out cleanly and with his typical power and precision. Texan Cameron LaCour was running the race of his life (7.72) to stay with him, giving him that extra push. He tumbled down when he crossed the line, but got back up and waited for the result … 7.60!!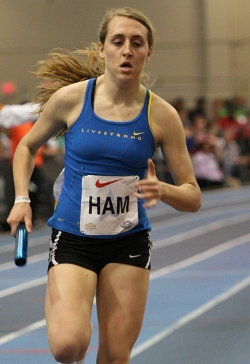 Jillian Smith anchors Southern Regional DMR


What did it take to get himself through this ordeal? "I had to think unrealistically," he said. "I had to pretend everything was normal, even though I did not have as much confidence." The pain was bad at the finish, causing the tumble when trying to put full weight on it after hammering over the hurdles. But it was worth it, and now he can rest it.




Cox and Vrhovac set the table for anchors



When the Southern Regional NJ girls got to the line for the girls 4x800, however, they were literally just happy to be there as they and at least one other squad was caught up in confusion on the number of sections and the actual start time of the race. "I'm just glad we all finished and no one pulled anything or got hurt," anchor Jillian Smith would say later.

US#1 Newton South MA knew it would have to build a big lead and hope it was enough to hold off Smith on her anchor. To that end, Juliet Ryan-Davis, Kathy O'Keefe, and Melanie Fineman averaged 2:15.3 on their first three legs and they looked good to not only improve their US leader, but get under 9:00.

For Southern Regional, Kate Bergin and Erin Horleman went 2:22.7 and 2:16.2 and – to the uneducated eye – looked hopelessly out of it. Of course, this school – with anchors Smith and (in 2006 and 2007) Danielle Tauro – has a huge reputation for come-from-behind wins. #3 runner Chelsea Cox just had to get the stick somewhat closer to give Smith a chance.

That's when the unexpected happened. "I was thinking I was going to be in 6th or in 4th when I got the baton," said Smith. "Then all of the sudden I get it and I'm in second; I couldn't believe I could catch up so fast!"

That was because Cox, a 2:12 runner, had blasted an unreal 2:08.7. Suddenly, instead of chasing other runners, Smith was on her own. The team had never been thinking national record; there was no such mindset. But given that it was her last race of the day and that Newton South's Bridget Dahlberg tailed her pretty close for half the race, she hit a 2:06.5 for a cumulative 8:54.11 – just 0.44 seconds from the US mark. Newton South and defending champ Mountain Brook AL finished in 8:58.63 and 8:59.18 to claim #3 and #4 all-time.

If only they had known … but no one expected a 2:08 out of Cox. While Southern Regional will be able to imagine faster times outdoors now, the USR for that is so much further out there – 8:43.12 – it will take more dramatic improvements.

Meanwhile, after their DMR victory Saturday, the Albemarle VA boys professed that it was really a prelude to the really big show. They appeared Sunday with new mohawks and a definite swagger. You have to back it up if you're gonna do that, but give the guys credit, they went all out for the record. Zach Vrhovac split 1:53.1, Luke Noble 1:54.9, and Garrett Bradley 1:57.3. All that was left for Anthony Kostelac was to run about 1:56.9 to get the record … but the anchor didn't want to just "get" it, he wanted to destroy it. He hammered every step of the way to a 1:51.4. The crazy final time of 7:36.99, a USR by 5.23 seconds over Syosset NY's 7:42.22 from 2005, would be an outdoor leader many years and is a time a lot of college teams would be happy to have. It could stand for a long time to come.

Kostelac says he's not good with setting a pace himself, but he got a little help from beyond the oval. "With everybody cheering in the stands, I was able to really push and we were able to bury the record," he said.

While Albemarle's early legs destroyed anyone else's hopes of winning, Morris Hills NJ, again anchored by Liam Tansey, hammered equally intensely in second and was rewarded with a 7:43.91 clocking, #5 all-time and breaking a 40-year-old New Jersey record.

And – what do you know – maybe there WAS a bit of that redemptive motivation present somewhere in Albemarle's win after all. That's because lead-off leg Vrhovac was not pleased about the way he had to get out of a box Saturday to lead the 1200 leg in the DMR. This time, he made sure he was able to run freely and blast a time that would set up a record. "I was running for vengeance," he said with a smile.

Vengeance, redemption … yeah, it works. It's a strong motivator and by the time Sunday was over, more than a few athletes could claim its power.




Everywhere a highlight



Finally, such was the level of performances on Sunday that almost every event was a "highlight," or would have been so in almost any other meet.

Mind-boggling Illinois freshman Lukas Verzbicas made good on his claim Friday night that he would go for the win in the boys 2M, despite having to recover from his US record 14:18.42 5000. After showing obvious discomfort running in a big pack and making some early tactical errors, Verzbicas took the lead before halfway (4:30.5) and negative-splitted 4:26.9 for a freshman record 8:57.44.
Track EC/New Bern NC, which toured the country chasing US records all indoor season, didn't get any this weekend. But Sunday's 3:15.02 4x400 win gave them a clean sweep of the boys sprint relays and a third meet record.
Similarly, the Blazin Raiders from Eleanor Roosevelt tripled in the girls sprint relays with the type of performances that would stand out more in many years – it just wasn't quite as lofty as some of their other spectacular successes. That effort was capped by a third meet record 3:43.52 4x400 Sunday.


800 winner Laura Roesler

When it comes to individual titles at Nike meets, there may be no one who can catch Chalonda Goodman by the end of her career. The Newnan GA senior added her first two NIN crowns, with her 7.42/23.96 60/200 double, to the four she already owns from Nike Outdoor. That makes for a possibility of eight by the time she's done in June.
A few – very few – events did not quite live up to the hype. One of those was the girls 2-mile, where Jordan Hasay made her indoor debut. The Mission Bay CA senior was dominating against a very good field, which included Ashley Brasovan FL, but found it a daunting challenge to constantly hit the 37-plus-second laps – in her first race of the year – that would enable her to beat Melody Fairchild's legendary 9:55.92. She settled for a 10:10.89, good for #6 all-time, winning by more than a dozen seconds.
And with speedsters like Tom Mallon PA (1:51.79 PR) and Cas Loxsom CT (1:18.72 600 PR), the 800 was expected to be very fast (1:50-51) and led by one of these two. But Mallon never quite had the wheels and Loxsom faded after leading in the middle of the race briefly. That left it to VA find Bill Ledder (Gonzaga Prep MD) to run his second straight 1:52 in finishing at 1:52.75 to Mallon's 1:53.29.
The girls 800 saw success for Fargo South ND junior Laura Roesler in her indoor championship debut. She came from way behind with a big negative split (66-62) to edge Stephanie Brown IL at the tape in 2:08.80. It was actually Roesler's first prep national championship race, though she has run the Olympic Trials. For Brown, it was a second tough loss in Boston where she had made a decisive move that was later overcome.
There weren't a lot of individual titles defended, but two others accomplished that feat were Briana Nelson SC and Erik Kynard OH. Nelson kept her 400 crown decisively with a US#1 54.15, while Kynard was the only jumper to clear 7-01, then 7-03, which also leads the nation and is less than an inch off his all-time PR
While the other horizontal jumps were won in come-from-behind efforts in the last or next-to-last rounds, Brittany Porter GA put out a huge mark in her first attempt and dared everyone to catch her – and they couldn't. Porter's 20-07.25 was a huge PR and #7 all-time. Zach Smith WA, however, followed a similar storyline to the previous triple jump champions as he got a last effort 23-11 to upset Damar Forbes GA
Two Canadian standouts came down for victories – or came "up" as it were, as each had already won NSIC championships earlier in the weekend. Ariane Beaumont-Courteau soared to 13-08.25, six inches above anyone else, while Julie Labonte won the shot by nearly eight feet with 51-09.75.
Full Sunday Results
Licensed to C.F.P.I. Timing & Data - Contractor License   HY-TEK's Meet Manager
              2009 Nike Indoor Nationals - 3/13/2009 to 3/15/2009              
                    Reggie Lewis Sports and Athletic Center                    
                                  Boston, MA                                   
                                    Results                                    
 
Girls 60 Meter Dash
===================================================================
24 Advance:  Top 1 Each Heat plus Next 13 Best Times
    National: N  7.19  2/21/2004   Ashley Owens, Liberty, Co Springs, CO       
        Meet: M  7.29  1999        Alexis Joyce, Washington, Denver, CO        
    Freshman: (  7.50  1999        Zenobia Reed, Lamar, Houston, TX            
   Sophomore: R  7.29  1999        Alexis Joyce, Washington, Denver, CO        
      Junior: J  7.24  2/10/2007   Victoria Jordan, Dunbar, Ft Worth, TX       
      Senior: $  7.19  2/21/2004   Ashley Owens, Liberty, Co Springs, CO       
    Name                    Year School                 Prelims  H#
===================================================================
Preliminaries
  1 Collier, Ashley           10 Desoto, TX                7.52Q  2 
  2 Scott, Aurieyall          10 Greenbelt, MD             7.53Q  1 
  3 Hubbard, Breanna          09 Jonesboro, GA             7.55Q 11 
  4 Booker, Dominique         10 East Orange, NJ           7.56Q  7 
  5 Goodman, Chalonda         09 Newnan, GA                7.57Q  4 
  6 Tyson, Keilah             11 Chesapeake, VA            7.64Q  3 
  7 Jacobs, Myasia            12 Ridgwood, NJ              7.65Q  6 
  8 Saunders, Sha'keela       12 Chesapeake, VA            7.66Q  9 
  9 Linton, Christienne       09 Inkster, MI               7.69Q 10 
 10 Weathers, Dominique       11 Charlotte, NC             7.78Q  5 
 11 Gray, Gabrielle           12 Jamestown, NC             7.81Q  8 
 12 Bryant, Nyosha            09 New Bern, NC              7.65q  7 
 13 Hall, Richanda            10 Desoto, TX                7.78q 11 
 14 Lewis, Sade               11 Toronto, ON               7.81q  5 
 15 Jones, Veronica           10 Desoto, TX                7.82q  9 
 15 Sharp, Olicia             12 Hampton, VA               7.82q  2 
 17 Wolf, Katie               10 Potomac, MD               7.84q  4 
 18 Mitchell, Amber           09 Chesapeake, VA            7.86q  7 
 19 Johnson, Rayiana          10 Chester, PA               7.89q  8 
 19 Brangman, Shawnae         11 Paget, PAG                7.89q  3 
 21 Poggi, Jenna              09 Norton, MA                7.90q 11 
 21 McClary, Jamiee           09 Rochester, NY             7.90q  1 
 21 Statham, Arielle          09 Burtonsville, MD          7.90q 10 
 24 Waugh, Coneisha           10 Toronto, ON               7.91q  2  7.902
 25 Bradley, Noelle           09 Taylor, MI                7.91   6  7.908
 26 Longino-Thomas, Candace   11 Bedford, OH               7.92   6 
 26 O'Dea, Molly              10 Hingham, MA               7.92  11 
 28 Janeczak, Hannah          10 paxton, MA                7.94   5 
 28 Adenikinju, Abidemi       09 Greenbelt, MD             7.94   3 
 30 Barker, LaTrese           10 Clinton, MD               7.96  10 
 30 Christian, Jennifer       10 Springfield, MA           7.96   2 
 32 McGhee, Morgan            10 McDonough, GA             7.98   7 
 33 Harrison, Shaina          12 Toronto, ON               8.00   3 
 34 Lee, Kayla                09 West Chester, PA          8.01   7 
 34 Wright, DeJa              10 Canton, MI                8.01  10 
 36 Hercules, Crystal         09 W. Henrietta, NY          8.03   6 
 36 Jones, Cessily            12 Plainfield, IL            8.03   4 
 38 Wright, Jayee             10 Philadelphia, PA          8.05   9 
 39 Cappadona, Julianne       09 North Attleboro, MA       8.06   3 
 39 Carter, Jasmine           10 Orange, NJ                8.06   1 
 39 Reid, Jameliah            11 Toronto, ON               8.06   9 
 42 Sherrod, Aurielle         10 Knoxville, TN             8.08   2 
 42 Eagan, Lauren             11 Philadelphia, PA          8.08   3 
 44 Forte, Melanie            09 Milford, NH               8.09   7 
 44 Castro, Corrie            09 Saline, MI                8.09   1 
 46 Watkins, Rachel           12 Montgomery Village,       8.10   5 
 46 Allen, Tayla              11 Westwood, MA              8.10   9 
 48 Donaldson, Kewanna        09 Enfield, CT               8.11   5 
 48 Petree, Julia             11 Knoxville, TN             8.11   4 
 50 Grant, Olivia             10 Andover, MA               8.12   1 
 50 Riedel, Emma              09 Plymouth, MA              8.12   3 
 52 Razy, Jessica             10 Herkimer, NY              8.14   4 
 52 Granara, Lauryn           09 Reading, MA               8.14   8 
 52 Fitzpatrick, Tatiana      10 Woburn, MA                8.14  10 
 52 Martin, Serenity          10 Teaneck, NJ               8.14  11 
 56 Denny, Seanne             10 Woburn, MA                8.18   1 
 56 Taussig, Emily            11 Hempstead, NY             8.18  11 
 58 Scott, Jasmine            10 Montgomery Village,       8.21  11 
 58 Mboya, Miriam             11 springfield, MA           8.21   8 
 60 Noyes, Katryna            09 Stratham, NH              8.26   4 
 61 Lee, Erika                09 Hempstead, NY             8.27   8 
 62 Barrett, Emily            09 Rehoboth, MA              8.28   5 
 63 Snyder, Jenny             10 Scarborough, ME           8.31   4 
 64 Dorsey, Briana            10 Rochester, NY             8.35   6 
 64 Tennant, Kiyara           12 Toronto, ON               8.35   2 
 64 Keehfuss, Alexa           12 Philadelphia, PA          8.35  11 
 
Girls 60 Meter Dash
===================================================================
8 Advance:  Top 2 Each Heat plus Next 2 Best Times
    National: N  7.19  2/21/2004   Ashley Owens, Liberty, Co Springs, CO       
        Meet: M  7.29  1999        Alexis Joyce, Washington, Denver, CO        
    Freshman: (  7.50  1999        Zenobia Reed, Lamar, Houston, TX            
   Sophomore: R  7.29  1999        Alexis Joyce, Washington, Denver, CO        
      Junior: J  7.24  2/10/2007   Victoria Jordan, Dunbar, Ft Worth, TX       
      Senior: $  7.19  2/21/2004   Ashley Owens, Liberty, Co Springs, CO       
    Name                    Year School                   Semis  H#
===================================================================
Semi-Finals
  1 Goodman, Chalonda         09 Newnan, GA              ( 7.39Q  2 
  2 Collier, Ashley           10 Desoto, TX              ( 7.48Q  1 
  3 Booker, Dominique         10 East Orange, NJ         ( 7.49Q  3 
  4 Scott, Aurieyall          10 Greenbelt, MD           ( 7.46Q  2 
  5 Jacobs, Myasia            12 Ridgwood, NJ              7.54Q  1  7.534
  6 Hubbard, Breanna          09 Jonesboro, GA             7.54Q  3  7.539
  7 Tyson, Keilah             11 Chesapeake, VA            7.60q  1 
  8 Jones, Veronica           10 Desoto, TX                7.65q  3 
  9 Johnson, Rayiana          10 Chester, PA               7.66   1 
 10 Saunders, Sha'keela       12 Chesapeake, VA            7.67   2 
 10 Bryant, Nyosha            09 New Bern, NC              7.67   1 
 12 Linton, Christienne       09 Inkster, MI               7.71   3 
 13 Lewis, Sade               11 Toronto, ON               7.72   2 
 14 Gray, Gabrielle           12 Jamestown, NC             7.73   2 
 14 Mitchell, Amber           09 Chesapeake, VA            7.73   1 
 14 Weathers, Dominique       11 Charlotte, NC             7.73   3 
 17 Hall, Richanda            10 Desoto, TX                7.74   1 
 18 Wolf, Katie               10 Potomac, MD               7.75   2 
 19 Sharp, Olicia             12 Hampton, VA               7.76   3 
 20 McClary, Jamiee           09 Rochester, NY             7.79   2 
 21 Statham, Arielle          09 Burtonsville, MD          7.80   3 
 22 Waugh, Coneisha           10 Toronto, ON               7.90   1 
 23 Poggi, Jenna              09 Norton, MA                7.92   3 
 24 Brangman, Shawnae         11 Paget, PAG                7.95   2 
 
Girls 60 Meter Dash
================================================================
    National: N  7.19  2/21/2004   Ashley Owens, Liberty, Co Springs, CO       
        Meet: M  7.29  1999        Alexis Joyce, Washington, Denver, CO        
    Freshman: (  7.50  1999        Zenobia Reed, Lamar, Houston, TX            
   Sophomore: R  7.29  1999        Alexis Joyce, Washington, Denver, CO        
      Junior: J  7.24  2/10/2007   Victoria Jordan, Dunbar, Ft Worth, TX       
      Senior: $  7.19  2/21/2004   Ashley Owens, Liberty, Co Springs, CO       
    Name                    Year School                  Finals 
================================================================
Finals
  1 Goodman, Chalonda         09 Newnan, GA                7.42( 
  2 Booker, Dominique         10 East Orange, NJ           7.47( 
  3 Scott, Aurieyall          10 Greenbelt, MD             7.49( 
  4 Collier, Ashley           10 Desoto, TX                7.57  
  5 Hubbard, Breanna          09 Jonesboro, GA             7.59  
  6 Jacobs, Myasia            12 Ridgwood, NJ              7.60  
  7 Tyson, Keilah             11 Chesapeake, VA            7.62  
  8 Jones, Veronica           10 Desoto, TX                7.67  
 
Girls 200 Meter Dash
===================================================================
 Final of 8 fastest qualifers in 2 heats of 4
    National: N 22.97  2/17/2007   Bianca Knight, Ridgeland, MS                
        Meet: M 23.78  2001        Erica Whipple, Palm Beach Lakes, WPB, F     
    Freshman: ( 23.97  1/20/2007   Ashton Purvis, St. Eliz, Oakland, CA        
   Sophomore: R 23.43  3/16/2008   Ashton Purvis, St. Eliz, Oakland, CA        
      Junior: J 23.26  2/18/2006   Bianca Knight, Ridgeland, MS                
      Senior: $ 22.97  2/17/2007   Bianca Knight, Ridgeland, MS                
    Name                    Year School                  Finals  H#
===================================================================
  1 Goodman, Chalonda         09 Newnan, GA               23.96(  2 
  2 Nelson, Briana            10 Greenville, SC           24.19   2 
  3 Wesh, Marlena             09 Virginia Beach, VA       24.21   2 
  4 Bailey, Shanae            10 Philadelphia, PA         24.38   1 
  5 Saunders, Sha'keela       12 Chesapeake, VA           24.49   1 
  6 Booker, Dominique         10 East Orange, NJ          24.74   1 
 -- Ekpone, Olivia            11 Germantown, MD             DNF   1 
 
Girls 400 Meter Run
===================================================================
 Final of 8 fastest qualifers in 2 heats of 4
    National: N 51.93  3/12/2006   Francena Mc Corory, Bethel, Hampton, VA     
        Meet: M 51.93  3/12/2006   Francena Mc Corory, Bethel, Hampton, VA     
    Freshman: ( 54.06  2/19/2005   Elan Hilaire, Park, Baltimore, MD           
   Sophomore: R 53.45  2/22/1985   Andrea Thomas, Walton, Bronx, NY            
      Junior: J 52.19  3/14/2004   Nicole Leach, W Catholic, Phila, PA         
      Senior: $ 51.93  3/12/2006   Francena Mc Corory, Bethel, Hampton, VA     
    Name                    Year School                  Finals  H#
===================================================================
  1 Nelson, Briana            10 Greenville, SC           54.15   2 
  2 Stewart, Thandi           10 union city, CA           55.17   2 
  3 Brown, Michelle           10 Marlton, NJ              55.57   2 
  4 Charles, Afia             10 Greenbelt, MD            56.22   1 
  5 Anyanwu, Doris            09 Greenbelt, MD            56.41   1 
  6 Fraenk, Emmy              10 Hampton, VA              56.67   1 
  7 Allen, Amber              10 Paterson, NJ             56.81   2 
  8 Ellis, Lauren             11 Florence, SC             58.20   1 
 
Girls 800 Meter Run
================================================================
 Sunday: Sections 1 through 4 at 8:00am; Sections 5, 6 at 2:02pm
    National: N 2:01.80  2/17/1974   Mary Decker, Orange, CA                   
        Meet: M 2:07.43  3/11/2007   Chanelle Price, Easton, PA                
    Freshman: ( 2:06.48  3/14/2004   Devon Williams, Towson Catholic, MD       
   Sophomore: R 2:02.40  2/17/1974   Mary Decker, Orange, Ca                   
      Junior: J 2:06.60  1979        Joetta Clark, Columbia, Maplewood, NJ     
      Senior: $ 2:04.90  1996        Tamieka Grizzle, George Washington, NYC   
    Name                    Year School                  Finals 
================================================================
  1 Roesler, Laura            10 Fargo, ND              2:08.80  
  2 Brown, Stephanie          09 Bloomington, IL        2:08.97  
  3 Williams, Olicia          12 Hempstead, NY          2:11.27  
  4 Neutts, Ariann            09 Succasunna, NJ         2:13.05  
  5 Wheeler, Eryn             09 Warwick, RI            2:13.28  
  6 Schulz, Mckinzie          10 Naperville, IL         2:13.40  
  7 Bumpas, Taylor            09 Philadelphia, PA       2:14.67  
  8 Rodriguez, Grace          09 Norwich, VT            2:14.78  
  9 Johnson, Amirah           11 Greenbelt, MD          2:14.81  
 10 Wightman, Leah            09 Chatham, NY            2:15.08  
 11 Henry, Asia               09 rochester, NY          2:15.29  
 12 Sinkovitz, Julie          10 Teaneck, NJ            2:15.57  
 13 D'Orazio, Kaitlyn         09 York, ME               2:16.36  
 14 Stevens, Kathleen         10 blacksburg, VA         2:16.65  
 15 Pinnick, Shakeia          09 Aurora, IL             2:16.88  
 16 Hartnett, Caitlin         10 Solon, OH              2:17.36  
 17 Lodato, Chelsea           10 West Long Branch, N    2:18.19  
 18 Simko, Bekka              10 Mentor, OH             2:18.64  
 19 Godwin, Lea Anna          09 Erwin, NC              2:18.83  
 20 Robinson, Cydney          10 Portsmouth, VA         2:19.04  
 21 Vanderhout, Kristina      11 Scottsdale, AZ         2:19.38  
 22 Johnston, Jennifer        10 Middle Island, NY      2:19.66  
 23 Vogel, Verena             09 Indianapolis, IN       2:19.88  
 24 Rotondo, Michelle         11 Garden City, NY        2:19.97  
 25 Keen, Jocelyn             10 Fuquay Varina, NC      2:20.21  
 26 Chamberlain, Whitney      09 Scarborough, ME        2:20.28  
 27 Carstarphen, Takaunia     09 Delray Beach, FL       2:21.58  
 28 Barry, Sarah              10 Barrington, RI         2:21.88  
 29 Weidman, Jillian          09 Henrietta, NY          2:21.96  
 30 Woodford, Natalie         09 Blacksburg, VA         2:21.98  
 31 Weschler, Megan           10 wyandotte, MI          2:22.01  
 32 Sivilli, Mary-Kate        10 Huntington, NY         2:22.86  
 33 Henderson, Ryanna         09 Jacksonville, NC       2:23.25  
 34 McGilpin, Julie           09 Westfield, MA          2:24.28  
 35 Stassen, Anna             12 Dearborn, MI           2:24.57  
 36 Hopkins, Rachel           09 Crozet, VA             2:25.01  
 37 Byrne, Rachel             09 Cinnaminson, NJ        2:25.46  
 38 Lowery, Patavia           10 Knoxville, TN          2:25.62  
 39 Nicholas, Jackie          11 Woodbury, CT           2:26.44  
 40 Brillante, Frankie        10 North Haven, CT        2:27.16  
 41 Kott, Brooke              09 Millville, NJ          2:27.52  
 42 Czerwonka, Gosia          10 Bedford, MA            2:27.83  
 43 Williams, Kanaya          09 Inkster, MI            2:27.99  
 44 James, Darcy              09 Exeter, NH             2:28.12  
 45 Groce, Melissa            09 Inkster, MI            2:28.36  
 46 Wilson, Lora              12 South Boston, VA       2:28.42  
 47 Rudder, Emily             11 Sudbury, MA            2:28.61  
 48 Conena, Caroline          09 Plymouth, MA           2:28.74  
 49 Murphy, Colleen           09 Stony Brook, NY        2:30.33  
 50 Simmons, Carly            10 Hockessin, DE          2:33.80  
 
Girls 1 Mile Run
================================================================
 Sunday: Section 1 at 11:30am; Sections 2, 3 at 12:40pm
    National: N 4:38.50  3/17/1972   Debbie Heald, Neff, La Mirada, CA         
        Meet: M 4:45.18  3/11/2007   Alex Kosinski, Oak Ridge, El Dor Hls,CA   
    Freshman: ( 4:40.10  1973        Mary Decker, Orange, CA                   
   Sophomore: R 4:46.13  3/14/2004   Nicole Blood, Saratoga, NY                
      Junior: J 4:38.50  3/17/1972   Debbie Heald, Neff, La Mirada, CA         
      Senior: $ 4:39.00  1978        Lynn Jennings, Bromfield, Harvard, MA     
    Name                    Year School                  Finals 
================================================================
  1 Lipari, Emily             10 Greenvale, NY          4:47.44  
  2 Thompson, Melanie         09 High Bridge, NJ        4:48.42  
  3 McGee, Cory               10 Pass Christian, MS     4:49.42  
  4 Murphy, Camille           09 Framingham, MA         4:52.90  
  5 Brink, Emma               11 Louisville, KY         4:55.12  
  6 Schneider, Rachel         09 Sanford, ME            4:58.39  
  7 Stevens, Joanna           10 blacksburg, VA         4:59.79  
  8 Chapman, Courtney         11 Fayetteville, NY       5:00.22  
  9 Buenaga, Kaitlin          09 Greenville, DE         5:01.00  
 10 Ngu, Rachel               11 N. Bellmore, NY        5:01.18  
 11 Leptich, Alexandra        10 Ann Arbor, MI          5:02.67  
 12 Coogan, Katrina           11 Exeter, NH             5:04.10  
 13 Ginez, Sophia             10 Dayton, NJ             5:04.21  
 14 Neer, Waverly             11 Culver, IN             5:04.66  
 15 Madsen, Hayley            09 Chatham, NY            5:06.34  
 16 Adler, Monica             10 Manchester, MA         5:06.52  
 17 Vanderhout, Kristina      11 Scottsdale, AZ         5:06.61  
 18 Reilly, Trish             09 Plainsboro, NJ         5:06.81  
 19 Bottorff, Juliet          09 Newark, DE             5:07.91  
 20 Johnston, Paige           09 Midlothian, VA         5:08.30  
 21 Poretta, Alanna           10 Merrimac, MA           5:10.93  
 22 Pagano, Sarah             09 Teaneck, NJ            5:11.22  
 23 Homer, Allison            09 Blacksburg, VA         5:13.03  
 24 Barclay, Elizabeth        09 Crozet, VA             5:18.09  
 25 Anselmini, Mary Kate      11 Stony Brook, NY        5:18.40  
 26 Chace, Samantha           11 Exeter, RI             5:18.78  
 27 Orr, Catilyn              10 Mt. Laurel, NJ         5:19.24  
 -- McNamara, Molly           11 Little Silver, NJ          DNF  
 -- McNiff, Shauna            09 Hingham, MA                DNF  
 
Girls 2 Mile Run
================================================================
 Sunday: Section 1,2 at 7:15am; Section 3 at 2:30pm
    National: N  9:55.92  3/10/1991   Melody Fairchild, Boulder, CO            
        Meet: M 10:23.63  3/2000      Carol Henry, Sarnia, Ontario, Canada     
    Freshman: ( 10:23.46  1998        Michelle Dela Vina, Andrean, Merillville 
   Sophomore: R 10:25.07  1999        Sara Bei, MontgomerySantaRosa, CA        
      Junior: J 10:13.16  1982        Laura Craven, Beechcroft,Columbus, OH    
      Senior: $  9:55.92  3/10/1991   Melody Fairchild, Boulder, CO            
    Name                    Year School                  Finals 
================================================================
  1 Hasay, Jordan             09 Arroyo Grande, CA     10:10.89J 
  2 Greany, Shelby            09 Suffern, NY           10:24.11R 
  3 Jones, Emily              09 Harvard, MA           10:25.76  
  4 Flanagan, Lindsay         09 Roselle, IL           10:27.79  
  5 Brasovan, Ashley          09 Wellington, FL        10:31.38  
  6 Hale, Kayla               09 Melbourne, FL         10:48.19  
  7 Hollowood, Keelin         13 Saratoga Springs, N   10:51.92  
  8 Karys, Kelsey             09 Newton, MA            10:52.23  
  9 Henningson, Roxanne       10 Saratoga Springs, N   10:55.98  
 10 Spano, Kimberly           09 Charlotte, NC         10:58.89  
 11 Trant, Chelsea            10 Niskayuna, NY         11:01.10  
 12 Carey, Anne               11 West Babylon, NY      11:01.70  
 13 Hartung, Genna            09 Morrisonville, NY     11:03.82  
 14 Davis, Kaitlyn            10 Stafford, VA          11:05.31  
 15 King, Sydney              11 Saratoga Springs, N   11:07.85  
 16 Lucena, Mariana           09 Weston, FL            11:09.70  
 17 Chapman, Millie           10 Beverly, MA           11:17.55  
 18 Keogh, Rosie              09 Holliston, MA         11:18.07  
 19 O'Hea, Caroline           12 Stony Brook, NY       11:20.44  
 20 Iselborn, Kaitlyn         09 Jacksonville, FL      11:21.35  
 21 Cooper, Callie            09 St. Johns, FL         11:25.15  
 22 Anson, Mikala             09 Albany, NY            11:27.38  
 23 Stern, Juliana            09 Melbourne, FL         11:28.74  
 24 Hewitt, Abby              09 Greensburg, PA        11:32.35  
 25 Kulesz, Melanie           09 Oak Ridge, TN         11:32.46  
 26 Fehr, Kallie              10 elkton, MD            11:43.35  
 27 De La Rosa, Kathryn       09 Chesapeake, VA        12:17.72  
 
Girls 60 Meter Hurdles
===================================================================
24 Advance:  Top 2 Each Heat plus Next 8 Best Times
    National: N  8.16  2/16/2008   Jackie Coward, West, Knoxville, TN          
        Meet: M  8.28  3/11/2007   Jackie Coward, West, Knoxville, TN          
    Freshman: (  8.44  2/21/2009   Trinity Wilson, St. Mary's, Berkeley, CA    
   Sophomore: R  8.38  2/23/2008   Jasmine Stowers, Pendleton, SC              
      Junior: J  8.17  2/17/2007   Jackie Coward, West, Knoxville, TN          
      Senior: $  8.16  2/16/2008   Jackie Coward, West, Knoxville, TN          
    Name                    Year School                 Prelims  H#
===================================================================
Preliminaries
  1 Stowers, Jasmin           10 Liberty, SC               8.54Q  3 
  2 Flemings, Donique'        09 Fort Worth, TX            8.77Q  5 
  2 Sorenson, Nevada          09 Sioux Falls, SD           8.77Q  2 
  4 Smith, Madalayne          10 Saratoga Springs, N       8.81Q  7 
  5 Linton, Christienne       09 Inkster, MI               8.83Q  1 
  6 Brown, Kristen            10 Columbia, MD              8.86Q  8 
  7 Owens-Mitchell, Bridgett  10 Oak Park, MI              8.88Q  4 
  8 Pannell, Courtni          10 Hampton, VA               8.94Q  6 
  9 McDougald, Kasha          11 Junction City, KS         8.90Q  7 
  9 Wheaton, Taylor           09 Virginia Beach, VA        8.90Q  1 
 11 Walker, Sherice           09 Burlington, NC            8.96Q  8 
 12 Baltimore, Ashtynn        09 Walnut, CA                9.00Q  6 
 13 Amy, Olivia               09 Mesquite, TX              9.03Q  2 
 14 Smith, Nefertiti          11 Chesapeake, VA            9.05Q  4 
 15 Cuthbertson, Teaunna      12 Salisbury, NC             9.12Q  5 
 16 Howell, Brittney          10 Wyncote, PA               9.20Q  3 
 17 Smith, Amber              10 Cleveland, OH             9.04q  7 
 18 McCammon, Jenea           09 Greenbelt, MD             9.07q  4 
 19 Poggi, Jenna              09 Norton, MA                9.11q  8 
 20 Davis, Dannielle          11 Raleigh, NC               9.12q  4 
 21 Ballard, Anthonia         09 Philadelphia, PA          9.14q  7 
 22 Pachol, Nicole            09 Warren, OH                9.15q  4 
 23 Ferreira, Meghan          09 Mansfield, MA             9.17q  5 
 24 Ventrella, Lauren         09 Norwalk, CT               9.18q  1  9.172
 25 Gray, Desmonae            11 Chesapeake, VA            9.18   8  9.179
 26 Goods, Camesha            10 South Boston, VA          9.19   6 
 27 Hughes, Shayne            10 Mercerville, NJ           9.25   2 
 27 Butler, Taylor            10 Fort Washington, MD       9.25   4 
 29 Ryding, Cassandra         09 Westford, MA              9.26   3 
 30 Myrick, Keisha            09 Chesapeake, VA            9.29   2 
 31 Williams, Ryan            10 Plainsboro, NJ            9.32   6 
 32 Burns, Seneman            09 Clinton, MD               9.33   2 
 33 Jones, Kasey              11 Boone, NC                 9.35   1 
 34 Collins, Samantha         09 Mesa, AZ                  9.38   1 
 35 Edge, Dara                09 Bellingham, MA            9.42   4 
 36 Hunter, Ashley            09 Northampton, PA           9.43   1 
 36 McKenna, Kelsey           10 Exeter, RI                9.43   5 
 38 Adams, Porscha            09 Warrington, PA            9.49   6 
 39 Green, Anika              10 Toronto, ON               9.52   5 
 40 Davis, Adrianna           09 Newton, MA                9.55   7 
 41 Abbate, Olivia            10 Hempstead, NY             9.58   2 
 42 Lowe, Marissa             10 Groton, CT                9.59   6 
 43 Deininger, Christy        10 North Attleboro, MA       9.62   4 
 44 Bridenbaugh, Ashley       09 Knoxville, TN             9.64   3 
 44 Rockwell, Danae           09 Mount Vernon, OH          9.64   7 
 46 Jefferies, Stephanie      09 Providence, RI            9.68   7 
 46 Aldridge, Jordan          10 Proctorville, OH          9.68   3 
 48 Baird, Madeline           09 Westfield, MA             9.70   1 
 49 Vesey, Sharonda           09 Inkster, MI               9.77   2 
 50 Bonsaint, Caroline        10 Exeter, NH                9.78   8 
 50 Brus, Cate                09 Cody, WY                  9.78   5 
 52 Snyder, Jenny             10 Scarborough, ME           9.82   6 
 53 Butler, Marjorie          12 Knoxville, TN             9.85   8 
 54 Crum, Rachel              09 Roanoke, VA               9.89   8 
 55 Adams, Helena             09 West Babylon, NY          9.90   3 
 56 Mack, Rachel              09 Philadelphia, PA         10.23   6 
 57 Bonham, Natalie           09 Glastonbury, CT          10.63   1 
 58 Evangelou, Tiffany        10 Teaneck, NJ              10.83   3 
 
Girls 60 Meter Hurdles
===================================================================
8 Advance:  Top 2 Each Heat plus Next 2 Best Times
    National: N  8.16  2/16/2008   Jackie Coward, West, Knoxville, TN          
        Meet: M  8.28  3/11/2007   Jackie Coward, West, Knoxville, TN          
    Freshman: (  8.44  2/21/2009   Trinity Wilson, St. Mary's, Berkeley, CA    
   Sophomore: R  8.38  2/23/2008   Jasmine Stowers, Pendleton, SC              
      Junior: J  8.17  2/17/2007   Jackie Coward, West, Knoxville, TN          
      Senior: $  8.16  2/16/2008   Jackie Coward, West, Knoxville, TN          
    Name                    Year School                   Semis  H#
===================================================================
Semi-Finals
  1 Stowers, Jasmin           10 Liberty, SC               8.48Q  1 
  2 Flemings, Donique'        09 Fort Worth, TX            8.56Q  2 
  3 Smith, Madalayne          10 Saratoga Springs, N       8.70Q  3 
  4 Owens-Mitchell, Bridgett  10 Oak Park, MI              8.66Q  1 
  5 Pannell, Courtni          10 Hampton, VA               8.74Q  2 
  6 Sorenson, Nevada          09 Sioux Falls, SD           8.78Q  3 
  7 Brown, Kristen            10 Columbia, MD              8.71q  1 
  8 Linton, Christienne       09 Inkster, MI               8.75q  2 
  9 Walker, Sherice           09 Burlington, NC            8.78   2 
 10 McCammon, Jenea           09 Greenbelt, MD             8.82   1 
 11 Baltimore, Ashtynn        09 Walnut, CA                8.84   1 
 12 Wheaton, Taylor           09 Virginia Beach, VA        8.86   3 
 13 Ballard, Anthonia         09 Philadelphia, PA          8.97   3 
 14 Davis, Dannielle          11 Raleigh, NC               9.05   2 
 15 Smith, Nefertiti          11 Chesapeake, VA            9.07   2 
 16 Amy, Olivia               09 Mesquite, TX              9.09   1 
 17 Poggi, Jenna              09 Norton, MA                9.10   1 
 18 McDougald, Kasha          11 Junction City, KS         9.11   3 
 18 Smith, Amber              10 Cleveland, OH             9.11   2 
 20 Pachol, Nicole            09 Warren, OH                9.17   3 
 21 Howell, Brittney          10 Wyncote, PA               9.21   3 
 22 Ventrella, Lauren         09 Norwalk, CT               9.27   1 
 23 Cuthbertson, Teaunna      12 Salisbury, NC             9.32   3 
 24 Ferreira, Meghan          09 Mansfield, MA             9.45   2 
 
Girls 60 Meter Hurdles
================================================================
    National: N  8.16  2/16/2008   Jackie Coward, West, Knoxville, TN          
        Meet: M  8.28  3/11/2007   Jackie Coward, West, Knoxville, TN          
    Freshman: (  8.44  2/21/2009   Trinity Wilson, St. Mary's, Berkeley, CA    
   Sophomore: R  8.38  2/23/2008   Jasmine Stowers, Pendleton, SC              
      Junior: J  8.17  2/17/2007   Jackie Coward, West, Knoxville, TN          
      Senior: $  8.16  2/16/2008   Jackie Coward, West, Knoxville, TN          
    Name                    Year School                  Finals 
================================================================
Finals
  1 Stowers, Jasmin           10 Liberty, SC               8.30R 
  2 Flemings, Donique'        09 Fort Worth, TX            8.44( 
  3 Smith, Madalayne          10 Saratoga Springs, N       8.58  
  4 Linton, Christienne       09 Inkster, MI               8.60  
  5 Sorenson, Nevada          09 Sioux Falls, SD           8.65  
  6 Brown, Kristen            10 Columbia, MD              8.70  
  7 Pannell, Courtni          10 Hampton, VA               8.80  
  8 Owens-Mitchell, Bridgett  10 Oak Park, MI              8.81  
 
Girls 4x400 Meter Relay
===================================================================
 Sunday: Sections 1 through 4 at 11:50am; Section 5, 6 at 3:48pm
    National: N 3:38.91  3/14/2004   Poly, Long Beach, CA                      
        Meet: M 3:45.02  3/11/2007   Eleanor Roosevelt, Greenbelt, MD          
    School                                               Finals  H#
===================================================================
  1 Blazin Raiders                                      3:43.52M  6 
  2 Bethel HS                                           3:49.94   6 
  3 Booker T. Washington Hs-G                           3:51.44   6 
  4 Columbia HS                                         3:53.99   5 
  5 Lady Panthers                                       3:54.38   6 
  6 Collinwood HS                                       3:55.66   6 
  7 Wilson HS                                           3:55.93   5 
  8 Flower City AQ                                      3:57.22   5 
  9 Mountain Brook XC Club                              3:57.74   5 
 10 Fairport HS                                         3:58.38   5 
 11 Western Branch HS                                   3:58.64   4 
 12 Romulus TC                                          3:59.15   5 
 13 Bloomfield TC                                       4:00.19   4 
 14 Mansfield Tc-Girls                                  4:01.48   4 
 15 St. John the Baptist Dhs-Girls                      4:01.79   3 
 16 Garden City TC                                      4:01.84   2 
 17 Kellenberg Memorial Hs-Girls                        4:01.87   2 
 18 Running Patriots                                    4:02.78   1 
 19 Benet Academy                                       4:03.34   2 
 20 West Springfield HS                                 4:03.77   1 
 21 Classical Magnet                                    4:04.25   3 
 22 Chelmsford TC                                       4:04.30   3 
 23 The Harvard Striders                                4:04.49   2 
 24 Jenkintown RC                                       4:04.88   2 
 25 Andover TC                                          4:06.04   3 
 26 Old Bridge HS                                       4:06.13   3 
 27 Attleboro TC                                        4:06.99   1 
 28 Runner's High RC                                    4:08.21   1 
 29 Immaculate Heart Academy                            4:09.21   3 
 30 Flower City TC                                      4:18.57   1 
 
Girls 4x800 Meter Relay
================================================================
 Sunday: Sections 1 and 2 at 10:35am; Section 3 at 3:24pm
    National: N 8:53.67  3/1/2002    Boys and Girls, Brooklyn, NY              
        Meet: M 9:04.80  3/15/2006   Mountain Brook, Mountain Brook, AL        
    School                                               Finals 
================================================================
  1 Hammer Track & Field                                8:54.11M 
  2 Newton Centre Athletics                             8:58.63M 
  3 Mountain Brook XC Club                              8:59.18M 
  4 Sudbury TC                                          9:07.61  
  5 Shenendehowa                                        9:09.34  
  6 Irish Road TC                                       9:11.48  
  7 Blacksburg TC                                       9:13.68  
  8 Kinetic RC                                          9:21.12  
  9 Kellenberg Memorial Hs-Girls                        9:21.54  
 10 Fairport HS                                         9:28.08  
 11 Albany TC                                           9:29.45  
 12 Hunterdon Hawks TC                                  9:30.66  
 13 Bay Shore TC                                        9:31.34  
 14 Achilles TC                                         9:32.06  
 15 Columbia HS                                         9:32.65  
 16 Impulse                                             9:32.87  
 17 Arlington                                           9:33.22  
 18 West Springfield HS                                 9:35.53  
 19 Seneca TC                                           9:36.41  
 20 Liverpool Hs-Girls                                  9:39.57  
 21 Tewksbury TC                                        9:43.87  
 22 Notre Dame Hs-Nj                                    9:43.93  
 23 Massapequa TC                                       9:44.85  
 24 Tappan Zee HS                                       9:45.31  
 25 Hoffman Estates TC                                  9:45.58  
 26 East Meadow TC                                      9:48.52  
 27 Ulimate Athlete                                     9:48.84  
 28 St. John the Baptist Dhs-Girls                      9:50.56  
 29 Conard HS                                           9:57.24  
 
Girls Pole Vault
==========================================================================
 Unseeded section (fight 1 at 10am, Sunday) 12-4 or less;
 Seeded section (flight 2 at 1pm Sunday)12-6 or better
 Opening 10-8.75, 11-2.5, 11-8.5, 12-2.5, 12-6.25, 12-10.25,
 13-2.25, 13-6.25, 13-10, 14-0.5, 14-2.75
    National: N 14-02.50  2/10/2007   Tori Anthony, Castilleja, Palo Alto,CA   
        Meet: M    14-02  3/13/2005   Mary Saxer, Lancaster, NY                
    Freshman: ( 12-07.50  1999        Samantha Shepard, Weston, MA             
   Sophomore: R    13-06  1/20/2007   Shade Weygandt, Forney, TX               
      Junior: J    14-00  1/28/2006   Katie Veith, Homestead,Ft Wayne,IN       
      Senior: $ 14-02.50  2/10/2007   Tori Anthony, Castilleja, Palo Alto,CA   
    Name                    Year School                  Finals           
==========================================================================
  1 Beaumont-Courteau, Arian  09 Montreal, QC             4.17m   13-08.25 
     3.27 3.42 3.57 3.72 3.82 3.92 4.02 4.12 4.17 4.23 
      PPP  PPP  PPP    O    O    O    O   XO  XXO  XXX 
  2 Weygandt, Shade           09 Mansfield, TX            4.02m   13-02.25 
     3.27 3.42 3.57 3.72 3.82 3.92 4.02 4.12 
      PPP  PPP  PPP    O    O   XO   XO  XXX 
  3 LeLeux, Morgann           11 New Iberia, LA           4.02m   13-02.25 
     3.27 3.42 3.57 3.72 3.82 3.92 4.02 4.12 
      PPP  PPP    O    O    O  XXO   XO  XXX 
  4 Payne, Demi               10 Haslet, TX               3.92m   12-10.25 
     3.27 3.42 3.57 3.72 3.82 3.92 4.02 
      PPP   XO    O    O    O   XO  XXX 
  5 Finkel, Chrissy           09 Montville, NJ            3.82m   12-06.25 
     3.27 3.42 3.57 3.72 3.82 3.92 
      PPP    O   XO    O    O  XXX 
  6 Simpson, Shaylah          10 Phoenix, AZ              3.82m   12-06.25 
     3.27 3.42 3.57 3.72 3.82 3.92 
      PPP   XO    O   XO   XO  XXX 
  7 Worthen, Tory             09 Holland, PA              3.72m   12-02.50 
     3.27 3.42 3.57 3.72 3.82 
      PPP  PPP    O    O  XXX 
  8 Leroy, Sydnie             09 Port Jervis, NY          3.72m   12-02.50 
     3.27 3.42 3.57 3.72 3.82 
      PPP  PPP  XXO    O  XXX 
  9 Birkmeier, Sarah          10 Belmont, MI              3.72m   12-02.50 
     3.27 3.42 3.57 3.72 3.82 
      PPP    O  PPP   XO  XXX 
 10 Quimby, Michelle          09 Rensselaer, NY           3.72m   12-02.50 
     3.27 3.42 3.57 3.72 3.82 
      PPP    O   XO   XO  XXX 
 11 Weller, Megan             10 Plainfield, IL           3.72m   12-02.50 
     3.27 3.42 3.57 3.72 3.82 
      PPP    O   XO  XXO  XXX 
 11 Pompei, Nicole            09 East Hanover, NJ         3.72m   12-02.50 
     3.27 3.42 3.57 3.72 3.82 
      PPP    O  XXO   XO  XXX 
 11 VanMeter, Merritt         10 New Orleans, LA          3.72m   12-02.50 
     3.27 3.42 3.57 3.72 3.82 
      PPP    O    O  XXO  XXX 
 14 Kimble, Richelle          09 Lowell, MI               3.57m   11-08.50 
     3.27 3.42 3.57 3.72 
       XO    O   XO  XXX 
 14 Rea, McKinley             09 Conway, AR               3.57m   11-08.50 
     3.27 3.42 3.57 3.72 
       XO   XO    O  XXX 
 14 DeCarteret, Jillena       09 East Templeton, MA       3.57m   11-08.50 
     3.27 3.42 3.57 3.72 
        O    O   XO  XXX 
 14 Patterson, Lindsey        09 Atkinson, NH             3.57m   11-08.50 
     3.27 3.42 3.57 3.72 
      PPP   XO   XO  XXX 
 14 Barousse, Kathryn         10 Lafayette, LA            3.57m   11-08.50 
     3.27 3.42 3.57 3.72 
      PPP  PPP  XXO  XXX 
 14 Hamscher, Brooke          10 Whitehall, PA            3.57m   11-08.50 
     3.27 3.42 3.57 3.72 
        O   XO  XXO  XXX 
 20 Hadfield, Linda           10 Yorkville, NY            3.42m   11-02.50 
     3.27 3.42 3.57 
      PPP    O  XXX 
 20 Morrison, Kaleigh         10 Tigard, OR               3.42m   11-02.50 
     3.27 3.42 3.57 
        O    O  XXX 
 20 Whisonant, Betsey         09 Cody, WY                 3.42m   11-02.50 
     3.27 3.42 3.57 
        O    O  XXX 
 20 Collins, Katherine        09 Lovingston, VA           3.42m   11-02.50 
     3.27 3.42 3.57 
        O   XO  XXX 
 20 Bales, Anna               11 Cody, WY                 3.42m   11-02.50 
     3.27 3.42 3.57 
       XO  XXO  XXX 
 20 Toone, Morgan             09 Belton, TX               3.42m   11-02.50 
     3.27 3.42 3.57 
      PPP    O  XXX 
 26 Watson, Christina         09 Perry, MI                3.27m   10-08.75 
     3.27 3.42 
       XO  XXX 
 26 McGlade, Colleen          09 Stafford, VA             3.27m   10-08.75 
     3.27 3.42 
      XXO  XXX 
 26 Urciuoli, Emily           10 Clifton, NJ              3.27m   10-08.75 
     3.27 3.42 
        O  XXX 
 26 Favre, Michelle           09 Saddle Brook, NJ         3.27m   10-08.75 
     3.27 3.42 
        O  XXX 
 26 Cook, Taylor              09 Boone, NC                3.27m   10-08.75 
     3.27 3.42 
        O  XXX 
 26 Ginyard, Camille          10 Apalachin, NY            3.27m   10-08.75 
     3.27 3.42 
        O  XXX 
 26 Impellizzeri, Amanda      09 Kentwood, MI             3.27m   10-08.75 
     3.27 3.42 
       XO  XXX 
 -- Marshall, Mandissa        09 Mountaintop, PA             NH            
     3.27 3.42 
      PPP  XXX 
 -- Powell, Kassie            11 Durand, MI                  NH            
     3.27 
      XXX 
 -- Benfey, Kelly             10 Herkimer, NY                NH            
     3.27 
      XXX 
 
Girls Long Jump
==========================================================================
    National: N 21-07.50  1/31/1981   Carol Lewis, Willingboro, NJ             
        Meet: M 20-06.25  3/15/2003   Marshevet Hooker, Southwst,San Antonio,TX
    Freshman: (    19-07  2003        De Ana Carson, Vista d Lago, Mr Val,CA   
   Sophomore: R 20-00.25  1/30/2008   Jen Clayton, Suffern, NY                 
      Junior: J    21-04  1976        Kathy McMillan, Hoke County,Raeford, NC  
      Senior: $ 21-07.50  1/31/1981   Carol Lewis, Willingboro, NJ             
    Name                    Year School                  Finals           
==========================================================================
  1 Porter, Brittany          09 Ellenwood, GA            6.28m   20-07.25 
      6.28m  6.07m  5.91m  6.02m  PASS  FOUL
  2 Dunn, Karynn              09 Walnut, CA               6.09m   19-11.75 
      6.09m  6.07m  FOUL  FOUL  5.96m  5.89m
  3 Geubelle, Andrea          09 University Place, W      6.04m   19-09.75 
      5.70m  5.57m  5.76m  5.58m  5.93m  6.04m
  4 Townsend, Jazmen          10 Chesapeake, VA           5.89m   19-04.00 
      5.58m  5.63m  5.47m  5.58m  5.33m  5.89m
  5 Linton, Christienne       09 Inkster, MI              5.72m   18-09.25 
      FOUL  5.58m  PASS  FOUL  5.72m  5.06m
  6 Busbee, Erin              10 Cleveland, OH            5.66m   18-07.00 
      5.57m  5.61m  5.66m  3.52m  5.66m  5.54m
  7 Brewer, Ciarra            11 Union City, CA           5.63m   18-05.75 
      5.56m  FOUL  FOUL  FOUL  5.63m  PASS
  8 Wilkins, Brittany         09 Burlington, NC           5.60m   18-04.50 
      5.60m  5.25m  5.43m  5.15m  FOUL  PASS
  9 Athill, Shantal           09 Montclair, NJ            5.53m   18-01.75 
      5.05m  5.16m  5.53m            
 10 McDougald, Kasha          11 Junction City, KS        5.48m   17-11.75 
      5.31m  5.28m  5.48m            
 11 Bell, Champagne           09 Chesapeake, VA           5.44m   17-10.25 
      5.44m  FOUL  5.44m            
 12 McDonald, Marissa         09 Hummelstown, PA          5.43m   17-09.75 
      5.43m  FOUL  5.38m            
 13 Howell, Brittney          10 Wyncote, PA              5.41m   17-09.00 
      5.41m  5.38m  5.19m            
 14 Poles, Jasmine            10 Franklin TC              5.37m   17-07.50 
      4.96m  5.09m  5.37m            
 15 Harris, Tiffany           09 Portsmouth, VA           5.35m   17-06.75 
      5.35m  5.23m  FOUL            
 16 Brown, Kristen            10 Columbia, MD             5.31m   17-05.25 
      5.31m  4.75m  PASS            
 17 McNish, Patrica           09 Hempstead, NY            5.29m   17-04.25 
      5.23m  5.29m  4.83m            
 18 Collins, Samantha         09 Mesa, AZ                 5.28m   17-04.00 
      5.14m  5.10m  5.28m            
 19 Smith, Nefertiti          11 Chesapeake, VA           5.27m   17-03.50 
      FOUL  5.27m  5.24m            
 20 Biggs, Vernetta           10 Fort Washington, MD      5.26m   17-03.25 
      4.87m  5.09m  5.26m            
 21 Guy, Olivia               09 Rochester, NY            5.19m   17-00.50 
      4.58m  4.72m  5.19m            
 22 Dibernardo, Christina     11 N. Bellmore, NY          5.15m   16-10.75 
      FOUL  FOUL  5.15m            
 23 Baltimore, Ashtynn        09 Walnut, CA               5.09m   16-08.50 
      FOUL  FOUL  5.09m            
 24 Daniels, Shannon          10 Philadelphia, PA         5.07m   16-07.75 
      5.07m  4.60m  4.86m            
 25 Briggs, Jocelyn           09 Exeter, NH               5.05m   16-07.00 
      FOUL  4.97m  5.05m            
 26 White, Tanaye             10 Southington, CT          5.00m   16-05.00 
      FOUL  4.92m  5.00m            
 27 Presnar, Leah             10 Erie, PA                 5.00m   16-05.00 
      4.50m  5.00m  4.75m            
 28 Nathan, Starr             09 Woburn, MA               4.99m   16-04.50 
      4.99m  4.57m  4.24m            
 29 Brangman, Shawnae         11 Paget, PAG               4.84m   15-10.50 
      4.84m  4.67m  4.67m            
 30 Donaldson, Ciara          10 Belleville, MI           4.75m   15-07.00 
      FOUL  4.74m  4.75m            
 31 Ford-Holland, Siobhan     11 Chester, VA              4.62m   15-02.00 
      4.23m  4.54m  4.62m            
 32 Pavy, Riketa              10 Paget, PAG               4.62m   15-02.00 
      4.62m  3.92m  4.32m            
 33 Dunham, Jazmine           09 Rochester, NY            4.61m   15-01.50 
      FOUL  FOUL  4.61m            
 34 Steede, Farah             12 Paget, PAG               4.29m   14-01.00 
      FOUL  FOUL  4.29m            
 
Girls Shot Put
==========================================================================
    National: N 54-09.50  3/16/2003   Michelle Carter, Red Oak, TX             
        Meet: M 54-09.50  3/16/2003   Michelle Carter, Red Oak, TX             
    Freshman: ( 45-07.25  1991        Collinus Newsome, South, Denver, Co      
   Sophomore: R    48-11  3/13/2005   Kamorean Hayes, Harding, Charlotte, NC   
      Junior: J 52-05.75  2/8/1997    Heather Colyer, E Juniata,Cocolamus, PA  
      Senior: $ 54-09.50  3/16/2003   Michelle Carter, Red Oak, TX             
    Name                    Year School                  Finals           
==========================================================================
  1 Labonte, Julie            10 Montreal, QC            15.79m   51-09.75 
      14.84m  15.40m  15.74m  FOUL  FOUL  15.79m
  2 Adams, Ashley             09 Rochester, PA           13.40m   43-11.75 
      13.15m  12.80m  12.87m  12.97m  13.06m  13.40m
  3 Berg, Emmaline            09 Holliston, MA           12.87m   42-02.75 
      12.61m  12.02m  12.26m  12.87m  12.84m  12.69m
  4 Halvorson, Aslynn         09 Charlotte, NC           12.85m   42-02.00 
      12.42m  12.25m  FOUL  12.65m  12.85m  12.51m
  5 Watt, Shannon             09 Jackson, NJ             12.78m   41-11.25 
      12.78m  11.81m  12.23m  FOUL  12.41m  12.40m
  6 Young, Moriah             09 Owings Mills, MD        12.48m   40-11.50 
      11.35m  FOUL  12.48m  12.28m  12.14m  11.88m
  7 Imbesi, Victoria          09 Estell  Manor, NJ       12.46m   40-10.50 
      12.11m  11.91m  12.15m  11.46m  12.46m  12.29m
  8 Shirk, Paige              10 Clear Spring, MD        12.17m   39-11.25 
      11.97m  11.50m  12.07m  11.79m  11.92m  12.17m
  9 Rybicki, Genevieve        09 Williamstown, NJ        12.03m   39-05.75 
      11.89m  FOUL  12.03m            
 10 McCabe, Kelly             09 Mansfield, MA           11.97m   39-03.25 
      11.97m  11.21m  11.66m            
 11 Berg, Lauren              09 Stoneham, MA            11.92m   39-01.25 
      11.92m  11.74m  FOUL            
 12 Foster, Sanya             09 springfield, MA         11.87m   38-11.50 
      11.87m  FOUL  FOUL            
 13 Johnson, Antoinette       09 East Irondequoit        11.86m   38-11.00 
      10.84m  11.86m  11.08m            
 14 Cobb, Sydni               10 Chesapeake, VA          11.83m   38-09.75 
      10.85m  10.95m  11.83m            
 15 Mbianda, Nalis            09 Newton, MA              11.82m   38-09.50 
      11.70m  11.75m  11.82m            
 16 Sims, Ashley              10 Ridgwood, NJ            11.74m   38-06.25 
      11.52m  11.74m  11.37m            
 17 Wasco, Nicole             09 Herkimer, NY            11.61m   38-01.25 
      10.82m  11.61m  FOUL            
 18 Wade, Olivia              10 Ridgwood, NJ            11.57m   37-11.50 
      10.72m  11.57m  11.55m            
 19 Brown, Cherrice           09 Bay Shore, NY           11.42m   37-05.75 
      10.66m  11.39m  11.42m            
 20 Chauvin, Krista           10 Seekonk, MA             11.37m   37-03.75 
      10.48m  11.37m  10.88m            
 21 Funk, Catherine           09 Scarborough, ME         11.33m   37-02.25 
      11.03m  FOUL  11.33m            
 22 Koppelman, Emily          09 Annandale, VA           11.15m   36-07.00 
      11.15m  10.93m  10.77m            
 23 Sullivan, Shannon         09 Teaneck, NJ             11.08m   36-04.25 
      FOUL  10.62m  11.08m            
 24 Fossa, Danielle           09 Waterville, ME          11.08m   36-04.25 
      10.08m  11.08m  10.46m            
 25 Franco, Haley             09 Saratoga Springs, N     10.62m   34-10.25 
      10.62m  FOUL  FOUL            
 26 Okwara, Nnenna            09 Charlotte, NC           10.54m   34-07.00 
      10.54m  FOUL  FOUL            
 27 Weaver, Juanita           09 Greenbelt, MD           10.35m   33-11.50 
      9.20m  9.59m  10.35m            
 28 Westover, Julia           09 Lebanon, NH             10.04m   32-11.25 
      10.04m  FOUL  FOUL            
 -- Vannoy, Emily             09 Frederick, MD             FOUL            
      FOUL  FOUL  FOUL            
 
Boys 60 Meter Dash
===================================================================
24 Advance:  Top 2 Each Heat plus Next 10 Best Times
    National: N  6.57  3/14/1999   Casey Combest, Owensboro, KY                
        Meet: M  6.57  3/14/1999   Casey Combest, Owensboro, KY                
    Freshman: (  6.78  2001        Jerald Watson, Cent Cath, MorganCityLA      
   Sophomore: R  6.67  2/16/2007   Jeremy Rankin, Overland, Aurora, CO         
      Junior: J  6.64  1/12/2008   Jeremy Rankin, Overland, Aurora, CO         
      Senior: $  6.57  3/14/1999   Casey Combest, Owensboro, KY                
    Name                    Year School                 Prelims  H#
===================================================================
Preliminaries
  1 Hunt, Torrance            09 Durham, NC              ( 6.70Q  5 
  2 Smith, Devon              09 White Plains, MD        ( 6.71Q  3 
  3 Locke, Dentarius          09 Tampa, FL                 6.79Q  7 
  4 Benion Jr., DeVaughn      11 Danville, VA              6.90Q  2 
  5 Sylve, Bradley            11 Port Sulphur, LA          6.93Q  1 
  6 House, Earl               09 Hampton, VA               6.96Q  6 
  7 McConnell, Christopher    10 andover, MA               7.00Q  4 
  8 Edwards, Jordan           09 Littleton, CO             6.94Q  3 
  8 Heriot, Blake             10 Gahanna, OH               6.94Q  2 
 10 Ansley, Ramaan            09 Philladelphia, PA         6.96Q  5 
 11 Mayne, Romarr             09 Wernersville, PA          7.00Q  7 
 12 Bailey, Aaron             10 Brownstown, MI            7.03Q  4 
 13 Wilson, David             09 Danville, VA              7.05Q  1 
 14 Royster, Chris            10 Conyers, GA               7.13Q  6 
 15 Lewis, Miles              09 Farmingville, NY          6.98q  2 
 16 Lord, Justin              10 Augusta, GA               6.99q  5 
 17 Isijola, Ayo              09 Brooklyn, NY              7.06q  5 
 17 Johnson, Dre              10 Rochester, NY             7.06q  7 
 19 Spears, Jamal             09 Louisa, VA                7.08q  7 
 19 Byrd, Damiere             11 Sicklerville, NJ          7.08q  4 
 19 Rachiele, Jake            09 Farmingdale, NY           7.08q  5 
 22 Styron, Daishawn          09 New Bern, NC              7.09q  3 
 23 LeBlanc, Kyle             10 Newburyport, MA           7.10q  7 
 24 Goldstone, Rico           10 Allentown, PA             7.12q  7 
 25 Linares, Chis             10 Canton, CT                7.14   5 
 25 Brooks, Xavier            10 West Hempstead, NY        7.14   2 
 27 Saint Jean, Anthony       09 Nashua, NH                7.15   1  7.142
 28 Houston, Chris            09 Harrisburg, PA            7.15   1  7.150
 28 Reilly, Connor            09 Niskayuna, NY             7.15   6 
 30 Overare, Peter            09 Erie, PA                  7.16   2 
 31 Johnson, DeMario          10 Junction City, KS         7.19   4 
 32 Whitlock, Bryan           10 Rochester, NY             7.23   6 
 33 Graham, Maurice           09 Atlanta, GA               7.24   3 
 34 Rich, Stephen             09 Plymouth, MI              7.27   6 
 35 Perkins, Christopher      09 Boston, MA                7.28   4 
 35 McDougald, Forika         09 Junction City, KS         7.28   1 
 37 Regan, Timothy            10 Plymouth, MA              7.30   2 
 38 Swope, Tyler              09 waynesboro, PA            7.32   7 
 39 Blair, Julian             10 La Plata, MD              7.34   4 
 39 Neal, Brandon             09 Philadelphia, PA          7.34   7 
 41 Dutton, Edward            10 Knoxville, TN             7.43   2 
 42 Kisselman, Seth           10 Littleton, CO             7.44   5 
 43 Lewis, Treet              09 Philadelphia, PA          7.45   4 
 44 Vieux, Jumoke             09 Rochester, NY             7.49   1 
 45 Lynch, Dominique          10 Ypsilanti, MI             7.67   6 
 46 Mason, Curtis             09 Inkster, MI               8.14   3 
 
Boys 60 Meter Dash
===================================================================
8 Advance:  Top 2 Each Heat plus Next 2 Best Times
    National: N  6.57  3/14/1999   Casey Combest, Owensboro, KY                
        Meet: M  6.57  3/14/1999   Casey Combest, Owensboro, KY                
    Freshman: (  6.78  2001        Jerald Watson, Cent Cath, MorganCityLA      
   Sophomore: R  6.67  2/16/2007   Jeremy Rankin, Overland, Aurora, CO         
      Junior: J  6.64  1/12/2008   Jeremy Rankin, Overland, Aurora, CO         
      Senior: $  6.57  3/14/1999   Casey Combest, Owensboro, KY                
    Name                    Year School                   Semis  H#
===================================================================
Semi-Finals
  1 Smith, Devon              09 White Plains, MD        R 6.67Q  1 
  2 Hunt, Torrance            09 Durham, NC              ( 6.70Q  2 
  3 Locke, Dentarius          09 Tampa, FL                 6.79Q  3 
  4 House, Earl               09 Hampton, VA               6.84Q  2 
  5 Benion Jr., DeVaughn      11 Danville, VA              6.88Q  3 
  5 Sylve, Bradley            11 Port Sulphur, LA          6.88Q  1 
  7 Isijola, Ayo              09 Brooklyn, NY              6.91q  2  6.904
  8 Lewis, Miles              09 Farmingville, NY          6.91q  3  6.910
  9 McConnell, Christopher    10 andover, MA               6.92   2 
 10 Edwards, Jordan           09 Littleton, CO             6.93   3 
 10 Mayne, Romarr             09 Wernersville, PA          6.93   1 
 12 Ansley, Ramaan            09 Philladelphia, PA         6.94   3 
 12 Lord, Justin              10 Augusta, GA               6.94   3 
 14 Wilson, David             09 Danville, VA              6.95   2 
 15 Byrd, Damiere             11 Sicklerville, NJ          7.00   3 
 16 Johnson, Dre              10 Rochester, NY             7.03   1 
 17 Rachiele, Jake            09 Farmingdale, NY           7.04   2 
 18 Styron, Daishawn          09 New Bern, NC              7.05   3 
 19 Spears, Jamal             09 Louisa, VA                7.10   1  7.091
 19 LeBlanc, Kyle             10 Newburyport, MA           7.10   1  7.099
 21 Royster, Chris            10 Conyers, GA               7.13   1 
 22 Bailey, Aaron             10 Brownstown, MI            7.16   2 
 -- Heriot, Blake             10 Gahanna, OH                 FS   1 
 
Boys 60 Meter Dash
================================================================
    National: N  6.57  3/14/1999   Casey Combest, Owensboro, KY                
        Meet: M  6.57  3/14/1999   Casey Combest, Owensboro, KY                
    Freshman: (  6.78  2001        Jerald Watson, Cent Cath, MorganCityLA      
   Sophomore: R  6.67  2/16/2007   Jeremy Rankin, Overland, Aurora, CO         
      Junior: J  6.64  1/12/2008   Jeremy Rankin, Overland, Aurora, CO         
      Senior: $  6.57  3/14/1999   Casey Combest, Owensboro, KY                
    Name                    Year School                  Finals 
================================================================
Finals
  1 Smith, Devon              09 White Plains, MD          6.63J 
  2 Hunt, Torrance            09 Durham, NC                6.72( 
  3 Locke, Dentarius          09 Tampa, FL                 6.81  
  4 House, Earl               09 Hampton, VA               6.83  
  5 Lewis, Miles              09 Farmingville, NY          6.89  
  6 Benion Jr., DeVaughn      11 Danville, VA              6.90  
  7 Isijola, Ayo              09 Brooklyn, NY              6.94  
  8 Sylve, Bradley            11 Port Sulphur, LA          6.97  
 
Boys 200 Meter Dash
===================================================================
 Final of 8 fastest qualifers in 2 heats of 4
    National: N 20.69  3/14/2004   Xavier Carter, Palm Bay, Melbourne, FL      
        Meet: M 21.22  3/13/2005   J-Mee Samuels, Mt Tabor,Wins-Salem,NC       
    Freshman: ( 21.95  2001        Michael Grant, S. Gwinnett SnellvilleGA     
   Sophomore: R 21.62  1/13/2007   Rynell Parson, Stevens,San Antonio,TX       
      Junior: J 21.02  2001        Brendan Christian, Reagan, Austin, TX       
      Senior: $ 20.69  3/14/2004   Xavier Carter, Palm Bay, Melbourne, FL      
    Name                    Year School                  Finals  H#
===================================================================
  1 Greene, Fuqauwn           10 New Bern, NC             21.53R  1 
  2 Tate, Tavaris             09 Starkville, MS           21.55R  2 
  3 Heriot, Blake             10 Gahanna, OH              21.84(  2 
  4 Hill, Jordan              10 Charlottesville, VA      21.93(  1 
  5 Jackson, Lamont           09 Winston-Salem, NC        22.05   2 
  6 Murray, B.J.              09 Rochester, NY            22.25   1 
  7 Thomas, John              10 Brooklyn, NY             22.26   1 
 
Boys 400 Meter Run
===================================================================
 Final of 8 fastest qualifers in 2 heats of 4
    National: N 45.92  2/21/2004   Elzie Coleman, Newburgh, NY                 
        Meet: M 47.12  3/11/2007   Sean Holston, Lee, Springfield, VA          
    Freshman: ( 48.76  1985        William Reed, Central, Philadelphia,PA      
   Sophomore: R 46.84  2/22/1986   William Reed, Central, Phildephia, PA       
      Junior: J 47.37  3/13/2005   Bryant Mc Combs, Old Bridge, NJ             
      Senior: $ 45.92  2/21/2004   Elzie Coleman, Newburgh, NY                 
    Name                    Year School                  Finals  H#
===================================================================
  1 Tate, Tavaris             09 Starkville, MS           47.84(  2 
  2 Parros, Clayton           09 Bloomfield, NJ           47.85(  2 
  3 Heriot, Blake             10 Gahanna, OH              48.30(  1 
  4 Sykes, Taylor             10 Chesapeake, VA           48.48(  2 
  5 Verburg, David            09 Lynchburg, VA            48.69(  1 
  6 Quercia, Michael          10 Skaneateles, NY          49.08   1 
  7 Jackson, Lamont           09 Winston-Salem, NC        49.46   1 
  8 Sparrow, Javanti          09 Chesapeake, VA           49.74   2 
 
Boys 800 Meter Run
================================================================
 Sunday: Sections 1 through 7 at 8:15am; Sections 8,9 at 2:16pm
    National: N 1:50.55  3/12/1995   Michael Granville, Bell Gardens, CA       
        Meet: M 1:51.63  3/11/2007   Alex Mostrag, Fork Union M.A., VA         
    Freshman: ( 1:55.45  2005        Andrew Perkins, Watertown, WI             
   Sophomore: R 1:51.11  1994        Michael Granville, Bell Gardens, CA       
      Junior: J 1:50.55  3/12/1995   Michael Granville, Bell Gardens, CA       
      Senior: $ 1:51.26  1987        George Kersh, Pearl, MS                   
      Senior: $ 1:50.70  1981        John Marshall, Plainfield, NJ             
    Name                    Year School                  Finals 
================================================================
  1 Ledder, Bill              10 Falls Church, VA       1:52.75( 
  2 Mallon, Tom               10 Chalfont, PA           1:53.29( 
  3 Brinn, Tommy              09 Otsego, MI             1:53.62( 
  4 Livingston, Terrance      09 Great Neck, NY         1:53.66( 
  5 Weinheimer, Alex          09 Boulder, CO            1:54.23( 
  6 Loxsom, Cas               09 New Haven, CT          1:54.94( 
  7 Stogsdill, Chris          09 Skaneateles, NY        1:55.80  
  8 McCuiston, David          09 Monroe, NC             1:56.54  
  8 Palmisano, Michael        09 Dresher, PA            1:56.54  
 10 Scharold, Robbie          10 Crestview Hills, KY    1:56.57  
 11 Chaney, Jordan            09 Knoxville, TN          1:56.87  
 12 Peruski, Tayler           09 West Bloomfield, MI    1:57.05  
 13 Hencke, Brian             09 Blacksburg, VA         1:57.11  
 14 Bartholomew, Wayne        09 North Potomac, MD      1:57.13  
 15 Schilkowsky, John         10 Morganton, NC          1:57.22  
 16 Vance, Luke               09 South Hamilton, MA     1:57.36  
 17 Reilly, Paul              09 Dresher, PA            1:57.37  
 18 Tobias, Alney             10 Lansingburgh, NY       1:57.76  
 19 Hull, Kevin               09 Lancaster, PA          1:58.25  
 20 Gonzalez, Matthew         09 Princeton, NJ          1:58.51  
 21 Doyle, Joe                09 Lancaster, MA          1:58.60  
 22 Bell, Ford                10 Brentwood, TN          1:58.65  
 23 Gunnerson, David          10 Yorktown, VA           1:58.96  
 24 Pogue, Chonsey            09 Detroit, MI            1:59.01  
 25 Anderson, Max             10 Woodberry Forest, V    1:59.06  
 26 Wolfe, John               10 Lynn, NC               1:59.07  
 27 Dixon, Breon              09 Brentwood, TN          1:59.14  
 28 Jones, Austin             09 Pfafftown, NC          1:59.16  
 29 Harwood, Robby            10 Princeton, NJ          1:59.31  
 30 Allen, Brian              09 lorton, VA             1:59.45  
 31 Haney, Caleb              09 Fork Union, VA         1:59.48  
 32 Lotti, Steven             09 New Hyde Park, NY      1:59.52  
 33 Brown, Dave               09 Chelmsford, MA         1:59.78  
 34 Edwards, Jovon            09 Greenbelt, MD          2:00.14  
 35 Healy, Ryan               10 Syosset, NY            2:00.25  
 36 Lacks, Devin              09 richmond, VA           2:00.38  
 37 Fitzgerald, Barry         09 Tonawanda, NY          2:00.40  
 38 Lavis, Adam               09 Pfafftown, NC          2:00.48  
 39 Ashley, Jordan            09 Bellmore, NY           2:00.55  
 40 Lancaster, Anthony        09 Fort Washington, PA    2:00.57  
 41 Kaczka, Greg              09 Glen Allen, VA         2:00.60  
 42 Cumberlander, Tyler       09 Westfield, MA          2:00.63  
 43 Gibbons, Will             09 Lexington, MA          2:00.69  
 44 Dixon, Michael            09 Selden, NY             2:00.98  
 45 DiGangi, John             11 Westerly, RI           2:01.46  
 46 Foy, Scott                11 Charlotte, NC          2:01.47  
 47 Rogers, Jaleel            09 Phila, PA              2:01.54  
 48 Brown, Jeffrey            10 Medfield, MA           2:01.71  
 49 Rodimom, Jarrod           09 Milford, NH            2:01.88  
 50 Vietri, Robert            09 Nesconset, NY          2:01.95  
 51 Hall, Spencer             10 South Lyon, MI         2:01.97  
 52 Magna, Brian              10 Canton, CT             2:02.00  
 53 Gregorski, Chris          09 Montgomery Village,    2:02.04  
 54 Werner, Christopher       09 Chesapeake, VA         2:02.08  
 55 Panebianco, Matt          09 Congers, NY            2:02.17  
 56 Duchemin, Corey           09 Manchester, NH         2:02.27  
 57 Bloom, James              10 weston, CT             2:02.30  
 58 Fisher, Rich              09 West Berlin, NJ        2:02.50  
 59 Hanlon, Sean              09 Marblehead, MA         2:02.71  
 60 Lewis, Tyler              09 Foxboro, MA            2:03.05  
 61 Long, Alex                09 Newton, MA             2:03.07  
 62 Day, Sean                 09 Pittsford, NY          2:03.33  
 63 Teeter, John              09 Winston-Salem, NC      2:03.40  
 64 Kane, Danny               09 Congers, NY            2:03.49  
 65 Hashmall, Patrick         09 Yorktown Hts., NY      2:03.74  
 66 Nelson, Gehrig            10 Columbia, TN           2:03.84  
 67 Schneider, Brandon        09 South Lyon, MI         2:03.93  
 68 Wallek, Adam              09 North Dighton, MA      2:04.00  
 69 Robinson, DaVon           09 Ridgwood, NJ           2:04.46  
 70 Spencer, Geoff            09 Louisville, KY         2:04.53  
 71 Matais, George            10 Chesapeake, VA         2:04.74  
 72 Hillenbrand, Matt         10 Louisville, KY         2:05.43  
 73 Slight, Ethan             09 Cody, WY               2:06.05  
 74 Horowitz, Coby            10 Stow, MA               2:06.17  
 75 Melendez, Angelo          11 West Hempstead, NY     2:06.65  
 76 Escanciano, Manuel        09 Culter Bay, FL         2:06.66  
 77 White, Dereck             09 Philadelphia, PA       2:06.79  
 78 Brandstetter, Christian   09 McMurray, PA           2:06.81  
 79 Bryant, Arthur            09 Woodberry Forest, V    2:08.24  
 80 Carrasco, Edgar           09 Durham, CT             2:09.00  
 81 Newcomb, Kaylan           11 Marion, IN             2:09.54  
 82 Duarte, Andrew            09 Rocky Hill, CT         2:09.76  
 83 Barnes, Ronald (Banks)    09 New Bern, NC           2:09.94  
 84 Ricker, Will              10 Old Lyme, CT           2:10.65  
 85 Cain, Michael             11 Pittsburgh, PA         2:12.63  
 
Boys 1 Mile Run
================================================================
 Sunday: Sections 1 and 2 at 11:40am; Sections 3 and 4 at 1:00pm
    National: N 3:59.86  1/20/2001   Alan Webb, South Lakes, Reston, VA        
        Meet: M 4:07.87  3/2000      Alan Webb, South Lakes, Reston, VA        
    Freshman: ( 4:21.20  2/12/2005   Andrew Perkins, Watertown, WI             
   Sophomore: R 4:09.82  1997        Andy Powell, Oliver AmesN Easton, MA      
      Junior: J 4:07.34  1998        Andy Powell, Oliver AmesN Easton, MA      
      Senior: $ 3:59.86  1/20/2001   Alan Webb, South Lakes, Reston, VA        
    Name                    Year School                  Finals 
================================================================
  1 Springer, Andrew          09 Westerly, RI           4:08.47R 
  2 McGregor, Pat             09 Hoover, AL             4:08.61R 
  3 Fleet, Mac                09 San Diego, CA          4:08.65R 
  4 Stutzman, Tyler           09 Charlottesville, VA    4:10.13( 
  5 Johnson, Brett            09 Ocean City, NJ         4:12.49( 
  6 Hatz, Alex                10 Manlius, NY            4:12.80( 
  7 Abdi, Omar                09 North Andover, MA      4:15.55( 
  8 Efurd, Cameron            09 Rogers, AR             4:16.19( 
  9 Leuchanka, Aliaksandr     09 Rensselaer, NY         4:16.37( 
 10 Serafini, Louis           09 Niskayuna, NY          4:18.39( 
 11 Revord, Connor            09 Tampa, FL              4:19.19( 
 12 Bertolotti, Marco         10 Port Washington, NY    4:19.27( 
 13 Hamm, Jordan              09 Java Center, NY        4:21.42  
 14 Hobart, T.J.              09 Pittsburgh, PA         4:22.23  
 15 Hunt, Mitchell            09 Fremont, NE            4:22.38  
 16 Jones, Byron              10 westborough, MA        4:22.68  
 17 Gregorek, Johnny          10 Seekonk, MA            4:22.80  
 18 Barker, Colin             10 Atlantic Beach, FL     4:23.67  
 19 O'Loughlin, Tim           09 Westerly, RI           4:24.42  
 20 Taft, Patrick             09 Hanson, MA             4:24.73  
 21 Theroux, Blake            10 Chesapeake, VA         4:25.29  
 22 Morgan, Craig             09 Dayton, MD             4:26.02  
 23 DeSabato, Patrick         09 Narberth, PA           4:26.11  
 24 Hoyt, Ricky               09 Lee, NH                4:27.34  
 25 Hathaway, Nate               Scarborough, ME        4:27.36  
 26 Lachman, Nicholas         10 Robbinsville, NJ       4:27.83  
 27 Escobar, Nicolas          10 Montgomery Village,    4:28.18  
 28 Arnold, Andrew            09 Mantua, NJ             4:28.89  
 29 Hix, Peter                10 Centerville, OH        4:29.93  
 30 Schuchinsky, Daniel       09 Branchburg, NJ         4:30.25  
 31 Sterling, Henry           09 Una-ME-S Freepor       4:30.31  
 32 Allen, Robert             11 Warwick, RI            4:31.81  
 33 Pajor, Ryan               11 Glastonbury, CT        4:32.96  
 34 Wunsch, Chris             09 Columbia, MD           4:33.52  
 35 Palmer, Andrew            10 Bethesda, MD           4:36.22  
 36 Masse, Mike               09 Marblehead, MA         4:40.74  
 -- Wallace, Michael          10 Jacksonville, FL           DNF  
 
Boys 2 Mile Run
================================================================
 Sunday: Sections 1,2, 3 at 7:30am; Section 4 at 2:50pm
    National: N 8:40.00  2/15/1964   Gerry Lindgren, Rogers, Spokane, WA       
        Meet: M 8:45.19  3/2001      Alan Webb, South Lakes, Reston, VA        
    Freshman: ( 9:16.65  2005        Sintayehu Taye, Portland, OR              
   Sophomore: R 8:55.80  1974        Rudy Chapa, Hammond, IN                   
      Junior: J 8:52.94  2000        Dathan Ritzenhein, Rockford, MI           
      Senior: $ 8:40.00  2/15/1964   Gerry Lindgren, Rogers, Spokane, WA       
    Name                    Year School                  Finals 
================================================================
  1 Verzbicas, Lukas          12 New Lenox, IL          8:57.44( 
  2 Rickman, Wes              09 Falcon, CO             9:01.92( 
  3 Matthews, Bill            09 Birmingham, AL         9:05.38( 
  4 Johnson, Kevin            09 Falcon, CO             9:06.24( 
  5 Springer, Andrew          09 Westerly, RI           9:06.25( 
  6 Andrews, Bobby            09 Wading River, NY       9:06.68( 
  7 Pohorence, Sean           09 Rockaway, NJ           9:07.71( 
  8 McKelvey, Clint           10 Knoxville, TN          9:15.15( 
  9 Veilleux, Ben             09 Boyce, VA              9:16.45( 
 10 Peavey, Bobby             09 Virginia Beach, VA     9:17.58  
 11 Wills, Zach               11 Mason, OH              9:17.88  
 12 Sonnenfeldt, Matthew      09 Knoxville, TN          9:21.85  
 13 Satterwhite, Kyle         09 Charlottesville, VA    9:24.53  
 14 Mizereck, Matthew         10 Tallahassee, FL        9:27.83  
 15 Bendtsen, Chris           10 Wolcott, CT            9:28.36  
 16 Bollinger, Steven         09 Charlotte, NC          9:28.93  
 17 Ali, Ahmed                09 North Andover, MA      9:29.35  
 18 Wallace, Michael          10 Jacksonville, FL       9:29.66  
 19 Mercurio, Connor          09 East Providence, RI    9:31.08  
 20 Abushouk, Mohamed         10 Cary, NC               9:31.35  
 21 Nicolls, Danny            10 Parker, CO             9:31.55  
 22 Beveridge, Joe            09 Harrisburg, PA         9:37.11  
 23 Kilgore, David            11 Melbourne, FL          9:37.97  
 24 Sharpe, John              10 Oak Ridge, TN          9:39.63  
 25 Camacho, Dionis           09 Providence, RI         9:41.49  
 26 Carnes, Jackson           10 Louisville, KY         9:41.82  
 27 Doyle, Brian              10 Warwick, RI            9:44.27  
 28 Gault, Jonathan           09 Bedford, MA            9:44.46  
 29 Sienko, Jake              10 Warwick, RI            9:45.02  
 30 Mullarkey, Patrick        09 Mendon, MA             9:48.62  
 31 Smith, Ryan               10 Crestview Hills, KY    9:48.95  
 32 Jacobs, Kyle              10 Chesapeake, VA         9:49.45  
 33 Ames, Tyler               09 Cortland, OH           9:54.56  
 34 Russell, Kevin            09 Brookfield, CT         9:58.51  
 35 McGuire, Ryan             09 Orange, CT             9:58.70  
 36 Schaefer, Tucker          09 Brookfield, CT        10:01.30  
 37 Hurley, David             09 Ashaway, RI           10:10.05  
 -- Taylor, Antony            10 Arlington, MA              DNF  
 
Boys 60 Meter Hurdles
===================================================================
24 Advance:  Top 2 Each Heat plus Next 12 Best Times
    National: )  7.62  3/28/1997   Terrence Trammell, SW De Kalb, Decatur,GA   
    National: N  7.62  3/12/1995   Deworski Odom, Overbrook, Phila., PA        
    National: N  7.62  3/12/2000   Rickey Harris, Centreville, Clifton, VA     
        Meet: M  7.62  3/12/2000   Rickey Harris, Centreville, Clifton, VA     
    Freshman: (  8.03  2002        Lataero Mitchell, Wayne, Huber Hts, OH      
   Sophomore: R  7.83  2007        Wayne Davis, Southeast, Raleigh, NC         
      Junior: J  7.62  3/16/2008   Wayne Davis, Southeast,Raleigh,NC           
    Name                    Year School                 Prelims  H#
===================================================================
Preliminaries
  1 Davis, Wayne              09 Raleigh, NC             R 7.83Q  4 
  2 LaCour, Cameron           09 Humble, TX              ( 7.88Q  6 
  3 Bradshaw, Darryl          09 Brooklyn, NY            ( 7.98Q  1 
  4 Artis, Jeffrey            09 Chesapeake, VA          ( 8.00Q  2 
  5 Hill, Tashaun             09 Denver, CO                8.05Q  3 
  6 Brown, Vincent            09 Reston, VA                8.12Q  5 
  7 Lathan, Harold            09 Egg Harbor Township       8.04Q  1 
  8 Powell, Renaldo           09 Wayne, MI                 8.05Q  4 
  9 Thomas, Corey             09 Brookline, MA             8.16Q  3 
 10 Johnson, Travon           09 Southfield, MI            8.25Q  5 
 11 Smith, Dominique          09 Virginia Beach, VA        8.33Q  2 
 12 Hlywa, Joseph             09 Rochester, NY             8.35Q  6 
 13 Lewis, Jeffrey            10 Chesapeake, VA            8.19q  1 
 14 Wise, Neamen              09 Altamonte Springs,        8.30q  4 
 15 Forbes, Damar             09 Atlanta, GA               8.31q  4 
 16 Cho, Yong-Hyun            09 Newton, MA                8.33q  3 
 17 Danna, Tyler              09 Clinton Twp, MI           8.35q  2 
 18 Braithwaite, Rolston      09 trenton, NJ               8.36q  1 
 19 Tasker, Michael           09 Centennial, CO            8.37q  5 
 20 Morris, Manny             09 Coatesville, PA           8.40q  3 
 21 Harrington, Brett         09 Rochester, NY             8.41q  6 
 22 Souza, Rodrigo            10 Ivoryton, CT              8.44q  3 
 23 Lewis, Tim                09 Virginia Beach, VA        8.46q  2 
 23 Joseph, Vanier            09 redford, MI               8.46q  1 
 25 Ahadzi, Richmond          11 Brooklyn, NY              8.50   6 
 26 Robertson, Will           09 Burlington, VT            8.52   2 
 27 Brandt, Tommy             09 Millis, MA                8.53   2 
 28 White, Derrick            09 Romulus, MI               8.55   6 
 28 Snyder, Connor            09 Fleetwood, PA             8.55   5 
 30 Johnson, Trevor           10 Glastonbury, CT           8.61   5 
 31 Murray, Jacob             09 Pine Grove, PA            8.63   3 
 32 Lewis, Stephen            10 Freemansburg, PA          8.65   1 
 32 Young, Cory               09 Waynesboro, PA            8.65   5 
 34 Pardo, Elijah             10 West Islip, NY            8.66   5 
 35 Woodyard, Marquis         10 Frederick, MD             8.67   1 
 36 Obiem, Baffour            10 Seaford, NY               8.71   4 
 36 King, Bradley             09 Connelly Springs, N       8.71   1 
 38 Nunley, Malcolm           10 Garner, NC                8.78   3 
 39 Taylor, John              09 Stevensville, MD          8.80   5 
 40 Smith, Jeronimo           13 Chesapeake, VA            8.87   4 
 41 Harris, Dorian            10 Atlanta, GA               9.38   2 
 
Boys 60 Meter Hurdles
===================================================================
8 Advance:  Top 2 Each Heat plus Next 2 Best Times
    National: )  7.62  3/28/1997   Terrence Trammell, SW De Kalb, Decatur,GA   
    National: N  7.62  3/12/1995   Deworski Odom, Overbrook, Phila., PA        
    National: N  7.62  3/12/2000   Rickey Harris, Centreville, Clifton, VA     
        Meet: M  7.62  3/12/2000   Rickey Harris, Centreville, Clifton, VA     
    Freshman: (  8.03  2002        Lataero Mitchell, Wayne, Huber Hts, OH      
   Sophomore: R  7.83  2007        Wayne Davis, Southeast, Raleigh, NC         
      Junior: J  7.62  3/16/2008   Wayne Davis, Southeast,Raleigh,NC           
    Name                    Year School                   Semis  H#
===================================================================
Semi-Finals
  1 Davis, Wayne              09 Raleigh, NC             R 7.74Q  1 
  2 LaCour, Cameron           09 Humble, TX              ( 7.90Q  2 
  3 Artis, Jeffrey            09 Chesapeake, VA          ( 7.92Q  3 
  4 Bradshaw, Darryl          09 Brooklyn, NY            ( 7.94Q  3 
  5 Hill, Tashaun             09 Denver, CO              ( 7.99Q  2 
  6 Lathan, Harold            09 Egg Harbor Township     ( 8.02Q  1 
  7 Thomas, Corey             09 Brookline, MA           ( 7.95q  3 
  8 Powell, Renaldo           09 Wayne, MI               ( 8.03q  2 
  9 Johnson, Travon           09 Southfield, MI            8.04   3 
 10 Brown, Vincent            09 Reston, VA                8.05   1 
 11 Lewis, Jeffrey            10 Chesapeake, VA            8.17   1 
 12 Wise, Neamen              09 Altamonte Springs,        8.19   2 
 13 Tasker, Michael           09 Centennial, CO            8.24   1 
 14 Cho, Yong-Hyun            09 Newton, MA                8.26   3 
 15 Lewis, Tim                09 Virginia Beach, VA        8.28   2 
 16 Smith, Dominique          09 Virginia Beach, VA        8.29   2 
 17 Harrington, Brett         09 Rochester, NY             8.31   3 
 18 Hlywa, Joseph             09 Rochester, NY             8.32   1 
 19 Morris, Manny             09 Coatesville, PA           8.35   2 
 20 Joseph, Vanier            09 redford, MI               8.38   1 
 21 Souza, Rodrigo            10 Ivoryton, CT              8.46   3 
 22 Braithwaite, Rolston      09 trenton, NJ               8.68   1 
 23 Danna, Tyler              09 Clinton Twp, MI           9.32   2 
 
Boys 60 Meter Hurdles
================================================================
    National: )  7.62  3/28/1997   Terrence Trammell, SW De Kalb, Decatur,GA   
    National: N  7.62  3/12/1995   Deworski Odom, Overbrook, Phila., PA        
    National: N  7.62  3/12/2000   Rickey Harris, Centreville, Clifton, VA     
        Meet: M  7.62  3/12/2000   Rickey Harris, Centreville, Clifton, VA     
    Freshman: (  8.03  2002        Lataero Mitchell, Wayne, Huber Hts, OH      
   Sophomore: R  7.83  2007        Wayne Davis, Southeast, Raleigh, NC         
      Junior: J  7.62  3/16/2008   Wayne Davis, Southeast,Raleigh,NC           
    Name                    Year School                  Finals 
================================================================
Finals
  1 Davis, Wayne              09 Raleigh, NC               7.60J 
  2 LaCour, Cameron           09 Humble, TX                7.72R 
  3 Artis, Jeffrey            09 Chesapeake, VA            7.87( 
  4 Hill, Tashaun             09 Denver, CO                7.96( 
  5 Thomas, Corey             09 Brookline, MA             8.00( 
  6 Lathan, Harold            09 Egg Harbor Township       8.02( 
  7 Bradshaw, Darryl          09 Brooklyn, NY              8.16  
  8 Powell, Renaldo           09 Wayne, MI                 8.22  
 
Boys 4x400 Meter Relay
===================================================================
 Sunday: Sections 1 and 2 at 12:10pm; Sections 3 and 4 at 4:00pm
    National: N 3:13.06  2/6/2009    New Bern, New Bern, NC                    
                         Fuqn Greene,Miles Sparks,Anth Hendrix, And Hendrix
        Meet: M 3:17.26  3/2001      Camden, Camden, NJ                        
    School                                               Finals  H#
===================================================================
  1 Track Eastern Carolina                              3:15.02M  4 
  2 Western Branch HS                                   3:19.50   4 
  3 Flower City TC                                      3:22.78   4 
  4 Summers & GeorgiaRee TC                             3:22.82   2 
  5 Columbia HS                                         3:23.07   4 
  6 Charger TC                                          3:23.35   3 
  7 Marvin Ridge HS                                     3:23.64   3 
  8 Hendo TC                                            3:23.74   3 
  9 Irish Road TC                                       3:24.30   4 
 10 Andover TC                                          3:25.55   3 
 11 Hempfield TC                                        3:26.45   2 
 12 Blazin Raiders                                      3:26.56   4 
 13 Mount Olive TC                                      3:27.07   2 
 14 St. John the Baptist Dhs-Boys                       3:27.80   1 
 15 Shenendehowa                                        3:27.92   1 
 16 Webster Schroeder TC                                3:28.07   1 
 17 Trenton Central HS                                  3:30.01   3 
 18 New Britain TC                                      3:30.44   1 
 19 Holy Trinity HS                                     3:31.44   3 
 20 Flower City AQ                                      3:35.76   2 
 21 Bishop Hendricken TC                                3:36.27   1 
 
Boys 4x800 Meter Relay
================================================================
 Sunday: Sections 1 and 2 at 10:53am; Section 3 at 3:36pm
    National: N 7:42.22  2/5/2005    Syosset, Syosset, NY                      
        Meet: M 7:50.25  3/16/2003   West Springfield, Springfield, VA         
    School                                               Finals 
================================================================
  1 Albemarle 5 Guys                                    7:36.99N 
  2 Morris Hills TC                                     7:43.91M 
  3 Chalfont-Warrington TC                              7:51.33  
  4 Knights TC                                          7:51.69  
  5 Chaminade Hs-Ny                                     7:53.55  
  6 St. Joseph by-the-Sea                               7:55.00  
  7 Noblesville HS                                      7:56.35  
  8 Danbury TC                                          7:57.63  
  9 Blacksburg TC                                       7:58.32  
 10 Phoenixville TC                                     7:59.02  
 11 Arnold TC                                           8:01.15  
 12 Grafton HS                                          8:03.26  
 13 Winston Churchill TC                                8:04.21  
 14 Gloucester                                          8:08.21  
 15 Liverpool Hs-Boys                                   8:08.70  
 16 St. John the Baptist Dhs-Boys                       8:08.79  
 17 Boardman HS                                         8:12.05  
 18 Concord Hs-Nh                                       8:12.74  
 19 Hudson Track                                        8:14.24  
 20 Newton Centre Athletics                             8:14.93  
 21 Conor O'Brien TC                                    8:15.09  
 22 Sheepshead Bay Hs-Boys                              8:17.41  
 23 Lowell TC                                           8:17.86  
 24 Varina                                              8:19.95  
 25 Beall TC                                            8:23.81  
 26 St. Xavier HS                                       8:36.68  
 27 Track Eastern Carolina                              8:45.40  
 
Boys High Jump
==========================================================================
 Opening 6-2.25, then 6-4.25, 6-6.25, 6-8.25, 6-10.25, 7-0.25,
 7-2.25, 7-4.25, 7-5.75
    National: N 7-05.25  3/14/2004   Scott Sellers, Cinco Ranch, Katy, TX      
        Meet: M 7-05.25  3/14/2004   Scott Sellers, Cinco Ranch, Katy, TX      
    Freshman: (    6-08  1998        Ivan Schmidt, Penncrest, Media, PA        
   Sophomore: R    7-02  1/11/2003   Scott Sellers, Cinco Ranch, Katy, TX      
      Junior: J 7-05.25  3/14/2004   Scott Sellers, Cinco Ranch, Katy, TX      
      Senior: $    7-05  3/11/1978   Gail Olson, Sycamore, IL                  
      Senior: $    7-05  2/12/2005   Scott Sellers, Cinco Ranch, Katy, TX      
    Name                    Year School                  Finals           
==========================================================================
  1 Kynard, Erik              09 Holland, OH              2.21m    7-03.00 
     1.91 1.96 2.01 2.06 2.11 2.16 2.21 2.25 
      PPP  PPP  PPP    O   XO    O    O  XXX 
  2 Steed, Harrison           10 Rancho Santa Margar      2.11m    6-11.00 
     1.91 1.96 2.01 2.06 2.11 2.16 
        O    O    O    O  XXO  XXX 
  3 Hill, Jonathan            09 Walkersville, MD         2.11m    6-11.00 
     1.91 1.96 2.01 2.06 2.11 2.16 
      PPP  PPP    O  XXO  XXO  XXX 
  4 Taylor, John              09 Stevensville, MD         2.01m    6-07.00 
     1.91 1.96 2.01 2.06 
        O    O    O  XXX 
  4 Reilly, Sean              09 LaGrangeville, NY        2.01m    6-07.00 
     1.91 1.96 2.01 2.06 
        O    O    O  XXX 
  4 Thomas, Corey             09 Brookline, MA            2.01m    6-07.00 
     1.91 1.96 2.01 2.06 
        O    O    O  XXX 
  7 Williams, Kyriq           09 Phoenixville, PA         2.01m    6-07.00 
     1.91 1.96 2.01 2.06 
        O   XO   XO  XXX 
  7 Smith, Alex               09 Fair Haven, NJ           2.01m    6-07.00 
     1.91 1.96 2.01 2.06 
        O   XO   XO  XXX 
  9 Elliston, Logan           09 Elon, NC                 2.01m    6-07.00 
     1.91 1.96 2.01 2.06 
       XO  XXO  XXO  XXX 
 10 Higgins, Brandon          10 Wareham, MA              1.96m    6-05.00 
     1.91 1.96 2.01 
       XO    O  XXX 
 10 Leon, Jakob               09 Leetonia, OH             1.96m    6-05.00 
     1.91 1.96 2.01 
       XO    O  XXX 
 12 Kilgore, Jonathon         09 Milford Tc-Nh            1.96m    6-05.00 
     1.91 1.96 2.01 
      XXO  XXO  XXX 
 13 Butler, Thomas            10 Keymar, MD               1.91m    6-03.25 
     1.91 1.96 
       XO  XXX 
 13 Brown, Stephen            09 Capital Heights, MD      1.91m    6-03.25 
     1.91 1.96 
       XO  XXX 
 15 Bell, Steven              10 Garner, NC               1.91m    6-03.25 
     1.91 1.96 
      XXO  XXX 
 15 Baltzell, Trent           09 Sutton, MA               1.91m    6-03.25 
     1.91 1.96 
      XXO  XXX 
 -- Matthews, Caleb           09 Boardman, OH                NH            
     1.91 
      XXX 
 -- Hartsough, Aaron          10 Canfield, OH                NH            
     1.91 
      XXX 
 -- Larson, Thomas            10 granger, IA                 NH            
     1.91 
      XXX 
 -- Brown, Kyle               09 Hicksvill, NY               NH            
     1.91 
      XXX 
 -- Livengood, Patrick        10 Sleepy Hollow, IL           NH            
     1.91 
      XXX 
 -- Smith, Jeronimo           13 Chesapeake, VA              NH            
     1.91 
      XXX 
 -- Golbek, Dwayne            10 Claremore, OK               NH            
     1.91 1.96 
      PPP  XXX 
 -- MacDonald, Jackson        10 Wenham, MA                  NH            
     1.91 
      XXX 
 -- Penso, Chris              09 Woonsocket, RI              NH            
     1.91 
      XXX 
 -- Thomas, Phil              09 Philadelphia, PA            NH            
     1.91 
      XXX 
 -- Capista, Scott            09 Warwick, RI                 NH            
     1.91 
      XXX 
 -- Fear, Samuel              09 Bath, ME                    NH            
     1.91 
      XXX 
 
Boys Long Jump
==========================================================================
    National: N 26-06.50  2/18/1989   Dion Bentley, Penn Hills, Pittsb., PA    
        Meet: M    24-09  3/16/2006   Marquise Goodwin, Rowlett, TX            
    Freshman: (    24-05  1996        Mike Newell, Potomac, Dumfries, VA       
   Sophomore: R 25-08.25  1997        Mike Newell, Potomac, Dumfries, VA       
      Junior: J 25-09.25  1998        Mike Newell, Potomac, Dumfries, VA       
      Senior: $ 26-06.50  2/18/1989   Dion Bentley, Penn Hills, Pittsb, PA     
    Name                    Year School                  Finals           
==========================================================================
  1 Smith, Zach               09 Covington, WA            7.29m   23-11.00 
      7.02m  FOUL  6.87m  7.04m  7.01m  7.29m
  2 Forbes, Damar             09 Atlanta, GA              7.25m   23-09.50 
      6.96m  6.94m  7.22m  7.14m  7.23m  7.25m
  3 Lavong, Carlton           10 Collegeville, PA         7.05m   23-01.75 
      6.64m  6.53m  6.98m  7.04m  7.05m  FOUL
  4 Hill, Jordan              10 Charlottesville, VA      7.00m   22-11.75 
      6.42m  6.97m  FOUL  7.00m  6.80m  6.91m
  5 Cantwell, John            09 Holland, PA              6.82m   22-04.50 
      6.48m  4.17m  6.71m  6.48m  6.82m  6.70m
  6 Gross, Justin             10 Owings Mills, MD         6.78m   22-03.00  6.76
      6.21m  6.69m  6.53m  6.78m  6.76m  6.46m
  7 Lawrence, Diego           09 Monroe, NC               6.78m   22-03.00  6.74
      6.78m  6.08m  6.74m  6.64m  6.56m  5.63m
  8 Price, Mike               09 New Bern, NC             6.74m   22-01.50 
      6.49m  6.69m  6.12m  6.74m  6.60m  6.35m
  9 Toombs, Christopher       09 Junction City, KS        6.68m   21-11.00 
      6.28m  6.68m  6.51m            
 10 Robinson, William         09 Chadds Ford, PA          6.62m   21-08.75 
      6.52m  6.62m  6.34m            
 11 Hill, Jonathan            09 Walkersville, MD         6.59m   21-07.50 
      6.01m  6.41m  6.59m            
 12 Byars, Jason              09 Farmington, MI           6.58m   21-07.25 
      6.58m  6.48m  FOUL            
 13 Murray, B.J.              09 Rochester, NY            6.53m   21-05.25 
      6.53m  6.19m  6.39m            
 14 Farrington, Syteek        10 Lumberton, NJ            6.50m   21-04.00 
      6.50m  5.02m  6.36m            
 15 Thomas, Phil              09 Philadelphia, PA         6.45m   21-02.00 
      6.00m  6.30m  6.45m            
 16 Parker, Duane             09 Randallstown, MD         6.41m   21-00.50 
      6.29m  6.22m  6.41m            
 17 Dendy, Marquis            11 Middletown, DE           6.36m   20-10.50 
      6.36m  5.88m  6.23m            
 17 Hlywa, Joseph             09 Rochester, NY            6.36m   20-10.50 
      6.36m  FOUL  FOUL            
 19 Harrington, Brett         09 Rochester, NY            6.33m   20-09.25 
      6.32m  6.33m  FOUL            
 20 Davenport, Jr., John      09 Owings Mills, MD         6.30m   20-08.00 
      6.14m  5.72m  6.30m           
 21 Lawton, Micheal           11 Virginia Beach, VA       6.25m   20-06.25 
      6.25m  6.23m  6.17m            
 22 Witmyer, Shane            10 Sinking Spring, PA       6.19m   20-03.75 
      FOUL  6.19m  6.18m            
 23 Schmude, Alex             09 Erie, PA                 6.13m   20-01.50 
      6.04m  6.01m  6.13m            
 24 Spurrell, Mike            09 Seaford, NY              6.11m   20-00.50 
      6.02m  6.11m  6.09m            
 
Boys Shot Put
==========================================================================
    National: N    71-11  1/24/1970   Jesse Stuart, Glasgow, KY                
        Meet: M 66-11.25  3/2001      Jonathan Reeves, Fort Bend, Sugar Land,TX
    Freshman: ( 66-07.25  3/15/2008   Nicholas Vena, Morristown, NJ            
   Sophomore: R    68-11  2/24/2008   Nicholas Vena, Morristown, NJ            
      Junior: J    67-00  1969        Jesse stuart, Glasgow, KY                
      Senior: $    71-11  1/24/1970   Jesse Stuart, Glasgow, KY                
    Name                    Year School                  Finals           
==========================================================================
  1 Saenz, Stephen            09 Rio Grande City, TX     21.65m   71-00.50 
      20.36m  21.65m  21.30m  20.82m  FOUL  21.63m
  2 Baillio, Hayden           09 Whitesboro, TX          20.28m   66-06.50 
      FOUL  19.28m  19.06m  19.32m  20.28m  19.75m
  3 Linsley, Corey            09 Boardman, OH            18.44m   60-06.00 
      18.44m  18.29m  FOUL  FOUL  17.90m  FOUL
  4 Glavin, Daniel            09 Mansfield, MA           18.19m   59-08.25 
      17.17m  17.91m  17.23m  18.02m  18.19m  FOUL
  5 Hessell, Christopher      09 New Haven, MI           17.82m   58-05.75 
      16.67m  17.12m  16.65m  17.14m  17.24m  17.82m
  6 Filiano, Dominic          10 Lebanon, NH             17.49m   57-04.75 
      16.30m  16.86m  17.49m  FOUL  FOUL  17.24m
  7 Abernathy, Cory           10 Plainsboro, NJ          17.14m   56-03.00 
      17.14m  16.43m  14.21m  17.01m  FOUL  16.77m
  8 Stancombe, Benjamin       09 Bloomington, IN         17.03m   55-10.50 
      FOUL  16.76m  17.03m  16.39m  FOUL  16.52m
  9 Brown, Marcus             09 Gaithersburg, MD        16.88m   55-04.75 
      16.34m  16.88m  16.40m            
 10 Lavong, Wesley            09 Collegeville, PA        16.77m   55-00.25 
      16.77m  16.51m  16.34m            
 11 McClain, Eddie            09 Sparta, NJ              16.72m   54-10.25 
      FOUL  16.72m  16.23m            
 12 Bombaugh, Sam             10 Falmouth, MA            16.65m   54-07.50 
      16.65m  16.24m  FOUL            
 13 Hill, Dante               09 Longmeadow, MA          16.64m   54-07.25 
      16.64m  16.13m  16.45m            
 14 Brode, Dustin             10 Canfield, OH            16.62m   54-06.50 
      16.62m  FOUL  FOUL            
 15 Thomas, Anthony           09 Hicksvill, NY           16.59m   54-05.25 
      16.41m  16.59m  16.41m            
 16 Hoty, Matthew             10 Sandusky, OH            16.56m   54-04.00 
      16.56m  FOUL  FOUL            
 17 Sanchez, Brett            09 Exeter, NH              16.49m   54-01.25 
      15.91m  16.49m  FOUL            
 18 Simmons, Isaiah           11 lorton, VA              16.43m   53-11.00 
      FOUL  FOUL  16.43m            
 19 Davila, Ryan                 Lowell, MA              16.14m   52-11.50 
      14.31m  15.03m  16.14m            
 20 Regas, Evangelos          09 Toms River, NJ          16.11m   52-10.25 
      15.52m  15.82m  16.11m            
 21 Carle, Shane              09 Jackson, NJ             16.03m   52-07.25 
      15.49m  16.03m  FOUL            
 22 White, Jack               09 Exeter, NH              16.01m   52-06.50 
      15.02m  15.74m  16.01m            
 23 Kontra, Bradley           09 Easton, CT              15.73m   51-07.25 
      14.61m  15.17m  15.73m            
 24 Nadeau, Aaron             09 Central Village, CT     15.71m   51-06.50 
      FOUL  15.71m  FOUL            
 25 Murphy, Michael           09 Hingham, MA             15.67m   51-05.00 
      14.87m  15.67m  FOUL            
 26 Margiotta, Gus            10 Gloucester, MA          15.60m   51-02.25 
      14.75m  15.60m  15.57m            
 27 Mesadieu, Philip          09 Blacksburg, VA          15.23m   49-11.75 
      15.23m  14.72m  FOUL            
 27 Nadeau, Chad              09 Central Village, CT     15.23m   49-11.75 
      15.18m  FOUL  15.23m            
 29 Rudd, John                09 Averill Park, NY        14.94m   49-00.25 
      14.36m  14.04m  14.94m            
 30 Stuart, Patrick           09 Glasgow, KY             14.82m   48-07.50 
      FOUL  FOUL  14.82m            
 -- Peter, Kevin              10 North Attleboro, MA       FOUL            
      FOUL  FOUL  FOUL            
 -- Urschel, John             09 Tonawanda, NY             FOUL            
      FOUL  FOUL  FOUL