Doubt turns to confidence: Hasay dominates girls 2M
By Rich Gonzalez
DyeStat/ESPN RISE
All photos by Jeannette Seckinger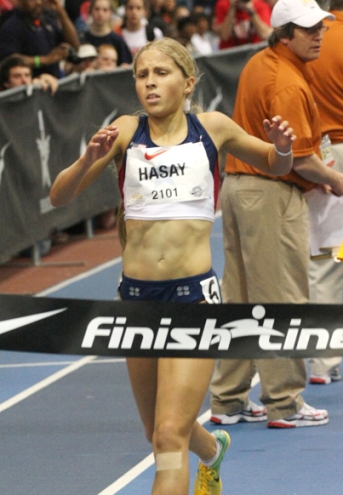 (BOSTON, Ma.) – For the first time ever, Jordan Hasay raced in an indoor track and field meet. For the first time ever, Jordan Hasay displayed her talents before East Coast fans. For the first time ever, Jordan Hasay was coming off a series of events which first left her doubtful and frustrated, then enthusiastic and excited.

And not for the last time, to be sure, Jordan Hasay had everyone at Nike Indoor Nationals talking.

The diminutive teen with the rock-star persona, Hasay made her undercover debut another successful one, touring the 200-meter Reggie Lewis Track and Athletic Center oval like a human metronome, blurring away from a celebrated field to run the fastest indoor time in 13 years, and the sixth-fastest in history. No one was within half a lap, despite the entry field littered with national, regional and state champions, and a wave of All-Americans.

She won by 13 seconds, but it might as well have been 13 years.

"I started out with 32 seconds on the first lap and thought, Oh no!'", she giggled, admitting that amid the excitement of the intimate facility an the surging levels of adrenaline, she temporarily lost sense of her pacing needs on a layout distance she'd never encountered before.

Although it took her a full two miles to officially win, it seemingly required only two strides to symbolically secure the victory.

With the report of the starter's gun echoing off the sweat-soaked walls at Reggie Lewis, Hasay sprang off the start line and into the challenge, instantly leaving her rivals in the offing.

"I wanted to get a good start because I figured it would be pretty crowded on a small track," she later admitted. "But I came out a little too fast."

Still, no one dared go with her, nor did anyone seemingly try to reel her in. She beat them before she beat them, perhaps a testament to the respect that a two-time Foot Locker national champion, five-time USATF Junior Nationals champion and three-time USATF Youth Nationals champion commands.

Opening up with a 5:01 split for the first mile before tailing off a bit and finishing in 10:10.89, her performance ranked at or near the top in a girls meet loaded with highlights.

Yet there was reservation and skepticism, emanating mostly from shadows and whispers.

"She looked tired."

If so, what does that say for everyone else in the field, including several who enjoyed massive breakthroughs?

"She appeared to be flat."

What does that say for her competition, which never threatened?

"She didn't have the bounce in her legs I was expecting."

True, and she was the first to admit that, but Hasay came away with an even greater victory. Confidence.



Rewind to three months ago



In mid-December, Hasay rode a spirited finishing kick to rally for a dramatic win in securing an improbable second Foot Locker title against one of the strongest and clearly the most decorated field (three former FL national champions) in history. She was on top of the world in the weeks that followed, having regained the cross-country title she had won as a freshman, but had found so difficult to reclaim despite major and greater successes elsewhere.

Then, it all came crashing down.

One never to be sidetracked by injuries, she felt a clear pain in her knees and was unable to finish a workout.

"That was a first, she's always been able to finish everything," said her longtime coach and confidant, Mando Siqueiros. "Usually, I have to hold her back and make sure she doesn't overdo it."

The next workout started out fine, but soon the pain returned, along with another unfinished workout.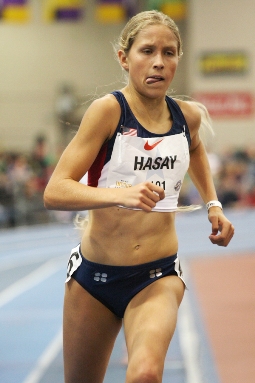 "I thought, "Uh-oh. This is a new ballgame for her. She's never had physical problems before. I sensed this was starting to play on her mind."

At first, doctor visits yielded very little answers, other than the conclusion that her natural growth was taking strain on her joints. Regardless, the pain would not subside and "Camp Hasay" was in uncharted waters.

"Yes, it was a problem, I admit it," she shared. "It was something I'd never encountered and I started to stress."

No magic pills saved the day, nor holistic healing, massage, prayer, voodoo or the like.

Instead, two strips of tape saved the day.

Siqueiros, a distance standout in his day, recalled about how Australian professional middle-distance runner Sarah Jamieson, whose career had been marred by injuries and surgeries for years, eventually turned to kinesio-tape as a final attempt to subside the knee pain she was suffering. Marathoner/distance specialist Dathan Ritzenhein did the same, also with successful results.

"We tried it and the pain went away," Siqueiros said.

At first, he thought the response was mental, but regardless of the workout load or type, Hasay responded injury free, with the two-inch wide strips wrapped under each kneecap and providing the support she needed.

After a few weeks, she removed the tape… only to have the pain return.

"Now she wears it 24/7," Siqueiros said a few weeks back. "Even when the representative from Gatorade came to town to present her national award, she was wearing that tape and she was wearing a skirt that day."

She was asked if she had fallen and scraped her knees. Having already heard that several times in preceding days and not ready to recite the full background to her injury each time, she sheepishly nodded in the affirmative.

"It was easier to say she fell, but then she'd have to worry everyone would think she's a klutz," Siqueiros laughed.

Enough training time was lost that it served as one of the factors to forego the USA Junior Nationals of cross-country. Surprisingly, however, her aerobic fitness returned rapidly, her coach reporting that her workouts were reaching unprecedented levels.



Finding the blessing in disguise



Once content to await the outdoor track and field season, Hasay became eager after being shelved from racing for three months and now finding herself training better than ever.

Consideration was given to quickly find a 5,000-meter outdoor race in California, but the only opportunities were a makeshift all-comers meet 90 minutes away or a Los Angeles-area affair in mid-March, where the competition might not be at the level she was seeking. But that was her best option.

But then the Nike meet came calling, with lead talent recruiter Joy Kamani making contact and assuring a fast track, strong competition, and a quality meet was awaiting. After mulling it over for a few days, Camp Hasay agreed this was the blessing in disguise, with the rigors of a spirited indoor battle against to competition affording the opportunity to experience indoor racing, go for records and ensure she'd be battle-tested before the outdoor meets.

The record remained elusive, but she learned a great deal about racing indoors, realized adjustments need to be made before her next undercover experience, and became ever more upbeat about the outdoor season.

"I'm very excited about (outdoors)," she beamed. "This was a great experience for me. I'm going to make the best of it.

"I would have to say I was in very good shape coming here, but I realized I wasn't yet in race shape."

And still no one could touch her.