March 13-15, 2009 - Reggie Lewis Center, Boston MA

Friday

Results - Jeannette Seckinger Photo Gallery -



McCullough, Verzbicas make Friday a day to remember




Great things may come from Hasay and New Bern, but relish the USRs of 92-07.50 WT and 14:18.42 5k



By SteveU, DyeStat/ESPN RISE senior editor

With the performances of Jordan Hasay and the long sprinters of New Bern still down the road this weekend, it's quite possible – even likely – that what happened in Boston Friday night won't stand as the defining memory of the 2009 Nike Indoor Nationals.

But what Conor McCullough and Lukas Verzbicas did here should not be soon forgotten. McCullough, the rangy senior from West Hills CA (Chaminade HS), twice revised his weight throw record in Day 1 of the throwdown in Beantown, first nipping the 87-10.75 by a mere three-quarters of an inch, then crushing it with a mind-bending 92-07.50 on his final throw.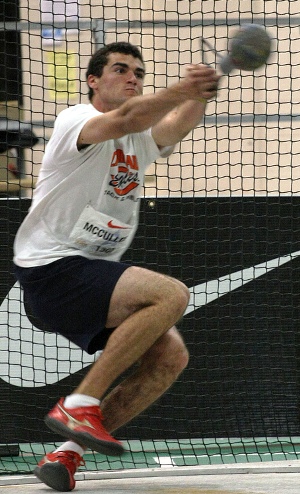 McCullough wins the weight.
Photo Jeannette Seckinger

Fans barely had time to take a breath, however, as the announcement of the mark was virtually accompanied by the sight of Verzbicas streaming around the oval for a 31-second first lap of his 5000. The energy built to another peak as it dawned on everyone that the lithe New Lenox IL frosh (Lincoln Way Central HS) was not only going to destroy the class record, but also take down Solomon Haile's hours-old US record. Sure enough, he did just that, crossing the line in 14:18.42, one of the most stunning distance running performances in prep history.

That put a cap on an incredible first day of action that also included an impressive 17:03.82 5000 by Walsh Jesuit OH sr Chelsea Oswald – followed by a US frosh record 17:15.38 by Glen Head NY (North Shore RC/North Shore HS) star Samantha Nadel – and continued domination in the girls weight by Marietta GA (Throw 1 Deep/Kell HS) senior Lauren Chambers with her winning 58-10.25.



McCullough adjusts



The meet began Friday with a strong chance of both hammer marks being eclipsed.

After Chambers had won the girls competition, but missed the goal, attention switched to McCullough to see if he could pull it off. The field also included excellent throwers like US#1-2 Alec Faldermeyer NY and Nabil Mubarak GA, but even they knew if the Californian was even close to form that they would be fighting for second.

When McCullough finally made it to the ring for his first throw of the first round of the third flight, he had everyone's attention. With an 83-04 effort, he quickly demonstrated he was in good form and the mark would be good enough to win by seven feet – but he was just getting warmed up.

The next round saw Faldermeyer – the Minisink Valley NY junior – respond with a 76-04.25, a mark just 5 inches off his best and that would stand up for 2nd. But a throw later, it was McCullough getting up to 86-07. The top three would stand from this point as Bishop Hendricken RI sr Michael Gama's 72-09.25 from the first round would keep him in third as Mubarak could only reach 68-05.75 for fourth.



Highlights



In an astonishing race, freshman Lukas Verzbicas took down the national 5k record of 14:22.88 Solomon Haile had set only hours earlier at NSIC, running 14:18.42 in a nearly solo effort
Chelsea Oswald OH wins the girls 5k handily, running 17:03.82, but in her wake Samantha Nadel NY sets a national freshman record of 17:15.38, taking down Chelsea Ley's 17:41.90 from 2007

Conor McCullough CA destroys his own USR set last year at NSIC by nearly 5 feet, reaching 92-07.50 on his final throw of the finals, after hitting a USR 87-11.50 in the prelims.
US#1 Lauren Chambers (Marietta GA) hits 58-10.25 on her second throw of the prelims, and that mark holds up for the win as she twice fouls and fails to improve in the final round. Throw1Deep of Georgia sweeps the top 3 places, with Patrice Gates second and Jazmin Miller third.
When McCullough came up again, he whirled the ball and chain even further, and it looked like he was very close. A mighty cheer went up as the mark was announced as 88 feet (later revised to 87-11.50), nudging his old record aside. The finals participants were then sorted out and, in the fourth and fifth rounds, the leader was again in the mid-80s. There was a sense that he could go further, and he clearly wanted it, but what would it take?

McCullough's final effort sent the ball not to the right or left side, as most of the others had gone, but straight ahead and just beyond the outer corner of the tarp that constituted the landing area. Because there were no markers out there, fans couldn't really tell at first if it was beyond his previous record, though working minds were speculating that given the shape of the tarp, it must surely be close to 90 feet.

But no one was ready for the mark that was posted – 92-08! Fans were stunned and meet announcer Ian Brooks proclaimed it "Beamon-esque" for everyone to hear.

McCullough said it was a technique change that allowed him to get it further. "I pushed it around a few more degrees, and generated some more force," he said.

He told Mr. Brooks that he did not come into the meet with a specific distance goal in mind, saying, "I try not to put a number on it; I just wanted to improve." But he later allowed that the first record wasn't enough. "I couldn't settle for improving it by just an inch."

McCullough said he had done only a few weeks of specific preparation for throwing the weight, "just to get in the rhythm. The hammer training I do prepares me pretty well."

Faldermeyer, who had led the nation all winter long only to see his mark overwhelmed by someone competing just one weekend in the event, smiled when reminded that he had acknowledged how this would unfold in an interview a few weeks back. "I knew it was coming," he said. "I had come to terms with it."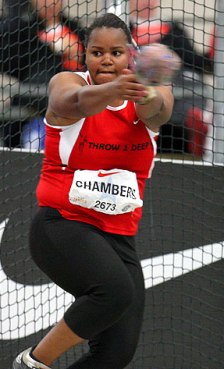 Lauren Chambers wins the WT.
Photo Vic Salier, photorun.net


With McCullough in his own world, Faldermeyer was able to shift his focus to the others – "I knew there would be great competition in the meet from the other guys over 70 feet" – and his own technique. "The competition was against me more than anyone else. My series was a little off, my technique was a little off, but I was pretty happy to get the 76-footer."

The New Yorker added he was looking forward to throwing again – and seeing Conor throw again – on Sunday at NSIC. He also said that McCullough and former champ Walter Henning had done a lot for getting the sport attention and inspiring others.

Earlier, with a PR of 61-07.50, Chambers was chasing Victoria Flowers' 2008 US mark of 62-02, as well as the meet record of 61-02. When she hit her eventual winner on her 2nd throw, it looked like she could keep progressing and perhaps get 61 or better.

That mark, however, was followed by two fouls (intentional), a 53-09, and then an awkward foul on her final attempt. But while the weight season has had a disappointing drop at Simplot and here, Chambers still has NSIC to go for it and an outdoor season in the hammer where she just last week hit a huge PR 191-11.

Two Throw 1 Deep throwers and Charlotte NC sr (Higher Power AC/Butler HS) Aslynn Halvorson waged a battle for the other top spots. On her 2nd throw, T1D senior Jazmin Miller (Hiram GA HS) hit 54-04.75 to take over 2nd. Halvorson was in 2nd after the first round, then stayed in 3rd with a 5th-round 53-09.25. On her final throw, however, T1D junior Patrice Gates (Villa Rica HS GA) hit 54-05.25 to take over the runner-up position.



Verzbicas astounds



How often do you see a meet where you can witness a performance that was so good as to be aptly called "Beamonesque," and before you can even finish celebrating it, you turn around and find your jaw dropping even further as an arguably even-better performance unfolds before your disbelieving eyes?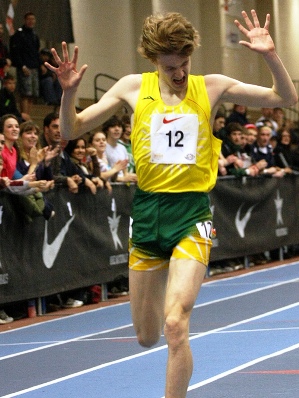 Lukas Verzbicas wins the 5k. Photo Jeannette Seckinger

The answer: Almost never. But even as McCullough was doing his thing on his final throw, the entrants for the 2nd and seeded section of the boys 5000 were lining up. By the time the new US weight record was announced, the most aware of track fans were giddy with the fact that they had just witnessed one phenomenal effort, yet another was unfolding right before their eyes. Resplendent and almost resembling an Oregon Duck in his green and yellow uniform, Lukas Verzbicas began his highly anticipated performance with laps of 31 and 33 and right away began to gap a very solid field. Runners like East Greenwich RI jr Nick Ross (9:11 2M PR) and Syracuse NY (Syracuse TC/Bishop Ludden HS) sr Sean Curry (9:16 3200 PR) were being left hopelessly behind and powerless to do anything as the Illinois yearling pounded out an unreal pace.

He was 2:13 for 800, 4:29 for 1600 and 9:05 for 3200. While there was a very slight gradual slowing, he would pick it back up for half a lap here and there to make sure the pace didn't fall too far off. It began to dawn on everyone as he managed to maintain 35-second laps, that something close to 14:20 was going to happen and the new 5k mark set by Solomon Haile was in danger of not even lasting a day.

While the grueling pace had stripped away much chance of a hard kick, Verzbicas turned the final lap in 32 to cross the line in the amazing final time. Not wanting to tighten up, he continued jogging around the track in what turned out to be something of a victory lap and, as he came down the homestretch, he looked every bit the pro in obliging and slapping the outstretched hands of congratulatory fans lining the rail. You almost had the sense another Prefontaine was born.

Though he had just two other prep track races in his brief, but stunning career – the 4:15.43 mile and 8:29.16 3k frosh records at Arkansas – Lukas was clearly confident, saying he had hoped to run 33-34 second laps and shooting for a time under 14:30. He said his father teased him regarding what the record was and used the Haile time he learned about earlier in the day for motivation.

Having had healthy training since November, having overcome the late season back injury he suffered in XC, Verzbicas revealed some of the recent workouts that prepared him for the meet – like 8x400 on a trail in 61-63, with the last one in 58, and in another 2x1000 in 2:39, then an 800 in 2:05.

A couple months past his 16th birthday, Verzbicas acknowledges that if not for the later-starting school system in his native Lithuania, where he lived until age 8, he would be a sophomore in the states, but shrugged it off. Things like class records or even high school records are just a part of the big picture he said he looks at. Though he acknowledged that his focus will be on his first love, the triathlon – with international competitions on his calendar for 2009 – he also said that the 14:18 might inspire him to spend more time in athletics.

"This changes things a little," he said, "but triathlon training is what's gotten me to this level." But it remains unlikely that Verzbicas will pursue what would be a full track season.

The freshman phenom is also entered in the 2-mile, where he said he wouldn't be going for a record, but just to win.

The girls 5000 featured some solid pacing for 3200 meters by what eventually became a pack featuring Jordan Jenkins (New Oxford, Pa.), Chelsea Oswald (Walsh Jesuit, Cuyahoga Falls, Oh.), Samantha Nadel (North Shore, Glen Head NY), and Megan Venables (Highland, Blackwood, N.J.). 1600 went by in 5:31 and 3200 in 11:07.

At that point, Oswald knew it was time to go and started cranking out 39 and 40 second laps. She seriously gapped the field en route to what would be a third 1600 of 5:18, finishing in 17:03.82. Nadel lasted best of the pursuers and held to 2nd in 17:15.38, taking down the US freshman record of 17:41.90 by Chelsea Ley two years ago. She also broke the New York state record.

"I like to run conservative at the beginning and hard the last mile," said Oswald. "I was hoping to win and I'm really happy with the time." Oswald had quit basketball to get an earlier start in track this year to run a few indoor meets and hopefully make some major improvements, following up on an XC season that started unsatisfactorily, but finished great with her 2nd Foot Locker Finals berth after she resolved an iron deficiency.

Nadel was also happy with her performance, saying she trusted in her coach's prediction that she could run 17:15. She didn't go with Oswald when she made her break because she "didn't want to go too fast, too early."


Photo at right, Chelsea Oswald wins the 5k. Photo Jeannette Seckinger


Results


 C.F.P.I. Timing & Data - Contractor License 
      2009 Nike Indoor Nationals - 3/13/2009 to 3/15/2009       
            Reggie Lewis Sports and Athletic Center             
                           Boston, MA                           
 
Event 47  Boys 5000 Meter Run
================================================================
 "Fastest" section is Section 2                                 
    National: N 14:29.80  12/30/1984  Brad Hudson, South Eugene,
        Meet: M 14:53.83  3/15/2008   Solomon Haile, Sherwood, M
    Freshman: ( 15:51.71  2006        Doug Smith, Roxbury,Succas
   Sophomore: R 15:10.38  2006        Brandon Jarrett, St Benedi
      Junior: J 14:53.10  2005        Mohammud Ige, South, Denve
      Senior: $ 14:29.80  12/30/1984  Brad Hudson, South Eugene,
    Name                    Year School                  Finals 
================================================================
Section  1                                                      
  1 Freyer, Brandon           10 Pawling, NY           15:17.31(
  2 Whitelaw, Austin          11 Monroe, MI            15:19.04(
  3 Redfield, Gregory         09 Penfield, NY          15:19.06(
  4 Lord, Brandon             10 Hixson, TN            15:19.31(
  5 Arnier, Jeffery           10 Arlington, TX         15:36.61(
  6 Brigham, Atticus          09 Amherst, MA           15:37.83(
  7 Wines, Matt               09 Pinckney, MI          16:17.10 
 -- Selsor, Evan              11 Winterset, IA              DNF 
 -- Campbell, Zachary         09 Nashua, NH                 DNS 
 -- Bush, Jeff                10 Westborough, MA            DNS 
 -- Theroux, Blake            10 Chesapeake, VA             DNS 
Section  2                                                      
  1 Verzbicas, Lukas          12 New Lenox, IL         14:18.42$
  2 Curry, Sean               09 Syracuse, NY          15:01.69R
  3 Straneva, Max             10 Binghamton, NY        15:10.98(
  4 Ross, Nick                10 East Greenwich, RI    15:13.13(
  5 Kramer, Alex              09 North Andover, MA     15:18.65(
  6 Truedson, Erik            09 Bemidji, MN           15:19.00(
  7 Wieferich, Mark           09 Marietta, OH          15:28.66(
  8 Hickey, Michael           09 Pearl River, NY       15:28.79(
  9 Stoliker, Richard         09 Shelton, CT           15:49.94(
 -- Ayers, Reece              11 Tunkhannock, PA            DNS 
 -- Miller, Ben               09 Grosse Pointe Park,        DNS 
 -- Galebach, Phil            09 Medford, MA                DNS 
Section  3                                                      
  1 Faherty, Brian            09 Greenbelt, MD         15:12.00(
  2 Butler, Bret              09 Melbourne, FL         15:28.00(
  3 Staub, Burk               09 Raliegh, NC           15:28.31(
  4 Schilit, Jordan           09 Tampa, FL             15:33.23(
  5 Smith, Ryan               10 Crestview Hills, KY   15:35.46(
  6 Stern, James              10 Melbourne, FL         15:35.57(
  7 Pagano, Marshall          11 Niskayuna, NY         16:01.38 
  8 Gorecki, Robert           10 mahopac, NY           16:03.88 
  9 Bennert, Kevin            11 Woodberry Forest, V   16:04.88 
 10 Keefe, Sean               09 Yardley, PA           16:09.32 
 11 Gallivan, Cameron         09 Tonawanda, NY         16:15.57 
 12 Siegel, Daniel            11 Great Neck, NY        16:21.40 
 13 Maher, Lucas              09 Patterson, NY         17:34.70 
================================================================
 "Fastest" section is Section 2                                 
    National: N 14:29.80  12/30/1984  Brad Hudson, South Eugene,
        Meet: M 14:53.83  3/15/2008   Solomon Haile, Sherwood, M
    Freshman: ( 15:51.71  2006        Doug Smith, Roxbury,Succas
   Sophomore: R 15:10.38  2006        Brandon Jarrett, St Benedi
      Junior: J 14:53.10  2005        Mohammud Ige, South, Denve
      Senior: $ 14:29.80  12/30/1984  Brad Hudson, South Eugene,
    Name                    Year School                  Finals 
================================================================
Finals                                                          
  1 Verzbicas, Lukas          12 New Lenox, IL         14:18.42$
  2 Curry, Sean               09 Syracuse, NY          15:01.69R
  3 Straneva, Max             10 Binghamton, NY        15:10.98(
  4 Faherty, Brian            09 Greenbelt, MD         15:12.00(
  5 Ross, Nick                10 East Greenwich, RI    15:13.13(
  6 Freyer, Brandon           10 Pawling, NY           15:17.31(
  7 Kramer, Alex              09 North Andover, MA     15:18.65(
  8 Truedson, Erik            09 Bemidji, MN           15:19.00(
  9 Whitelaw, Austin          11 Monroe, MI            15:19.04(
 10 Redfield, Gregory         09 Penfield, NY          15:19.06(
 11 Lord, Brandon             10 Hixson, TN            15:19.31(
 12 Butler, Bret              09 Melbourne, FL         15:28.00(
 13 Staub, Burk               09 Raliegh, NC           15:28.31(
 14 Wieferich, Mark           09 Marietta, OH          15:28.66(
 15 Hickey, Michael           09 Pearl River, NY       15:28.79(
 16 Schilit, Jordan           09 Tampa, FL             15:33.23(
 17 Smith, Ryan               10 Crestview Hills, KY   15:35.46(
 18 Stern, James              10 Melbourne, FL         15:35.57(
 19 Arnier, Jeffery           10 Arlington, TX         15:36.61(
 20 Brigham, Atticus          09 Amherst, MA           15:37.83(
 21 Stoliker, Richard         09 Shelton, CT           15:49.94(
 22 Pagano, Marshall          11 Niskayuna, NY         16:01.38 
 23 Gorecki, Robert           10 mahopac, NY           16:03.88 
 24 Bennert, Kevin            11 Woodberry Forest, V   16:04.88 
 25 Keefe, Sean               09 Yardley, PA           16:09.32 
 26 Gallivan, Cameron         09 Tonawanda, NY         16:15.57 
 27 Wines, Matt               09 Pinckney, MI          16:17.10 
 28 Siegel, Daniel            11 Great Neck, NY        16:21.40 
 29 Maher, Lucas              09 Patterson, NY         17:34.70 
 -- Selsor, Evan              11 Winterset, IA              DNF 
 -- Theroux, Blake            10 Chesapeake, VA             DNS 
 -- Ayers, Reece              11 Tunkhannock, PA            DNS 
 -- Miller, Ben               09 Grosse Pointe Park,        DNS 
 -- Galebach, Phil            09 Medford, MA                DNS 
 -- Campbell, Zachary         09 Nashua, NH                 DNS 
 -- Bush, Jeff                10 Westborough, MA            DNS 

Event 41  Boys Weight Throw
==========================================================================
    National: N 87-10.25  3/16/2008   Conor Mc Cullough, Chaminade, W Hill
        Meet: M    87-05  3/1999      Dylan Armstrong, Westside, Canada   
    Freshman: ( 63-06.25  1/22/2005   Wes Wright, Villa Rica, GA          
   Sophomore: R 75-00.50  2/26/2005   Walter Henning, St. Anthony's,S Hunt
      Junior: J 87-10.25  3/16/2008   Conor Mc Cullough, Chaminade, W Hill
      Senior: $ 86-03.75  2/27/2007   Walter Henning, St. Anthony's, S Hun
    Name                    Year School                  Finals           
==========================================================================
Flight  1                                                                 
  1 Steele, John              10 Barrington, RI          17.22m   56-06.00
      17.22m  16.25m  16.46m                                              
  2 Lipinsky, Alex            09 Poland, OH              16.31m   53-06.25
      16.31m  FOUL  FOUL                                                  
  3 Hall, James               10 Fishkill, NY            16.26m   53-04.25
      15.72m  FOUL  16.26m                                                
  4 Liguori, TJ               09 Westerly, RI            15.86m   52-00.50
      FOUL  FOUL  15.86m                                                  
  4 Mottola, Teddy            09 Tarrytown, NY           15.86m   52-00.50
      FOUL  FOUL  15.86m                                                  
  6 Albrecht, Kyle            09 Pleasant Valley, NY     15.62m   51-03.00
      FOUL  15.62m  FOUL                                                  
  7 Larkin, Richard           09 West Greenwich, RI      15.50m   50-10.25
      15.15m  15.21m  15.50m                                              
  8 Washington, Meko          11 Providence, RI          15.27m   50-01.25
      13.68m  15.27m  15.16m                                              
  9 Reynoso, Gustavo          11 Providence, RI          15.08m   49-05.75
      13.30m  13.71m  15.08m                                              
 10 McLeod, Chris             09 West Islip, NY          13.59m   44-07.00
      13.59m  FOUL  FOUL                                                  
 11 Caballero, Joel           11 Providence, RI          13.49m   44-03.25
      FOUL  13.49m  FOUL                                                  
Flight  2                                                                 
  1 Brown, Ed                 09 Nesconset, NY           18.14m   59-06.25
      16.93m  17.65m  18.14m                                              
  2 Phok, Timothy             10 Providence, RI          17.68m   58-00.25
      16.76m  17.68m  FOUL                                                
  3 Brode, Dustin             10 Canfield, OH            17.59m   57-08.50
      16.26m  FOUL  17.59m                                                
  4 Grasso, Vincent           09 Wakefield, RI           17.56m   57-07.50
      FOUL  17.56m  17.47m                                                
  5 Gonzales, Johnny          09 Colton, CA              17.30m   56-09.25
      FOUL  FOUL  17.30m                                                  
  6 Prendergast, Tyler        09 Rensselaer, NY          16.81m   55-02.00
      FOUL  16.81m  FOUL                                                  
  7 Maloof, Michael           11 Warwick,, RI            16.66m   54-08.00
      16.25m  16.17m  16.66m                                              
  8 Cleary, Simon             09 Smithtown, NY           16.44m   53-11.25
      FOUL  16.44m  FOUL                                                  
  9 Franks, Anthony           09 Ballston Spa, NY        15.94m   52-03.75
      15.94m  FOUL  FOUL                                                  
 10 Linsley, Corey            09 Boardman, OH            15.74m   51-07.75
      15.74m  15.74m  FOUL                                                
 -- Hessell, Christopher      09 New Haven, MI             FOUL           
      FOUL  FOUL  FOUL                                                    
Flight  3                                                                 
  1 Guider, Robert            09 Danbury, CT             20.74m   68-00.50
      FOUL  20.29m  20.74m  FOUL  20.25m  20.00m                          
  2 Baillio, Hayden           09 Whitesboro, TX          19.38m   63-07.00
      19.38m  FOUL  19.16m                                                
  3 Palmer, Evan              09 Rensselaer, NY          18.88m   61-11.50
      18.10m  FOUL  18.88m                                                
  4 Morales, Brendan          09 Westminster, MD         18.67m   61-03.00
      18.67m  FOUL  FOUL                                                  
  5 Brentnall, Edward         11 Marietta, GA            17.92m   58-09.50
      17.22m  16.57m  17.92m                                              
  6 Cheek, Nathan             10 Lancaster, OH           17.81m   58-05.25
      16.41m  17.81m  17.66m                                              
  7 Bahrke, Cody              09 Neola, IA               17.77m   58-03.75
      17.77m  17.37m  FOUL                                                
  8 Simalchik, Stephen        09 Danbury, CT             17.59m   57-08.50
      FOUL  FOUL  17.59m                                                  
  9 Hardin, Bret              10 Marietta, GA            17.09m   56-01.00
      17.09m  FOUL  17.02m                                                
 10 Days, Jeremy              09 Katonah, NY             14.82m   48-07.50
      14.82m  FOUL  12.54m                                                
 -- Winters, Gabre            10 Providence, RI             DNS           
Flight  4                                                                 
  1 McCullough, Conor         09 Canoga Park, CA         28.23m   92-07.50
      25.40m  26.39m  26.81m  26.39m  26.14m  28.23m                      
  2 Faldermeyer, Alec         10 New Hampton, NY         23.27m   76-04.25
      21.15m  23.27m  21.61m  21.83m  22.85m  21.34m                      
  3 Gama, Michael             09 Bishop Hendr TC         22.18m   72-09.25
      22.04m  21.17m  FOUL  22.18m  FOUL  21.62m                          
  4 Mubarak, Nabil            09 Marietta, GA            20.87m   68-05.75
      20.63m  20.44m  FOUL  20.51m  20.87m  FOUL                          
  5 Filiano, Dominic          10 Lebanon, NH             20.15m   66-01.50
      19.66m  19.23m  20.15m  19.32m  FOUL  FOUL                          
  6 Freberg, Miles            09 Marietta, GA            20.05m   65-09.50
      20.05m  FOUL  19.24m  19.77m  19.94m  FOUL                          
  7 Faboyede, Joshua          09 Providence, RI          19.79m   64-11.25
      19.79m  18.57m  18.46m  FOUL  FOUL  18.16m                          
  8 Stancombe, Benjamin       09 Bloomington, IN         19.68m   64-07.00
      FOUL  18.96m  19.68m                                                
  9 Ferguson, Lucas           09 Mount Vernon, OH        19.47m   63-10.50
      19.29m  FOUL  19.47m                                                
 10 Janes, William            09 Newport, RI             18.75m   61-06.25
      FOUL  18.75m  FOUL                                                  
 11 Levine, Michael           09 Commack, NY             18.45m   60-06.50
      18.45m  FOUL  FOUL                                                  
==========================================================================
    National: N 87-10.25  3/16/2008   Conor Mc Cullough, Chaminade, W Hill
        Meet: M    87-05  3/1999      Dylan Armstrong, Westside, Canada   
    Freshman: ( 63-06.25  1/22/2005   Wes Wright, Villa Rica, GA          
   Sophomore: R 75-00.50  2/26/2005   Walter Henning, St. Anthony's,S Hunt
      Junior: J 87-10.25  3/16/2008   Conor Mc Cullough, Chaminade, W Hill
      Senior: $ 86-03.75  2/27/2007   Walter Henning, St. Anthony's, S Hun
    Name                    Year School                  Finals           
==========================================================================
Finals                                                                    
  1 McCullough, Conor         09 Canoga Park, CA         28.23m   92-07.50
      25.40m  26.39m  26.81m  26.39m  26.14m  28.23m                      
  2 Faldermeyer, Alec         10 New Hampton, NY         23.27m   76-04.25
      21.15m  23.27m  21.61m  21.83m  22.85m  21.34m                      
  3 Gama, Michael             09 Bishop Hendr TC         22.18m   72-09.25
      22.04m  21.17m  FOUL  22.18m  FOUL  21.62m                          
  4 Mubarak, Nabil            09 Marietta, GA            20.87m   68-05.75
      20.63m  20.44m  FOUL  20.51m  20.87m  FOUL                          
  5 Guider, Robert            09 Danbury, CT             20.74m   68-00.50
      FOUL  20.29m  20.74m  FOUL  20.25m  20.00m                          
  6 Filiano, Dominic          10 Lebanon, NH             20.15m   66-01.50
      19.66m  19.23m  20.15m  19.32m  FOUL  FOUL                          
  7 Freberg, Miles            09 Marietta, GA            20.05m   65-09.50
      20.05m  FOUL  19.24m  19.77m  19.94m  FOUL                          
  8 Faboyede, Joshua          09 Providence, RI          19.79m   64-11.25
      19.79m  18.57m  18.46m  FOUL  FOUL  18.16m                          
  9 Stancombe, Benjamin       09 Bloomington, IN         19.68m   64-07.00
      FOUL  18.96m  19.68m                                                
 10 Ferguson, Lucas           09 Mount Vernon, OH        19.47m   63-10.50
      19.29m  FOUL  19.47m                                                
 11 Baillio, Hayden           09 Whitesboro, TX          19.38m   63-07.00
      19.38m  FOUL  19.16m                                                
 12 Palmer, Evan              09 Rensselaer, NY          18.88m   61-11.50
      18.10m  FOUL  18.88m                                                
 13 Janes, William            09 Newport, RI             18.75m   61-06.25
      FOUL  18.75m  FOUL                                                  
 14 Morales, Brendan          09 Westminster, MD         18.67m   61-03.00
      18.67m  FOUL  FOUL                                                  
 15 Levine, Michael           09 Commack, NY             18.45m   60-06.50
      18.45m  FOUL  FOUL                                                  
 16 Brown, Ed                 09 Nesconset, NY           18.14m   59-06.25
      16.93m  17.65m  18.14m                                              
 17 Brentnall, Edward         11 Marietta, GA            17.92m   58-09.50
      17.22m  16.57m  17.92m                                              
 18 Cheek, Nathan             10 Lancaster, OH           17.81m   58-05.25
      16.41m  17.81m  17.66m                                              
 19 Bahrke, Cody              09 Neola, IA               17.77m   58-03.75
      17.77m  17.37m  FOUL                                                
 20 Phok, Timothy             10 Providence, RI          17.68m   58-00.25
      16.76m  17.68m  FOUL                                                
 21 Brode, Dustin             10 Canfield, OH            17.59m   57-08.50
      16.26m  FOUL  17.59m                                                
 21 Simalchik, Stephen        09 Danbury, CT             17.59m   57-08.50
      FOUL  FOUL  17.59m                                                  
 23 Grasso, Vincent           09 Wakefield, RI           17.56m   57-07.50
      FOUL  17.56m  17.47m                                                
 24 Gonzales, Johnny          09 Colton, CA              17.30m   56-09.25
      FOUL  FOUL  17.30m                                                  
 25 Steele, John              10 Barrington, RI          17.22m   56-06.00
      17.22m  16.25m  16.46m                                              
 26 Hardin, Bret              10 Marietta, GA            17.09m   56-01.00
      17.09m  FOUL  17.02m                                                
 27 Prendergast, Tyler        09 Rensselaer, NY          16.81m   55-02.00
      FOUL  16.81m  FOUL                                                  
 28 Maloof, Michael           11 Warwick,, RI            16.66m   54-08.00
      16.25m  16.17m  16.66m                                              
 29 Cleary, Simon             09 Smithtown, NY           16.44m   53-11.25
      FOUL  16.44m  FOUL                                                  
 30 Lipinsky, Alex            09 Poland, OH              16.31m   53-06.25
      16.31m  FOUL  FOUL                                                  
 31 Hall, James               10 Fishkill, NY            16.26m   53-04.25
      15.72m  FOUL  16.26m                                                
 32 Franks, Anthony           09 Ballston Spa, NY        15.94m   52-03.75
      15.94m  FOUL  FOUL                                                  
 33 Liguori, TJ               09 Westerly, RI            15.86m   52-00.50
      FOUL  FOUL  15.86m                                                  
 33 Mottola, Teddy            09 Tarrytown, NY           15.86m   52-00.50
      FOUL  FOUL  15.86m                                                  
 35 Linsley, Corey            09 Boardman, OH            15.74m   51-07.75
      15.74m  15.74m  FOUL                                                
 36 Albrecht, Kyle            09 Pleasant Valley, NY     15.62m   51-03.00
      FOUL  15.62m  FOUL                                                  
 37 Larkin, Richard           09 West Greenwich, RI      15.50m   50-10.25
      15.15m  15.21m  15.50m                                              
 38 Washington, Meko          11 Providence, RI          15.27m   50-01.25
      13.68m  15.27m  15.16m                                              
 39 Reynoso, Gustavo          11 Providence, RI          15.08m   49-05.75
      13.30m  13.71m  15.08m                                              
 40 Days, Jeremy              09 Katonah, NY             14.82m   48-07.50
      14.82m  FOUL  12.54m                                                
 41 McLeod, Chris             09 West Islip, NY          13.59m   44-07.00
      13.59m  FOUL  FOUL                                                  
 42 Caballero, Joel           11 Providence, RI          13.49m   44-03.25
      FOUL  13.49m  FOUL                                                  
 -- Hessell, Christopher      09 New Haven, MI             FOUL           
      FOUL  FOUL  FOUL                                                    
 -- Winters, Gabre            10 Providence, RI             DNS  
  

Event 48  Girls 5000 Meter Run
================================================================
    National: N 16:43.02  3/4/2004    Brianna Jackucewicz, North
        Meet: M 16:53.55  3/10/2007   Aurora Scott, Chesapeake, 
    Freshman: ( 17:42.61  3/1983      Wendy Sinclair, Green Mtn,
   Sophomore: R 16:52.48  3/1983      Cathy Schiro, Dover, NH   
      Junior: J 16:45.84  2005        Cassie Hintz, Old Town, ME
      Senior: $ 16:50.80  2006        Cassie Hintz, Old Town, ME
    Name                    Year School                  Finals 
================================================================
Section  1                                                      
  1 Zumbach, Lauren           09 Hinsdale, IL          18:29.93 
  2 Johnson, Brooke           09 Shoreham, NY          18:31.53 
  3 Nerud, Brianna            12 Massapequa, NY        18:31.97 
  4 Haake, Leah               10 Hadley, MA            18:32.40 
  5 Caldwell, Elizabeth       13 Massapequa, NY        18:34.05 
  6 Shegoski, Lara            10 Belle Mead, NJ        18:52.51 
  7 Malloy, Kelly             10 Sewell, NJ            18:54.90 
  8 Veit, Kristen             09 Easthampton, MA       18:57.85 
  9 Emerson, Connie           10 Norwich, VT           19:06.21 
 10 Calvarese, Allison        11 Wilmington, DE        19:26.64 
 -- Vezza, Gabriella          13 Massapequa, NY             DNS 
 -- McMahon, Julia            10 Staten Island, NY          DNS 
 -- De La Rosa, Kathryn       09 Chesapeake, VA             DNS 
 -- Hunt, Kelsey              09 Manchester, NH             DNS 
 -- Rivers, Teshika           09 Greenbelt, MD              DNS 
 -- Ballantyne, Emily         09 York, PA                   DNS 
 -- Halligan, Kelli           12 Melrose, MA                DNS 
 -- Siefert, Courtney         10 Crestview Hills, KY        DNS 
Section  2                                                      
  1 Oswald, Chelsea           09 Medina, OH            17:03.82(
  2 Nadel, Samantha           12 Massapequa, NY        17:15.38(
  3 Venables, Megan           11 Blackwood, NJ         17:29.11(
  4 Jenkins, Jordan           09 McSherrystown, PA     17:31.16(
  5 White, Rebecca            09 Natick, MA            17:40.69(
  6 Lanois, Emily             09 South Hamilton, MA    17:45.08 
  7 Neer, Waverly             11 Culver, IN            17:54.33 
  8 Oram, Ally                10 Marlborough, MA       17:56.24 
  9 Elkins, Maddie            11 Stamford, CT          18:02.89 
 10 Mossler, Emily            09 Indianapolis, IN      18:03.00 
 11 Gossels, Jennifer         09 Sudbury, MA           18:26.47 
 12 Turner, Claire            10 Signal Mountain, TN   18:38.72 
 13 Hanson, Chelsea           09 Clinton Corners, NY   18:48.72 
 14 Gonzalez, Stacey          09 Raleigh, NC           18:49.90 
 -- Kulesz, Melanie           09 Oak Ridge, TN              DNS 
================================================================
    National: N 16:43.02  3/4/2004    Brianna Jackucewicz, North
        Meet: M 16:53.55  3/10/2007   Aurora Scott, Chesapeake, 
    Freshman: ( 17:42.61  3/1983      Wendy Sinclair, Green Mtn,
   Sophomore: R 16:52.48  3/1983      Cathy Schiro, Dover, NH   
      Junior: J 16:45.84  2005        Cassie Hintz, Old Town, ME
      Senior: $ 16:50.80  2006        Cassie Hintz, Old Town, ME
    Name                    Year School                  Finals 
================================================================
Finals                                                          
  1 Oswald, Chelsea           09 Medina, OH            17:03.82(
  2 Nadel, Samantha           12 Massapequa, NY        17:15.38(
  3 Venables, Megan           11 Blackwood, NJ         17:29.11(
  4 Jenkins, Jordan           09 McSherrystown, PA     17:31.16(
  5 White, Rebecca            09 Natick, MA            17:40.69(
  6 Lanois, Emily             09 South Hamilton, MA    17:45.08 
  7 Neer, Waverly             11 Culver, IN            17:54.33 
  8 Oram, Ally                10 Marlborough, MA       17:56.24 
  9 Elkins, Maddie            11 Stamford, CT          18:02.89 
 10 Mossler, Emily            09 Indianapolis, IN      18:03.00 
 11 Gossels, Jennifer         09 Sudbury, MA           18:26.47 
 12 Zumbach, Lauren           09 Hinsdale, IL          18:29.93 
 13 Johnson, Brooke           09 Shoreham, NY          18:31.53 
 14 Nerud, Brianna            12 Massapequa, NY        18:31.97 
 15 Haake, Leah               10 Hadley, MA            18:32.40 
 16 Caldwell, Elizabeth       13 Massapequa, NY        18:34.05 
 17 Turner, Claire            10 Signal Mountain, TN   18:38.72 
 18 Hanson, Chelsea           09 Clinton Corners, NY   18:48.72 
 19 Gonzalez, Stacey          09 Raleigh, NC           18:49.90 
 20 Shegoski, Lara            10 Belle Mead, NJ        18:52.51 
 21 Malloy, Kelly             10 Sewell, NJ            18:54.90 
 22 Veit, Kristen             09 Easthampton, MA       18:57.85 
 23 Emerson, Connie           10 Norwich, VT           19:06.21 
 24 Calvarese, Allison        11 Wilmington, DE        19:26.64 
 -- Halligan, Kelli           12 Melrose, MA                DNS 
 -- Ballantyne, Emily         09 York, PA                   DNS 
 -- McMahon, Julia            10 Staten Island, NY          DNS 
 -- Rivers, Teshika           09 Greenbelt, MD              DNS 
 -- Siefert, Courtney         10 Crestview Hills, KY        DNS 
 -- De La Rosa, Kathryn       09 Chesapeake, VA             DNS 
 -- Vezza, Gabriella          13 Massapequa, NY             DNS 
 -- Kulesz, Melanie           09 Oak Ridge, TN              DNS 
 -- Hunt, Kelsey              09 Manchester, NH             DNS 
       

Event 42  Girls Weight Throw
==========================================================================
    National: N    62-02  3/3/2008    Victoria Flowers, Classical, Provide
        Meet: M    61-02  3/15/2008   Victoria Flowers, Classical, Provide
    Freshman: (    57-03  2/2/2008    Katie Kraychir, Twentynine Palms, CA
   Sophomore: R 55-10.25  12/20/2008  Katie Kraychir, Twentynine Palms, CA
      Junior: J 60-10.50  1997        Maureen Griffin, Pocatello, ID      
      Senior: $ 61-00.75  12/28/2007  Victoria Flowers, Classical, Provide
    Name                    Year School                  Finals           
==========================================================================
Flight  1                                                                 
  1 Turenne, Jerilyn          09 West Greenwich, RI      12.11m   39-08.75
      10.10m  11.14m  12.11m                                              
  2 Moreira, Elizabeth        09 Nesconset, NY           12.08m   39-07.75
      FOUL  12.08m  FOUL                                                  
  3 McFetters, Robyn          11 Barrington, RI          11.94m   39-02.25
      11.66m  11.94m  11.94m                                              
  4 Ordaz, Dorienne           12 Los Angeles, CA         11.66m   38-03.25
      11.66m  FOUL  11.65m                                                
  5 Keene, Emily              09 Hebron, IN              11.56m   37-11.25
      10.80m  11.00m  11.56m                                              
  6 Brown, Cherrice           09 Bay Shore, NY           11.49m   37-08.50
      11.06m  11.40m  11.49m                                              
  7 Silvestri, Bianca         09 West Greenwich, RI      11.38m   37-04.00
      11.38m  11.03m  10.76m                                              
  8 Keller, Katy              10 Milford, NH             11.26m   36-11.50
      11.26m  11.11m  10.67m                                              
  9 Elgar, Georgia            10 Pascoag, RI             11.01m   36-01.50
      11.01m  FOUL  10.56m                                                
 10 Louis, Parisha            10 Providence, RI          10.74m   35-03.00
      10.30m  9.89m  10.74m                                               
 11 Thornton, Adrienne        12 Dorchester, MA           9.37m   30-09.00
      9.37m  FOUL  FOUL                                                   
 12 Leo, Jeanette             10 Providence, RI           8.97m   29-05.25
      FOUL  FOUL  8.97m                                                   
 -- Lauro, Catherine          10 Providence, RI            FOUL           
      FOUL  FOUL  FOUL                                                    
Flight  2                                                                 
  1 Jones, Amber              11 Providence, RI          13.80m   45-03.50
      12.27m  13.80m  13.36m                                              
  2 Stowers, Kathryn          09 Cumberland, RI          13.77m   45-02.25
      13.05m  13.77m  12.88m                                              
  3 Young, Moriah             09 Owings Mills, MD        13.38m   43-10.75
      13.38m  FOUL  12.26m                                                
  4 Fernandes, Aleide         11 providence, RI          13.31m   43-08.00
      13.31m  13.05m  FOUL                                                
  5 Walker, Ashley            09 Manchester, CT          12.96m   42-06.25
      FOUL  12.66m  12.96m                                                
  6 Read, Rosemary            09 West Greenwich, RI      12.92m   42-04.75
      12.71m  12.92m  12.69m                                              
  6 Watt, Shannon             09 Jackson, NJ             12.92m   42-04.75
      12.92m  12.28m  12.81m                                              
  8 Procopio, Alexandra       09 Exeter, RI              12.34m   40-06.00
      12.34m  FOUL  11.27m                                                
  9 Clark, Amanda             10 Pascoag, RI             11.89m   39-00.25
      FOUL  11.89m  11.84m                                                
 10 DuPont, Taylor            11 Marietta, GA            11.51m   37-09.25
      11.43m  11.21m  11.51m                                              
 11 Oakley, Rena              10 Wakefield, RI           11.29m   37-00.50
      FOUL  10.89m  11.29m                                                
 12 Power, Brittany           09 Warwick, RI             10.89m   35-08.75
      10.89m  FOUL  FOUL                                                  
 -- Vannoy, Emily             09 Frederick, MD             FOUL           
      FOUL  FOUL  FOUL                                                    
Flight  3                                                                 
  1 Chambers, Lauren          09 Marietta, GA            17.94m   58-10.25
      16.63m  17.94m  FOUL  FOUL  16.38m  FOUL                            
  2 Gates, Patrice            10 Marietta, GA            16.59m   54-05.25
      FOUL  14.33m  15.47m  FOUL  16.29m  16.59m                          
  3 Miller, Jazmin            09 Marietta, GA            16.58m   54-04.75
      16.17m  16.58m  15.13m  FOUL  FOUL  15.68m                          
  4 Halvorson, Aslynn         09 Charlotte, NC           16.39m   53-09.25
      16.18m  14.98m  FOUL  15.89m  16.39m  FOUL                          
  5 Westover, Julia           09 Lebanon, NH             15.57m   51-01.00
      15.57m  FOUL  FOUL  FOUL  FOUL  FOUL                                
  6 Bragg, Katie              09 Marietta, GA            15.45m   50-08.25
      15.31m  15.45m  FOUL  FOUL  FOUL  13.99m                            
  7 Clasen, Ashley            09 Shoreham, NY            15.05m   49-04.50
      14.67m  15.05m  15.02m  15.00m  FOUL  15.03m                        
  8 Henning, Karen            10 Kings Park, NY          14.97m   49-01.50
      FOUL  14.60m  14.55m  13.79m  14.71m  14.97m                        
  9 Pope, Charlotte           09 Scarsdale, NY           14.53m   47-08.00
      14.46m  14.32m  14.53m                                              
 10 Onye, Angela              10 Providence, RI          13.98m   45-10.50
      13.63m  13.98m  13.36m                                              
 11 Okwara, Nnenna            09 Charlotte, NC           11.89m   39-00.25
      FOUL  FOUL  11.89m                                                  
 12 Lawson, Brittney          09 woonsocket, RI          11.38m   37-04.00
      11.38m  FOUL  10.35m                                                
==========================================================================
    National: N    62-02  3/3/2008    Victoria Flowers, Classical, Provide
        Meet: M    61-02  3/15/2008   Victoria Flowers, Classical, Provide
    Freshman: (    57-03  2/2/2008    Katie Kraychir, Twentynine Palms, CA
   Sophomore: R 55-10.25  12/20/2008  Katie Kraychir, Twentynine Palms, CA
      Junior: J 60-10.50  1997        Maureen Griffin, Pocatello, ID      
      Senior: $ 61-00.75  12/28/2007  Victoria Flowers, Classical, Provide
    Name                    Year School                  Finals           
==========================================================================
Finals                                                                    
  1 Chambers, Lauren          09 Marietta, GA            17.94m   58-10.25
      16.63m  17.94m  FOUL  FOUL  16.38m  FOUL                            
  2 Gates, Patrice            10 Marietta, GA            16.59m   54-05.25
      FOUL  14.33m  15.47m  FOUL  16.29m  16.59m                          
  3 Miller, Jazmin            09 Marietta, GA            16.58m   54-04.75
      16.17m  16.58m  15.13m  FOUL  FOUL  15.68m                          
  4 Halvorson, Aslynn         09 Charlotte, NC           16.39m   53-09.25
      16.18m  14.98m  FOUL  15.89m  16.39m  FOUL                          
  5 Westover, Julia           09 Lebanon, NH             15.57m   51-01.00
      15.57m  FOUL  FOUL  FOUL  FOUL  FOUL                                
  6 Bragg, Katie              09 Marietta, GA            15.45m   50-08.25
      15.31m  15.45m  FOUL  FOUL  FOUL  13.99m                            
  7 Clasen, Ashley            09 Shoreham, NY            15.05m   49-04.50
      14.67m  15.05m  15.02m  15.00m  FOUL  15.03m                        
  8 Henning, Karen            10 Kings Park, NY          14.97m   49-01.50
      FOUL  14.60m  14.55m  13.79m  14.71m  14.97m                        
  9 Pope, Charlotte           09 Scarsdale, NY           14.53m   47-08.00
      14.46m  14.32m  14.53m                                              
 10 Onye, Angela              10 Providence, RI          13.98m   45-10.50
      13.63m  13.98m  13.36m                                              
 11 Jones, Amber              11 Providence, RI          13.80m   45-03.50
      12.27m  13.80m  13.36m                                              
 12 Stowers, Kathryn          09 Cumberland, RI          13.77m   45-02.25
      13.05m  13.77m  12.88m                                              
 13 Young, Moriah             09 Owings Mills, MD        13.38m   43-10.75
      13.38m  FOUL  12.26m                                                
 14 Fernandes, Aleide         11 providence, RI          13.31m   43-08.00
      13.31m  13.05m  FOUL                                                
 15 Walker, Ashley            09 Manchester, CT          12.96m   42-06.25
      FOUL  12.66m  12.96m                                                
 16 Read, Rosemary            09 West Greenwich, RI      12.92m   42-04.75
      12.71m  12.92m  12.69m                                              
 16 Watt, Shannon             09 Jackson, NJ             12.92m   42-04.75
      12.92m  12.28m  12.81m                                              
 18 Procopio, Alexandra       09 Exeter, RI              12.34m   40-06.00
      12.34m  FOUL  11.27m                                                
 19 Turenne, Jerilyn          09 West Greenwich, RI      12.11m   39-08.75
      10.10m  11.14m  12.11m                                              
 20 Moreira, Elizabeth        09 Nesconset, NY           12.08m   39-07.75
      FOUL  12.08m  FOUL                                                  
 21 McFetters, Robyn          11 Barrington, RI          11.94m   39-02.25
      11.66m  11.94m  11.94m                                              
 22 Okwara, Nnenna            09 Charlotte, NC           11.89m   39-00.25
      FOUL  FOUL  11.89m                                                  
 22 Clark, Amanda             10 Pascoag, RI             11.89m   39-00.25
      FOUL  11.89m  11.84m                                                
 24 Ordaz, Dorienne           12 Los Angeles, CA         11.66m   38-03.25
      11.66m  FOUL  11.65m                                                
 25 Keene, Emily              09 Hebron, IN              11.56m   37-11.25
      10.80m  11.00m  11.56m                                              
 26 DuPont, Taylor            11 Marietta, GA            11.51m   37-09.25
      11.43m  11.21m  11.51m                                              
 27 Brown, Cherrice           09 Bay Shore, NY           11.49m   37-08.50
      11.06m  11.40m  11.49m                                              
 28 Silvestri, Bianca         09 West Greenwich, RI      11.38m   37-04.00
      11.38m  11.03m  10.76m                                              
 28 Lawson, Brittney          09 woonsocket, RI          11.38m   37-04.00
      11.38m  FOUL  10.35m                                                
 30 Oakley, Rena              10 Wakefield, RI           11.29m   37-00.50
      FOUL  10.89m  11.29m                                                
 31 Keller, Katy              10 Milford, NH             11.26m   36-11.50
      11.26m  11.11m  10.67m                                              
 32 Elgar, Georgia            10 Pascoag, RI             11.01m   36-01.50
      11.01m  FOUL  10.56m                                                
 33 Power, Brittany           09 Warwick, RI             10.89m   35-08.75
      10.89m  FOUL  FOUL                                                  
 34 Louis, Parisha            10 Providence, RI          10.74m   35-03.00
      10.30m  9.89m  10.74m                                               
 35 Thornton, Adrienne        12 Dorchester, MA           9.37m   30-09.00
      9.37m  FOUL  FOUL                                                   
 36 Leo, Jeanette             10 Providence, RI           8.97m   29-05.25
      FOUL  FOUL  8.97m                                                   
 -- Lauro, Catherine          10 Providence, RI            FOUL           
      FOUL  FOUL  FOUL                                                    
 -- Vannoy, Emily             09 Frederick, MD             FOUL           
      FOUL  FOUL  FOUL