Distance Relay Drama - Acts I and II




WWPN got the 4x1 Mile record, but Albemarle won the showdown as the first two acts of the boys distance drama played out on Day 1 in Boston ... what will happen in Act III?



By SteveU, DyeStat/ESPN RISE senior editor, photos by Jeannette Seckinger

With the entries and schedule played out, and with the talent pool that's developed this winter, it became clear leading in to the Nike Indoor Nationals that the boys distance relays would play out in a three-act drama, with three teams playing lead roles – all with hopes of earning a pair of championships – and with plenty of potential foils.

The first act would be, in effect, a solo performance, with West Windsor Plainsboro North NJ (Knights TC) appearing to have only the clock for full-race competition as it chased the 4x1 mile record early afternoon Saturday. The middle act, later Saturday in the distance medley relay, would be the theatrical centerpiece, with WWPN, Albemarle VA (Albemarle 5 Guys), and Morris Hills NJ (Morris Hills TC) the key players – the first trying to complete a double and the other two trying to begin the same.

The grand finale, then, would take place late Sunday afternoon in the 4x800, with the three leads returning for their final showing, but with Albemarle and Morris Hills looking like the top contenders in a rematch of their Millrose matchup.

Saturday would answer two questions: First, would WWPN get the 4x1 Mile national record, despite an expected lack of competition late in the race? Second, who would win the DMR and how close could they get to sub-10?




Lead guys big key for WWPN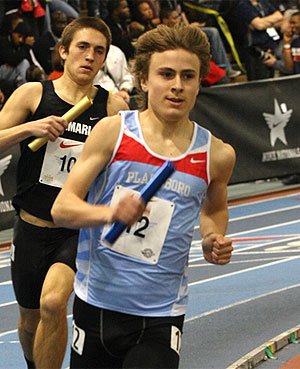 Everyone knows about the Rosa twins, the super sophs who have captured the imagination of the country's prep distance fans all year, and it certainly stood to reason that they could average at least 4:15-18 between them in the 4x1 Mile Relay. So what would really determine the success for WWPN was the other two guys. Seniors Ryan Sleeper and Tyler Corkedale had to hit about 4:25 each to give the RoBros a chance. Both had low-mid 4:20s talent and just had to come through.

Helping the cause, in a way, was the Haddonfield NJ crew. They figured it was to their own advantage to front-load their relay with top juniors Colin Baker and Jonathan Vitez, both quality front-runners who would push the pace. That's how it worked out, but there was definitely a scary moment for WWPN.

Two laps into the first leg, Sleeper took a tumble in the tight pack. There was no trampling and he got up fairly quickly, but he lost several places and a few seconds. "I'm not really sure what happened," he said after the race. "I fell over someone's leg and lost my balance and momentum."

The key, of course, was how he would respond. Fortunately for the champs, he did exactly the right thing: Not letting the adrenaline he felt from the jarring event overwhelm him, but rather gradually working his way back up. By the last lap, he was right behind Baker again and they made their exchanges in 4:25.3/4:25.8. No harm done, game still on.

Corkedale (left, in the DMR) followed up and did his job with precision and style. Vitez pushed the pace as expected, but the WWPN senior patiently waited, then necessarily took charge with four laps left. He handed off to Joe Rosa after a 4:21.9, giving the crew a cumulative 8:47.7. Now the Rosas only had to average 4:18 to get the record. "I got out pretty good, but I knew with half a mile to go I had to make a move if we were going to break the record," said Corkedale.

Both Rosas got a bit caught up in the intensity of things at first, charging out hard, but then pulling back at the end. Joe was 3:10 at three-quarters, but wound up 4:16.5. Jim rushed out in 2:05, but finished in 65-67 for 4:17.6. They knew what they were doing.




Dream race comes true … especially for Albemarle



Just over four hours later, the DMR participants lined up and the collection of talent was just ridiculous. Besides the principles, there were a number of other sub-10:20 teams, including several with great anchors. 4:09 miler Andrew Springer would anchor Westerly RI, 4:14 miler Tyler Stutzman would anchor defending champ Western Albemarle. Two other Rhody standouts, Nick Ross and Mark Feigen, would bookend East Greenwich RI. You had Upper Dublin PA, Shen NY and Danbury CT, distance powerhouses, all.

The 1200 leg would set the tone and you had to wonder whether the pace would go out insanely fast with all of the testosterone present, or whether guys would play cat and mouse. But for a 10-flat or better to be possible, you had to look at an opener of at least 3:05.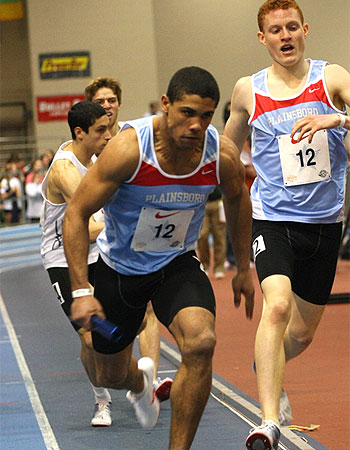 Westerly's Tim O'Loughlin led the teeming pack at 61 through 400, but then things began to settle too much. Western Albemarle's Kyle Satterwhite took over, but the pace sagged to 65 for the second 400. Shortly thereafter, Joe Rosa took over and pushed it back up, with Morris Hills (Sean Pohorence) and others lining up behind. Then, in the final 50 and seemingly from nowhere, Albemarle's Zach Vrhovac emerged and kicked into the lead, handing off in 3:06.9.

"It wasn't the plan (to wait until the end to kick)," Vrhovac said afterward, shaking his head. "I wanted to start my kick way earlier, but I got boxed in really bad. I was lucky to get out of it."

The 400 is often an overlooked part of the DMR, but it was very impactful here. WWPN junior Sean Reed (right) absolutely spread-eagled the field with his 49 split, giving the Knights the lead back and dropping several other teams dangerously close to being out of it. "Before this, my coach told me he wanted me to make sure everyone knew the 400 leg was an important leg," said Reed.

Albemarle and Morris Hills stayed close, though, and Danbury lurked not far back. On the 800 leg, Corkedale kept WWPN in the lead with a 1:54, but Morris Hills and Albemarle, again, kept in contact. Another 1:54 came from Paul Reilly of Upper Dublin as they moved up to the chase group as well.

Finally, the anchor leg set up as all a fan could hope for: Jim Rosa took the stick for WWPN with the clock showing 5:51 … meaning a tough 4:08 would be needed for a national record, but a more attainable 4:12 for #2 all-time. Morris Hills' Liam Tansey and Albemarle's Anthony Kostelac followed and the trio streamed around the track in single file.

Rosa tried furiously to break his pursuers, hitting sub-60 for the first 400, then 2:04 for 800. But Tansley and Kostelac were not to be broken and stubbornly hung on. With the trio having settled into 65 400 pace in the middle laps, Kostelac's chances looked better with each passing stride. With 400 to go, the clock read 9:00; a sub-10 wasn't going to happen as the pace had taken out the possibility of any insane kicks.

Almost as amazing, in its own way, was watching some of the trailing teams. Two of the best milers out there, Stutzman and Springer, had no chance to win, but were gamely picking off competitors and trying for the best times and places they could. It was almost heartbreaking to watch these standouts having to labor nearly 100 meters behind the leaders. Stutzman would hit 4:12.1 to bring his team to 4th in 10:12.96 – more than a dozen seconds faster than their winning time from last year. Springer would take Westerly to 8th with a 10:16.79 by running a 4:10.6.

But ahead of them, Kostelac was preparing the inevitable kick that neither of those ahead of him would be able to match. He launched his sprint with 200 to go, leaving Tansey and Rosa gasping. At that point, it was a matter of how close to 10:00 they would get … it turned out to be 10:02.13, good for #2 all-time. Tansey would bring Morris Hills home in 10:06.06, #4 all-time, while Rosa's finish would leave WWPN at 10:07.44, just off their PR from Eastern States as they saw their all-time standing drop from #4 to #6.




Wondering what might have been … and what's to come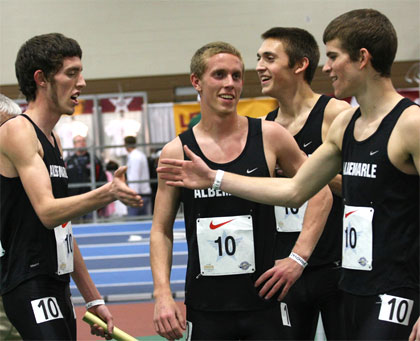 "It was pretty tough," said Joe Rosa of the team's effort to bounce back. "We tried to make sure to let Jim run as easily as he could (in the 4x1 mile) and still get the record. After the first 800, he held back.

"We kind of wished the DMR was before the 4xMile," he added wistfully, "but there's no excuses. They were the better team."

Kostelac, a half-miler still finding himself as a miler, knew what he had to do to win.

"I knew I shouldn't go out too fast," he said. "I knew the Tansey kid was good and I knew the Rosa kid was good." Taking the lead too early was not going to be the winning strategy for him. "When I ran 4:10 (at VA state meet), I had someone pacing me. I'm not that good a pacer for a mile."

The champs (left, congratulating Kostelnac) were humble, but proud, noting that Virginia schools (both of Albemarle area) had won two straight DMRs here. And they were already looking toward Sunday, with even bigger plans.

"We've trained for this all season," said Kostelac. "We're halfway toward fulfilling our goal ... We're known as the 4x8 team and we run better the second day."

Two of the three chapters have been completed. Will Albemarle achieve their goal, possibly with a national record (their group PR is just 2.48 seconds off)? Can Morris Hills bounce back and pull the upset win? Can WWPN achieve the improbable? Stay tuned …