The season is all but over ... we can remember the great races we saw ... but we can also lament ...



The Matchups ...



We Wish We'd Seen






Story by SteveU, Photo Illustrations by Dave Devine



"Derrick and Fernandez slowed to 66 two laps ago, then Fernandez picked it back up to 64, and now Derrick is surging back ahead! They're really picking it up with less than three laps to go and a record appears possible!"

"Price had a huge lead with 300 to go, but now Roesler has really eaten into it! She's within striking distance of the Pennsylvania great as they hit the final straight, but does she have enough left?"

"Griffin and Wynne are together off the 7th hurdle! The 2007 US leader and the 2007 World Youth Champ are battling tooth and nail and Kenneth Ferguson's HSR is in mortal danger!"

Recorded calls from a meet you never heard about? We wish! Nope, those are not the calls of a Doug Speck, David Mitchell or Ian Brooks, but rather the musings of a DyeStat track editor who appreciates the season that was, but imagines what might have been.

You loved that Nike Outdoor 2-mile, with German Fernandez, Luke Puskedra and the rest. You were thrilled as Jordan Hasay and Christine Babcock battled at Arcadia, then the Olympic Trials. You felt great satisfaction when Marquise Goodwin and Christian Taylor finally jumped off at the USATF Juniors.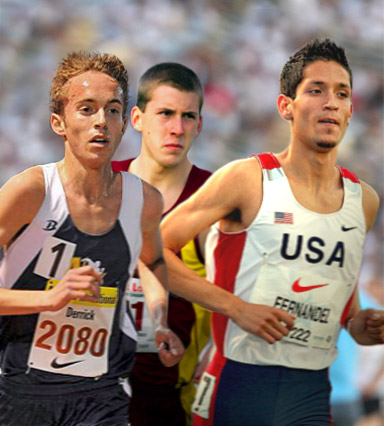 Fernandez, Derrick, and Fout meeting on the track?! Could it be true? Have the dreams of DyeStat message board posters been realized? Alas, the original photos by Kirby Lee and Vic Sailer. Photo illustration by Dave Devine

But what about the matchups we didn't get to see? What about those you speculated about on the message boards, that we never got a chance to see played out? What about the ones we were robbed of because of injuries or clashing national championships?

It's tough enough, with the growing number of big regular-season invites and the burgeoning list of post-season opportunities, to get the best talent together in one place. But this was also the rare year (first since 2001) where Nike Outdoor and the USATF Juniors were scheduled on the same weekend. Throw in the fact that the Olympic Trials began just a week later – 16 preps qualified for Eugene – and athletes really had to pick and choose this year.

The result was that some competitive opportunities – and some great potential matchups – were lost. Injuries, as is the case any year, also played a role.

So what were the matchups you most wish you had seen … but didn't? What would have really had the track world buzzing … or at least kept your attention and compelled you to pay full admission?

Here are some of our favorites. Some you may have thought of, but maybe not the same event. Some may surprise you completely; still others may require a brief visit to the fantasy world …

(talk about it and vote here)

Imagine …



German Fernandez CA vs. Chris Derrick IL vs. Mike Fout IN – 5000 meters



The easy thing to wonder is what if Derrick had made it to the line for the NON 2-mile vs. Fernandez, instead of watching from the sidelines as DyeStat's newest reporter? Could a healthy Derrick – with that 13:55 5k at Arcadia and what seemed like a routine 8:48 3200 not long after – have stayed with German in Greensboro?

That would have been great, but let's face it, Fernandez brought something to the table that Derrick – even at his best – probably lacked: that really good miler's speed. Running 8:34 without a sub-4:10 PR seems like a tall order, even though Derrick surely had 4:08 or better talent this year.

So the more interesting fantasy meeting could have been over 5k – if you can imagine both of them having either raced that distance at NON or Arcadia. When you think of that distance, you think back to XC, where Derrick had his string of XC races that included the historic win at his state meet, basically topping Craig Virgin's mark (slightly different course). Fernandez, meanwhile, had his own mind-boggling state meet performance, blowing past the Marc Davis mark in Fresno. Later, he won the 8k USATF Juniors race.

Of course, it was Fout who won it all in San Diego, beating both of them. But unfortunately he missed nearly the entire track season with injury.

Imagining such a race is hard; first, a healthy Fout would have needed to have gotten his 3200 PR deep into the 8:40s to be competitive in such a race. Derrick would have had the health and probably best fitness on his side if such a matchup had happened at Arcadia. If you imagine it having happened at NON, you could see the pace in the 66-68 range, with Fermandez perhaps just a little more tentative, with it being his first 5k track race. Derrick did have the great kick at Arcadia and Fernandez has faced few kicking situations. On the other hand, it's highly possible Fernandez could have ramped up the pace and held it from further out; it's not hard to think of him breaking 13:50 or 13:45 …


Imagine …



Chanelle Price PA vs. Laura Roesler ND vs. Jillian Smith NJ – 800 meters



There are a few different ways to look at what could have been the greatest matchup ever of 800 runners, with two of the 10 fastest all-time and maybe the three best on one track at any one moment.

First, you could argue, and with justification, that Chanelle is head and shoulders above everyone else in the country, even Roesler and Smith. After all, her four best career times are better than Roesler's PR – and Smith is two seconds back of Roesler. Chanelle's path the last two years was aimed at the Olympic Trials and in almost every race, she displayed that talent; 2:02s and 2:03s became almost routine.

Roesler's rapid ascent late this spring, though, was stunning and unexpected from a national perspective. She went under 2:07 five times, including her 2:03.08 PR at a competitive CA all-comers meet, and then showed pacing and race smarts beyond her experience with her first-round run at the Trials. Price, unfortunately, struggled in the prelim environment, where she held back from her normal fast start.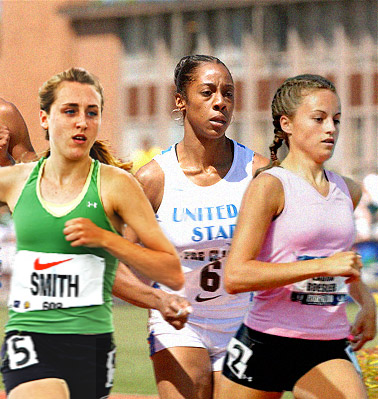 Wait! A midrace shot of a high school girls 800 and Chanelle Price isn't in the lead? Even if it is Smith and Roesler ... Ok, we can't fool you ... original photos by Vic Sailer, Rich Gonzalez and Kirby Lee. Photo illustration by Dave Devine

As for Smith, many of her supporters believed she had the talent and fitness this spring to go 2:03 or better. At NON, she finally was fresh enough to give it a go – and she did, going out in 60 seconds for 400. She faded, but still ran 2:05.24, a fine PR.

Given that Price never got close to being pushed in her last two years of HS races, it was a shame a race between the three didn't happen – for Roesler and Smith would have at least had to be reckoned with.

However, it's also likely that Price would have unleashed her fast first lap, even on a field like this. Many a fine runner has had her will drained by the sight of the powerful Pennsylvanian disappearing down the track. Would Roesler or Smith dared to have kept close to a 58 or 57? Roesler's 25-second and 12-second speed at 100 and 200 would have helped her come back in the second lap, though. Would she have been close enough for it to matter?


Imagine …



Robert Griffin TX vs. William Wynne GA vs. Reggie Wyatt CA – 300 or 400 Hurdles



The U.S. has been loaded with prep talent in the sub-36 and sub-51 range for 300 and 400 hurdles, respectively, the last two years. 2007 was certainly one of the best ever, if not the best – but most of the best never set foot on the same oval. 300H national record-setter (35.28) Jeshua Anderson CA and 400H national leader (49.56) Robert Griffin never met – and neither did they race the other three young men regarded as the best in these events that spring – NON, USATF Junior and World Youth Champ William Wynne GA; Pan-Am Juniors champ Johnny Dutch NC; and sophomore class record-setter Reggie Wyatt CA.

Fortunately, there were some great clashes involving Wynne, Wyatt, and Dutch, like the 400H battle at NON where Wynne triumphed by .01, and the USATF Jrs. race where Wynne overhauled Dutch on the final straight.

2008 looked to have a lot of potential, with just two of this big five having graduated … but wait a minute, Griffin was gone, too, an early graduate and early enrollee at Baylor, where he was to also play football. That left Wynne and Wyatt, but a meeting between them was not in the cards this year. Wyatt did not compete interscholastically, due to a transfer, and while both were entered at USATF Juniors, Wyatt was listed in the flat 400 and then did not run in the meet at all. Both found beating their 2007 PRs to be a tall order.

Still, a race between the three of them in 2008 would have been something. Given the way the year unfolded, though, it's hard to imagine that Griffin would not have won – even if he'd not had the benefit of running in the Baylor program. We DID get a matchup between Anderson, Dutch and Wyatt, as it turned out, at the USATF Juniors. Of course, with Anderson and Dutch having had the spectacular college freshman seasons they both had, they were decisively favored over Wynne. They went 1-2 there, then the Washington State and South Carolina frosh would go on to finish 1-2 at the World Junior meet.


Imagine …



Nadonnia Rodriques NY vs. Lanie Whittaker FL vs. Ebony Eutsey FL vs. Natalie Stewart UT vs. Meshawn Graham OH – 400 meters



You've salivated over the idea of Fernandez-Derrick. You've been a bit intrigued by Price-Roesler. You've speculated about Wynne-Wyatt.

But has it even crossed your mind that there were five girls in the US this year that ran 53.30 or faster – and that only two of them raced each other?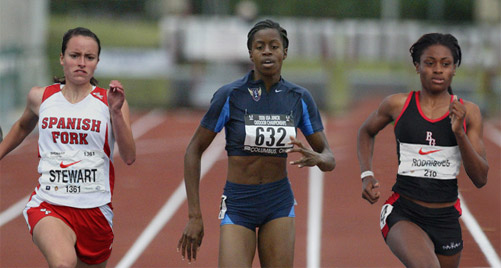 Stewart, Whittaker and Rodriques coming to the tape together? When was that? Sorry, it never happened ... original photos by Vic Sailer and John Nepolitan. Photo illustration by Dave Devine

Didn't think so.

No, it wasn't an eye-popper of a year in the 400. There was only one sub-53 outdoors, the fewest in several years. But it was a competitive, interesting season. Four of the above girls were among those who held US#1 at one time or another. They were from all parts of the country. There were seniors, juniors, and sophomores.

But other than Floridians Eutsey and Whittaker having a few battles – they had to travel to Golden West in California for the one that really mattered – the members of the fast quintet competed in their own orbits.

There were occasions where fans could have seen Rodriques-Stewart, or Whittaker-Graham, but unique circumstances prevented the showdowns.

Nadonnia Rodriques had the fastest time in the nation during the indoor season, a 52.83. But somehow, due to less-than-spectacular outdoor races or perhaps a late registration, she wasn't in the final section of the Nike Outdoor 400. While she toed the line, speedsters like Stewart and 2007 NON runner-up Briana Nelson were waiting in the wings. Rodriques gave them something to think about: An outdoor PR and US#1 52.86. Stewart burned a PR 53.07 minutes later, but a great showdown was missed.

Meanwhile, in Columbus at the USATF Jrs., Meshawn Graham was psyched to beat her seasonal PR of 53.30 and approach the 52.51 PR from '07 that had made her the top returnee in the nation this year. But in her heat, she took a few steps outside her lane and was DQ'd, denying herself a meeting with Lanie Whittaker in the final – where Whittaker ran a PR 53.25 that put her on the World Junior Team.

If the five could have been on the track together … well, no doubt there could have been some fireworks. But unless someone could have given reason to think otherwise, Rodrisques would have been your favorite.


Imagine …



German Fernandez CA vs. Rob Finnerty MN – 1 Mile



Yeah, Fernandez-Derrick-Fout would have been good, but THIS is the boys distance matchup possibility that really gets the wheels turning.

At the beginning of the season, you could have imagined German being an 8:40 guy, anyway. And if Finnerty improved and was healthy, sub-8:50 was possible, for sure.

But if you say you foresaw 4:00.29m and 4:01.09y, respectively, for these two … well, you're just lying. At season's start, a 4:06 full mile would have looked pretty good for either. By late May, it was possible to think a few seconds faster. Each proved, however, to have developed metronomic abilities at 60-second pace, even without any proven greatness at 800.

Picking the outcome of this race might be as difficult as any. Neither would go out irresponsibly fast; neither would have a devastating kick. Each would probably pace it at 3:00-3:01, then whoever could finish a little stronger …


Those were just five of the matchups we would have love to have seen this spring. Quickly, here's some others:

Victoria Jordan TX vs. Chalonda Goodman GA – 100 or 200 meters
Jordan had the one great 100 mark (11.16 at TX state), but otherwise her times were in the range of Goodman, who completed her 2nd NON 100/200 in June, running the US#1 time in the 200 (23.22).

Dalilah Muhammad NY vs. Ryann Krais PA vs. Jackie Coward TN – 300H or 400H
Another example of something that showed great promise from 2007, but did not come to fruition this year. Last year, all three were under 57.30 for 400H; neither got down there this year. Muhammad had the nation's best time (57.81), but avoided the post-season. Krais beat Coward over 400H at Taco Bell, then Coward took a spill in the Great SW 300H showdown, where Krais would beat Donique' Flemings by .01.

Saugus CA girls vs. Burnt Hills NY girls – 4 x 1 Mile
Saugus had the wonderful run at Arcadia (20:10.76, #3 all-time); Burnt Hills took the NSIC (20:14.24 indoors) and NON (20:09.87, taking over #3) titles.

Elijah Greer OR & Zach Mellon MN vs. Joe Franklin FL
It was tough enough that the NON/USATF Jrs. conflict divided a great slew of 800 runners between two meets. But when Greer (1:47.68) and Mellon in Columbus (1:48.64) eclipsed Franklin's US leader of 1:48.97, while Franklin himself was holding on to a win at a slower pace in Greensboro, you really had to cringe and wish they'd all been on the same track.

Booker Nunley NC vs. Wayne Davis NC vs. Spencer Adams NC – 110 Hurdles
Notice a common theme there? The multiple "NC's?" Well, it's true, you could argue the nation's three best hurdlers were from North Carolina this year. But Nunley didn't get to compete at the prep level there because of a misunderstanding of academic workload requirements, while Davis struggled with injuries after a fantastic indoor season. If all three could have raced together, healthy, over the 110s …

Detroit Mumford MI vs. North Penn PA vs. Cleveland Heights OH – 4 x 800
North Penn's 7:38 at the Penn Relays established them as the best 4x8 quartet in the US all season … until they ended their season and Mumford overtook their mark with their unlooked-for 7:37 at NON. Cleveland Heights (7:41) also brought things to a halt before they could meet worthy opposition.

On the field: Big matchups between field event stars were in most cases more commonplace than on the track.

Still, you had to wish

Alaskan and US#1 putter Jordan Clarke would have joined the 60-footers' party in Greensboro
Vaulter Rachel Laurent would have had friendly rival Shade Weygandt at full strength during the outdoor season
Mississippi 7-03 high jumper Ricky Robertson would have competed in the post-season, or met Erik Kynard OH indoors, when Kynard was in 7-03.75 shape.


(talk about it and vote here)

US Index Page