USA Junior National Championships

June 20-22, 2008 at Jesse Owens Stadium, Ohio State U., Columbus OH




DyeStat on-site with Steve Underwood and John Nepolitan


USATF's Results - Highlights



John Nepolitan Sunday Photos

: Winners Gallery - Boys Track - Girls Track - Field Events



Sunday - Left Wanting More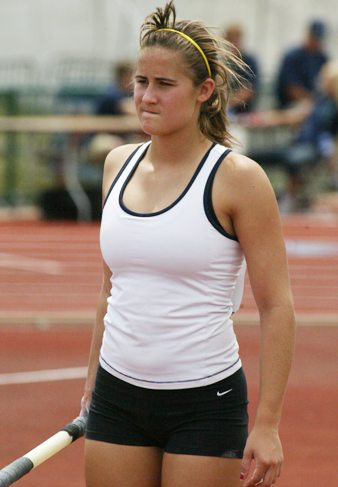 Rachel Laurent contemplates the next height.


Story by SteveU, photos by John Nepolitan

"I really wanted the record," Jordan Hasay admitted with a rueful smile. "But I'll have a couple more chances. With my fitness level, I'm confident I can go faster."

That's how it was for many of the prep champions and other World Junior Team qualifiers during Sunday's USATF Junior Championships. Winning and making the team was great, but they were left wanting a little more. In Hasay's case, the record was the 4:16.42, authored by rival Californian Christine Babcock just a week earlier. The Mission Prep CA junior had run 4:16.98 herself at the Juniors last year, but this time had to settle for 4:18.44, as she led the first 3+ laps of a windy race no one else wanted to control, was passed, and still outkicked everyone in the final 80 meters.

Pole vault winner Rachel Laurent LA (13-10) and heptathlon winner Ryann Krais (5217 pts.), in so many words, said the same thing. But they know they will have more chances and more competition at Worlds, where they will be pushed to potentially greater levels of achievement.

That said, Sunday was a great day to be a girl at the Juniors. Five of the eight prep champions were girls, as were 10 of the 15 that made the top two. Besides the trio mentioned above, there was Laurynne Chetelat CA (3k) and Alitta Boyd CA.

If there was anything these girls had in common, it was being pleased to win and get on the Junior team, but being less than satisfied with their performances. Hasay and Laurent know they're on the cusp of records, but those marks were just out of their reach on Sunday. Laurent took three shots at a HSR 14-01.50, missing despite a few good attempts. Krais was decidedly off her Great Southwest (5522w) form from a few weeks ago, where she missed the HSR (5533) by 11 points and a gusty wind. She needed a big advantage in the javelin of all things – one of her two weakest events – to get ahead of tough Jessica Flax TX.

Chetelat had to run most of the race alone on the windswept oval, and knew it would be tough to get any more than the qualifying time (9:35) and the win (9:29.45). For Boyd, unfortunately, there was a whole different level of dissatisfaction as her outstanding PR 43-01 TJ was aided by a 2.9 tailwind. It's not the first time Boyd has had great marks aided by an illegal breeze and she finds herself without a legal qualifying mark for worlds.

Other team qualifiers, both preps and collegians, did not bring key items like passports and birth certificates to the meet and will find themselves on the outside looking in. More on the complete list of athletes who will actually be traveling to Poland coming soon this week.

The success of the girls isn't to say there weren't highlights on the guys' side, too. Geoff Tabor OK, at or near the top of the shot and discus lists the last three years, finally scored his first major win, with a last-throw 195-05. On the high jump apron, there was Ryan Fleck and Erik Kynard, getting a home-state Ohio 1-2.

It was also good to be a doubler – as in an NON/USATF Jrs. doubler. South Dakota vaulter Leslie Brost followed her 13-03 NON victory Friday with a 13-05.25 PR runner-up finish Sunday (behind Laurent). Becky O'Brien ME matched her winning NON winning mark exactly – 52-01.75 – in getting 2nd to collegian Chenwe Okoro.

It was not a day for records, though – unless you were Walter Henning. The "DyeStat alum" and new LSU Tiger (he transferred from U. of North Carolina) broke his own American Junior Record with the junior weight hammer, improving from 241-05 to 242-04.




Distances: Hasay and Chetelat, separate this time; BenJo near-miss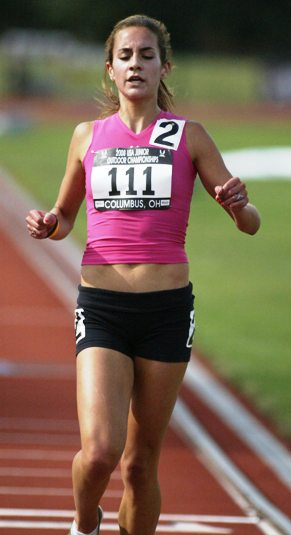 Laurynne Chetelat crosses the line.


Racing each other, Hasay and Chetelat put on a show for the ages at the California State Meet three weeks ago. This time, they were both signed up for the 3k, but Hasay was only planning a foray there if the 1500 didn't work out. It did, so she didn't.

It wasn't certain things would work out for Hasay, though, with 200 to go in the 1500. She had led the pretty much the first 1200 of the windy race without getting any help. While she wanted the fast time, she also knew it would be foolhardy to go much harder, so fellow prep Stephanie Morgan OH and collegians Alex Kosinski and Nichole Jones stayed on her. With just over 200 to go, all three tried to push past her, with Kosinski's move being the most forthright. It looked like the former Cali prep and Oregon freshman, who had some rough races outdoors this spring, might be headed for a big win.

But Hasay has saved something for the last 100 in every big race she's run this spring. She swung wide at the top of the stretch and mowed down Kosinski and Morgan. Kosinski, who handed Hasay her last defeat at a 1500/1600/mile in April 2007, held pretty well for 2nd in 4:19.22, while Morgan ran out of fuel and struggled across at 4:21.52.

"I was hoping someone would take the lead earlier, but no one did," said Hasay. "When they passed me, I was kind of upset, but it felt like the pace slowed slightly after that. I just said to myself, 'State Meet!' 'Arcadia!' and I was able to kick it in."

"She's learning more tools to use," said Coach Armando Siqueiros.

Chetelat did not have the company in the 3k she had at the state 3200 (Hasay), or what she might have had at NON, but she, too, has run hard solo efforts before. Katie McCafferty NJ, who had run that NON race two nights earlier, stuck reasonably close, but Chetelat had to fight the wind and hit the splits as best she could. "I was aiming for five minutes for the first mile," she said. "My goals were just to win and get the qualifying time."

McCafferty got the runner-up spot, but unfortunately lacks the qualifying time. Even closer than the 9:42.82 she ran Sunday was the 9:37.15 she ran at Penn. Afterwards, she bemoaned the slow pace in the NON 2M – which she admitted she wasn't going to take, having lost by such a strategy in the past – and that maybe it would have been better if she'd just run Sunday.

Maybe if Ben Johnson NM had been in the fast section of Sunday's steeplechase, he would have hung with the big guns and gotten 1st or 2nd and made the team. But since he had not run a full 3k steeple, he was placed in the first race of the unusual 2-section final (officials chose that method rather than having prelims), which he won by 15 seconds in a US#2 9:07.41. The time was just 0.39 off the US lead and 2.59 seconds under the 9:10 standard. But BYU's Curtis Carr took the fast heat in 8:55.64, with Nebraska's Mikel Thomas 2nd in 8:58.67.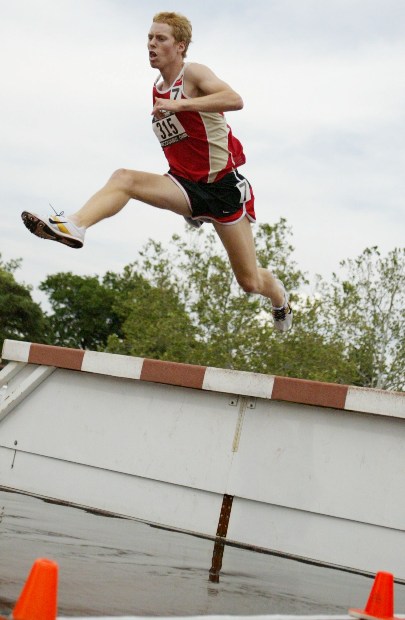 Ben Johnson absolutely flies over the water barrier.

"When the first kilometer went by in 3:05, I knew I was going to have to pick it up on my own to get the qualifier," said Johnson.




Jumps: Tough break for Laurent; heartbreak for Boyd



Laurent on Sunday had one of the most obscure attempts at a national record in history. Her attempts came during the sprints on the track and, apparently, the announcer was either not made aware or just couldn't fit it in. "That's OK, I like it that way," she said. "I don't like all the attention to be on me."

Missing national records was nothing new to Laurent, as she's been pushing the national record all spring. Her best of 14-00 is just 1.5 inches away. She knows she has some more chances to get it. "I had some pretty good attempts today," she said.

Meanwhile, behind her was Leslie Brost, the South Dakota senior who had already rung up an impressive NON win that matched her 13-03 PR. Sunday was even better; while she didn't win, she jacked her PR way up to 13-05.25, good for #4 in the country.

"It's been a lot of fun," said Brost. "I don't get to come to big meets like this very often. We drove here (from Greensboro) all day yesterday."

Alitta Boyd CA had some fun, too, beating a great field of preps and collegians in the triple jump with her PR 43-01. The only frustration, and a big one, was looking at the results and the wind-readings. Her jump was aided by a 2.9 tailwind and she didn't have any others (3 of the jumps in her series were legal) that met the tough 42-03.75 standard. She had previously been very close to the qualifying mark, often in meets with no wind gauge or with wind-aided marks.

Boyd's not making the team gives 3rd-place finisher Vashti Thomas, who jumped 41-10.50 Sunday but has a previous legal 43-footer, a chance to get on with a second event.




Throws: First throws and last throws are best



Since his sophomore year, the career of Oklahoma prep Geoff Tabor had been filled with 200-foot discus throws at the familiar venues of his home state, but he had struggled to match them and match up to the top competition in the biggest meets.

Now he's a USATF Junior champion and headed to Poland. On his final throw of the competition, he moved from 5th to 1st, hurling the slightly heavier Junior discus 195-05.

"It's been a tough mountain to climb, but it couldn't have come at a better time," he said. "A lot of times in big meets the adrenaline really gets flowing and in the shot and maybe in the 100, you can use it, but in the discus it gets me tightened up. Before the last throw, my coach just told me to relax and do what I do in practice."

Earlier, new LSU Tiger Walter Henning was using his very first throw to break his own American Junior record (with the Jr.-weight hammer) of 241-05 with a 242-04. Because he felt a strain in his hip area on the second throw, a recurrence of an old injury from early in his senior year, he passed his last four throws.

The rest of the competition chased him. California prep Conor McCullough improved each of his last three throws, hitting 233-05 on No. 6, easily making the team. "I was off my first couple of throws, but then I got my rhythm down. My goal was really just to qualify."

Surely McCullough would like to beat Henning some day, but that day has not come yet. "I try and push him harder and he certainly pushes me to do better."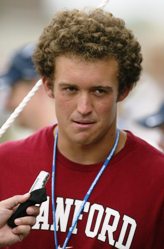 Geoff Tabor talks about his victory in the discus


After easily winning the NON shot earlier in the weekend, prep Becky O'Brien ME was certainly pushed in the USATF Jr. shot. Amazingly, she hit the exact same mark, though it was good for just second this time. Her 52-01.75 tied her US-leading prep mark and #11 all-time.

Louisville's Chinwe Okoro took the lead on her 2nd throw, then improved to 53-00.25 on her last. 2006 Junior champ Kamorean Hayes was 3rd, followed by the rest of an exceptional prep field: Anna Jelmini CA (50-04), Danielle Bunch IL (49-06.50) and Karen Shump PA (48-10.25).




Multis: Sometimes your worst event wins



This year's Junior heptathlon provided the toughest competition for the event's shining star, Ryann Krais PA, since she was a sophomore. Thanks to a dominant performance in the Day 1 shot, and staying close to Krais in each of the other events, Flax had a 6-point lead after Day 1. It stood to reason that Krais would need to retake the lead on one of her better events, the long jump, but Flax beat her by a centimeter there to increase her lead to nine.

It turned out to be that in one of Krais's weaker events, the javelin, she would get the winning margin, throwing 106-04 to Flax's 85-03. That gave her a margin of more than 100 points. In the 800, where Krais is often dominant, it was Flax who showed the never-say-die spirit again to take that event in 2:20.94 to Krais's 2:21.19.

"I can't say that's ever happened before," said Krais of taking the win on her javelin effort.

Overall, she added, "I knew there would be good competition here, but I didn't expect to be so far off my game. The first day was kind of a slap in the face." She said she had taken some days off training on a senior class trip and while she came back a few days early to get ready, the practices had been a bit sluggish.

Meanwhile, Flax PR'd by more than 200 points and moved to US#2 and just outside the top 20 all-time with her effort. A state champ in the 100H and 300H in Texas, she showed her talents as a jumper, shot putter and 800 runner, too. She was the Great Southwest Hept champ last year, but is now more than 600 points beyond that mark.




Sprints: Jordan comes through again; Whittaker surprises



The men's and women's 400 Sunday were dominated almost exclusively by collegians, with the exception of the women's 200, where five of the top six were high schoolers. The best, however, in the half-lap was Tiffany Townsend, the Baylor freshman who took it into a 2.4 headwind in 23.60. Second was Victoria Jordan TX (23.73), who made the team in her second event. She edged Ashton Purvis CA, who ran much better than the 100, but missed by .07 in 23.80. Following were Candyce McGrone IN 23.84, Jessica Davis CA 24.02, and Ashley Collier TX 24.12.

"I got a good blast off the blocks and had a good drive phase," said Jordan. "Then I was able to pick it up in the middle of the last 100.

"It feels good to make the team and get to go to a place I've never been to."

The women's 400 also had a strong prep presence – again, behind a top collegiate freshman. Jessica Beard, who won two USATF Junior titles as a Euclid OH standout, added her 3rd as a Texas A&M Aggie. She wasn't able to make it her fastest on the wind-swept day, but she won by more than a second in 52.23.

In 2nd, though, with a PR 53.25, was Lanie Whittaker, a Florida prep junior who delighted herself in her first Junior-level meet. Her time was just .02 off the US#1 entering the weekend, by fellow Floridian Ebony Eutsey, but is now #4. She also beat fellow prep standout Akawkaw Ndipagbor (53.62).

"It was a great experience," said Whittaker. "I've never run against college girls before. But I was just focused on making the team … Since I almost got outkicked in the prelim, I waited until the last 150 to really make my move."

In the men's 200, South Carolina's Antonio Sales blasted through a 2.2 headwind for a winning 20.94, topping Curtis Mitchell (21.03) and 100 winner Terrell Wilks of U. of Florida. The top prep was Maurice Mitchell MO in 6th in 21.70. At twice that distance, it was Mississippi State's O'Neal Wilder living up to form with a decisive 45.62 to 46.02 win over Baylor's Marcus Boyd.

Robert Simmons TX led the prep effort with 46.44, finally getting within .04 but not quite topping his 46.40 PR from last year.





Sunday's Prep Champions



Rachel Laurent

LA vaults a meet record 13-10, with a few good shots at an HSR 14-01.50

Ryann Krais

PA uses the javelin to get just enough breathing room to hang on to victory in the Hept with 5217 points

Jordan Hasay

CA uses her finishing kick once again to take her 2nd straight 1500 here in 4:18.44

Laurynne Chetelat

CA runs to a near-solo US#2 9:29.45 3k, giving victories to both of the incredible 9:52 3200 performers from the Cali. State Meet

Geoff Tabor

OK takes his first big discus title, hitting 195-05 on his final throw.

Ryan Fleck

OH continues his late-season surge of big wins with a 7-10.50 HJ

Alitta Boyd

CA produces a great TJ victory with 43-01.00. Unfortunately, Boyd doesn't have a legal qualifying mark for World Juniors.

Matthew Forgues

ME outwalks Tyler Sorensen CA and the Vergara brothers for the 10k racewalk title in 49:01.41.
More Prep Qualifiers
FL junior

Lanie Whittaker

runs a big PR and US#2 53.25 to take 2nd behind the 52.23 of collegian and 3-time USATF Jr. champ Jessica Beard.
Running into a stiff 2.4 headwind,

Victoria Jordan

TX takes 2nd (23.73) behind collegian Tiffany Townsend (23.60).
New NON pole vault champ

Leslie Brost

SD concludes super weekend with PR 13-05.25 for 2nd behind Laurent.
Another new NON champ,

Becky O'Brien

ME, matches her new shot put PR with 52-01.75 for 2nd behind collegian Chinwe Okoro.
Giving Krais everything she wanted for 7 events,

Jessica Flax

TX compiles big PR and US#2 5108 in Hept

Conor McCullough

CA hits 233-05 to join 3-time USATF Jr. champ and collegian Walter Henning on Jr. Team
While off his 7-03.75 form of indoor season,

Erik Kynard

OH makes it a 1-2 for the home state in HJ at 7-00.25
Super DyeStat Alums
New LSU Tiger

Walter Henning

sets a new AJR with the junior hammer in the prelims, hitting 242-04 to break his own 241-05 from last spring
USA Junior Nationals index page