The teacher, the first athlete and the last student





July 8, 2008 - Eugene, Oregon



by John Nepolitan



For the Track Junkie, personal connections at the Olympic Trials make it just a bit more special.



As I sat in the photographer's area trackside for the US Olympic Trials, my mind began to wander toward what the next 8 days of competition would bring, and then almost in a flash I realized that this would be a very special meet for me. Three people who have been a part of three important stages in my life would not only be at the meet, but part of the event in special ways. To the general fan there is a connection to those competing and working the meet, but when you have a personal connection to someone in the meet, the event becomes even more special.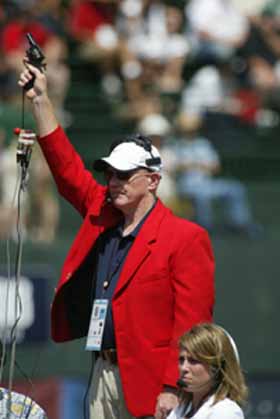 The Teacher: Thomas McTaggart (Olympic Trials Starter)


In the fall of 1974, like many high school freshman, I walked into my history class shy and not really knowing what to expect. I soon found myself in a class unlike anything I had ever had before, a teacher who for the first time in my life made a subject come alive. I was no longer simply sitting in school, I was in a class, and the person who did this was Thomas McTaggart (photo left by John Nepolitan). Moving about the room, challenging each of us to dig deep and look beyond the basic dates and facts to discover why something had happened made me look forward to that class each and every day. I would later find out that Tom would not only be one of our track coaches that spring, but he was an official as well.

Over the years, Tom has worked his way through the ranks of officials to the point where he was chosen to be an official at the 1984 and 1996 Olympic Games. As an athlete, I always felt very at ease knowing that he would be out there starting races; he was a familiar face and a settling influence. Walking out of the paddock at the Penn Relays for the 4 x 800 heats you look up into this massive stadium, your mind is spinning, everything is firing and then there he was, Mr. McTaggart, starting races, and a quick acknowledgement by him settled everything down.

I didn't realize it at the time, but Tom would be a great influence in my chosen career path in life, as now I myself am a high school history teacher, and I find myself trying to model how and what I do in the classroom after what he did for me, and make the classroom more than just another part of a school day. When I travel to photograph track meets and I see Tom out there in his red starter's jacket, I still get excited that there is somebody I know in the big time of this sport I love so much and still to this day, as I am working hard to get the best possible pictures for DyeStat, he will come by and ask, "Getting anything good?" and that little question is once again a settling influence in what can be a crazy shoot.




The First Athlete: Brian Crowley (5th place Masters 3000 meters)

– It was during my sophomore year in college that I crossed paths with another person who would have a tremendous impact on my life, Mr Dick Teetsel. While working as a helper during the local high school indoor track season, I would spend many meets talking to Mr. Teetsel. Little did I know I was being interviewed. Later that spring, Coach Teetsel would ask me to join his coaching staff the following year. Here I was a college sophomore and I was going to be asked to direct kids not much younger then myself. After thinking about it a few days I figured Mr. Teetsel must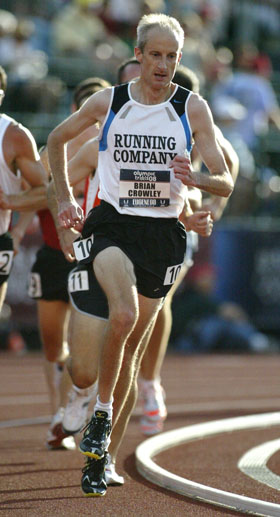 think I can do it, so why not. That following winter I joined his coaching staff and was introduced to a group of runners who over the years became more than just former athletes, but in a few cases very close friends. One of those people I shared a special relationship with was Brian Crowley (photo right by John Nepolitan), a top distance runner on the team.

At the time, Brian showed some talent, but his biggest asset was his desire to work and keep pushing his body to get the most out of himself. Over the years that group of former athletes has moved to the different corners of the Northeast US, but we still try to get together from time to time and are constantly keeping tabs on each other. Because he has continued to run well past high school years, Brian and I have shared this connection, talking occasionally about his training and racing, and although it has been a very long time since I coached him I still have those same feelings knowing he is going to the line.

Two years ago, when he ran the Boston Marathon, I kept track of his race on-line, checking his splits every 5k and passing them on to "the gang." During that April afternoon I found myself almost cheering as he moved through the field to finish in 2:37.33 for 10th place among masters runners and 105th place overall. This past spring an e-mail from Brian asking me for information about races started a conversation on what he was pointing towards and I soon found out that the US Olympic Trials would have a Masters 3000 and he was going to try to qualify. Though the spring we would talk from time to time about how his time looked for getting in. Brian had a provisional time of just over 9:00 which in the end would be enough to make the cut.

Of all the races that would make up the 8 days of competition at the Olympic Trials, it would be the Masters 3k that I looked forward to the most because of this personal connection. As time for the race neared and the masters runners were brought out onto the track, I could see that the same overload feeling that I had back in high school at the Penn Relays was going through Brian. As the runners jogged past us photographers at the end of the homestretch on their way to the back straight starting line, those coaching feelings flooded instantly back, and I knew I had to do something. A simple, "Let's go Brian!" was all I could do, but it seemed to shake him out of his wide-eyed wonder and focus now at the race ahead of him. As the gun went off Brian dropped to the back and I could not stop myself from yelling out small words of encouragement each time he passed me. Slowly he moved through the field, and with a big kick over the final 200 move all the way up to 5th just missing dipping under 9:00.

Later that evening, sitting around with a group of friends (all of whom I coached against), I would have a chance to sit and talk to Brian about his trip and race. While disappointed with not cracking into the 8's, he was excited about his placing. As I sat there listening to him talk about the whole experience, I couldn't help but feel proud that somehow years ago maybe I influenced him to keep running and being able to do what so very few have a chance to do – compete on a large stage in front of a crowd that gets track and field.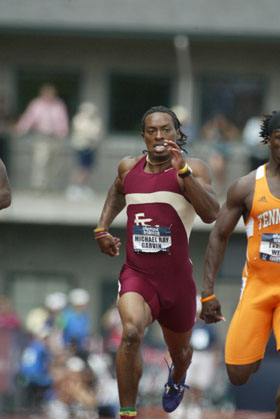 The Last Student: Michael Ray Garvin (Men's 200 meters)


While Brian was on the first team I coached, another athlete who was part of the last team I coached would be running in the 200 meters during the last half of the Trials. Coming into Don Bosco Prep (Ramsey, NJ), Michael Ray Garvin was a known talent on the age group scene. All the members of the coaching staff were excited to see just what he could do and if everything we had heard about him was true. After watching him on the football field in the first few weeks of school, we knew we had somebody special.

While Bosco had always had an all- around track team, most of its success had come in the middle and long distance events. That would all change when Michael Ray Garvin (photo left by John Nepolitan) took to the track. In that very first season on the track, Michael brought the team big points in major meets and turned good relay teams into contenders. As head coach I was the coach of record during Michael's freshman year, and maybe sophomore (I forget when I left coaching), but I take no credit for his development. While I coached the distance runners, other took care of Michael's training, but I would have the pleasure of having him in class his junior year and have enjoyed following both his football and track career at Florida State University, where he has earned All-American honors in helping the Seminoles claim National titles.

I think it was on the first day in Eugene, as I walked past the stands the athletes were allowed to sit in, that Michael grabbed me and we talked for a few moments before I had to get back to taking photos, but I knew at the end of the week it would be exciting to see him attempt to take his talent to another level. The first round of the 200 was a waste, as only 2 runners were eliminated and Michael moved on. I was happy for him, yet at the same time knew that people would simply say he was lucky that so few got eliminated, thus tarnishing his accomplishment of making it to the Trials. In the 2nd round of races he ran a strong race and earned a spot in the semi-final. He had come into the meet as one of the last qualifiers and would be among the elite 16 looking to make the final. His Olympic Trials ended in the semi, unfortunately, but I was no less proud to tell the other photographers around me, "That kid – he was on my team and I taught him when he was in high school."

The Trials are a special event no doubt, but there is added excitement when you have that personal connection to people in the meet. Each of these people are from an important milestone in my life – the formation of the career path I would follow – the entry into a new level of the sport I love – and the exit from coaching and entry into a new part of the sport, and I am glad that I was also part of this milestone in their lives.

US Olympic Trials Index