2008 U.S. Olympic Team Trials





Track & Field





University of Oregon, Hayward Field - Eugene OR





June 27 - July 6, 2008










Friday- Tough Day for Preps - Except Roesler



Highights - USATF's Results Page - John Nepolitan Photo Gallery



Story by SteveU, photos John Nepolitan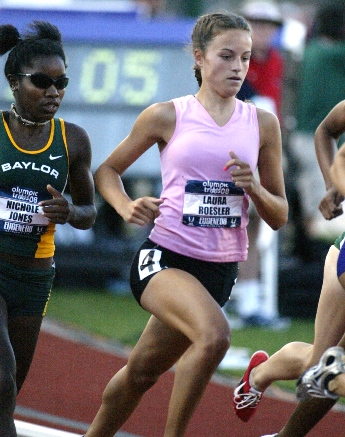 Laura Roesler ND (above) and Chanelle Price PA (below) battled the big girls in separate heats of the 800 with different results. Photos John Nepolitan

With a single, spectacular exception, Friday's opening day of the 2008 Olympic Team Trials was a rough one for prep track and field's outstanding stars.

At the beginning of the year, Fargo (N.D.) South soph Laura Roesler was certainly considered one of the better returning 800-meter preps in the country, the 6th-best to be exact, but hardly someone who was thought of as someone who would be on the track in Eugene in late June. But there the versatile speedster was Friday night, executing a near-perfect qualifying race, finishing fourth in the first 800 heat, and advancing to the semifinals with a 2:04.03 – just under a second off her PR.

On the other hand, there were two of the prep track's most outstanding female stars – maybe the most outstanding female stars – suffering "off" performances that kept them from advancing. Chanelle Price PA, who has ruled the 800 for more than two years and become history's second-fastest, ran 2:05.93 in the second heat, finishing 6th and out of the money for the semis. Fellow Pennsylvanian Ryann Krais, the spectacular heptathlete who is at or near the top of the list in several events, was more than two seconds off her 400H PR in taking fifth n the fourth heat with a 59.39.

Meanwhile, Texan Victoria Jordan, who ran 11.16 for 100 meters in May to equal #5 all-time, ran 11.36 for fifth in the fourth heat of the 100 qualifying, making it to the quarter-finals as the last time qualifier. There, she "improved" to 11.29w (+3.4), but was 8th in the first quarter, to end her bid in that event. Anna Jelmini CA was 9th in her flight and 19th overall in discus qualifying, throwing 160-6. Twelve made the final. Jackie Coward TN was slated to run the 400H, in the heat before Krais's, but was a late scratch, choosing to run the 100H only.



Stunning 800s



From the prep fans' perspective, the 10 minutes or so encompassing the first two heats of the 800 were easily the most dramatic of the night, with the stunning charge of Roesler into the semifinals, and the equally stunning, but opposite result for Price. It wasn't until her last race – her eye-popping 2:03.08 in California – that Roesler could really be thought of as a legit Trials player. On the other hand, Price has been proving for two years that she had the chops to be a Trials Finalist, and maybe even an Olympic Team member. But the great Pennsylvanian has always struggled with race strategy – whether it be going out too fast or moving in a pack in slower races. Roesler has had better results with pacing, had better results in the pack Friday (hard-to-judge combination of luck and skill) and has the 100/200 speed to kick well off a slow pace.

Roesler's main tactical challenge, which she was able to overcome, was her start. "I wasn't in real good position in the first 200," she said. "I was behind, on the inside and boxed in. But I got an opening and got out and around."

The pace, with 31-33-second 200s, was manageable enough and she was in position to make a move with 150 to go. She got space in lane two, accelerated, then rode the line between an all-out sprint and running hard enough to make sure she got in the top four. When she spread her arms just before the line, she had it, with her 2:04.03 barely trailing veteran Hazel Clark (2:03.65), collegian Latavia Thomas (2:03.90) and Morgan Uceny (2:03.91). As it turned out, her heat was the deepest and three time qualifiers behind Roesler would come out of that race.

What followed was quite the incredible aftermath for the 16-year-old as she struggled to recover from the effort, then had a long series of interviews, including one with NBC television. "I was dizzy after finishing," she said. "It was all of the chaos and getting worked up."

It was more than 30 minutes until she got past the mixed zone and competed the interviews. "I've been interviewed before, but it's usually a lot more low-key in North Dakota."

Before Roesler even got to the point of beginning interviews, the next heat of the 800 was running. Price was at the front early, in the first 200, but apparently thinking better of it, she reeled it in and settled in the middle of the pack, not wanting to overextend herself. But the bumping and clipping that took place in there unnerved her over the next 400, and when she wanted to move, she couldn't.

"Three times I tried to pass and I got tripped up twice," she said. Pack-running, she said, "is something I've never gotten used to yet. Sometimes I kind of panic."

Although the pace was not fast, hammering the final straight has never been Price's forte. The leaders got away from her and she was in a fight for 5th instead of the top four. The pace wasn't fast enough and she wasn't close enough to get a time qualifier.

Like Roesler, Price handled a relentless series of interviews during what for her was likely the toughest moment of her career – and did so with the utmost grace and kindliness, even while fighting back tears.



Disappointment for others



Meanwhile, Krais and Jordan were both disappointed with their races, but their focus and expectations may not have been as high here.

"It seems like I haven't run this in awhile and I know I didn't go hard enough," said Krais, who didn't really get in a position to contend for a spot in her heat. "I was way too reserved at the start."

Jordan said she's not sure what's happened since the Texas state meet that's prevented her from getting back under 11.20. She also indicated that while she qualified for the 100 and 200, she won't be participating in the World Juniors because of passport issues.

Krais and Jelmini are both expected to compete with the World Junior team in Poland, in the heptathlon and discus, respectively.


| | | |
| --- | --- | --- |
| | What might have been: Neither Krais (left), Jordan (center) or Jelmini (right) was able to call up the PR-level efforts they needed for another day on the track. Photos John Nepolitan | |
Prep Highlights
In the 800 qualifying,

Laura Roesler

ND is a very close 4th (2:04.03) in a fast first heat. The sophomore was an auto qualifier for the semifinals, but there were also 3 time qualifiers behind her.

Chanelle Price

PA is 6th in the 2nd heat (2:05.93), finishing 0.83 seconds out of making the semis.

Victoria Jordan

TX was a non-qualifying 8th in the first heat of the 100 quarterfinals, running a wind-aided (+3.4) 11.29.

Ryann Krais

PA was 5th in the fourth heat of the 400H in 59.39; she was 19th overall, 3 spots and 1.09 seconds out of advancing to the semifinals.

Jackie Coward

TN scratched out of the event to focus on the 100H.

Anna Jelmini

CA did not advance as she was 9th in her flight and 19th overall in discus qualifying with a best of 160-06.
Victoria Jordan TX was 5th in her heat with 11.36 (+1.4w), but advanced to tonight's quarterfinals as the last time qualifier as just 9 of the 33 competitors were eliminated.
2007 "DyeStat Alum" Bianca Knight was 8th overall and 2nd in her 100 heat with PR 11.11; The fastest 3 of the first round were Marshevet Hooker (10.94w), Muna Lee (11.00) and Allyson Felix (11.01w).



Preps to Watch for Friday

(all times PT)

Women's 100 qualifying - 5:30 p.m. -

Victoria Jordan

TX races in Heat 4. Her competition includes 2007 USATF Jr. 200 champ and recent HS star Bianca Knight, who turned pro after NCAA indoors. Jordan first gained big time national recognition when she beat Knight at the LSU Indoor meet in Jan. 07. 24 advance, top 4 in each of 5 heats, plus next 4 best times.
Women's 400H qualifying - 6:30 p.m. -

Jackie Coward

TN races in heat 2;

Ryann Krais

PA races in heat 4. In heat 4 with Krais is former PA star Nicole Leach, whose state record Krais beat last year at USATF Jrs. 16 advance, top 3 in each of 4 heats, plus next 4 times
Women's Discus qualifying - 7:50 p.m. -

Anna Jelmini

CA competes in first of two flights. Top 12 overall advance by mark
Women's 800 qualifying - 8 p.m. -

Laura Roesler

ND races in Heat 1;

Chanelle Price

PA races in Heat 2. 16 advance, top 4 in each of 3 heats, plus next 4 times.
US Olympic Trials Index