2008 U.S. Olympic Team Trials





Track & Field





University of Oregon, Hayward Field - Eugene OR





June 27 - July 6, 2008










Sunday 7/6 - Jordan 10th in 1500 Final in 4:17.36



Highlights - USATF's Results Page - John Nepolitan Gallery -

Jordan's Final: Another Day in the Classroom

- by SteveU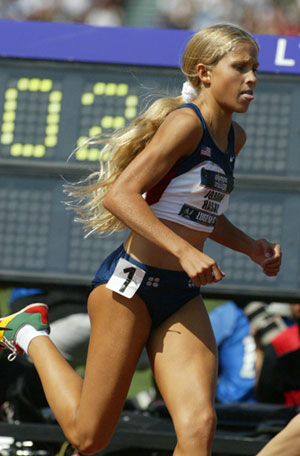 Lead story by DyeStat senior editor Dave Devine
Photos by John Nepolitan

As California high schooler Jordan Hasay and her eleven fellow 1500 finalists took the track for the start of the biggest race of Hasay's young career, it was hard to ignore the Olympic Trials logo adorning the sun-splashed infield above the jump runways on the stadium homestretch.

Amazing awaits, the catchphrase read, and it was clear from the pre-race applause that the 21,000 fans in attendance were hoping that might be the case for the precocious 16 year-old chasing her dream of an Olympic berth.

Clear-eyed track fans knew it was more than a longshot. Four women in the field--Shannon Rowbury, Christin Wurth, Erin Donohue and Treniere Clement--had achieved the Olympic 'A' standard, and they would try to control the pace, then finish hard with closing gears Hasay is still developing. Every woman but one entered with a PR of at least 4:09, while Hasay's best was the 4:14.50 national record she authored in the semi-final. Through two hard races, her record run, and the distractions of national media attention and a well-publicized delay in her travel to the World Junior Championships, Hasay had already served up a healthy serving of "amazing." She could be forgiven if "pretty good" or "merely average" awaited.

But in a hotly-contested final shepherded first by Clement, and then Lindsey Gallo, Hasay took the same intelligent tact she displayed in the semi, loping along at the back of the pack but never losing contact through splits of 68.17 and 2:15.73 (69 and 2:17 for Hasay). When eventual winner Shannon Rowbury (4:05.48) exploded to the lead and strung out the field, Hasay began a methodical drive to the finish that saw her picking off a fading Clement and—on the final backstretch—Jenelle Deatherage.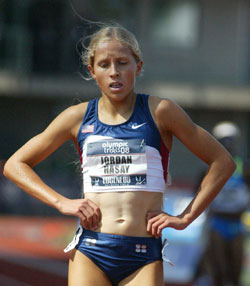 With 200 to go, it appeared she might have a shot to kick down the battling trio of Sarah Bowman, Sara Hall and Tiffany McWilliams, but she lacked the real estate to close the gap and crossed the line tenth in 4:17.36. The mark was only .38 from the PR she held before this stunning run through the Trials.

"I've never raced this much in four days," Hasay said as she took one last trip through a media zone which has thronged around her all week. "It helped that the pace was slower … but my kick wasn't there at the end like it was Friday. I did the best I could and I'm happy with my performance."

Ahead lies the World Junior Championships in Bydgoszcz, Poland, and a long day of travel to join her US teammates. Assuming she is able to advance through the prelims there, Hasay has two more opportunities to bolster what has already been a spectacular junior campaign. With a senior year yet to go, and a growing reserve of big race experience on which to draw, there can be little doubt that "amazing," and whole lot else, awaits the gifted California teenager.

Prep Highlights
With fatigue starting to play a factor and with a mindset of "wanting to have fun" and not worrying about records or places,

Jordan Hasay

was 10th in the Final of the Women's 1500 in 4:17.36. A modest early pace helped Jordan, allowing her to stay close to the main pack until Shannon Rowbury (4:05.48) began her winning drive in the final 600 meters. Jordan split 69-2:17-3:26, running in 12th or tied for 11th most of way, until passing two runners on last lap. Erin Donahue, a multiple national champion as a New Jersey prep, was 2nd in 4:08.20 and Christin Wurth 3rd in 4:08.48.



Sunday Preps to Watch For

(all times PT)

Women's 1500 Final (4:05 p.m.) - The third and final chapter of the

Jordan Hasay

trilogy at the Olympic Trials unfolds today after a solid 4:18.39 to advance to the semi, then an unexpected opportunity to run the semis (delayed trip to World Juniors) that produced a stunning 5th-place finish and HSR 4:14.50. Today's race will be much, much more difficult. It's not just that she is seeded 10th of the 12 entries on semifinal times, but that all but one of the other entries has a PR under 4:09. Historically, 1500 Trials finals are fast races. Four of the last six Trials finals have had winning times under 4:04. Top seed Shannon Rowbury leads this field with a 4:01 PR, and a fast race is certainly possible with the talent here. It would benefit Hasay if it was more of a slower, kickers' race with a time in the 4:08 range, but even then the leaders will be doing 66-67 pace. If it goes out fast, like 63-65 pace, Jordan will just have to run her own race if she wants to get another good time and stay out of oxygen debt.
US Olympic Trials Index