2008 U.S. Olympic Team Trials





Track & Field





University of Oregon, Hayward Field - Eugene OR





June 27 - July 6, 2008










Saturday 7/5



Highlights - USATF's Results Page - John Nepolitan Photo Gallery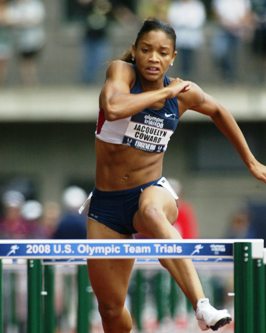 Great Southwest form elusive for Coward



By SteveU, photo by John Nepolitan

After a picture-perfect 100H outing at Great Southwest, where she ran a windy 13.00 – which has only been exceeded under any conditions by Candy Young's 29-year-old 12.95 HSR – Track Knoxville TN hurdle star Jackie Coward has lost a bit off her edge. Unfortunately, she was unable to regain it Saturday.

In the first heat of the 100H qualifying at the 2008 US Olympic Team Trials, Coward finished 7th of seven with a 13.69 (-0.1w). She was just .06 out of qualifying for the next round, but a big 0.48 off of her legal PR of 13.21. To be fair, Coward was seeded 26th of 28 coming in, making getting through one round a tall order, let alone two. But on the other hand, even an average (for her) 13.4 or 13.5 would have advanced her to the quarterfinals later in the day. And it was clear the senior expected at least that much of herself.

Coward is not given to expressing too much emotion in interviews, though. She admitted she was "a little too nervous" and said that while her race looked technically smooth, she simply was not getting over the hurdles as fast. "I was sluggish out there.

"But it's all right," she added. "It's fun running against the pros and an honor to be here." If she was more upset than she let on, it would be saved for a more private setting.

After her stupendous 100H race in Albuquerque, Coward fell before the curve in what looked like it would be a monumental 300H run that same day against Ryann Krais and Donique' Flemings, having had a lightning start that was a little too fast for the rhythm she needed. Then after winning her 400H prelim at Juniors, she decided to pass on the final to concentrate on the 100Hs.

But in one of the biggest stunners of the meet, she was 4th (13.72, -0.7w) in a great field that included two collegians and 13.03 prep performer Vashti Thomas, who beat Coward for the first time after many defeats. In turn, it was Coward's first loss to a fellow prep in the 100Hs at all since she was a sophomore.

That led to the Trials, where Coward also passed on the 400H event to focus on the shorter race.




Prep Highlights



Jackie Coward

(right, photo by John Nepolitan) was 7th in her preliminary round of the 100H Saturday, running 13.69 (-0.1w). She was unable to advance to the quarterfinals, missing a time qualifier by .06 seconds.



Saturday Preps to Watch For

(all times PT)

Women's 100H prelims and quarterfinals (11 a.m. and 1:15 p.m.) - Track Knoxville and Knoxville West HS sr

Jackie Coward

is the only high schooler in action today, competing in at least the first round of the 100H. She qualified in both the 400H and 100H, but chose just to compete in the latter event. With a 13.21 legal PR, she will be challenged to advance, with the top 4 from each of 4 heats and 8 additional time qualifiers moving on to the semis. Coward is seeded 7th of 7 in her heat (the first) and 26th of 28 overall. She does have a wind-aided PR from Great Southwest of 13.00 (+2.9).
US Olympic Trials Index