Jordan's Final: Another Day in the Classroom
Knowing that another HSR or monster finish was probably out of reach, Hasay had a great opportunity to have fun and test herself in Sunday's 1500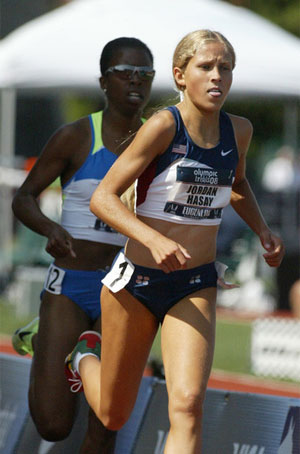 Hasay passes Clement with just over a lap to go.

Feature by SteveU, Photos by John Nepolitan

It would have been wonderful, incredible and amazing if Jordan Hasay had come out Sunday and had another big kick, another high school record, or – what the heck – even made the Olympic Team in the 1500 meters.

But in every great story, there's a fantastic conclusion and an epilogue. Jordan ran well Sunday and had fun, but the magic was two days ago and it was unrealistic to think the fairy tale could continue today.

The great thing was that Coach Armando Siqueiros and Jordan both knew it. She knew better than to come out today and set her sights on another high school record or something even more dramatic. Maybe the Jordan of a year or two ago wouldn't have so easily accepted that.

"This race was another lesson in the classroom," said Coach Siqueiros.

This day was a great reward for Jordan, too. She was honored, whether intentionally or not, with the #1 bib and the inside lane at the start, and got a huge cheer from the crowd when she was introduced at the start. But when the race started, she positioned herself in that unfamiliar back-of-the-pack position, and was more content to let the others dictate things and do her best in response.

"My goal was just to have fun out there and test myself," she said afterward. "I just wanted to have fun out there. Time and place didn't matter as much."

Really, with the exception of the nasty wind on the backstretch and the fact that she didn't have as much energy as normal, the race couldn't have been set up better for Jordan. Only four women in the race had the 'A' standard of 4:07.00, but those who didn't weren't willing to push the pace. The way it played out fell right into the hands of the eventual top three – Shannon Rowbury, Erin Donohue, and Christin Wurth – and that worked just fine for Jordan, too.

"It helped that the pace was slower," she said. "But my kick wasn't there at the end like it was Friday. I've never raced this much in four days. I did the best I could, though, and I'm happy with my performance."

It was apparent in the first 300 that the pace was going to be modest, with Treniere Clement and Wurth among those sharing a pace that had them passing the finish line for the first time in just 50 seconds. The 400 was 68, with Jordan in 69, getting as much protection from the wind as was possible.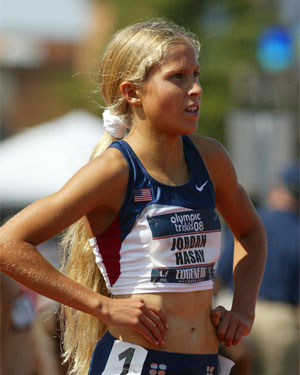 After the race ...

After that Lindsey Gallo took over and things spread out a bit for awhile, but most of the pack was still just ahead of Jordan. The pace had picked up just slightly at 800, with Gallo passing in 2:15.7 and Hasay at 2:17.

The pack caught up to Gallo and the pace began to pick up. Jordan briefly fell five meters off the back, but caught back up. Then with just under 600 to go, Rowbury began a long kick, quickly spreading out the field. Rowbury passed a lap to go at 3:04, while Jordan was passing a fast-fading Clement just before she reached the bell (3:08).

Rowbury passed 1200 in 3:18.5, a 400 in less than 63 seconds. Jordan was 3:26, just a tick slower than Thursday, and then passed Jenelle Deatherage on the backstretch. Former prep standouts Sara Hall and Sarah Bowman were next ahead of Jordan, but she wouldn't catch them on this day, with her last 400 (71) actually being her slowest. The final numbers: 4:17.36, just 0.38 off of what she won USATF Jrs. at last year, and 10th place – right where she was seeded.

"She was tired," said Coach Siqueiros. "She didn't make a big deal about it, but she told me before the race she was tired. So we talked about competing and not just being happy to be here.

"We said we want to use the same strategy, to be as relaxed as she can for the first 800, and then try and start moving and passing people," he added. "Her big worry was getting last place. She didn't want to be last. She was also a little worried about being in lane 1. She didn't want to get squeezed. But that actually wound up being a good spot for her (she didn't have to worry about cutting in)."

As part of the "classroom" experience, Coach Siqueiros also emphasized protecting her space, using hand signals, pushing on another runner's hip or putting a hand on another's back, if needed. But it turned out that Jordan stayed out of traffic the entire race, save for one brief moment after 400 when she had to cut a stride when there was some contact a stride or two in front of her.

There was no doubt that Jordan got the respect of the other women in the race. At the press conference podium after the race sat Donohue, who won Nike Indoor and Outdoor titles as a New Jersey prep, then had a roller-coaster ride of ups and downs through college and early post-college before really bringing it together. Sitting with her fellow Olympians, she could remember her prep days and laugh about Thursday after the quarterfinals, when she felt compelled to apologize to the "rookie."

"You always feel bad about sitting on someone's pace," she said, "but given that I'm 25 years old and she's, what, 16? … I felt even worse. I apologized to her, but also I congratulate her because she not only made it out of the quarterfinals, but came back the next day and ran even faster and made it to the finals of the Olympic Trials."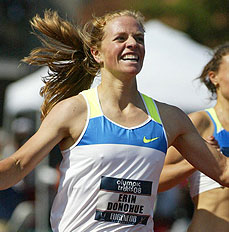 Erin Donohue is thrilled to get on the team


Donohue, whose subtle sense of humor is gradually catching the notice of the media, noted with a wry smile that the crowd of 20,000 today "seemed to be cheering more for her than the rest of us," getting a healthy chuckle in the press room.

"But to come out here … perform like that is great. I hope she does really well at the Junior Championships."

"I give her a lot of credit," added Bowman, who finished just ahead of Jordan and spoke from the mixed zone earlier. "That's awesome to come out here and try to do that at such a young age."

So now the whirlwind that is the last month of Jordan's season turns to the trip to Poland. She begins travel tomorrow, arrives Tuesday, and races her semifinal Friday.

"She'll have the same kind of game plan," said Coach Siqueiros, "to stay within herself and have a big finish. But she might be able to force the issue a little earlier, like in the last 700 or 800."

But he also said that what happened this week definitely changed the plan and perspective. When Jordan received news that she could race the semis, and potentially the final, here in Eugene, everything changed. "She's going to be more in recovery mode; how much can she recover by this weekend."

Jordan would obviously still like a medal and another PR would be nice, but whatever happens … "It was definitely worth it," she said.

Worth it, indeed. And worth the price of admission for all 20,000 fans that saw her each night.
---
MORE PHOTOS