It's been a dream season for track fans. A year where expectations have been thrown asunder, seemingly weekly, as a new crop of high school distance runners have finally begun to match the promise of American Distance running in that hallowed, whispered of golden age: the 1970's. But the best may still be yet to come as a group of athletes with already-padded resumes seek to do more than match that era; for the first time in a long time there will be a serious assault on the two mile record of Jeff Nelson that has stood for over 30 years, at the 2008 Nike Outdoors Nationals in Greensboro, NC.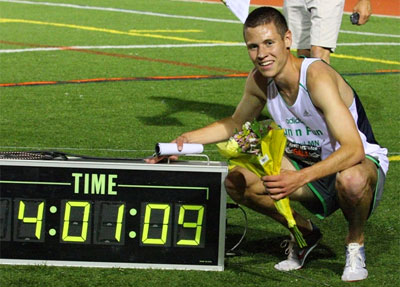 Top contenders

Two historic performers headline this Friday's two mile. German Fernandez brings a Junior XC title, a resume of strong doubles, and the greatest double in high school track and field history (4:00.27/ 8:34.23). His is the brightest star in the field. A week ago it appeared no one would be able to run with Fernandez in a fast race, and then Rob Finnerty (right, photo by Brandon Gittelman) ran 4:01.09 for the mile. Given his XC credentials and previous performances at the longer distances, his mile time suggests (though a suggestion is no guarantee) great things at twice the distance. These two must be seen as the strongest contenders for the title and the record.

They are not, however, alone in their record breaking performances. Luke Puskedra and Colby Lowe (below, photo by Vic Sailer) have each had terrific seasons which included two great duels indoors. Puskedra got the better of each of those matchups and has run under 8:50y twice to go with an 8:46 3200m performance at Arcadia and the first sub-9 in Utah history. What Puskedra has shown most of all this year is a tenacity down the final stretch that has allowed him to go from the harangued "pacesetter" of last year's NON two mile and Footlocker championship, to the winner of the BIG mile, NIN two mile, and Arcadia 3200m. Lowe has run 4:08y and 8:50y indoors and won both the 1600 and 3200 at the Texas state meet in 4:06/8:53.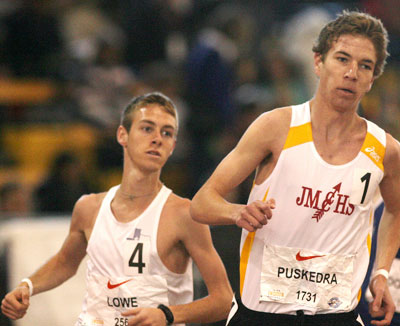 How will it play out?

Short answer: who knows?

What makes races like NON so intriguing is it is the first time since Footlocker that all of the top guys get into the same race. Each of these star athletes has become accustomed over these past months to winning, if not dominating, over lesser fields. Now thrust into a race of true peers, strategies and mindsets accrued from months spent as favorites must be adjusted.

For some, like Puskedra, who have sought elite fields throughout the season, the adjustment is not so great. For others, like Kevin Williams of CO or Rob Finnerty, this will be their first real test at the 2 mile distance. It is often on a stage like NON where the field is competitive, the sun is down, and the air is charged that athletes find in themselves a depth of exertion and level of performance previously unknown.

Last year Elliot Heath shocked the field by running 8:46 and Matt Centrowitz, who had hardly run the deuce, ran the 4th best mark of all time. Williams could be this year's Heath, Finnerty this year's Centrowitz. And of course, beyond the 5 runners already mentioned lie a stable of state champions and sub-9 competitors looking to capitalize on the opportunity NON presents. Among those is last years number one returner Sean Keveran (TN), FL All-Americans Maverick Darling (MI) and Ryan Hill, Tito Medrano (IN), Bobby Aprill (MI), Max Kaulbach (PA), and Doug Smith (NJ). All of this potential makes for a very exciting but unpredictable race. But we'll try to glean what we can from previous performances.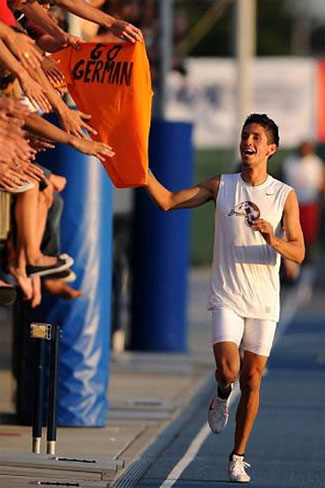 Can anyone beat German?

4:00.27…2 and half hours…8:34.23…. just let that sink in.

German Fernandez's incredible performance at the California state meet has led to rampant speculation on just how fast he might go at NON, with the win taken almost as an afterthought. Similar speculation followed his cross country state meet performance, although that was less fervent and more localized. As a prospective competitor of his, I can say that my initial reactions were pretty similar (something along the lines of "Oh shit"), but German did not win FL XC and after the race said that he did not feel like himself. It could be that he just had a bad day at the worst of times, or it could be that his only loss on American soil in his senior rampage of domination was due in some part to the fast and erratic early pace set by Luke Puskedra and Kevin Williams. Looking at Fernandez's top performances they give credence to this possibility.

His most impressive feats have largely been solo affairs run with an extraordinary sense of rhythm and incredibly even splits. German never quite looked relaxed at Foot Locker, and the erratic pacing may have played a role in throwing him off his game. If Puskedra, Lowe, and Finnerty want to bring down the heavily-favored Fernandez (right, photo by Kirby Lee), they will have to take him out of his rhythm in some fashion. This approach may be contrary to the sit and kick theory that is generally considered more efficient, but if German gets to dictate the race and sets out on record pace, it is hard to foresee anyone being able to stick with perhaps the best solo runner in high school history.

Puskedra is most comfortable at the front, and may be the one in the best position to take the race out of Fernandez's hands (and given his history he most certainly will at the start). Lowe as well has shown the requisite aggressiveness to take control of the race. Finnerty seems more content to sit back and wait for his moment-- in his 4:01 he did not take the lead until late in the 3rd lap. If Puskedra or Lowe controls the pace early, Finnerty may be able to pounce late as Mike Fout did at Foot Locker. If German turns the race into a time trial at high school record pace or faster, however, it's hard to imagine him losing.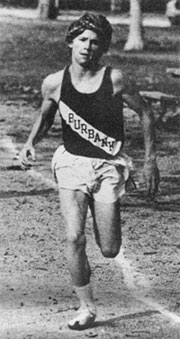 If Finnerty can translate his great performance from last week into a great one over twice this distance, however, he has shown he has the wheels at the end of the race to win a close one. Puskedra has had great success on the last lap this year, but he looked fried after going out in 4:17 2 weeks ago at the Prefontaine Classic. With competition it is easy to see him closing better this Friday, but 10 seconds better is more difficult to grasp. Lowe hasn't done anything to suggest he is ready for a sub 8:40 performance, but then again he hasn't raced for a month. His previous racing suggests that at the very least he will stick his nose in the early pace and give himself a chance to be there at the end.

Chasing Nelson

The 8:36.3h two mile run by Jeff Nelson (left, photo from DyeStatCal) has stood since 1979. Bob Kennedy, Don Sage, Dathan Ritzenhein, Alan Webb, Ryan Hall and Galen Rupp have come and gone and still no one but Nelson has dipped below 8:40y. German's 8:34 3200m (which converts to ~8:37y) places him in that rarified air. If he is going to assail this record the key will be the early pace. The most effective way to run a two mile is exactly how he did it at his state meet: even splits for the opening mile, close hard for a negative split.

As silly as it may have sounded a month ago, with the incredible poise and strength that German has shown, if he gets out in under 4:20 the record seems almost inevitable. If he can match the rhythm that he found at each of his state meets this year, the question becomes not if he can break the record, but by how much. But no one but German really knows if the state meet was a perfect storm or if he is saving one more incredible gear for this Friday. No one really knows, as well, if Finnerty's 4:01 is good enough to vault him into the record books. No one really knows if Puskedra or Lowe or some other stud has one great day in them. No one really knows, but I can't wait to find out.