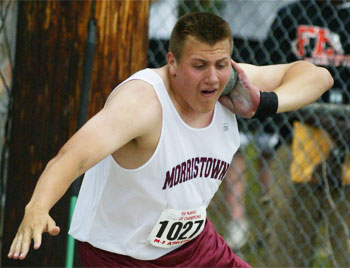 This coming weekend, when arriving athletes and fans at the 2008 Nike Outdoor Nationals swell the population of Greensboro, North Carolina, by several thousand, no group of competitors will converge on a smaller geographic space than the shot putters. On the boys' side, the nation's best—and largest—track and field athletes will congregate at a seven-foot wide circle along the far turn of the blue North Carolina A&T track, with the title of National Champion on the line. With big-throwing weightmen from New Jersey, Colorado, Texas, Missouri and Indiana all zeroing in on Greensboro, it's possible the outdoor national meet has never witnessed a collection of putters this talented.

"There's never been a shot put field like this, ever," asserts AJ Holzherr of the National Scholastic Sports Foundation, organizers of the meet. "It's the deepest of all time. A lot of these kids are spinners, and once they get their technique down, they throw far. And a lot of them are getting very good coaching."

There are twenty shot stars over 59 feet in the lineup. Nine who have topped 64 feet. All of the nation's outdoor throwers over 66 are here, save US#1 Jordan Clarke of Alaska, who elected to end his season after the Golden West Invitational. There are sub-plots aplenty, with Texas 66-footers Stephen Saenz and Hayden Baillio vying for the title of Best in the Lonestar State, New Jersey rivals Mike Alleman and Nick Vena (above, photo by John Nepolitan) squaring off for the ninth time this year, and Vena's own efforts to push his freshman national record toward a stratosphere that will make it untouchable for years to come.
YouTube video of Nick Vena throwing indoors
Vena, the freshman revelation who has set the high school throwing world on its ear this year, literally re-writing the all-time ninth grade lists for the event, is the number one seed in the field with a US#2 best of 67-10.25. When reached at home this week, he was busy preparing for final exams in German and World History. The looming German test, in particular, seemed to give him greater concern than the prospect of facing a raft of 66-footers this coming weekend.
"It's going to be fun and interesting," he said of the approaching shot put summit. "It's really pumped me up and made me work hard these last few weeks."
Vena took his first national title at the National Scholastic Indoor Championships, ending an undercover campaign which found him US#1 with his 66'07.25 NSIC winner, but he wasn't facing a field like this. In preparation, he's been doing the same things that have carried him all season.
"I've been working on my technique and my running. The only difference is that I've been going lighter on the lifting, to help with my explosiveness."
Perhaps the idea of meeting so many other 66-footers is less daunting because he's faced one all year long in the confines of his own state. Mike Alleman, with a best of 66-00.25, has gone head-to-head with Vena at least eight times, with the record currently at 5-3, advantage Vena. At at their most recent meeting, the New Jersey Meet of Champs on June 5th, Vena topped Alleman, leaving the Scotch Plains-Fanwood senior with something to chew on heading into Nike Outdoors.
YouTube video of Stephen Saenz reaching 67 feet

Another underclass thrower who's been impressive this spring is Rio Grande City TX junior Stephen Saenz (below, photo by Ofelia Saenz). All the way out to 67'06.75 at his Texas 5A Regional, Saenz may be closest to nipping at the heels of the freshman phenom. Although not intimidated by Vena, he was certainly stunned when he heard about the precocious exploits unfolding in the Garden State.
"I didn't believe it at first," he says. "A freshman? I was thinking he's going to be incredible when he's a senior."
With Vena's senior year still a ways off, Saenz has to deal with the freshman incarnation. And like Vena, he's never faced a field quite this deep before.
"It's a lot more competitive than anything I've seen," he allows, "but I'm really pumped for this meet, because there's so many good guys."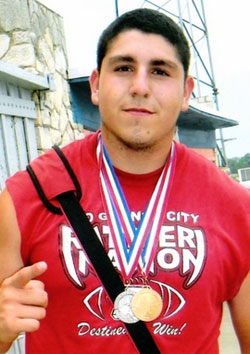 A sixty-foot putter as a sophomore, Saenz has tacked seven feet on this PR this year, pushing himself into contention at what has the makings of a shot battle for the ages. He'll also have a chance to even the in-state score with fellow Texan Hayden Baillio of the 3A classification, who defeated Saenz at a meet in Dallas earlier this spring.

"It's going to be a great meet," Saenz said, as he made preparations to board a plane for the first time since the age of four. "I'm really looking forward to it."

Vena, with those Tuesday final exams looming, couldn't agree more. "I'm going to make this one fun. Try to really put it out there, since it's my last meet of the year."

As if the throwers already mentioned weren't enough, Vena and Saenz will also have to contend with Brandon Pounds IN (66-09.00), Corey Jones MO (66-03.75), Mason Finley CO (65-00.00), Daniel Kwiatkowski PA (64-08.00) and Cameron Tabor OK (64-05.25), among others.


While the field may lack a seventy-footer heading in, with so many athletes pumped to meet inside the seven-foot circle, there's a good chance that may not be the case once the final put has been made and the final shot has been collected from the sector.