18th Nike Outdoor Nationals

June 19-21, 2008 - North Carolina A&T University, Greensboro NC



Preview
8 Great reasons to get to Greensboro
There's still time to get to Nationals, and here's why you should.
Preview by DyeStat assistant editor Dave Devine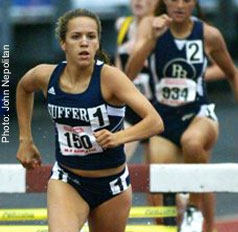 8) Steeple People Stepping Up – With the tradition of sterling "flat" distance races at Nike Outdoor Nationals, the steeple chase has a tendency get overlooked and drained of potential marquee talent. This year, both the boys and girls steeples feature crack fields with compelling matchups. Texan Zach Ornelas (5:59.84 2k St) leads the way on the boys side, but will face stiff challenges from Oregonian Taylor Morgan (who led the US list for 3k Steeple early in the season), Alabama's Patrick McGregor and late-addition Chris Aldrich of Pennsylvania. The girls race will feature defending champion and 3-time Foot Locker finalist Hannah Davidson NY, fellow FL finalist, last year's runner-up and current US#1 Shelby Greaney NY, Emma Coburn CO, and Allison Linnell NJ.



7) Ms. Smith at half the distance

– All winter long, New Jersey distance ace Jillian Smith carved out a name for herself as the top girls' miler in the nation, securing convincing wins at Millrose and Nike Indoor Nationals en route to a dominant indoor campaign. Now, she turns her focus to the 800 for the outdoor national meet, and with a recent, unpressed PR of 2:05.26 to her name (and the absence of US#1 Chanelle Price PA and #2 Laura Roesler ND in the field), Smith would seem to be the prohibitive favorite. Charlene Lipsey NY and Nachelle Stewart UT are sure to be in the mix, but if Ms. Smith gets after it, we could see the third sub-2:05 of the season.



6) High-level high hurdles

– In the 110 high hurdles, look for a young man with an old-school flat top and a blazing step over the sticks to be charging for the win. That would be Texas 5A champ Brandon Tucker. With a PR of 13.42w coming in, he's the fastest all-conditions schoolboy over the tall barriers this spring. Not far behind is NC's Spencer Adams (13.51 wind-legal), who toppled indoor national champ Wayne Davis II at the North Carolina state meet, and will give Tucker everything he can handle here. New Jersey star Devon Hill and Tucker's fellow Texan Chance Casey should keep things verrry interesting. The girls 100H features Jasmine Stowers SC, one of a very few preps to have defeated Jackie Coward this year, with Destiny Lumas TX trailing close behind.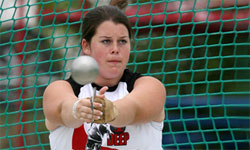 5) Horner in the Hammer

– Contested on a field just outside the North Carolina A & T stadium, the hammer throw usually fails to draw the large crowds that ring the track inside, but fans are missing out if they don't take the short walk to the circle to witness the displays of strength and finesse performed by the hammer throwers. While there's no instantly- recognizable name like Walter Henning on this year's entry, defending girls champ Allison Horner (right, photo by Vic Sailer) of Throw-1-Deep in Georgia leads the yearly list by almost ten feet, and her 194-00 monster from Mother's Day weekend puts her less than eight feet from the 1998, 201-07 national standard by Maureen Griffin ID. With some favorable weather and vocal support, she could get off the 200-footer she's been chasing.



4) Flurry of Foot Locker finalists

– The boys 2 mile may be getting all the hype, but the girls race is just as stacked and may be deeper in terms of talent. No fewer than ten 2007 Foot Locker finalists are scheduled to toe the line (fully a quarter of the girls who raced in San Diego in December). Floridian Ashley Brasovan, the '07 FL champ, leads the way with a seasonal best of 10:15.93. She's also slated to run the 5k Thursday, so it's uncertain how fresh she'll be for Friday night's dust-up, but if Brasovan's not ready, Nike Indoor National 2 mile champion Kathleen McCafferty NJ stands ready to grab double national gold. As the top returner in the field, Neely Spence PA is almost certain be in the mix, and '06 Foot Locker champ Kathy Kroeger will make her first major out-of-state effort of the season.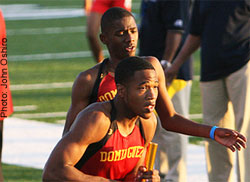 3) Dominguez dashers – In the past, California sprint teams and individual standouts have been somewhat scarce at the east coast nationals, but this year's meet has secured the #1 4x400 team in the country, and they are absolute blazers. Arcadia and California state champion Dominguez CA has a time of 3:09.59 to their credit, plus the next three fastest times in the country this spring. Waggoner's Raiders (Trotwood-Madison OH) at 3:13.46, Newburgh Elite NY at 3:14.30, and Bethel VA at 3:14.71, should challenge, but if Dominguez has some left in the tank after a long season, they could rip a fast one on the bright blue track.



2) Shot put summit

– The hype surrounding the boys shot put has been well-chronicled here, but suffice to say the event may be the best collection of schoolboy putters assembled for a single competition. Led by frosh phenom Nick Vena of New Jersey (US#2 67-10.25), and marked by six throwers over 66-feet, the shot put should attract more than its typical share of attention beneath the scoreboard at the far turn of the A & T track. Farther afield, shot put contender Mason Finley of CO takes the discus circle for his specialty as #3 all-time in that discipline, his 222-1 best from earlier this season more than ten feet farther than the host of 200+ throwers who will be seeking to match him.



1) Nelson's record: days numbered?

– High school track aficionados had circled Friday evening's Boys Two Mile on their calendars well before German Fernandez authored the greatest one-day distance double in prep history at the California state meet (4:00.29/8:34.23), and Rob Finnerty MN cranked a 4:01.09 mile at the Midwest Distance Gala, but now the excitement about a possible editing of Jeff Nelson's 1979 8:36.3 record is at a fever pitch. Fernandez and Finnerty might have the flashier numbers at the moment, but Luke Puskedra UT and Colby Lowe TX have sterling records and aerobic engines that will place them squarely in the mix. This is a do not miss event.

NON Index Page