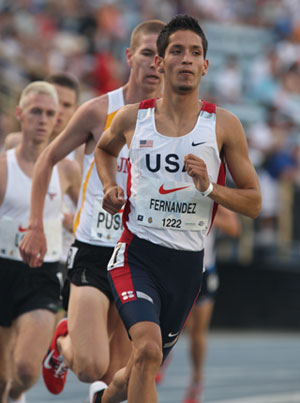 The first full day of competition at the 2008 Nike Outdoor Nationals saw a mix of familiar champions and fresh faces assembled on the podium, but it was a senior from California competing in his first Nike national meet who absolutely stole the show. Toeing the line for the boys 2 Mile as darkness fell, with a maelstrom of expectations swirling around him, German Fernandez of Riverbank CA was on a mission to take down Jeff Nelson's 29 year-old national record in the event.
Eight minutes and thirty-four seconds later, he had done exactly that, electrifying the sun-drunk crowd in the process. Fernandez stopped the clock at 8:34.40, slicing two seconds from Nelson's revered 1979 mark of 8:36.3, and—for good measure—toppling Galen Rupp's 2004 3k record of 8:03.67 with his en route split of 7:59.83.
Video of the race - Fernandez interview by Marc Davis -
Dave Devine's Anatomy of a Record Assault - John Dye's lap by lap photo album

In a sport where contests frequently fail to live up to the hype surrounding them, Fernandez delivered in spades, bolting to the lead whenever the pace lagged, then charging for home through a painful final lap with the record still hanging in the balance.
"In every race you learn," he said afterwards. "You learn to handle the pressure. You've just got to stay relaxed and take the pressure. You've just got to believe. It's about being able to believe that you're going to run great."
Fernandez wasn't the only one channeling that belief.

(left, Early in the race, by Vic Sailer)


Blazin' Raiders MD girls, Track Eastern Carolina boys, Chalonda Goodman back at it again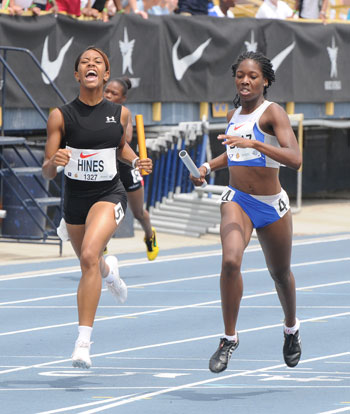 The Blazin' Raiders of Maryland, who compete as Eleanor Roosevelt HS during the school year, were among a handful of familiar faces populating the awards stand. Picking up where they left off last year (by starring in the relays), the Raiders took the 4x200 over a hard-pressing Skyline TX team in 1:36.95 (right, photo by John Dye), then came back to record the #8 all-time 1600 medley mark with a 3:53.95 effort behind freshman anchor Amira Johnson. Their recognizable counterparts on the boys' side were Track Eastern Carolina (New Bern NC), recent stars in several Nike national meets who stepped atop the podium once again with their 3:23.76 winner in the 1600 medley.

Track EC anchor Anthony Hendrix, who managed a 1:51.9 to bring his team home, found himself chasing Newburgh NY Elite's Akinto Boone in the final straight, after Boone blew by with 200 meters to go. "I gave him a little too much room on the inside, and he just went past me. After that I had to put it in another gear."

Chalonda Goodman GA, winner of the girls 100 in 11.51, was another established NON star, back to defend the 100 and 200 titles she took a year ago when the Nike meet served as her national coming out party .

"It is a big difference [this year], because you have to work even harder to stay on top and try to defend your titles. You have to pick it up a notch."

Spencer Adams, Neely Spence, Omar Craddock, Becky O'Brien step up

While Goodman was busy with the defense of her '07 titles, there were a number of top returners from last year looking to break through for their first outdoor national titles. Spencer Adams NC tore through the 110 hurdles in 13.75 (-0.6), holding off hard-charging Texan Brandon Tucker to rise a step above his second place finish last year. Neely Spence PA, silver medalist last year in the girls 2 Mile, took top honors Friday with a swift closing quarter after a bunched field moved sluggishly through the early laps. Her time of 10:20.77 was quite impressive, given the opening mile split of 5:18.6. Texas leaper Omar Craddock was top man back in the boys triple jump, and made good on the promise of that pole position with a winning effort of 50-09.25. The best performance by a leading returner, however, was turned in by Maine's Becky O'Brien, who finished second a year ago in the girls shot put to Kamorean Hayes, then soared to the top of the dais in '08 with a huge US#1 52-01.75.
Jasmin Stowers, Leslie Brost, Mason Finley, Charaschiesa Lockhart,
Hunter Furr are first-time winners
Fresh faces on the victory stand this year included South Carolina sophomore Jasmin Stowers (14.05 100H), girls pole vaulter Leslie Brost SD (13-03.00), boys discus champ Mason Finley CO (206-11), Texas triple jumper Charaschiesa Lockhart (41-00.50), and—perhaps most surprising of all—North Carolina speedster Hunter Furr.
Furr, a Lewisville NC junior who lacks the national exposure of some other sprint champions, took the boys 100 on a lean in the midst of a blanket finish, thrusting his hands confidently in the air despite the fact that the outcome was still unclear.
"I just felt like I got that chest out and got it," he said after the results were confirmed. "I just focus on the one lane, the corridor I'm running down, and it's me versus the time. The last 50 meters is my strength."
Friday evening ended with a pair of blazing 4x800's, as the Warwick Valley NY girls claimed a convincing victory in 8:55.74, and the Motor City TC/Detroit Mumford MI boys rode a sizzling anchor leg by Isaiah Ward to a 7:37.99 clocking.
But the night clearly belonged to German Fernandez, even if he wasn't entirely certain it would turn out that way.
"I was a little nervous about whether I could really finish strong," he admitted, well after the race had ended, "but I did. I finished strong."
He certainly did.