18th Nike Outdoor Nationals

June 19-21, 2008 - North Carolina A&T University, Greensboro NC

Southlake Carroll Lowe-rs US#1 DMR mark
Texas relay squad counts on senior star Colby Lowe to bring them home
by DyeStatIL editor Bob Geiger
Photo by John Dye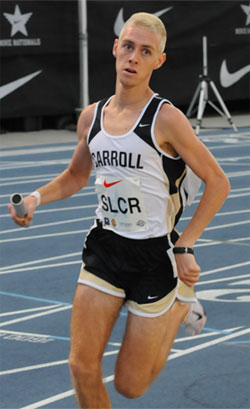 With a 4:05 anchor leg for the victorious Southlake Carroll TX distance medley, senior Colby Lowe (left) put the icing on his high school cake by dropping their existing US#1 DMR time all the way to 9:56.54.

"You come in with a fully loaded gun and you give it all you've got," Lowe said of the long weekend. "Coming through the finish line, you think, that's everything on the line I've got, so it's a great day, a happy day, I couldn't ask for anything better."

After running in the prestigious 2 Mile against future Oklahoma State teammate German Fernandez, and finishing third in 8:47.07, Lowe came back to help his relay squad to a team win.

According to Colby, "I didn't feel any pressure because I knew I could count on my teammates to get the job done. I figured it was my last race and I could give it everything and get it done for them."

Teammate Jack Petersen had the same trust in Lowe. "I knew that I needed to keep it close for the bad boy [Lowe]. I knew if it was close, no one in the meet could beat him."

The rest of the team agreed.

Leadoff leg CJ Brown got squeezed out of the pack and had to sit and wait before handing off in third.

Four-hundred meter leg Mason Williams took the stick with the goal of getting at least one guy. "I set off after the the second place guy and closed the gap off the turn. I caught him on the back straightaway. After that I just tried to close the gap on first place."

Petersen closed the gap even more, almost catching Danbury CT's Doug Ronan at the exchange, before Lowe concluded his high school career with a 4:05 split over Danbury's Willie Ahearn (4:10) for the win.

"I walk away with the idea that the experience of being here is rewarding in itself," Lowe reflected. "It's just fun to even be invited out to come run this meet."

We imagine that the gold medal and sub-10 minute clocking was a pretty good reward as well.

NON Index Page