| | |
| --- | --- |
| | Jackie Coward (left) had an up and down day, but her 13.00w 100H left no doubt to her fitness. Right photo: Shanay Briscoe, Brigetta Barrett, and Victoria Lucas rolled triple sixes for Texas with each clearing the magic 6' barrier. Photos John Nepolitan |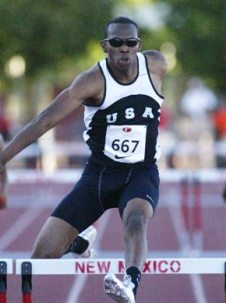 Saturday's best

- (see award winners on
Saturday
page)
Jackie Coward meet record 13.00w 100H, #2 all-time, all-conditions
Shanay Briscoe TX leads 3 Texans over meet record 6' in HJ at 6-0
Briscoe then clears US#1 6-01.25 HJ in "exhibition" to meet Olympic Trials 'A' Standard
Reggie Wyatt CA US#1 35.71 300H
Brandon Tucker TX 13.42w (+3.6) 110H
Brandon O'Conner FL US#1 20.65 200 / 46.93 400
Ryann Krais PA 41.20 300H over Donique' Flemings TX 41.21
Bryce Lamb AZ 25-09.25w LJ (+6.1)
Rachel Laurent LA meet record 13-06.25 PV
Terra Evans AZ 11.39w 100 (+3.5) / 23.91 200 (2nd)
Victoria Jordan TX 23.74 200, anchors winning 4x1, 4x4 (3rd in 100)
A'Lexus Brannon TX 20-01.50w LJ / 41-01 TJ double
Mason Finley CO 204-08 DT / 64-11.50 SP double
Natalie Stewart UT 53.55 400
Will Claye AZ meet record 51-00.25 TJ
Reggie Wyatt CA clipped the last hurdle good, but still ripped a US#1 35.90 300H, #11 all-time.
Photo John Nepolitan
==========================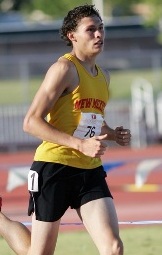 Friday: Krais 5522w, Beach 7262w, Sweet Steeples
Check out details on
Friday Page

Day 2 Heptathlon:
Methacton PA sr
Ryann Krais
popped a solid 18-10.50 LJ, a less-than-hoped-for 104-11 JT, and a strong 2:17.71 800. It was enough for a big PR 5522w, the second-best score ever in high school annuls. .
Day 2 Decathlon:
If New Mexico stars
Curtis Beach
(photo, left)
and
Daniel Gooris
were going to overcome the lead
Andre' McDonald
MO held after Day 1, and again after the discus, they were going to have to use the PV and 1500 to do it. Well, they did.
Friday Night Steeples
- A pair of great, meet-record 2k steeplechase battles finished off the day's events.
Ben Johnson
NM made it two victories' for Adam Kedge's Albuquerque Academy standouts, taking a tough steeple over
Zack Ornelas
TX, while
Emma Coburn
CO came from behind to beat
Natalie Haw
s UT on the girls side. -
Details
Above photo by Gary Murray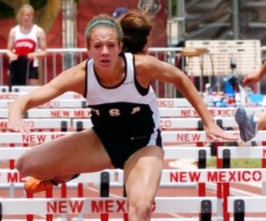 Thursday: Krais on 'record' trail; close race for boys -
Check out details on
Thursday Page
Day 1 Heptathlon:
Methacton PA sr
Ryann Krais
(right)
set a first-day heptathlon record for the GSW and only a windy day may slow down her attempt to take down Shana Woods' 2-year old HSR. Krais did 13.93w 100H / 5-08 HJ / 33-09.50 SP / 24.31w 200 for
3439
points.
Day 1 Decathlon:
Meanwhile,
Andre' McDonald
MO built a day-1 lead, like last year, but this time it was just 3 points. His
3904
total was off of his record 3967 of last year, while
Curtis Beach
NM improved his 2007 mark by 114 points for a
3901
mark.
Above photo by Travis Dulany, dulanyphoto.com