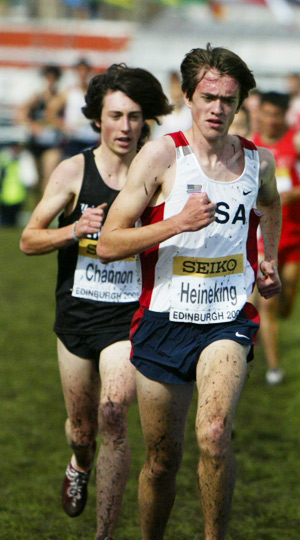 Dominic Channon NZ shadows US collegian Emil Heineking in the recent World XC Junior Champs
Photo by John Nepolitan
The Arcadia Invitational boys' 3200 race, always a hotly-anticipated event at the annual California track and field showcase, looks to have another stellar field assembled this year. With defending champion and recent 8:49.58 Nike Indoor National 2 Mile champ Luke Puskedra in the field, along with World Cross Country 25th-placer and 8:53 3200 talent German Fernandez and a host of 9-flat potentials, it's understandable if the pre-race buzz centers on a clash of US high school titans. To focus on the American talent exclusively, however, ignores the substantial gifts of a certain harrier from the Southern Hemisphere who figures to be a bigger factor than many might suspect.
For an island nation the size of Colorado, with geography that is half farmland and a quarter forest, New Zealand has produced more than its share of distance greats. From Olympians Peter Snell and John Walker to more recent stars like Adrian Blincoe, Nick Willis and Kim Smith, the Kiwi country 4500 miles south of Hawaii has had no shortage of top-shelf running talent. Underrated Arcadia entry Dominic Channon may just be the latest. Channon, journeying to Arcadia all the way from Nelson College in New Zealand, has emerged in the last few months as a distance threat every bit as dangerous as Puskedra or Fernandez. At the December New Zealand School Championships, Channon was a silver medalist to teammate Dallas Bowden in the 1500, then won the 3000 handily in a very good 8:34.53. That mark was only a hint of what was to come. Two months later, at the Capital Classic meeting in early February, Channon ripped 12 seconds from his PR and dropped an 8:09.61 for 3k that set the New Zealand under-18 national record, bettering the existing under-19 record in the process and qualifying him for the World Junior Championships to be held in Bydgoszcz, Poland next July. For perspective, only eight American high schoolers have ever run faster for 3000 meters, a list which includes 3200 and two mile en route times, and is led by Galen Rupp's 8:03.67 USR from 2004.
Not resting on his laurels after that terrific 3k performance, Channon journeyed to the IAAF World Cross Championships in Edinburgh, Scotland at the end of March where he faced a daunting international field, including Arcadia challenger German Fernandez over the 8k distance. Fernandez got the better of Channon there, with his 25:14 25th place showing fifteen places and 27-seconds up on Channon's 24:42 40th. When they meet on Saturday in California, both will have to rally their mud-wearied legs against a better-rested Puskedra, who hasn't had a high-level competition since NIN. Fernandez, of course, has faced the lanky Utah senior before, but so has Channon. He was an under-the-radar third to Puskedra's first at last year's Arcadia meet.
As meet director Rich Gonzalez tells it, Channon was almost an afterthought in that 2007 two mile field, as Gonzalez was pursuing Channon's more well-known training mate, Dallas Bowden. Bowden had made waves the previous winter by running a 3:46.98 1500 as a precocious 16 year-old, and Gonzalez contacted his coach to attempt to persuade him to bring the young miler to Arcadia. The New Zealanders eventually agreed to come, but when Bowden's plans fell through, Channon and another teammate still made the trip. Channon made the most of that maiden voyage with a late-race charge that brought him to the line in 9:01.42, barely edged by Trabuco Hills CA senior JT Sullivan (9:01.32). That makes Channon the #2 returner to Arcadia, a distinction that's hardly necessary to establish his cred in the 2008 field, not after the 8:09 3k he turned in February.
Certainly a good measure of the attention will be on Luke Puskedra and German Fernandez when the Arcadia boys' 3200 field toes the line, and justifiably so. But know this: in a Kiwi distance running lineage that stretches from Peter Snell to Kim Smith, Dominic Channon is still carving out his place, but he's now on the radar, and coming back to California, and he could turn out to be one of the best yet.