Will it be Sweeps City for Illinois Powers?




Naperville North and Kroy could dominate boys; Geneva heads up girls battle of champions





Preview by SteveU, DyeStat senior editor



Nike Cross Nationals Midwest may be the smallest region in the county (the single state "regions" New York and California notwithstanding), but don't confuse quantity with quality.

The Midwest Region and Heartland Region traded states, with the HL getting Wisconsin (teams not eligible) and the MW Missouri (teams eligible), but the MW still has just four states competing with teams (only individuals are eligible from Michigan). Consider these things, however, before you pooh-pooh the assemblage of harriers Saturday in Terre Haute IN:

The boys race features the clubs representing the teams from the juggernaut state of Illinois, which is enough to earn a healthy amount of respect right there. Now going by their club names, they would include those representing US#3 Naperville North XC (Naperville North HS) and US#5 Kroy TC (York HS), the former having beaten the latter last weekend in the IL State Meet by a single point. Just 10 points further back was US#10 Geneva XC (Geneva HS).
If that isn't enough Illinois to make rivals ill, then there's also US#14 Naperville South (Neuqua Valley HS), which happens to be the defending national champ. Kroy, or Elmhurst XC as they've been called, has been to each of the four NTN Finals to date, with finishes of 1st-2nd-10th-9th.
What about the girls? Well, while US#4 Geneva XC is the favorite there, the general buzz is more of a battle of state champs than of one state's dominance. US#6 Carmel XC (Carmel IN) has completely ruled its state all year and won the whole Hoosier State by 105 (Geneva won IL AAA by 115). While Ohio's and Missouri's big school state champs – Blue Streaks XC (Rocky River Magnificat OH) and Titans XC (Lee's Summit West MO), respectively – haven't been ranked quite as high nationally, they've had little resistance all year and taking their domains and aiming toward this day.
How about individuals? Well, we'll just start by throwing some names out and save the details for a little later. Lindsay Flanagan. Zach Wills. Kyle Gibson. Stephanie Morgan. Steve Sulkin. Jordan Herbert. Jacob Swearingen.

Impressed yet?

The point of all this is that, yes, the reach of the Midwest may not be as far, but you're good when it comes to quality and intense competition.

And in the big picture, things look pretty good, too – with the possible exception of the predicted wintry weather Saturday (hi 30s, snow showers). Entries appear to be up about 50 percent and the attraction of individual qualifying has attracted the likes of Flanagan, Morgan, and Michigan standouts Ben Miller and Shannon Osika.

Although the course had heavy rain this week and could get the snow Saturday, it's in good shape overall, thanks to a strong grass surface. The Lavern Gibson layout, of course, is also home to the Nov. 24 NCAA Championships and Indiana State assistant Geoff Wayton directs both – and knows how to maintain a course. An added feature this year will be hay bales at strategic points.

Now, breaking down each race: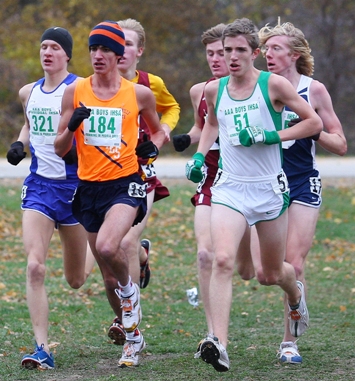 Boys: An Illinois stranglehold

(Brandon Gittelman photo at right includes Naperville North's Kyle Gibson (184), Kroy's Jordan Herbert (51), and Naperville South's Danny Pawola (far right))

It's been a tough week for York HS and its legendary coach Joe Newton. Of course, Newton hasn't been coaching this week and won't be there Saturday as the men of Kroy take to the course, but that doesn't mean the sting of last weekend's loss isn't still being felt.

"It's been like a funeral here," he said Thursday. "We had two way up front, but some of the others were kind of lost out there. We had to find Naperville North and run with them. The kids want to come back this week. One point can be retrieved."

At the same time, he paid tribute to the champions. "I don't like to make excuses. The best team won last Saturday. He's good out there."

"He" would be Naperville North coach David Racey, who has had his program at a pinnacle all fall. Their club might be able to retrieve a point this weekend, too, if need be. He told DyeStat Illinois last weekend that #1 man Kyle Gibson was battling strep throat leading up to the race (he was 3rd). He added that their normal 4th man also was struggling, but their 2-3-4 for that day "ran great."

Indeed, Naperville North's Tyler Jermann gaining nine points on York's 3rd man was a key difference last weekend. With a different group of competitors this weekend (not to mention different uniforms), it remains to be seen how well these rivals "find" each other and divide up the top places.

Then there's Geneva XC, which could topple either of the powers on the right day. Coach Bob Thomson's team hasn't had a front runner at the top, but at state had a very close 1-4 spread, with the #5 somewhat further back. They have a few different ways to potentially close the gap and have to be taken seriously.

The defending national and regional champs from Naperville South XC (Neuqua Valley IL) will also be in the mix. Of course, 2007 NTN champ Chris Derrick is at Stanford and Jim Riddle graduated, too. Current #1 Danny Pawola will be right in the mix for the individual crown, but the rest of the team, man-for-man, was not at the level of the top three last weekend and would be hard pressed to make up the gaps across the board.

Besides the Illinois teams, four of the other five MW top ten teams will be there, as well as four bubble teams. In fact, there are 20 other squads that placed in their respective state meets. But can the best from Indiana, Ohio, and Missouri break up the Illinois domination?

Coach Chuck Koeppen's MW#5 Carmel XC was unbeaten against Indiana teams, winning state by 10 points, but lost badly (48-94) to Neuqua Valley in the Culver Invite. The Indiana state runner-up, MW#7 Fort Wayne XC (Fort Wayne Carroll HS), will be in Terre Haute, as will 2007 state champion Fishers Distance Program (Fishers HS), which was 5th this year but had the individual state champ in Drew Shields.


The Ohio contingent will be led by MW#10 Mason XC (Mason HS), the state's D1 champ which is led by super soph Zach Wills (left, photo by Deidre Thompson) Hilliard Davidson TC (Hilliard Davidson HS) and Mentor XC (Mentor HS), which were 2-3 behind Mason at state, are also here. From Missouri, there are several teams including Titan TC (Lee's Summit West HS) and St. Louis XC (St. Louis University HS), which were 1-2 in that state's 4A meet.

It all adds up to a lot of solid, capable teams. But while the best of them may be able to squeeze in a 3rd or 4th, a lower spot is more likely and a top two hard to imagine, unless one of the Illinois powers has a disaster.

Individually, there are several runners who could battle for the victory – and with some of them being on the likely team qualifiers, it's possible that a spot as low as 8th could make it to Portland.

Wills, the unbeaten D1 state champ, hasn't raced outside of Ohio, but his times in the low 15s and record of dominance would point to him being the favorite. Shields has had a handful of losses during the year, most often to amazing North Central IN freshman Futsum Zeinasellassie (not in this meet). Shields finally got his number at state, and while Zeinasellassie was hampered by losing a shoe and having to play catchup, it does appear that Shields is getting into top form at the right time. Missouri's best runner, 3A champ Jacob Swearingen, is also here.

From Illinois, state 3A champ Jeff Thode isn't here, but Kroy's Steve Sulkin (2nd in state AAA) and Jordan Herbert (4th), Naperville North's Kyle Gibson (3rd), and Neuqua Valley's Danny Pawola (5th) are all capable of winning. Last year here, Shields was 4th, Pawola 5th, and Sulkin 6th … and indeed, they are the top three returnees. Sulkin, who was 5th in the NXN finals last year, had slipped to his team's #2 before state, but was back as #1 for them at Detweiller. If he continues to progress, he could be the man to beat. Michigan's Ben Miller, coming off a bad state meet, but otherwise a great season, should be in the mix, too.




Girls: A battle of champions



Geneva and Carmel have dominated the competition in their respective states of Illinois and Indiana all fall. Blue Streaks XC (Magnificat HS) and Titan XC (Lee's Summit West HS) have done the same thing in Ohio and Missouri. Which state champs have the best chance to go to Portland?

The way Geneva and Carmel each ran in their last meets makes them hard to bet against. Geneva had a little reason to be wary, despite it's unbeaten record, having had just a 11-point win vs. Sandburg in one meet. But the MW#1 team turned in one of the all-time great IL state meet performances with a 51-point score, 115 ahead of Hinsdale Central with Sandburg a distant 6th. The 2-3 finish of Kelly Whitley and Sarah Heuer led the way, but the 33-second spread for 1-5 was what sealed the deal.

Coach Bob Thomson admitted he was at the line, among those franticly counting places of his team and others to see how it was looking. He couldn't believe what he was seeing. "When five of our girls were in and I hadn't seen a second from the other teams I was counting, I stopped counting."

Thomson doesn't take much credit for the success, pointing out he isn't really doing anything different than in many years of coaching. "It's talent," he said. "A lot of these girls have been together since middle school and it's just a solid, very athletic group." He's referring mainly to the Class of 2011; last year, Geneva won state with six freshmen, who are now sophs. Most of them have been part of this season's success.

"Of course," Thomson added, "the Heuer sisters moving here from Minnesota has been huge, too." Third-place Sarah is a senior and is called a "stabilizing" influence on the team. Megan, a junior, was 12th overall as Geneva's #3.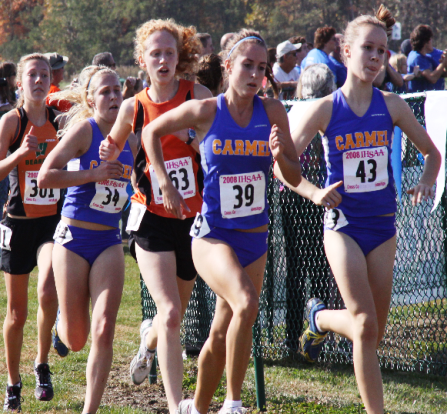 Similarly, Carmel (photo at right from IN State Meet, from carmelxc.com) has great power at the top, super depth through five, and a leading sister act figuring mightily in their success. McCurdy sisters Kelly and Kayla scored 2nd and 8th for the Lady Greyhounds in the state meet, with Renee Wellman tallying 4th in-between. Only one other team got its 2nd runner in before Carmel's 4th, and Carmel's 5th beat everyone else's 3rd.

Hence, Carmel scored just 55, winning by 105 over Lake Central. They will be looking to improve on a close 4th here last year, when they were part of an Indiana 1-4 sweep.

Blue Streaks XC hopes to move up from 5th; they will again be easily the leading Ohio entry. At their state meet, as Magnificat, they were magnificent, scoring 68 and winning by 53. Junior Madeline Chambers (4th in scoring) has been the leader all year, and the team led the rest of the field at every spot, with a tight 2-3-4 being of particular note.

The dominance of Lee's Summit West in the Missouri 4A race was similar; they scored 69 and won by 54. Their top five spread 51 seconds, with pretty even spacing throughout. Chelsey Phoebus paced the effort, scoring 4th.

The girls championship race isn't nearly as deep as the boys; 11 other schools are entered besides the big four, with six of those from Indiana (the boys race as 30 total). Two of those are in the MW top ten, including previously mentioned IL runner-up (#6) Hinsdale XC (Hinsdale Central HS) and IN runner-up (#9) Indiana Indians RC (Lake Central HS). IN #3 Franklin Township XC (Franklin Central HS) is in the field, too.

Last year here, Lake Central won, followed by Westfield XC (not here this year), Ft. Wayne XC (Ft. Wayne Carroll HS, also here) and Carmel.

Individually, the girls race features two girls truly entered as individuals, Lake Park IL sr Lindsay Flanagan and Barnsville OH sr Stephanie Morgan. They haven't met this year, but Class AAA champ Flanagan is unbeaten in Illinois, while D3 champ Morgan's only loss was in the loaded Great American field. Morgan has an extensive national-level portfolio, particularly on the track, while Flanagan has really ascended to that level this year.

Geneva's and Carmel's top runners will also likely battle for a top five spot, along with Magnificat's Chambers, Lee's Summit West's Phoebus, and Indiana state champ Sarah Higgens of Center Grove XC. Michigan D1 runner-up Shannon Osika will be right there, too. Higgens and Chambers were 5th and 6th here last year. The top returnee is actually Brianna Johnson of Ft. Wayne, 2nd here in 07, but she hasn't been at the same level this year.