Heartland Region


November 15, 2008 at Sioux Falls SD
Iowa - Kansas - Minnesota - Nebraska -


North Dakota - South Dakota - Wisconsin



Girls Championship




Results
Every Runner Counts




Eden Prairie MN and Roosevelt Sioux Falls SD overcome 1-2 punch of Dowling Catholic IA





story and photos by John Dye



Iowa state champ Dowling Catholic's front running Ashlie Decker (right) and Katie Flood ran away from the field at the outset. They ran side by side until Decker pulled away in the final 1K loop to win by 7 seconds, 17:53 to 18:00.

The finish confirmed the surprising result of the Iowa State Meet two weeks ago when Decker beat Flood, defending Heartland champion and 2-time Iowa state champion. Both are juniors.

The race exemplified one of NXN's mottos -- "every runner counts." Minnesota state champ Eden Prairie and South Dakota state champ Roosevelt Sioux Falls overcame Dowling Catholic's 1-2 punch with better team balance to win the two automatic slots at Nike Cross Nationals finals in Portland December 6.

Eden Prairie, ranked #2 in the region, won with 45 points (3-7-8-10-17) with all five of their scorers finishing before Dowling Catholic's third. It was a nail biter for second, with Heartland #1 Roosevelt Sioux Falls edging Heartland #3 Dowling Catholic 96 to 98. The difference was Roosevelt's #3 runner Alex Hess, who scored 15 to 24 for her Dowling counterpart.


Dowling was left hoping for one of the four national at large slots, which will be awarded after the last regional November 29.



Individual Qualifiers



For the first time in the 5 years of NXN, individuals qualified for nationals, with five slots going to the first five finishers not on one of the two qualifying teams. Eden Prairie's Cassy Opitz in 5th was the only member of a qualifying team in the top six, so the individual slots went to Decker, Flood, 3. Jamie Piepenburg, Alexandria MN 18:07; 4. Nebraska 4A champ Kelli Budd, Marian Omaha NE 18:14; and 6. Brecca Wahlund, Minot ND 18:32.

If Dowling Catholic wins an at large berth, Decker and Flood's slots would open up for Tarin Lachowitzer of Fargo South ND and Madie Hubbell of Roosevelt DesMoines IA, who finished 11th and 12th with the same time, 18:42.


Decker (L) and Flood with 1000 meters to go.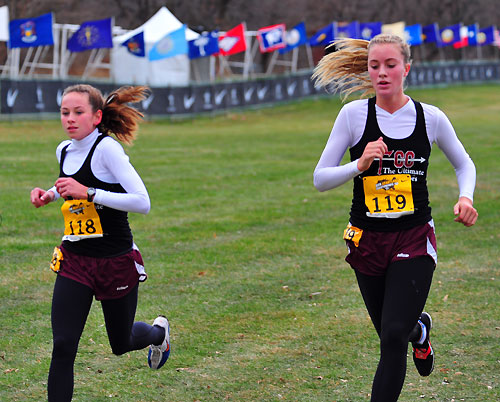 3. Jamie Piepenburg




4. Kelli Budd



5. Cassy Opitz
Eden Prairie's #1


6. Brecca Wahlund



Results
Timing & Results by PrimeTime Race & Event Management, LLC.  www.pttiming.com
                  Nike Cross Nationals Heartland Regional
                      Yankton Trails, Sioux Falls, SD
                            November 15th, 2008
                  ========== GIRLS TEAM SCORE ==========
                       High School Championship Race

  1.    45  Eden Prairie XC Club     (  18:49  1:34:02)
=======================================
  1      3  Cassy Opitz               18:31
  2      7  Megan Platner             18:39
  3      8  Allie Rudin               18:40
  4     10  Laura Lawton              18:48
  5     17  Hanna Hoch                19:24
  6   ( 31) Alex Birkle               19:53
  7   ( 32) Dana Jeter                19:55

  2.    96  Sioux Falls XC Club      (  19:20  1:36:38)
=======================================
  1      5  Seanna Kautz              18:37
  2      6  Erin Hargens              18:38
  3     15  Alex Hess                 19:17
  4     30  Bailey Breems             19:51
  5     40  Laura Bauer               20:15
  6   ( 49) Megan Brown               20:37
  7   ( 60) Ali Oswald                21:11

  3.    98  Dowling Catholic XC Club (  19:09  1:35:42)
=======================================
  1      1  Ashlie Decker             17:53
  2      2  Katie Flood               18:00
  3     24  Allie Vaughan             19:40
  4     35  Heather Tobias            20:04
  5     36  Diane Hubbell             20:05
  6   ( 57) Sarah Spellman            21:09
  7   ( 67) Aimee Thacker             21:45

  4.    99  Demon XC Club            (  19:29  1:37:22)
=======================================
  1     12  Taylor Pintar             19:03
  2     18  Alexa Wachter             19:25
  3     21  Shanice Lambert           19:35
  4     23  Lindsay Achtenberg        19:38
  5     25  Brooklyn Beehler          19:41
  6   ( 29) Tessa Haussler            19:48
  7   ( 37) Alana Fischer             20:06

  5.   157  Runwest RC               (  19:57  1:39:45)
=======================================
  1     16  Nichole Engelhardt        19:21
  2     22  Rachel Hegeman            19:36
  3     26  Alissa Rothman            19:42
  4     43  Sara Stewart              20:25
  5     50  Taylor Fehlberg           20:41
  6   ( 59) Jenna Broghamer           21:11
  7   ( 79) Whitney Schuette        3:08:21

  6.   159  City of Iowa XC Club     (  19:57  1:39:44)
=======================================
  1     20  Rebecca Rethwisch         19:29
  2     27  Emily Fagan               19:46
  3     28  Kelsey Hart               19:47
  4     39  Hannah Kregal             20:14
  5     45  Cassidy White             20:28
  6   ( 52) Lindsay McFarland         20:57
  7   ( 55) Melanie Holman            21:03

  7.   184  M & M's Cross-Country    (  20:11  1:40:52)
=======================================
  1      4  Brecca Wahlund            18:32
  2     13  Stephanie Greer           19:13
  3     51  Melanah Poole             20:52
  4     54  Alexa Hornecker           21:01
  5     62  Ali Fowler                21:14
  6   ( 63) Abby Bierschbach          21:17
  7   ( 77) Kristin Ziegler           23:55

  8.   209  Prior Lake XC Club       (  20:23  1:41:53)
=======================================
  1     14  Kayla Uphoff              19:16
  2     41  Olivia Bagnall            20:22
  3     44  Megan Kilbride            20:27
  4     46  Erin Kilbride             20:28
  5     64  Emma Mickelson            21:20
  6   ( 72) Kelsi Miller              22:05
  7   ( 75) Taylor Vonasek            22:43

  9.   213  Fargo South RC           (  20:23  1:41:53)
=======================================
  1      9  Tarin Lachowitzer         18:42
  2     42  Erin Valenti              20:24
  3     48  Paige Rygg                20:36
  4     53  Katie Schalow             20:58
  5     61  Frances Conlin            21:13
  6   ( 66) Jennifer Storm            21:44

 10.   218  Derby RC                 (  20:29  1:42:24)
=======================================
  1     19  Emily Hornbeck            19:28
  2     38  Amber Green               20:09
  3     47  Laura Burke               20:31
  4     56  Tori Lewis                21:06
  5     58  Samantha Bartlett         21:10
  6   ( 70) Valerie Nielson           21:59
  7   ( 78) Claire Cox                24:14

 11.   256  White Bear Lake XC Club  (  21:05  1:45:24)
=======================================
  1     11  Katie Moraczewski         18:58
  2     34  Kelsey Coulter            20:03
  3     68  Katie Schlafke            21:50
  4     69  Janelle Yonker            21:51
  5     74  Caroline Potts            22:42

 12.   318  J Town D Crew            (  21:56  1:49:37)
=======================================
  1     33  Anna Belner               19:57
  2     65  Alyssa Eaves              21:21
  3     71  Amber Clock               22:04
  4     73  Amy Kruger                22:29
  5     76  Amanda Philiph            23:46


                                                                      Page 1
                  Nike Cross Nationals Heartland Regional
                      Yankton Trails, Sioux Falls, SD
                            November 15th, 2008
                          Girls Championship Race
Place TmPl Name               No.  Year School                   1 Mile  2 Mile  2 Split Last1.1 Time     Pace  
===== ==== ================== ==== ==== ======================== ======= ======= ======= ======= ======== ===== 
    1    1 Ashlie Decker       118 10   Dowling Catholic XC Club    5:30   11:15    5:46    6:38 17:52.73  5:46  I 
    2    2 Katie Flood         119 10   Dowling Catholic XC Club    5:30   11:15    5:46    6:45 17:59.49  5:48  I 
    3      Jamie Piepenburg     20 12   Alexandria XC Club          5:38   11:24    5:46    6:44 18:06.89  5:50  I 
    4      Kelli Budd          654 09                               5:38   11:26    5:49    6:48 18:13.21  5:52  I 
    5    3 Cassy Opitz         152 09   Eden Prairie XC Club        5:45   11:37    5:52    6:55 18:30.76  5:58  T 
    6    4 Brecca Wahlund      275 11   M & M's Cross-Country       5:40   11:38    5:58    6:55 18:31.98  5:58  I 
    7    5 Seanna Kautz        433 10   Sioux Falls XC Club         5:54   11:48    5:55    6:49 18:36.02  6:00  T 
    8    6 Erin Hargens        431 09   Sioux Falls XC Club         5:52   11:49    5:57    6:49 18:37.07  6:00  T 
    9    7 Megan Platner       153 11   Eden Prairie XC Club        5:47   11:48    6:01    6:52 18:38.76  6:01  T 
   10    8 Allie Rudin         154 11   Eden Prairie XC Club        5:47   11:47    6:00    6:54 18:39.72  6:01  T 
   11    9 Tarin Lachowitzer   178 12   Fargo South RC              5:45   11:44    6:00    6:59 18:41.76  6:02  I 
   12      Madie Hubbell       658 10                               5:45   11:39    5:54    7:04 18:41.76  6:02  I 
   13      Emma Bates          650 10                               5:47   11:51    6:04    6:56 18:45.77  6:03  I 
   14   10 Laura Lawton        151 11   Eden Prairie XC Club        5:46   11:48    6:02    7:01 18:47.39  6:03  T 
   15      Laura Docherty      655 09                               5:46   11:41    5:56    7:10 18:49.76  6:04  I 
   16      Mackenzie Maki      661 11                               5:39   11:46    6:08    7:08 18:53.20  6:05  I 
   17      Madeleine Takahash  671 11                               5:44   11:46    6:03    7:11 18:55.99  6:06    
   18   11 Katie Moraczewski   593 09   White Bear Lake XC Club     5:45   11:50    6:06    7:08 18:57.74  6:07    
   19      Shelby Houlihan     804                                  5:45   11:52    6:08    7:09 18:59.87  6:07    
   20   12 Taylor Pintar        85 10   Demon XC Club               5:49   11:57    6:08    7:06 19:02.05  6:08    
   21      Kaila Urick         672 11                               5:46   11:54    6:08    7:10 19:02.13  6:08    
   22      Hannah Kellerman    660 10                               5:44   11:44    6:01    7:24 19:07.59  6:10    
   23      Maddie McClellan    328 10   Perham XC Club              5:46   12:00    6:15    7:09 19:08.48  6:10    
   24   13 Stephanie Greer     272 09   M & M's Cross-Country       5:53   12:05    6:12    7:09 19:12.16  6:11    
   25      Julia Harrison      300 11   Mound Westonka XC Club      5:46   11:55    6:10    7:21 19:14.80  6:12    
   26   14 Kayla Uphoff        385 10   Prior Lake XC Club          5:48   12:07    6:19    7:10 19:15.89  6:13    
   27   15 Alex Hess           432 12   Sioux Falls XC Club         5:56   12:11    6:15    7:06 19:16.41  6:13  T 
   28   16 Nichole Engelhardt  420 09   Runwest RC                  5:53   12:05    6:13    7:16 19:20.30  6:14    
   29   17 Hanna Hoch          149 12   Eden Prairie XC Club        5:58   12:12    6:15    7:12 19:23.77  6:15  T 
   30   18 Alexa Wachter        86 10   Demon XC Club               5:52   12:11    6:19    7:14 19:24.25  6:15    
   31   19 Emily Hornbeck      114 12   Derby RC                    5:57   12:14    6:17    7:15 19:27.30  6:16    
   32   20 Rebecca Rethwisch    59 11   City of Iowa XC Club        5:58   12:13    6:15    7:16 19:28.05  6:16    
   33      Laura Hughes        659 10                               5:45   11:58    6:13    7:36 19:32.37  6:18    
   34   21 Shanice Lambert      84 10   Demon XC Club               5:53   12:11    6:18    7:25 19:34.44  6:19    
   35   22 Rachel Hegeman      422 12   Runwest RC                  5:56   12:11    6:15    7:25 19:35.33  6:19    
   36   23 Lindsay Achtenberg   80 10   Demon XC Club               5:57   12:21    6:25    7:18 19:37.88  6:20    
   37   24 Allie Vaughan       123 12   Dowling Catholic XC Club    6:07   12:34    6:27    7:06 19:39.16  6:20    
   38   25 Brooklyn Beehler     81 11   Demon XC Club               6:00   12:23    6:23    7:19 19:40.32  6:20    
   39      Jena Schwalenberg   667 09                               6:00   12:24    6:24    7:18 19:40.83  6:21    
   40   26 Alissa Rothman      423 11   Runwest RC                  6:07   12:29    6:22    7:14 19:41.73  6:21    
   41   27 Emily Fagan          54 10   City of Iowa XC Club        6:08   12:27    6:19    7:20 19:45.77  6:22    
   42   28 Kelsey Hart          55 09   City of Iowa XC Club        6:01   12:24    6:23    7:24 19:46.76  6:22    
   43   29 Tessa Haussler       83 12   Demon XC Club               6:00   12:27    6:27    7:22 19:47.54  6:23    
   44   30 Bailey Breems       429 10   Sioux Falls XC Club         6:05   12:32    6:27    7:19 19:50.07  6:24  T 
   45   31 Alex Birkle         148 11   Eden Prairie XC Club        5:58   12:20    6:22    7:33 19:52.03  6:24  T 
   46   32 Dana Jeter          150 12   Eden Prairie XC Club        6:05   12:28    6:23    7:28 19:54.75  6:25  T 
   47   33 Anna Belner         226 10   J Town D Crew               6:05   12:32    6:27    7:26 19:56.71  6:26    
   48      Aubree Worden       675 11                               5:52   12:23    6:31    7:35 19:57.07  6:26    
   49      Jess Wright          31 11   Bellevue West XC Club       5:57   12:30    6:33    7:29 19:57.99  6:26    
   50      Tera Potts          665 09                               6:02   12:29    6:28    7:31 19:59.24  6:26    
   51   34 Kelsey Coulter      591 11   White Bear Lake XC Club     6:09   12:44    6:35    7:19 20:02.69  6:28    
   52   35 Heather Tobias      122 10   Dowling Catholic XC Club    6:07   12:35    6:28    7:30 20:03.35  6:28    
   53   36 Diane Hubbell       120 12   Dowling Catholic XC Club    6:12   12:41    6:30    7:24 20:04.54  6:28    
   54   37 Alana Fischer        82 11   Demon XC Club               6:00   12:30    6:30    7:36 20:05.15  6:28    
   55   38 Amber Green         113 12   Derby RC                    6:15   12:51    6:36    7:19 20:08.65  6:30    
   56      Bailey Eich         656 11                               6:05   12:38    6:34    7:36 20:13.19  6:31    
   57   39 Hannah Kregal        57 09   City of Iowa XC Club        6:10   12:38    6:29    7:36 20:13.89  6:31    
   58      Brittany Arment     649 10                               6:03   12:35    6:33    7:40 20:13.99  6:31    
   59   40 Laura Bauer         428 09   Sioux Falls XC Club         6:08   12:42    6:35    7:33 20:14.36  6:31  T 
   60      Lottie Grimshaw     657                                  6:13   12:50    6:38    7:29 20:17.50  6:32    
   61      Kayla Sherwood      669 09                               6:15   12:49    6:35    7:34 20:21.66  6:34    
   62   41 Olivia Bagnall      380 09   Prior Lake XC Club          6:04   12:40    6:36    7:42 20:21.74  6:34    
   63      Courtney Neubert    663 11                               6:09   12:46    6:37    7:38 20:23.09  6:34    
   64   42 Erin Valenti        182 11   Fargo South RC              6:03   12:42    6:40    7:43 20:23.96  6:34    
   65   43 Sara Stewart        424 10   Runwest RC                  6:20   12:53    6:34    7:32 20:24.05  6:34    
   66      Jay Lynn Fimbers    807                                  6:08   12:45    6:37    7:42 20:26.35  6:35    
   67   44 Megan Kilbride      382 12   Prior Lake XC Club          6:12   12:49    6:38    7:39 20:26.73  6:35    
   68   45 Cassidy White        60 10   City of Iowa XC Club        6:15   12:48    6:33    7:41 20:27.32  6:36    
   69   46 Erin Kilbride       381      Prior Lake XC Club          6:17   12:55    6:38    7:34 20:27.56  6:36    
   70   47 Laura Burke         111 09   Derby RC                    6:15   12:43    6:29    7:48 20:30.40  6:37    
   71   48 Paige Rygg          179 10   Fargo South RC              6:22   13:06    6:45    7:31 20:35.75  6:38    
   72   49 Megan Brown         430 11   Sioux Falls XC Club         6:27   13:06    6:39    7:31 20:36.11  6:38  T 
   73   50 Taylor Fehlberg     421 11   Runwest RC                  6:19   13:05    6:46    7:37 20:40.52  6:40    
   74   51 Melanah Poole       274 09   M & M's Cross-Country       6:24   13:10    6:47    7:42 20:51.14  6:43    
   75      Allie Brisco        653 11                               6:17   13:11    6:55    7:45 20:54.81  6:44    
   76   52 Lindsay McFarland    58 09   City of Iowa XC Club        6:26   13:07    6:42    7:50 20:56.11  6:45    
   77   53 Katie Schalow       180 10   Fargo South RC              6:29   13:15    6:47    7:43 20:57.71  6:45    
   78   54 Alexa Hornecker     273 10   M & M's Cross-Country       6:29   13:16    6:47    7:46 21:00.89  6:46    
   79   55 Melanie Holman       56 10   City of Iowa XC Club        6:25   13:09    6:45    7:55 21:02.65  6:47    
   80      Bridgette Schneekl  666 10                               6:06   13:00    6:54    8:06 21:05.08  6:48    
   81   56 Tori Lewis          115 11   Derby RC                    6:30   13:22    6:52    7:44 21:05.45  6:48    
   82   57 Sarah Spellman      121 10   Dowling Catholic XC Club    6:22   13:16    6:54    7:53 21:08.26  6:49    
   83      Britni Waller       673 10                               6:07   13:08    7:02    8:01 21:08.66  6:49    
   84      Taylor Scott        668 11                               6:28   13:34    7:06    7:37 21:09.26  6:49    
   85   58 Samantha Bartlett   110 09   Derby RC                    6:31   13:23    6:52    7:48 21:09.63  6:49    
   86   59 Jenna Broghamer     419 09   Runwest RC                  6:29   13:19    6:50    7:52 21:10.48  6:49    
   87   60 Ali Oswald          434 12   Sioux Falls XC Club         6:21   13:15    6:54    7:57 21:10.49  6:49  T 
   88   61 Frances Conlin      177 11   Fargo South RC              6:22   13:14    6:52    8:00 21:12.85  6:50    
   89   62 Ali Fowler          271 10   M & M's Cross-Country       6:28   13:17    6:49    7:58 21:13.27  6:50    
   90   63 Abby Bierschbach    269 12   M & M's Cross-Country       6:29   13:19    6:50    7:58 21:16.33  6:51    
   91      Shelby Smithhisler  670 09                               6:28   13:23    6:56    7:54 21:16.48  6:51    
   92   64 Emma Mickelson      383      Prior Lake XC Club          6:28   13:23    6:55    7:58 21:19.65  6:52    
   93   65 Alyssa Eaves        228 11   J Town D Crew               6:22   13:18    6:56    8:04 21:20.74  6:53    
   94      Carrie Wiese        712 09                               6:21   13:25    7:05    8:01 21:25.51  6:54    
   95      Madison Musilek     662 10                               6:18   13:27    7:10    8:07 21:33.68  6:57    
   96      Meleia Oestmann     664 09                               6:16   13:17    7:01    8:20 21:35.89  6:58    
   97   66 Jennifer Storm      181 11   Fargo South RC              6:32   13:31    7:00    8:13 21:43.49  7:00    
   98   67 Aimee Thacker       125 10   Dowling Catholic XC Club    6:33   13:39    7:06    8:07 21:44.40  7:00    
   99   68 Katie Schlafke      595 11   White Bear Lake XC Club     6:42   13:47    7:05    8:04 21:49.96  7:02    
  100   69 Janelle Yonker      596 12   White Bear Lake XC Club     6:40   13:47    7:07    8:04 21:50.18  7:02    
  101   70 Valerie Nielson     116 11   Derby RC                    6:42   13:53    7:12    8:06 21:58.75  7:05    
  102   71 Amber Clock         227 11   J Town D Crew               6:46   13:54    7:09    8:10 22:03.21  7:06    
  103   72 Kelsi Miller        384 10   Prior Lake XC Club          6:35   13:55    7:20    8:11 22:04.97  7:07    
  104   73 Amy Kruger          230 09   J Town D Crew               6:47   14:00    7:14    8:30 22:28.86  7:15    
  105   74 Caroline Potts      594 11   White Bear Lake XC Club     6:44   14:11    7:27    8:31 22:41.39  7:19    
  106   75 Taylor Vonasek      386 11   Prior Lake XC Club          6:52   14:15    7:23    8:28 22:42.14  7:19    
  107      Ivy Wellman         674 10                               6:56   14:29    7:33    8:39 23:07.32  7:27    
  108   76 Amanda Philiph      231 10   J Town D Crew               7:01   14:42    7:42    9:04 23:45.31  7:39    
  109   77 Kristin Ziegler     278 12   M & M's Cross-Country       7:03   14:53    7:51    9:03 23:54.89  7:42    
  110   78 Claire Cox          112 10   Derby RC                    7:06   15:03    7:58    9:11 24:13.14  7:48    
  111   79 Whitney Schuette    427 10   Runwest RC               2:53:24 3:00:28    7:05    7:54 188:20.75 60:38    
  112      Bailee Goodfellow   425 09   Runwest RC               2:53:43 3:01:04    7:22    8:23 189:25.75 60:59