Vale's Hevner leads team to 3A title with 4-gold day
Meet Story and photos by Dave Devine, DyeStat Northwest Editor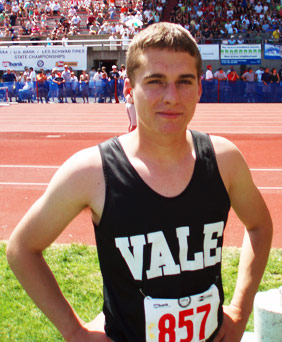 With only one event remaining at Saturday's Oregon 3A State Championship, Vale High School needed to finish in the top two of the 4x400 relay in order to secure the boys' state title. They had plenty of reason to take heart, as their sprint superstar, Zack Hevner (left), was waiting to take the baton for the anchor leg. Hevner had already won three golds on the day, taking the 100 (11.38 nwi), 200 (22.31 +1.8) and 400 (49.83) in turn, each time favoring a gamey hamstring and trying to leave enough in reserve for the relay at the end of the day. Things were looking good as 3rd leg and 800-winner Cam Anthony barreled toward the final exchange just behind front-running Cascade Christian, but that was before Anthony stepped on the heel of Hevner's racing spike in the crowded exchange zone and left the shoe hanging precariously on Hevner's right foot.

"When we were handing off, [Cam] stepped on it," Hevner said after the race. "Pulled the heel right off."

As Hevner rounded the first turn in hot pursuit of Cascade Christian, the loose shoe dislodged into Lane 1 and Hevner pressed on without it.

"It was a big race....when you gotta go, you gotta go."

Hevner blew past Cascade Christian anchor Connor Kirkpatrick on the backstretch and powered home with one foot socked and one in a spike. When he crossed the line in 3:26.87 his right foot was bloodied, but he was 2-seconds clear of Cascade Christian, he'd secured his fourth gold of the meet and he'd sewed up the 3A boys' title for his Eastern Oregon high school.


Vale's 4x400 victory with Zack Hevner's one-shoe anchor
Hevner's quadruple wasn't the only one of the weekend, or even the sole 4-gold effort in the 3A classification. Toledo senior Beth Stam took home four of her own, dominating a wide range of field events with wins in the long jump (17-04.50), triple jump (37-02.00), javelin throw (133-06) and high jump (5-04.00). Stam's forty points, plus 6 from her teammates, had Toledo in the lead for the girls' title heading into the final event, but they didn't have a 4x400 in the field. Catlin
Gabel—only one point back—did have a team, and they exploited that disparity with a dominating 4:02.90 victory that sealed up the state title on the final event.

Senior Jaela Dinsmore of Burns lost a chance at reaching a 4-gold day when her 4x100 relay team was disqualified Friday for an exchange outside the zone, but she still made the most of her Saturday opportunities with a sterling sprint sweep, delivering two PR's which also happened to be state records. The records came in the 200 (25.49) and the 400 (56.98), and Dinsmore also took home gold in the 100 (12.64 into a wind of 1.8).

"I was really nervous in the 400," she said after her day had ended, "but I had to do them all, so I tried to do my best in all of them."

Other standouts in the 3A competition included Amity senior Jeremy Kreutzbender who doubled in both hurdle races, winning the 100H in 15.34 and the 300H in 40.88, Waldorf senior Sharrisa Thayer who reached 40-10.25 in the girls' shot put, and Valley Catholic junior Meghan Blood who turned a two-day distance double of 4:56.87 in the 1500 and 10:46.93 in the 3k.
2A – Hall's heroics help secure a tie for the girls' team title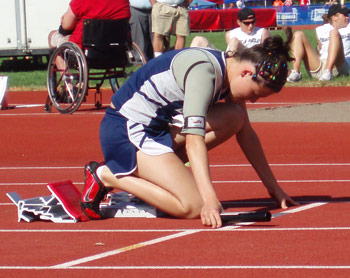 Anyone who looked at Lakeview senior Keli Hall (right) as she attempted to gather herself for the leadoff leg of the final 4x400 relay would have realized that she had no business being out there. Hall, who had already won three events (200, 400, 300H) and set two state records in the process (25.99 200 and 46.69 300H prelim), was completely depleted after her 300 hurdle triumph. In addition, she was racing with a dislocated shoulder that was bandaged with a support wrap that needed adjusting after every race. So when the girls' 2A 4x400 field marched onto the infield to await their race, Lakeview sent five runners to the starting area, in case Hall decided she couldn't run.
Hall couldn't be dissuaded.
After a gutsy leadoff leg which placed her team squarely in contention, Hall reeled off the track and watched as Lakeview came home third in a hotly-contested final. The points gathered with that finish were enough to earn Lakeview a share of the trophy, along with Oakridge, and made Hall one of the obvious heroes of the day.
Hall's sophomore teammate Ashley Baldovino contributed mightily to the effort as well, winning both distance races (4:55.26 1500, 10:55.32 3k) and running a leg on the bronze medal 4x400.
"I was really tired at the end [of the 1500]," Baldovino said after her second gold of the meet. "I definitely left it all on the track today."
It was a sentiment shared by many of the competitors on the hot, sun-splashed weekend at McArthur Stadium.
Bonanza junior Stephen Dickinson grabbed an impressive triple with wins in the 110 hurdles (15.20 state record), 300 hurdles (41.14) and high jump (6-06.00), along with a runner-up performance in the long jump: 20-09.25 to De La Salle North Catholic freshman Zecharaih NcLaurin's 21-02.75.
Dickinson and Hall weren't the only athletes claiming state records, as multiple marks went down in the course of the two days.
A day after winning the 3k in 8:55.30, Oakridge's Max Long set a state record in the 1500 with his 4:00.10 clocking. It was a PR for Long, but personally disappointing as he didn't slip under the sought-after four minute mark.
"I was hoping to go about 3:55 today," he said. "I was going good the first lap and I needed about a 2:05, we figured, and it ended up being a 2:10. I just started hammering it, but…[it wasn't enough]."
Scio sophomore Coulter Mastenbroek ran a 22.75 200 state record to go with his 11.45 100 victory. Portland Christian sophomore Alexis Arnold reached 109-02 in the girls' discus, then punched a state record 37-10.50 in the shot put. Teammate and fellow soph Preston Dace got all the way out to 44-02.75 in the boys triple jump for a new state record in that event. Junior Nathan Rowlett made it three state records for Portland Christian with his 180-01 heave in the boys' javelin. Finally, Central Linn senior Richan Modderman added her name to the state record list with her 12.95 (nwi) 100 victory.
1A- The Sean Lewis Show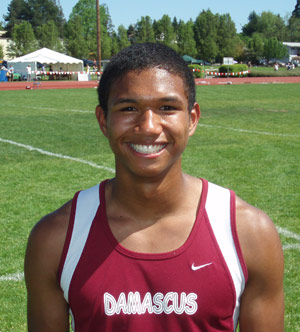 There was no way Damascus Christian junior Sean Lewis (left) was going to sneak up on anyone at the 1A state meet, not after winning four events at the 2007 competition as a precocious sophomore. The only drama surrounding Lewis' weekend was whether he would be able to duplicate that effort and defend all four titles. He responded by turning in a veritable clinic, grabbing four golds in an effort that seemed solid but unpressed. His stat line looked like this: 11.40 (nwi) 100; 22.34w (+3.0) 200; 15.00 (-0.8) 110H and 39.27 300H.
"I was just trying to stay in the shade," Lewis said of the long, hot day of competition, "cool myself down with some water and take it easy."
On the girls' side, Sherman senior Bailey Nogle recorded a triple to help lead her squad to the 1A team title. She paired a 5-01.00 high jump victory with sprint wins of 13.26 in the 100 and 26.49w in the 200. Nogle's junior teammate Emily Funkhouser contributed major points of her own with a hurdles sweep (16.01 nwi 100H, 45.65 300H) and a pair of runner-ups in the 400 (59.14) and 800 (2:22.07).
September O'Crowley, who upset the favored Funkhouser to win the girls 400, needed a state record 58.69 to do so. O'Crowley then returned to anchor her Crane HS squad to a 4:11.09 4x400 win.
Adrian senior Maurus Hope was O'Crowley's counterpoint on the boy's side, taking the 400 in 49.86 then running a scintillating 4x400 anchor to lead his team to a 3:32.13 victory.
Other impressive performances in the 1A meet included Jacob Bowdoin (New Hope Christian jr) with a 4:05.80 1500/9:06.54 3k double, Ethan Moore (Sherman sr) with a jumps double of 21-09.75 (+2.0) LJ and 44-11.25 (-0.7) TJ state record, Paige Branstiter (Adrian sr) with a 38-05.50 SP/ 126-04 DT throws double, and Sarah Hanchett (McKenzie jr) with a 2:21.71 800 state record.
More field event state records were posted by Kasey McCullough (Dufur sr) 54-02.50 SP, Willy Johnson (Days Creek sr) 160-08 DT, Ransom Smith (Gilchrist sr) 14-00.00 PV, Teresa Tores (McKenzie sr) 133-09 JT.