Southwest Region Roundup 9/9/06
Fort Collins Sweeps - Fairview falls for 2nd straight week
week ending 9/9/06
Colorado -

Fort Collins Sweeps - Fairview falls for 2nd straight week
Centaurus Invite - Denver North's Joseph Manilafasha runs 2nd course record in 2 weeks

Utah -
Park City women and Mountain View men take team honors at the BYU Autumn Classic - Davis, Mountain Crest each nab second, third
New Mexico-

Unranked Albuquerque Eldorado defeated US #23, SW #2 Albuquerque Academy and SW #8 Los Alamos at UNM Lobo Invitational.

Arizona -
Nevada -


CA represents at the Las Vegas Invitational - Large School Team Champions - Rancho Buena Vista (Ca) - Fountain Valley (CA)


Wyoming-
Undefeated Campbell County edge Billings Senior Girls with depth on their home
course for a 25-31 point narrow victory at Wayne Chaney Memorial
Colorado
Centaurus Invitational
Lafayette, CO
Saturday, Sept 9 2006
Overcast, humid, temp ~60, breezes.

Joe Manilafasha lead from about 600 m into the race, passing the mile in 4:51 with his brother Eric Ndikumana in 2nd, also just under 5. Eventual 2nd place finisher Angel Tolev (Bulgarian National) was just over 5 minutes. This was Manilafasha's 2nd course record in 2 weeks. He broke the Arapahoe Invite record the prior week (it had stood forover 20 years) by 9 seconds.
Boys - new Course Record, old record Mohammed Ige, 2005 16:01, 1 second victory over Anguel Tolev

1. Joseph Manilafasha, Denver North, 15:55;
2. Anguel Tolev, Thornton,16:10;
3. Eric Ndikumana, Denver North,16:28;
4. Judd Morgan, Loveland,16:37;
5. Nick Salinier, Rampart, 16:37;
6. Scott Ingram, CherokeeTrail, 16:38;
7. Jeff Fassler, Centaurus, 16:44;
8. Jeff Cook, Rampart,16:46;
9. Mike Payton, Northglenn, 16:50;
10. Spencer Carter, GreeleyWest, 16:51

Teams: 1. Rampart 58; 2. Loveland 84; 3. Pomona 134; 4. Cherokee Trail
135; 5. North 157; 6. Centaurus; 7. Stanley Lake; 8 Horizon; 9 Ranum;
10. Rocky Mountain

Allison Gohl won here last year in 19:36. But this year with more
confidence she passed the mile in slightly under 6 minutes and continued
to open her lead to the finish. Greeley West dominated the team battle
in convincing fashion. Northglenn only entered 3 girls, so Kendra Gerl
was first in the team competition.

Girls: New Course Record, old record 18:58

1. Allison Gohl, Northglenn, 18:50;
2. Kendra Gerl, Greeley West, 19:39(4th fastest time ever);
3. Janna Brons, Northglenn, 20:11;
4. Ivie Gonzales, Legacy, 20:38;
5. Erica Hirchcliff, Greeley West, 20:41;
6. Katie Hartman, Legacy, 20:45;
7. Ashley Smalley, Greeley West, 20:57;
8. Nicole Larsen, Greeley West, 20:58;
9. Caroline Frickman, Loveland, 20:59;
10. Casey Brown, Cherokee Trail, 21:10

Teams: 1. Greeley West 41; 2. Loveland, 101; 3. Rampart 127;
4. RockyMountain; 5. Legacy; 6. Thornton; 7. Centaurus; 8. Pomona; 9. Stanley
Lake; 10. Northridge
2006 Cherry Creek Invitational
Cherry Creek State Park, Aurora, CO
9/8/06
Story by Aron Taylor - full story

Rejuvenated Fort Collins wins again, Fairview falls for 2nd straight week!

The 2006 Cherry Creek Invitational lived up to all the excitement we
expected, Fort Collins boys and girls swept the Boys and Girls Varsity races
but the scores were close as expected. Fort Collins strolled into Cherry
Creek as defending State and Meet Champions but was an unknown this year
after losing many of their varsity from last years team. This did not stop
Fort Collins from defeating Cheyenne Central, SW#6 Dakota Ridge, SW#2 Cherry
Creek, or a dominant Wheat Ridge team.

Led by Bryant Mason (16:10) and Will Everett (16:15) the Fort Collins boys
scored 110 points. That dark horse team I was talking about, Cheyenne
Central, Wyoming; yeah, they finished second with 133 points and showed that
they truly are a top ranked team. SW#6 Dakota Ridge improved a few slots
from last week's performance at Harrison by finishing third with 136 points
followed by Cherry Creek in fourth with 144 points.

Cheyenne Central traveled a great distance just to see if they were as good
as they thought they could be, if an opening season beat down over a tough
Campbell County team was not good enough they strolled into Cherry Creek and
cleaned house. It would seem as of now that Wyoming has once again produced
a top notch team, and that Cheyenne Central is on the war path. As the
season progresses look for this teams pack to tighten and their victories to
mount, by seasons end Cheyenne Central may be the team to beat.

Cherry Creek still trying to get into form has struggled pulling their
fourth & fifth runners together. But the season is young and with continued
improvement as they have shown over the past few weeks they will be a team
to rival the rejuvenated Fort Collins team and legitimize a high pre-season
NTN ranking and expectations.

Results from Glenn McCarthy

Temp ~60, drizzled early, but did not rain duringvarsity events.

BOYS

Teams:
1. Fort Collins 110
2. Cheyenne Central 133
3. Dakota Ridge 136
4. Cherry Creek 144
5. Air Academy 157
6. Wheat Ridge 182
7. Chaparral 198
8. Monarch 262
9. Columbine 268
10. Fairview 270

1.Kevin Williams, D'Evelyn, 15:49; 2. Cameron Clayton, Monarch, 15:54;
3. Evan Appel, Dakota Ridge, 15:58; 4. Bryant Mason, Ft Collins, 16:10;
5. Will Everett, Ft Collins, 16:15; 6. Steve Busch, Chaparral, 16:16; 7.
Damon Austin, Thompson Valley, 16:17.3; 8. Grant Wahl, Columbine,
16:17.9; 9. Steven Weeks (2 time defending state cross country champ),
Arvada, 16:18; 10. Scott Foley, Cheyenne Central, 16:19

GIRLS

Teams:
1. Fort Collins 62
2. Fairview 92
3. Cherry Creek 151
4. Thompson Valley 159 (Loveland, Co)
5. Dakota Ridge 184
6. Arapahoe 216
7. Chaparral 235
8. Heritage 239
9. Doherty 250
10. Cheyenne Central 322

1. Katie Vanatta, Ralston Valley, 17:32; 2. Sarah Cocco, Fairview,
18:29; 3. Alexis Skarda, Fairview, 18:30; 4. McKenzie MacGregor,
Fairview, 18:32; 5. Lisa Johnstone, Cherry Creek, 18:47; 6. Jennifer
Weber, Conifer, 18:49; 7. Kelly Waters, Monarch, 18:55; 8. Miranda
Benzel, Ft Collins, 19:15; 9. Alicia Holt, Ft Collins, 19:18; 10. Lauren
Johnson, Cherry Creek, 19:20
Utah
BYU Autumn Classic
East Bay Golf Course, Provo UT
9/9/06
Park City women and Mountain View men take team honors at the BYU Autumn Classic - Davis, Mountain Crest each nab second, third.
Kim Quinn (Bingham HS) 18:50.6 places first in girls varsity race, Richard Medina (Grand Junction HS) 15:50.4 places first in boys varsity.
New Mexico
University of New Mexico Invite
UNM North Golf Course.
9/9/06

Course distance 3.0 miles. Elevation 5000 feet.

Unranked Albuquerque Eldorado girls defeat US #23, SW #2 Albuquerque Academy and SW #8 Los Alamos

Boys Individual:
1. Matt Tebo, Eldorado, 14:49
2. Ben Johnson, Albuquerque Academy, 15:00
3. Dustin Martin, Academy, 15:06
4. Anthony Roybal, Cibola, 15:21
5. Drew Rasmussen, Cibola, 15:26
6. Kevin Burnett, St. Pius X, 15:28
7. Ryan Nez, Navajo Pine, 15:29,
8. Zachary Doran, Highland, 15:33
9. Josh Bueno, Rio Rancho, 15:34
10. Bryce Palmer, Eldorado, 15:35
11. Cory Kalm, Sandia, 15:39
12. Allen Pittman, Los Alamos, 15:41
13. Patrick Ortiz, Pecos, 15:43
14. Todd Nickerson, Sandia, 15:45
15. Kyle Cooper, Academy, 15:45
16. Joel Hartenberger, Sandia, 15:46
17. Douglas Torres, St. Pius X, 15:48
18. Matt Jones, Manzano, 15:49
19. Pat Zacharias, Academy, 15:50
20. Anthony Whiteman, Harrison, 15:51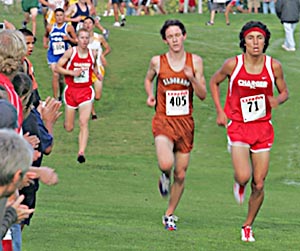 Picture of Matt Tebo - Eldorado NM (405) and Dustin Martin Albuquerque Academy at the halfway point of the UNM Invite. Ben Johnson in 3rd. Photo compliments of Adam Kedge.

Girls Individual:
1. Jen Bremser, Sand Creek, 17:59
2. Callie Osborn, Sandia, 18:07
3. Julie Brasher, Eldorado, 18:15
4. Rachel Velarde, Eldorado, 18:17
5. Julia Foster, Albuquerque Academy, 18:22
6. Emily Schmidt, Sand Creek, 18:23
7. Sophia Torres, Pojoaque, 18:29
8. Lyndsay Harper, Albuquerque Academy, 18:35
9. Jordan Brown, Gallup, 18:39
10. Amanda Throckmorton, Albuquerque Academy, 18:43
11. Kristy Hannah, Eldorado, 18:49
12. Allison Bedonie, Eldorado, 18:56
13. Tess Amer, St. Michaels, 18:57
14. Erin Madden, Eldorado, 19:00
15. Cory Osborn, Sandia, 19:03
16. Laynee Valverde, Eldorado, 19:06
17. Camille Martinez, Pojoaque, 19:11
18. Vinita Joe, Gallup, 19:17
19. Kate Norskog, St. Michaels, 19:19
20 . Ali Blum, Los Alamos, 19:21

Boys Team: 1. Albuquerque Academy, 64 2. Sandia 125 3. Cibola 186 4. Gallup 195 5. Rio Rancho 215 6 Navajo Pine 248 7. La Cueva 265 8 Eldorado 268 9. Wingate 273 10. St. Michaels 280 11 St. Pius X 297 12 Manzano 305 13 Los Alamos 311 14. West Mesa 447 15 Belen 454 16 Harrison 461 17 Santa Fe Indian School 471 18 Hope Christian School 483 19 Highland 489 20 Pojoaque 493 21. Pecos 505 22. Gallup Catholic 562 23. Sand Creek 592 24. Los Lunas 600 25. Ruidoso 621 26. Espanola Valley 626 27. El Paso-El Dorado 632 28. Albuquerque HS 703 29 Valley 710 30. Thoreau 747 31. Grants 790 32. Tohatchi 798 33. Las Vegas Robertson 853 34. Crownpoint 858 35. Moriarty 980 36 Estancia 1031

Girls Team: 1 Eldorado 44 2. Academy 101 3. Los Alamos 141 4. Sand Creek 149 5. St. Michaels 154 6. Gallup 171 7. Sandia 177 8. Rio Rancho 199 9. La Cueva 208 10. Pojoaque 220 11. Navajo Pine 348 12. St. Pius X 381 13 Cibola 388 14. Tohatchi 470 15. Thoreau 483 16 Belen 489 17 Manzano 523 18. Los Lunas 535 19. Santa Fe Indian School 543 20. Highland 555 21. Santa Fe HS 593 22 Albuquerque HS 606 23. Las Vegas Robertson 613 24. Moriarty 640 25. Wingate 678 26 Gallup Catholic 697 27. Crownpoint 715 28 Espanola Valley 766 29. West Mesa 781 30. Grants 789 31. Estancia 914


Arizona
Nevada
2006 Larry Burgess Las Vegas Invitational
results at nevadatrack.org

Large School Boys Team Champions - Rancho Buena Vista (Ca)
Large School Girls Team Champions - Fountain Valley (CA)

Wyoming
2006 Wayne Chaney Invitational
Gillette, WY
9/8/06
results from rockymountaintrack.com

The Undefeated Campbell County girls collided with NW#4 Billings Senior
girls at the annual Gillette Invitational. Campbell County riding an
undefeated streak met undefeated Billings Senior and the gloves were off.
Billings Senior brought four runners into the top 10 to go with Campbell
County's three but Campbell County edged Senior with depth on their home
course for a 25-31 point narrow victory.

The Campbell County Boys also won scoring 24 points to defeat Laramie and
avenge an early season loss. The boys are welcoming the return of state
track 1600m and 3200m champion to the fold and seek to continue their
improvement as the season progresses. The Camels finished with 5 in the top
8 and a 50 second spread from 1-5. This is a drastic improvement over
previous weeks.

BOYS

Team Scores:
Campbell County 24
Laramie 55
Sturgis S.D. 78
Douglas S.D. 106
Casper Kelly Walsh 145
Casper Natrona 160
Billings Senior 166
Sheridan 179

Top 10
Brian Pierre, LAR, 16:48.65
Taylor Kelting, GIL, 16:57.71
Dominick Robinson, GIL, 17:10.03
Kyle Koch, DOU, 17:23.65
Paul Burke, GIL, 17:35.31
Spencer Pecha, GIL, 17:43.08
Damien Schuster, STU, 17:44.12
Eric Strand, GIL, 17:47.29
Matt Coughlin, LAR, 17:50.46
Ryan Griesbach, LAR, 17:54.96.

GIRLS

Team scores
Gillette 25
Billings Senior 31
Douglas 102
Casper Natrona 119
Laramie 130
Casper Kelly Walsh 133.

Top 10
Jessica Engel, Sturgis (S.D.), 19:07.99
Megan Gebhart, GIL 19:59.63
Trisha Evenson, GIL, 20:09.50
Brooke Hughes, Glenrock, 20:15.04
Ashleigh Anderson, GIL, 20:23.87
Bridgette Hoenke, BS, 20:26.41
Auriele Fain, BS, 20:49.07
Alexa Aragon, BS, 20:51.10
Cara Lehman, BS, 20:55.58
Sage Goddard, GIL, 20:56.68.

Southwest Region Index Page