Liberty Bell





Manilafasha nearly gets Williams' course record





Friday, September 12, 2008 - Heritage HS





Results

- Boys - Girls
courtesy of meet management

Race distance 5K

Highlights - Cheyne Heiny Race Story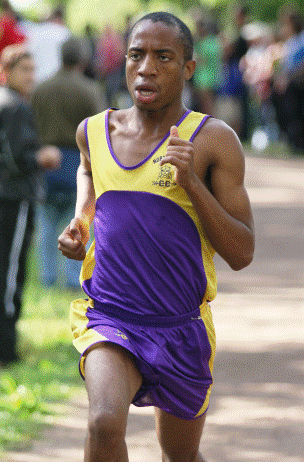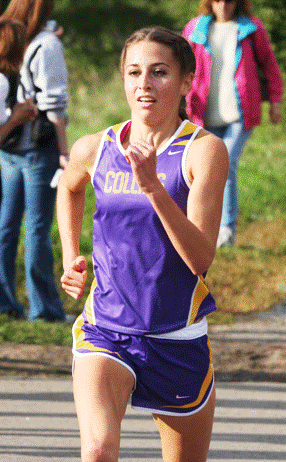 Fastest of the day: Joseph Manilafasha and Miranda Benzel. Photos by Cheyne Heiny
Boys Highlights
Denver North CO sr

Joseph Manilafasha

was the boys' harrier of the day, scaring Kevin Williams' course record with his 14:56 to win the D3 race and top Bobby Nicolls, Dart Schwaderer, and Evan Appel for best time of the day.
SW# 1 and 2 powers

Albuquerque Academy

and Los Alamos came up to win and place second, respectively, in the boys D1 race
Nicolls ran a fast 15:06 to edge Los Alamos' Gareth Gilna's 15:08 and lead Regis Jesuit CO to 3rd in the D1 boys race.
Wheat Ridge sr Dart Schwaderer topped Evan Appel in the D2 race, 15:14-15:19, while Loveland won the team battle.
Girls Highlights
With senior

Miranda Benzel

posting the fastest time of the day in 17:41,

Ft. Collins

dominated the D1 race for girls.
Dakota Ridge sr Tosha Rogers triumphed in the D2 race with 17:50, but Mullen suprised for the team title.



Ft. Collins and Albuquerque Academy flex their muscles; Manilafasha and Benzel post top times



By Cheyne Heiny

Most runners, coaches and critics see Liberty Bell as an opportune race to run a personal best. Today wasn't any different as there were indeed fast times at Heritage High. With the weather sitting nicely at 60 degrees, runners of all divisions took advantage of the ideal race-day conditions. And no team took better advantage of the day than the Ft Collins' girls team.

"Our goal today was to simply get good times for all of our girls," said Ft Collins coach Chris Suppes. "We felt that if we focused on PRs, the team score would come."

And it was there with flying colors. Led by senior captain Miranda Benzel, who posted the fastest time of the day with a 17:41.3, the Lady Lambkins placed four girls in the top ten and five in the top 15 in the Division 1 race. With five runners in the top 15, Ft Collins left Cherry Creek in the dust, winning the race by 124 points.

Looking ahead in the season, Coach Suppes sees many Colorado teams as a legitimate threat, but two could be trouble by the time Southwest Championships approach. "(Dakota Ridge and The Classical Academy) won't surprise us," said Suppes.

Dakota Ridge, in fact, was surprised by a tough Mullen team in the Division 2 Race. The Mustangs beat out the Eagles 74-94, having their top 4 girls place 10-13 in the race, despite Dakota Ridge senior Tosha Rogers winning the race in a time of 17:50.4 and senior Paige Lillo's sixth-place finish with a 18:34.3.

In the boys races, numerous top harriers set their sights on the record, but none came closer to the 14:51 mark set by D'Evelyn's Kevin Williams the previous year than senior Joseph Manilafasha of Denver North. Manilafasha gutted out a 14:56.3 in the Division 3 race. Senior Bobby Nicolls of Regis won the Division 1 race with a 15:06.4 followed closely by Los Alamos senior Gareth Gilna's time of 15:08.8.

"Our plan was to go out from the back-end of the front pack and move up from there," said sophomore Danny Nicolls, who was fourth with a 15:25.2. "The whole team ended with PRs, so overall we had a good day," said Nicolls. With the Nicolls brothers up front, Regis placed third behind the two-headed New Mexico monster, Albuquerque Academy and Los Alamos.

For the New Mexico rivals, it was just another day at the office. With a 28 second spread, Albuquerque Academy placed five runners in the top 20 for 72 points and the Division 1 win. "We wanted our guys to stick together and be up near the front the whole way," said Academy coach Adam Kedge. "Once we reached the last 400 meters, our focus was to try and get ahead of at least one more runner."

For Los Alamos, the plan was simple. "We wanted to run somewhat aggressive today," said Los Alamos coach Rob Hipwood. "We didn't expect a win with Academy's outstanding team, but we were really pleased with our progress."

Led by Gilna and junior Kyle Pittman, Los Alamos took second with 114 points. Pittman, however, feels optimistic about his team's performance. "We didn't win today but I think it'll be pretty close by the end of the season," said Pittman.

In the Division 2 race, the spotlight was on Dakota Ridge senior Evan Appel. No one seemed to give Wheat Ridge senior Dart Schwaderer the message. "I kept a pretty solid pace to keep him in my sights," said Schwaderer. "And I noticed he wasn't gaining ground (on me) during the second mile, so I went after him in the third mile." Schwaderer posted a time of 15:14.5, breaking the Div. 2 record (15:19.4) set by Richard Medina of Grand Junction in 2006, leading the Farmers to a fourth-place finish. Appel was second with a time of 15:19.8.

In the team race, Loveland proved they are a team to be reckoned with, defeating powerhouse teams in Dakota Ridge, Rampart and Wheat Ridge. The Farmers, however, still feel confident in their 4A State chances despite a poor finish from their four and five runners. "We've been battling injuries and fatigue with our guys and we don't feel we're at full strength just yet," said Wheat Ridge coach Scott Chamberlin.




Results




Boys



(additional results coming)

D1 Team Scores - boys
Abq. Academy, NM 72
Los Alamos, NM 114
Regis, CO 169
Fairview, CO 190
Fort Collins, CO 205
Palmer, CO 217
Cherry Creek, CO 222
Boulder, CO 224
Chaparral, CO 242
St. Michael's, NM 276
Cheyenne Mountain, CO 309
Rock Springs, WY 330
Rocky Mountain, CO 336
Arapahoe, CO 339
Eaglecrest, CO 349
Smoky Hill, CO 371
Overland, CO 392
Cheyenne Central, WY 408
Douglas County, CO 432
Grandview, CO 555
Ponderosa, CO 570

D1 Individuals - boys
1. Bobby Nichols, Regis, 15:06
2. Gareth Gilna, Los Alamos, 15:08
3. Walter Schafer, Cherry Creek, 15:20
4. Danny Nichols, Regis, 15:25
5. Kyle Pittman, Los Alamos, 15:28
6. Roblet Muhudin, Overland, 15:40
7. Pat Zacharias, Academy, 15:48
8. Clif Campbell, Fort Collins, 15:51
9. Ryan Clark, Academy, 15:52
10. Matt Caldwell, Smoky Hill, 15:52

D2 teams - boys
Loveland, CO 106
Dakota Ridge, CO 117
Rampart, CO 159
Wheat Ridge, CO 160
Monarch, CO 171

D2 individuals - boys
1. Dart Schwaderer, Wheat Ridge 15:14
2. Evan Appel, Dakota Ridge, 15:19
3. Andrew Berberick, Mullen, 15:25
4. Scott Fauble, Wheat Ridge, 15:42
5. Henry Cowhick, Wheat Ridge, 15:44

D3 teams - boys
1. Falcon, CO 62
2. Niwot, CO 74
3. Laramie, WY 142
4. D'Evelyn, CO 154
5. Evergreen, CO 155

D3 individuals - boys
1. Joseph Manilafasha, Denver North, 14:56
2. Kevin Johnson, Falcon, 15:36
3. Wes Rickman, Falcon, 15:38
4. Ryan Haebe, Evergreen, 15:52
5. Tim Muller, D'Evelyn, 16:11


Girls



(additional results coming)

D1 Team Scores - girls
Fort Collins, CO 38
Cherry Creek, CO 162
Boulder, CO 183
Cheyenne Mountain, CO 208
Los Alamos, NM 210
Arapahoe, CO 217
Palmer, CO 217
Abq. Academy, NM 219
Cheyenne Central, WY 243
Rocky Mountain, CO 246
Smoky Hill, CO 272
Grandview, CO 280
Regis, CO 298
Fairview, CO 315
Chaparral, CO 339
Douglas County, CO 371
St. Michael's, NM 380
Ponderosa, CO 476
Rock Springs, WY 500
Eaglecrest, CO 541
Overland, CO 681

D1 Individuals - girls
1. Mirada Benzel, Fort Collins, 17:41
2. Clara Milne, Academy, 17:57
3. Kate Norskog, St. Michael's, 18:08
4. Kelsey Lakowske, Boulder, 18:09
5. Rachel Viger, Fort Collins, 18:24
6. Clare Gallagher, Cherry Creek, 18:26
7. Julia Foster, Academy, 18:30
8. Tati Ogan, Fort Collins, 18:32
9. Kirsten Follett, Fort Collins, 18:35
10. Sam Lewis, Boulder, 18:37

D2 teams - girls
Mullen, CO 74
Dakota Ridge, CO 94
Highlands Ranch, CO 104
Pine Creek, CO 158
Thunder Ridge, CO 192

D2 individuals - girls
1. Tosha Rogers, Dakota Ridge 17:50
2. Eleanor Fulton, Highlands Ranch, 17:51
3. Dominique Gerard, Thunder Ridge, 18:06
4. Camille Logan, Littleton, 18:14
5. Ashlee Smalley, Greeley West, 18:27

D3 teams - girls
Niwot, CO 90
Evergreen, CO 92
Scottsbluff, NE 142
Battle Mountain, CO 151
Roosevelt, CO 157

D3 individuals - girls
1. Jen Bremser, Sand Creek, 18:20
2. Alicia Nelson, Moffat County, 18:27
3. Kelly King, Silver Creek, 18:44
4. Bryn Haebe, Evergreen, 19:16
5. Brooke Wells, Roosevelt, 19:16


Southwest Region Index