Flood Takes Iowa by Storm





Dowling Catholic's Katie Flood May Be The Best of This Year's Outstanding Freshmen





October 27, 2006



By Brian Peterson



Not every 9th grade girl will match the freshman year accomplishments of Californian Jordan Hasay. But this shouldn't stop one from appreciating a young talent while she's here. Especially when that young talent is stringing together 5:30 miles over 4 kilometers of hill and dale, and outrunning the pre-season 4A Cross Country favorite by an eye-opening 30 seconds.

For us in Iowa, while the track scene is dominated by newly-recognized middle distance star juniors Blair and Brooke Dinsdale, a new young face has emerged as the leading harrier for the 2006 cross country season. Like so many freshman girls before her, Dowling Catholic's Katie Flood is currently on a racing tear, leaving veteran runners in her wake as she takes the state by storm (no pun intended).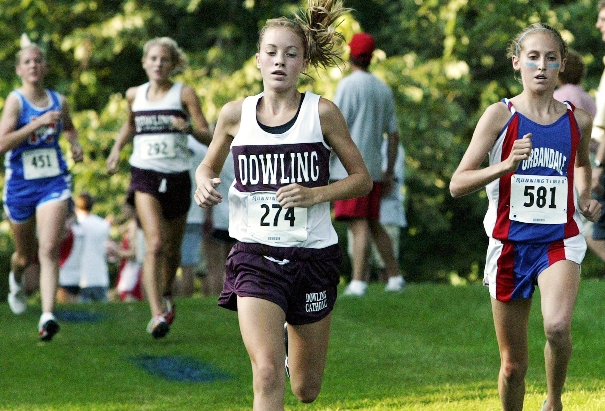 Katie Flood, #274, battles Stephanie Mundt in a Sept. 9 meet.
Katie really opened eyes with a stellar performance at the Clinton Invitation on 9/30, when she clocked the fastest ever 4k in Iowa competition, running 13:48. According to some research by team assistant coach Jim Kirby, this performance eclipsed the former Iowa 4k best by 16 seconds. And based on nation-wide 4k times for 2005, Katie's Clinton performance would have put her at fifth best nationally.
Just as impressive is the margin in which she beat two time state 3000 meter champion Stephanie Mundt of Urbandale, the hands down pre-season 4A Cross Country favorite who led the state last spring with an outstanding 9:50 3k. Katie topped Mundt by a stupefying 32 seconds, snatching her course record and leaving little doubt that no girl will seriously challenge her for the state title on October 28th in Fort Dodge.
Katie's swift rise to the top of the Iowa distance charts seemed to be by design. Before running her first pre-season time trial as a high school athlete, she already had personal bests of 2:13.92 for 800 meters (good enough for the USATF Youth girls crown last summer) and 4:37.08 for 1500 meters (in which she was second at USATF's). She was even running impressively as a Bantam (9-10) in 2002, when she had the fourth fastest 1500 meters (5:15.61) in the country.
Furthermore, she need only look to her older sister of two years to realize that distance running stardom is in her genes. Betsy Flood is the reigning Iowa 4A 1500 meter track champion, who spent last summer touring various AAU/USATF competitions with the Dinsdale twins. Her summer high points included helping set a 4x800 meters national USATF Intermediate record (8:58.85) and then topping the Dinsdales in the finals of the USATF Intermediate girls 1500 meters (4:35.59).
You can hardly blame head coach Frank Schweizer, who has 40 years of experience under his belt, for his squeamishness upon realizing that his young protégé was so gifted and would likely make a big impact right away. He was quoted as saying that he is more concerned with doing things wrong with Katie, and his overall his young talented team, than in doing things right.
The only meet where Katie didn't have the fastest time was still a victory. She was overall at the Urbandale Invitational, the first race of her campaign. Run by classes, Mundt won the junior/senior race in 14:26 while Katie was two seconds behind (14:28) in winning the freshman/sophomore race.
But once they met head-on, it became increasingly apparent that Katie had the decisive edge. Of the five times they have now squared off, Mundt has yet to finish within 10 seconds of Flood. And that margin continues to expand, with the last two victories being 32 and 29 seconds, respectively.
At 4A Districts on 10/19, without Mundt's presence to keep at least a semblance of a competition, Katie cruised to a 47 second victory (14:08). The Dowling Catholic girls dominated the field, scoring 29 (1-2-5-10-11), proving that Iowa City High (Iowa's top ranked 4A girls team) will need an exceptional effort if they hope to beat out the Maroons on October 28th.
According to the Ames Tribune, Kirk Schmaltz, long-time Ames girls coach, made an astute observation after watching Katie set a course record by 14 seconds at the Iowa State course in Ames: "She's an outstanding runner; maybe one of the next great distance runners in the state of Iowa."
If the stopwatch can be trusted - and it has a pretty good track record of being right - we no longer need to wonder if Katie might some day be one of Iowa's great distance runners. That time has already arrived.