Hopkins Invitational





HL#1 Wayzata's 1-2 leads victory over tough Eden Prairie boys





Saturday, September 6, 2008 - Hopkins MN





Results

- Boys - Girls
courtesy of myvira.com (click for more results)

Race distance: 5K boys, 4K girls


Highlights




Jeremy Drenckhahn and Danny Ducharme come on late to take 1-2 and lead the HL#1 Wayzata MN boys team to victory, with Drenckhahn beating the course record with 16:11.
Elk River's Emma Bates and Chaska's Kaila Urick pass Eden Prairie's Cassy Opitz late and Bates goes on to win over 4K in 15:17.
Lakeville South's girls take the team battle with a particularly strong top four, scoring 59 points.



The late-race leaders as Wayzata's 1-2 punch moves up to join the early pace-setters. Photos Bryan Borgos.




Wayzata's come-from-behind works again in victory
Story (and Wayzata boys/Lakeville South photos) by Bryan Borgos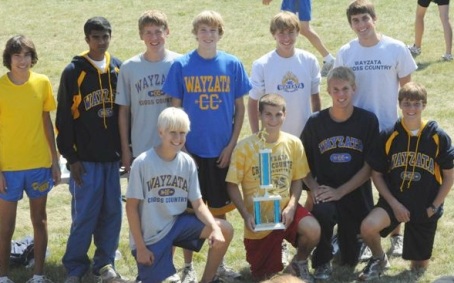 The second big meet of the weekend was definitely worth attending as many of the top individuals and teams were on hand. On the boys side, the field was led by the MN#1, #3, #9 teams, as well as a few of those just below the rankings. Individually, the MN#1, #5, #8, #9 runners were here to battle it out for state supremacy. On the girls side, there was MN#1, #3, #4, #7, #11 and #12 team-wise, and individually we had MN#6, #12 and two other runners who have been in the top 12 this year.

The individual battle was highly anticipated here as MN#1 Mahad Hassan (Willmar) made his debut this year after recovering from an illness that kept him out for the first two weeks of the season. Along with Hassan, MN#5 Danny Ducharme and MN#8 Jeremy Drenckhahn from Wayzata, and MN#9 John Holt of Roseville were expected to battle. As so, these four runners and Abdi Abditon of Eden Prairie were in the lead pack for the majority of the race and it was Drenckhahn who made a move in the last 400 meters to pull away with a meet record 16:11. Ducharme (16:13) and Abditon (16:15) were both able to kick pass Holt in the final 200 meters to go 2-3. Hassan tried making a move with a mile to go on the lead pack but was unable to hold and finished 5th.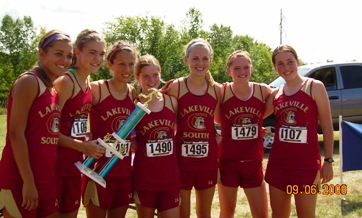 Team-wise, the top boys contenders were MN#1/HL#1 Wayzata and MN#3/HL#4 Eden Prairie. Both of these teams are coming off phenomenal track seasons and Wayzata has already picked up a win at Marshfield, WI over MN#2 Edina. These two teams start off slow (or so it seems) and consistently pick off runners after the 1k mark. Drenckhahn and Ducharme, for example, were just 19th and 20th at the 1K mark, but Drenckhahn had taken over by 3K.

We wouldn't see another Wayzata runner for a while as Eden Prairie's top 3 runners squeezed in, going 3rd, 7th and 8th, led by Abditon. It was the strength of Wayzata's 3-4-5 runners that eventually won the race, 37-48 over Eden Prairie. Those runners came in next, going 10th, 11th and 13th. A performance as strong as Eden Prairie's will surely bolster their HL ranking in the upcoming weeks. Coming in third team-wise was unranked Roseville, led by Holt. Rounding out the top 5 was Lakeville South and Chaska. MN#9 Willmar finished 6th.

Like the boys race, much was at stake during the girls race as MN#1/HL#10 Eden Prairie went to the helm against MN#3 Woodbury, #4 Chaska, #7 Roseville and #11 Lakeville South. These 5 teams all held back for the first 600 meters and then the top runners started to find their places as MN#6 Anne Ferguson (Eastview), MN#12 Emma Bates (Elk River), Cassy Opitz (Eden Prairie) and Lakeville South's Kayla Uphoff and Becca Nichols formed a lead pack, closely followed by about 20 runners for the first mile.

Around the 2k mark, Opitz made a move to gap the field by about 20 meters and would hold onto that lead over the pack, which thinned down to Ferguson, Bates, Uphoff, Nichols, Alex Rudin (Eden Prairie) and Kaila Urick (Chaska). With about 200 meters to go, Opitz (coming off a leg injury from the summer) started to show some fatigue and Bates and Urick both started gaining on her and passed her in an amazing finish that went back and forth until Bates pulled away in 15:17 on the 4k course. Urick finished in 15:19 and teammates Opitz and Rudin went 3-4. Uphoff rounded out the top 5 for Lakeville South.

On the team side, a surprise was to be found as MN#11 Lakeville South used a strong top 4 punch to pull off the huge upset with a score of 59. They went 5-7-11-13 and Erin Kilbride, their 5th runner, was only a bit further back taking 23rd. Kilbride finished in front of every team's 4th runner to help clinch the unexpected victory for the Cougars of Lakeville. They posted a great 1-5 spread of 43 seconds.

Coming in second place with 79 points was MN#3 Minnetonka with a group of 3 strong runners going 6-8-10, led by sophomore runner Megan Bailey. MN#1 Eden Prairie finished in 3rd place with 98 points led by their 3-4 finish of Opitz and Rudin. MN#4 Chaska finished 4th with 110 points led by surprising runner-up Urick. She came in unranked and ran very well to beat many runners she had never beaten before. The host team Hopkins finished 5th with MN#7 Roseville finishing 7th.




Results




Boys
Hopkins Invitational 2008
9/6/2008

B-V Results

Team Results

PL    TEAM                  SCORE         R1         R2        R3         R4         R5         R6         R7
1    Wayzata Boys          37            1          2          10         11         13         19         25     
2    Eden Prairie Boys     48            3          7          8          14         16         27         32     
3    Roseville Boys        134           4          21         34         37         38         64         71     
4    Lakeville South Bo    151           18         24         26         35         48         61         86     
5    Chaska Boys           161           15         17         31         42         56         58         60     
6    Willmar Boys          179           5          20         49         50         55         67                
7    Maple Grove           194           6          12         52         54         70         76         77     
8    Eastview Boys         212           22         30         40         57         63         65         66     
9    Southwest             288           9          41         59         69         110                          
10   Mounds View Boys      292           23         29         73         75         92         102               
11   Armstrong             329           39         47         51         94         98         100        104    
12   Hopkins Boys          331           36         53         79         81         82         83         88     
13   Elk River             399           43         84         85         90         97         111        117    
14   Richfield             431           46         78         93         99         115        116               


Individual Results

PL    NAME                    TEAM                    GR    M/F    TIME           PER MI       PER KM
1     Jeremy Drenckhahn       Wayzata Boys            12    M    16:11.66       5:12.85     3:14.39 
2     Danny Ducharme          Wayzata Boys            12    M    16:13.66       5:13.50     3:14.80 
3     Abdi Abtidon            Eden Prairie Boys       12    M    16:15.01       5:13.82     3:15.00 
4     John  Holt              Roseville Boys          12    M    16:16.29       5:14.14     3:15.19 
5     Mahad Hassan            Willmar Boys            12    M    16:24.77       5:17.04     3:17.00 
6     Alex Johnson            Maple Grove             10    M    16:28.41       5:18.00     3:17.60 
7     Aaron Bartnik           Eden Prairie Boys       10    M    16:30.88       5:18.97     3:18.19 
8     Ayub Aden               Eden Prairie Boys       11    M    16:32.97       5:19.61     3:18.60 
9     Dylan Cheever           Southwest               12    M    16:37.68       5:21.22     3:19.60 
10    Oliver Haugland         Wayzata Boys            11    M    16:40.16       5:21.86     3:20.00 
11    Andrew Wasz             Wayzata Boys            12    M    16:42.16       5:22.51     3:20.39 
12    Tyler Olson             Maple Grove             10    M    16:49.24       5:24.76     3:21.80 
13    Josh Thorson            Wayzata Boys             9    M    16:50.15       5:25.08     3:22.00 
14    Bobby Davis             Eden Prairie Boys       12    M    16:51.15       5:25.40     3:22.19 
15    Matt Babcock            Chaska Boys             12    M    16:51.81       5:25.73     3:22.39 
16    Christopher Mueller     Eden Prairie Boys       11    M    16:54.30       5:26.37     3:22.80 
17    Michael Rodriguez       Chaska Boys             12    M    16:54.89       5:26.69     3:23.00 
18    Derek Schlager          Lakeville South Boys    12    M    16:55.36       5:26.69     3:23.00 
19    Karl Kabarowski         Wayzata Boys            10    M    16:56.06       5:27.01     3:23.19 
20    Sadam Abdi              Willmar Boys            11    M    16:56.33       5:27.01     3:23.19 
21    Colton Graham           Roseville Boys          12    M    16:57.51       5:27.66     3:23.60 
22    Paul Thompson           Eastview Boys           11    M    17:00.49       5:28.30     3:24.00 
23    Zack Roozen             Mounds View Boys         9    M    17:00.87       5:28.62     3:24.19 
24    Stu Lombardo            Lakeville South Boys    12    M    17:01.38       5:28.62     3:24.19 
25    Jon Hackbart            Wayzata Boys            12    M    17:03.24       5:29.27     3:24.60 
26    Mark Gallagher          Lakeville South Boys    11    M    17:09.69       5:31.52     3:26.00 
27    Kyle Bratrud            Eden Prairie Boys       10    M    17:10.32       5:31.52     3:26.00 
28    Mark Harries            Wayzata Boys            10    M    17:10.99       5:31.84     3:26.19 
29    Alex Strange            Mounds View Boys        11    M    17:12.49       5:32.16     3:26.39 
30    Michael Griepp          Eastview Boys           11    M    17:13.24       5:32.49     3:26.60 
31    Kyle Economy            Chaska Boys             11    M    17:13.87       5:32.81     3:26.80 
32    Erick Meszaros-Jones    Eden Prairie Boys       11    M    17:14.30       5:32.81     3:26.80 
33    Blake Falk              Eden Prairie Boys       11    M    17:17.24       5:33.77     3:27.39 
34    Josh Tan                Roseville Boys          12    M    17:23.45       5:35.70     3:28.60 
35    Cody Gallagher          Lakeville South Boys    12    M    17:24.50       5:36.03     3:28.80 
36    Mustaf Osman            Hopkins Boys            12    M    17:26.05       5:36.67     3:29.19 
37    Jamie Brisbois          Roseville Boys          11    M    17:28.11       5:37.31     3:29.60 
38    Matt Carlson            Roseville Boys          10    M    17:30.08       5:37.96     3:30.00 
39    Adam DePaolis           Armstrong               12    M    17:31.04       5:38.28     3:30.19 
40    Ian Sharp               Eastview Boys           12    M    17:32.21       5:38.60     3:30.39 
41    Hunter Junis            Southwest               11    M    17:33.21       5:38.92     3:30.60 
42    Sam Peterson            Chaska Boys             12    M    17:33.68       5:39.24     3:30.80 
43    Tyler Stevens           Elk River               11    M    17:34.34       5:39.24     3:30.80 
44    Landon Lozano           Wayzata Boys            11    M    17:35.24       5:39.57     3:31.00 
45    Marcus Huderle          Eden Prairie Boys       11    M    17:35.81       5:39.89     3:31.19 
46    Kyle Maloney            Richfield               10    M    17:37.02       5:40.21     3:31.39 
47    Paul DeSalvo            Armstrong               11    M    17:37.73       5:40.53     3:31.60 
48    Riley Lovell            Lakeville South Boys    10    M    17:41.70       5:41.82     3:32.39 
49    Mowlid Mohamed          Willmar Boys             9    M    17:42.10       5:41.82     3:32.39 
50    Matt Weitzel            Willmar Boys            11    M    17:42.62       5:42.14     3:32.60 
51    Joe Hjerpe              Armstrong               11    M    17:43.56       5:42.46     3:32.80 
52    Matt Beyer              Maple Grove             12    M    17:44.26       5:42.46     3:32.80 
53    Sam Jacobwith           Hopkins Boys             9    M    17:44.90       5:42.79     3:33.00 
54    Chris Flegel            Maple Grove             12    M    17:45.68       5:43.11     3:33.19 
55    Danny Voss              Willmar Boys            11    M    17:46.70       5:43.43     3:33.39 
56    Tyler Voss              Chaska Boys             12    M    17:48.09       5:43.75     3:33.60 
57    Hunter Abramson         Eastview Boys           10    M    17:48.90       5:44.07     3:33.80 
58    Kellen McMillen         Chaska Boys             12    M    17:49.59       5:44.39     3:34.00 
59    Marquez Hobson          Southwest               11    M    17:50.11       5:44.39     3:34.00 
60    Clayton Fox             Chaska Boys             11    M    17:50.81       5:44.72     3:34.19 
61    Evan Stallings          Lakeville South Boys    12    M    17:52.72       5:45.36     3:34.60 
62    Matthew Beniak          Eden Prairie Boys       12    M    17:53.52       5:45.68     3:34.80 
63    Ken Hoffman             Eastview Boys            9    M    17:53.98       5:45.68     3:34.80 
64    Charlie Ward            Roseville Boys          12    M    17:55.02       5:46.00     3:35.00 
65    Gavin Carleton          Eastview Boys           10    M    17:57.83       5:46.97     3:35.60 
66    Peter Bryan             Eastview Boys           12    M    17:58.68       5:47.29     3:35.80 
67    Alex Johannes           Willmar Boys             9    M    18:02.97       5:48.58     3:36.60 
68    Vignesh Karthikeyan     Wayzata Boys            12    M    18:04.73       5:49.22     3:37.00 
69    Dakota Darkstar         Southwest               11    M    18:05.81       5:49.54     3:37.19 
70    Luke Iverson            Maple Grove             10    M    18:07.49       5:49.87     3:37.39 
71    Tim Stenlund            Roseville Boys          10    M    18:07.92       5:50.19     3:37.60 
72    John Cayton             Eastview Boys           12    M    18:08.86       5:50.51     3:37.80 
73    Ben Krampka             Mounds View Boys         9    M    18:09.70       5:50.83     3:38.00 
74    Griffin Kilber          Chaska Boys             12    M    18:10.25       5:50.83     3:38.00 
75    David Kahat             Mounds View Boys        10    M    18:10.78       5:51.15     3:38.19 
76    Joel Rasmussen          Maple Grove             12    M    18:11.57       5:51.48     3:38.39 
77    Matt Phillips           Maple Grove             12    M    18:12.39       5:51.48     3:38.39 
78    Tony Stellon            Richfield               12    M    18:14.62       5:52.44     3:39.00 
79    Phil English            Hopkins Boys            11    M    18:15.12       5:52.44     3:39.00 
80    Nick  Gawreluk          Roseville Boys          12    M    18:16.10       5:52.76     3:39.19 
81    Ian Wilson              Hopkins Boys            12    M    18:18.95       5:53.73     3:39.80 
82    David Link              Hopkins Boys            12    M    18:20.02       5:54.05     3:40.00 
83    Tom Hegard              Hopkins Boys             8    M    18:20.98       5:54.37     3:40.19 
84    Eric Nietfeld           Elk River               12    M    18:24.89       5:55.66     3:41.00 
85    Eric Volk               Elk River               12    M    18:33.37       5:58.23     3:42.60 
86    Kyle Serreyn            Lakeville South Boys    12    M    18:33.77       5:58.56     3:42.80 
87    John Muenchow           Lakeville South Boys    12    M    18:34.14       5:58.56     3:42.80 
88    Eric Crook              Hopkins Boys            10    M    18:35.46       5:58.88     3:43.00 
89    Dan Broman              Maple Grove             12    M    18:37.10       6:00.00     3:43.39 
90    Eric Stevens            Elk River               10    M    18:38.37       6:00.00     3:43.60 
91    Tommy Lowder            Chaska Boys             12    M    18:39.02       6:00.17     3:43.80 
92    Luke Hutchison          Mounds View Boys        12    M    18:43.32       6:01.45     3:44.60 
93    Joshwah Hill            Richfield               11    M    18:46.45       6:02.42     3:45.19 
94    Zach Nelson             Armstrong               10    M    18:48.54       6:03.38     3:45.80 
95    Zach Allen              Roseville Boys          11    M    18:49.27       6:03.38     3:45.80 
96    Edward VanPelt          Chaska Boys             12    M    18:49.83       6:03.71     3:46.00 
97    Austin Stevens          Elk River               10    M    18:50.59       6:04.03     3:46.19 
98    Chris Wilkerson         Armstrong               10    M    18:51.09       6:04.03     3:46.19 
99    Graham Hanson           Richfield               12    M    18:51.63       6:04.35     3:46.39 
100   Brett Handel            Armstrong               10    M    18:52.13       6:04.35     3:46.39 
101   Brian Comisky           Roseville Boys          10    M    18:55.51       6:05.64     3:47.19 
102   Ian Lewenstein          Mounds View Boys        12    M    18:57.87       6:06.28     3:47.60 
103   John Klecker            Hopkins Boys             9    M    19:00.07       6:06.93     3:48.00 
104   Tommy McMillan          Armstrong               11    M    19:08.81       6:09.82     3:49.80 
105   Jeremy Serreyn          Lakeville South Boys    10    M    19:11.33       6:10.47     3:50.19 
106   Austin Choe             Armstrong               11    M    19:14.96       6:11.75     3:51.00 
107   Derek Donnelly          Lakeville South Boys    11    M    19:19.75       6:13.36     3:52.00 
108   Daniel Badhwa           Armstrong               11    M    19:23.47       6:14.33     3:52.60 
109   John Neumann            Maple Grove             12    M    19:25.47       6:14.97     3:53.00 
110   Sean Milliam            Southwest               11    M    19:29.44       6:16.26     3:53.80 
111   Morgan Wigmore          Elk River               11    M    19:30.18       6:16.58     3:54.00 
112   Derek Barnett           Armstrong               12    M    19:30.63       6:16.90     3:54.19 
113   John Narum              Hopkins Boys             9    M    19:31.14       6:16.90     3:54.19 
114   Gregory Kufahl          Hopkins Boys            12    M    19:35.71       6:18.51     3:55.19 
115   Matt Schulz             Richfield               12    M    19:44.21       6:21.09     3:56.80 
116   Zak Beaudet             Richfield               10    M    19:47.72       6:22.38     3:57.60 
117   RYAN MALONEY            Elk River               12    M    20:06.31       6:28.17     4:01.19 
118   Alexander Vogel         Maple Grove             10    M    20:28.58       6:35.57     4:05.80 
Girls
Hopkins Invitational 2008
9/6/2008

G-V Results


Team Results

PL   TEAM                  SCORE         R1         R2         R3         R4         R5         R6         R7
1    Lakeville South Gi    59            5          7          11         13         23         26         67     
2    Minnetonka Girls      79            6          8          10         27         28         34         54     
3    Eden Prairie Girls    98            3          4          21         32         38         42         49     
4    Chaska Girls          110           2          17         20         24         47         48         52     
5    Hopkins Girls         133           12         16         30         36         39         46         57     
6    Eastview Girls        158           9          29         33         37         50         72         93     
7    Roseville Girls       201           25         35         40         45         56         62         73     
8    Maple Grove           205           14         15         53         58         65         82         90     
9    Elk River             246           1          44         59         68         74         109        111    
10   Mounds View Girls     265           31         43         51         64         76         95         98     
11   Willmar Girls         313           18         66         71         78         80         89         113    
12   Armstrong             351           19         77         83         84         88         97         107    
13   Richfield             inc           41         105                                                           
14   Southwest             inc           22         61         99         101                                     


Individual Results

PL    NAME                    TEAM                    GR    M/F    TIME           PER MI       PER KM
1     Emma Bates              Elk River               11    F    15:17.27       6:08.94     3:49.25 
2     Kaila Urick             Chaska Girls            10    F    15:19.01       6:09.74     3:49.75 
3     Cassy Opitz             Eden Prairie Girls      12    F    15:22.64       6:11.35     3:50.75 
4     Alexandra Rudin         Eden Prairie Girls      10    F    15:23.52       6:11.75     3:51.00 
5     Kayla Uphoff            Lakeville South Girl    11    F    15:25.50       6:12.56     3:51.50 
6     Megan Bailey            Minnetonka Girls        10    F    15:26.77       6:12.96     3:51.75 
7     Becca Nichols           Lakeville South Girl    12    F    15:29.26       6:13.77     3:52.25 
8     Melissa Valle           Minnetonka Girls        12    F    15:29.97       6:14.17     3:52.50 
9     Anne  Ferguson          Eastview Girls          10    F    15:36.57       6:16.98     3:54.25 
10    Emily Meese             Minnetonka Girls        12    F    15:50.29       6:22.21     3:57.50 
11    Olivia Bagnall          Lakeville South Girl    12    F    15:54.46       6:23.82     3:58.50 
12    Angela Henry            Hopkins Girls           12    F    15:57.88       6:25.43     4:00.00 
13    Megan Kilbride          Lakeville South Girl     9    F    16:00.00       6:26.24     4:00.00 
14    Abbie Weigel            Maple Grove             11    F    16:00.43       6:26.24     4:00.00 
15    Molly Bjustrom          Maple Grove             10    F    16:00.76       6:26.64     4:00.24 
16    Hannah Jocelyn          Hopkins Girls           11    F    16:01.21       6:26.64     4:00.24 
17    Kelsey Junget           Chaska Girls            11    F    16:01.70       6:27.04     4:00.50 
18    Jayne Cole              Willmar Girls           11    F    16:02.51       6:27.44     4:00.75 
19    Carly Rasmussen         Armstrong               11    F    16:04.95       6:28.25     4:01.24 
20    Jenna Urick             Chaska Girls             8    F    16:06.93       6:29.05     4:01.75 
21    Laura Lawton            Eden Prairie Girls      10    F    16:07.38       6:29.05     4:01.75 
22    Maria Theisen           Southwest               12    F    16:07.95       6:29.46     4:01.99 
23    Erin Kilbride           Lakeville South Girl     7    F    16:08.61       6:29.86     4:02.24 
24    Claire Bulat            Chaska Girls             8    F    16:10.46       6:30.26     4:02.50 
25    Allison Cordes          Roseville Girls          8    F    16:10.83       6:30.66     4:02.75 
26    Britta Morrill          Lakeville South Girl    11    F    16:17.73       6:33.48     4:04.50 
27    Kristina Hermansen      Minnetonka Girls        12    F    16:18.29       6:33.48     4:04.50 
28    Rachael Hoerauf         Minnetonka Girls        11    F    16:19.29       6:33.88     4:04.75 
29    Rebecca  Pachuta        Eastview Girls          11    F    16:19.93       6:34.28     4:04.99 
30    Elyssa Yesnes           Hopkins Girls           12    F    16:21.06       6:34.69     4:05.25 
31    Lizzy Narigon           Mounds View Girls       11    F    16:21.80       6:35.09     4:05.50 
32    Samantha Chan           Eden Prairie Girls      12    F    16:23.59       6:35.89     4:05.99 
33    MacKenzie Burkstrand    Eastview Girls          10    F    16:29.03       6:37.91     4:07.25 
34    Kati Meiusi             Minnetonka Girls        10    F    16:30.39       6:38.31     4:07.50 
35    Emma Gray               Roseville Girls         10    F    16:31.14       6:38.71     4:07.74 
36    Kayla Goeman            Hopkins Girls           10    F    16:32.17       6:39.11     4:08.00 
37    Diana  Schreier         Eastview Girls          10    F    16:32.86       6:39.51     4:08.25 
38    Faith Brisbois          Eden Prairie Girls      12    F    16:36.25       6:40.72     4:09.00 
39    Selamawit Shannon-Ta    Hopkins Girls           10    F    16:36.92       6:41.12     4:09.25 
40    Sophia Salmanpour       Roseville Girls         10    F    16:37.36       6:41.12     4:09.25 
41    Hannah Olson            Richfield                9    F    16:37.77       6:41.53     4:09.49 
42    Stephanie Geis          Eden Prairie Girls      12    F    16:38.27       6:41.53     4:09.49 
43    Lauren Hanson           Mounds View Girls       12    F    16:39.33       6:41.93     4:09.74 
44    VICTORIA JANASZ         Elk River               11    F    16:41.66       6:43.14     4:10.50 
45    Betsy Cogan             Roseville Girls         10    F    16:42.08       6:43.14     4:10.50 
46    Krystina Hoey           Hopkins Girls           11    F    16:42.52       6:43.54     4:10.75 
47    Sarah Woodland          Chaska Girls            11    F    16:43.34       6:43.54     4:10.75 
48    Jessica Lynch           Chaska Girls            10    F    16:43.89       6:43.94     4:11.00 
49    Anna Jefferson          Eden Prairie Girls      11    F    16:44.40       6:43.94     4:11.00 
50    Anna Williams           Eastview Girls          12    F    16:44.97       6:44.34     4:11.25 
51    Kate Norgon             Mounds View Girls       12    F    16:45.58       6:44.75     4:11.50 
52    Megan Feyereisen        Chaska Girls            10    F    16:46.23       6:44.75     4:11.50 
53    Julie Knutson           Maple Grove             12    F    16:46.57       6:45.15     4:11.75 
54    Laura Brandes           Minnetonka Girls        10    F    16:46.99       6:45.15     4:11.75 
55    Lauren Carlson          Chaska Girls            12    F    16:47.46       6:45.15     4:11.75 
56    Bailey Cogan            Roseville Girls          8    F    16:48.20       6:45.55     4:12.00 
57    Sara Heegaard           Hopkins Girls           10    F    16:48.61       6:45.95     4:12.25 
58    Danielle Rudin          Maple Grove              9    F    16:49.03       6:45.95     4:12.25 
59    KATIE HANSON            Elk River               10    F    16:49.45       6:45.95     4:12.25 
60    Nicole Franz            Chaska Girls            10    F    16:49.88       6:46.35     4:12.50 
61    Bea Gantzer             Southwest               10    F    16:51.15       6:46.76     4:12.75 
62    Megan Foss              Roseville Girls         12    F    16:51.89       6:47.16     4:13.00 
63    Alexandra Birkle        Eden Prairie Girls      10    F    16:53.84       6:47.96     4:13.50 
64    Laura Willenbring       Mounds View Girls       11    F    17:09.88       6:54.40     4:17.50 
65    Miranda Aarons          Maple Grove             10    F    17:01.22       6:50.78     4:15.25 
66    Jackie Johnson          Willmar Girls           11    F    17:01.84       6:51.18     4:15.50 
67    Taylor Donnelly         Lakeville South Girl    10    F    17:03.11       6:51.58     4:15.75 
68    Jane Kallemeyn          Elk River               10    F    17:05.51       6:52.79     4:16.50 
69    Taylor Vonasek          Lakeville South Girl    10    F    17:07.44       6:53.19     4:16.75 
70    Abbey Emmans            Minnetonka Girls        12    F    17:08.46       6:53.60     4:17.00 
71    Cassandra Johnson       Willmar Girls            8    F    17:09.29       6:54.00     4:17.25 
72    Jenna  Stauffer         Eastview Girls          12    F    17:09.66       6:54.40     4:17.50 
73    Kelly Tomlinson         Roseville Girls         12    F    17:10.08       6:54.40     4:17.50 
74    RENEE CREPEAU           Elk River               12    F    17:10.66       6:54.80     4:17.75 
75    Emily Joyce             Roseville Girls         12    F    17:11.11       6:54.80     4:17.75 
76    Brittney Johnson        Mounds View Girls       10    F    17:12.30       6:55.21     4:18.00 
77    Melissa Cabak           Armstrong                9    F    17:17.74       6:57.62     4:19.50 
78    Emily Ellingson         Willmar Girls           11    F    17:18.46       6:57.62     4:19.50 
79    Lauren J. Peterson      Minnetonka Girls        11    F    17:18.92       6:58.02     4:19.75 
80    Dominique Hudson        Willmar Girls           11    F    17:21.07       6:58.83     4:20.25 
81    Jordyn Dass             Hopkins Girls           11    F    17:21.88       6:59.23     4:20.50 
82    Amy Waananen            Maple Grove             10    F    17:23.43       7:00.00     4:20.75 
83    Breanna Adams           Armstrong               11    F    17:25.77       7:00.84     4:21.50 
84    Sarah Stuart            Armstrong               10    F    17:28.50       7:01.64     4:22.00 
85    Leah Urdahl             Minnetonka Girls        11    F    17:30.60       7:02.85     4:22.75 
86    Leah Flannigan          Roseville Girls         11    F    17:31.46       7:02.85     4:22.75 
87    Hannah Hoffman          Chaska Girls            12    F    17:34.53       7:04.46     4:23.75 
88    Amy Schluessel          Armstrong               12    F    17:35.23       7:04.46     4:23.75 
89    Gabi Engelkes           Willmar Girls           12    F    17:35.98       7:04.86     4:24.00 
90    Grace Burmeister        Maple Grove             10    F    17:37.18       7:05.26     4:24.25 
91    Taylor Bates            Eden Prairie Girls      12    F    17:38.55       7:06.07     4:24.75 
92    Katie Huggins           Lakeville South Girl     9    F    17:39.46       7:06.07     4:24.75 
93    Ally  Lawrence          Eastview Girls          11    F    17:41.06       7:06.87     4:25.25 
94    Megan Johnston          Maple Grove             10    F    17:49.34       7:10.09     4:27.25 
95    Danielle Cole           Mounds View Girls       10    F    18:02.95       7:15.72     4:30.75 
96    Rachel Mason            Roseville Girls         11    F    18:03.56       7:16.13     4:31.00 
97    Bryana Edwards          Armstrong               11    F    18:06.95       7:17.33     4:31.75 
98    Nora Crist              Mounds View Girls        9    F    18:08.95       7:18.14     4:32.25 
99    Margaret Grace          Southwest               10    F    18:10.09       7:18.54     4:32.50 
100   Torrey Puncochar        Mounds View Girls       11    F    18:12.44       7:19.35     4:33.00 
101   Grete Wilt              Southwest               11    F    18:15.25       7:20.55     4:33.75 
102   Mali Langlie            Mounds View Girls       12    F    18:17.49       7:21.36     4:34.25 
103   Megan Addabbo           Maple Grove             12    F    18:19.16       7:22.16     4:34.75 
104   Jenna Land              Lakeville South Girl    11    F    18:21.57       7:23.37     4:35.50 
105   Brittany Feffer         Richfield               11    F    18:24.53       7:24.58     4:36.25 
106   Hanna Zerfan            Mounds View Girls       12    F    18:26.79       7:25.38     4:36.75 
107   Claire Larson           Armstrong               11    F    18:30.93       7:26.99     4:37.75 
108   Karlyn Johnson          Armstrong               12    F    18:42.69       7:31.82     4:40.75 
109   BRITTNI ELLEFSON        Elk River               10    F    18:46.43       7:33.03     4:41.50 
110   Darcy Metzler           Armstrong               11    F    18:56.95       7:37.45     4:44.25 
111   DANIELLE ESPERUM        Elk River               10    F    19:05.71       7:41.07     4:46.50 
112   Emily Philips           Maple Grove             10    F    19:07.23       7:41.47     4:46.75 
113   Kati Heng               Willmar Girls           12    F    19:17.18       7:45.50     4:49.25 
114   CASSEY PETRICH          Elk River                9    F    19:24.50       7:48.31     4:51.00 
115   SAMANTHA ROUILLARD      Elk River               11    F    19:49.17       7:58.37     4:57.25 
Heartland Region Index