MHSAA Michigan State Finals





Pioneer sweeps Michigan D1 state titles





June 2, 2007 MI



by Jeff Hollobaugh & David Mitchell

This year's version of the MHSAA State Finals featured temperatures in the mid-80s, nasty humidity, and a serious of thunderstorms late in the day that had meet officials evacuate several of the stadiums involved. In other words, it was a replay of last year. Except on the track, where the drama played out in an entirely different fashion.

Highlights - BOYS coverage by David Mitchell - GIRLS coverage by Jeff Hollobaugh
Official results from the MHSAA


The Div. 2 boys mile: Dan Jackson of Dexter battles in the pack early, but emerges on top to begin his distance double. Photo by Davey, runmichigan.com

| | |
| --- | --- |
| | Division 2 Hurdle action: Josh Hembrough of GR Forest Hills Northern adds another 110H title as he concludes his great MI career and Kyra Caldwell of Ypsilanti takes the girls 100H title. Photos by Davey, runmichigan.com |
Boys Highlights
Starting with 7:45.18 win in deep 4x800, Ann Arbor Pioneer takes D1 title with 63 points
James Wade paces the winners with 4x8 (1:53.2), 4x2 and 4x4 anchors, plus 2nd in 400 (48.21)
Dexter sr Dan Jackson takes 4:15.84 / 9:07.38 1600/3200 double, leading 4 more teammates in top 8 (between 9:18-9:30) in 3200, leading way to team title.
Grand Rapids Forest Hills Northern sr Josh Hembrough closes out great career with 13.70/37.99 110H/300H double, and 48.5 anchor on winning 4x4
Detroit Catholic Central's Michael Martin wins D1 SP in 60-11.50
Niles' Kirk Poehlman takes D2 HJ in 6-10
Girls Highlights
With the sprinting/hurdling of Ra'Jae Marable and Chidimma Uche, jumping of Ariel Roberts, and winning 2 relays, Ann Arbor Pioneer dominates D1 girls
Detroit Mumford sr Shayla Mahan, facing strong headwinds, takes 11.76 / 24.11 100/200 double in D1, and anchors 1:39.19 4x200
Byron Center's Mary Angell wins D2 big throws clashes with Zeeland East's Allison Liske, with record 159-05 DT to 149-02 and 48-09.75 to 42-09.5 in SP.
Maple City Glen Lake's Marissa Treece takes D4 distance triple in the heat, with 4:51.73 - 2:13.96 - 10:57.57 for 1600/800/3200
East Kentwood's Abby Shanahan sets state finals PV mark of 12-02 in D1
Divisio

n

One Girls at East Kentwood: Pioneer piles up 104 points


Legendary Ann Arbor Pioneer coach Bryan Westfield called Ra'Jae Marable, "my biggest surprise of the meet." He added, "Ra'Jae has been behind Chidimma Uche for four years, and has never beaten her [in a major meet]. And here she won the 100 hurdles." Marable blazed 14.32 to edge Detroit Cody's Raven Clay by a hundredth. The hurdlers battled a 4.8 headwind. Uche finished fourth in 14.85. Minutes later, Marable placed third in the 100 at 12.56 (-2.5 wind). Uche won the 300 hurdles in 43.98.

Marable and Uche played just two small roles in Pioneer's massive production. The team's 104 points far outdistanced the 57 scored by Detroit Mumford (20 of which from superstar Shayla Mahan in the 100 and 200). That point tally is one of the highest in meet history. Said Westfield, "When this group started out in ninth and tenth grade, i didn't think they would develop as well as they had. They learned something when Mumford beat us two years ago."

Pioneer also got wins from Ariel Roberts in the high jump (5-07), the 4 x 100 (48.17) and the 4 x 400 (3:51.46).

Early in the year, Westfield had hinted that this might be his last season. Now he says, "One more year. My coaching staff has agreed to give me one more year." He is retiring this month from 40 years as a classroom teacher, but he wants one more track season. And he has enough underclassmen to make it happen. "It's not like we're going to disappear."

Shayla Mahan might have been disappointed, but she didn't disappoint. She wanted to break her own meet records, but she fell short at 11.76 and 24.11 (23.89 semi). But last year when she set the records, she had aiding winds. This time, she was slowed by severe headwinds. Her 11.76 came against a 2.5mps breeze, making it at least equivalent to, and probably superior to her 11.54 from last year run with the maximum allowable aiding wind of 2.0mps. In between he individual sprints, she anchored Mumford to a come-from-behind 4 x 200 win in 1:39.19 over Pioneer's 1:39.98. Her anchor split was timed in 23.4.

In the pole vault, Abby Shanahan capitalized on her home field advantage and soared 12-02, the highest leap ever in the state finals. In third place, Sarah Birkmeier of Rockford cleared 11-01 to break her own state 9th grade record.

Lauren Quaintance of Walled Lake Northern made up for disaster the year before in the 800, when she got boxed and fell: "I didn't want to get caught in the same situation as last year. I started out strong." She hit the 400 in 63.1, about two seconds faster than her usual, and finished in 2:14.20.

Another great senior year came from 400 winner Victoria Chatman of Taylor Kennedy. Last year her high point was a 12.8 for 5th in her regional 100: Then she got serious over the summer. "I started training with the Michigan Accelerators last summer and training with coach James Hall. I've been getting better ever since. I guess I just needed the work." She clocked 55.51 to capture the one-lap.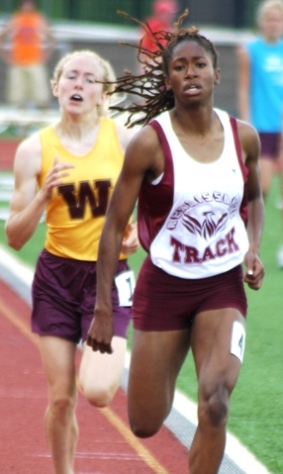 Ramzee Fondren over Meggan Freeland in the D2 1600. Photo by Davey, runmichigan.com

Other great marks went to Saginaw Arthur Hill's Monsherri Hall with her 18-09 for the long jump win, and Saline with a 9:14.20 win in the 4 x 800. Meagan Creutz led off with a 2:16.3, followed by Lindsey Cummings (2:23.1), Alex Leptich (2:17.8), and Kate Carter (2:17.0).

Division Two Girls at Zeeland: Angell wins battle of the throwers
The two giants of Michigan throwing met again, and this time the advantage was all Mary Angell's. Throwing on Allison Liske's home field, Angell topped her in the discus, 159-05 to 149-02. She also won the shot by a huge margin, 48-09.75 to 42-09.5.

Detroit Renaissance scored 76 points to top Forest Hills Northern by 31 points. Ramzee Fondren won the 1600 in a kicker's battle, running 4:59.85 to the 4:59.90 of Meggan Freeland of Parma Western. Then Fondren came back with an 800 victory in 2:11.18, as well as the anchor leg of the 4 x 400 (3:56.48). Other Renaissance wins went to Ashley Abraham in the 200 (25.01), and in the 4 x 200 (1:42.00).

In a big vault showdown, Fenton's Amy Morrison cleared 12-00 to top the 11-09 of Becca Pilkerton of Dexter. Kyra Caldwell of Ypsilanti won the hurdle races in 14.65 and 44.25.

Meanwhile the Ironwoman award goes to Sparta senior (and Purdue-bound) Lyndsey McKnight. She won the high jump at 5-04, the 400 in 57.09, and placed third in the 800 at 2:14.06.



Division Three Girls at Comstock Park: Bannister keys Albion


Albion won 23 points, on the strength of a double win by sophomore star Amelia Bannister (55.94 / 2:14.03). Bannister also ran on the winning 4 x 200 (1:43.49). Juandretta Oliver won the long jump a 18-1, and the 4 x 100 team won in 49.74.

Ann Arbor Gabriel Richard's Amy Myler captured both hurdle wins, clocking 15.43 and 44.82. She joined her teammates to also win the 4 x 400 in 3:59.06, as Richard placed second overall.

As with the other divisions, the heat hampered the doublers in the distances. Hilary Snyder of Jackson Lumen Christi won the 1600 in 5:07.49. She finished fifth in the 3200 at 11:19.83, as Hillsdale's Adrian Pastula won in 11:07.70. Earlier Snyder had run on Lumen Christi's winning 4 x 800 (9:30.60).

Frankenmuth frosh Sam Cormier won the shot with a toss of 41-10.



Division Four Girls at Forest Hills Eastern: Treece Triples


All eyes focused on Maple City-Glen Lake's Marissa Treece as she raced in her school uniform for the last time. The Notre Dame-bound senior won the 1600 in 4:51.73, then captured the 800 in 2:13.96, and survived the heat to win the 3200 in 10:57.57. Her 30 points placed her school in fifth place.

Ubly captured team honors with 61.5 points, starting off with a sizzling 9:28.88 win in the 4 x 800. The race was bookended by the Kubacki twins, Kayla on leadoff and Kylee on anchor. Jade Kaufman won the 400 in 58.93, and came back witn a 25.44 win in the 200. She anchored the 4 x 400 winners as they clocked 4:04.48.

Allyson Karaba of North Muskegon captured the high jump with a 5-06 clearance.



Upper Peninsula finals at Kingsford


Technically, Michigan does not have state finals. Nearly 97% of the state's population is represented at the Lower Peninsula Finals, and the three percent on the other side of the Mackinac Bridge have their own finals. This year, Escanaba and Marquette tied for the win in the biggest of the three UP divisions, each scoring 101. Kingsford's Molly Wiltzius captured both throws at 34-01 and 123-07. Marquette's Brittnee Balbierz won a sprint double in 13.01 / 26.46.

In Division Two, Ishpeming won by three points. Jessica Wood won the long jump (16-04.25), 100 hurdles (16.29) and 100 (13.49) and placed third in the 200 (27.86).

Pickford won the Division Three meet with 73 points even though Jessica Ledy, who long jumped 15-11.75, was their only individual winner. Erin Holmberg, of Cooks-Big Bay deNoc, won the 1600 in 5:22.79, the 400 in 1:01.20, the 800 in 2:23.72, and the 3200 in 11:59.89. Lauren Marshall of Rapid River cleared 10-00 in the vault.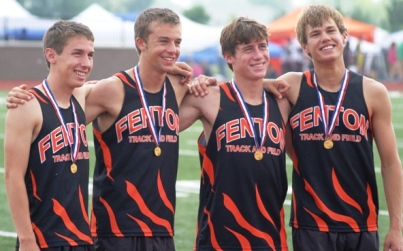 Fenton's record-setting 4x800 crew in D2.
Photo by Davey, runmichigan.com





Division

One Boys: Pioneer juniors lead team to victory

Ann Arbor Pioneer started the running finals with an impressive 7:45.18 to win the 4x800 from behind and never looked back. They went on to win the team title by 30 with 63 points to runner-up East Kentwood's 33 on their home track. Junior James Wade blew open a three team race in the 4x800 on the last lap, completing his anchor leg in 1:53.2. It was only the 4th 800 of any kind in Wade's career.

Macomb Dakota (7:47.28), Pinckney (7:49.11), and Saline (7:49.30) all dipped under 7:50 in the hotly contested race. This was the first year in the past nine that Saline did not win the 4 x 800.

James Wade's hot day for Pioneer continued with a win in the 4 x 200 (1:27.95), a silver medal in the 400 (48.21) and concluded with a dramatic anchor leg (48.1) to win the 4 x 400 (3:18.5h) as well. All three are new school records. Junior teammate James Smith ran on the 4 x 200 (21.1 anchor) and 4x400 (49.2 lead off) with Wade and won the 200 at 21.80 into a headwind. Fellow junior Dennis Fortson scored in both hurdle races and also ran on the winning 4 x 200 and 4 x 400 relays.

Veteran Pioneer mentor Don Sleeman was all smiles after the meet calling his athletes "wonderful kids" who made "a dream come true" with the team win. After a pair of runner-up finishes and a handful of top 5 team performances, this is the first team title for the Pioneer boys and for Sleeman in his 39 years as head coach at the school.

Bedford's Logan Lynch broke his own pole vault meet record by clearing 16-01. Lynch made it through to 15-07 without a miss. He ended the competition attempting 16-07 in unusual fashion with two hours between his first and second attempts due to the weather delay. This win is Lynch's second outdoor title to go with three indoor wins.

Michael Martin of Detroit Catholic Central impressed in the shot put with his heave of 60-11.5 for the victory over runner up Matt Armstrong of Lansing Sexton at 58-09. It was Martin's second state title of the year. In March he won the 285lb weight class in wrestling.

XC state winner David Emery had a big day for his Pinckney Pirates with four medals in distance races. Emery led off the third place school record setting 4 x 800 by putting them in front with his 55.6/1:55.9 leg. Emery finished second in the 1600 with another school record (4:14.15) behind Cole Sanseverino of Monroe who successfully defended his 1600 title in 4:13.90. The pair came through the 400 together at 61.1, Emery led at the 800 at 2:05.0, but Sanseverino led the way at the bell in 3:10.2 and fought off each of Emery's attempts to overtake him through the finish. Following the race, Sanseverino revealed that it was his race plan to get in front of the confident Emery and "match every move" in order to get the win....it worked to perfection.

Emery went on to win the 3200 (4:40.8/9:22.1h) with a big surge at the 2K mark that put him in the lead for good. He was challenged slightly with 700m to go, but he sealed the win in the final 400 as he closed in 62.8. Between the 1600 and 3200, Emery also placed 8th in the 800 at 1:56.61. Emery benefited from the two-hour weather delay that commenced just prior to his heat of the 3200. It was definitely a full day for the lanky Middle Tennessee State signee. This was Emery's first time qualifying to the track state meet.

Lakeland senior Kevin Lanier had also never made it to the state meet in his career due mostly to untimely injuries in previous years. This year he brought home a gold, a silver and a bronze medal with his 300m Hurdle (38.38) win, his second in the 110m hurdles (14.74), and his tie for third in the high jump (6-05). He will compete for Eastern Michigan in the multi-events next year.

Both Lanier's win in the 300m Hurdles and the win by Shane Wells of Romulus in the 110s (14.45) were as much about surviving as they were about running fast. A headwind/crosswind and tight competition wreaked havoc on both events. Both finals were blood and guts exercises with hurdles flipping and flying through the air and competitors taking spills. Wells, a senior indoor All-American who remains undecided about his college choice, commented that he was "hit a couple of times" by other competitors in his final. Wells also split 21.1 on the anchor of the second place 4 x 200 Relay (1:28.31), and anchored the 4 x 100 that finished third to match Lanier's medal haul for the day.

East Detroit's Kyle Wilson won the 400 with his wire-to-wire 47.96 leading five competitors under 49.00 including third placer Kevin Jackson (48.25) of host East Kentwood. About 30 minutes prior Jackson anchored his 4 x 100 team to a come from behind win (42.20). He also split 48.0 on the end of their sixth place 4 x 400. Teammate Christian Jesse said, "It's always our goal to keep Kevin close and let him do the rest."

Isaiah Ward of Detroit Mumford chalked up an individual win and 3 other medals with a fine day. Ward led from the gun in the 800 (54.9/1:54.03). He earlier ran on Mumford's fifth place 4 x 800 (7:52.66) and PRed with a 4:22.59 1600 that was good for eighth in this deep field. Ward closed his day with a 49.5 lead off leg of Mumford's 4 x 400 team that placed third overall with a 3:19.4h from the second of 4 sections. Injuries at the regional meet had hindered the traditional 4 x 400 powerhouse from getting a time worthy of the fast section at state which would've made for a dandy race indeed with silver medalists Livonia Churchill coming in at 3:19.3h and Pioneer winning it at 3:18.5h.

Sophomore sprint sensation James Jackson of Grand Ledge, the indoor 60m state champ with six different all-time 9th and 10th grade indoor records, won the 100 (10.94 into a headwind), finished 2nd in the 200 (22.01) and anchored his team's fourth place 4 x 400 team (3:21.7h) giving him a hand in all of his team's scoring.

Cordell Miller of Lansing Everett won the long jump with a best of 23-03.75. Flint Carman-Ainsworth's Kevin Mays took the discus competition with his 170-07, and Eric Thornton of Canton won the first track title in school history with his 6-07 high jump clearance.

Division Two Boys: Hembrough wins three

In spite of a lingering hamstring issue dating back to indoors, Josh Hembrough earned three gold medals. Hembrough broke his own 110mHH record (13.70), won the 300m hurdles (37.99) and anchored the winning 4 x 400 for his Forest Hills Northern team with a 48.5 split.

Marine City's Joe Wesley set a new meet record in the pole vault by soaring over 16-00. Fenton's 4 x 800 Relay broke the meet record with its 7:52.31. Detroit Renaissance's 4 x 100 also established a new meet record by running 42.53.

Dexter's distance dynasty told the tale of the team competition, though. The four-time consecutive cross country champs finished 1-2-3-5-7 in the 3200 to score 30 points in that event alone! That gave them 48 total points and the overall win. Dan Jackson led the way with a double win in the 1600 (4:15.84) and the 3200 (9:07.38). XC individual champ Bobby Aprill was second in the 3200 at 9:18.34 followed by teammate Jason Bishop at 9:24.79. Dexter's 7:53.29 was also good for second in the 4 x 800 Relay.

Kurt Poehlman of Niles cleared 6-10 to win the high jump over MITS indoor champ John Donkersloot of Zeeland East at 6-09.

Division Three Boys: Country Day edges Williamston


Chris Rucker's four gold medals led Detroit Country Day to the team title by only a fraction of a point, 70-69.33 over Williamston. Rucker successfully defended in the 100 (10.82), won the 400 (49.02) and was a key leg on the 4 x 200 (1:28.39) and the 4 x 400 (3:26.57). It was Rucker's fourth straight year of scoring in the 100.

David Ash of Williamston blazed 1:53.86 in the 800 for a new statewide best time to lead his defending champ team to a second place finish overall. Other notable performances were broken by Kevin Bacon of Vassar with a 38.28 win in the 300m Hurdles and Hillsdale's Nate English in the shot put (59-08.5).

XC individual champ Maverick Darling of Ovid-Elsie was a double winner in the 1600 (4:15.07) and 3200 (9:14.27).

Division Four Boys: Versatile George Flanner leads team to win

George Flanner of Ottawa Lake-Whiteford won both the shot put (meet record 58-05.25) and the discus (160-06) and placed seventh in the high hurdles to power his team to the D4 title after finishing second in '06.

Adam Duerksen of Mancelona was a double hurdle victor (15.21/39.39) and Alex Harris of Royal Oak Shrine won the 1600 (4:22.04) and the 3200 (9:51.11).

Upper Peninsula Boys


Gladstone won Division One, as Mike Coyne vaulted 13-07. Kingsford's Josh Droese won the 400 (50.56), 200 (23.13) and anchored the winning 4 x 400 (3:32.84).

In D2, Stephenson won with 114 points. Terry Martin of Manistique won the discus at 150-00 as Munising's Scott Bond clocked 1:59.36 in the 800.

Rock-Mid Peninsula won the D3 crown, with the best individual mark going to Jason Miller of Ontonogan, who won the shot at 52-07.25.