EK boys, Romulus girls find different ways to win
Deep, fast squad gives East Kentwood boys record score;
Linton fuels narrow Romulus victory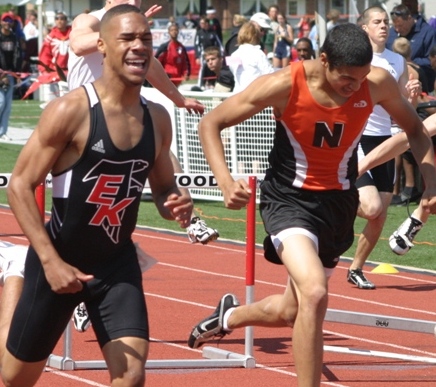 Deonte' Hurst (left) shows the effort and the ecstacy of a 300H win, part of the fulfillment of the big plan of putting people in the right places for a championship. Christienne Linton (right) scored 28 of the 38 Romulus points individually, by winning the LJ, 300H and taking 2nd in the 100H, then anchored the clinching relay. Photos by Davey, runmichigan.com
Leading Highlights
Using a deep, deep sprint corps that dominated the relays and scored all over the place individually,

East Kentwood

's boys set a D1 record with 79 points. Their best included MW#1 marks of 41.40 4x100 (meet record) and 1:26.72 (D1 meet record); they also won the 4x4 in 3:21.14. They also got a 1-2 in the 100 and a win in the 300H
With

Christienne Linton

involved with every point and getting a pivotal win in the 300H over defending champ Ariel Roberts,

Romulus

pulled out the 1-point win in D1 over Rockford with Ann Arbor Pioneer another point back. Linton won the LJ (18-08.25 nwi), 300H (D1 meet record 42.86), and was 2nd in the 100H (14.19 nwi). She anchored the winning 4x400 to cap it off in 3:52.53
Troy jr

Michael Achtoo

leads D1 1600 wire to wire for a US#2 4:07.71. He was also 4th in the 800
Rochester jr

Megan Goethals

lets the pack pace 2:28/3:44 in the D1 1600, then kicks in with 65.9 for 4:51.20 victory. Livonia Stevenson's Courtney Calka (4:51.97) and Grand Haven's defending champ Becca Addison (4:52.10) were next in a deep field. Goethals also ran a leg on her 4x8 team, and capped off the day by pacing a D1 meet record 3200 in 10:37.50
Rockford jr

Sarah Birkmeier

flew to a US#7 and all-time state record 13-00 PV in D1
Allendale's

Zack Hill

, already the new all-time state shot put record-holder, settled for a D3 finals mark 63-09.50 and the same in the DT with a 181-00
Flushing's Jeff Kline set a meet record in the D1 LJ with 24-01
Detroit Catholic Central took a tight D1 4x800 over Rochester Adams, 7:47.57 to 7:47.67
Temperance-Bedford's Nick Kaiser 1:52.13 D1 800
Waterford Mott girls 9:13.13 4x800 in D1. Mott's Shannon Osika was also 4th in the 1600 (4:54.21) and 2nd in the 3200 (10:44.32)
Flint Southwestern Academy super soph Dynasty McGee took the 400 in 56.03, anchored the winning 4x200 (1:42.29), was 4th in the 200 (25.87) and anchored the 4th-place 4x400 team (3:58.26).
West Bloomfield's Emelle McConney 5-08 HJ over defending champ Ariel Roberts
Shelby's Rachel Hoffman was the only triple individual winner in any class, taking the D3 LJ (17-03.25 nwi), 100H (15.16 nwi), and 200 (46.09)
Madison Heights Lamphere's Stephen Murphy topped Otsego's Tommy Brinn in the D2 400, 47.94-48.08. Brinn came back to win the 800 in 1:55.49
Auburn Hills Oakland Christian's Kurt Schneider set a D4 meet record 6-10.50 in the HJ
Standish-Sterling's Ashlyn Gulvas doubled the DT (144-09) and SP (44-05.25) in D3
After the tough 1600 loss, Addison came back to defend her D1 800 title in 2:12.50
| | |
| --- | --- |
| | D1 1600s: Troy's Michael Atchoo went from the gun and ran to a state meet record 4:07.71, while Megan Goethals (4:51.20) showed what a kicker she's become by closing in 65.9. Photos by Davey, runmichigan.com |

Team Champs:
LP Div. 1 - East Kentwood boys 79

over Portage Northern 34;

Romulus girls 38

over Rockford 37

LP Div. 2

- Hamilton boys 61

over Williamston 38;

East Lansing girls 36

over DeWitt 34

LP Div. 3

- Albion boys 61.50

over Allendale and Kent City 43;

Frankenmuth girls 68

over Benzie Central 48

LP Div. 4

- Potterville boys 64

over Pewamo-Westphalia 37;

Potterville girls 51

over Fowler 43

UP Div. 1

- Gladstone boys 101

over Marquette 88;

Marquette girls 92

over Calumet 83

UP Div. 2

- Ironwood boys 81

over Munising 72;

Munising girls 81

over Ispeming Westwood 71

UP Div. 3

- Crystal Falls Forest Park boys 75

over Iron Mtn North Dickinson 72.50;

Brimley girls 84

over Crystal Falls Forest Park 68
---



Preview: 7 big names and events to watch

- By SteveU

Addison is also in fine form, though, having doubled a 4:53.8/2:10.6 at regionals a few days earlier. Also not to be overlooked is Waterford Mott soph Shannon Osika, the defending 3200 champ who PR'd with 4:51.27 at Oakland County. Osika will, however, also be running in the 4x800 earlier, where she and her teammates are top-seeded at 9:24. Goethals will be favored over Osika, though, in the 3200 as both try and double back. She is the state leader at 10:29.1h. Addison will look to win again in the 800, where she is the top seed and again, defending champ.
D1 Girls 300H

– This seems to be the event where most of the state's best girls all-around athletes will convene. You have Ann Arbor Pioneer sr Ariel Roberts, the FAT leader at 43.68, who is the state's top high-jumper (5-10). You have handtimed leader (42.4) and Romulus sr Christienne Linton, who is also the state's top long-jumper (18-09.75i) and 2nd best 100 hurdler. You have Bridgette Owens-Mitchell, the Southfield junior who leads Michigan in the 100H (14.08), but has also run under 44 in the 300s. Finally, you have Jaelynn Pryor, the Jackson standout who is 2nd on both 300H lists.
Roberts is defending champ, beating Linton by just .05 last year.