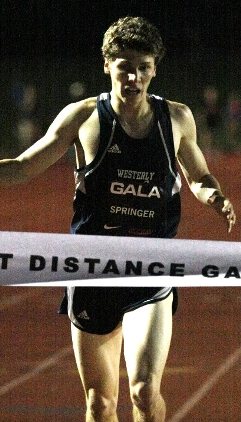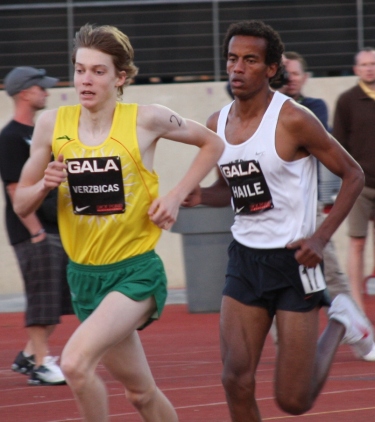 Left, a complete spent Andrew Springer reaches the tape to win the MDG Mile in 4:02.70 (photo Brandon Gittleman). Right, Lucas Verzbicas leads Solomon Haile en route to victory and new freshman records in the 2M (photo Cassandra Geiger)
Sub-4:00: There's a reason only 4 guys have done it - it's really, really hard
By SteveU
With its best and deepest boys distance fields ever, the Midwest Distance Gala in Lisle IL set up milers and 2-milers to chase records and barriers Saturday night in near-ideal weather. They rode a wave of energy built up between both their event and the Portland Track Festival mile – basically two prep sub-4 mile attempts on the same day in two different cities, 2000 miles apart – that filled the prep distance world with fever pitch excitement and almost a sense of bravado and invincibility. Surely, with fields this good and quality rabbits, someone would break 4:00 for that mile.
But there's a reason that only four high schoolers in decades of prep running history have broken that barrier: It's really, really hard.
So they found out, at the end of a night of racing that also included super victories in the 2-mile by
Lucas Verzbicas
(frosh record 8:53.98 over
Solomon Haile
), the 800 by
Danny Neff
(1:50.02), and the girls mile by b (4:50.12). By the time the milers lined up, a near-full house at the Benedictine Sports Complex had been whipped into a frenzy by the quality of the preceding races and the skilled narration of announcer David Mitchell. The first half of the race delivered on the promise, with the precision pacing through 800 by amazing York IL coach and Masters standout Charlie Kern bringing
Jeff Thode
IL,
Andrew Springer
RI, and
Michael Atchoo
MI through at 2:00, with
Patrick McGregor
AL closing in less than a tick back and others under 2:03.
Just over two minutes later, though, Springer was the sole survivor – not having broken 4:00 but having held on well to win in 4:02.70 – and the lasting images were more of the carnage the pace had wrought than the triumph. There was Springer himself, splayed out on the track moments after finishing. There was McGregor, finishing third in a PR 4:07.07 despite getting passed for second, but then needing an ambulance and brief hospital visit as dehydration led to vomiting and disorientation afterward. There was the spontaneous combustion by Thode and Atchoo as both finished over 4:15, their broken bodies shuffling across the line. Only precocious IL Class A 800 standout (1:51.22)
Peter Callahan
, among the contenders, seemed to finish with reasonable energy, fashioning a stunning even-split 4:05.20 that saw him passing three runners in the last lap to finish 2nd with a PR of more than 10 seconds.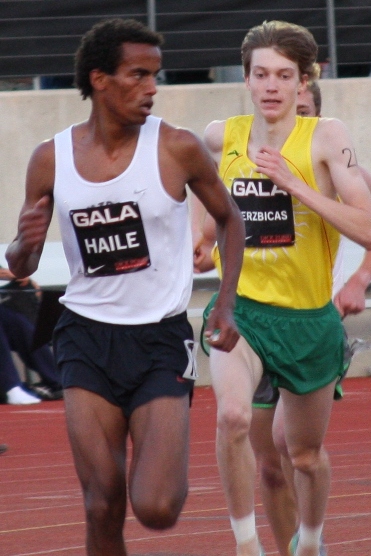 Haile looks back, as if hoping the lead will be shared, but Verzbicas is content to sit and wait. Photo Cassandra Geiger
Yes, attempting a sub-4:00 mile, even if it's just 2-5 seconds better than what most of these guys can do, is an exercise in redlining for all but the once-in-a-decade prep. It's like a surfer approaching a tumultuous ocean alone, with surfboard in hand: No lifeguard on duty, surf at your own risk.
What a ride it was, though. What a ride the whole meet was.
The elite portion of the meet began with the boys 2M – and that bravado was there right away. As one of the meet directors would relate later, the pacer was originally supposed to hit 4:23-25 for the first mile, but shortly before the race Verzbicas approached one of the officials in charge of such things and said, with a wink, a nudge, and a sly smile, "Make it 4:20." With the recently untested Verzbicas again ready to lay it on the line, and with Haile's form deeply in question, the deuce began with almost as much intrigue as the mile.
The pace was rough, though. The rabbit went 63.6, then up to 68.0, then back down to 65.8 and 66.7, all the while with Verzbicas on his tail, Haile doggedly following right behind, and the pack spreading out behind. Only
Graham Bazell
, like Haile a Marylander, was hanging close enough to also be making a sub-9 bid.
Then the hare dropped after four laps and the real Verzbicas-Haile duel began. To the surprise of everyone watching, the Lincoln-Way IL freshman eased up on the accelerator and the pace quickly slowed. Verzbicas was either hurting or not wanting to lead, so after a 71.3, Haile obliged by taking the tempo. The next lap was 70 and even sub-9 began to look daunting.
Most of the field wasn't gaining ground or losing ground to the leaders, but Bazell proved an impressive exception, opportunistically pushing up to join the duo in the penultimate lap. Soloman managed to up the tempo to 67.3, and the trio was nearly together as the bell rung at 7:52.4.
With 300 to go, Verzbicas showed he did have something left after all. He lifted into a strong kick, something he hadn't shown at NIN, and the Maryland duo could not match it. The freshman pushed himself to the tape in 8:53.98, more than two seconds up on Haile (8:56.08) and Bazell (8:56.65). All three set impressive PRs, with Bazell almost 12 seconds clear of 4th (
Dylan Sorenson
IN 9:08.87)
Interestingly, the Maryland duo almost seemed more pleased about their races than Verzbicas. Haile had overcome his allergies, which impeded him at Penn and led to a slow progression outdoors, and Bazell – very up and down since his 9:13 deuce as a soph – seemed to have gotten it together and shown the same magic he did here last year, when he last set a PR.
"It's getting better, getting better," said Haile, a moderately satisfied smile on his face, "but I think I can run at least high 8:40s. I've been training like that."
In fact, he's been training with Bazell, and Walt Whitman MD jr
Andrew Palmer
(10th, 9:19.13). The trio began together after the state meet, using workouts from Haile's coach, Dan Reeks. "We only live 15 minutes apart," said Bazell.
"Here's the thing," the Atholton MD senior, 2nd here last year in 9:04.55, added, "I really wasn't able to start good training at all until three weeks before state. The last six weeks has been the best training I've had in more than a year."
Haile wasn't really interested in taking the tempo in the second mile, but felt he had no other choice. "He didn't want to lead," he said of Verzbicas. "I took it because I didn't want to kill the pace. Then he didn't want to switch (take turns with the lead)."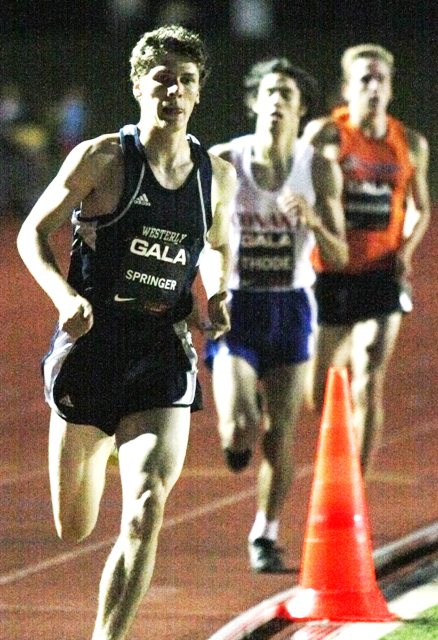 Springer starts to pull away from Thode and McGregor on the 3rd lap. Photo Brandon Gittleman
Meanwhile, Verzbicas was sitting on the other end of the track, icing his legs and already wondering about his daring decision to do the 2-mile/mile double, with the races a scant 40 minutes apart. "I don't know about this," he said with a rueful smile.
Regarding the race just run, he said, "After the mile it became more tactical. If I was alone, I might have kept the pace. But since he was on me, I wanted to have the best chance to win.
"I wanted to run faster, though."
In the mile, however, no one could have any complaints about the pace, or who was leading or not. Interestingly – unlike the Portland Track Festival mile – this race was not hyped as a sub-4:00 attempt. It was set up that way internally, however, with the big dogs wanting that tempo and the meet directors having hired a 40-year-old guy to do the rabbit chores. That 40-year-old, however, was the remarkable and clearly very reliable Kern. While the Portland race went out in 2:04 (but closed very well), Kern knocked out 30-second furlongs, give or take a few tenths, like clockwork. His goal was to hold out as he could for 2-1/2 laps, if he could, and halfway proved to be the point where he knew he had to give it up for them.
With no mistake regarding their intentions, Springer, Thode and Atchoo ran together right behind Kern, looking solid but obviously going as fast as they could go. McGregor chose to hang back a little, putting himself in position to have a "move" at some point later and hoping the others might not have anything to counter.
Kern went through at 59.1, then 1:59.5 before stepping off. Thode and Springer went through (FAT) at 2:00.03 and 2:00.08, Atchoo at 2:00.32, and McGregor at 2:00.89.
Drew Shields
, Callahan, and
Zach Dahleen
were another second-plus back.
Atchoo was the first to fall back, just over 100 meters later, as McGregor passed him into third. Springer moved out on Thode at 1000 and as they came down the home stretch toward the bell (3:01.2), Springer was building a 10 meter lead on Thode, with McGregor another 10 meters back.
The bear jumped on Thode's back at that point, and McGregor zipped ahead of him. But there wasn't any gaining on Springer. With 200 to go, it was clear the Westerly RI senior wasn't going to be caught, but it was a matter how close to 4:00 he could get. He never lost form, but had no acceleration to give, either. Still, his final 440 was a very solid 61.5 and he crossed the tape cleanly before collapsing to the track.
McGregor's rigging up would be gradual, his fuel tank almost on "E" in the last 100. It was Callahan alone that had what could be called a kick, as his first half in 2:02-high proved to be just right for being able to finish hard. His 4:05.20 PR destroyed his previous bests. He had run a 4:15.30 1600 at state three weeks ago that followed his 1:51.22 800 (both winners in Class A). But his mile PR was actually a 4:16.25 here last year. He was due.
"The first half of the race went the way I hoped it would," said Springer. "I was in third most of the first half, which was a good place to be. At 1000, I took the lead and Thode stayed right behind me (at first) … I wanted to get to 1200 as relaxed as I could, then the last 400 it was just anything I had left."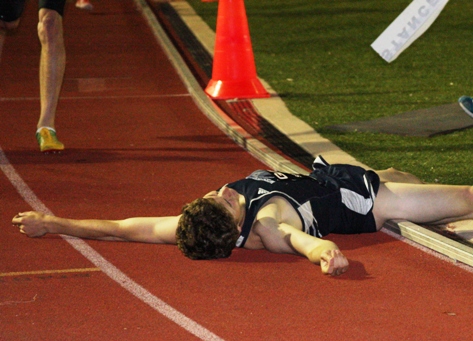 Springer: Moments after finishing. Photo Cassandra Geiger
Springer's recent practices had included 60-second quarters, getting as used to the tempo as he could – and he almost strung four of them together. "I got to the last 200 and saw 3:30 on the clock and just tried to give everything I had. It seemed like my coach was all over the track, yelling for me, and that helped."
The Westerly senior admitted he missed graduation for the meet, but the race was an important component of the way he wanted to end the season. "Since I'm running the 2-mile and DMR at NON, it was the last chance I'd have at a fresh mile. I've only had one other mile outdoors, at Hartford."
While Springer knew how he wanted to feel at different points, and the effort he hoped to distribute, there was hardly any meticulous planning between him and his coach, Ryan Palmer. "We don't do laps and splits," said Palmer. "He runs how he feels."
Maybe no one feels more excited about how the meet went today than Callahan, who has to get the "big breakthrough" of the meet award, if there was one. "It was a huge PR," he said with a big smile, shaking his head as if still not believing it. Chances to race against the big boys are few and far between for Callahan, in Illinois' smallest class. "It was good to come out and show what someone in single 'A' can do," he said.
Callahan was hoping to break 4:10, hopefully by a good chunk. He was hoping to go out in 2:02-03 and trust that since he had run 1:51 that it wouldn't feel that hard. "I told myself I had run more than 10 seconds faster," he said. Since he wasn't hanging right on the rabbit, with sub-4 aspirations, he approached it as "running it like a race (not a time trial). I hoped some of the other guys would start to die off and I would really work the last 600."
While Callahan has planned on running the NON 800, he would – amazingly – be the top seed in the mile if he chose to run it. The three athletes ranked ahead of him now after an amazing night of miling – Springer, Fleet, and Andrews – are all either running the 2-mile or 800 in Greensboro.
It was an interesting thought to end the night, an exciting night where some surpassed what they thought they could do, but where many others – some with good finishes and some not – were brought back to earth. Improving to 4:05 or 4:02 is possible, likely and still thrilling, but sub-4:00 … yes, it's really, really hard.
Highlights
Westerly RI senior

Andrew Springer

was the only one who could come close to continuing the 60-second-per-lap pace the rabbit set through 800, and held on for a US#1 4:02.70 mile. North Shore Country Day IL sr Peter Callahan, with only a 4:15 1600 PR coming in (but also a 1:51 800 PR), finished best behind Springer, passing runners on the last lap for US#4 4:05.20. Hoover AL sr Patrick McGregor, 2nd for most of the last lap until the very end, was 3rd in a PR 4:07.07
Lincoln-Way Central IL frosh

Lucas Verzbicas

, the sensational runner/triathlete who last raced on the track in his astonishing Nike Indoor double, exploded on the final lap to pass Sherwood MA sr Solomon Haile for a US#1 8:53.98-8:56.08 win. Haile, the Foot Locker XC champ, set the indoor US 5k record at NSIC in March only to have Verzbicas take it down that night at NIN. Verzbicas broke the US freshman records for 3k, 3200, and 2M, with 8:20.15, 8:50.70 and his final time. Graham Bazell MD was 3rd in 8:56.65
Butler OH sr Danny Neff won the 800 on the final straight in US#4 1:50.02
Tri-Valley IL sr Stephanie Brown took the mile in US#3 4:50.12
Westfield IN soph Connor Martin took the 2k ST in US#3 6:01.97
---
SteveU's 5 Burning Questions for the Distance Gala

The boys mile is the more hyped here, but the most fascinating questions may be in the deuce

1. What surprises will Lucas Verzbicas have for us?

As good and deep as the mile field is, the greater intrigue lies with the boys 2-mile. First, we consider Verzbicas, who hasn't been seen on a track since he shook up the prep distance running scene – heck, our whole world view – with his amazing 5k/2M double. Since then, it's been back to his triathloning, but there was always a plan to potentially hit the national-level meets again in June – so here we are. This time Lucas will be fresh for the deuce, so one has to wonder how much he might be able to improve from that 8:57 indoors.

2. Which Solomon Haile will we see?

Haile was unbeatable last fall, as has been well-documented. Indoors, namely at NSIC it could be said he looked "good," with a fine national record (though short-lived) in the 5000, then a 9:02 2M. Since then, however, he's had a tough time recapturing the national spotlight. At Penn, he was suffering from allergies in a big 3k loss and since then has not approached 9:00 or any other top-flight national time. Could this be the night he finally breaks 9? Or has his training just been compromised too much to chase Verzbicas when he makes his move?

4. What will be the girls highlight be?

It looks like it will be shaping up as the mile battle between Stephanie Brown and Lizzy Hynes. Brown has become a veteran of national class races this year, is the owner several 800 times in the 2:08 range, and has been knocking at the door of 4:50. She was a triple winner at the IL Class A meet. Hynes was 3rd at state in AAA in the 1600 at 4:54.13.

5. Can Danny Neff break 1:49?

He was 3rd at the Arcadia mile in 4:09.86 and doubled 1:51.36 and 4:10.57 in his state meet. Now the Butler sr is focusing on just the 800 and going to join the sub-1:50 club.