Texas A&M Int'l Inv
Ivan Garcia nabs title, team gold to Alexander boys & girls
Saturday, Sept. 8, 2007 at Laredo, TX

Results and photos courtesy Benny Rodriguez

Girls: 2-miles
Boys: 3-miles
81 degrees, mostly cloudy, 94% humidity
- Highlights - Girls Results - Boys Results - Photos -

HIGHLIGHTS:
Alexander sr Ivan Garcia, 5th in state 5A in 2006 and bidding for a top-3 finish this year, was the class of the field in 15:47. His freshman teammate, Ryan Elizalde, grabbed silver in 16:17. This 1-2 punch fueled Alexander's team title with 46 points, followed by United South with 55.
Nixon sr Samantha McClure earned girl's individual honors, clocking 12:54. United's Alex Reyes, the winner last week at Laredo, was runner-up in 13:06.
The Alexander girls scored 69 to claim the team title 59, ahead of United with 78.
PHOTOS:
Ivan Garcia, the #3 state 5A returnee, was all alone at the finish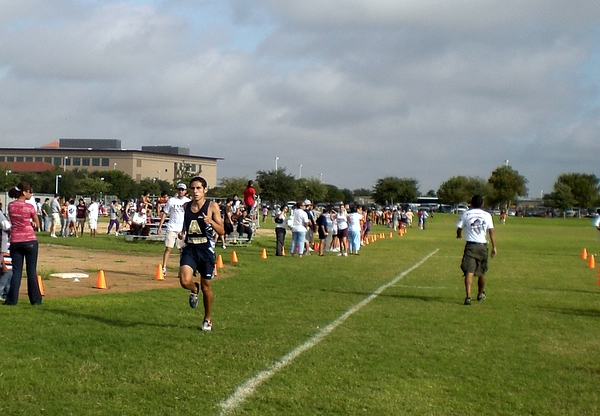 Nixon sr Samantha McClure pushes to the finish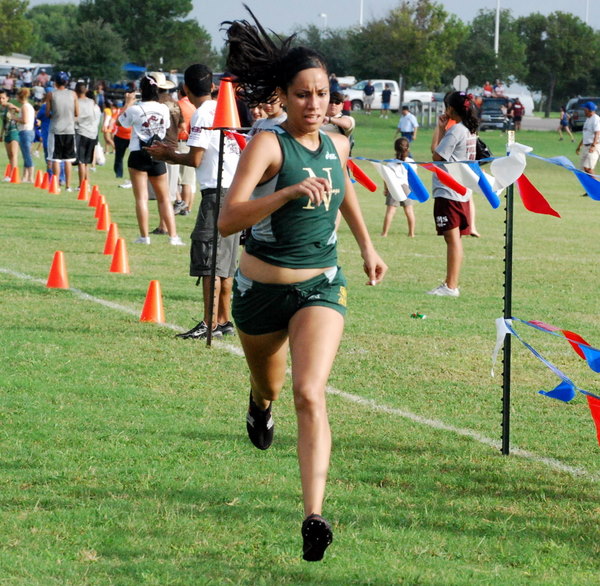 photos courtesy Benny Rodriguez
RESULTS:



BOYS



Individuals:
1. Ivan Garcia				15:47		Alexander
2. Ryan Elizalde			16:17		Alexander
3. Joro Rodriguez			16:33		Eagle Pass
4. Adolfo Gonzalez			16:38		United South
5. Danny Aranda				16:47		Eagle Pass
6. Oscar Ramirez			16:49		CC Winn
7. Charles Dickinson			16:59		Alexander
8. Antenio Romero			17:16		United
9. Jesus Villalobos			17:31		United South
10. Raul Gill				17:33		United South
11. Baldomero Sandoval			17:36		CC Winn
12. Raul Ramirez			17:40		CC Winn
13. Luis Pena				17:45		Nixon
14. Jose Gutierrez			17:59		United South
15. Danny Trevino			18:00		LB Johnson
16. Michael Rocha			18:03		Alexander
17. Max Ramirez				18:05		LB Johnson
18. Juan Bautista			18:09		United South
19. Allan Navarro			18:11		United
20. Danny Martinez			18:15		Alexander
21. Raul Diego				18:19		Eagle Pass
22. Michael Sanchez			18:27		United
23. Joaquin Hernandez			18:33		United
24. Diego Mascorro			18:34		Alexander
25. Alfredo Cabrera			18:37		CC Winn
26. Abraham Hernandez			18:39		Nixon
27. Mario Castillo			18:39		United
28. Juan Chavarria			18:41		CC Winn
29. Marcero Flores			18:44		Eagle Pass
30. Leo Villavicenccio			18:46		Nixon
31. Mario Vasquez			18:51		Eagle Pass
32. Robert Aguilar			18:55		United
33. Alex Flores				18:57		Eagle Pass
34. Yeshua Garcia			19:03		Eagle Pass
35. Willie Collins			19:08		Alexander
36. Niro Soliz				19:17		Nixon
37. Danny Valvan			19:21		LB Johnson
38. Jose Garcia				19:29		Martin
39. David Pena				19:32		United South
40. Matthew Ruiz			19:38		United
41. Avi Banon				19:46		LB Johnson
42. Verry Gaitan			19:56		LB Johnson
43. Jose Espinoza			20:02		Nixon
44. Jesus Hernandez			20:04		Cigarroa
45. Felipe Gaytan			20:11		Martin
46. Juan Solis				20:15		Martin
47. Daniel Gonzalez			20:40		Martin
48. Ismael Salinde			20:45		Cigarroa
49. Ouro Ramos				20:53		St Augustine
50. Sergio Armenta			20:55		Martin
51. Tomas Cruz				20:59		CC Winn
52. Rafael Esparza			21:23		Cigarroa
53. Noe Reyna				21:55		Cigarroa
54. Luis Covarrubias			22:14		LB Johnson
55. Patrick Gentry			22:35		St Augustine
56. Eduardo Ramirez			22:43		Cigarroa
57. Stephen Casso			23:18		St Augustine
58. Gerry unknown			24:27:00	St Augustine
59. Chris Kreamer			25:50:00	St Augustine
60. Phillip Balli			26:23:00	Nixon
61. Jesus Velasquez			NO TIME		CC Winn

Team Totals:								
1. Alexander		46				
2. United South 	55				
3. CC Winn		82				
4. Eagle Pass		89				
5. United		99				
6. Nixon		148				
7. Lyndon B. Johnson	152				
8. Martin		226				
9. Cigarroa		253				
10. St. Augustine	278




GIRLS



Individuals:
1. Samantha McClure			12:54		Nixon
2. Alex Reyes				13:06		United
3. Amanda Salinas			13:12		Alexander
4. Gloria Luna				13:14		United South
5. Blanca Ramirez			13:16		United
6. Ana Herrera				13:18		LB Johnson
7. Heidi Young				13:18.9		Cigarroa
8. April Lozoya				13:19		Nixon
9. Christina Bruno			13:25		Eagle Pass
10. Zaida Olvera			13:27		Eagle Pass
11. Claudia Collins			13:36		Alexander
12. Thelma Garcia			13:37		Alexander
13. Bianca Moncivais			13:39		Eagle Pass
14. Selina Salazar			13:47		United
15. Yesenia Villalobos			13:50		LB Johnson
16. Genesis Ramirez			13:50.8		Laredo
17. Melissa Leos			13:53		Alexander
18. Carissa Gutierrez			13:59		Alexander
19. Esmer Solano			14:16		Alexander
20. No Name				14:18		Alexander
21. Nineve Montoya			14:27		LB Johnson
22. Gloria Ibarra			14:36		Nixon
23. Samantha Rodriguez			14:38		United
24. Priscilla Leyva			14:46		Nixon
25. Ana Sanchez				14:53		Eagle Pass
26. Nicole Barrientos			15:06		Eagle Pass
27. Yesenia Vargas			15:10		LB Johnson
28. Mari Carreon			15:15		LB Johnson
29. Linda Rubio				15:18		Nixon
30. Ivette Ramirez			15:18.5		Nixon
31. Brittany Tovar			15:21		United South
32. Irene Vielma			15:23		CC Winn
33. Liz Villancenio			15:27		Cigarroa
34. Nancy Vergara			15:29		United
35. Diana Ovideo			15:44		United South
36. Gaby Robles				15:48		United South
37. Erika Gonzalez			15:48.7		United South
38. Patricia Garcia			16:06		Nixon
39. Magalie Goria-Pletsch		16:08		St Augustine
40. Stephanie Sepulveda			16:32		Cigarroa
41. Denise Montano			16:56		Cigarroa
42. KC Cardenas				17:02		Martin
43. Stephanie Ruiz			17:12		United South
44. Delia Chapa				17:42		Martin
45. Bertha Ortega			no time		St Augustine

Team Totals:								
1. Alexander		59
2. United		78
3. Eagle Pass		83
4. Nixon		84
5. Lyndon B Johnson	97
6. United South		143


South Region Index