Mayde Creek Puma/Finish Strong Invite
SO#6 Cinco Ranch girls, SO#5 Mayde Creek boys strike gold
Saturday, Sept. 8, 2007 at Bear Creek Park, Houston, TX
Girls: 2-miles
Boys: 3.02 miles
Course is flat, grass and many muddy areas
80 degrees, fair skies, 90% humidity
- Highlights - Girls Results - Boys Results - Photos - More Photos -

HIGHLIGHTS:
Alvin sr

Brittainy Robertson

, the #3 TX 5A and #10 Foot Locker South returnee, posted a fine 11:58.4 effort in wet & muddy conditions. Earning silver was Langham Creek sr Nicole Peters, the #4 TX 5A returnee, in 12:07.5.

Brittainy Robertson said:


I felt pretty good, but it was muddy and nasty. This is my first time on this course.
I took the lead just after the 800. Then my coach started yelling at the mile, so I took off.
Q: You're the 15th Foot Locker South returnee (25th place). Where are you this year compared to last?
A: This year is a blessing. I had a stress fracture last year and missed 2-1/2 months. This year, I ran 50 miles a week all summer.
I've verbally committed to Texas A&M.

SO#6 Cinco Ranch girls won a tight duel with A&M Consolidated, 56 (5-8-9-10-24) to 59 (3-6-14-17-19), followed by College Park with 73 and Memorial with 77.
Strake Jesuit jr James Webb had a fine final mile, taking boys honors in 16:08.7. Mayde Creek jr Collin Durham (16:11.7) nipped sr teammate Daniel Balbontin (16:12.1) for the silver, leading SO#5 Mayde Creek to the title with 69 points. Strake Jesuit was the team runner-up with 78 (1-8-12-22-35), while SO#4 Cedar Park rested its top 5, but displayed great team depth by grabbing 2nd with 78 points (9-15-18-20-23). College Park was 4th with 99 and Memorial 5th with 101.

James Webb said:


I heard it was going to be muddy, but not that muddy
I took the lead about 1.5 miles, but only pulled away in the last 800. He (Cinco Ranch's Daniel Balbontin who ended up 3rd) was a good competitor
My splits were 5:08 and 10:29.
Photos:
Strake Jesuit jr James Webb, 1st

Mayde Creek jr Collin Durham, 2nd





Alvin sr Brittainy Robertson, 1st



Langham Creek sr Nicole Peters, 2nd



Individual photos courtesy Lance Phegley/RaceShots.net
SO#5 Mayde Creek boys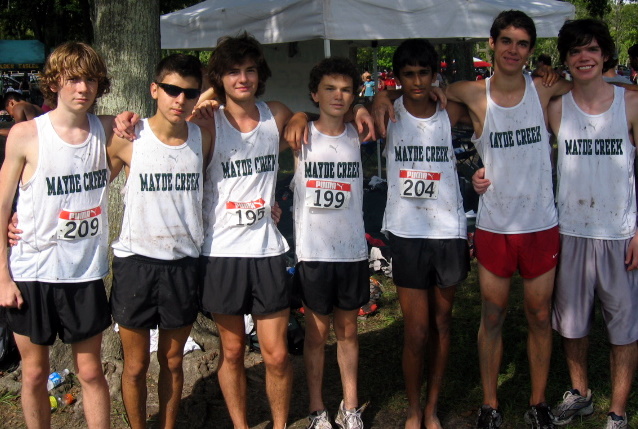 SO#6 Cinco Ranch girls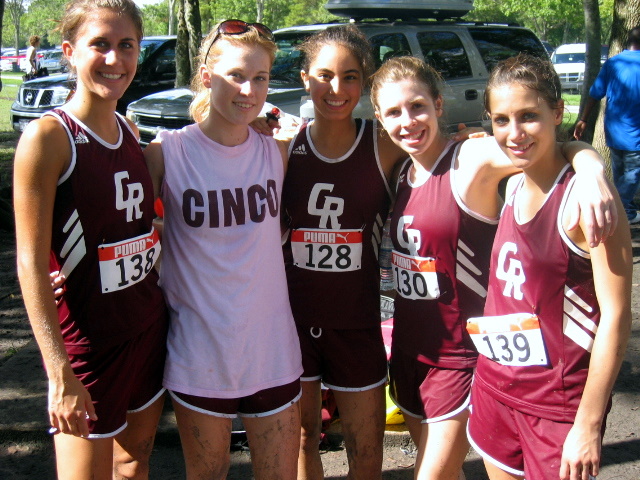 Team photos by John Sullivan




-

LINK to

More photos


RESULTS:



GIRLS


Team Scores:
1.   56 Cinco Ranch - 5 8 9 10 24 27 31
2.   59 A&M Consolidated - 3 6 14 17 19 20 63
3.   73 College Park - 7 11 12 13 30 48
4.   77 Memorial - 2 4 16 26 29 33 72
5.  135 Cy-Fair - 21 23 25 32 34 37 53
6.  189 Kinkaid - 18 35 40 46 50 52 92
7.  223 Cy-Falls - 15 28 59 60 61 71 75
8.  256 Elsik - 39 42 49 62 64 110
9.  268 Kempner - 38 44 45 58 83 105
10. 300 Ft Bend Austin - 22 43 76 78 81 93 107
11. 302 Taylor - 47 56 65 66 68 70 79
12. 311 Langham Creek - 1 51 74 85 100 102 106
13. 315 Katy - 36 55 57 80 87 91
14. 334 Mayde Creek - 41 54 73 82 84 96 98
15. 408 Morton Ranch - 67 69 88 89 95 97
16. 487 Westside - 90 94 99 101 103 104
17. 496 Incarnate Word Academy - 77 86 108 111 114
18. 571 Hastings - 109 112 115 116 119
19. 589 YES Prep - 113 117 118 120 121

Individuals:
Pl TmPl  Athlete            Year Team          Time 
1    -   Brittainy Robertson  12 Alvin         11:58.4
2    1   Nicole Peters        12 Langham Creek 12:07.5
3    2   Elizabeth Gilbert    10 Memorial      12:10.8
4    3   Sally Hays           10 A&M Consol    12:23.5
5    4   Helene Delone        12 Memorial      12:25.4
6    5   Alyse Goldsmith      11 Cinco Ranch   12:26.7
7    6   Jordan Bettiol        9 A&M Consol    12:29.3
8    7   Elizabeth Schultz    10 College Park  12:30.2
9    8   Kristen Stone        11 Cinco Ranch   12:34.8
10   9   Alex Bullard         12 Cinco Ranch   12:37.3
11   10  Alli Keithan         12 Cinco Ranch   12:38.4
12   11  McKenze Neal         10 College Park  12:40.4
13   12  Kate Hatley          12 College Park  12:47.4
14   13  Emily Jensen          9 College Park  12:49.9
15   14  Keri Wood            11 A&M Consol    12:52.6
16   15  Monica Longoria         Cy-Falls      12:56.4
17   16  Ariel Krause         12 Memorial      12:59.7
18   17  Katy Williams        10 A&M Consol    13:01.0
19   18  Ginny Simon          12 Kinkaid       13:01.8
20   19  Morgan Hartmann      11 A&M Consol    13:02.3
21   20  Kenda Carroll        12 A&M Consol    13:02.8
22   21  Brandy Smith            Cy-Fair       13:05.5
23   22  Caylin Howell        12 FB Austin    13:07.9
24   23  Lauren Trapani          Cy-Fair       13:10.4
25   24  Mallory Ramsey       11 Cinco Ranch   13:13.8
26   25  Jennifer Rembach        Cy-Fair       13:15.5
27   26  Sarah Houser         12 Memorial      13:16.7
28   27  Grace Howard         12 Cinco Ranch   13:17.7
29   28  Jordan Hopper           Cy-Falls      13:18.7
30   29  Shelly Ostrofsky     12 Memorial      13:19.5
31   30  Erin Beckman         12 College Park  13:21.9
32   -   Sara Collazos        12 Cy-Ridge      13:25.8
33   31  Itzel Cetina         11 Cinco Ranch   13:28.1
34   32  Cristen Garcia          Cy-Fair       13:28.3
35   33  Molly Hicks          12 Memorial      13:32.9
36   34  Amanda Jenkins          Cy-Fair       13:34.5
37   35  Rachel Rosenthal     11 Kinkaid       13:35.1
38   36  Amanda Mikeska       12 Katy          13:48.7
39   37  Kerrie Alford           Cy-Fair       13:49.9
40   38  Zelda Abadorn        12 Kempner       13:53.4
41   39  Jolan Holloway       11 Elsik         13:56.0
42   40  Jessica Rosenthal    11 Kinkaid       13:57.2
43   41  Isabel Balbontin     10 Mayde Creek   13:59.8
44   42  Ashley Tran          12 Elsik         14:00.4
45   43  Amelia Foley         12 FB Austin     14:01.3
46   44  Hiba Kreidie         10 Kempner       14:02.2
47   45  Katherine Toy        11 Kempner       14:02.9
48   46  Lilian Nwora         11 Kinkaid       14:03.3
49   47  Chelsea Eaton           Taylor        14:03.8
50   48  Lauren Scwartzenburg 12 College Park  14:07.0
51   49  Audrey Eber          12 Elsik         14:07.6
52   50  Madeline Schlesinger 11 Kinkaid       14:08.0
53   51  Michell Brito        12 Langham Creek 14:10.0
54   52  Ilana Leuchtag       11 Kinkaid       14:10.9
55   53  Rachel Wood             Cy-Fair       14:11.7
56   54  Christal Campos      11 Mayde Creek   14:12.4
57   55  Darian Marceaux      10 Katy          14:13.9
58   -   Jenny Devany            Stratford     14:14.0
59   56  Amber Kuzma             Taylor        14:17.1
60   57  Christina Hanson     10 Katy          14:19.0
61   58  Briana Gifford       10 Kempner       14:19.4
62   59  Kylie Held              Cy-Falls      14:23.4
63   60  Claire Hunter           Cy-Falls      14:26.3
64   61  Alyssa Crocker          Cy-Falls      14:27.7
65   62  Beheirra Reed        10 Elsik         14:28.3
66   63  Lyndsey Berry           A&M Consol    14:28.9
67   64  Luisa Tellez          9 Elsik         14:31.0
68   65  Rachel Murray           Taylor        14:34.1
69   66  Kelsey Fay              Taylor        14:36.0
70   67  Kalen Burrell           Morton Ranch  14:36.6
71   68  Hillary Walker          Taylor        14:36.9
72   69  Stephanie Diaz          Morton Ranch  14:37.9
73   70  Katie Karlovitz         Taylor        14:40.8
74   71  Monsterratt Topete      Cy-Falls      14:41.7
75   72  Kelly Ostrofsky      12 Memorial      14:43.2
76   73  Lauren Shedd            Mayde Creek   14:45.7
77   74  Brooke Curtis        11 Langham Creek 14:47.2
78   75  Lauren Mckenna          Cy-Falls      14:48.8
79   -   Lillis Hendrickson      Stratford     14:49.9
80   76  Casey Carswell       10 FB Austin     14:50.3
81   -   Joy Lindig              Stratford     14:50.9
82   77  Ashley De La Torre   11 Incarnate     14:51.6
83   78  Michelle Carpenter    9 FB Austin     14:52.0
84   79  Virginia Braly          Taylor        14:53.5
85   80  Sarah Kelley         12 Katy          14:54.7
86   -   Brandi Martin        10 Cy-Ridge      14:55.5
87   81  Kelsi Sherman        11 FB Austin     14:58.9
88   82  Laura Perez          10 Mayde Creek   14:59.3
89   83  Gina Keidel          11 Kempner       14:59.7
90   -   Amanda Nelson        11 Cy-Ridge      15:01.4
91   84  Stephanie Reed       12 Mayde Creek   15:04.5
92   85  Ashton Davis         11 Langham Creek 15:05.7
93   86  Sarah Maters         11 Incarnate     15:13.0
94   87  Lindsey Edwards      11 Katy          15:17.1
95   88  Nicolette Lerro         Morton Ranch  15:17.8
96   89  Theresa Prudhomme       Morton Ranch  15:18.7
97   90  Erin Solomon         12 Westside      15:31.0
98   91  Rachel Romanoski     12 Katy          15:33.5
99   92  Rachel Zummo         11 Kinkaid       15:39.6
100  93  Fabiana Cirino       10 FB Austin     15:41.0
101  94  Money Turner         11 Westside      15:44.1
102  95  Jacquelyn Johnson       Morton Ranch  15:46.5
103  -   Erica Perez           9 Cy-Ridge      15:47.7
104  96  Grace Messenger      12 Mayde Creek   15:48.2
105  97  Courtney Armstrong      Morton Ranch  15:50.8
106  98  Nadia Khan           12 Mayde Creek   15:54.2
107  -   Amy Glezon           10 SpringWood    15:55.5
108  99  Aisha Osagie         12 Westside      15:59.5
109  100 Nicole Tran          10 Langham Creek 16:08.7
110  101 Camila Cossio        11 Westside      16:13.9
111  102 Jahmilah Tyson       12 Langham Creek 16:17.1
112  103 Lauren Reese         11 Westside      16:17.7
113  104 Chelsea Jackson      11 Westside      16:22.6
114  -   Heather Nelson          Stratford     16:39.4
115  105 Lisette Bogdan       12 Kempner       16:40.9
116  106 Elizabeth Rodriguez   9 Langham Creek 16:41.4
117  107 Maria Mora           12 FB Austin     17:07.0
118  108 Jada Davis           10 Incarnate     17:17.9
119  -   Rebekah Hamilton        Texas City    17:18.3
120  -   Mayra Sanchez        11 Northbrook    17:38.4
121  109 Jessica Roberts      11 Hastings      17:50.0
122  110 Karen Orta           11 Elsik         18:25.4
123  111 Allison Schimelpfening 11 Incarnate   18:36.5
124  112 Lakeyshea Simon      11 Hastings      18:38.5
125  113 Metzli Rivera        10 YES Prep      18:47.8
126  -   Nubia Loera          12 Northbrook    18:50.6
127  114 Amanda Gutierrez     11 Incarnate     19:18.5
128  115 Autumn Harris        12 Hastings      19:53.4
129  116 Stephanie Zelaya     12 Hastings      20:16.6
130  117 Megan Medina         12 YES Prep      20:44.9
131  118 Gabby Flores          9 YES Prep      23:02.7
132  119 Jackie Mosquera      12 Hastings      23:23.2
133  120 Claudia Rodriguez    11 YES Prep      25:09.8
134  121 Monica Oliveros      11 YES Prep      25:13.4




BOYS


Team Scores:
1.   69 Mayde Creek - 2 3 6 14 44 45 56
2.   78 Strake Jesuit - 1 8 12 22 35 39 66
3.   85 Cedar Park - 9 15 18 20 23 26
4.   99 College Park - 5 10 24 27 33 38 46
5.  101 Memorial - 11 16 17 21 36 40 49
6.  180 Kempner - 13 28 29 42 68 103 105
7.  212 Taylor - 4 7 51 73 77 92 97
8.  233 Westside - 30 37 43 61 62
9.  256 Stratford - 19 48 54 63 72 86
10. 257 Cy-Fair - 31 32 58 67 69 88 99
11. 338 Cy-Falls - 50 53 60 80 95 111 113
12. 340 Morton Ranch - 34 41 75 89 101 115 123
13. 374 St. Thomas - 25 74 78 90 107 112 114
14. 386 YES Prep - 47 64 82 85 108 117
15. 386 Clear Brook - 55 59 76 96 100 109
16. 408 Spring Woods - 52 83 84 87 102 121
17. 429 Langham Creek - 70 81 91 93 94 98 116
18. 443 Ft Bend Austin - 57 65 79 120 122
19. 509 Katy - 71 104 106 110 118 119

Individuals:
Pl TmPl  Athlete         Year  Team          Time 
1    1   James Webb        11  Strake        16:08.7
2    2   Collin Durham     11 Mayde Creek    16:11.7
3    3   Daniel Balbontin  12 Mayde Creek    16:12.1
4    4   Austin Bussing       Taylor         16:17.2
5    5   Ernest Puckett    12 College Park   16:27.1
6    6   Eric Doll         12 Mayde Creek    16:32.8
7    7   Matt Rovegno         Taylor         16:33.9
8    8   Will Herrington   12 Strake         16:34.9
9    9   David Galvin      10 Cedar Park     16:38.9
10  10   Douglas Woodcock  11 College Park   16:41.1
11  11   William Groesbeck 10 Memorial       16:43.2
12  12   Greg York         12 Strake         16:43.9
13  13   Shalin Dalal      12 Kempner        16:44.3
14  14   Julian Duarte     11 Mayde Creek    16:45.2
15  15   Brandon Wilkinson 10 Cedar Park     16:46.5
16  16   Reggie Buford     11 Memorial       16:47.9
17  17   Scott Hyde        12 Memorial       16:57.8
18  18   Sean O'Neil       11 Cedar Park     17:01.0
19  -    David Ngyuen         Alvin          17:01.3
20  19   Marshall Holland  10 Stratford      17:02.7
21  20   Austin Geerts     10 Cedar Park     17:03.0
22  21   John Christie     11 Memorial       17:07.5
23  22   Colin Roach       12 Strake         17:15.2
24  23   Henry Sekimotto   10 Cedar Park     17:15.8
25  24   Jon Willhite      10 College Park   17:22.7
26  25   Zane Hill         12 St Thomas      17:24.5
27  26   Garrett Krohn     12 Cedar Park     17:27.7
28  27   Cody Foster       11 College Park   17:28.7
29  28   David Koistinen   10 Kempner        17:29.0
30  29   Matt Cortez       12 Kempner        17:31.1
31  30   Bernardo Vargas   11 Westside       17:33.2
32  31   Derek Martinez       Cy-Fair        17:33.5
33  32   Alan Czepinski       Cy-Fair        17:35.4
34  33   Chris Vitucci     12 College Park   17:36.1
35  34   Alex Soto            Morton Ranch   17:37.8
36  35   James Collins     10 Strake         17:38.4
37  36   Bernard Vonderhaar 11 Memorial      17:38.9
38  37   Kendrick Thompson 12 Westside       17:39.2
39  38   Michael Janousek  11 College Park   17:39.5
40  39   Jack Brentin      11 Strake         17:40.0
41  40   Joshua Cunningham 11 Memorial       17:46.5
42  41   Cole Marinko         Morton Ranch   17:48.9
43  42   Errol Hampton     12 Kempner        17:52.2
44  43   Gabe Cossio       10 Westside       17:52.9
45  44   Nick Dalheim      10 Mayde Creek    17:54.0
46  45   Will Weaver       10 Mayde Creek    17:54.9
47  46   Andrew Jolibois   11 College Park   17:57.7
48  -    Isacc Perez          Elsik          18:00.0
49  47   Ernest Perez      12 YES Prep       18:00.8
50  48   Ben Thomas        11 Stratford      18:01.4
51  -    Ian Herbert       12 Kinkaid        18:01.6
52  49   Cody Blazek       11 Memorial       18:02.3
53  50   Mark Pereida      11 Cy-Falls       18:03.1
54  -    Pete Lopez        12 CyRidge        18:08.6
55  51   Max Miller           Taylor         18:09.9
56  52   Jose Razo         12 SpringWood     18:10.3
57  53   Brennym Kaelin     9 Cy-Falls       18:11.5
58  54   A.J. Menniti      11 Stratford      18:13.1
59  55   Tim Willard       11 Clear Brook    18:14.3
60  56   Sorang Joshi      10 Mayde Creek    18:15.6
61  57   Jamie Chapman     11 FB Austin      18:23.5
62  58   Mark Cunningham      Cy-Fair        18:28.3
63  59   Aaron DeLa Cruz   10 Clear Brook    18:28.9
64  -    Hector Perez         Texas City     18:29.5
65  60   Coby Williams     11 Cy-Falls       18:29.8
66  61   John Rushing      11 Westside       18:31.5
67  62   Mehdi Ranaiefar   10 Westside       18:34.3
68  63   Alex Suchman      10 Stratford      18:34.7
69  64   Yoshimatts Rivera 12 YES Prep       18:35.6
70  65   Omar Raad         11 FB Austin      18:37.6
71  66   Alex Jefferies       Strake         18:37.9
72  67   Mark Hume            Cy-Fair        18:38.3
73  68   Shanup Dalal      12 Kempner        18:39.5
74  69   Chris Zysk           Cy-Fair        18:39.9
75  -    David Villegas       Elsik          18:39.9
76  70   Sean Franks       11 Langham Creek  18:41.5
77  71   Jon Olmos         11 Katy           18:42.2
78  72   Sean Stuart       12 Stratford      18:43.5
79  73   Kevin McLean         Taylor         18:45.2
80  74   Brennan Harmeier  12 St Thomas      18:45.8
81  75   Jose Gomez           Morton Ranch   18:48.6
82  -    Matt Hernandez    10 CyRidge        18:52.6
83  76   Cobin Sonny       12 Clear Brook    18:55.6
84  77   Max Mayo             Taylor         18:56.0
85  78   Daniel Hernandez  12 St Thomas      18:59.5
86  -    Matt Venner       11 Kinkaid        19:01.7
87  79   Paul Garcia       10 FB Austin      19:06.7
88  80   Ben Oneil         11 Cy-Falls       19:12.4
89  81   Jordan Sallee     12 Langham Creek  19:13.0
90  82   Vincent Garcia    12 YES Prep       19:13.4
91  83   Jose Castillo     12 SpringWood     19:14.9
92  84   Omar Bahena       10 SpringWood     19:16.3
93  85   Steven Perez      10 YES Prep       19:16.9
94  -    Josh Carr         12 Alvin          19:19.0
95  86   Hunter Spence     12 Stratford      19:21.3
96  87   Jairo Razo        11 SpringWood     19:27.2
97  -    Matt Johnson      11 Kinkaid        19:43.6
98  88   Evan Key             Cy-Fair        19:45.3
99  89   Jeremy Coronado      Morton Ranch   19:48.9
100 90   Matthew Bench     12 St Thomas      19:49.7
101 91   Mitchell Bennett  11 Langham Creek  19:50.1
102 92   Jonathan Wright      Taylor         19:50.6
103 93   Stephen Brigaitis 12 Langham Creek  19:59.5
104 94   Joel Friedrich    11 Langham Creek  20:00.3
105 95   Julio Infante     10 Cy-Falls       20:02.2
106 96   Max Lukoshek         Clear Brook    20:06.2
107 97   Ben Robinson         Taylor         20:08.2
108 98   Wade Baker        12 Langham Creek  20:10.1
109 99   Philip Anderson      Cy-Fair        20:12.7
110 100  Jeremy Hayes      11 Clear Brook    20:14.2
111 -    Austin Lestage       Elsik          20:22.2
112 101  Santiago Steiner     Morton Ranch   20:22.7
113 102  Adrian Uriostegui 12 SpringWood     20:28.3
114 103  Christian Salazar 12 Kempner        20:30.1
115 104  Daniel Rowe       10 Katy           20:30.8
116 105  Juan Trujillo     12 Kempner        20:41.4
117 -    Daniel Johnson    11 CyRidge        20:42.3
118 106  Alex Kirk         12 Katy           20:46.4
119 107  Ernest Hotze      12 St Thomas      20:48.1
120 -    Brian Ton            Elsik          20:49.1
121 108  Anthony Oritz     11 YES Prep       20:56.5
122 109  Josh Rake         11 Clear Brook    21:08.5
123 110  Dan Butterworth   12 Katy           21:13.2
124 111  Cory Abbate       10 Cy-Falls       21:14.4
125 112  Zachary Kayle     12 St Thomas      21:15.2
126 113  Mike Nicholi      12 Cy-Falls       21:15.7
127 114  Nicholas Yanez    12 St Thomas      21:17.5
128 115  Hopkins Anthony      Morton Ranch   21:36.8
129 116  Zach Meyer        10 Langham Creek  21:40.2
130 117  Alonzo Zavala     12 YES Prep       21:51.0
131 118  Chris Hensley     12 Katy           22:12.6
132 119  Jay Patel         11 Katy           22:19.5
133 -    John Galvan          Texas City     22:28.9
134 -    D'Von Correla Depina   Texas City   22:42.5
135 -    Vince Delgado     12 CyRidge        22:59.3
136 120  Clay Howell        9 FB Austin      23:01.2
137 121  Eric Valles       12 SpringWood     23:46.7
138 122  Ronnie Jowell     11 FB Austin      23:46.7
139 123  Chris Wickman        Morton Ranch   23:46.7


South Region Index