Girls: 3200 meters
Boys: 5000 meters
67 degrees, fair skies, 81% humidity
- Highlights - Girls Results - Boys Results -
Highlights:
SO#1/US#8 Keller girls haven't traveled outside the Dallas-area, so SO#4 Kingwood decided to venture north from the Houston-area. At Keller's home turf invite, it was more of a dual meet with Keller scoring 25 (2-3-5-6-9), ahead of Kingwood's 33 (1-4-7-10-11).
The girls start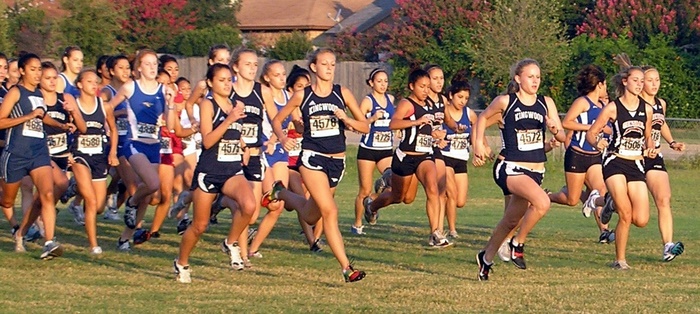 Kingwood sr Kristen Hanselka, the 5A state #5 returnee, captured her 3rd straight invite this season, clocking 11:25. Keller seniors Kelly Dawson (#10 returnee) and Laleh Mojtabaeezamani (#8) kept it close and led their squad to gold with a 2-3 finish in 11:29 and 11:36.
Kristen Hanselka leads Keller's Laleh M. & Kelly Dawson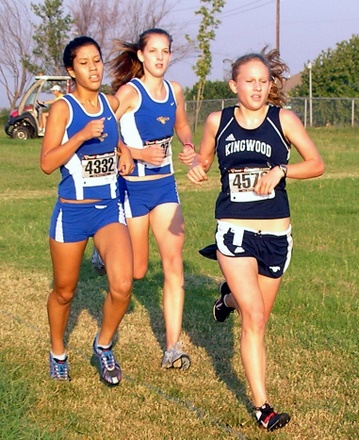 photos courtesy Rudy Hanselka


Keller boys edged local rival Central, 63-64.
Keller Central soph Nathan Parker took individual honors in 17:01. El Paso EL Dorado sr Richard Gay was the runner-up in 17:14.
RESULTS
                       2007 Keller Invitational - 9/22/2007		
                       Keller Indian Springs Middle School		
			
Event 1 Girls 3200 Meter Run CC 5A V Girls		
=======================================================================          
    Name                    Year School                  Finals  Points          
=======================================================================          
  1 Hanselka, Kristen            Kingwood High          11:25.41   1	
  2 Dawson, Kelly                Keller High School     11:29.45   2	
  3 Mojtabaeezamani, Laleh       Keller High School     11:36.35   3	
  4 Quinn, Addie                 Kingwood High          11:40.96   4	
  5 Scott, Chelsea               Keller High School     11:42.21   5	
  6 Vincent, Ashley              Keller High School     11:45.18   6 	
  7 Blake, Sophie                Kingwood High          11:51.60   7	
  8 Smash, Brittaney             Mansfield Summit       11:59.68   8	
  9 Durrwachter, Julie           Keller High School     12:00.85   9	
 10 Munoz, Megan                 Kingwood High          12:04.52  10	
 11 Nicholls, Shelby             Kingwood High          12:06.61  11	
 12 Nicholls, Hailey             Kingwood High          12:10.39  12	
 13 Steup, Rosemary              Kingwood High          12:10.74  13	
 14 Logan, Valerie               Independent            12:18.97	
 15 Gemeny, Victoria             Paschal High School    12:20.48  14	
 16 Boice, Jessica               Independent            12:31.12	
 17 Stam, Ericka                 Central High School    12:33.69  15	
 18 Gutierrez, Lauri             Grand Prairie HS       12:38.37  16	
 19 Sindlinger, Hannah           Independent            12:40.67	
 20 Lopez, Sarah                 El Dorado HS           12:47.17  17	
 21 Aguilar, Toni                Paschal High School    12:54.55 18	
 22 Coleman, Shelby              Mansfield Summit       13:01.10 19	
 23 Sanchez, Isabel              Paschal High School    13:01.28 20	
 24 Reed, Emma                   Keller High School     13:03.08 21	
 25 Miller, Shannon              Keller High School     13:04.32 22	
 26 Engelland, Rachel            Keller High School     13:05.84	
 27 Bell, Julie                  Central High School    13:10.52 23	
 28 Fredde, Andrea               Keller High School     13:12.69	
 29 Ong, Brittni                 Central High School    13:16.43 24	
 30 Willis, Laura                Paschal High School    13:17.48 25	
 31 Rubi, Elizabeth              Central High School    13:23.32 26	
 32 Schorpp, Maleah              Central High School    13:23.69 27	
 33 Hernandez, Yazmin            El Dorado HS           13:38.66 28	
 34 Velasquez, Lucy              Grand Prairie HS       13:41.71 29	
 35 Wilson, Allex                Maypearl High          13:43.37 30	
 36 Renteria, Brissa             El Dorado HS           13:43.70 31	
 37 Salinas, Elizabeth           El Dorado HS           13:44.16 32	
 38 Cleveland, Felicia           Central High School    13:51.91 33	
 39 Ford, Karla                  Maypearl High          13:55.34 34	
 40 Phares, Heather              Mansfield Summit       13:59.57 35	
 41 McDonald, Reagan             Paschal High School    14:02.41 36	
 42 Torres, Marina               Grand Prairie HS       14:04.34 37	
 43 Carranza, Erika              Central High School    14:10.19 38	
 44 Ormstad, Calista             Maypearl High          14:13.20 39	
 45 Encarnacion, Sharubia        El Dorado HS           14:21.21 40	
 46 Polk, Brianna                Dunbar High School     14:25.51 41	
 47 Solis, Leslie                Nimitz High School     14:33.68	
 48 Ramirez, Paulina             El Dorado HS           14:42.38 42	
 49 Castillo, Krystal            Grand Prairie HS       15:01.78 43	
 50 Cantu, Jennifer              Mansfield Summit       15:02.50 44	
 51 Guerrero, Berenice           Mansfield Summit       15:03.77 45	
 52 Vega, Rosaura Nimitz         High School            15:07.87	
 53 Chacon, Kendra               Grand Prairie HS       15:08.73 46	
 54 Cornejo, Lucy                Grand Prairie HS       15:14.15 47	
 55 Pongallo, Katherine          Paschal High School    15:15.41 48	
 56 Ogunmakin, Sade              Mansfield Summit       15:30.25 49	
 57 Horodynske, Ashley           Maypearl High          15:51.10 50	
 58 Davis, Heather               Keller High School     16:20.97	
 59 Marion, Brittany             Maypearl High          16:39.92 51	
 60 Casas, Alejandrina           Dunbar High School     17:00.41 52	
 61 Stevens, Jodie               Maypearl High          17:17.85 53	
 62 Harris, Aaryionna            Dunbar High School     17:47.47 54	
 63 Wilson, Denecia              Dunbar High School     18:48.00 55	
 64 Mouton, Bianca               Dunbar High School     18:48.00 56	


                                   Team Scores                                   
=================================================================================
Rank Team                      Total    1    2    3    4    5   *6   *7   *8   *9
=================================================================================
   1 Keller High School           25    2    3    5    6    9   21   22	
      Total Time: 58:34.04	
         Average: 11:42.81	
   2 Kingwood High School         33    1    4    7   10   11   12   13	
      Total Time: 59:09.10	
         Average: 11:49.82	
   3 Paschal High School         113   14   18   20   25   36   48	
      Total Time: 1:05:36.20	
         Average: 13:07.24	
   4 Central High School         115   15   23   24   26   27   33   38	
      Total Time: 1:05:47.65	
         Average: 13:09.53	
   5 El Dorado High School       148   17   28   31   32   40   42	
      Total Time: 1:08:14.90	
         Average: 13:38.98	
   6 Mansfield Summit High Sch   151    8   19   35   44   45   49	
      Total Time: 1:09:06.62	
         Average: 13:49.33	
   7 Grand Prairie High School   171   16   29   37   43   46   47	
      Total Time: 1:10:34.93	 
         Average: 14:06.99	
   8 Maypearl High School        204   30   34   39   50   51   53	
      Total Time: 1:14:22.93	
         Average: 14:52.59	
   9 Dunbar High School          258   41   52   54   55   56	
      Total Time: 1:26:49.39	
         Average: 17:21.88	


Event 2 Boys 5k Run CC 5A V Boys 
=======================================================================          
    Name                    Year School                  Finals  Points          
=======================================================================          
  1 Parker, Nathan               Central High School    17:01.46   1 
  2 Gay, Richard                 El Dorado HS           17:14.52   2 
  3 Montou, Eric                 Central High School    17:25.89   3 
  4 Garcia, Ramiro               North Side High        17:38.30   4 
  5 Raya, Ruben                  North Side High        17:40.13   5 
  6 Talavera, Robert             El Dorado HS           17:42.89   6 
  7 Smith, Ryan                  Keller High School     17:49.35   7 
  8 Blake, Matt                  Paschal High School    17:52.60   8 
  9 Rector, Austin               Keller High School     17:57.76   9 
 10 Smith, Marquis               Everman High School    17:59.56 
 11 Garcia, Gilberto             Grand Prairie HS       18:06.51  10 
 12 Paul, Justin                 Central High School    18:12.10  11 
 13 Alba, Antonio                North Side High        18:14.59  12 
 14 Barron, Anthony              El Dorado HS           18:16.78  13 
 15 Thompson, Pat                Keller High School     18:20.34  14 
 16 Cadena, Angel                El Dorado HS           18:30.19  15 
 17 Kuhlman, Ryan                Keller High School     18:32.29  16 
 18 Piersall, Ryan               Keller High School     18:42.52  17 
 19 Gramillo, Bruce              Grand Prairie HS       18:46.38  18 
 20 Garcia, JJ                   Paschal High School    18:47.65  19 
 21 Moreau, Zachary              Maypearl High          18:56.19  20 
 22 Zuniga, Misael               Grand Prairie HS       18:59.39  21 
 23 Medina, Ulysses              Nimitz High School     18:59.60  22 
 24 Everitt, David               Central High School    19:02.23  23 
 25 Avila, Juan                  Nimitz High School     19:06.46  24 
 26 Cirsafulli, Andrew           Mansfield Summit       19:07.11  25 
 27 Johnson, Will                Central High School    19:11.91  26 
 28 Cunningham, Teddy            Paschal High School    19:12.68  27 
 29 Espinoza, Noe                North Side High        19:20.67  28 
 30 Rodarte, Aaron               Nimitz High School     19:24.10  29 
 31 Berger, Nic                  Paschal High School    19:24.87  30 
 32 Huizar, Luis                 North Side High        19:27.54  31 
 33 Kimp, Alex                   Central High School    19:30.86  32 
 34 Krolick, Ryan                Keller High School     19:33.51  33 
 35 Towers, Brandon              Keller High School     19:34.32  34 
 36 Hernandez, Jose              North Side High        19:35.94  35 
 37 Garibaldi, Lorenzo           Grand Prairie HS       19:37.01  36 
 38 Nallanathan, Shan            Mansfield Summit       19:39.45  37 
 39 Schiefer, Alex               Maypearl High          19:57.03  38 
 40 Ching, Stephen               Central High School    20:00.60  39 
 41 Greenwood, James             Mansfield Summit       20:02.38  40 
 42 Shimp, Geoff                 Mansfield Summit       20:19.08  41 
 43 Carrera, Scott               Nimitz High School     20:25.65  42 
 44 Norris, Matt                 Paschal High School    20:35.87  43 
 45 Candelaria, Daniel           El Dorado HS           20:44.39  44 
 46 Romero, Jorge                Paschal High School    20:45.26  45 
 47 Mathers, Garret              Maypearl High          20:46.23  46 
 48 Barr, Seth                   Paschal High School    21:01.34  47 
 49 Nguyen, Huy                  Mansfield Summit       21:01.59  48 
 50 Barrales, Jorge              Nimitz High School     21:20.86  49 
 51 Medina, Ariel                Nimitz High School     21:23.90  50 
 52 Brione, Michael              Mansfield Summit       21:33.29  51 
 53 Molina, Nick                 Grand Prairie HS       21:34.01  52 
 54 Pipes, Andy                  Maypearl High          22:14.48  53 
 55 Hernandez, Arturo            Grand Prairie HS       22:43.83  54 
 56 Patterson, Riley             Paschal High School    22:59.53 
 57 Harrell, Brandon             Maypearl High          23:12.91  55 
 58 Antwine, Dan                 Maypearl High          23:50.52  56 
 59 Hailemarian,, Merhowi        Nimitz High School     24:40.57  57 
 60 Steed, Colton                Maypearl High          24:48.48  58 

                                   Team Scores                                   
=================================================================================
Rank Team                      Total    1    2    3    4    5   *6   *7   *8   *9
=================================================================================
   1 Keller High School           63    7    9   14   16   17   33   34 
      Total Time: 1:31:22.26 
         Average: 18:16.46 
   2 Central High School          64    1    3   11   23   26   32   39 
      Total Time: 1:30:53.59 
         Average: 18:10.72 
   3 North Side High School       80    4    5   12   28   31   35 
      Total Time: 1:32:21.23 
         Average: 18:28.25 
   4 El Dorado High School        80    2    6   13   15   44 
      Total Time: 1:32:28.77 
        Average: 18:29.76 
   5 Paschal High School         127    8   19   27   30   43   45   47 
      Total Time: 1:35:53.67 
         Average: 19:10.74 
   6 Grand Prairie High School   137   10   18   21   36   52   54 
      Total Time: 1:37:03.30 
         Average: 19:24.66 
   7 Nimitz High School          166   22   24   29   42   49   50   57 
      Total Time: 1:39:16.67 
         Average: 19:51.34 
   8 Mansfield Summit High Sch   191   25   37   40   41   48   51 
      Total Time: 1:40:09.61 
         Average: 20:01.93 
   9 Maypearl High School        212   20   38   46   53   55   56   58 
      Total Time: 1:45:06.84 
         Average: 21:01.37


SOUTH REGION INDEX