Humble Invite





Seven Lakes boys over SO#6 Cinco Ranch & SO#5 Kingwood





Saturday, Sept. 15, 2007 at North Harris College, Houston TX



DyeStat onsite with John Sullivan, South Region Editor





Girls: 3200 meters
Boys: 5000 meters
Course is fast, flat, all grass
78 degrees, partly cloudy, 80% humidity

- Highlights - Race Report - Photos -
- Girls Division I Results - Boys Division I Results - Girls Div II Results - Boys Div II Results -

- Prior Years on DyeStat: 2006 - 2005 -
HIGHLIGHTS:
Seven Lakes

boys, ranked #1 in TX 4A, struck team gold with 71 points. Left in its wake were SO#6 Cinco Ranch with 93 and SO#5 Kingwood with 94.
Cinco Ranch sr Zac Flowers pulled away in the second mile, breaking the tape in 15:32.08. Seven Lakes jr Jimmy Welin stayed close to earn silver, clocking 15:43.09.
Kingwood sr Kristen Hanselka won a spirited battle with The Woodlands soph Sarah Andrews, 11:14.53 to 11:17.88. Spring jr Faith Sanders claimed the bronze in 11:33.99.
SO#5

Cinco Ranch

girls captured the team title with 55 points, with SO#3 Kingwood's 61 taking silver ahead of SO#4 The Woodlands on the 6th-man tie-breaker, 27-29. Bubble team College Park took 4th with 99.




RACE REPORT:



BOYS
It was a beautiful day for running at this time of the year in Houston. The Boys race was first, and 200+ toed the line.

At the mile mark, a lead pack of three, consisting of Seven Lakes jr Chase Rathke pushing the pace, Seven Lakes jr Jimmy Welin and Cinco Ranch sr Zac Flowers, zipped by in 4:46. The orange-uniformed Seven Lakes Spartans had several near the front, as did SO#5 Kingwood, SO#6 Cinco Ranch and Strake Jesuit.

Zac Flowers,

the #4 state 5A returnee, surged during the second loop and hit 2 miles in 9:59, holding a slight lead over Welin, with Rathke a couple seconds behind. Flowers continued to hold that pace, powering home in 15:32 for the win, with Welin (15:43) all alone for 2nd. Meanwhile, Kingwood sr Ryan Bennett moved up to finish 3rd in 15:56, with Friendswood sr Gabe Cuadra also under 16:00, nabbing 4th in 15:59.

Zac Flowers said after the race, "I felt good. My original plan was to go out in 5:00, but it was faster than that. I went to the same junior high as the Seven Lakes guys (Seven Lakes is a new school, spun off from Cinco Ranch a few years ago), so it's always fun. My training is going very well, better than last year."

The team race was tough to call, as the four contenders streamed across the finish in close proximity. South Region bubble team & 4A power Seven Lakes was very strong up front, with three of the top 11 team scorers, and that was the difference as its 71 points (2-5-11-21-32) was the winner. SO#6 Cinco Ranch, back at full strength after missing #4 and 5 last week, nipped SO#5 Kingwood by 1 point for silver, 93 (1-16-19-28-29) to 94 (3-10-25-26-30). Strake Jesuit, another South bubble team, held down 4th with 112, with College Park 5th with 129.

Seven Lakes coach Marvin Rathke was pleased. "It feels awesome, we're excited. We know what we can do now, with a bunch of good teams here, so now we just need to continue to work. The big ones are coming down the line." He added, "Our school is growing, we'll probably move up to 5A next year. This year is our school's first, but small, senior class. All of my runners are non-seniors."


GIRLS
The Girls 3200 meter race followed the boys, with a field of close to 250 runners.

Passing the 1-mile mark in 5:31, the leaders were Kingwood sr

Kristen Hanselka

, 2nd in the state track 3200, The Woodlands soph Sarah Andrews, and just behind them, Spring jr Faith Sanders.

As Hanselka and Andrews pressed on the second mile, Sanders began to drop back. The duo ran together until the final turn for home with 200 to go, where Hanselka turned on the jets and cruised home in 11:14. Andrews's valiant 11:17 effort was rewarded with a well-deserved silver. Sanders continued to push, holding on for bronze in 11:33. Seven Lakes jr Jackie Alnes finished 4th in 11:37, and College Park soph Ellie Schultz took 5th in 11:41.

Kristen Hanselka said, "I felt pretty good, my legs were a little tired. We've started faster-paced workouts this week, so it's getting tough. I like this course, it's flat so you can run fast. It seems to go by fast the way it's set up. I had a good summer, a lot of miles, so its nice to see it paying off.

With three closely-ranked South girls teams in the field, there was no clear favorite. And the post-race consensus was - nobody knew! The one thing that was clear, it was close. And sure enough, on the strength of its 5th man today, SO#5 Cinco Ranch edged the competition with 55 points (7-8-9-15-16). SO#3 Kingwood (1-6-14-18-22) got the nod for silver over SO#4 The Woodlands (2-10-11-13-25) on the 6th-man tie-breaker, 27-29, with Kingwood now 2-1 over their rivals in this young season. South bubble team College Park took 4th with 99, and Seven Lakes closed out the top 5 with 143.

Cinco Ranch coach Kristi Robbins said, "We really came together as a team. Itzel Cetina (last year's #1) didn't run, I'm holding her out a couple weeks (recovering from shinsplints), so they needed to. Kristen Stone ran very well and was our #1 today. She suffered a torn hip muscle in the Rice meet last year, but has come back strong. Alex (Bullard) and Grace (Howard) really closed up the gap - two seniors, I'm proud of them. It was awesome.


PHOTOS:


| | | |
| --- | --- | --- |
| Champion Zac Flowers in the final stretch | | Runner-up Jimmy Welin |
| | | |
| | | |
| Kristen Hanselka heading for gold | | Sarah Andrews finishes her silver-medal effort |
| | | |
| photos courtesy Terry Carter | | |
#1 ranked TX 4A Seven Lakes, a South bubble team, struck team gold (#1-8 man, left to right)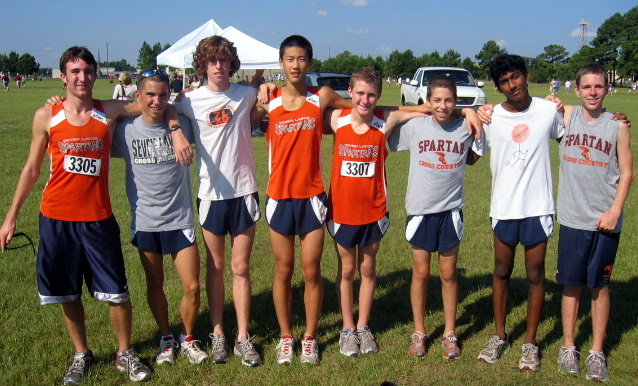 SO#5 Cinco Ranch (#1-7, l to r) tops SO#3 Kingwood and SO#4 The Woodlands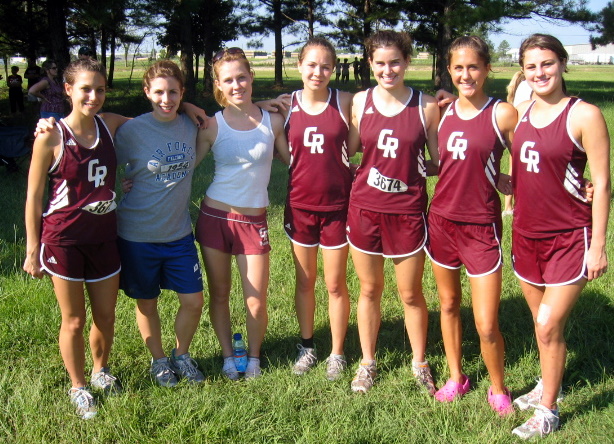 Team photos by John Sullivan

Cinco Ranch's Alyse Goldsmith (left) and Kristen Stone led the team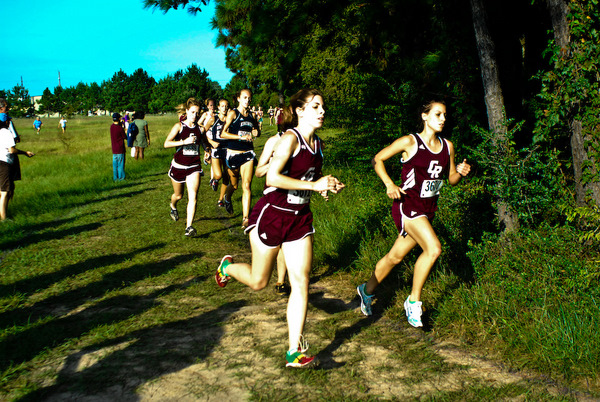 photo courtesy Terry Carter

Zac Flowers ahead of Jimmy Welin with just over 200 left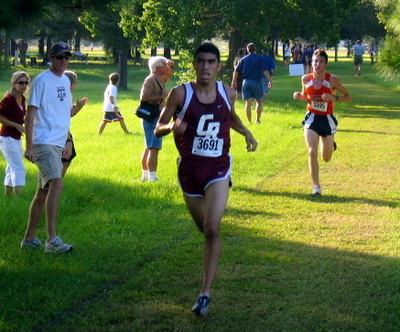 photo by John Sullivan
RESULTS:
Event 20  Boys 5k Run CC Division I Boys
=======================================================================
    Name                    Year School                  Finals  Points
=======================================================================
  1 Flowers, Zac                 Cinco Ranch           15:32.08    1
  2 Welin, Jimmy                 Seven Lakes           15:43.09    2
  3 Bennett, Ryan                Kingwood              15:56.23    3
  4 Cuadra, Gabe                 Friendswood           15:59.76    4
  5 Rathke, Chase                Seven Lakes           16:05.56    5
  6 D'Eramo, Joey                St. Pius              16:06.68
  7 Rodriguez, Marcus            North Shore           16:12.73    6
  8 Cook, Micheal                Magnolia              16:15.60    7
  9 Webb, James                  Strake Jesuit         16:17.52    8
 10 Puckett, Ernest              College Park          16:23.23    9
 11 Yale, Alec                   Kingwood              16:26.07   10
 12 Jessett, CJ                  Seven Lakes           16:30.36   11
 13 Niccum, Blake                Houston Lamar         16:30.95   12
 14 Buxton, Spencer              Fort Bend Travis      16:35.77   13
 15 Foster, Cody                 College Park          16:37.55   14
 16 York, Greg                   Strake Jesuit         16:38.72   15
 17 Wilkinson, Scott             Cinco Ranch           16:39.07   16
 18 James, Blake                 Montgomery            16:40.37   17
 19 Jordan, Anthony              Magnolia              16:41.49   18
 20 Stredny, George              Cinco Ranch           16:42.98   19
 21 Polluck, Clint               Foster                16:44.31   20
 22 Li, Henry                    Seven Lakes           16:48.06   21
 23 Mitchell, Karlton            Pearland              16:48.92   22
 24 Brentin, Jack                Strake Jesuit         16:49.64   23
 25 Herrington, Will             Strake Jesuit         16:50.50   24
 26 Weatherly, Ryan              Cinco Ranch B         16:51.17
 27 Zimmer, Ben                  Kingwood              16:52.92   25
 28 Keller, Stephen              Kingwood              16:54.06   26
 29 Nichols, Jeff                Willis                16:54.98   27
 30 Miller, Ben                  Cinco Ranch           16:57.87   28
 31 Dermit, Justin               Cinco Ranch           16:59.12   29
 32 Smith, Kyle                  Kingwood B            16:59.68
 33 Trujillo, Felix              Kingwood              17:01.29   30
 34 Woodcock, Doug               College Park          17:05.58   31
 35 Alnes, Eric                  Seven Lakes           17:07.13   32
 36 Alfadel, Ali                 Kingwood              17:09.31   33
 37 Williams, Jess               Barbers Hill          17:09.77   34
 38 Swindler, Brandon            Friendswood           17:10.72   35
 39 Hayes, David                 Kingwood              17:11.78   36
 40 Willhite, Jon                College Park          17:12.26   37
 41 Fagnant, Josh                College Park          17:12.89   38
 42 Holt, Spencer                Atascocita            17:13.69   39
 43 Vargas, Bernardo             Westside              17:16.19   40
 44 Korang, Kwadwo               Houston Lamar         17:16.83   41
 45 Roach, Colin                 Strake Jesuit         17:18.01   42
 46 Wonser, Ryan                 Kingwood              17:21.93
 47 Holobowicz, David            Montgomery            17:24.19   43
 48 Aguirre, Carlos              Alief-Hastings        17:26.26   44
 49 Collins, James               Strake Jesuit         17:26.75   45
 50 Jordan, Dayne                Magnolia              17:28.59   46
 51 Mendoza, Abe                 Atascocita            17:29.66   47
 52 Talamantes, Mark             Houston Lamar         17:30.76   48
 53 Joe, Derrick                 Nimitz                17:32.60   49
 54 Rodriguez, Albert            Houston Lamar         17:33.13   50
 55 LaRoux, Alex                 Seven Lakes           17:33.58   51
 56 Stevens, Michael             Atascocita            17:35.05   52
 57 Marinko, Cole                Morton Ranch          17:36.45   53
 58 Redman, Chris                Strake Jesuit B       17:36.99
 59 Rajendran, Karthik           Seven Lakes           17:37.74   54
 60 Williams, Joey               Cinco Ranch           17:38.72   55
 61 Guzman, John                 Pasadena Dobie        17:39.38   56
 62 Kogut, Drew                  Seven Lakes           17:40.53
 63 Jolibois, Andrew             College Park          17:41.00   57
 64 White, Travis                Klein Collins         17:41.35
 65 Vitucci, John                College Park          17:41.75   58
 66 Corbett, David               Willis                17:43.06   59
 67 Gilbert, Ronnie              Deer Park             17:44.31   60
 68 Garza, Edward                Pasadena Dobie        17:47.44   61
 69 Dubose, Josh                 Friendswood           17:48.64   62
 70 Thompson, Kendrick           Westside              17:50.21   63
 71 Fuentes, Alfred              Cypress Ridge         17:52.26   64
 72 Soto, Alex                   Morton Ranch          17:52.70   65
 73 Martinez, Dustin             Friendswood           17:53.22   66
 74 Wood, Ryan                   Friendswood           17:53.91   67
 75 Lopez, Pete                  Cypress Ridge         17:54.80   68
 76 Walters, AJ                  Willis                17:55.41   69
 77 Ranaifar, Mehdi              Westside              17:56.76   70
 78 Johantges, Josh              Deer Park             17:57.23   71
 79 Drewery, Thomas              Baytown Sterling      17:57.86
 80 Smith, Mike                  Atascocita B          17:58.49
 81 Ramsey, Tim                  Barbers Hill          17:58.98   72
 82 Ventura, Benny               Foster                17:59.58   73
 83 Godwin, Evan                 Cinco Ranch B         18:00.60
 84 Romero, Ivan                 Alief-Hastings        18:03.02   74
 85 Cossio, Gabe                 Westside              18:06.01   75
 86 Whitty, Ronnie               North Shore           18:07.86   76
 87 Hepler, Ryan                 Pearland              18:08.94   77
 88 Frustaci, Matt               Kingwood B            18:09.70
 89 Jefferies, Alex              Strake Jesuit         18:11.09   78
 90 Hermes, Nick                 Magnolia              18:11.63   79
 91 Rigsby, Blake                Foster                18:12.06   80
 92 Rushing, John                Westside              18:15.47   81
 93 Concienne, Max               Atascocita            18:16.14   82
 94 Gard, Bobby                  Atascocita            18:16.96   83
 95 Tasson, Brian                Atascocita            18:17.60   84
 96 Fernandez, Rodrigo           Pasadena Dobie        18:18.00   85
 97 Grudier, Nathan              Magnolia              18:19.20   86
 98 Woods, Trey                  Pearland              18:19.69   87
 99 Andres, Josh                 Deer Park             18:20.28   88
100 Jordan, Ray                  Foster                18:20.73   89
101 Gregory, James               Friendswood           18:20.75   90
102 Cole, Trey                   College Park B        18:21.57
103 Butcher, Keaton              Cy-Creek              18:22.03   91
104 Ramirez, Michael             Deer Park             18:26.20   92
105 Gutierrez, Chris             North Shore           18:26.77   93
106 Serrano, Ryan                Willis                18:27.44   94
107 Garza, Genaro                Nimitz                18:28.06   95
108 Torres, Thomas               Houston Lamar         18:29.12   96
109 Schramm, Patrick             Strake Jesuit B       18:31.31
110 Lopez, Greg                  Willis                18:34.51   97
111 Black, Cody                  Deer Park             18:36.06   98
112 Martinez, Ruben              Willis                18:37.11   99
113 Arista, Korey                Pearland              18:37.75  100
114 Barajas, Lawrence            Alief-Hastings        18:38.47  101
115 Moreno, Johnny               Deer Park             18:39.36  102
116 Trejo, Rogelio               Alief-Hastings        18:39.99  103
117 Arredondo, Jose              Atascocita            18:40.41  104
118 Ayala, Miguel                Morton Ranch          18:41.79  105
119 Chenet, Theo                 College Park B        18:42.09
120 Hebert, Jacori               Pasadena Dobie        18:45.56  106
121 Buckalew, Blake              Montgomery            18:46.75  107
122 Efffiong, Idara              Alief-Hastings        18:48.24  108
123 Delgado, Tim                 Foster                18:51.17  109
124 Morales, Robert              Deer Park             18:51.56  110
125 Arredondo, Jose              Alief Taylor          18:54.35  111
126 McGuire, Connor              Deer Park B           18:55.88
127 Smith, Zach                  Klein Collins         18:56.57
128 Reyes, Carlos                Alief-Hastings        18:58.54  112
129 Raya, Juan                   Willis                18:59.18  113
130 Coronado, Jeremy             Morton Ranch          19:01.34  114
131 Easton, Sean                 Pearland              19:01.77  115
132 Brann, Case                  Strake Jesuit B       19:04.65
133 Castillo, Ricky              Nimitz                19:05.46  116
134 Wood, Justin                 Spring HS             19:07.21  117
135 Caten, Josh                  Cy-Creek              19:07.49  118
136 Evans, Sean                  Barbers Hill          19:07.76  119
137 Clark, Collin                Pasadena Dobie        19:08.10  120
138 Gomez, Jose                  Morton Ranch          19:08.42  121
139 Cardillo, Patrick            Morton Ranch          19:08.79  122
140 Clawson, Kyle                Fort Bend Travis      19:09.13  123
141 Cain, Austin                 Barbers Hill          19:09.51  124
142 Swindler, Dustin             Friendswood           19:13.69  125
143 D'Eramo, Jake                St. Pius              19:18.76
144 Revuelta, Javier             Alief Taylor          19:19.86  126
145 Ochoa, Joseph                St. Pius              19:21.57
146 Minamyer, Jake               Foster B              19:24.25
147 Garcia, Ray                  St. Pius              19:25.42
148 Calhoun, Daniel              Cinco Ranch B         19:26.34
149 Lane, Michael                Fort Bend Travis      19:27.23  127
150 Ward, Coby                   Deer Park B           19:27.72
151 Jewell, Bryan                Pearland              19:28.42  128
152 Alvarez, Javier              Alief-Hastings        19:28.77  129
153 Docherty, Ted                Fort Bend Travis      19:29.18  130
154 Ruiz, Adrian                 Montgomery            19:29.57  131
155 Black, Aaron                 Cy-Creek              19:35.28  132
156 Fuerst, Dustin               Spring HS             19:35.88  133
157 Miguel, Albuja               Westside              19:38.54  134
158 Sloan, Brett                 Pearland              19:40.43  135
159 Steiner, Santiago            Morton Ranch          19:43.10  136
160 Knight, Chris                Foster                19:45.11  137
161 Hernandez, Matt              Cypress Ridge         19:45.11  138
162 Tilley, Ryan                 Spring HS             19:47.07  139
163 Lafear, Kiernan              North Shore           19:49.94  140
164 Chaves, Emmanuel             Alief Taylor          19:52.12  141
165 Riviera, Diddier             Baytown Sterling      19:53.58
166 Craig, Matt                  Friendswood           19:54.31
167 Frieden, Marshall            Friendswood           19:54.94
168 Bell, Josh                   Friendswood           19:56.74
169 Tansey, Kyle                 Pasadena Dobie        19:57.28  142
170 Slocum, Key                  Westside B            20:01.91
171 Doisy, Nathan                Barbers Hill          20:06.11  143
172 Yale, Preston                Cy-Creek              20:06.86  144
173 Acevedo, Johnny              North Shore           20:11.65  145
174 McDonald, Blake              Friendswood           20:11.65
175 Ryan, Cole                   Barbers Hill          20:12.50  146
176 Mesfin, Joseph               Spring HS             20:15.59  147
177 Conces, Kyle                 Pearland B            20:19.66
178 Juarez, Daniel               Pearland B            20:20.94
179 Fraire, Junior               Montgomery            20:21.43  148
180 Hopkins, Anthony             Morton Ranch B        20:22.18
181 Agnew, Ryan                  Kingwood B            20:24.57
182 Cobb, Jerrett                Barbers Hill          20:27.29  149
183 Sangalan, Anthony            Cypress Ridge         20:29.05  150
184 Campero, Albert              Humble                20:38.21
185 Hellaire, Brian              Cy-Creek              20:42.56  151
186 Chessher, Mark               Deer Park             20:43.20
187 Brighton, Eric               Klein Collins         20:43.78
188 Krotzer, Neil                Kingwood B            20:44.24
189 Schackmann, Drew             Klein Collins B       20:44.72
190 Jasso, Azael                 Foster                20:45.23  152
191 Shirley, Corey               Humble                20:46.23
192 Albers, John                 Klein Collins         20:46.84
193 Lau, Conner                  Fort Bend Travis      20:49.97  153
194 Hail, Chase                  Montgomery            20:58.85  154
195 Duncan, Hayden               Deer Park             21:01.89
196 Zubizarreta, John            Foster B              21:09.48
197 Villarreal, Jesse            Deer Park B           21:17.04
198 Muniz, Michael               Nimitz                21:30.20  155
199 Smith, Rasheed               Alief Taylor          21:35.39  156
200 Reynosa, Oscar               Nimitz                21:35.93  157
201 Escobar, Juan                Pearland B            21:36.56
202 Feiz-Mahdavi, Cyrus          Fort Bend Travis      21:39.80  158
203 Johnson, Daniel              Cypress Ridge         21:51.06  159
204 Barrales, Juan               Deer Park B           21:57.79
205 Templeton, Cameron           Fort Bend Travis      22:04.43  160
206 Schneider, Joseph            Spring HS             22:07.96  161
207 Vergara, Carlos              Morton Ranch B        22:29.54
208 Sajaad, Amhmar               Alief Taylor          22:42.76  162
209 Trahan, Leonard              Montgomery            22:42.76  163
210 Wickman, Chris               Morton Ranch B        22:42.76
211 Bowker, Gary                 Spring HS             22:42.76  164
212 Henrichsen, Bobby            Morton Ranch          22:42.76
213 Williams, Cameron            Humble                22:42.76
214 Jozami, Eduardo              Humble                22:42.76

                                   Team Scores
=================================================================================
Rank Team                      Total    1    2    3    4    5   *6   *7   *8   *9
=================================================================================
   1 Seven Lakes                  71    2    5   11   21   32   51   54
      Total Time:  1:22:14.20
         Average:    16:26.84
   2 Cinco Ranch                  93    1   16   19   28   29   55
      Total Time:  1:22:51.12
         Average:    16:34.23
   3 Kingwood                     94    3   10   25   26   30   33   36
      Total Time:  1:23:10.57
         Average:    16:38.12
   4 Strake Jesuit               112    8   15   23   24   42   45   78
      Total Time:  1:23:54.39
         Average:    16:46.88
   5 College Park                129    9   14   31   37   38   57   58
      Total Time:  1:24:31.51
         Average:    16:54.31
   6 Friendswood                 234    4   35   62   66   67   90  125
      Total Time:  1:26:46.25
         Average:    17:21.25
   7 Magnolia                    236    7   18   46   79   86
      Total Time:  1:26:56.51
         Average:    17:23.31
   8 Houston Lamar               247   12   41   48   50   96
      Total Time:  1:27:20.79
         Average:    17:28.16
   9 Atascocita                  303   39   47   52   82   83   84  104
      Total Time:  1:28:51.50
         Average:    17:46.30
  10 Westside                    329   40   63   70   75   81  134
      Total Time:  1:29:24.64
         Average:    17:52.93
  11 Willis                      346   27   59   69   94   97   99  113
      Total Time:  1:29:35.40
         Average:    17:55.08
  12 Foster                      371   20   73   80   89  109  137  152
      Total Time:  1:30:07.85
         Average:    18:01.57
  13 Pearland                    401   22   77   87  100  115  128  135
      Total Time:  1:30:57.07
         Average:    18:11.42
  14 Deer Park                   409   60   71   88   92   98  102  110
      Total Time:  1:31:04.08
         Average:    18:12.82
  15 Pasadena Dobie              428   56   61   85  106  120  142
      Total Time:  1:31:38.48
         Average:    18:19.70
  16 Alief-Hastings              430   44   74  101  103  108  112  129
      Total Time:  1:31:35.98
         Average:    18:19.20
  17 Montgomery                  446   17   43  107  131  148  154  163
      Total Time:  1:32:42.31
         Average:    18:32.47
  18 Morton Ranch                458   53   65  105  114  121  122  136
      Total Time:  1:32:20.70
         Average:    18:28.14
  19 North Shore                 460    6   76   93  140  145
      Total Time:  1:32:48.95
         Average:    18:33.79
  20 Barbers Hill                492   34   72  119  124  143  146  149
      Total Time:  1:33:32.13
         Average:    18:42.43
  21 Fort Bend Travis            546   13  123  127  130  153  158  160
      Total Time:  1:35:31.28
         Average:    19:06.26
  22 Nimitz                      572   49   95  116  155  157
      Total Time:  1:38:12.25
         Average:    19:38.45
  23 Cypress Ridge               579   64   68  138  150  159
      Total Time:  1:37:52.28
         Average:    19:34.46
  24 Cy-Creek                    636   91  118  132  144  151
      Total Time:  1:37:54.22
         Average:    19:34.85
  25 Alief Taylor                696  111  126  141  156  162
      Total Time:  1:42:24.48
         Average:    20:28.90
  26 Spring HS                   697  117  133  139  147  161  164
      Total Time:  1:40:53.71
         Average:    20:10.75

Event 19  Girls 3200 Meter Run CC Division I Girls
=======================================================================
    Name                    Year School                  Finals  Points
=======================================================================
  1 Hanselka, Kristen            Kingwood              11:14.53    1
  2 Andrews, Sarah               The Woodlands         11:17.88    2
  3 Sanders, Faith               Spring HS             11:33.99    3
  4 Alnes, Jackie                Seven Lakes           11:37.51    4
  5 Schultz, Ellie               College Park          11:41.18    5
  6 Quinn, Addie                 Kingwood              11:41.85    6
  7 Stone, Kristen               Cinco Ranch           11:42.60    7
  8 Goldsmith, Alyse             Cinco Ranch           11:43.43    8
  9 Keithan, Alli                Cinco Ranch           11:45.79    9
 10 Lyons, Margo                 The Woodlands         11:46.79   10
 11 Dalglish, Shawn              The Woodlands         11:50.12   11
 12 Jensen, Emily                College Park          11:51.55   12
 13 Thompson, Samantha           The Woodlands         11:52.61   13
 14 Blank, Sophie                Kingwood              11:56.65   14
 15 Bullard, Alex                Cinco Ranch           12:00.79   15
 16 Howard, Grace                Cinco Ranch           12:02.00   16
 17 Foudeh, Kaelie               Foster                12:02.72   17
 18 Steup, Rosemary              Kingwood              12:03.25   18
 19 Neal, McKenze                College Park          12:03.83   19
 20 Hatley, Kate                 College Park          12:04.59   20
 21 Racine, Kat                  Seven Lakes           12:05.23   21
 22 Nicholls, Hailey             Kingwood              12:07.21   22
 23 Mose, Courtney               Pearland              12:11.49   23
 24 Cullinan, Kylie              Klein Collins         12:11.90   24
 25 Cohen, Eirann                The Woodlands         12:13.05   25
 26 Citizen, Christi             Humble                12:14.87   26
 27 Munoz, Megan                 Kingwood              12:16.02   27
 28 Whitt, Jessica               Deer Park             12:18.45   28
 29 Creasman, Elisabeth          The Woodlands         12:20.79   29
 30 Ramsey, Mallary              Cinco Ranch           12:21.99   30
 31 Logan, Valerie               Kingwood              12:24.56   31
 32 Murray, Colleen              The Woodlands B       12:26.38   32
 33 Andropoulos, Kate            The Woodlands B       12:26.95   33
 34 Whitt, Jamie                 Deer Park             12:27.37   34
 35 McCormick, Blair             Seven Lakes           12:28.08   35
 36 Whittaker, Taylor            Brenham               12:29.78   36
 37 Pilipovic-Wengler, Nevena     The Woodlands         12:30.59   37
 38 Felt, Emily                  Seven Lakes           12:31.32   38
 39 Reyes, Rubi                  Nimitz                12:32.82
 40 Boice, Jessica               Kingwood B            12:33.37   39
 41 Whitney, Lizzt               Montgomery            12:33.77   40
 42 Hawkins, Jasmine             Morton Ranch          12:34.53   41
 43 Branch, Sydney               Cinco Ranch B         12:35.27   42
 44 Beckman, Erin                College Park          12:36.41   43
 45 Ranta, Andrea                Seven Lakes B         12:37.57   44
 46 Racine, Madeline             Seven Lakes           12:40.01   45
 47 Collazos, Sara               Cypress Ridge         12:40.51
 48 Ramsey, Meredith             Cinco Ranch B         12:42.75   46
 49 Wells, Faybia                Willis                12:46.54   47
 50 Brezina, Sara                Friendswood           12:47.84   48
 51 Rhodes, Samantha             Barbers Hill          12:48.28   49
 52 Patin, Amber                 Montgomery            12:48.69   50
 53 Lee, Krea                    Cy-Creek              12:52.93   51
 54 Jacobson, Shannon            Magnolia              12:53.69   52
 55 Redman, Lana                 Seven Lakes           12:54.44   53
 56 Boyd, Bryttin                Magnolia              12:55.57   54
 57 Noto, Michelle               Foster                12:58.57   55
 58 Johnson, Chelsea             Cinco Ranch B         12:58.97   56
 59 Creasman, Kristy             The Woodlands B       12:59.41   57
 60 Aquado, Rosie                Montgomery            12:59.89   58
 61 Tanner, Dana                 Magnolia              13:00.81   59
 62 Melton, Rachel               Magnolia West         13:01.61   60
 63 Subrt, Camille               Cinco Ranch           13:02.55   61
 64 Citizen, Amber               Humble                13:05.76   62
 65 Lenney, Meredith             Cinco Ranch B         13:06.80   63
 66 Armstrong, Beth              Friendswood           13:07.55   64
 67 Berton, Laura                Cy-Creek              13:08.10   65
 68 Reuter, Catherine            Barbers Hill          13:08.76   66
 69 Garcia, Maria                The Woodlands B       13:09.25   67
 70 Tobar, Isabel                Baytown Sterling      13:09.64
 71 Ferguson, Christina          Montgomery            13:09.98   68
 72 Berry, Erika                 Klein Collins         13:10.39   69
 73 Mudd, Shannon                Barbers Hill          13:11.11   70
 74 Rios, Larissa                Barbers Hill          13:11.58   71
 75 Peddy, Haley                 Brenham               13:12.19   72
 76 Whittemore, Caitlin          The Woodlands B       13:12.60   73
 77 Mueller, Lucia               Foster                13:12.96   74
 78 Delojsi, Dana                Cy-Creek              13:13.35   75
 79 Saenz, Esther                Willis                13:13.89   76
 80 Gonzales, Jackie             Cinco Ranch B         13:15.31   77
 81 Powers, Jordan               Deer Park             13:15.69   78
 82 Luu, My-Linh                 The Woodlands B       13:16.18   79
 83 Ye, Adele                    Seven Lakes           13:16.70   80
 84 Berry, Brittany              Magnolia West         13:18.21   81
 85 Bucheler, Jessica            Houston Lamar         13:19.19   82
 86 Sanders, Sarah               Klein Collins         13:22.19   83
 87 Richardson, Renee            Houston Lamar         13:22.60   84
 88 Arnold, Lauren               Brenham               13:22.99   85
 89 Garwick, Jessica             Cinco Ranch B         13:23.44   86
 90 Bruno, Trudie                Foster                13:25.27   87
 91 Hanes, Kyleigh               Klein Collins         13:27.77   88
 92 Wesley, Michelle             Seven Lakes           13:28.37
 93 Koid, Eunice                 Seven Lakes B         13:30.30   89
 94 Schwartzenburg, Lauren       College Park          13:31.23   90
 95 Hernandez, Ali               Klein Collins         13:31.65   91
 96 Yoss, Katelyn                Magnolia West         13:35.37   92
 97 Foskey, Amber                Foster                13:35.87   93
 98 Anderson, Taylor             Magnolia West         13:36.90   94
 99 Pratt, Tina                  Magnolia West         13:37.31   95
100 Kreidie, Hiba                Fort Bend Kempner     13:38.16   96
101 Anderson, Jillian            Atascocita            13:39.25   97
102 Barnett, Desi                Cy-Creek              13:39.75   98
103 Toy, Katherine               Fort Bend Kempner     13:40.21   99
104 Williamson, Catherine        Houston Lamar         13:40.61  100
105 Davis, Stephanie             Klein Collins         13:40.98  101
106 Miller, Erin                 The Woodlands B       13:41.35  102
107 Gant, Olivia                 Houston Lamar         13:41.92  103
108 Riojas, Joselle              Deer Park             13:43.67  104
109 Burrell, Kalen               Morton Ranch          13:44.17  105
110 Laster, Charissa             Brenham               13:44.86  106
111 Steptoe, Elizabeth           Kingwood B            13:45.89  107
112 Gevaldo, Kaci                Klein Collins         13:50.16  108
113 Watts, C'Arra                Spring HS             13:55.23  109
114 Miller, Karissa              Magnolia West         13:56.74  110
115 Pfeiffer, Maggie             Cinco Ranch           13:58.09
116 Therrien, Chelsea            Kingwood B            13:59.37  111
117 Goldman, Kortney             Kingwood B            14:01.99  112
118 Chance, Erika                Deer Park             14:06.55  113
119 Manor, Paige                 Magnolia              14:07.10  114
120 Robinson, Rashika            North Shore           14:07.55  115
121 Ashby, Jade                  North Shore           14:07.97  116
122 Miller, Lauren               Friendswood           14:08.38  117
123 Deranek, Andrea              Montgomery            14:11.68  118
124 Williamson, Kendra           Houston Lamar         14:12.27  119
125 Thibodeaux, Christian        New Caney             14:12.74
126 Rodriguez, Caitlin           New Caney             14:14.17
127 Garcia, Celeste              Brenham               14:15.35  120
128 Flattery, Erin               Seven Lakes B         14:18.96  121
129 Frei, Katie                  Houston Lamar         14:20.55  122
130 Wood, Mauri                  Friendswood           14:21.75  123
131 Vierus, Sarah                Brenham               14:23.19  124
132 Curvey, Chanel               North Shore           14:24.26  125
133 Roberts, Madison             Seven Lakes B         14:24.91  126
134 Elam, Sarah                  Barbers Hill          14:26.00  127
135 Mertz, Hailee                Brenham               14:26.47  128
136 Firby, Macy                  Magnolia West         14:27.09  129
137 Gernold, Allison             Cy-Creek              14:27.60  130
138 Martin, Brandi               Cypress Ridge         14:28.07
139 Corrington, Abby             Pasadena Memorial     14:28.62  131
140 Campos, Ashley               Morton Ranch          14:29.65  132
141 Dunn, Rachel                 Friendswood           14:31.02  133
142 Methvin, Marissa             Magnolia              14:33.55  134
143 Chidester, Alicia            Friendswood           14:35.15  135
144 Villarreal, Abigall          Foster                14:36.54  136
145 Nelson, Amanda               Cypress Ridge         14:37.48
146 Olvera, Michelle             Atascocita            14:40.37  137
147 Crisp, Brittany              Pearland              14:49.74  138
148 Cunningham, Erin             Pearland              14:50.49  139
149 Hernandez, Magdalena         Atascocita            14:50.93  140
150 Williams, Chelsea            Pasadena Dobie        14:51.75  141
151 Diaz, Stephanie              Morton Ranch          14:52.83  142
152 Stengel, Hailey              Foster                14:53.31  143
153 Gifford, Brianna             Fort Bend Kempner     14:54.41  144
154 Cooper, Lashaye              Pasadena Dobie        14:54.94  145
155 Johnson, Courtney            Baytown Sterling      14:55.34
156 Mobley, Jordan               Deer Park             14:55.78  146
157 Rodriguez, Veronica          Jersey Village        14:59.91  147
158 Collier, Jessica             Klein Collins B       15:01.30
159 Solomon, Erin                Westside              15:09.23  148
160 Deitrich, Jena               Fort Bend Kempner     15:18.92  149
161 Anselmo, Marissa             Seven Lakes B         15:21.14  150
162 Turner, Monaye               Westside              15:22.51  151
163 McCoy, Jade                  Pasadena Memorial     15:25.35  152
164 Fanali, Rebecca              Willis                15:25.35  153
165 Blair, Barbie                Pearland              15:27.17  154
166 Carey, Meghan                Cy-Creek              15:33.57  155
167 Segraves, Jenna              Kingwood B            15:35.96  156
168 Rodriguez, Ryann             Willis                15:48.25  157
169 Bates, Noelle                Atascocita            15:51.75  158
170 Carroll, Stacy               Pearland              15:54.60  159
171 Meado, Andrea                Pearland              15:56.81  160
172 Thompson, Jasma              Nimitz                16:01.05
173 Arredondo, Laura             Foster B              16:06.65
174 Keidel, Gina                 Fort Bend Kempner     16:07.77  161
175 Ohmart, Kira                 Foster B              16:10.89
176 Marshall, Jenna              Atascocita            16:11.63  162
177 Reyes, Alexandria            New Caney             16:12.96
178 May, Caitlyn                 Willis                16:17.64  163
179 Maniet, Ashley               Pearland              16:18.70  164
180 Jarman, Amanda               Jersey Village        16:23.01  165
181 Mumbach, Rachel              Houston Lamar         16:41.36  166
182 Merrell, Austin              Houston Lamar         16:44.95
183 Johnston, Jaime              Houston Lamar         16:50.02
184 Prudhomme, Theresa           Morton Ranch          16:55.99  167
185 Watson, Jewell               Barbers Hill          16:57.24  168
186 Hebert, Derryn               Deer Park             16:59.26  169
187 Malain, Nicole               Humble                16:59.97  170
188 Mudd, Mary                   Barbers Hill          17:04.92  171
189 Paige, Pash                  Atascocita            17:06.18  172
190 Reese, Nikki                 New Caney             17:16.50
191 Valles, Sandra               Pasadena Memorial     17:17.42  173
192 Lerro, Nicolette             Morton Ranch          17:20.98  174
193 Hershberger, Lauren          North Shore           17:28.02  175
194 Tverbakk, Veronica           Jersey Village        17:28.02  176
195 Cossio, Camila               Westside              17:28.02  177
196 Ybarra, Gabby                Pasadena Dobie        17:28.02  178
197 Foudeh, Sarah                Foster B              17:28.02
198 Lawless, Emily               Kingwood B            17:28.02  179
199 Cox, Taylor                  Atascocita B          17:28.02  180
200 Bache, Emily                 Montgomery            17:28.02  181
201 Reese, Lauren                Westside              17:28.02  182
202 Jackson, Chelsea             Westside              17:28.02  183
203 Johnson, Jacquelyn           Morton Ranch          17:28.02  184
204 Scott, Antonia               North Shore           17:28.02  185
205 Quintana, Cathy              Baytown Sterling      17:28.02
206 Waddell, Christi             Pasadena Memorial     17:28.02  186
207 Hudson, Laura                Spring HS             17:28.02  187
208 Phillips, Whitney            Spring HS             17:28.02  188
209 Gonzalez, Janney             Humble                17:28.02  189
210 Garcia, Stephanie            Pasadena Memorial     17:28.02  190
211 Yzquierdo, Erin              Baytown Sterling      17:28.02
212 Betancourt, Marisol          Pasadena Dobie        17:28.02  191
213 Alfaro, Stephanie            Pasadena Dobie        17:28.02  192
214 Parker, Patrice              Jersey Village        17:28.02  193
215 DuRousseau, Jessica          Atascocita B          17:28.02  194
216 Nelson, Emma                 Willis                17:28.02  195
217 Barnett, Ariel               Cy-Creek              17:28.02  196
218 Hill, Ashley                 Atascocita            17:28.02  197
219 Knight, Shelby               Atascocita B          17:28.02  198
220 Crum, Amanda                 Jersey Village        17:28.02  199
221 Davilla, Annaiz              Padadena Dobie B      17:28.02
222 Garcia, Melissa              Spring HS             17:28.02  200
223 Garza, Corina                Fort Bend Travis      17:28.02  201
224 Mata, Marisol                Humble                17:28.02  202
225 Deshotel, Ariel              Humble B              17:28.02
226 Calderon, Danielle           Pasadena Memorial     17:28.02  203
227 Olivarez, Danielle           Atascocita B          17:28.02  204
228 Canady, Myesha               Atascocita B          17:28.02  205
229 Marquez, Leticia             Pasadena Memorial     17:28.02  206
230 Spears, Vanessa              Jersey Village B      17:28.02
231 Gambhir, Jessica             Jersey Village        17:28.02  207
232 Webster, Rachel              Fort Bend Travis      17:28.02  208
233 Gonzalez, Steph              Humble                17:28.02  209
234 Sanchez-Navarro, Katheri     Fort Bend Travis      17:28.02  210
235 Posey, Kayla                 Fort Bend Travis      17:28.02  211
236 Allen, Asia                  Pasadena Dobie        17:28.02  212
237 Chambers, Rachel             Fort Bend Travis      17:28.02  213
238 Carwile, Victoria            Fort Bend Travis      17:28.02  214
239 Guardado, Susana             Nimitz                17:28.02
240 Crawford, Jessica            Humble                17:28.02  215
241 Maxwell, Kelly               Westside              17:28.02  216
242 Anderson, Ashley             Spring HS             17:28.02  217

                                   Team Scores
=================================================================================
Rank Team                      Total    1    2    3    4    5   *6   *7   *8   *9
=================================================================================
   1 Cinco Ranch                  55    7    8    9   15   16   30   61
      Total Time:    59:14.61
         Average:    11:50.93
   2 Kingwood                     61    1    6   14   18   22   27   31
      Total Time:    59:03.49
         Average:    11:48.70
   3 The Woodlands                61    2   10   11   13   25   29   37
      Total Time:    59:00.45
         Average:    11:48.09
   4 College Park                 99    5   12   19   20   43   90
      Total Time:  1:00:17.56
         Average:    12:03.52
   5 Seven Lakes                 143    4   21   35   38   45   53   80
      Total Time:  1:01:22.15
         Average:    12:16.43
   6 The Woodlands B             262   32   33   57   67   73   79  102
      Total Time:  1:04:14.59
         Average:    12:50.92
   7 Cinco Ranch B               284   42   46   56   63   77   86
      Total Time:  1:04:39.10
         Average:    12:55.82
   8 Foster                      326   17   55   74   87   93  136  143
      Total Time:  1:05:15.39
         Average:    13:03.08
   9 Montgomery                  334   40   50   58   68  118  181
      Total Time:  1:05:44.01
         Average:    13:08.81
  10 Klein Collins               355   24   69   83   88   91  101  108
      Total Time:  1:05:43.90
         Average:    13:08.78
  11 Deer Park                   357   28   34   78  104  113  146  169
      Total Time:  1:05:51.73
         Average:    13:10.35
  12 Barbers Hill                383   49   66   70   71  127  168  171
      Total Time:  1:06:45.73
         Average:    13:21.15
  13 Magnolia                    413   52   54   59  114  134
      Total Time:  1:07:30.72
         Average:    13:30.15
  14 Brenham                     419   36   72   85  106  120  124  128
      Total Time:  1:07:05.17
         Average:    13:25.04
  15 Cy-Creek                    419   51   65   75   98  130  155  196
      Total Time:  1:07:21.73
         Average:    13:28.35
  16 Magnolia West               422   60   81   92   94   95  110  129
      Total Time:  1:07:09.40
         Average:    13:25.88
  17 Friendswood                 485   48   64  117  123  133  135
      Total Time:  1:08:56.54
         Average:    13:47.31
  18 Houston Lamar               488   82   84  100  103  119  122  166
      Total Time:  1:08:16.59
         Average:    13:39.32
  19 Kingwood B                  525   39  107  111  112  156  179
      Total Time:  1:09:56.58
         Average:    13:59.32
  20 Seven Lakes B               530   44   89  121  126  150
      Total Time:  1:10:12.88
         Average:    14:02.58
  21 Morton Ranch                587   41  105  132  142  167  174  184
      Total Time:  1:12:37.17
         Average:    14:31.44
  22 Willis                      596   47   76  153  157  163  195
      Total Time:  1:13:31.67
         Average:    14:42.34
  23 Pearland                    613   23  138  139  154  159  160  164
      Total Time:  1:13:13.49
         Average:    14:38.70
  24 Humble                      649   26   62  170  189  202  209  215
      Total Time:  1:17:16.64
         Average:    15:27.33
  25 Fort Bend Kempner           649   96   99  144  149  161
      Total Time:  1:13:39.47
         Average:    14:43.90
  26 Spring HS                   687    3  109  187  188  200  217
      Total Time:  1:17:53.28
         Average:    15:34.66
  27 Atascocita                  694   97  137  140  158  162  172  197
      Total Time:  1:15:13.93
         Average:    15:02.79
  28 North Shore                 716  115  116  125  175  185
      Total Time:  1:17:35.82
         Average:    15:31.17
  29 Pasadena Memorial           832  131  152  173  186  190  203  206
      Total Time:  1:22:07.43
         Average:    16:25.49
  30 Westside                    841  148  151  177  182  183  216
      Total Time:  1:22:55.80
         Average:    16:35.16
  31 Pasadena Dobie              847  141  145  178  191  192  212
      Total Time:  1:22:10.75
         Average:    16:26.15
  32 Jersey Village              880  147  165  176  193  199  207
      Total Time:  1:23:46.98
         Average:    16:45.40
  33 Atascocita B                981  180  194  198  204  205
      Total Time:  1:27:20.10
         Average:    17:28.02
  34 Fort Bend Travis           1043  201  208  210  211  213  214
      Total Time:  1:27:20.10
         Average:    17:28.02

Event 18  Boys 5k Run CC Division II Boys
=======================================================================
    Name                    Year School                  Finals  Points
=======================================================================
  1 Netro, Rodrigo               ChapelHill - Mt.      18:52.73    1
  2 Eargle, Tyler                ChapelHill - Mt.      19:35.62    2
  3 Smith, Zach                  Kingwood Park         19:41.21    3
  4 Branson, John                ChapelHill - Mt.      19:50.58    4
  5 Muhammad, Harris             Kingwood Park         19:52.91    5
  6 Reese, Matthew               ChapelHill - Mt.      19:56.12    6
  7 Craig, Rance                 ChapelHill - Mt.      20:00.74    7
  8 Barber, David                Kingwood Park         20:06.49    8
  9 Montes, Hugo                 Splendora             20:39.59
 10 Wright, Darius               Dawson                20:42.08    9
 11 Bradley, Jesse               ChapelHill - Mt.      20:51.23   10
 12 Nolen, Tyler                 ChapelHill - Mt.      21:05.70   11
 13 Lee, Sam                     Kingwood Park         21:24.63   12
 14 Underwood, Jacob             Dawson                21:55.78   13
 15 Durbin, Justin               Kingwood Park         22:31.57   14
 16 Stendhal, Jake               Splendora             23:08.50
 17 Liston, Jordan               Dawson                23:12.14   15
 18 Mullane, John                Splendora             23:24.06
 19 Boyd, Stephen                Kingwood Park         23:33.16   16
 20 Martinez, Oscar              Dawson                25:20.44   17
 21 Easton, Zachary              Dawson                25:20.44   18

	                                   Team Scores
=================================================================================
Rank Team                      Total    1    2    3    4    5   *6   *7   *8   *9
=================================================================================
   1 ChapelHill - Mt. Pleasant    20    1    2    4    6    7   10   11
      Total Time:  1:38:15.79
         Average:    19:39.16
   2 Kingwood Park                42    3    5    8   12   14   16
      Total Time:  1:43:36.81
         Average:    20:43.37
   3 Dawson                       72    9   13   15   17   18
      Total Time:  1:56:30.88
         Average:    23:18.18


Event 17  Girls 3200 Meter Run CC Division II Girls
=======================================================================
    Name                    Year School                  Finals  Points
=======================================================================
  1 Schrader, Bree               Kingwood Park         12:00.79    1
  2 Secrest, Jennifer            Splendora             13:08.51    2
  3 Smothers, Hannah             Kingwood Park         13:17.38    3
  4 Fletcher, Grace              Kingwood Park         13:18.63    4
  5 Schumacher, Leah             ChapelHill - Mt.      13:19.84    5
  6 Smith, Katlyn                ChapelHill - Mt.      13:22.42    6
  7 Black, Kacie                 Kingwood Park         13:24.62    7
  8 Harvey, Payton               Kingwood Park         13:40.63    8
  9 Ward, Audrey                 ChapelHill - Mt.      13:44.82    9
 10 Hand, Claire                 ChapelHill - Mt.      13:46.65   10
 11 Olvera, Vanessa              Splendora             14:04.18   11
 12 Amadu, Miriam                Kingwood Park         14:06.89   12
 13 Pitts, Chelsea               Dawson                14:08.12   13
 14 Ward, Kelsey                 ChapelHill - Mt.      14:09.21   14
 15 Taylor, E                    Dawson                14:31.79   15
 16 Ward, Emily                  ChapelHill - Mt.      14:38.29   16
 17 Rester, Jade                 ChapelHill - Mt.      14:42.38   17
 18 Whitehorn, Tiffany           Dawson                14:48.22   18
 19 Blair, Jennifer              Dawson                14:50.10   19
 20 King, Pattie                 Splendora             15:04.85   20
 21 Hardeman, De'Angelique       Dawson                15:11.43   21
 22 Bruno, J                     Dawson                15:12.23   22
 23 Pierce, Melissa              Splendora             15:18.55   23
 24 Juaez, Ashley                Dawson                15:19.54   24
 25 Dotson, A                    Dawson                15:27.57
 26 Presiado, Kyrstal            Splendora             15:35.46   25
 27 Wojtasczyk, Linsey           St. Pius              15:55.52   26
 28 Talley, Rachel               Splendora             16:00.94   27
 29 Alejandro, Vanessa           Dawson                16:04.57
 30 Muller, Christine            St. Pius              16:05.19   28
 31 Johnson, M                   Dawson                16:25.49
 32 Bender, Tiffany              St. Pius              16:59.19   29
 33 Markantonis, Victoria        St. Pius              17:00.02   30
 34 Cherry, Amber                Splendora             17:09.56   31
 35 Valladares, Erika            St. Pius              17:33.20   32
 36 Whitten, Alice               St. Pius B            17:40.79   33
 37 Jones, Alana                 St. Pius              17:41.77   34
 38 Carroll, Kaley               St. Pius B            17:50.32   35
 39 Jardine, Sarah               St. Pius B            17:55.43   36
 40 Goodman, Johnita             St. Pius B            17:57.18   37
 41 Baker, Sarah                 St. Pius B            18:54.86   38

	                                   Team Scores
=================================================================================
Rank Team                      Total    1    2    3    4    5   *6   *7   *8   *9
=================================================================================
   1 Kingwood Park                23    1    3    4    7    8   12
      Total Time:  1:05:42.05
         Average:    13:08.41
   2 ChapelHill - Mt. Pleasant    44    5    6    9   10   14   16   17
      Total Time:  1:08:22.94
         Average:    13:40.59
   3 Splendora                    81    2   11   20   23   25   27   31
      Total Time:  1:13:11.55
         Average:    14:38.31
   4 Dawson                       86   13   15   18   19   21   22   24
      Total Time:  1:13:29.66
         Average:    14:41.94
   5 St. Pius                    145   26   28   29   30   32   34
      Total Time:  1:23:33.12
         Average:    16:42.63
   6 St. Pius B                  179   33   35   36   37   38
      Total Time:  1:30:18.58
         Average:    18:03.72


SOUTH REGION INDEX