Baylor Invitational
College Park girls top SO#8 Belton, College Park boys win
Saturday, Sept. 22, 2007 at Bear Run XC Course, Waco, TX
Girls: 3200 meters
Boys: 5000 meters
- Highlights - Photos - Girls Div1 Results - Boys Div1 Results -

Highlights:
Belton soph

Regan Tindell

earned individual honors in 11:47, a healthy margin ahead of Stephenville sr Allison Woerner in 12:02.01

College Park girls

, a South bubble team, captured team gold with 23 points (2-3-5-6-7) and a 12:29 average, to upend SO#9 Belton with 54 (1-9-10-16-18) and a 12:48 average.
College Park sr

Ernest Puckett

ruled the boys race, clocking 16:12.34. Riesel jr Colton Dieterich took silver in 16:17.20, followed by College Park jr Cody Foster in 16:29.23.

College Park boys

claimed the team title, tallying 21 (1-2-3-7-8) with a 16:37 average, while runner-up Belton scored 64.
PHOTOS:


College Park girls, with Coach Andrea Kaylor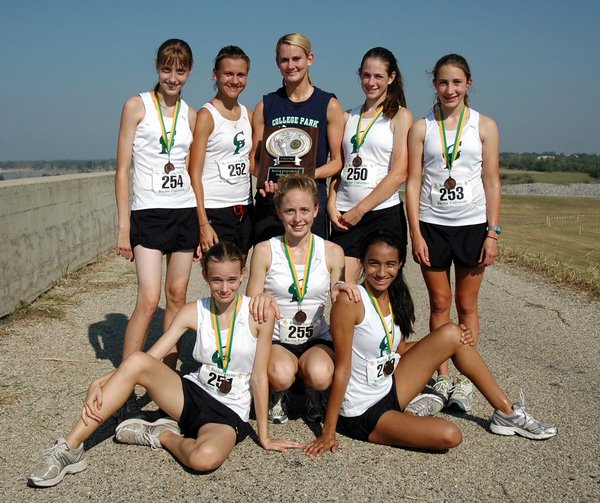 College Park boys, with Coach Mike Gibson
Ernest Puckett takes gold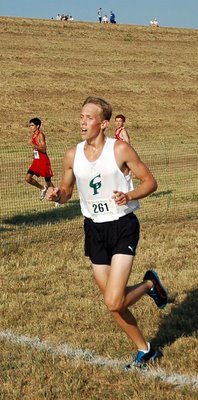 photos courtesy Richard Schultz
RESULTS
Baylor University                                          Hy-Tek's Meet Manager
                      2007 Baylor Invitational - 9/22/2007                       
                          Bear Run Cross Country Course                          
                              Last Completed Event                               

Event 1  Girls 3200 Meter Run CC Division 1
=======================================================================          
    Name                    Year School                  Finals  Points          
=======================================================================          
  1 Tindell, Regan            10 Belton                11:47.39    1             
  2 Woerner, Allison          12 Stephenville          12:02.01                  
  3 Schultz, Elizabeth        10 Conroe Wood CP        12:10.14    2             
  4 Jensen, Emily             09 Conroe Wood CP        12:25.32    3             
  5 Hernandez, Anamaris       11 Killeen Ellison       12:32.46    4             
  6 Neal, Mckenze             10 Conroe Wood CP        12:33.72    5             
  7 Hatley, Kate              12 Conroe Wood CP        12:34.08    6             
  8 Andaya, Makayla           10 Conroe Wood CP        12:43.70    7             
  9 Bingman, Laurel           09 Conroe Wood CP        12:45.60    8             
 10 Alford, Skylor            12 Belton                12:46.46    9             
 11 Allen, Samantha           12 Belton                12:48.00   10             
 12 Maton, Ashley                Unattached            12:51.47                  
 13 Grillo, Katherine         12 Aledo                 12:52.31   11             
 14 Thornton, Taylor          10 Aledo                 12:57.65   12             
 15 Beckman, Erin             12 Conroe Wood CP        13:03.46   13             
 16 Granados, Yuliana         11 Mesquite North M      13:11.61   14             
 17 Acosta, Diana             12 Temple                13:12.46   15             
 18 Kimbrough, Rachel         12 Belton                13:17.25   16             
 19 Matvey, Lindsey           11 Mesquite North M      13:19.89   17             
 20 Harris, Alexis            09 Belton                13:22.94   18             
 21 Hildinger, Lauren         09 Belton                13:23.04   19             
 22 Gabbert, Taylor           12 Aledo                 13:29.43   20             
 23 McKinney, Brooke          09 Temple                13:34.54   21             
 24 Ariyasinghe, Nethika      11 Waco Midway           13:36.27   22             
 25 Jessica, Slaton           12 Temple                13:38.65   23             
 26 Kearse, Tabitha           11 Copperas Cove         13:38.99   24             
 27 Neeper, Dana              10 Waco Midway           13:40.21   25             
 28 Loy, Kayla                10 Belton                13:41.63   26             
 29 Porisch, Greta            10 SA Antonian           13:43.12   27             
 30 Hensel, Alix              09 Waco Midway           13:47.83   28             
 31 Caffey, Erica             09 Waco Midway           13:57.75   29             
 32 Rutledge, Caitlyn         11 Aledo                 14:00.79   30             
 33 Cuellar, Rachel           12 SA Antonian           14:18.18   31             
 34 Kisley, Devon             10 Temple                14:19.73   32             
 35 Gilbert, Hollie           10 Aledo                 14:25.64   33             
 36 Zetina, Danielle          11 Copperas Cove         14:28.82   34             
 37 Kelbly, Erin              10 Waco Midway           14:31.31   35             
 38 Alvarez, Chassidy         10 Mesquite North M      14:33.11   36             
 39 Lara, Liz                 12 Mesquite North M      14:35.04   37             
 40 Elizondo, Laura           11 SA Antonian           14:39.09   38             
 41 Sandoval, Cinthia         11 Waco                  14:40.46   39             
 42 Bourland, Erin            10 Aledo                 14:45.46   40             
 43 Agnas, Lynee              11 Killeen Ellison       14:47.46   41             
 44 Peterson, Daphnee         10 SA Antonian           14:47.93   42             
 45 Farrell, Meghan           11 Temple                14:49.37   43             
 46 LaTisha, Butler           09 Temple                14:51.69   44             
 47 Heim, Stephanie           09 Killeen Ellison       14:53.42   45             
 48 Johnson, Lovely           10 Killeen Ellison       14:54.03   46             
 49 Redding, Sydney           09 Waco                  14:54.12   47             
 50 Figueroa, Mercedes        11 Mesquite North M      14:55.39   48             
 51 Hansen, Lauren            12 Waco                  14:56.54   49             
 52 Sloan, Kelsey             10 Copperas Cove         14:56.58   50             
 53 Byrne, Kaileigh           12 SA Antonian           14:57.82   51             
 54 Young, Sylvia             12 Killeen Ellison       15:07.61   52             
 55 Aleman, Christine         12 SA Antonian           15:12.94   53             
 56 Martinez, Nicole          10 SA Antonian           15:16.41   54             
 57 Moore, Rachel             10 Waco                  15:21.58   55             
 58 Grant, Kristen            09 Copperas Cove         15:24.00   56             
 59 Escobar, Leslie           10 Waco                  15:29.78   57             
 60 Stephens, Casey           12 Copperas Cove         15:30.83   58             
 61 Beiter, Katelyn           10 SA Antonian           15:33.59                  
 62 Trejas, Arantza           09 Killeen Ellison       15:41.61   59             
 63 Bergara-Gonzalez, Noeli   11 Copperas Cove         15:50.95   60             
 64 Pomeroy, Sarah            11 Killeen Ellison       16:03.24   61             
 65 April, Wren               10 Waco                  16:16.69   62             
 66 Shea, Alexandra           11 Aledo                 16:20.35   63             
 67 Vlam, Megan               11 Waco                  16:24.61   64             
 68 Shaunfield, Meagann       10 Aledo                 16:30.48                  
 69 Botelo, Jennifer          11 Waco                  16:45.57                  
 70 Bruton, Krista            10 Aledo                 18:36.93                  
                                                                                 
                                   Team Scores                                   
=================================================================================
Rank Team                      Total    1    2    3    4    5   *6   *7   *8   *9
=================================================================================
   1 Conroe Wood College Park     23    2    3    5    6    7    8   13          
      Total Time:  1:02:26.96                                                    
         Average:    12:29.40                                                    
   2 Belton                       54    1    9   10   16   18   19   26          
      Total Time:  1:04:02.04                                                    
         Average:    12:48.41                                                    
   3 Aledo                       106   11   12   20   30   33   40   63          
      Total Time:  1:07:45.82                                                    
         Average:    13:33.17                                                    
   4 Temple                      134   15   21   23   32   43   44               
      Total Time:  1:09:34.75                                                    
         Average:    13:54.95                                                    
   5 Waco Midway                 139   22   25   28   29   35                    
      Total Time:  1:09:33.37                                                    
         Average:    13:54.68                                                    
   6 Mesquite North Mesquite     152   14   17   36   37   48                    
      Total Time:  1:10:35.04                                                    
         Average:    14:07.01                                                    
   7 Killeen Ellison             188    4   41   45   46   52   59   61          
      Total Time:  1:12:14.98                                                    
         Average:    14:27.00                                                    
   8 San Antonio Antonian        189   27   31   38   42   51   53   54          
      Total Time:  1:12:26.14                                                    
         Average:    14:29.23                                                    
   9 Copperas Cove               222   24   34   50   56   58   60               
      Total Time:  1:13:59.22                                                    
         Average:    14:47.85                                                    
  10 Waco                        247   39   47   49   55   57   62   64          
      Total Time:  1:15:22.48                                                    
         Average:    15:04.50                                                    

Event 2  Boys 5k Run CC Division 1
=======================================================================          
    Name                    Year School                  Finals  Points          
=======================================================================          
  1 Puckett, Ernest           12 Conroe Wood CP        16:12.34    1             
  2 Dieterich, Colton         11 Riesel                16:17.20                  
  3 Foster, Cody              11 Conroe Wood CP        16:29.23    2             
  4 Willhite, Jon             10 Conroe Wood CP        16:35.29    3             
  5 Lopez, Lucius             12 Mesquite North M      16:42.07    4             
  6 Wachter, Christopher      12 SA Antonian           16:44.02    5             
  7 Sandlin, William          12 Belton                16:45.84    6             
  8 Janousek, Michael         11 Conroe Wood CP        16:53.42    7             
  9 Fagnant, Joshua           11 Conroe Wood CP        16:56.08    8             
 10 Woodcock, Douglas         11 Conroe Wood CP        16:58.58    9             
 11 Boston, Paul              12 Belton                17:05.13   10             
 12 Maddox, Tyler             11 Belton                17:07.81   11             
 13 Upshaw, Matt                 Waco Midway           17:11.87   12             
 14 Vitucci, John             12 Conroe Wood CP        17:14.65   13             
 15 Gazda, Matt               10 SA Antonian           17:14.81   14             
 16 Kotar, Keith              11 Aledo                 17:21.19   15             
 17 Vriseno, Zerrick          10 Belton                17:30.67   16             
 18 Olguin, Manuel            11 Waco                  17:35.28   17             
 19 Jolibois, Andrew          11 Conroe Wood CP        17:38.44                  
 20 Caldera, Isaiah           12 Temple                17:47.41   18             
 21 Schmidt, Billy               Waco Midway           17:49.42   19             
 22 Benitez, Jonathan         12 Waco                  17:52.04   20             
 23 Lammert, Patrick          10 Belton                17:55.39   21             
 24 Quintanilla, Isaac        10 Belton                17:59.41   22             
 25 Palamara, Nick            11 Belton                18:02.20   23             
 26 Myers, Mitchell              Waco Midway           18:02.35   24             
 27 Defillippo, Ky            12 Killeen Ellison       18:10.15   25             
 28 Mundle, Daniel            12 Killeen Ellison       18:11.86   26             
 29 Rodriguez, Cesar          10 SA Antonian           18:19.73   27             
 30 Davidson, Jordan          11 Aledo                 18:20.91   28             
 31 Gentle, ashton            12 Copperas Cove         18:22.25   29             
 32 Guajardo, Romeo           10 Temple                18:23.88   30             
 33 Kimbrough, Alex           10 Belton                18:28.45                  
 34 Reynolds, Maurico         12 Waco                  18:28.56   31             
 35 Byrd, Cameron             12 Waco                  18:34.70   32             
 36 Hubbard, Victor           10 Copperas Cove         18:35.22   33             
 37 Graham, Derwin            09 Copperas Cove         18:35.70   34             
 38 Tejeda, Raul              12 Mesquite North M      18:35.97   35             
 39 Montalvo, Nick            11 Aledo                 18:40.77   36             
 40 Lopez, Bernardo           11 SA Antonian           18:46.47   37             
 41 Smith, Richaud            12 Killeen Ellison       18:52.36   38             
 42 Perez, Marcos             09 SA Antonian           18:53.64   39             
 43 Underwood, Tyler             Waco Midway           18:55.76   40             
 44 Bell, Jordan                 Waco Midway           18:56.23   41             
 45 Ibanez, Jesus             11 Waco                  18:57.95   42             
 46 Hernandez, Danny          12 SA Antonian           19:00.17   43             
 47 Hernandez, Luis           10 Killeen Ellison       19:01.35   44             
 48 Gonzales, Jon             11 Killeen Ellison       19:03.91   45             
 49 Anno, Jonathan            09 SA Antonian           19:06.05   46             
 50 Cortez, DJ                10 SA Antonian           19:08.53                  
 51 Saks, Erik                09 SA Antonian           19:10.58                  
 52 ramsey, rayse             12 Temple                19:11.20   47             
 53 Cast, Kelly               11 Temple                19:11.95   48             
 54 Mojica, Pedro             12 Killeen Ellison       19:12.79   49             
 55 Carter, Desmyn            11 Killeen Ellison       19:13.15   50             
 56 Closs, Donald             12 Waco                  19:13.75   51             
 57 Ramirez, Adrian           10 Copperas Cove         19:17.43   52             
 58 Velazquez, Jose           11 Mesquite North M      19:20.79   53             
 59 Sauceda, Roberto          11 Mesquite North M      19:25.81   54             
 60 Smith, Ian                09 Belton                19:27.99                  
 61 Adair, Austin             11 Mesquite North M      19:42.59   55             
 62 Gabbert, Kyle             11 Aledo                 19:47.95   56             
 63 Massey, Michael           10 Temple                20:02.29   57             
 64 Martin, Chris             11 Aledo                 20:04.21   58             
 65 Rodriguez, Ricky          10 Mesquite North M      20:08.93   59             
 66 Simmons, James            09 Aledo                 20:10.78   60             
 67 Leija, Josh               11 Temple                20:36.03   61             
 68 Murphy, Lopati            10 Killeen Ellison       20:47.45                  
 69 Lara, Carlos              11 Temple                21:09.05   62             
 70 Churchill, Jordan         11 Copperas Cove         21:11.29   63             
 71 Kraan, David              09 Temple                21:12.04                  
 72 Prisco, Nick              10 Aledo                 21:36.99   64             
 73 Graham, Nick              10 Temple                21:37.13                  
 74 Nunnery, Matthew          10 Aledo                 21:43.63                  
 75 Yeager, Jace              12 Aledo                 21:43.87                  
                                                                                 
                                   Team Scores                                   
=================================================================================
Rank Team                      Total    1    2    3    4    5   *6   *7   *8   *9
=================================================================================
   1 Conroe Wood College Park     21    1    2    3    7    8    9   13          
      Total Time:  1:23:06.36                                                    
         Average:    16:37.28                                                    
   2 Belton                       64    6   10   11   16   21   22   23          
      Total Time:  1:26:24.84                                                    
         Average:    17:16.97                                                    
   3 San Antonio Antonian        122    5   14   27   37   39   43   46          
      Total Time:  1:29:58.67                                                    
         Average:    17:59.74                                                    
   4 Waco Midway                 136   12   19   24   40   41                    
      Total Time:  1:30:55.63                                                    
         Average:    18:11.13                                                    
   5 Waco                        142   17   20   31   32   42   51               
      Total Time:  1:31:28.53                                                    
         Average:    18:17.71                                                    
   6 Killeen Ellison             178   25   26   38   44   45   49   50          
      Total Time:  1:33:19.63                                                    
         Average:    18:39.93                                                    
   7 Aledo                       193   15   28   36   56   58   60   64          
      Total Time:  1:34:15.03                                                    
         Average:    18:51.01                                                    
   8 Temple                      200   18   30   47   48   57   61   62          
      Total Time:  1:34:36.73                                                    
         Average:    18:55.35                                                    
   9 Mesquite North Mesquite     201    4   35   53   54   55   59               
      Total Time:  1:33:47.23                                                    
         Average:    18:45.45                                                    
  10 Copperas Cove               211   29   33   34   52   63                    
      Total Time:  1:36:01.89                                                    
         Average:    19:12.38                                                    


SOUTH REGION INDEX