Girls: 3200 meters
Boys: 5000 meters
73 degrees, fair skies, 28% humidity

- HIGHLIGHTS -
RESULTS: Boys 5A - Girls 5A - Boys 4A - Girls 4A - Boys 3A - Girls 3A -

Andrea Lewis 12:11, fastest of the day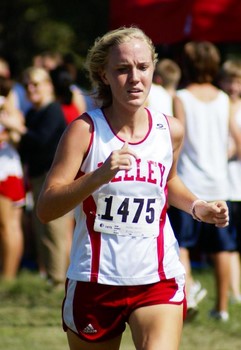 photo courtesy Robin Lewis


HIGHLIGHTS:
5A
Broken Arrow sr Ryan Farrar, the state #7 returnee, nipped Tulsa Union OK jr Steven Baker, the state #1 returnee, by 1 second, 16:14 to 16:15. Sapulpa sr Cordell Baker, 3rd at the OSU Cowboy Jamboree, finished 3rd in 16:39, ahead of Broken Arrow sr Mitch Johnson, the state #3 returnee, in 16:48.
SO#9 Tulsa Union boys beat Broken Arrow, its main in-state challenger all season, by a score of 49-62, with Jenks rounding out the top 3 with 66.
Tulsa Union sr Sara Vaughn, the defending state champ, cruised home in 12:13 for individual honors. Enid fr Whitney Warfield was her closest pursuer, nabbing silver in 12:22.
Tulsa Union girls struck team gold with 58 points and a 12:56 average, followed by defending state champ Jenks with 61 and Enid with 107.
4A
Skiatook sr Brent Nuttall, 6th in the state in 2006, broke the tape in 17:08, with Bishop Kelley sr Jake Heinrich earning silver in 17:35.
Bishop Kelley boys, the 2006 state runner-up, captured the team title with 46 points and an 18:20 average, while Shawnee took 2nd with 64.
Bishop Kelley jr Andrea Lewis, the OSU Cowboy 4A champ, posted the fastest time of the day, clocking 12:11. Edison sr Hayden Greenawalt finished 2nd in 12:48.
Shawnee girls scored 52 points with a 13:29 average for team gold, followed by Bishop Kelley with 64 for silver.
3A
Sante Fe South jr Ramiro Becerra led the field in 17:15, ahead of Kellyville's Austin Christian in 17:34.
Sante Fe South boys, last year's state bronze medalist, claimed the team title with 44 points, followed by Jay with 53.
Jay's Talisa Budder motored home in 12:21 for gold, ahead of Piedmont's Jori Davis in 12:34.
Seminole girls tallied 40 points for team honors, with Poteau 2nd with 70.
RESULTS:
5A BOYS * KELLYVILLE XC REGIONAL
Kellyville, Okla. * October 18, 2007 * 5000 m 
INDIVIDUAL MALE RESULTS 
Place TmPl Name                School                        Time6 Pace  
===== ==== =================== ============================= ===== ===== 
    1    1 Ryan Farrar         BROKEN ARROW                  16:14  3:15 
    2    2 Steven Baker        UNION                         16:15  3:15 
    3    3 Cordell Baker       SAPULPA                       16:39  3:20 
    4    4 Mitch Johnson       BROKEN ARROW                  16:48  3:22 
    5    5 Max Miller          STILLWATER                    16:48  3:22 
    6    6 Dylan Moon          JENKS                         16:50  3:22 
    7    7 David Jones         UNION                         16:55  3:23 
    8    8 Nathan Ellis        SAPULPA                       17:04  3:25 
    9    9 Reese Jackson       JENKS                         17:08  3:26 
   10   10 Ryan Fischer        JENKS                         17:18  3:28 
   11   11 Colin Whitsett      UNION                         17:27  3:30 
   12   12 Adam Johnson        BROKEN ARROW                  17:31  3:31 
   13   13 Josh Frees          PONCA CITY                    17:35  3:31 
   14   14 Taylor Monaghan     UNION                         17:40  3:32 
   15   15 Alex Baker          UNION                         17:40  3:32 
   16   16 Kyle Atekwanna      STILLWATER                    17:46  3:34 
   17   17 Taylor Gulley       BROKEN ARROW                  17:46  3:34 
   18   18 Daniel Rock         JENKS                         17:47  3:34 
   19   19 Ethan Ward          TAHLEQUAH                     17:48  3:34 
   20   20 Griffin Mason       UNION                         17:51  3:34 
   21   21 May Johnson         STILLWATER                    17:51  3:35 
   22   22 Caleb Clark         BARTLESVILLE                  17:54  3:35 
   23   23 Nick Blackwell      JENKS                         17:55  3:35 
   24   24 Frank Adelman       YUKON                         17:57  3:36 
   25   25 Matt Wilson         OWASSO                        17:58  3:36 
   26   26 Hunter Henrie       OWASSO                        18:02  3:37 
   27   27 Kale McCoy          STILLWATER                    18:04  3:37 
   28   28 Will McIntosh       BROKEN ARROW                  18:06  3:38 
   29   29 Jordan Gullic       UNION                         18:07  3:38 
   30   30 Andrew Krush        ENID                          18:14  3:39 
   31   31 Rusty Fowler        TAHLEQUAH                     18:19  3:40 
   32   32 Doug Broach         YUKON                         18:20  3:40 
   33   33 Ryan Jackson        JENKS                         18:22  3:41 
   34   34 Tyler McClellan     BROKEN ARROW                  18:23  3:41 
   35   35 Logan Smith         OWASSO                        18:26  3:42 
   36   36 Max Harris          TULSA MEMORIAL                18:27  3:42 
   37   37 Joel Salazar        YUKON                         18:27  3:42 
   38   38 Ray Salmon          TAHLEQUAH                     18:28  3:42 
   39   39 Dustin Lousch       SAPULPA                       18:32  3:43 
   40   40 Trevor Feathers     PONCA CITY                    18:33  3:43 
   41   41 Trevor Bay          BARTLESVILLE                  18:35  3:43 
   42   42 Alston Benton       PONCA CITY                    18:35  3:43 
   43   43 Patrick Seward      CLAREMORE                     18:37  3:44 
   44   44 Kurt Kleinholz      STILLWATER                    18:37  3:44 
   45   45 Alex Andrews        ENID                          18:38  3:44 
   46   46 Eaphy Mao           PONCA CITY                    18:38  3:44 
   47   47 Justin Swake        BROKEN ARROW                  18:39  3:44 
   48   48 Travis Wagner       ENID                          18:40  3:44 
   49   49 Rob Redwine         JENKS                         18:51  3:47 
   50   50 Clarence Steward    PUTNAM CITY WEST              18:53  3:47 
   51   51 Aaron Watts         YUKON                         18:54  3:47 
   52   52 Tyler Perry         TAHLEQUAH                     18:55  3:47 
   53   53 Jordan Denton       PONCA CITY                    18:56  3:48 
   54   54 Victor Others       PONCA CITY                    18:57  3:48 
   55   55 Chandler Smith      OWASSO                        18:59  3:48 
   56   56 Mitch Haun          YUKON                         19:03  3:49 
   57   57 Thomas Tower        STILLWATER                    19:06  3:50 
   58   58 Ben Foster          ENID                          19:11  3:51 
   59      Lewayne Riley       MUSKOGEE                      19:14  3:51 
   60   59 Daniel Dew          TAHLEQUAH                     19:17  3:52 
   61   60 Christian Hooper    TAHLEQUAH                     19:19  3:52 
   62   61 Cole Stratman       OWASSO                        19:19  3:52 
   63   62 Thomas Keller       YUKON                         19:23  3:53 
   64   63 Matt Majors         ENID                          19:30  3:54 
   65   64 Devon Matussak      CLAREMORE                     19:31  3:55 
   66   65 Andrew Pletan       OWASSO                        19:34  3:55 
   67   66 Brett Bone          BARTLESVILLE                  19:40  3:56 
   68   67 Riley Mitchell      BARTLESVILLE                  19:43  3:57 
   69   68 Carson West         PUTNAM CITY WEST              19:43  3:57 
   70   69 Taylor Tannehill    TAHLEQUAH                     19:45  3:57 
   71   70 Michael Taitano     PUTNAM CITY WEST              19:46  3:58 
   72   71 Kevin Rolfs         BARTLESVILLE                  19:47  3:58 
   73   72 Seth Havenstrite    CLAREMORE                     19:47  3:58 
   74   73 Koree Hanneman      PUTNAM CITY WEST              19:49  3:58 
   75   74 Evan Halton         OWASSO                        19:51  3:59 
   76   75 Jakob Williams      BARTLESVILLE                  19:52  3:59 
   77   76 Brady Henderson     SAPULPA                       19:56  4:00 
   78   77 Charles Kenna       STILLWATER                    19:57  4:00 
   79   78 Kasey Wilcox        PUTNAM CITY WEST              19:57  4:00 
   80   79 Keagan Reeves       ENID                          20:04  4:01 
   81   80 Chris Sherman       SAPULPA                       20:18  4:04 
   82   81 Andrew Vetters      PONCA CITY                    20:22  4:05 
   83   82 Colton Eckert       ENID                          20:28  4:06 
   84   83 John Smith          CLAREMORE                     20:28  4:06 
   85   84 Tyler Stolhand      CLAREMORE                     20:46  4:10 
   86   85 Kyle Corriveau      PUTNAM CITY WEST              20:57  4:12 
   87   86 Tyler Ramsey        YUKON                         20:59  4:12 
   88   87 Thomas Byus         PUTNAM CITY WEST              21:01  4:13 
   89   88 Adam Harmon         SAND SPRINGS                  21:12  4:15 
   90   89 Spence Courtney     BARTLESVILLE                  21:14  4:15 
   91   90 James McCartney     SAND SPRINGS                  21:17  4:16 
   92   91 Tyler Thresher      SAND SPRINGS                  21:38  4:20 
   93   92 Ryan Cane           TULSA MEMORIAL                21:39  4:20 
   94   93 Cameron Belcher     TULSA MEMORIAL                21:43  4:21 
   95   94 Nick Turner         TULSA MEMORIAL                21:54  4:23 
   96   95 Tylor McKay         SAND SPRINGS                  22:08  4:26 
   97   96 Andrew McFarland    TULSA MEMORIAL                22:14  4:27 
   98   97 Jorge Gonzalaz      TULSA MEMORIAL                22:34  4:31 
   99   98 Chris Halcomb       SAPULPA                       22:38  4:32 
  100   99 Joey Mason          CLAREMORE                     23:01  4:37 
  101  100 Joe Ben Wilson      CLAREMORE                     23:07  4:38 
  102  101 Zane Bridges        SAND SPRINGS                  23:11  4:39 


5A BOYS * KELLYVILLE XC REGIONAL
Kellyville, Okla. * October 18, 2007 * 5000 m 
MALE TEAM RESULTS
SCHOOL PLACE * TOTAL POINTS * SCHOOL NAME * SCHOOL AVERAGE TIME & TOTAL TIME 
INDIVIDUAL TM PLACE * INDIVIDUAL OPEN PLACE * INDIVIDUAL NAME * INDIVIDUAL TIME

  1.    49  UNION                         (  17:12  1:25:57)
============================================
  1      2  Steven Baker                 16:15
  2      7  David Jones                  16:55
  3     11  Colin Whitsett               17:27
  4     14  Taylor Monaghan              17:40
  5     15  Alex Baker                   17:40
  6   ( 20) Griffin Mason                17:51
  7   ( 29) Jordan Gullic                18:07

  2.    62  BROKEN ARROW                  (  17:17  1:26:25)
============================================
  1      1  Ryan Farrar                  16:14
  2      4  Mitch Johnson                16:48
  3     12  Adam Johnson                 17:31
  4     17  Taylor Gulley                17:46
  5     28  Will McIntosh                18:06
  6   ( 34) Tyler McClellan              18:23
  7   ( 47) Justin Swake                 18:39

  3.    66  JENKS                         (  17:24  1:26:58)
============================================
  1      6  Dylan Moon                   16:50
  2      9  Reese Jackson                17:08
  3     10  Ryan Fischer                 17:18
  4     18  Daniel Rock                  17:47
  5     23  Nick Blackwell               17:55
  6   ( 33) Ryan Jackson                 18:22
  7   ( 49) Rob Redwine                  18:51

  4.   113  STILLWATER                    (  17:50  1:29:06)
============================================
  1      5  Max Miller                   16:48
  2     16  Kyle Atekwanna               17:46
  3     21  May Johnson                  17:51
  4     27  Kale McCoy                   18:04
  5     44  Kurt Kleinholz               18:37
  6   ( 57) Thomas Tower                 19:06
  7   ( 77) Charles Kenna                19:57

  5.   194  PONCA CITY                    (  18:28  1:32:17)
============================================
  1     13  Josh Frees                   17:35
  2     40  Trevor Feathers              18:33
  3     42  Alston Benton                18:35
  4     46  Eaphy Mao                    18:38
  5     53  Jordan Denton                18:56
  6   ( 54) Victor Others                18:57
  7   ( 81) Andrew Vetters               20:22

  6.   199  TAHLEQUAH                     (  18:34  1:32:47)
============================================
  1     19  Ethan Ward                   17:48
  2     31  Rusty Fowler                 18:19
  3     38  Ray Salmon                   18:28
  4     52  Tyler Perry                  18:55
  5     59  Daniel Dew                   19:17
  6   ( 60) Christian Hooper             19:19
  7   ( 69) Taylor Tannehill             19:45

  7.   200  YUKON                         (  18:33  1:32:41)
============================================
  1     24  Frank Adelman                17:57
  2     32  Doug Broach                  18:20
  3     37  Joel Salazar                 18:27
  4     51  Aaron Watts                  18:54
  5     56  Mitch Haun                   19:03
  6   ( 62) Thomas Keller                19:23
  7   ( 86) Tyler Ramsey                 20:59

  8.   202  OWASSO                        (  18:33  1:32:44)
============================================
  1     25  Matt Wilson                  17:58
  2     26  Hunter Henrie                18:02
  3     35  Logan Smith                  18:26
  4     55  Chandler Smith               18:59
  5     61  Cole Stratman                19:19
  6   ( 65) Andrew Pletan                19:34
  7   ( 74) Evan Halton                  19:51

  9.   206  SAPULPA                       (  18:30  1:32:29)
============================================
  1      3  Cordell Baker                16:39
  2      8  Nathan Ellis                 17:04
  3     39  Dustin Lousch                18:32
  4     76  Brady Henderson              19:56
  5     80  Chris Sherman                20:18
  6   ( 98) Chris Halcomb                22:38

 10.   244  ENID                          (  18:51  1:34:13)
============================================
  1     30  Andrew Krush                 18:14
  2     45  Alex Andrews                 18:38
  3     48  Travis Wagner                18:40
  4     58  Ben Foster                   19:11
  5     63  Matt Majors                  19:30
  6   ( 79) Keagan Reeves                20:04
  7   ( 82) Colton Eckert                20:28

 11.   267  BARTLESVILLE                  (  19:08  1:35:39)
============================================
  1     22  Caleb Clark                  17:54
  2     41  Trevor Bay                   18:35
  3     66  Brett Bone                   19:40
  4     67  Riley Mitchell               19:43
  5     71  Kevin Rolfs                  19:47
  6   ( 75) Jakob Williams               19:52
  7   ( 89) Spence Courtney              21:14

 12.   339  PUTNAM CITY WEST              (  19:38  1:38:08)
============================================
  1     50  Clarence Steward             18:53
  2     68  Carson West                  19:43
  3     70  Michael Taitano              19:46
  4     73  Koree Hanneman               19:49
  5     78  Kasey Wilcox                 19:57
  6   ( 85) Kyle Corriveau               20:57
  7   ( 87) Thomas Byus                  21:01

 13.   346  CLAREMORE                     (  19:50  1:39:09)
============================================
  1     43  Patrick Seward               18:37
  2     64  Devon Matussak               19:31
  3     72  Seth Havenstrite             19:47
  4     83  John Smith                   20:28
  5     84  Tyler Stolhand               20:46
  6   ( 99) Joey Mason                   23:01
  7   (100) Joe Ben Wilson               23:07

 14.   411  TULSA MEMORIAL                (  21:12  1:45:57)
============================================
  1     36  Max Harris                   18:27
  2     92  Ryan Cane                    21:39
  3     93  Cameron Belcher              21:43
  4     94  Nick Turner                  21:54
  5     96  Andrew McFarland             22:14
  6   ( 97) Jorge Gonzalaz               22:34

15.   465  SAND SPRINGS                  (  21:54  1:49:26)
============================================
  1     88  Adam Harmon                  21:12
  2     90  James McCartney              21:17
  3     91  Tyler Thresher               21:38
  4     95  Tylor McKay                  22:08
  5    101  Zane Bridges                 23:11



5A GIRLS * KELLYVILLE XC REGIONAL
Kellyville, Okla. * October 18, 2007 * 3200 m 
INDIVIDUAL FEMALE RESULTS 
Place TmPl Name                School                        Time5 Pace  
===== ==== =================== ============================= ===== ===== 
    1    1 Sara Vaughn         UNION                         12:13  6:07 
    2    2 Whitney Warfield    ENID                          12:22  6:11 
    3    3 Stephanie Fleig     BROKEN ARROW                  12:24  6:12 
    4    4 Rani Melvin         ENID                          12:35  6:18 
    5    5 Sarah Hix           TAHLEQUAH                     12:39  6:20 
    6    6 Cindy Cary          BARTLESVILLE                  12:42  6:21 
    7    7 Sarah Daggett       UNION                         12:43  6:22 
    8    8 Amy McCarthy        JENKS                         12:51  6:26 
    9    9 Lauren Wienecke     JENKS                         12:57  6:29 
   10   10 Celeste St. Gemme   OWASSO                        12:58  6:29 
   11   11 Jacquelynn Skocik   JENKS                         13:00  6:30 
   12   12 Alyssa Smith        UNION                         13:02  6:31 
   13   13 Alex Lewis          TAHLEQUAH                     13:02  6:31 
   14   14 Riley Buckley       ENID                          13:05  6:33 
   15   15 Sarah Stark         JENKS                         13:12  6:36 
   16   16 Melissa Banks       YUKON                         13:13  6:37 
   17   17 Lauren Guidry       UNION                         13:15  6:38 
   18   18 Rachel Feist        JENKS                         13:18  6:39 
   19   19 Cheris Colbly       OWASSO                        13:18  6:39 
   20   20 Cecilia Burley      PONCA CITY                    13:23  6:42 
   21   21 Julianne Dickie     UNION                         13:25  6:43 
   22   22 Caylie St. Gemme    OWASSO                        13:26  6:43 
   23   23 Lisa Lake           SAPULPA                       13:27  6:44 
   24   24 Erica Rackley       STILLWATER                    13:29  6:45 
   25   25 Angel Vick          BROKEN ARROW                  13:30  6:45 
   26   26 Miranda Zoller      JENKS                         13:31  6:46 
   27   27 Kaley Denegar       BROKEN ARROW                  13:32  6:46 
   28   28 Dima Taquali        UNION                         13:33  6:47 
   29      Mireya Mendez       PUTNAM CITY WEST              13:34  6:47 
   30   29 Patty Murphy        YUKON                         13:36  6:48 
   31   30 Jordan Hendrickson  OWASSO                        13:37  6:49 
   32   31 Dalia Taquali       UNION                         13:37  6:49 
   33   32 Kendal Emerson      BROKEN ARROW                  13:39  6:50 
   34   33 Cassy Kendrick      PONCA CITY                    13:39  6:50 
   35   34 Tori Carrasca       BROKEN ARROW                  13:40  6:50 
   36   35 Sarah Massey        YUKON                         13:41  6:51 
   37   36 Carol Southard      PONCA CITY                    14:00  7:00 
   38   37 Courtney Cleveland  OWASSO                        14:04  7:02 
   39   38 Heather Capozzella  ENID                          14:04  7:02 
   40   39 Megan Wilkerson     YUKON                         14:05  7:03 
   41   40 Kisty Baze          STILLWATER                    14:06  7:03 
   42   41 Britney McDonald    CLAREMORE                     14:10  7:05 
   43      Kiera Hines         SAND SPRINGS                  14:11  7:06 
   44   42 Katilyn Norton      YUKON                         14:12  7:06 
   45   43 Miriam Poole        BARTLESVILLE                  14:13  7:07 
   46   44 Kaelyn Grant        TAHLEQUAH                     14:13  7:07 
   47   45 Hayley Jennings     BROKEN ARROW                  14:21  7:11 
   48   46 Jenna Taylor        BARTLESVILLE                  14:22  7:11 
   49   47 Gracie Hale         YUKON                         14:23  7:12 
   50   48 Kourtney McCombs    OWASSO                        14:23  7:12 
   51   49 Katilyn Belisle     ENID                          14:25  7:13 
   52   50 Sarah Gibbs         SAPULPA                       14:27  7:14 
   53      Alyssa Osberghaus   TULSA MEMORIAL                14:27  7:14 
   54   51 Amanda Wood         TAHLEQUAH                     14:30  7:15 
   55   52 Tricity Andrew      ENID                          14:32  7:16 
   56   53 Sallie Aman         ENID                          14:33  7:17 
   57   54 Melanie Paris       TAHLEQUAH                     14:35  7:18 
   58      Morgan Skaggs       SAND SPRINGS                  14:43  7:22 
   59   55 Whitney Mulholland  TAHLEQUAH                     14:44  7:22 
   60   56 Kristen Branstetter PONCA CITY                    14:49  7:25 
   61   57 Christian St. Gemme OWASSO                        14:56  7:28 
   62   58 Katelyn Little      STILLWATER                    14:59  7:30 
   63   59 Ashley Johnson      BROKEN ARROW                  15:04  7:32 
   64   60 Britney Barnhart    BARTLESVILLE                  15:07  7:34 
   65   61 Hena Kuru           MUSKOGEE                      15:11  7:36 
   66   62 Kathryn Radcliff    CLAREMORE                     15:11  7:36 
   67   63 Ashton Hix          TAHLEQUAH                     15:18  7:39 
   68   64 Leeha Crawford      MUSKOGEE                      15:23  7:42 
   69   65 Gaby Fernandez      SAPULPA                       15:23  7:42 
   70   66 Tara Garrett        CLAREMORE                     15:30  7:45 
   71   67 Alexandra Skousen   STILLWATER                    15:31  7:46 
   72   68 Cara Cox            YUKON                         15:34  7:47 
   73      Lindsay Pliler      TULSA MEMORIAL                15:37  7:49 
   74   69 Taryn Powell        BARTLESVILLE                  15:37  7:49 
   75   70 Demi Mullin         CLAREMORE                     15:41  7:51 
   76   71 Emma Gade           STILLWATER                    15:42  7:51 
   77   72 Kira Davis          SAPULPA                       15:44  7:52 
   78   73 Stephanie Housley   SAPULPA                       15:49  7:55 
   79   74 Brianna Bulard      STILLWATER                    15:58  7:59 
   80      Nerise Gwanyama     PUTNAM CITY WEST              15:59  8:00 
   81   75 Kalee Krajicek      SAPULPA                       16:00  8:00 
   82      Brianna Harris      TULSA MEMORIAL                16:01  8:01 
   83   76 Courtney Crown      BARTLESVILLE                  16:14  8:07 
   84   77 Kodie Jonas         CLAREMORE                     16:36  8:18 
   85   78 Janaya Wofford      MUSKOGEE                      16:39  8:20 
   86   79 Dominque Bridges    MUSKOGEE                      16:42  8:21 
   87   80 Amber Robbins       STILLWATER                    17:02  8:31 
   88   81 Ashley Williamson   CLAREMORE                     17:11  8:36 
   89   82 Eelycia Onebear     MUSKOGEE                      17:15  8:38 
   90      Jessica Hi lgendorf SAND SPRINGS                  17:19  8:40 
   91      Lori Voyles         PUTNAM CITY WEST              17:35  8:48 
   92   83 Hannah Hanley       CLAREMORE                     17:37  8:49 
   93      Cathy Eng           SAND SPRINGS                  17:59  9:00 
   94   84 Melissa Bell        PONCA CITY                    18:23  9:12 
   95      Alyssa Staat        TULSA MEMORIAL                18:48  9:24 
   96   85 Koryn Howey         PONCA CITY                    19:00  9:30 


5A GIRLS * KELLYVILLE XC REGIONAL
Kellyville, Okla. * October 18, 2007 * 3200 m 
FEMALE TEAM RESULTS
SCHOOL PLACE * TOTAL POINTS * SCHOOL NAME * SCHOOL AVERAGE TIME & TOTAL TIME 
INDIVIDUAL TM PLACE * INDIVIDUAL OPEN PLACE * INDIVIDUAL NAME * INDIVIDUAL TIME

  1.    58  UNION                         (  12:56  1:04:38)
============================================
  1      1  Sara Vaughn                  12:13
  2      7  Sarah Daggett                12:43
  3     12  Alyssa Smith                 13:02
  4     17  Lauren Guidry                13:15
  5     21  Julianne Dickie              13:25
  6   ( 28) Dima Taquali                 13:33
  7   ( 31) Dalia Taquali                13:37

  2.    61  JENKS                         (  13:04  1:05:18)
============================================
  1      8  Amy McCarthy                 12:51
  2      9  Lauren Wienecke              12:57
  3     11  Jacquelynn Skocik            13:00
  4     15  Sarah Stark                  13:12
  5     18  Rachel Feist                 13:18
  6   ( 26) Miranda Zoller               13:31

  3.   107  ENID                          (  13:19  1:06:31)
============================================
  1      2  Whitney Warfield             12:22
  2      4  Rani Melvin                  12:35
  3     14  Riley Buckley                13:05
  4     38  Heather Capozzella           14:04
  5     49  Katilyn Belisle              14:25
  6   ( 52) Tricity Andrew               14:32
  7   ( 53) Sallie Aman                  14:33

  4.   118  OWASSO                        (  13:29  1:07:23)
============================================
  1     10  Celeste St. Gemme            12:58
  2     19  Cheris Colbly                13:18
  3     22  Caylie St. Gemme             13:26
  4     30  Jordan Hendrickson           13:37
  5     37  Courtney Cleveland           14:04
  6   ( 48) Kourtney McCombs             14:23
  7   ( 57) Christian St. Gemme          14:56

  5.   121  BROKEN ARROW                  (  13:21  1:06:45)
============================================
  1      3  Stephanie Fleig              12:24
  2     25  Angel Vick                   13:30
  3     27  Kaley Denegar                13:32
  4     32  Kendal Emerson               13:39
  5     34  Tori Carrasca                13:40
  6   ( 45) Hayley Jennings              14:21
  7   ( 59) Ashley Johnson               15:04

  6.   161  YUKON                         (  13:46  1:08:47)
============================================
  1     16  Melissa Banks                13:13
  2     29  Patty Murphy                 13:36
  3     35  Sarah Massey                 13:41
  4     39  Megan Wilkerson              14:05
  5     42  Katilyn Norton               14:12
  6   ( 47) Gracie Hale                  14:23
  7   ( 68) Cara Cox                     15:34

  7.   167  TAHLEQUAH                     (  13:48  1:08:59)
============================================
  1      5  Sarah Hix                    12:39
  2     13  Alex Lewis                   13:02
  3     44  Kaelyn Grant                 14:13
  4     51  Amanda Wood                  14:30
  5     54  Melanie Paris                14:35
  6   ( 55) Whitney Mulholland           14:44
  7   ( 63) Ashton Hix                   15:18

  8.   224  BARTLESVILLE                  (  14:25  1:12:01)
============================================
  1      6  Cindy Cary                   12:42
  2     43  Miriam Poole                 14:13
  3     46  Jenna Taylor                 14:22
  4     60  Britney Barnhart             15:07
  5     69  Taryn Powell                 15:37
  6   ( 76) Courtney Crown               16:14

  9.   229  PONCA CITY                    (  14:51  1:14:14)
============================================
  1     20  Cecilia Burley               13:23
  2     33  Cassy Kendrick               13:39
  3     36  Carol Southard               14:00
  4     56  Kristen Branstetter          14:49
  5     84  Melissa Bell                 18:23
  6   ( 85) Koryn Howey                  19:00

 10.   260  STILLWATER                    (  14:46  1:13:47)
============================================
  1     24  Erica Rackley                13:29
  2     40  Kisty Baze                   14:06
  3     58  Katelyn Little               14:59
  4     67  Alexandra Skousen            15:31
  5     71  Emma Gade                    15:42
  6   ( 74) Brianna Bulard               15:58
  7   ( 80) Amber Robbins                17:02

 11.   283  SAPULPA                       (  14:58  1:14:50)
============================================
  1     23  Lisa Lake                    13:27
  2     50  Sarah Gibbs                  14:27
  3     65  Gaby Fernandez               15:23
  4     72  Kira Davis                   15:44
  5     73  Stephanie Housley            15:49
  6   ( 75) Kalee Krajicek               16:00

 12.   316  CLAREMORE                     (  15:26  1:17:08)
============================================
  1     41  Britney McDonald             14:10
  2     62  Kathryn Radcliff             15:11
  3     66  Tara Garrett                 15:30
  4     70  Demi Mullin                  15:41
  5     77  Kodie Jonas                  16:36
  6   ( 81) Ashley Williamson            17:11
  7   ( 83) Hannah Hanley                17:37

 13.   364  MUSKOGEE                      (  16:14  1:21:10)
============================================
  1     61  Hena Kuru                    15:11
  2     64  Leeha Crawford               15:23
  3     78  Janaya Wofford               16:39
  4     79  Dominque Bridges             16:42
  5     82  Eelycia Onebear              17:15


4A BOYS * KELLYVILLE XC REGIONAL
Kellyville, Okla. * October 18, 2007 * 5000 m 
INDIVIDUAL MALE RESULTS 
Place TmPl Name                School                        Time4 Pace  
===== ==== =================== ============================= ===== ===== 
    1    1 Brent Nuttall       SKIATOOK                      17:08  3:26 
    2    2 Jake Heinrich       BISHOP KELLEY                 17:35  3:31 
    3    3 Jonathan Reames     SHAWNEE                       17:50  3:34 
    4    4 Tyler Enoch         SHAWNEE                       18:07  3:38 
    5    5 Matt White          BISHOP KELLEY                 18:15  3:39 
    6    6 Tyler Oliphant      BIXBY                         18:16  3:40 
    7    7 Russell Saunders    SHAWNEE                       18:17  3:40 
    8    8 Ryan Yarnell        BISHOP KELLEY                 18:19  3:40 
    9    9 Miguel Ramos        CAPITOL HILL                  18:25  3:41 
   10   10 Luis Nevarez        CAPITOL HILL                  18:26  3:42 
   11   11 Zach Harper         COWETA                        18:28  3:42 
   12   12 Jacob Moore         EDISON                        18:32  3:43 
   13   13 Clinton Fulton      COWETA                        18:34  3:43 
   14   14 Mike Usrey          COWETA                        18:37  3:44 
   15      Justin Falley       GROVE                         18:38  3:44 
   16   15 Rob Phillips        BISHOP KELLEY                 18:40  3:44 
   17   16 Aaron Petrikin      BISHOP KELLEY                 18:48  3:46 
   18   17 Jose Bonilla        EAST CENTRAL                  18:49  3:46 
   19   18 David Annett        WASHINGTON                    18:51  3:47 
   20   19 Josiah Saop         WASHINGTON                    18:55  3:47 
   21   20 Ted Dockery         SHAWNEE                       19:03  3:49 
   22   21 Justin Gregory      GLENPOOL                      19:06  3:50 
   23   22 Charles Spears      WASHINGTON                    19:07  3:50 
   24   23 Alex Demand         BISHOP KELLEY                 19:13  3:51 
   25   24 Jordan Raper        GLENPOOL                      19:14  3:51 
   26   25 Marvin Escalante    EAST CENTRAL                  19:16  3:52 
   27   26 Abel Quintana       CAPITOL HILL                  19:28  3:54 
   28   27 Ian Bell            BIXBY                         19:29  3:54 
   29   28 Luis Rios           CAPITOL HILL                  19:30  3:54 
   30   29 Ivan Herrera        GLENPOOL                      19:32  3:55 
   31   30 Chaz Partin         SHAWNEE                       19:35  3:55 
   32      Dustin Baker        GROVE                         19:39  3:56 
   33   31 Leonel Herrera      CAPITOL HILL                  19:42  3:57 
   34   32 Jordan Haffener     BIXBY                         19:47  3:58 
   35   33 Ryan Jones          BIXBY                         19:53  3:59 
   36   34 Brandon Bonk        BISHOP KELLEY                 19:56  4:00 
   37   35 Andrew McElroy      WASHINGTON                    19:57  4:00 
   38   36 Cristian Merino     CAPITOL HILL                  19:57  4:00 
   39   37 Devin Martin        SKIATOOK                      20:01  4:01 
   40   38 Jackson Connolly    WASHINGTON                    20:07  4:02 
   41   39 Connor Ketchum      EDISON                        20:10  4:02 
   42      Dominic Wick        STILWELL                      20:12  4:03 
   43   40 Alex Smith          EDISON                        20:12  4:03 
   44   41 Adam Thornbrugh     EDISON                        20:13  4:03 
   45      Roman Bass          MIAMI                         20:16  4:04 
   46   42 Matt Rosson         PRYOR                         20:19  4:04 
   47   43 Cameron Storm       COLLINSVILLE                  20:21  4:05 
   48   44 Joseph Shaddox      BIXBY                         20:21  4:05 
   49   45 James Sherrill      PRYOR                         20:28  4:06 
   50   46 Don Brown           MCALESTER                     20:29  4:06 
   51   47 Matt Yarletts       GLENPOOL                      20:31  4:07 
   52   48 Todd Aduddell       EDISON                        20:32  4:07 
   53   49 Hollis Houser       SKIATOOK                      20:32  4:07 
   54      Evan Robinson       GROVE                         20:35  4:07 
   55   50 Jacob Campbell      COLLINSVILLE                  20:36  4:08 
   56   51 Trent Van Huss      BIXBY                         20:42  4:09 
   57      Levi Pittinger      CATOOSA                       20:45  4:09 
   58   52 B. J. Buckner       COWETA                        20:46  4:10 
   59   53 Patrick Ramsey      MCALESTER                     20:48  4:10 
   60   54 Ben Jacuk           COWETA                        20:49  4:10 
   61   55 Gary Newton         EAST CENTRAL                  20:52  4:11 
   62   56 D. J. Neighbors     COLLINSVILLE                  20:54  4:11 
   63   57 Giovani Lovera      MCALESTER                     20:55  4:11 
   64   58 Jordan Christy      COWETA                        20:56  4:12 
   65   59 Evan White          EDISON                        20:57  4:12 
   66   60 James Varbraugh     PRYOR                         20:59  4:12 
   67   61 Zathan Simpson      MCALESTER                     21:03  4:13 
   68   62 Daniel Tejeda       EAST CENTRAL                  21:05  4:13 
   69   63 Marty Williams      PRYOR                         21:05  4:13 
   70   64 Austin Donelson     EDISON                        21:06  4:13 
   71   65 Jared Satterfield   COWETA                        21:06  4:14 
   72   66 Sam Miller          WASHINGTON                    21:06  4:14 
   73   67 Kyle Wise           MCALESTER                     21:09  4:14 
   74   68 Sean Webster        PRYOR                         21:10  4:14 
   75   69 Robert Toledo       GLENPOOL                      21:21  4:17 
   76      Ivan Wong           MIAMI                         21:22  4:17 
   77   70 Russell Bair        PRYOR                         21:27  4:18 
   78   71 Connor Whitham      EAST CENTRAL                  21:30  4:18 
   79   72 Efrain Pina         CAPITOL HILL                  21:38  4:20 
   80   73 Jorge Gonzales      EAST CENTRAL                  21:40  4:20 
   81   74 Brendon Ford        BIXBY                         21:44  4:21 
   82   75 Byron Fabian        SKIATOOK                      21:46  4:22 
   83   76 Xavier Clark        EAST CENTRAL                  22:11  4:27 
   84   77 Gamaliel Ruiz       CENTRAL                       22:30  4:30 
   85   78 Diego Huerta        CENTRAL                       22:31  4:31 
   86   79 Samuel Lac          WASHINGTON                    22:31  4:31 
   87   80 Rene Saldivar       CENTRAL                       22:35  4:31 
   88      Matthew Barr        CATOOSA                       22:47  4:34 
   89   81 Michael Yingst      COLLINSVILLE                  23:03  4:37 
   90   82 Bryce Fulten        COLLINSVILLE                  23:05  4:37 
   91   83 Jake Williams       SKIATOOK                      23:06  4:38 
   92   84 Chris Williams      PRYOR                         23:22  4:41 
   93   85 Lude Huerta         CENTRAL                       23:23  4:41 
   94   86 Jon Dodson          GLENPOOL                      23:30  4:42 
   95   87 Trevor Bond         SKIATOOK                      23:40  4:44 
   96      Michal Richards     STILWELL                      23:44  4:45 
   97   88 Carl Crawford       SKIATOOK                      23:45  4:45 
   98   89 Jake Wood           MCALESTER                     23:49  4:46 
   99      Trey Roberts        MIAMI                         24:09  4:50 
  100   90 Larry Thompson      COLLINSVILLE                  24:24  4:53 
  101   91 Arturo Martinez     CENTRAL                       24:50  4:58 
  102      Kyle Pittinger      CATOOSA                       24:56  5:00 
  103   92 Reeves Murray       MCALESTER                     25:06  5:02 
  104      Dakota Thurman      CATOOSA                       25:11  5:03


4A BOYS * KELLYVILLE XC REGIONAL
Kellyville, Okla. * October 18, 2007 * 5000 m 
MALE TEAM RESULTS
SCHOOL PLACE * TOTAL POINTS * SCHOOL NAME * SCHOOL AVERAGE TIME & TOTAL TIME 
INDIVIDUAL TM PLACE * INDIVIDUAL OPEN PLACE * INDIVIDUAL NAME * INDIVIDUAL TIME

  1.    46  BISHOP KELLEY                 (  18:20  1:31:37)
============================================
  1      2  Jake Heinrich                17:35
  2      5  Matt White                   18:15
  3      8  Ryan Yarnell                 18:19
  4     15  Rob Phillips                 18:40
  5     16  Aaron Petrikin               18:48
  6   ( 23) Alex Demand                  19:13
  7   ( 34) Brandon Bonk                 19:56

  2.    64  SHAWNEE                       (  18:35  1:32:52)
============================================
  1      3  Jonathan Reames              17:50
  2      4  Tyler Enoch                  18:07
  3      7  Russell Saunders             18:17
  4     20  Ted Dockery                  19:03
  5     30  Chaz Partin                  19:35

  3.   104  CAPITOL HILL                  (  19:07  1:35:31)
============================================
  1      9  Miguel Ramos                 18:25
  2     10  Luis Nevarez                 18:26
  3     26  Abel Quintana                19:28
  4     28  Luis Rios                    19:30
  5     31  Leonel Herrera               19:42
  6   ( 36) Cristian Merino              19:57
  7   ( 72) Efrain Pina                  21:38

  4.   132  WASHINGTON                    (  19:24  1:36:57)
============================================
  1     18  David Annett                 18:51
  2     19  Josiah Saop                  18:55
  3     22  Charles Spears               19:07
  4     35  Andrew McElroy               19:57
  5     38  Jackson Connolly             20:07
  6   ( 66) Sam Miller                   21:06
  7   ( 79) Samuel Lac                   22:31

  5.   142  BIXBY                         (  19:34  1:37:46)
============================================
  1      6  Tyler Oliphant               18:16
  2     27  Ian Bell                     19:29
  3     32  Jordan Haffener              19:47
  4     33  Ryan Jones                   19:53
  5     44  Joseph Shaddox               20:21
  6   ( 51) Trent Van Huss               20:42
  7   ( 74) Brendon Ford                 21:44

  6.   144  COWETA                        (  19:27  1:37:14)
============================================
  1     11  Zach Harper                  18:28
  2     13  Clinton Fulton               18:34
  3     14  Mike Usrey                   18:37
  4     52  B. J. Buckner                20:46
  5     54  Ben Jacuk                    20:49
  6   ( 58) Jordan Christy               20:56
  7   ( 65) Jared Satterfield            21:06

  7.   180  EDISON                        (  19:56  1:39:39)
============================================
  1     12  Jacob Moore                  18:32
  2     39  Connor Ketchum               20:10
  3     40  Alex Smith                   20:12
  4     41  Adam Thornbrugh              20:13
  5     48  Todd Aduddell                20:32
  6   ( 59) Evan White                   20:57
  7   ( 64) Austin Donelson              21:06

  8.   190  GLENPOOL                      (  19:57  1:39:44)
============================================
  1     21  Justin Gregory               19:06
  2     24  Jordan Raper                 19:14
  3     29  Ivan Herrera                 19:32
  4     47  Matt Yarletts                20:31
  5     69  Robert Toledo                21:21
  6   ( 86) Jon Dodson                   23:30

  9.   230  EAST CENTRAL                  (  20:19  1:41:32)
============================================
  1     17  Jose Bonilla                 18:49
  2     25  Marvin Escalante             19:16
  3     55  Gary Newton                  20:52
  4     62  Daniel Tejeda                21:05
  5     71  Connor Whitham               21:30
  6   ( 73) Jorge Gonzales               21:40
  7   ( 76) Xavier Clark                 22:11

 10.   245  SKIATOOK                      (  20:31  1:42:33)
============================================
  1      1  Brent Nuttall                17:08
  2     37  Devin Martin                 20:01
  3     49  Hollis Houser                20:32
  4     75  Byron Fabian                 21:46
  5     83  Jake Williams                23:06
  6   ( 87) Trevor Bond                  23:40
  7   ( 88) Carl Crawford                23:45

 11.   278  PRYOR                         (  20:49  1:44:01)
============================================
  1     42  Matt Rosson                  20:19
  2     45  James Sherrill               20:28
  3     60  James Varbraugh              20:59
  4     63  Marty Williams               21:05
  5     68  Sean Webster                 21:10
  6   ( 70) Russell Bair                 21:27
  7   ( 84) Chris Williams               23:22

 12.   284  MCALESTER                     (  20:53  1:44:24)
============================================
  1     46  Don Brown                    20:29
  2     53  Patrick Ramsey               20:48
  3     57  Giovani Lovera               20:55
  4     61  Zathan Simpson               21:03
  5     67  Kyle Wise                    21:09
  6   ( 89) Jake Wood                    23:49
  7   ( 92) Reeves Murray                25:06

 13.   312  COLLINSVILLE                  (  21:36  1:47:59)
============================================
  1     43  Cameron Storm                20:21
  2     50  Jacob Campbell               20:36
  3     56  D. J. Neighbors              20:54
  4     81  Michael Yingst               23:03
  5     82  Bryce Fulten                 23:05
  6   ( 90) Larry Thompson               24:24

 14.   411  CENTRAL                       (  23:10  1:55:49)
============================================
  1     77  Gamaliel Ruiz                22:30
  2     78  Diego Huerta                 22:31
  3     80  Rene Saldivar                22:35
  4     85  Lude Huerta                  23:23
  5     91  Arturo Martinez              24:50


4A GIRLS * KELLYVILLE XC REGIONAL
Kellyville, Okla. * October 18, 2007 * 3200 m 
INDIVIDUAL FEMALE RESULTS 
Place TmPl Name                School                        Time3 Pace  
===== ==== =================== ============================= ===== ===== 
    1    1 Andrea Lewis        BISHOP KELLEY                 12:11  3:49 
    2    2 Hayden Greenawalt   EDISON                        12:48  4:00 
    3    3 Katie Kerns         PRYOR                         12:52  4:02 
    4    4 Emily Headrick      BISHOP KELLEY                 12:57  4:03 
    5    5 Alexis Taylor       SHAWNEE                       13:06  4:06 
    6    6 Robin Ray           MCALESTER                     13:07  4:06 
    7    7 Jordan Schultz      PRYOR                         13:23  4:11 
    8    8 Stephanie Enoch     SHAWNEE                       13:25  4:12 
    9    9 Carissa Cantos      SHAWNEE                       13:26  4:12 
   10   10 Abby Lewis          BISHOP KELLEY                 13:27  4:13 
   11   11 Mary Tiger          SHAWNEE                       13:31  4:14 
   12   12 Chelsie Davis       STILWELL                      13:38  4:16 
   13   13 Alex Atkinton       COLLINSVILLE                  13:40  4:17 
   14   14 Bethan Zapata       GLENPOOL                      13:43  4:18 
   15   15 Anna Musselman      WASHINGTON                    13:45  4:18 
   16   16 Courtney Stevens    PRYOR                         13:48  4:19 
   17   17 Stephanie Carson    STILWELL                      13:52  4:20 
   18   18 Page Lovoi          EDISON                        13:52  4:20 
   19      Blair Thomas        GROVE                         13:55  4:21 
   20   19 Andrea Kellogg      SHAWNEE                       13:56  4:22 
   21   20 Claire Walker       WASHINGTON                    13:57  4:22 
   22   21 Sara Lamareaux      WASHINGTON                    13:59  4:23 
   23      Sarah Rhodes        MIAMI                         14:00  4:23 
   24   22 Anne Ziegler        BISHOP KELLEY                 14:00  4:23 
   25   23 Heather Means       STILWELL                      14:01  4:23 
   26   24 Sarita Jenkins      SHAWNEE                       14:02  4:24 
   27   25 Jenny Dyer          COLLINSVILLE                  14:04  4:24 
   28   26 Eliza Drew          WASHINGTON                    14:07  4:25 
   29   27 Sarah Colpitts      BISHOP KELLEY                 14:08  4:25 
   30   28 Kelsey Holeman      COLLINSVILLE                  14:10  4:26 
   31   29 Ashley Cox          PRYOR                         14:12  4:27 
   32   30 Candace Polson      SKIATOOK                      14:15  4:28 
   33   31 Jennifer Moss       PRYOR                         14:15  4:28 
   34   32 Brittan7 Thomas     WASHINGTON                    14:16  4:28 
   35   33 Jessica Dyer        COLLINSVILLE                  14:22  4:30 
   36   34 Jordyn Bass         MCALESTER                     14:22  4:30 
   37   35 Kaitlyn O'Sullivan  WASHINGTON                    14:24  4:30 
   38   36 Lauren Fassino      MCALESTER                     14:26  4:31 
   39   37 Stephanie Romero    BISHOP KELLEY                 14:32  4:33 
   40   38 Christina McKinney  BISHOP KELLEY                 14:33  4:33 
   41   39 Grace Durbin        EDISON                        14:34  4:34 
   42      Laine Lotspeich     BIXBY                         14:35  4:34 
   43   40 Sammi Prichard      STILWELL                      14:35  4:34 
   44   41 Myranda Murphy      COLLINSVILLE                  14:37  4:35 
   45   42 Heather Burr        GLENPOOL                      14:41  4:36 
   46   43 Haley Higgs         EDISON                        14:46  4:37 
   47   44 Kassie Kerns        PRYOR                         14:51  4:39 
   48   45 Zendra Allen        GLENPOOL                      14:56  4:40 
   49   46 Riesha Kincaid      STILWELL                      15:00  4:42 
   50   47 Ashley St. Clair    SKIATOOK                      15:01  4:42 
   51   48 Katie Martin-Beal   EDISON                        15:06  4:44 
   52   49 Stephanie Wills     MCALESTER                     15:10  4:45 
   53      Paige Winnett       CATOOSA                       15:19  4:48 
   54   50 Andrea Gudbergsson  EDISON                        15:25  4:50 
   55   51 Lilly Johnson       WASHINGTON                    15:31  4:51 
   56   52 Hannah Jelley       EDISON                        15:35  4:53 
   57   53 Allison Toezek      GLENPOOL                      15:38  4:54 
   58   54 Hannah Frantz       SHAWNEE                       15:48  4:57 
   59   55 Courtney Pell       COWETA                        15:50  4:57 
   60   56 Karla Torres        CAPITOL HILL                  15:55  4:59 
   61   57 Dawn Burdette       SKIATOOK                      15:56  4:59 
   62   58 Berenice Chavez     CAPITOL HILL                  15:59  5:00 
   63   59 Courtney Malott     EAST CENTRAL                  16:04  5:02 
   64   60 Neysa Ellis         STILWELL                      16:07  5:03 
   65   61 Lindsey Edmonson    COWETA                        16:07  5:03 
   66   62 Bayleigh Miller     STILWELL                      16:15  5:05 
   67   63 Deanna Code         COWETA                        16:29  5:10 
   68   64 Daniela Valdez      EAST CENTRAL                  16:39  5:13 
   69   65 Natalie Hall        COWETA                        16:40  5:13 
   70   66 Deah Woods          MCALESTER                     16:42  5:14 
   71      Amy Hughes          CATOOSA                       16:45  5:15 
   72   67 Jessica Williams    SKIATOOK                      16:47  5:15 
   73   68 Jamie Suneagle      SKIATOOK                      16:47  5:15 
   74   69 Demi Jackson        SKIATOOK                      16:48  5:15 
   75   70 Jessica Begley      SKIATOOK                      16:52  5:17 
   76   71 Jenny Henley        COLLINSVILLE                  17:00  5:19 
   77   72 Brittany Vierheller GLENPOOL                      17:21  5:26 
   78   73 Karen Perales       CAPITOL HILL                  17:50  5:35 
   79   74 Jen Escobar         EAST CENTRAL                  18:02  5:39 
   80      Brittany Holden     CATOOSA                       18:11  5:41 
   81      Brittnea Henry      CATOOSA                       18:22  5:45 
   82   75 Kaitlin Kirby       MCALESTER                     18:27  5:46 
   83      Tiera Graham        GROVE                         19:04  5:58 
   84   76 Laura Zaldivar      CAPITOL HILL                  19:20  6:03 
   85   77 Norma Chavez        CAPITOL HILL                  19:41  6:10 
   86   78 Carolina Hernandez  CENTRAL                       19:45  6:11 
   87   79 Jessica Floyd       EAST CENTRAL                  19:49  6:12 
   88   80 Brooke Luke         EAST CENTRAL                  19:54  6:14 
   89      Emily Whitman       BIXBY                         19:58  6:15 
   90   81 Cecilia Rodriguez   CAPITOL HILL                  20:20  6:22 
   91   82 Leah Mott           COWETA                        20:34  6:26 
   92   83 Ashley Lett         COWETA                        22:24  7:00 
   93   84 Shandel Lett        COWETA                        22:31  7:03 
   94   85 Teresa Vidales      CENTRAL                       23:09  7:15 
   95   86 Rosa Estrada        CENTRAL                       25:23  7:56 
   96   87 Elizabeth Alvarez   CENTRAL                       26:12  8:12 
   97   88 Blanca Aguero       CENTRAL                       28:14  8:50


4A GIRLS * KELLYVILLE XC REGIONAL
Kellyville, Okla. * October 18, 2007 * 3200 m 
FEMALE TEAM RESULTS
SCHOOL PLACE * TOTAL POINTS * SCHOOL NAME * SCHOOL AVERAGE TIME & TOTAL TIME 
INDIVIDUAL TM PLACE * INDIVIDUAL OPEN PLACE * INDIVIDUAL NAME * INDIVIDUAL TIME 


  1.    52  SHAWNEE                       (  13:29  1:07:24)
============================================
  1      5  Alexis Taylor                   13:06
  2      8  Stephanie Enoch                 13:25
  3      9  Carissa Cantos                  13:26
  4     11  Mary Tiger                      13:31
  5     19  Andrea Kellogg                  13:56
  6   ( 24) Sarita Jenkins                  14:02
  7   ( 54) Hannah Frantz                   15:48

  2.    64  BISHOP KELLEY                 (  13:21  1:06:43)
============================================
  1      1  Andrea Lewis                    12:11
  2      4  Emily Headrick                  12:57
  3     10  Abby Lewis                      13:27
  4     22  Anne Ziegler                    14:00
  5     27  Sarah Colpitts                  14:08
  6   ( 37) Stephanie Romero                14:32
  7   ( 38) Christina McKinney              14:33

  3.    86  PRYOR                         (  13:42  1:08:30)
============================================
  1      3  Katie Kerns                     12:52
  2      7  Jordan Schultz                  13:23
  3     16  Courtney Stevens                13:48
  4     29  Ashley Cox                      14:12
  5     31  Jennifer Moss                   14:15
  6   ( 44) Kassie Kerns                    14:51

  4.   114  WASHINGTON                    (  14:01  1:10:04)
============================================
  1     15  Anna Musselman                  13:45
  2     20  Claire Walker                   13:57
  3     21  Sara Lamareaux                  13:59
  4     26  Eliza Drew                      14:07
  5     32  Brittan7 Thomas                 14:16
  6   ( 35) Kaitlyn O'Sullivan              14:24
  7   ( 51) Lilly Johnson                   15:31

  5.   138  STILWELL                      (  14:14  1:11:06)
============================================
  1     12  Chelsie Davis                   13:38
  2     17  Stephanie Carson                13:52
  3     23  Heather Means                   14:01
  4     40  Sammi Prichard                  14:35
  5     46  Riesha Kincaid                  15:00
  6   ( 60) Neysa Ellis                     16:07
  7   ( 62) Bayleigh Miller                 16:15

  6.   140  COLLINSVILLE                  (  14:11  1:10:53)
============================================
  1     13  Alex Atkinton                   13:40
  2     25  Jenny Dyer                      14:04
  3     28  Kelsey Holeman                  14:10
  4     33  Jessica Dyer                    14:22
  5     41  Myranda Murphy                  14:37
  6   ( 71) Jenny Henley                    17:00

  7.   150  EDISON                        (  14:14  1:11:06)
============================================
  1      2  Hayden Greenawalt               12:48
  2     18  Page Lovoi                      13:52
  3     39  Grace Durbin                    14:34
  4     43  Haley Higgs                     14:46
  5     48  Katie Martin-Beal               15:06
  6   ( 50) Andrea Gudbergsson              15:25
  7   ( 52) Hannah Jelley                   15:35

  8.   191  MCALESTER                     (  14:46  1:13:47)
============================================
  1      6  Robin Ray                       13:07
  2     34  Jordyn Bass                     14:22
  3     36  Lauren Fassino                  14:26
  4     49  Stephanie Wills                 15:10
  5     66  Deah Woods                      16:42
  6   ( 75) Kaitlin Kirby                   18:27

  9.   226  GLENPOOL                      (  15:16  1:16:19)
============================================
  1     14  Bethan Zapata                   13:43
  2     42  Heather Burr                    14:41
  3     45  Zendra Allen                    14:56
  4     53  Allison Toezek                  15:38
  5     72  Brittany Vierheller             17:21

 10.   269  SKIATOOK                      (  15:46  1:18:46)
============================================
  1     30  Candace Polson                  14:15
  2     47  Ashley St. Clair                15:01
  3     57  Dawn Burdette                   15:56
  4     67  Jessica Williams                16:47
  5     68  Jamie Suneagle                  16:47
  6   ( 69) Demi Jackson                    16:48
  7   ( 70) Jessica Begley                  16:52

 11.   326  COWETA                        (  17:08  1:25:40)
============================================
  1     55  Courtney Pell                   15:50
  2     61  Lindsey Edmonson                16:07
  3     63  Deanna Code                     16:29
  4     65  Natalie Hall                    16:40
  5     82  Leah Mott                       20:34
  6   ( 83) Ashley Lett                     22:24
  7   ( 84) Shandel Lett                    22:31

 12.   340  CAPITOL HILL                  (  17:45  1:28:45)
============================================
  1     56  Karla Torres                    15:55
  2     58  Berenice Chavez                 15:59
  3     73  Karen Perales                   17:50
  4     76  Laura Zaldivar                  19:20
  5     77  Norma Chavez                    19:41
  6   ( 81) Cecilia Rodriguez               20:20

 13.   356  EAST CENTRAL                  (  18:06  1:30:28)
============================================
  1     59  Courtney Malott                 16:04
  2     64  Daniela Valdez                  16:39
  3     74  Jen Escobar                     18:02
  4     79  Jessica Floyd                   19:49
  5     80  Brooke Luke                     19:54

 14.   424  CENTRAL                       (  24:33  2:02:43)
============================================
  1     78  Carolina Hernandez              19:45
  2     85  Teresa Vidales                  23:09
  3     86  Rosa Estrada                    25:23
  4     87  Elizabeth Alvarez               26:12
  5     88  Blanca Aguero                   28:14


3A BOYS * KELLYVILLE XC REGIONAL
Kellyville, Okla. * October 18, 2007 * 5000 m 
INDIVIDUAL MALE RESULTS 
Place TmPl Name                School                        Time2 Pace  
===== ==== =================== ============================= ===== ===== 
    1    1 Ramiro Becerra      SANTA FE SOUTH                17:15  3:27 
    2    2 Austin Christian    KELLYVILLE                    17:34  3:31 
    3    3 Robert Menchaca     JAY                           17:40  3:32 
    4      Cody Johnson        SALLISAW                      17:46  3:34 
    5    4 Ulises Zamora       SANTA FE SOUTH                17:50  3:34 
    6    5 Michael Rosson      BYNG                          18:18  3:40 
    7    6 Scotty Brasher      BYNG                          18:22  3:41 
    8    7 Ernesto Castillo    SANTA FE SOUTH                18:22  3:41 
    9      Andrew Robbins      PIEDMONT                      18:24  3:41 
   10      Ryan Poulos         VINITA                        18:27  3:42 
   11    8 Jerad Schroeder     BRISTOW                       18:27  3:42 
   12    9 R. J. McClain       JAY                           18:29  3:42 
   13   10 Indy Jones          JAY                           18:32  3:43 
   14   11 Anthony Maldonado   INOLA                         18:33  3:43 
   15   12 Josh Howard         BYNG                          18:35  3:43 
   16   13 Shawn Chronister    BERRYHILL                     18:36  3:44 
   17   14 Michael Martinez    SANTA FE SOUTH                18:37  3:44 
   18      Martin Calderon     BLACKWELL                     18:41  3:45 
   19   15 Tyler Payton        JAY                           18:47  3:46 
   20   16 Jesse Scott         JAY                           18:48  3:46 
   21   17 Scott Lasson        BERRYHILL                     18:49  3:46 
   22   18 Leo Rengal          SANTA FE SOUTH                18:50  3:46 
   23   19 Jose Garcia         SANTA FE SOUTH                18:58  3:48 
   24   20 Cedrick Grass       JAY                           19:05  3:49 
   25   21 Bruce McCloskey     BERRYHILL                     19:10  3:50 
   26      Jorge Perez         WEBSTER                       19:11  3:51 
   27   22 Mitch Fahrenkrog    CASCIA HALL                   19:11  3:51 
   28   23 Ryan Combs          INOLA                         19:12  3:51 
   29   24 Kody Davis          KELLYVILLE                    19:13  3:51 
   30   25 Fernando Hernandez  SANTA FE SOUTH                19:14  3:51 
   31   26 Jacob Ward          CASCIA HALL                   19:16  3:52 
   32   27 Caleb Mills         BERRYHILL                     19:23  3:53 
   33      Tyler White         PIEDMONT                      19:27  3:54 
   34   28 Wesley Distal       BRISTOW                       19:33  3:55 
   35   29 Josh Funderbuck     BERRYHILL                     19:36  3:56 
   36   30 Kyle Torrelson      CASCIA HALL                   19:46  3:58 
   37      Andrew Kirk         PIEDMONT                      19:47  3:58 
   38   31 Nick Flowers        BYNG                          19:47  3:58 
   39   32 Jonathan Orr        JAY                           20:03  4:01 
   40   33 Derick Greene       INOLA                         20:13  4:03 
   41   34 James Mesmer        CASCIA HALL                   20:22  4:05 
   42   35 Bryan Volozanin     CASCIA HALL                   20:28  4:06 
   43   36 Nick Murphy         INOLA                         20:41  4:09 
   44   37 Marcos Souza        BYNG                          20:43  4:09 
   45   38 Kodee Varnell       BERRYHILL                     20:48  4:10 
   46      Keene Robinson      OKMULGEE                      20:55  4:11 
   47      Chris Davis         PIEDMONT                      20:57  4:12 
   48   39 Brian Vandever      BRISTOW                       20:58  4:12 
   49   40 Christian Bradford  BRISTOW                       21:00  4:12 
   50   41 Harley Corning      KELLYVILLE                    21:01  4:13 
   51   42 Nathan Davila       POTEAU                        21:04  4:13 
   52   43 Josh Vires          BYNG                          21:05  4:13 
   53   44 David Burris        MANNFORD                      21:05  4:13 
   54   45 Jeremy Ridge        BRISTOW                       21:06  4:14 
   55   46 Shane Tiger         KELLYVILLE                    21:07  4:14 
   56   47 Brennan Vance       MANNFORD                      21:18  4:16 
   57   48 Garrett Thompson    BYNG                          21:28  4:18 
   58   49 Cole Biby           CASCIA HALL                   21:33  4:19 
   59   50 Hayden Payne        CLEVELAND                     21:37  4:20 
   60   51 Jake Carson         FORT GIBSON                   21:38  4:20 
   61   52 Layne Peterson      INOLA                         21:40  4:20 
   62   53 Alex Wozencraft     MANNFORD                      21:50  4:22 
   63   54 Hunter Johnson      INOLA                         22:01  4:25 
   64   55 Brandon Aycock      MANNFORD                      22:04  4:25 
   65   56 T. J. Hathcock      CLEVELAND                     22:06  4:26 
   66   57 Johnny Croney       MANNFORD                      22:07  4:26 
   67   58 Ryan Chase          INOLA                         22:17  4:28 
   68   59 Jeremy Gore         KELLYVILLE                    22:31  4:31 
   69   60 Garrett Lawrence    BRISTOW                       22:40  4:32 
   70   61 Nick Morrison       MANNFORD                      22:41  4:33 
   71   62 Philippe Singer     POTEAU                        22:46  4:34 
   72   63 Michael Butler      FORT GIBSON                   22:48  4:34 
   73   64 Chris Orr           FORT GIBSON                   23:06  4:38 
   74      Hank Pippin         VINITA                        23:10  4:38 
   75   65 Ryan Tankersley     BRISTOW                       23:15  4:39 
   76      Caleb Edwards       VICTORY CHRISTIAN             23:20  4:40 
   77   66 Dustin Potts        CLEVELAND                     23:24  4:41 
   78   67 Robert Platt        POTEAU                        23:31  4:43 
   79   68 Jerrod Badders      POTEAU                        24:01  4:49 
   80   69 Casey West          FORT GIBSON                   24:26  4:54 
   81   70 Tony Braden         CLEVELAND                     24:48  4:58 
   82      Jared Brown         OKMULGEE                      25:18  5:04 
   83      Kevin Holmes        SALLISAW                      25:32  5:07 
   84   71 Michael Ball        CLEVELAND                     25:54  5:11 
   85   72 Jake Reynolds       CLEVELAND                     26:02  5:13 
   86   73 Josh Huggins        FORT GIBSON                   26:10  5:14 
   87   74 Trenton Thompson    POTEAU                        26:11  5:15 
   88      Matthew McAfee      VICTORY CHRISTIAN             27:43  5:33


3A BOYS * KELLYVILLE XC REGIONAL
Kellyville, Okla. * October 18, 2007 * 5000 m 
MALE TEAM RESULTS
SCHOOL PLACE * TOTAL POINTS * SCHOOL NAME * SCHOOL AVERAGE TIME & TOTAL TIME 
INDIVIDUAL TM PLACE * INDIVIDUAL OPEN PLACE * INDIVIDUAL NAME * INDIVIDUAL TIME

  1.    44  SANTA FE SOUTH                (  18:11  1:30:54)
============================================
  1      1  Ramiro Becerra      17:15
  2      4  Ulises Zamora       17:50
  3      7  Ernesto Castillo    18:22
  4     14  Michael Martinez    18:37
  5     18  Leo Rengal          18:50
  6   ( 19) Jose Garcia         18:58
  7   ( 25) Fernando Hernandez   19:14

  2.    53  JAY                           (  18:28  1:32:16)
============================================
  1      3  Robert Menchaca     17:40
  2      9  R. J. McClain       18:29
  3     10  Indy Jones          18:32
  4     15  Tyler Payton        18:47
  5     16  Jesse Scott         18:48
  6   ( 20) Cedrick Grass       19:05
  7   ( 32) Jonathan Orr        20:03

  3.    91  BYNG                          (  19:09  1:35:45)
============================================
  1      5  Michael Rosson      18:18
  2      6  Scotty Brasher      18:22
  3     12  Josh Howard         18:35
  4     31  Nick Flowers        19:47
  5     37  Marcos Souza        20:43
  6   ( 43) Josh Vires          21:05
  7   ( 48) Garrett Thompson    21:28

  4.   107  BERRYHILL                     (  19:07  1:35:34)
============================================
  1     13  Shawn Chronister    18:36
  2     17  Scott Lasson        18:49
  3     21  Bruce McCloskey     19:10
  4     27  Caleb Mills         19:23
  5     29  Josh Funderbuck     19:36
  6   ( 38) Kodee Varnell       20:48

  5.   147  CASCIA HALL                   (  19:49  1:39:03)
============================================
  1     22  Mitch Fahrenkrog    19:11
  2     26  Jacob Ward          19:16
  3     30  Kyle Torrelson      19:46
  4     34  James Mesmer        20:22
  5     35  Bryan Volozanin     20:28
  6   ( 49) Cole Biby           21:33

  6.   155  INOLA                         (  20:04  1:40:19)
============================================
  1     11  Anthony Maldonado   18:33
  2     23  Ryan Combs          19:12
  3     33  Derick Greene       20:13
  4     36  Nick Murphy         20:41
  5     52  Layne Peterson      21:40
  6   ( 54) Hunter Johnson      22:01
  7   ( 58) Ryan Chase          22:17

  7.   160  BRISTOW                       (  20:13  1:41:04)
============================================
  1      8  Jerad Schroeder     18:27
  2     28  Wesley Distal       19:33
  3     39  Brian Vandever      20:58
  4     40  Christian Bradford   21:00
  5     45  Jeremy Ridge        21:06
  6   ( 60) Garrett Lawrence    22:40
  7   ( 65) Ryan Tankersley     23:15

  8.   172  KELLYVILLE                    (  20:18  1:41:26)
============================================
  1      2  Austin Christian    17:34
  2     24  Kody Davis          19:13
  3     41  Harley Corning      21:01
  4     46  Shane Tiger         21:07
  5     59  Jeremy Gore         22:31

  9.   256  MANNFORD                      (  21:41  1:48:24)
============================================
  1     44  David Burris        21:05
  2     47  Brennan Vance       21:18
  3     53  Alex Wozencraft     21:50
  4     55  Brandon Aycock      22:04
  5     57  Johnny Croney       22:07
  6   ( 61) Nick Morrison       22:41

 10.   313  CLEVELAND                     (  23:34  1:57:49)
============================================
  1     50  Hayden Payne        21:37
  2     56  T. J. Hathcock      22:06
  3     66  Dustin Potts        23:24
  4     70  Tony Braden         24:48
  5     71  Michael Ball        25:54
  6   ( 72) Jake Reynolds       26:02

 11.   313  POTEAU                        (  23:31  1:57:33)
============================================
  1     42  Nathan Davila       21:04
  2     62  Philippe Singer     22:46
  3     67  Robert Platt        23:31
  4     68  Jerrod Badders      24:01
  5     74  Trenton Thompson    26:11

 12.   320  FORT GIBSON                   (  23:38  1:58:08)
============================================
  1     51  Jake Carson         21:38
  2     63  Michael Butler      22:48
  3     64  Chris Orr           23:06
  4     69  Casey West          24:26
  5     73  Josh Huggins        26:10


3A GIRLS * KELLYVILLE XC REGIONAL
Kellyville, Okla. * October 18, 2007 * 3200 m 
INDIVIDUAL FEMALE RESULTS 
Place TmPl Name                School                        Time  Pace  
===== ==== =================== ============================= ===== ===== 
    1    1 Talisa Budder       JAY                           12:21  6:11 
    2      Jori Davis          PIEDMONT                      12:34  6:17 
    3    2 Whitney Brannan     VICTORY CHRISTIAN             12:36  6:18 
    4    3 Casady Ashcraft     SEMINOLE                      12:55  6:28 
    5    4 Brenda Felipe       POTEAU                        13:04  6:32 
    6      Jerika Davis        PIEDMONT                      13:10  6:35 
    7    5 Amy Boren           VINITA                        13:11  6:36 
    8    6 Lauren Wilson       JAY                           13:16  6:38 
    9    7 Jessica Downey      SEMINOLE                      13:18  6:39 
   10    8 Corryn Hall         POTEAU                        13:20  6:40 
   11      Kenzie Henderson    BERRYHILL                     13:25  6:43 
   12    9 Kendall Mills       SEMINOLE                      13:28  6:44 
   13   10 Katie Grandstaff    SEMINOLE                      13:30  6:45 
   14   11 Magan Marshall      SEMINOLE                      13:39  6:50 
   15   12 Zoraya Hightower    BYNG                          13:39  6:50 
   16   13 Angel Klontz        POTEAU                        13:40  6:50 
   17   14 Mandy Simek         KELLYVILLE                    13:41  6:51 
   18   15 Jen Roberts         POTEAU                        13:42  6:51 
   19   16 Hailey Haynes       SEQUOYAH CLAREMORE            13:51  6:56 
   20      Tabitha Enix        INOLA                         13:59  7:00 
   21   17 Sidney Blackfox     JAY                           14:00  7:00 
   22   18 Ivy Headricks       SEQUOYAH CLAREMORE            14:01  7:01 
   23      Daisy Argot         SANTA FE SOUTH                14:01  7:01 
   24   19 Hannah Pinter       VICTORY CHRISTIAN             14:04  7:02 
   25   20 Bailey Moorhead     VINITA                        14:11  7:06 
   26   21 Jordan Tankersly    KELLYVILLE                    14:12  7:06 
   27   22 Turney Stinhoff     VINITA                        14:28  7:14 
   28   23 Mattie Callahan     VINITA                        14:28  7:14 
   29      Kayla Bell          FORT GIBSON                   14:30  7:15 
   30   24 Miranda Claxton     BYNG                          14:30  7:15 
   31   25 Chelsea Gillum      JAY                           14:34  7:17 
   32   26 Rose Hendricks      SEQUOYAH CLAREMORE            14:35  7:18 
   33   27 Trish Wittmer       VICTORY CHRISTIAN             14:36  7:18 
   34   28 Sarah Drush         BYNG                          14:38  7:19 
   35   29 Kayla Randler       OKMULGEE                      14:42  7:21 
   36   30 Beth Smith          POTEAU                        14:43  7:22 
   37   31 Jessica Hoodenpyle  VINITA                        14:44  7:22 
   38      Lauren Bean         BRISTOW                       14:47  7:24 
   39   32 Brittany Kelley     KELLYVILLE                    14:53  7:27 
   40   33 Aniesha West        VINITA                        15:00  7:30 
   41      Colby Ezell         FORT GIBSON                   15:01  7:31 
   42      Katharina Hasenbach BRISTOW                       15:01  7:31 
   43   34 Korey Powell        SEMINOLE                      15:02  7:31 
   44   35 Dana Downing        VINITA                        15:03  7:32 
   45   36 Ashley Swake        JAY                           15:06  7:33 
   46   37 Lauren Melbouse     SEQUOYAH CLAREMORE            15:09  7:35 
   47   38 Allex Tiger         SEQUOYAH CLAREMORE            15:10  7:35 
   48   39 Diana Sandecerft    VICTORY CHRISTIAN             15:11  7:36 
   49      Nidia Ramirez       SANTA FE SOUTH                15:14  7:37 
   50   40 Kelsey O'Grady      BYNG                          15:18  7:39 
   51   41 Morgan Brown        KELLYVILLE                    15:20  7:40 
   52   42 Jessalyn Lanoy      MANNFORD                      15:23  7:42 
   53   43 Ashleigh Enderson   SEMINOLE                      15:30  7:45 
   54   44 Jenny O'Grady       BYNG                          15:31  7:46 
   55   45 Shanna Coffey       POTEAU                        15:34  7:47 
   56   46 Carley Riley        POTEAU                        15:40  7:50 
   57   47 Whitley Hughes      SEQUOYAH CLAREMORE            15:41  7:51 
   58      Katie Fielding      CLEVELAND                     15:42  7:51 
   59   48 April Self          MANNFORD                      15:43  7:52 
   60   49 Jessica Hall        SEQUOYAH CLAREMORE            15:49  7:55 
   61   50 Corrie Robinson     JAY                           16:03  8:02 
   62   51 Tashina Gaise       KELLYVILLE                    16:13  8:07 
   63   52 Christian Key       VICTORY CHRISTIAN             16:27  8:14 
   64   53 Imani Tucker        MANNFORD                      16:40  8:20 
   65   54 Laura Tanner        JAY                           16:42  8:21 
   66      Stephanie Castor    FORT GIBSON                   17:02  8:31 
   67      Chelsea Hagar       CASCIA HALL                   17:03  8:32 
   68   55 Cathrine Lutz       MANNFORD                      17:16  8:38 
   69      Caitlan Carter      PIEDMONT                      17:16  8:38 
   70   56 Kelli Pettus        BYNG                          17:19  8:40 
   71   57 Snaysha Russell     MANNFORD                      17:24  8:42 
   72   58 Sandy Ludlow        BYNG                          17:41  8:51 
   73   59 Hannah Garrison     KELLYVILLE                    17:42  8:51 
   74      Bailey Brown        FORT GIBSON                   18:02  9:01 
   75   60 Courtney Peyketewa  KELLYVILLE                    18:03  9:02 
   76      Kristina Roselle    CASCIA HALL                   18:18  9:09 
   77   61 Brionna Hammon      OKMULGEE                      18:26  9:13 
   78      Kandice Reed        PIEDMONT                      18:41  9:21 
   79      Elizabeth Baldara   SANTA FE SOUTH                18:58  9:29 
   80   62 Jasma Williams      OKMULGEE                      20:08 10:04 
   81   63 Devin Carter        OKMULGEE                      20:20 10:10 
   82   64 Rachel Locust       OKMULGEE                      21:11 10:36 
   83   65 Alex Young          OKMULGEE                      21:45 10:53 
   84   66 Sharah Miller       OKMULGEE                      22:13 11:07


3A GIRLS * KELLYVILLE XC REGIONAL
Kellyville, Okla. * October 18, 2007 * 3200 m 
FEMALE TEAM RESULTS
SCHOOL PLACE * TOTAL POINTS * SCHOOL NAME * SCHOOL AVERAGE TIME & TOTAL TIME 
INDIVIDUAL TM PLACE * INDIVIDUAL OPEN PLACE * INDIVIDUAL NAME * INDIVIDUAL TIME

  1.    40  SEMINOLE                      (  13:22  1:06:50)
============================================
  1      3  Casady Ashcraft              12:55
  2      7  Jessica Downey               13:18
  3      9  Kendall Mills                13:28
  4     10  Katie Grandstaff             13:30
  5     11  Magan Marshall               13:39
  6   ( 34) Korey Powell                 15:02
  7   ( 43) Ashleigh Enderson            15:30

  2.    70  POTEAU                        (  13:42  1:08:29)
============================================
  1      4  Brenda Felipe                13:04
  2      8  Corryn Hall                  13:20
  3     13  Angel Klontz                 13:40
  4     15  Jen Roberts                  13:42
  5     30  Beth Smith                   14:43
  6   ( 45) Shanna Coffey                15:34
  7   ( 46) Carley Riley                 15:40

  3.    85  JAY                           (  13:52  1:09:17)
============================================
  1      1  Talisa Budder                12:21
  2      6  Lauren Wilson                13:16
  3     17  Sidney Blackfox              14:00
  4     25  Chelsea Gillum               14:34
  5     36  Ashley Swake                 15:06
  6   ( 50) Corrie Robinson              16:03
  7   ( 54) Laura Tanner                 16:42

  4.   101  VINITA                        (  14:13  1:11:02)
============================================
  1      5  Amy Boren                    13:11
  2     20  Bailey Moorhead              14:11
  3     22  Turney Stinhoff              14:28
  4     23  Mattie Callahan              14:28
  5     31  Jessica Hoodenpyle           14:44
  6   ( 33) Aniesha West                 15:00
  7   ( 35) Dana Downing                 15:03

  5.   135  SEQUOYAH CLAREMORE            (  14:34  1:12:46)
============================================
  1     16  Hailey Haynes                13:51
  2     18  Ivy Headricks                14:01
  3     26  Rose Hendricks               14:35
  4     37  Lauren Melbouse              15:09
  5     38  Allex Tiger                  15:10
  6   ( 47) Whitley Hughes               15:41
  7   ( 49) Jessica Hall                 15:49

  6.   139  VICTORY CHRISTIAN             (  14:35  1:12:54)
============================================
  1      2  Whitney Brannan              12:36
  2     19  Hannah Pinter                14:04
  3     27  Trish Wittmer                14:36
  4     39  Diana Sandecerft             15:11
  5     52  Christian Key                16:27

  7.   148  BYNG                          (  14:44  1:13:36)
============================================
  1     12  Zoraya Hightower             13:39
  2     24  Miranda Claxton              14:30
  3     28  Sarah Drush                  14:38
  4     40  Kelsey O'Grady               15:18
  5     44  Jenny O'Grady                15:31
  6   ( 56) Kelli Pettus                 17:19
  7   ( 58) Sandy Ludlow                 17:41

  8.   159  KELLYVILLE                    (  14:52  1:14:19)
============================================
  1     14  Mandy Simek                  13:41
  2     21  Jordan Tankersly             14:12
  3     32  Brittany Kelley              14:53
  4     41  Morgan Brown                 15:20
  5     51  Tashina Gaise                16:13
  6   ( 59) Hannah Garrison              17:42
  7   ( 60) Courtney Peyketewa           18:03

  9.   255  MANNFORD                      (  16:30  1:22:26)
============================================
  1     42  Jessalyn Lanoy               15:23
  2     48  April Self                   15:43
  3     53  Imani Tucker                 16:40
  4     55  Cathrine Lutz                17:16
  5     57  Snaysha Russell              17:24

 10.   279  OKMULGEE                      (  18:58  1:34:47)
============================================
  1     29  Kayla Randler                14:42
  2     61  Brionna Hammon               18:26
  3     62  Jasma Williams               20:08
  4     63  Devin Carter                 20:20
  5     64  Rachel Locust                21:11
  6   ( 65) Alex Young                   21:45
  7   ( 66) Sharah Miller                22:13


SOUTH REGION homepage